When I received the original Apple Watch from the Apple PR team to test and review, they also included the Silver Link Bracelet, which I have been using on all of my subsequent Apple Watches (I'm only on the Apple Watch 6). Unfortunately, one of the links broke, and it is not one that is swappable – I would need a specific part. So, I was searching for another Apple Watch band that would be unique, stylish, yet functional. I recently saw some videos showcasing a watch band from a brand I knew – PITAKA. And within a week, I had my hands on the PITAKA Carbon Fiber Watch Band, which I'm using daily. (*Disclosure below.)
I realize that choosing a watch band for your Apple Watch is very personal in nature. There are some styles you will absolutely love and others, well, not so much. In reviewing the options available from PITAKA, I liked the blend of a subtle pattern that you will see up close and a modern and sleek look from afar. In fact, for this particular watch band, there are two styles to choose from: Modern and Retro. The photos in this review are of the Modern style.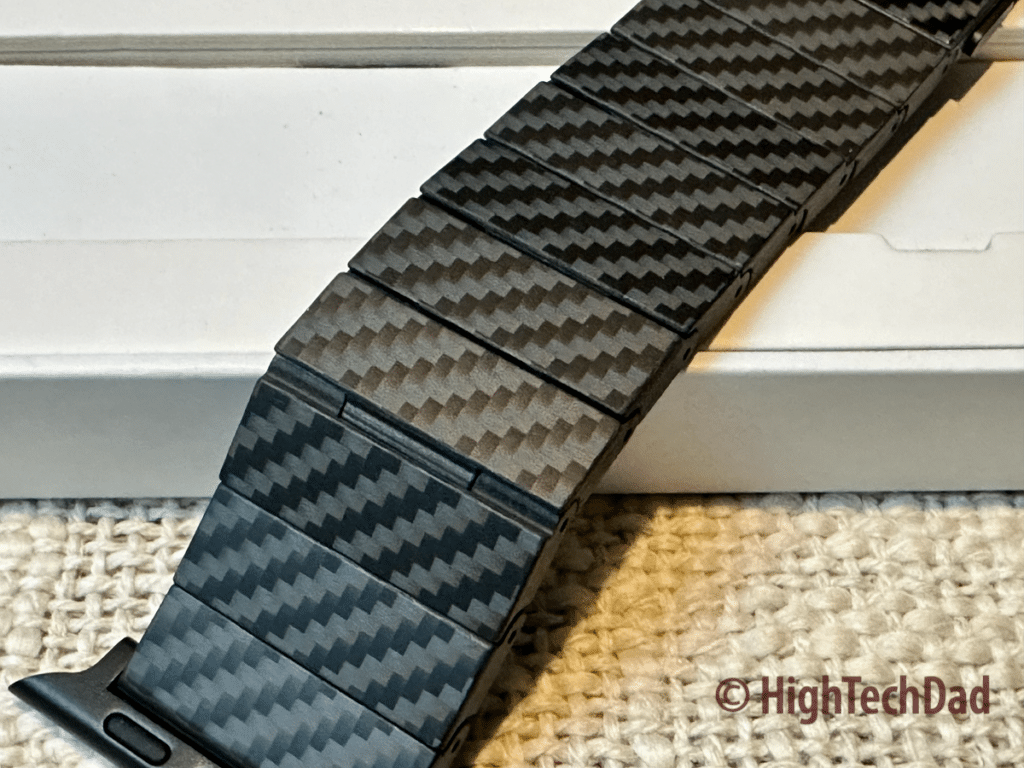 The Modern style differentiates itself from the Retro one in that each link appears more rectangular, whereas the Retro style looks more like a puzzle piece. Each one has what I call sort of a woven pattern, almost like a fabric, but since these are metal (carbon fiber) links, it is far from being fabric in nature.
Table of Contents
PITAKA Carbon Fiber Watch Band is built with…Carbon Fiber!
So what makes the PITAKA Carbon Fiber band unique? Well, stated right there in the name is one important thing – carbon fiber. The watch band links are 100% carbon fiber. According to Innovative Composite Engineering, carbon fiber is both strong and extremely lightweight. It is five times as strong as steel but also twice as stiff. Honestly, you can tell about how lightweight carbon fiber is by just picking up the PITAKA watch band. It is almost shocking. It weighs 1.1 ounces (32.4 grams). Just as a comparison, the Apple Watch Silver Link Bracelet weighs 3.98 ounces—quite a difference.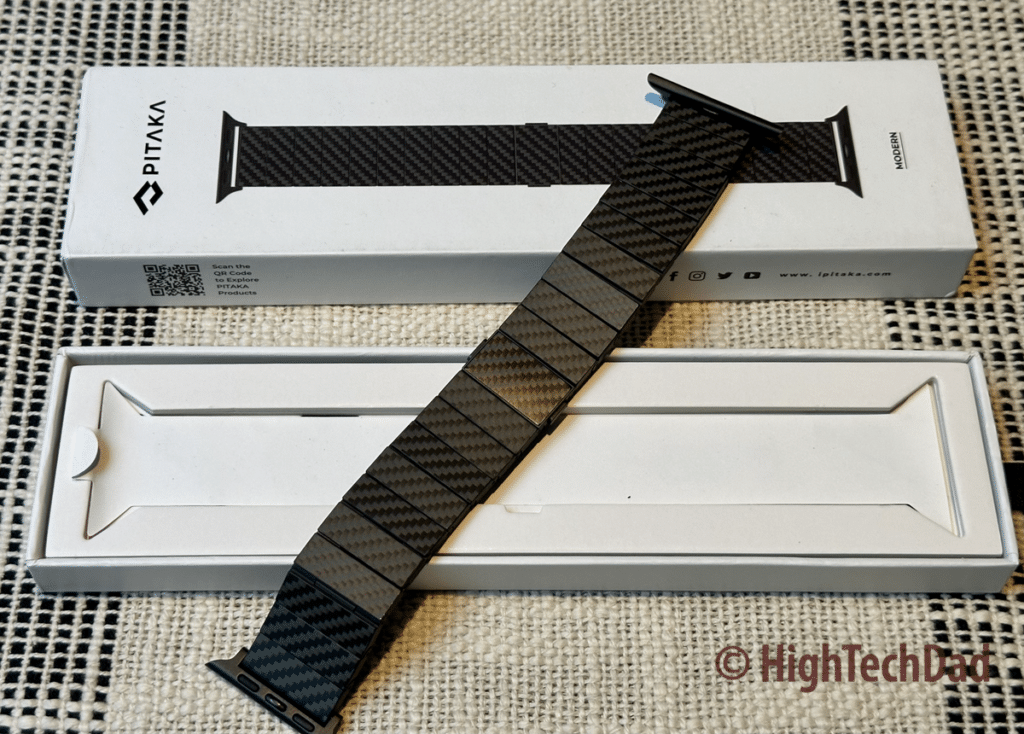 The weight of the watch band is a pretty big factor here. To me, it seemed like most of the weight of the Apple Watch plus the PITAKA band was the Watch itself. Carbon Fiber is quite durable, and while I haven't been banging up the watch band at all (yet), the promise is that it will resist scratches, scuffs, and everyday wear and tear. It is, obviously, capable of handling water as well, so you can take it swimming, in the shower, or out in the rain without worrying about it. In fact, it's good to give it a good scrub when you are in the shower. This is especially important if you go into salt water as the stainless steel pins that hold the links together may erode over time – if you go in the ocean, be sure you rinse the band and Watch off well afterward.
Magnetic Closure Mechanism 
One unique feature of the PITAKA Carbon Fiber Watch Band is the magnetic closure. While my older Apple watch band only had a clasp (no magnetics involved), when the band was unclasped, it remained open like a bracelet. The advantage of that style is that the Watch won't fall off your wrist if it comes open.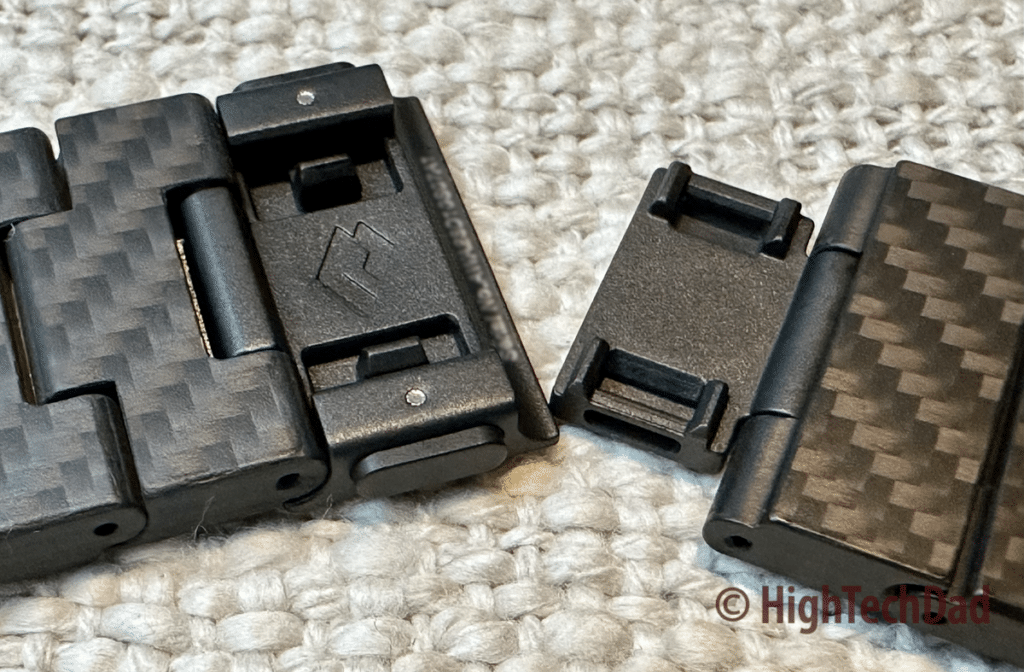 The PITAKA watch band does not have that extra safety measure. I want to say "unfortunately," but I feel that if it did have that feature, it would add to the bulk of the watch band, eliminating that sleek look. So, I can (hopefully) live without that extra security.
To open the PITAKA watch band, you must press the two subtle buttons on either side of the clasp link. You press those in to release the clasp mechanism. The good news here is that the clasp itself is magnetic, so if you accidentally press the buttons to release the clasp, the band won't immediately pop open because of the magnets built into it. You have to use a tiny bit of force to physically separate one side of the clasp from the other.
The magnet also helps when you are putting your Watch on. While I recommend putting your Watch face on your leg or a surface to prevent it from falling, once the magnetic clasps are together, they probably won't detach. Also, as you get used to attaching and detaching the clasp, you start to leverage the magnet closure more and more. It works quite well.
Compatibility with Apple Watches
Luckily, Apple seems to have remained true to "supporting" earlier and later versions of the Apple Watch band connectors. As I mentioned, I am currently using the Apple Watch 6 (and had been using a band from the original Apple Watch on it). The PITAKA watch band slid into the two connectors of the Watch smoothly and locked into place without any issue.

And, supposedly, this PITAKA band is compatible with the Apple Watch Ultra (which I DON'T have, but I'm currently accepting donations for…haha!). According to the PITAKA site, the Carbon Fiber watch band is compatible with 42/44/45/49mm Watches and 38/40/41mm Watches.
The package includes two smaller Watch-to-band connectors, so you can swap those out if you have a smaller Apple Watch. Also included in the package are two larger links to extend the length of the band in case you have a larger wrist—more about the link adjustment in the next section.
Adjusting the size of the PITAKA watch band
Changing the length of the watch band is important. While I also have been using one of the Apple Sports bands, which is like a traditional watch band for adjustments, when you have a "link" type of watch band, you need to adjust it to a fixed size. It is somewhat "permanent," but again, you can always add or remove links as needed.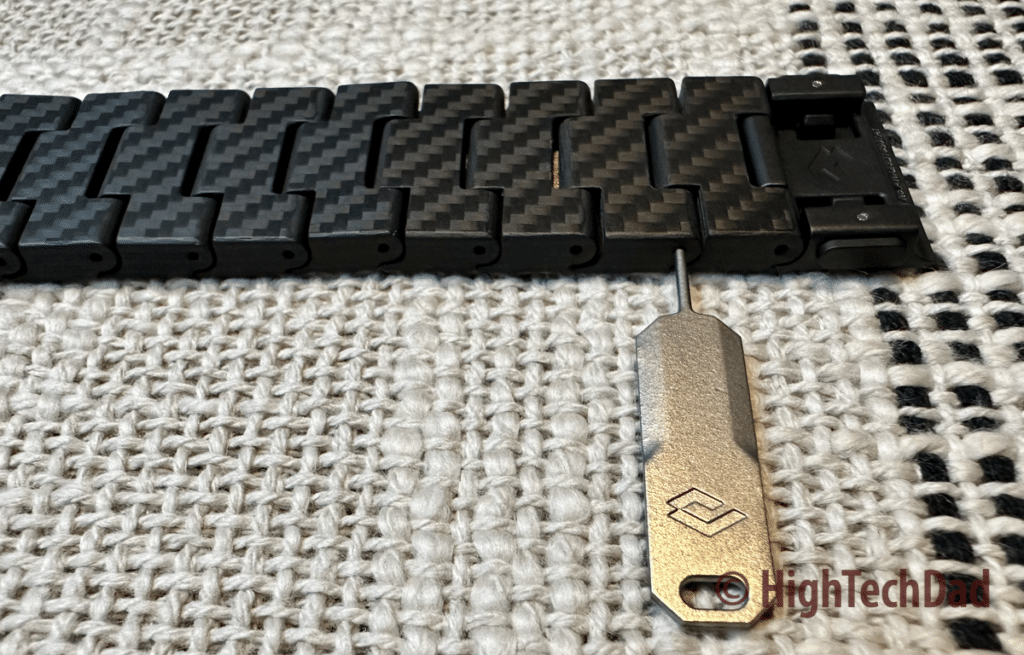 The process of adding or removing links is a bit involved. While it takes little time to do, you need good eyesight and a steady hand (don't drink any coffee ahead of time). The PITAKA package does come with a link-remover tool (but if you misplace that, you can use a needle or pin.
You should think of the stainless steel pins as being similar to a toilet paper roll holder. There are springs inside of the pin that you press to release each side of the links. There are some support videos you can watch to learn how to remove it. But basically, you put the pin remover into one of the holes of the links and press in to compress the spring. Then you slightly twist the link so the pin doesn't go back in the hole. After that, you do the same thing from the other side.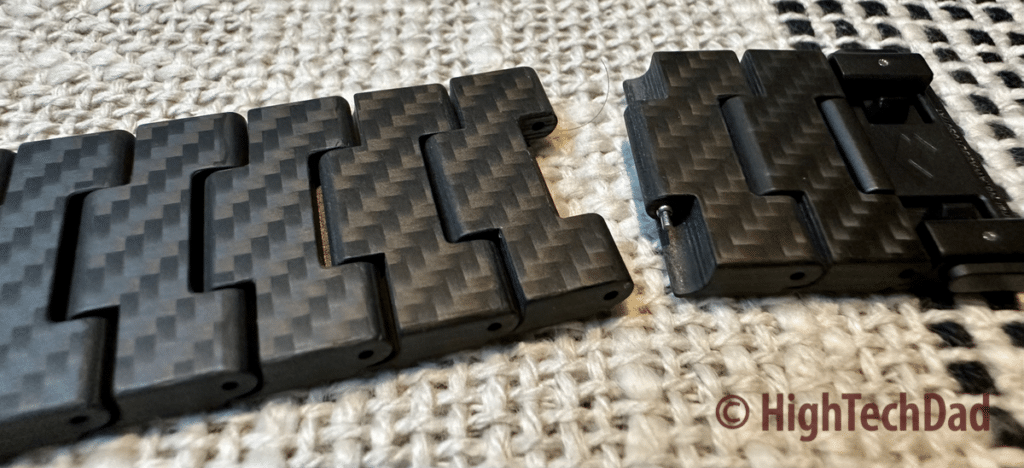 WARNING: the spring-loaded pin may shoot off into space, so be sure to do the link changing somewhere where you can find the projectile pin. I actually lost one. Ugh.
Then you either add or remove a link and put the pin back into the holes of the link and let it spring into place.
If you have questions about this process, I encourage you to watch this video. The video is below as well.
Remember, you want your Apple watch to be tight but not too tight. If it is too loose, you might not get the health readings from your Watch for O2, Pulse, and other readings.
Pricing and Final Thoughts
While the PITAKA Carbon Fiber Apple Watch Band is far less expensive than my old Apple Silver Link Bracelet (which currently retails for $349 – eek!), it definitely does not feel "cheap" in any way. It's durable, sleek, elegant design and impeccable machined quality gives it an expensive look and feel. And don't be fooled by how lightweight it is; it is sturdy and well-crafted.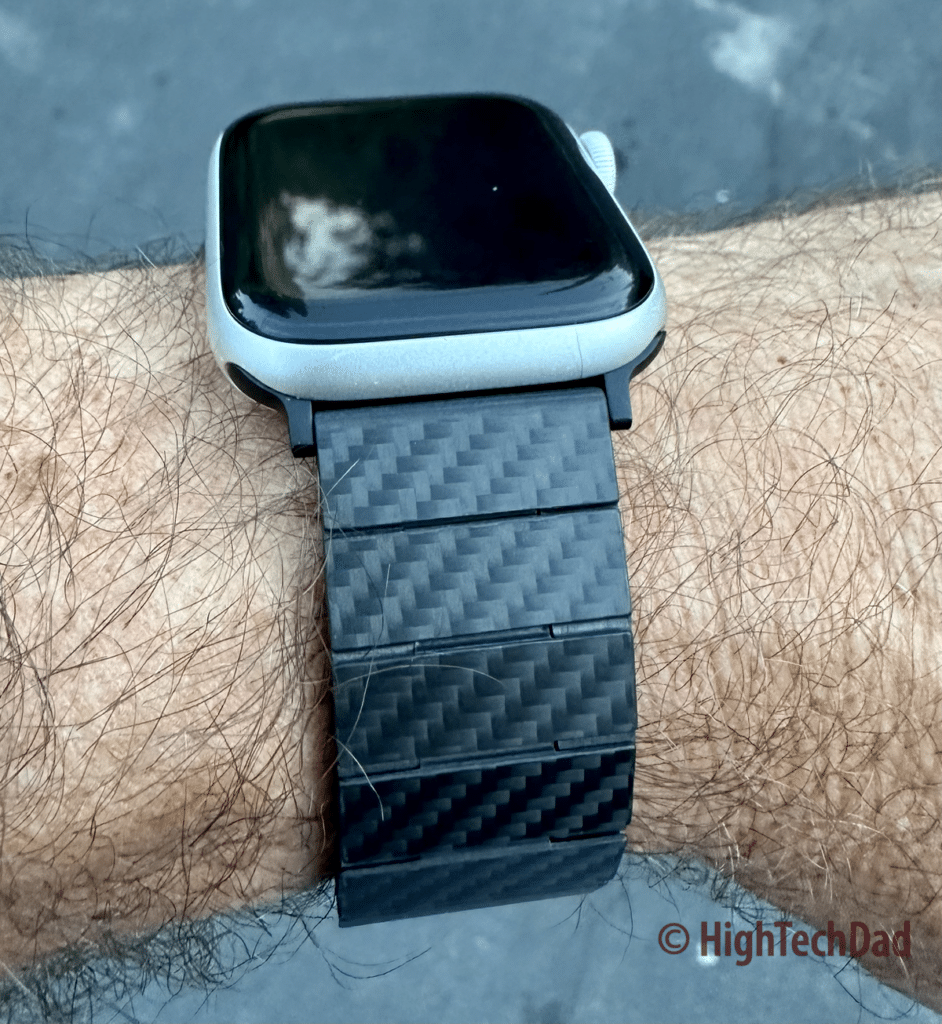 The PITAKA Carbon Fiber Apple Watch is on sale as of the writing of this review for $89.99 (normally $99.00). It is also available on Amazon for $89.00 currently.
Shop on HighTechDad.com
The product shown below (and related products that have been reviewed on HighTechDad) is available within the HighTechDad Shop. This review has all of the details about this particular product and you can order it directly by clicking on the Buy button or clicking on the image/title to view more. Be sure to review other products available in the HighTechDad Shop.
The PITAKA Carbon Fiber Apple Watch band offers a great combination of style and durability. Its carbon fiber construction ensures reliable protection for your Apple Watch, while its sleek design enhances the overall aesthetics. Its premium build quality, comfortable fit, and versatile design make it a great alternative to many Apple Watch bands. Whether you're a fitness enthusiast or someone looking to elevate the appearance of your Apple Watch, the PITAKA Carbon Fiber band is definitely worth considering.
Disclosure: I have a material connection because I received a sample of a product for consideration in preparing to review the product and write this content. I was/am not expected to return this item after my review period. All opinions within this article are my own and are typically not subject to editorial review from any 3rd party. Also, some of the links in the post above may be "affiliate" or "advertising" links. These may be automatically created or placed by me manually. This means if you click on the link and purchase the item (sometimes but not necessarily the product or service being reviewed), I will receive a small affiliate or advertising commission. More information can be found on my About page.
HTD says: The PITAKA Carbon Fiber Apple Watch band offers a modern style coupled with the durable design of carbon fiber. This lightweight, metallic watch band is excellent for athletes since it is lightweight and strong, but it also looks good as an everyday watch band that can even be dressed up in less-casual environments.
HighTechDad Ratings
Ease-of-Use

Family-Friendly

Price Point

Features
Summary
The PITAKA Carbon Fiber Apple Watch band offers a modern style coupled with the durable design of carbon fiber. This lightweight, metallic watch band is excellent for athletes since it is lightweight and strong, but it also looks good as an everyday watch band that can even be dressed up in less-casual environments. It does take a little bit of dexterity and time to adjust the watch band to match your wrist size. And it is quite easy to lose the pin that holds the links together. However, once it is sized to your wrist, the band is quite solid. It is amazingly strong but very lightweight. And the price is reasonable given the materials and the design.
Pros
Lightweight
Strong
Modern look
Cons
Could fall off if detached from magnet
Easy to lose the pin