To kick off the HighTechDad "1 Gift a Day" Week, I have a pretty hot game to give away: Bakugan – Battle Brawlers, and, it's BOTH the Wii and Nintendo DS versions!
Here is a little about the game that I'm giving away: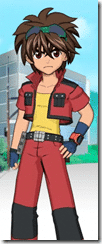 Fans can jump in the game to answer the call to brawl as they throw Bakugan cards onto the battlefield and then try to carefully shoot their Bakugan balls onto the cards to unleash their monstrous powers. When two Bakugans stand on the same card, they transform into gigantic creatures and fight to the finish.
Bakugan is based on the story of Dan and his friends whose lives were forever changed when mysterious cards fell from the sky. Creating a game from the cards where powerful creatures known as Bakugan battle, it wasn't long before they discovered that their hobby was much more than just a simple pastime.
Utilizing special game cards Bakugan battle masters roll spheres onto the cards, which activate and transform into Bakugan "battle brawling" action figures.
To Enter for this Gift Giveaway, all that you need to do is the following:
Enter a comment below on why you want to get this gift
Make sure your comment has either your Twitter account or an email account so that I can notify you if you are a winner. If you leave a Twitter account, be sure to follow me so that I can DM you.
Tweet out a link to this page with something like the following "Win Bakugan: Battle Brawlers! Leave a comment on @HighTechDad's blog on why you want to win: https://www.hightechdad.com/bak Please RT!" –> Click here to launch Twitter with this message prepopulated
If there are 30 or more comments logged, a winner will be chosen.
Sorry, but unless otherwise noted, U.S. Residents only.
WINNERS will be announced the DAY AFTER each giveaway in the morning (Pacific Time).
Comments must be logged for each day by midnight that day (Pacific Time).
You can only win once!
WINNER – Lott42 (@tiburonmarrajo on Twitter) is the winner of Gift #1
HTD says: Good luck! Can't wait to hear why you want Bakugan!