It's a proven fact that sitting at your desk for many hours a day is bad for your health. And, it doesn't matter if you hit the gym before or after doing a long stretch of desk work. At a minimum, you need to get up out of your chair at least once an hour and for a few minutes minimum. But if you simply can't do that, there have been advances in desks that allow you to convert your workplace from a sitting desk to a standing one. Some are manual and some motorized. But the concept is the same, you raise or lower your desktop to convert from a sitting desk to a standing desk. These sit-stand desks, like the Autonomous Smart Desk 2 – Home Office, have had their technology improve over the years, making them an essential to any office, home or at work. (*Disclosure below)
I have had the pleasure of using a sit-stand desk at a few offices where I have worked, and I must say that once you get used to them, they are quite addictive. I found myself during long conference calls wanting to do the entire call standing. So, with a press of a button, I was able to raise my desktop to a pre-defined height. Then, once my call was done, press a different button, and the desk would magically lower to a comfortable height for sitting.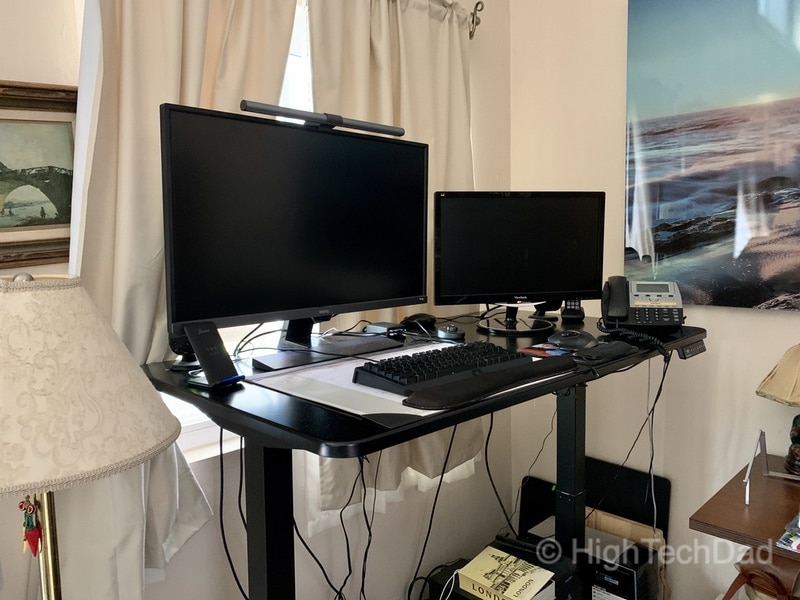 For several years, the prices of these motorized desktops (note, there are manual, hand-crank ones as well), we a bit too pricey. But more recently, the prices have dropped to make them much more reasonable, even for a home office. My wife has wanted to have one for the home office, but we just hadn't found one that would work for us, either because they were too expensive or didn't have the features we wanted. That all changed when Autonomous reached out to me to find out if I wanted to review their Smart Desk 2. So, of course, I accepted their offer.
Key Features of the Autonomous Smart Desk 2
So what was I looking for (that the Autonomous Smart Desk 2 had) in a sit-stand desk? For starters, I wanted to be sure that the desk was motorized. I didn't want my wife to have to crank the desk up and down manually.
I also wanted the desk to have pre-defined and programmable height settings. That way, we could program the standing height and sitting height for my wife. And, I wanted to be able to do the same thing for me (as I'm a bit taller). The Autonomous Smart Desk 2 has four memory settings with dedicated buttons just under the desktop to be able to do this.
The desk needed to be of a solid construction and be able to hold a couple of monitors, desktop telephone, keyboard, mouse, speakers, and other items. So it needed to be able to support a fair amount of weight. The Smart Desk 2 holds up to 300 lbs. which is more than enough support.
We had a limited amount of space to put the desk so it couldn't be too long or too wide. We were going to replace a large corner desk that looked like it belonged in a lawyers office. While the old desk worked, we had to set up a makeshift standing desk for my wife, but that was permanent and looked a bit cluttered and crazy. The Smart Desk 2 measures about 50" long (you can get a more extended version which is over 70") and the width was good at about 29". It was a perfect fit.
While I already mentioned the solid construction as well as the need for it to be motorized, it's important to talk about the combination of the two. I have tested sit-stand desks at stores that wobbled when they were at the standing height. I would have been concerned having something like that holding multiple monitors. Also, the motors that raise and lower the desktop need to be strong, fast, and quiet. The Autonomous had all of the positive characteristics. The desk doesn't wobble at the highest setting, and the motors quickly and quietly raised and lowered the desk. In fact, the motors are quite quiet, only about 45 decibels (think quiet-library level).
The non-wobbling stability is because of the heavy construction of the legs and frame. I do have to note, the desk itself is quite heavy. But that is a good thing. It means that it is solidly constructed.
Assembling the Autonomous Smart Desk 2
There IS assembly required with this sit-stand desk. It comes in two boxed (at least my model did). One box holds the desktop, and the other holds the frame. Both items are extremely well packed to prevent damage during shipment. Ours arrived just fine. And, while I was the only one who assembled the Smart Desk 2, at the end of assembly, I did need some help to move the desk into place.
If you are ok assembling cabinets or bookcases from big box stores, the process of putting together the Smart Desk 2 is relatively similar. Just be sure you have plenty of space to do the assembly, and I recommend doing the assembly in the room where the desk will be (I almost couldn't get it through the door, so I actually assembled the frame in one room and then moved the frame and desktop to the final room and put it together there).
You don't need any tools to do the assembly. Everything is included in the box. There are even a couple of extra screws included in case you lose one (and yes, I checked to see if I had screwed everything in properly and didn't leave anything out).
The instructions are pretty good, but not super. A few times, I had to re-read the instructions and look at the illustrations to try to understand what was being described. They could be slightly better with bigger drawings. But eventually, it all made sense to me. (And I have put together many pieces of furniture in my life.)
Once you have the desk assembled and put into place, you need to test it out. The first initialization takes a few seconds to happen. And, in fact, I had to re-initialize the control board to get it to happen (the instructions are in the manual).
For this particular sit-stand desk, the highest it can go is 47" (which is too high for me at 5'7"), and the lowest is 28" (much too low for me but better for my wife). This is a good range.
When you test the height, be sure that there are no obstructions. We had to pull the desk slightly away from our window because it was just barely hitting the curtain holdback hooks. Also, once you have put all of your monitors and other corded items onto the desk, you need to probably do some cable management to ensure that at the highest height, the cords aren't being pulled out. Test it out carefully. (Note: there are two holes in the back of the desktop for you to put cables through – a nice feature to have.)
Standing Up to Work
Overall, I feel the Autonomous Smart Desk 2 to be a quite solid addition to our home office, literally and figuratively. It provides the option to sit or stand when you want to, all via just a touch of a button. The construction is solid as well, no wobbling or shaking when you are hammering on the keyboard.
The Smart Desk 2 – Home Office comes in a variety of color combinations. I elected for the very basic black frame and black top. But you can customize both the surface material and the frame (which may affect the price). The surface can be black, walnut, bamboo, white, or white oak. And the frame can be black, white, or grey steel.
One of the best things though about the Smart Desk 2 is the price. The black/black standard size desk retails for $349. Shipping depends on your location. In my area, it's done via FedEx and costs about $49. For the construction and features, I feel that this is quite a reasonable price to pay, especially since I think that the desk will last.
Shop on HighTechDad
The product shown below (and related products that have been reviewed on HighTechDad) is available within the HighTechDad Shop. This review has all of the details about this particular product and you can order it directly by clicking on the Buy button or clicking on the image/title to view more. Be sure to review other products available in the HighTechDad Shop.
Disclosure: I have a material connection because I received a sample of a product for consideration in preparing to review the product and write this content. I was/am not expected to return this item after my review period. All opinions within this article are my own and are typically not subject to editorial review from any 3rd party. Also, some of the links in the post above may be "affiliate" or "advertising" links. These may be automatically created or placed by me manually. This means if you click on the link and purchase the item (sometimes but not necessarily the product or service being reviewed), I will receive a small affiliate or advertising commission. More information can be found on my About page.
HTD says: Incorporating standing into your working at your desk routine is critical. Get up and stretch your legs every hour. Or even better, get an Autonomous Smart Desk 2 and use the motorized desk to convert your sitting desk into a standing one with a click of a button.
HighTechDad's Ratings
Ease-of-Use

Family-Friendly

Price Point

Features
Summary
Incorporating standing into your working at your desk routine is critical. Get up and stretch your legs every hour. Or even better, get an Autonomous Smart Desk 2 and use the motorized desk to convert your sitting desk into a standing one with a click of a button. Assembling the Autonomous Smart Desk 2 does take a little bit of time. I would budget about 30 minutes to an hour if you are doing it yourself. The construction is really solid. The desk doesn't shake or wobble when using the keyboard, even at the highest setting. Controlling the height is just a press of a button and you have 4 memory settings to use. This sit-stand desk is an essential to any office, home or at work. The price point is comparable to other sit-stand desks out there, and definitely a better deal than buying in a physical store
Pros
Good construction
Quiet motors
Cons
Instructions and graphics could be a bit clearer