A majority of my lightbulbs and wall switches in my home are smart. They can be controlled by Amazon Alexa, Google Home, and by smartphone apps. They are hooked into scenes to provide automated ambiance and remote control. But only recently, has my outdoor lighting joined this smart home generation. And, with the addition of Feit Electric smart WiFi bulbs, my backyard has transformed from boring, dumb, and inefficient lighting into one that is colorful, smart home enabled, and much more energy-efficient. (*Disclosure below.)
We all know the importance of having good lighting in the home. Well, the same holds true for your garden and yards. Not only does well-designed and thought out lighting help with security around the home, but it also livens up any outdoor activity at night. Unfortunately, I have seen too many homes that go a bit overboard with lighting, making areas of a garden much too bright while other areas remain shrouded in darkness. It's important when designing your outdoor lighting to create ambiance. Don't over or under light those areas.
A few years ago, I set up some low voltage LED lights that shine up the trunks of some redwood trees in my backyard. These lights show the depth of the yard without overpowering people with bright lights. And I recently hooked up a smart plug that now allows me to remotely (or via Alexa) turn on or off the lighting.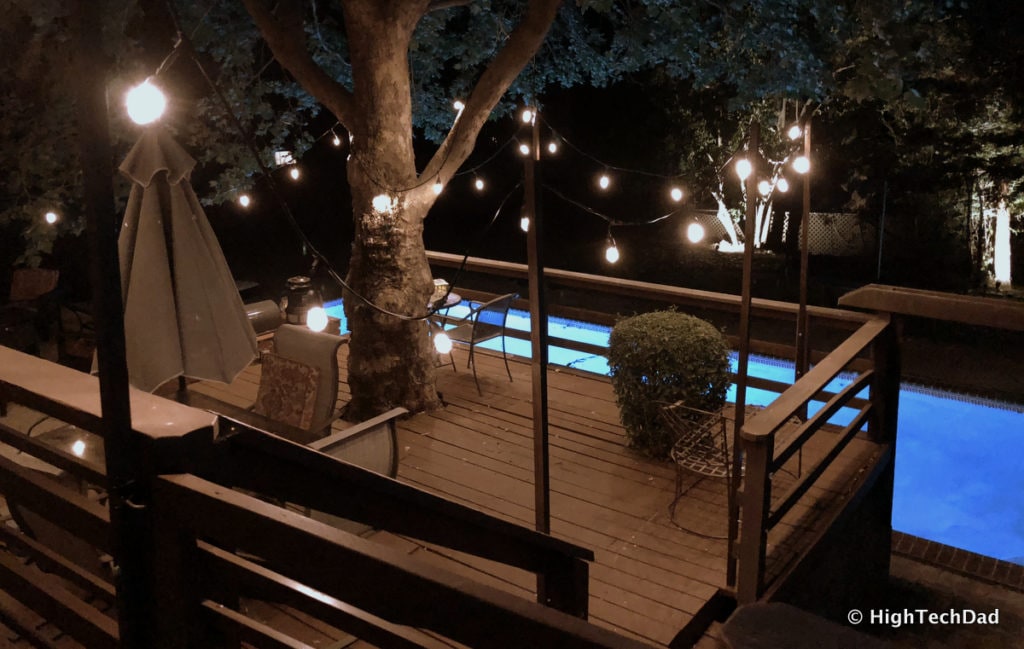 More recently, I set up some cafe lighting using some Feit cafe string lighting to bathe our deck in relaxing lighting. In my DIY article, I walk through the process of creating removable posts for a deck. We regularly use these lights for parties or just providing a non-intense lighting scene in the front part of our backyard.
But what was missing was some lighting for our pool deck area. There were some old floodlights attached to our pool shed, but they were incredibly bright, and the only way to turn them on or off was to walk out to the pool shed and physically turn on the light switch. So, we never used them.
That has all changed now that I have installed the Feit Electric smart WiFi bulbs with color-changing and tunable white levels.
Compelling Features of the Feit Electric Smart Bulbs
As I mentioned, I wanted to have a highly configurable lighting environment in my back yard. So, to accomplish this, I needed to have some floodlight bulbs that could be connected to not only my WiFi but also to services like Google Home or Amazon Alexa. And there had to be a smartphone app that I could use for more detailed lighting configurations.
My kids had some requirements as well. The lightbulbs had to not only be colored but had to have the ability to cycle through various color to provide a party-like ambiance automatically.
The Feit Electric smart WiFi bulbs had all of those requirements, specifically:
Dimmable
Remote on/off
WiFi-enabled (note: you MUST use 2.4 GHz WiFi – it won't connect with 5 GHz)
Assistant-enabled – works with Google Home & Amazon Alexa
Low voltage LEDs – uses only 8 watts per bulb
650 Lumens
25,000 life hours
Color temperature range from 2700 to 6500
Color changing
Tunable white ranges
And, the more I dug into the detailed settings within the Feit app, I found other great configurations like the ability to group lights together (which is critical for the paired floodlights) as well as being able to set up automations and scheduled. Basically, I had found the smart lights to complement the other lighting environments in my backyard.
Setting Up & Configuring the Feit Smart Bulbs
To set up the bulbs, you first need to be sure you have the Feit Electric smartphone app. Download that and create a user account. You will need to have a Feit account later if you want to connect your Feit bulbs to the Assistant services like Google or Amazon. Once you have your account set and the app ready, remove the old floodlight bulbs and screw in the Feit's. This model, the BR30, fits traditional floodlight sockets.
Once the bulbs are in, you need to initiate the bulbs by turning the light switch on and off a few times until the lights start blinking. This means they are in pairing mode. When they are flashing, initiate the connection within the Feit application.
As you go through the pairing process, you will need to connect the bulbs to your available WiFi network. Remember, you need to eventually have the bulbs connect to a 2.4 GHz WiFi network (5 GHz will NOT work).
Assuming the connectivity works, you are done with the setup. I do recommend if you have two floodlight bulb together that you create a group to have the two floodlights act as one. And, if you have other floodlights around your yard, you could create a much larger group. That's entirely up to you. Remember, you can control the Feit bulbs individually as well.
Another part of my smart home setup process included enabling the Feit skill within Amazon Alexa. This will allow you to use voice control from your Alexa-enabled devices. The commands are pretty basic though like turn on or off or set the brightness/dim level. And, you can use Alexa to set the color of the bulbs assuming you aren't using odd color names.
The other nice thing about connecting the Feits to Alexa is being able to group other smart devices (like lights) from other brands together. Remember the tree lights that I mentioned earlier? I created a group within Alexa for outdoor lights which allows me to turn on the Feit floodlights with the tree lights together.
Perhaps sometime soon, Feit will release a version of their string lights which are WiFi-enabled and smart. Once they do, the patio and cafe string lighting I currently have will get an upgrade!
Diving Deeper into Lighting Configurations
The only (minor) complaint I have about these smart lights is not about the lights themselves, but rather about the smartphone app that controls them. From the initial review, there are lots of core features built into the app, which is great as well as important. You can turn individual lights on and off, create and control groups of lights, and set up "smart scenes" where lighting is driving by different scenarios.
These smart scenes can have automation, individual or group lights, or timing associated with them. Say, for example, you want your lights on for a set amount of time, you could set up a scene called "2-hour lighting," and once you press that scene, the lights would be on for two hours and then turn off.
For automation, you have even more control. Driven by a specific condition (e.g., temperature, humidity, weather, sunrise/sunset, schedule, or a device), you can control your lighting. While I haven't set these up yet, you could do things like have the lights go on at sunset and turn off at sunrise. Or, if the weather is trending towards rain, you could have the lights turn red so that people know it might rain (lightning and pools don't mix well together).
But here is where my minor complaint comes into play. I don't read instruction manuals. I feel that apps need to be intuitive for them to be used and adopted. Well, I couldn't figure out how to change colors of the bulbs, dim lights, or use any of the "party lighting" that my girls really wanted.
Then I figured it out (by reading the manual).
To get into the more advanced configurations of the lights which includes dimming, tuning the white color, setting colors themselves, setting a schedule, or using one of the color effects, you have to touch-and-hold the light or group in the app for a few seconds. Once you hold for perhaps 2-3 seconds, a second screen will open, allowing you to do all of the aforementioned features.
I just wish it was a bit more intuitive.
The same holds true for the Effects panel. For each effect, there is a hamburger menu and a pen to edit the effect. It isn't that intuitive. The hamburger menu allows you to select the colors that you want to use in the particular effect. And the pen allows you to edit things like Saturation, Brightness, and Speed for that particular effect.
Once I figured that out, the lights became much more fun (and more highly configurable). And I was able to create a fading rainbow of color lights which made my girls quite happy.
It's also great to be able to adjust how dim or bright the lights are, as well as change the color temperature of the white. I found that a warmer, less bright white is much more relaxing around the pool at night. But sometimes a cool blue light complements the colors of the pool (yes, I have colored LED lights in my pool as well).
"Let There Be Smart Light"
Now I have rounded out my backyard lighting with intelligence. From voice control to being able to configure all types of lighting scenarios and crafting a warmer ambiance than before, my family and I are quite happy. And the Feit floodlights were the missing link to transforming my dumb backyard into a smart one.
Another great thing about these smart floodlights from Feit is their price. They are available on Amazon for $17.99 each which is right in line with what I would pay for good quality smart lightbulbs.
Shop on HighTechDad
The product shown below (and related products that have been reviewed on HighTechDad) is available within the HighTechDad Shop. This review has all of the details about this particular product and you can order it directly by clicking on the Buy button or clicking on the image/title to view more. Be sure to review other products available in the HighTechDad Shop.
Honestly, I'm now looking at other old floodlights I have installed around my house to see if they might be a good place to have color and smarts. Remember, you need to leave the light switch on for the lights to remain smart. If you switch them off, they are off completely and not connected to your WiFi. I actually put a guard over the light switch in the pool shed to prevent people from shutting it off.
Regardless, if you have some old, inefficient, dumb floodlights in your yard that you want to spice up with smarts, connectivity, color, automation, and scenes, you are going to want to pick up a pair of these Feit bulbs! The upgrade truly couldn't be easier.
Disclosure: I have a material connection because I received a sample of a product for consideration in preparing to review the product and write this content. I was/am not expected to return this item after my review period. All opinions within this article are my own and are typically not subject to editorial review from any 3rd party. Also, some of the links in the post above may be "affiliate" or "advertising" links. These may be automatically created or placed by me manually. This means if you click on the link and purchase the item (sometimes but not necessarily the product or service being reviewed), I will receive a small affiliate or advertising commission. More information can be found on my About page.
HTD says: To bring color, ambiance, automation, and elegance to your backyard lighting, you must get some connected smart floodlight bulbs. Feit Electric has the perfect WiFi-enabled smart bulbs to transform your yard from something boring to something amazing.
HighTechDad's Ratings
Ease-of-Use

Family-Friendly

Price Point

Features
Summary
To bring color, ambiance, automation, and elegance to your backyard lighting, you must get some connected smart floodlight bulbs. Feit Electric has the perfect WiFi-enabled smart bulbs to transform your yard from something boring to something amazing. If you want to create an exciting and colorful ambiance in your back yard, or you want to automate security lighting around your home, these Feit smart floodlights can pretty much do it all. And, once you learn how to get to the advanced color and lighting configurations and options (think long-press on the light or group), you have the power to create all sorts of scenes and lighting environments. 
Pros
Lots of configuration & automation options
Connects with Smart Assistants
Can be used with groups or scenes within app or with Smart Assistants
Easy to set up and connect
Cons
Takes reading the manual to get to the advanced color and lighting configurations (not initially intuitive)
Only uses 2.4 GHz WiFi