A few years ago, when smart speakers started hitting the market and arrived into our homes, we were amazed by how they could listen to and react to our commands based on a trigger keyword. I felt it was something straight out of Star Trek! Depending on the device you got however, while the voice responses sounded great, if you wanted to play music, sounds were, I felt, a bit sub-par. Music lacked bass or was tinny. Multi-generations later, smart speakers have the "smart" side as a given and have dramatically improved the "speaker" side of the equation. A perfect example is the new Nest Audio – a smart speaker connected to the Google Home app that sounds fantastic! (*Disclosure below.)
I have tested many speakers over the years. While I'm not an audiophile, I do know what I think sounds good and what doesn't. For example, if a speaker lacks bass, I will search for one that can "thump" a bit more. If the sound is mushy or flat, that is equally as bad and annoying, and I will find one with crisper and clearer highs. Google has realized this with its latest smart speaker release – the Nest Audio – and my ears were pleasantly impressed.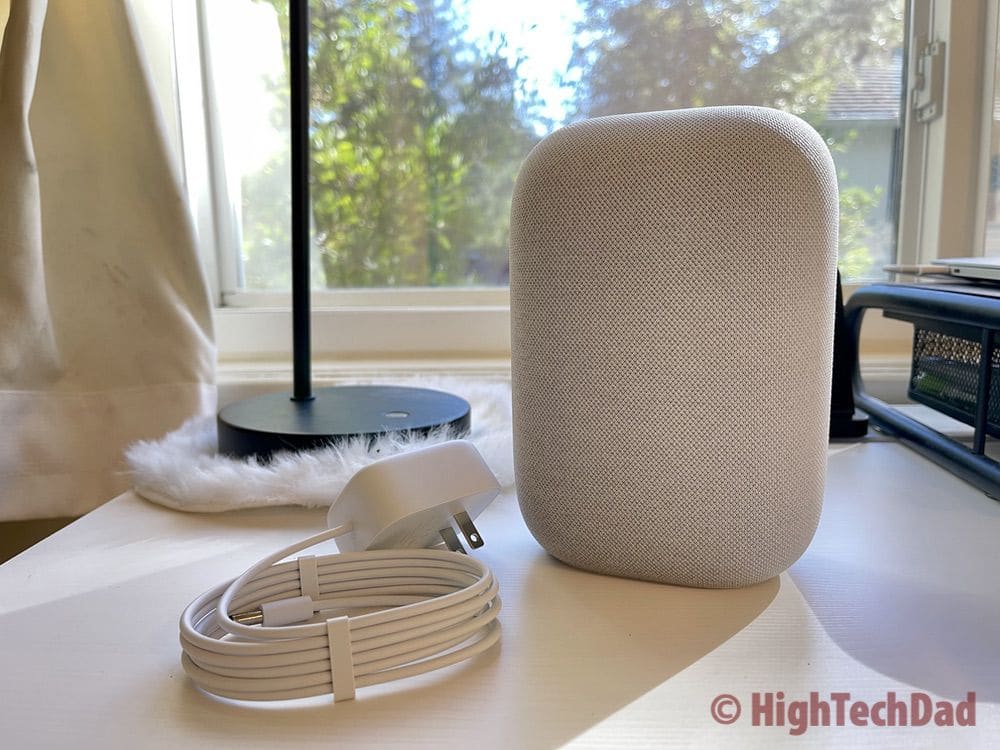 Whether you have fully embraced the Google Home ecosystem, have never integrated a Google smart device, or have a "mixed" ecosystem environment (like I do), the Nest Audio smart speaker will easily fit into your home or office and truly uplevel your music-listening experience. Even if you don't want to use it as a smart speaker (there is actually a physical mic off switch on the back of the Nest Audio), you can still easily stream and play music from the Nest Audio speaker.
But if you truly want to take advantage of having a smart home, leave the mic switch on and interact with Google via spoken commands to control over 50,000 types of smart home devices!
A Speaker First?
With the age-old question of the chicken or the egg, I have to ask, what is the Nest Audio? A smart device that is also a speaker? Or a speaker that is also smart? I'm actually going to go with the latter – a "smart speaker" (drop the "smart" adjective, and you are left with a speaker). The original Google Home (which I have NOT reviewed) was touted more of a smart device with a speaker. Google aimed to change this with the Nest Audio.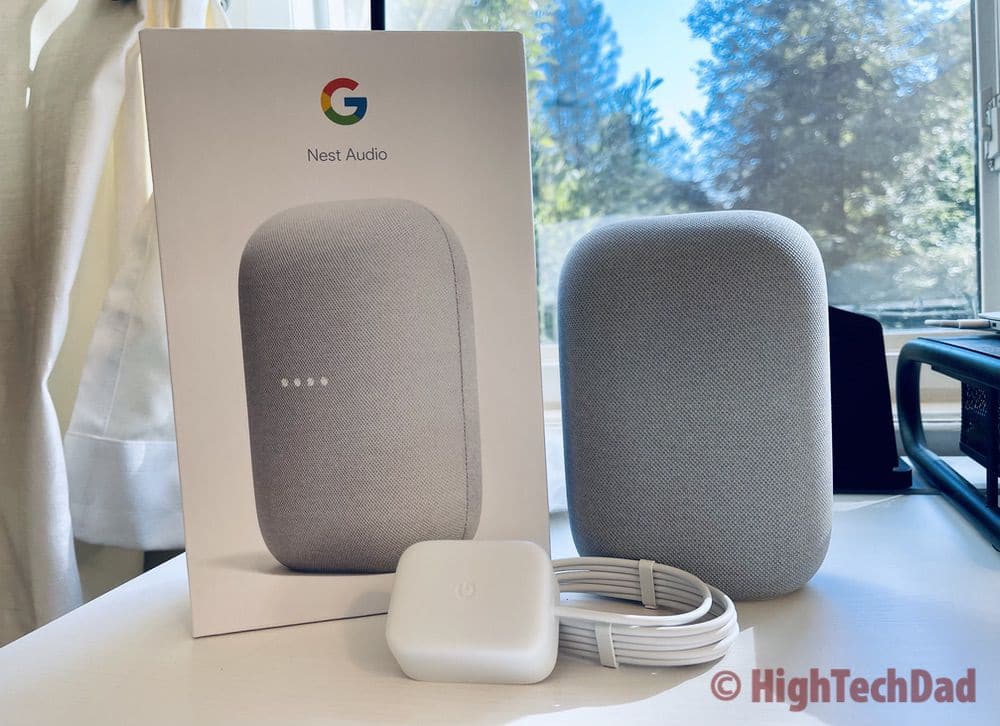 Nest Audio is actually 75% louder than the original Google Home. And, I'm happy to say it has 50% more bass than the Google Home. Bass is quite important, in my opinion; otherwise, don't listen to music. Boasting a 75mm mid-woofer, the Nest Audio smart speaker definitely has enough "thump" power. We placed our Nest Audio in our master bathroom, and now the music actually can drown out my shower singing.
But the highs excel as well as they are clear and crisp, powered by a 19mm tweeter. All of this beautiful sound engineering is encapsulated into a nondescript, mesh-covered speaker, which measures 6.9″ high by 4.9″ wide by 3.1″ deep. By the way, the colors integrate well into many color schemes as you can choose Chalk (the color in my photos), Charcoal, Sand, Sky, and Sage. But I digress. Let's talk some more about sound.
While I only tested a single Nest Audio, you can set them up as a stereo pair with two Nest Audios, complete with left and right channel separation. And, you can group the Nest Audio with other recent Nest devices like the Nest Mini or Nest Hub Max to spread the joy of synchronized music throughout your home.
I highly recommend ensuring you have your Nest devices all synchronized within your Google Home app. And there is a good reason to do this. If, for example, I was listening to music on the Nest Audio in our bathroom, when I was finished in the bathroom, I could simply transfer the music to a different Nest device, like my Nest Hub Max with a simple voice command "Hey Google, move my music to Living Room Display." (Oops, sorry, I'm moving slightly away from the speaker side and towards the smart side.)
You can add premium and other popular music services to your Google Home configuration and then stream them through Nest Audio. I currently have Pandora configured as my premium service.
But one big criterion for my wife was the ability to connect easily via Bluetooth from her smartphone. This is quite important as she likes listening to podcasts on her phone. Luckily, the Nest Audio fully supports Bluetooth 5.0 (and also has Chromecast built-in so you can cast from any supported device). To pair with the Nest Audio, simply issue the command "pair Bluetooth." The Nest Audio speaker will then tell you what to do next – the nice thing is, it will use whatever name you gave it in the setup process as the device to connect to. Once paired, you can use the commands "connect" or "disconnect" Bluetooth to connect easily.
Or a Smart Device First?
As I alluded to in the previous section, Nest Audio does have the smarts. And it is tightly integrated into the Google ecosystem. In fact, Nest Audio has a dedicated on-device ML (machine learning) chip. What does this mean? It's very fast at responding to music controls, for example. There is nothing worse than asking for the volume to be lowered or a bad song skipped and having to wait a few seconds before the "smart" devices listens, understands, and reacts.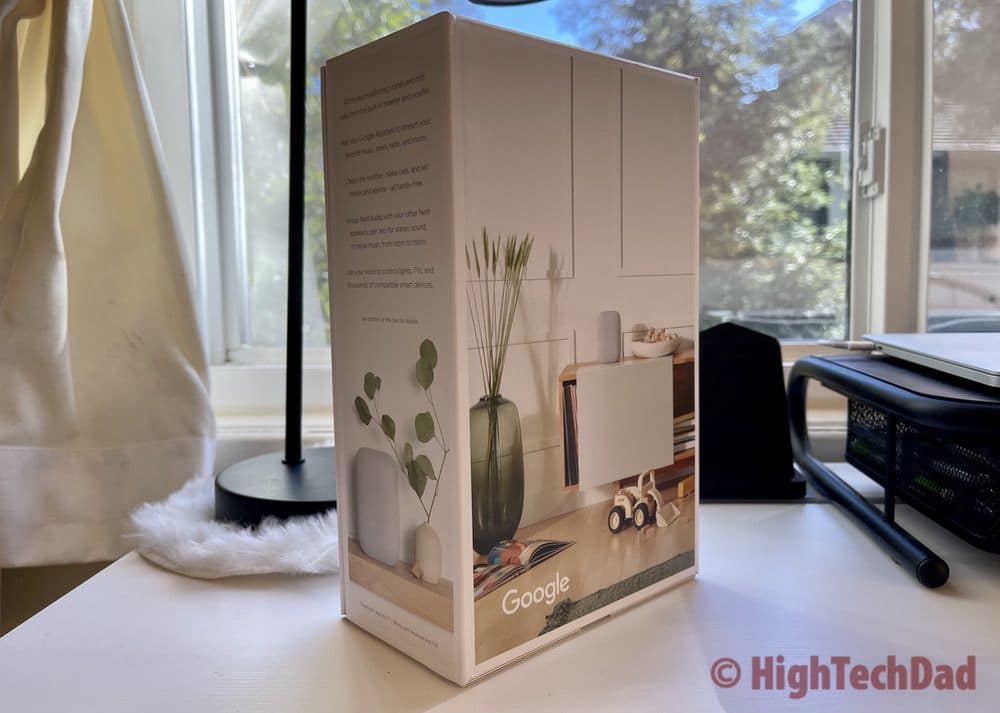 And this is where it might get a bit creepy. With this ML chip, the Nest Audio will begin to anticipate your music requests and smart home commands as it "learns" how you normally act. So, my recommendation is to keep talking to it so that it learns what you want. And once you set up Voice Match, Google Assistant can recognize your voice so you can ask what your specific commute time is or what is on your individual calendar. Then when someone else in your family does it, they get their own personalized experience.
If you use Google Duo, you can make calls (even internationally) via Nest Audio. Once you have Duo set up, you can call tablets, smartphones, landlines, and more. And if you are away from home, you can activate Nest Audio as a sort of home phone using the Google Home app by simply tapping on the "Call Home" button within the app.
If you have kids, the smart functions of Nest Audio are extremely helpful for getting quick answers to questions or learn how to spell complex words. And, Google Assistant can help with math problems and a whole lot more.
So, the quick answer to this is, yes, it is a smart device. But I would say that it is more of a speaker first than a smart device.
Easy Setup, Of Course
As like my other reviews of the Nest Wifi and Nest Hub Max, the Nest Audio has an extremely easy to use wizard that either integrates the Nest Audio into your existing Google Home environment or, if you are new to Google Home and the ecosystem, will quickly get you set up. Regardless, you need to have the Google Home app to set up and configure the Nest Audio.
Here's my quick setup of the Nest Audio (and yes, I already have the Google ecosystem in full swing at our home). You start by launching the Google Home app on your smartphone (available for iOS and Android).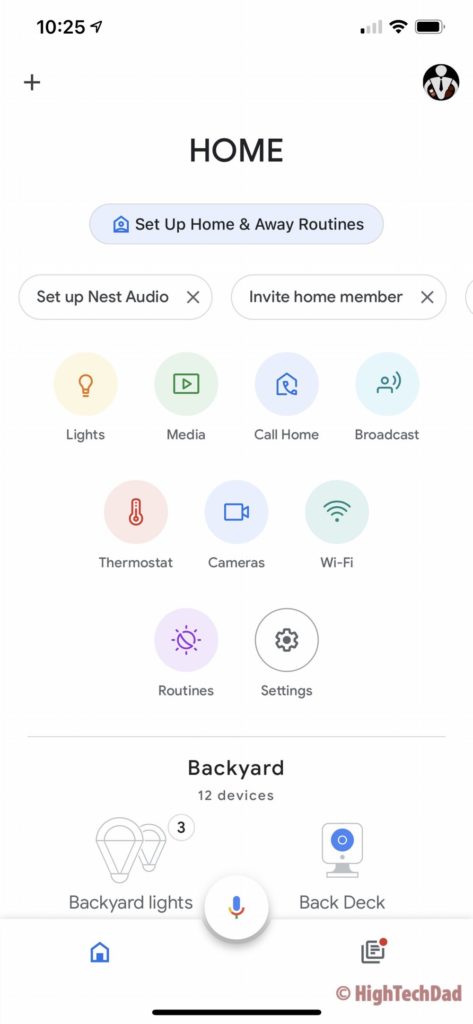 If you have plugged in your Nest Audio (which you should do before initiating the setup), you should see a prompt "Set up Nest Audio." Click on that to continue to the dancing, colorful blocks. Once Google Home finds your Nest Audio, it will ask you if you want to set it up.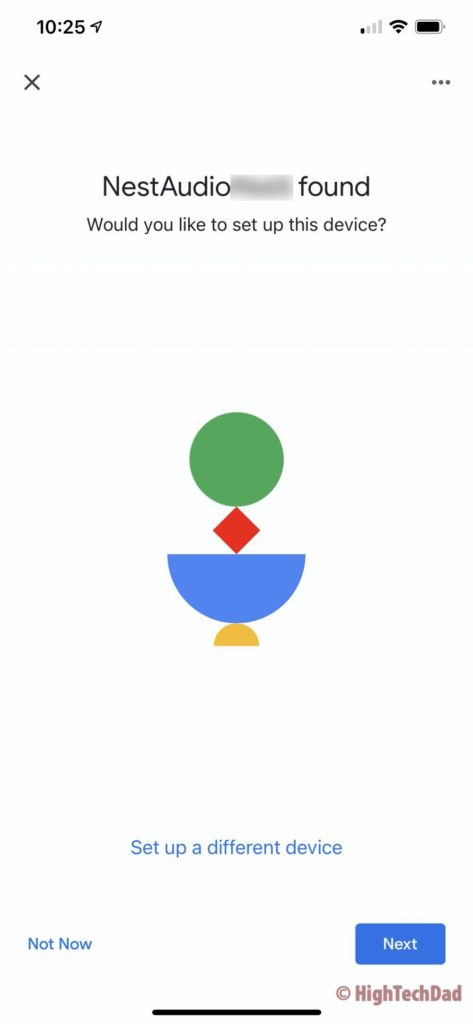 The Nest Audio will play a tone from the one currently being set up. Google Home asks you if it is the proper speaker. The next step is connecting the Nest Audio to the WiFi network you want. I actually have my Nest Audio connecting to a different WiFi than my primary WiFi because I have a WiFi Router closer to the speaker.
I mentioned before about Voice Match. Because I have set up Voice Match on some other devices within my Google ecosystem, I don't need to set it up again. It is automatically enabled, and my voice is differentiated from others'.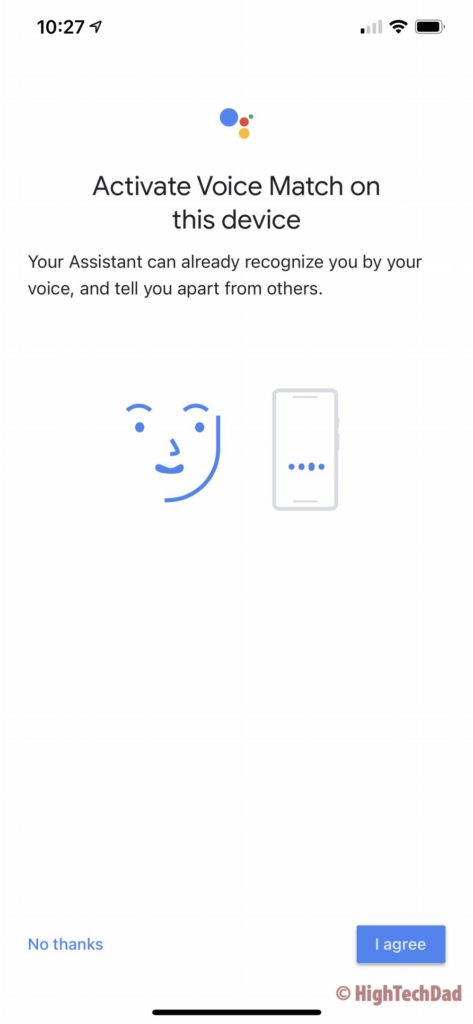 You are in the final stretch of configuring the Nest Audio. Next up is selecting your default Music service (YouTube Music, Spotify, Pandora – what I selected since I have a Premium account, or Deezer).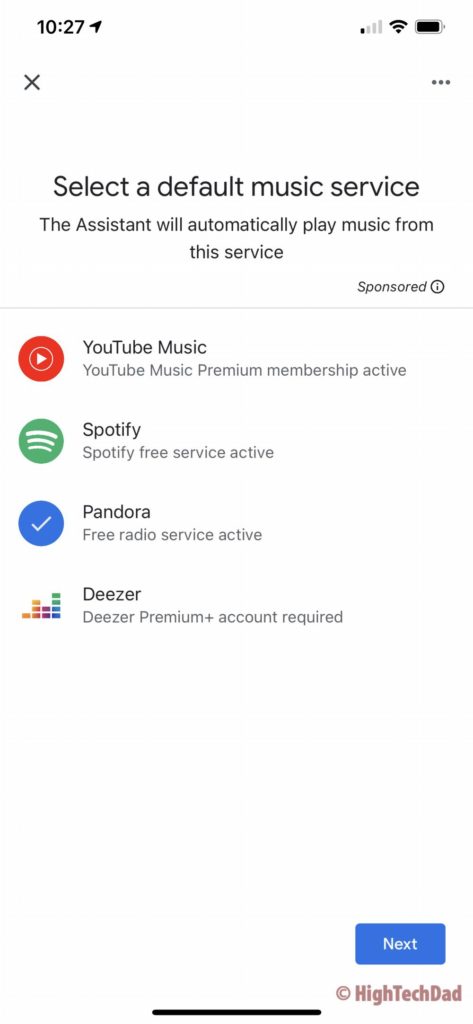 You can also link radio services (like if you have a SiriusXM subscription). But here is a nice tip. You can play local stations by simply asking your Nest Audio ("Hey Google…") to play a particular radio station. You can even stream from other cities. It uses either TuneIn or Radio.com for these services. You will get ads on these, especially if you are using the free streaming service.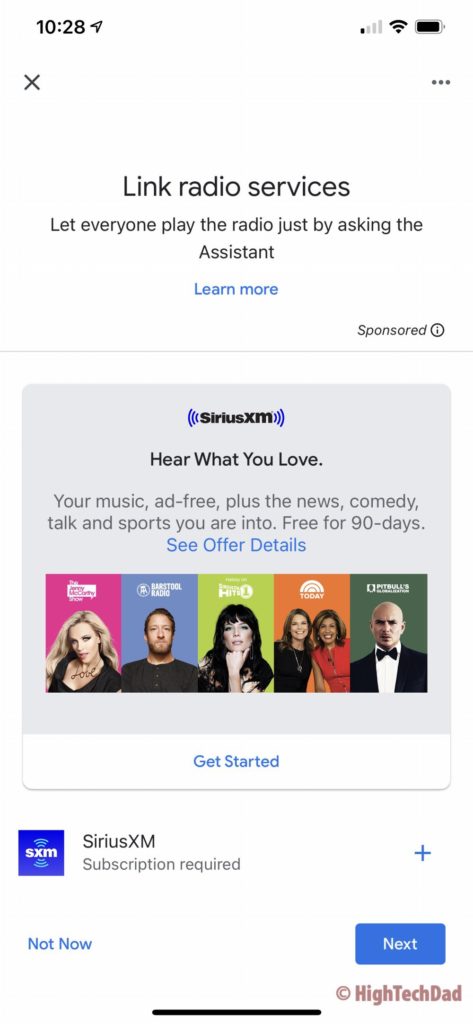 The final setup is just a quick walkthrough on how to use the Nest Audio speaker physically. Tap the top to Play/Pause. Tap the corners to raise or lower the volume (you can use your voice for either of these as well). And then talking about the On/Off physical button for the mic on the back of the Nest Audio.
Honestly, the setup takes literally just a few minutes, even less if you already have Google Home set up in your home.
A Smart Speaker
Ok, yes, I actually think the Nest Audio is a little bit of both, mainly weighted towards the speaker side simply because it sounds so good (I love the bass, as I said). You do have the ability to increase or decrease both the Treble and Bass directly in the Google Home app. But other than that, you don't have any other controls. And that is fine. You really don't much more than that. You should be using all of the smart voice controls instead.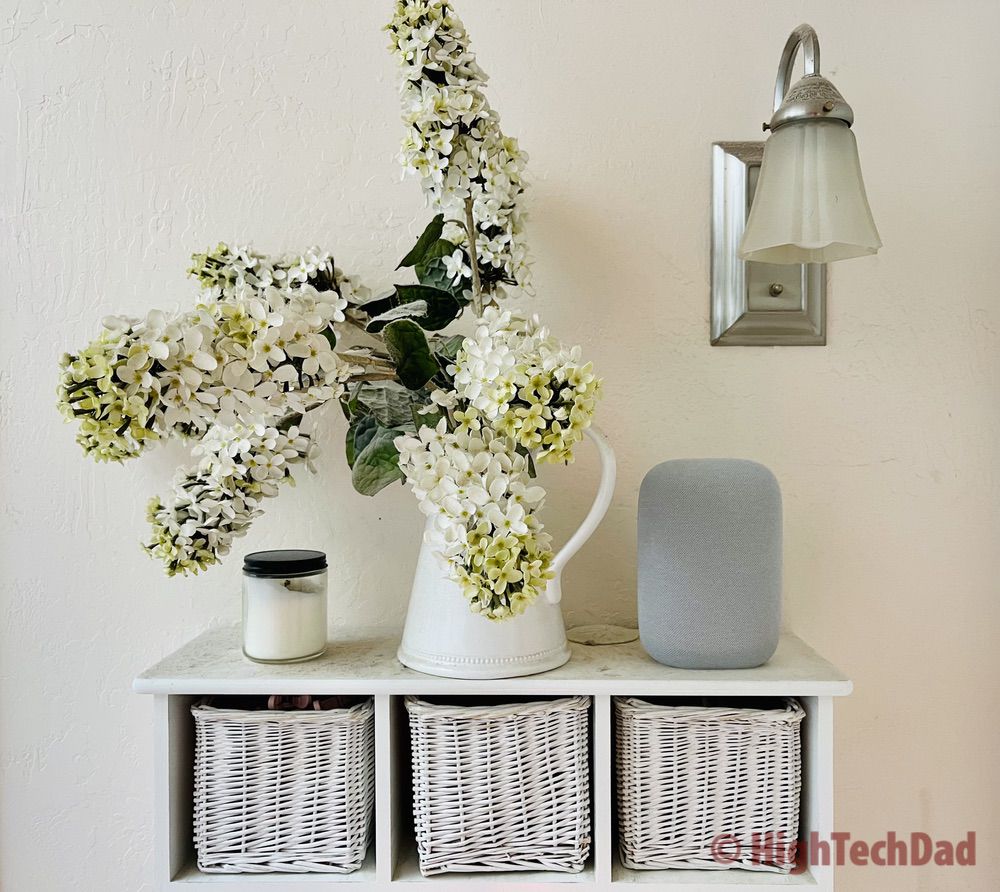 The Nest Audio retails for $99 (available for $99 on Amazon as well). You may be able to get a discount if you get two (and you have the advantage of being able to set up a speaker pair). Or just get a bunch of them and spread them throughout your home!
Shop on HighTechDad
The product shown below (and related products that have been reviewed on HighTechDad) is available within the HighTechDad Shop. This review has all of the details about this particular product and you can order it directly by clicking on the Buy button or clicking on the image/title to view more. Be sure to review other products available in the HighTechDad Shop.
If you are just setting up a Google ecosystem and building out your smart home, or if you have a smart home already, or if you just need a great speaker for another area of your home, the Nest Audio is an easy to install and a quality addition to any home, smart or not.
HTD says: Building out a smart home or just want to listen to high-fidelity music, Nest Audio has you covered! The easy setup and the integration with Google Home and Google Assistant make it smart. The sound quality makes it an even better addition to your home.
HighTechDad Ratings
Ease-of-Use

Family-Friendly

Price Point

Features
Summary
Building out a smart home or just want to listen to high-fidelity music, Nest Audio has you covered! The easy setup and the integration with Google Home and Google Assistant make it smart. The sound quality makes it an even better addition to your home. If you are looking for a speaker that is smart, Nest Audio should probably be on your shortlist. It is reasonably priced, especially compared to the quality of the sound output. If you play it loud, there is no perceptible degradation of sound nor distortion. At regular volumes, the sound is balanced, deep, and crisp. Google Assistant responds quickly to your voice commands, especially as it begins to learn your preferences. It's tough to go wrong with Nest Audio.
Pros
Reasonably priced
Great sound quality (deep bass and crisp trebles)
Easy to set up
Cons
Wish is had more streaming offerings, but that is not a reflection of Nest Audio