Depending on which smart assistant ecosystem you have running in your home, you will want to find something that is the core control center. This is a device that everyone can interact with, looks great sitting prominently displayed, has a touch screen, has a camera and mic, and has the ability to play audio that actually sounds good. Oh, and it has to have a smart assistant built into it. The Nest Hub Max is a perfect example of what a "front & center" smart hub should be. (*Disclosure below.)
In our home, I have a few smart home ecosystems running. Much of it has been Frankenstein-ed together over the years as I tested different smart devices out. There are two important things to clarify though. There is smart home functionality and smart assistants. And these can all co-exist relatively well.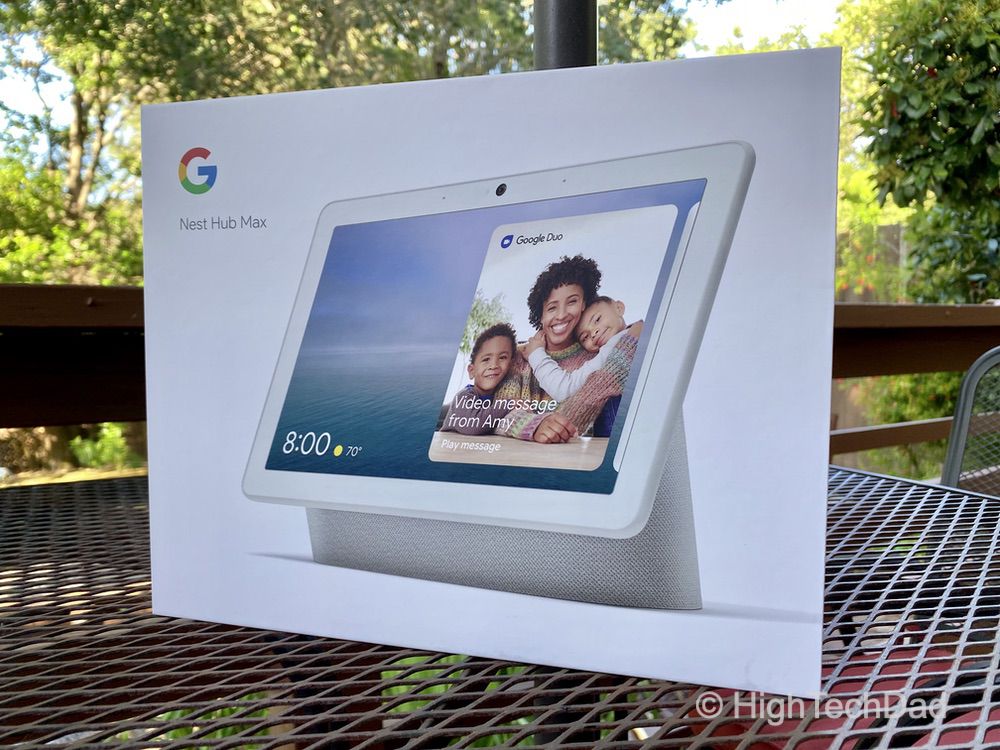 From the smart home side, you have smart hubs that connect into lights, speakers, displays, WiFi routers, locks, cameras, etc. and then all of these devices can be controlled from a smart home app. In most cases, this app relies on a smart home hub where these smart devices connect to, or in some cases, the devices can directly connect to the smart home app. In the case of Google, it's Google Home as the smart app (available on Android & Apple iOS). You can also tie in other services to Google Home to allow them to be controlled.
Then on the smart assistant side, there are several well-known ones like the Google Assistant, Siri, and Microsoft Cortana. Some other devices, apps, and services may have their own voice recognition and smart responses but those are often restricted to just those devices and not as broadly used as the Google, Apple, and Microsoft ones.
The Nest Hub Max is one of those devices which elegantly integrates the smart hub, smart home, and smart assistant into one device that you can showcase.
Multiple Smart Solutions in one Techy Device
As mentioned, the Nest Hub Max is one of those devices which has multiple smart solutions built into the hardware and the supporting software. If you are looking to start a new smart home environment, or simply want to play music or show your latest photos, the Nest Hub Max does that easily.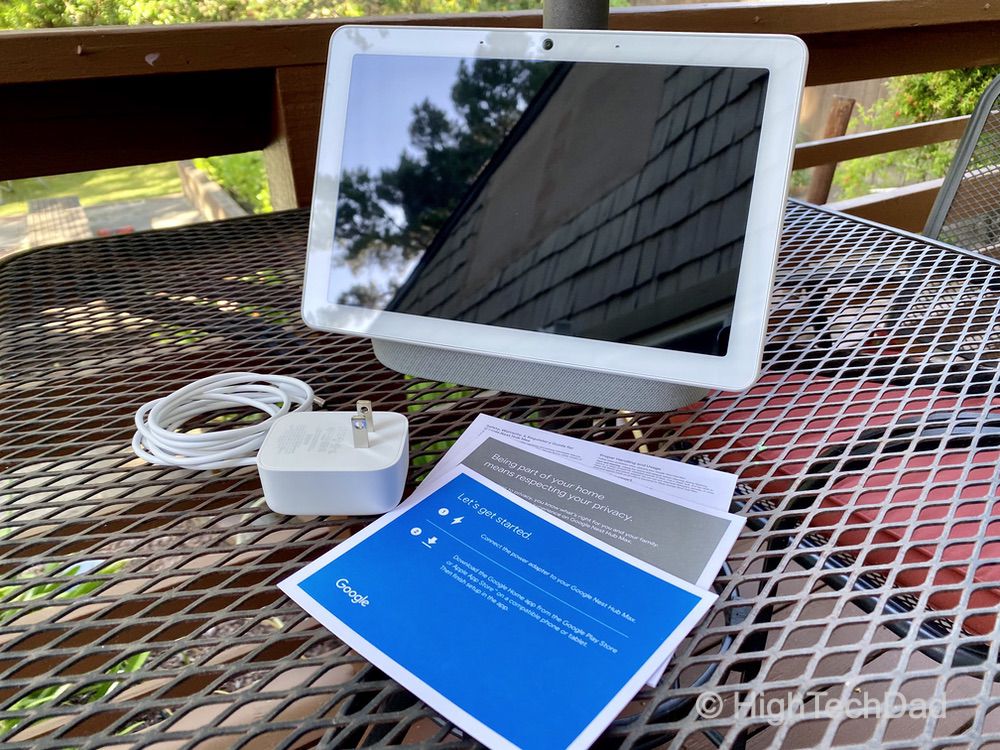 But what if you already have a built in smart home environment, one that uses multiple hardware vendors or even competitive hubs? The Hub Max gracefully integrates with that as well.
I have multiple smart home devices and technologies running in my home. And for the longest time, the Google Home and Google Assistant were not part of it. However, over the years, I have integrated in more cross-platform technologies. And for things like my Nest Thermostat, the Google ecosystem seems to actually work better.
Let me rattle off a few things that the Nest Hub Max brings to the table, literally:
Smart hub – control various smart device
Sound system – 3 speakers for crisp sounds
Photo frame – see those glorious photos
Security – activate the built-in camera or check other security feeds
Smart Assistant – control devices and ask Google Smart Assistant any question
Video feeds – watch YouTube or other videos or live streams
Video calls – use Duo to talk with other Google-connected people
Those are just some of the highlights. I will go into each of these items in a bit more detail below.
For those who want to geek out on the tech specs, here are some highlights:
10-inch HD touch screen (1280×800)
6.5-megapixel camera with a physical off switch for camera & mics
Far-field microphones
2x18mm 10W tweeters & 1x75mm 30W woofer for stereo speakers
Ambient EQ light sensor
Bluetooth 5.0
WiFi (802.11 b/g/n/ac 2.4GHz & 5GHz)
Chromcast built-in
Dimensions – 9.85″ wide x 7.19″ high x 3.99″ deep
I feel that the Nest Hub Max is one of those devices which will become the focal point of any home, with useful command-driven functionality, a glorious display, and a sound system providing outstanding music and spoken voice.
Controlling your Home with the Smart Hub
The core to the Nest Hub Max is actually defined in the name – hub. If you already have a Google account for your smart home (e.g., the Google Home), you are just a few clicks away from integrating the Hub Max into your environment. If you only have a Google account like a Gmail or YouTube account, you are still just a few clicks away.
I won't show each and every step because your setup may (and probably will) vary based on the environment you have. I already had other Google and Nest devices setup and my Google Home has been dialed in with other integrations from other technology providers.
But because I had set it all up before, getting the Nest Hub Max into my ecosystem took just a few minutes. I decided I was just going to set it up on my back deck (note: it's NOT an outdoor device – I was planning on bringing it inside once I had it set up).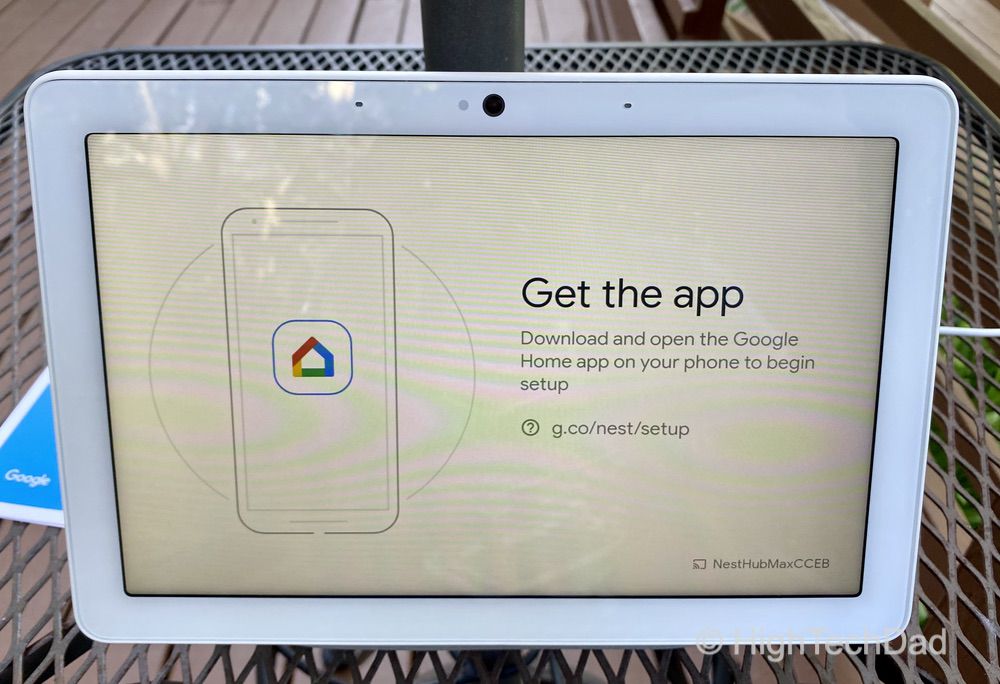 Basically, you plug the Nest Hub Max into power (there is only the Hub Max and a power supply in the box), and follow the on-screen prompt (there are voice instructions as well). At one point, you will need to install and/or log into Google Home to add it to your smart home environment.
After connecting to your WiFi network and telling Google Home where the Nest Hub Max will be located, you can simply set up a few other configurations to get it integrated in. Do read through some of the privacy guidelines to ensure you are ok with them.
If you have other smart home devices and they haven't been connected into Google Home yet, I highly recommend you do that, otherwise, the Nest Hub Max won't have anything to control. You can, however, do this either before or after you integrate the Hub Max into your smart home.
I already had lights, speakers, security cameras, sprinkler systems, locks, pool equipment, TVs, and other devices set up. So, I was ready to control anything.
There are two ways to control your smart home using the Nest Hub Max: voice or touch-screen. You can simply issue spoken commands that say "Hey Google, turn on kitchen lights" if you have defined some lights as being named "kitchen".
Or, you can swipe down from the Nest Hub Max screen and all of your configured devices can be accessed there. Turn on or off those devices just with a finger press. It's super handy.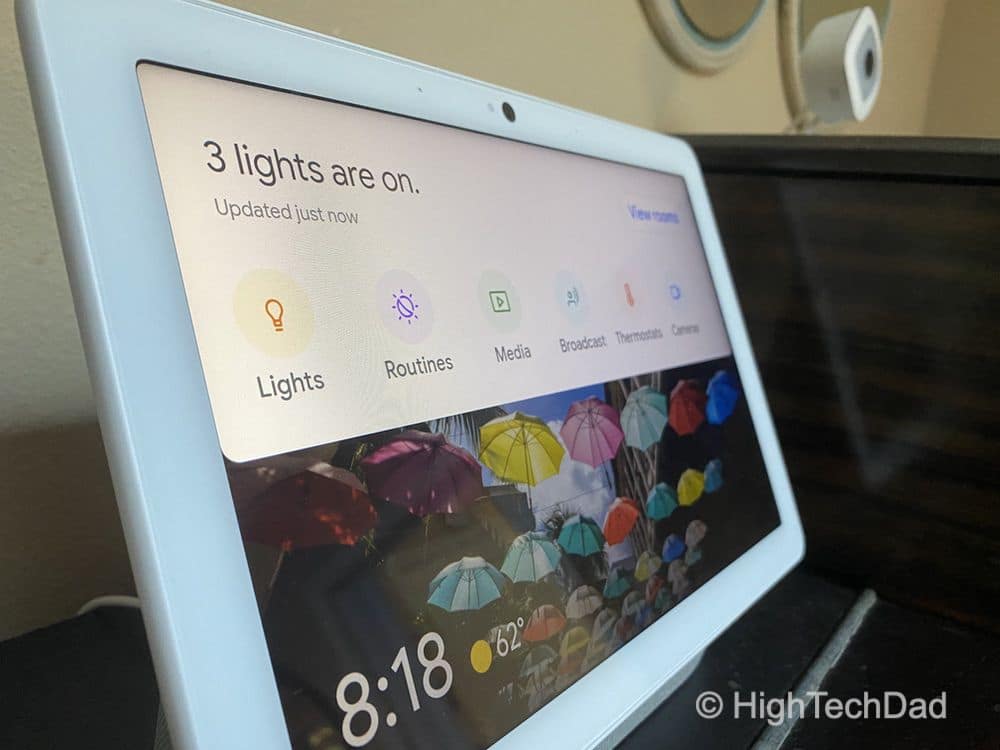 We didn't have space in our kitchen for the Hub Max but I think it's a great device for those large kitchens with lots of counter space. We have it in our living room / dining room area which is a bit more difficult to access physically (use it to display photos among other things) so voice commands are our preferred method for interacting with it.
Pump Up the Jams through the Nest Hub Max Speakers
I have found that speakers, especially ones tied to video displays, vary greatly in the quality of sound. But in general, the larger the display, the better the sound. Typically, this is because you can put more and larger speakers into the base.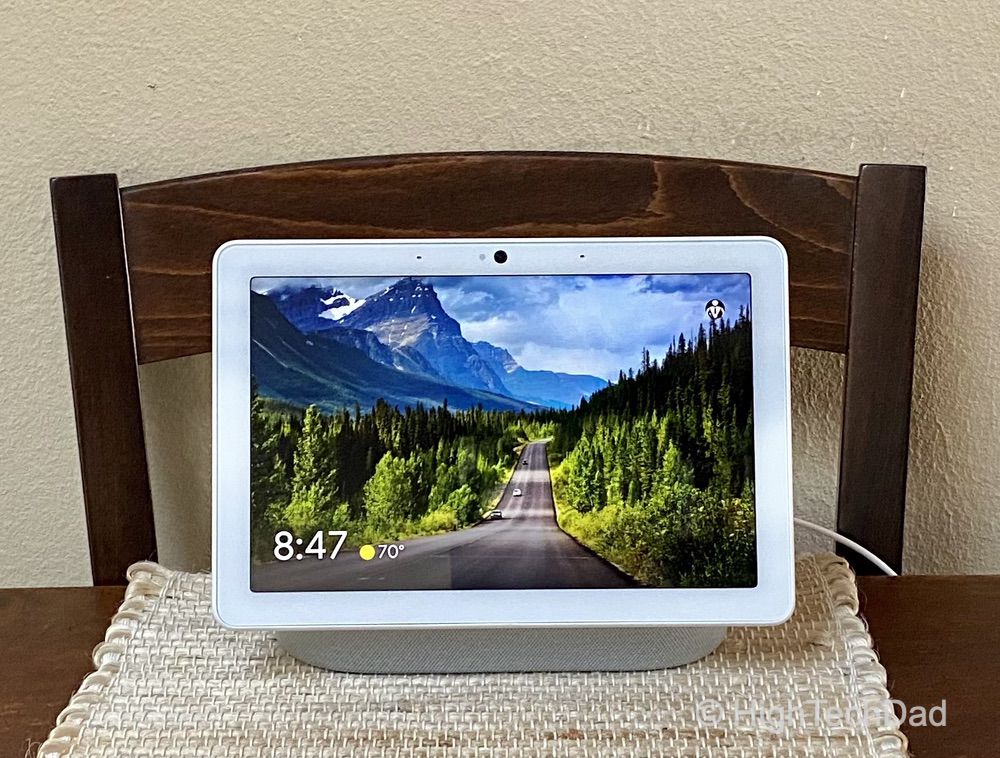 Honestly, there are even some speakers that while big, simply don't sound that great.
The Nest Hub Max produces sound that rivals many higher-end speakers. This is due mainly to the fact that it as two 18mm 10W tweeters and a 75mm 30W woofer. In smaller smart hub devices, there simply may not be room for a woofer. The woofer makes a huge amount of difference to be able to issue strong and deep bass and allowing the tweeters to focus on crisp mids and highs.
You will (must) set up a music streaming service. Luckily, there are many free options (which are typically ad-supported) that you can use. Choose free or premium streaming services like YouTube Music, Pandora, Spotify, or others as your default service.
When you want to play something, simply ask Google to do it. "Hey Google, play reggae on Pandora" and within seconds, you will be streaming Bob Marley. And, due to the far-field microphones, you can play, pause, skip, and change music easily through voice commands.
A Glorious Picture Frame
Having a smart hub with an HD display makes a huge difference when integrating into with your home. And the 10-inch Nest Hub Max truly showcases your photographs in a way to not only bring back memories but also make those memories "on demand."
As I'm the only family member who has fully integrated my Google account into Google Home, the photos that display on the Hub Max are the ones I have taken. And, I don't regularly set up Smart Albums or photo play lists. I simply use Google Photos to back up all of the photos I have on my iPhone. (Note: I HIGHLY recommend you do this and use the Google Photos free service just to ensure that you preserve those memories.)
What I didn't know until I started playing around with the Nest Hub Max a bit more was how truly great this integration is. And, the fact that you can control it again with your voice. Since you have the power of Google backing you up, finding smart playlists is quite easy.
For example, I tested this out by saying "Hey Google, show me photos of Lake Tahoe" and suddenly the Nest Hub Max was streaming a photo playlist of years of vacation photos from Lake Tahoe. Then I tried "show photos of Disneyland" and "show photos of the beach" and the frame brought back lots of memories.
Using the built-in Ambient EQ sensor, the Nest Hub Max will sense how light or dark the environment is and then adjust the brightness of the screen and the color temperature to optimize the playback. And it does this automatically.
You can configure the Hub Max to simply randomly play photos all of the time, with pre-defined intervals between them. Or you can command it to play specific types of photos (e.g., "show photos of dogs"). It's easy to do and great for going down memory lane.
An Added Level of Security
Ensuring that you home is secure and that you can monitor the security either at home or remotely is a huge advantage to having a smart home. The Nest Hub Max allows you to do all of this easily.
For starters, there is a built-in camera that you can, once configured, activate using the Google Home app. Remember, you do have to grant permission to use the camera. And, if you were using the Google Nest account, you will need to migrate it over to Google Home.
Also, if you are concerned about privacy and having cameras active or not, there are a couple of things to remember. For starters, there is a physical switch in the back of the Hub Max which allows you to physically disable both the camera and the microphone at ones. Also, when the camera is active, there is a green LED light on the front which turns on. And, if the camera is being actively monitored, the green light blinks. This is something that Google recently added for security and privacy purposes.
If you have other Nest cameras or other security cameras which work with Google Home, you can display them directly on the Nest Hub Max. You can easily pull up those cameras using voice or the touch interface.
Your Assistant is Smart
In the previous sections, I mentioned various things you can do using the Google Smart Assistant as they relate to some of the core functions like photos, videos, security, and more. It's important to remember that behind the Nest Hub Max, you have the power of Google!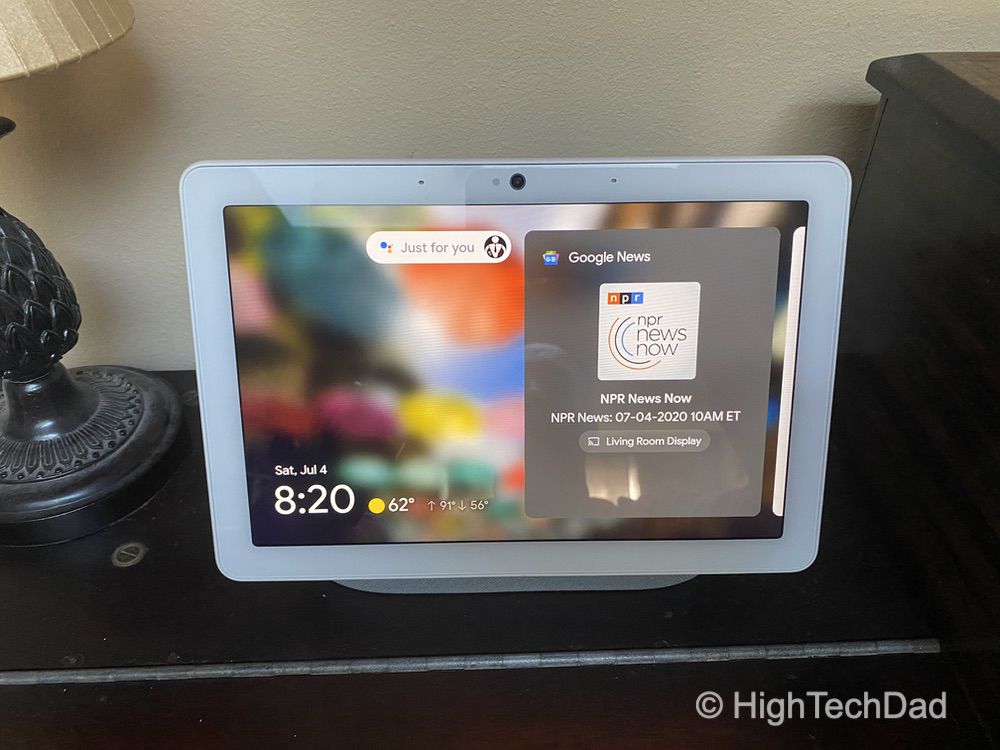 Once you integrate your Google account into the ecosystem (and based on the permissions you allow), the Google Assistant will automagically start to provide useful information to you. Not only can you configure the Hub Max and Google Home to recognize your voice (through a little bit of training), you can also set it up to recognize your face (once you grant permission).
As I walk by the Hub Max (and since I have granted those permissions), it automatically recognizes me. Since I have my work address configured within my account, it shows me how much traffic is on my route. I can also ask what the forecast will be based on my home address automatically.
But you can also ask it to do an unlimited amount of other tasks. One of the really great ones, especially useful if you have the Hub Max in your kitchen, is to show you recipes. And when the Hub Max goes into "recipe mode," it will automatically walk you through the ingredients (and ask if you want them added to your shopping list), as well as the steps to prepare and cook.
When possible, it will show you images and/or videos of the cooking process as well. And this is where the Hub Max truly shines. It has built-in gesture recognition when the camera is active. If you want to pause the recipe instructions (and your hands are too dirty to touch the screen), just hold up your hand to pause and resume the playback. Pretty neat!
You can use those gestures with a lot of other things like when playing videos or music. I haven't explored all of the gestures available but just the ones I know are extremely helpful.
Built for Video Binging
I have already said that the 10-inch high-definition screen is fantastic for videos. And there are multiple ways to take advantage of video streaming. The most obvious one is with YouTube or YouTube TV since YouTube is part of the Google ecosystem. You can issue voice commands to search for and play back videos on demand.
If you have various YouTube video subscriptions, your video playback possibilities expand as well. Just say "hey Google, watch ESPN" and it will start it up.
But if you only have the video streaming service on your Android or iOS device, you can take advantage of the built-in Chromecast functionality and use the Nest Hub Max as an external video device. Simply start the video stream on your device (like using the Netflix app) and then choose the cast icon within that app and select your Nest Hub Max as the display device. Suddenly, you are watching things directly on the Hub Max.
Make the Connection with Video Calling
This is one feature I actually haven't tested out as of yet. Using Google Duo, you can have multiple people on a video call. Those people do need to have a Google Account and Google Duo, but once it is configured, you can have multiple video streams using the screen of the Hub Max and the built-in camera and microphones.
If you need to have a business meeting using Google Meet, you can do that as well. With Google Meet, you can have up to 100 people participating in a video conference call.
Video conferencing is, in my opinion, not something of the future anymore. It's here and it's now. As we continue to work from home, not travel, and socially distance, being able to see the faces in addition to hearing the voices is important to maintaining a sense of connection and community. The Nest Hub Max enables this easily.
So, What Are You Waiting For?
If you are just starting out with a smart home, or you have one fully built-out and you want to add a device that can be the centerpiece of your smart home ecosystem, definitely take a look at the Nest Hub Max.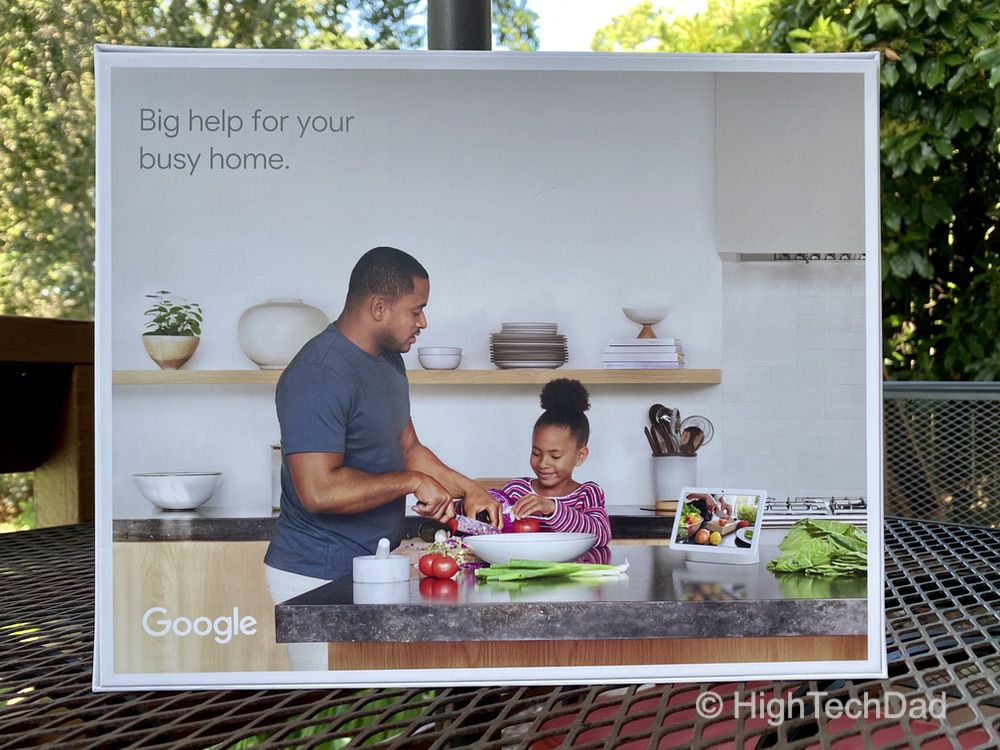 Which one you choose is truly based on the functionality and usefulness you desire, as well as your budget. You can see a comparison of different Nest and Google devices which use the Google Assistant to help with your decision.
For example, I have various Nest Minis around my house awaiting my commands. Those retail for about $50. But when it comes to choosing a display with smart home hub functionality, there are a couple of options from Google: the Nest Hub Max ($229)and the Nest Hub ($89.99).
Shop on HighTechDad
The product shown below (and related products that have been reviewed on HighTechDad) is available within the HighTechDad Shop. This review has all of the details about this particular product and you can order it directly by clicking on the Buy button or clicking on the image/title to view more. Be sure to review other products available in the HighTechDad Shop.
I haven't tested the Nest Hub but from reviewing the specs, I know the following: it's less expensive, it's smaller, it doesn't have a camera, and it only has one speaker. I view this as a nice addition to an existing Google smart home environment.
And there are other similar solutions from other vendors like Lenovo (see my reviews of the Smart Display 7 and the Smart Clock) which can provide similar functionality.
But overall, the Nest Hub Max is a stellar smart home hub for families. I only touched upon some of the core functionality – there is a lot more to discover which I have been doing every day. And I guarantee the Hub Max will become a conversation piece the more it is seen and used.
Disclosure: I have a material connection because I received a sample of a product for consideration in preparing to review the product and write this content. I was/am not expected to return this item after my review period. All opinions within this article are my own and are typically not subject to editorial review from any 3rd party. Also, some of the links in the post above may be "affiliate" or "advertising" links. These may be automatically created or placed by me manually. This means if you click on the link and purchase the item (sometimes but not necessarily the product or service being reviewed), I will receive a small affiliate or advertising commission. More information can be found on my About page.
HTD says: The Nest Hub Max will make any house more intelligent as you integrate various smart devices into the Google Home ecosystem – but it will also provide digital content to be conversation starters as well as connect friends and family across the globe.
HighTechDad Ratings
Ease-of-Use

Family-Friendly

Price Point

Features
Summary
The Nest Hub Max will make any house more intelligent as you integrate various smart devices into the Google Home ecosystem – but it will also provide digital content to be conversation starters as well as connect friends and family across the globe. Setup is extremely easy especially if you already have a Google Home ecosystem configured and running. But if not, you can easily configure your smart home using the Google Home app. Simply integrate in all of your smart devices, set up scenes and rooms, connect with your Google account, and away you go. The sound from the 3 speakers is phenomenal for a smaller device. The display is awesome. Trust me, this visual smart home hub will quickly become the centerpiece and talking piece of your home the more you learn about it.
Pros
Easy to set up
Many configurable options for controlling your smart home
Large Google ecosystem
Great sound and display
Cons
Price may be a bit high for some (but worth it if this is your primary smart hub)