Honestly, I find it increasingly difficult to work with just a single monitor. Whether it is just the built-in screen on a laptop or a desktop computer with just one monitor attached, I immediately feel a bit claustrophobic. When in that type of situation, I often will scale the resolution of the single display to be able to show the most real-estate possible and have two windows side-by-side. But that is less than ideal. Whenever possible, I will attach an additional monitor (or multiple monitors) to allow me to have some breathing room. So when Mobile Pixels asked me if I wanted to review their DUEX Lite secondary screen, I was quite excited to agree. And, for many use cases, the Mobile Pixels DUEX Lite fulfills that need for additional screen space. (*Disclosure below.)
Whenever I show people my desk setup, the one comment I always get is, "wow, that is a lot of screens!" And my response is always, "I still need more!" However, there is something to be said about dedicating a monitor to a single task, especially when focusing on a specific thing. For example, as I do research when writing a review, I like to have the product page on a dedicated screen to review tech specs or feature lists. Or, when I'm working, having a secondary screen specific to email or instant messaging helps me maintain focus on the primary task yet still be able to glance at other items when needed.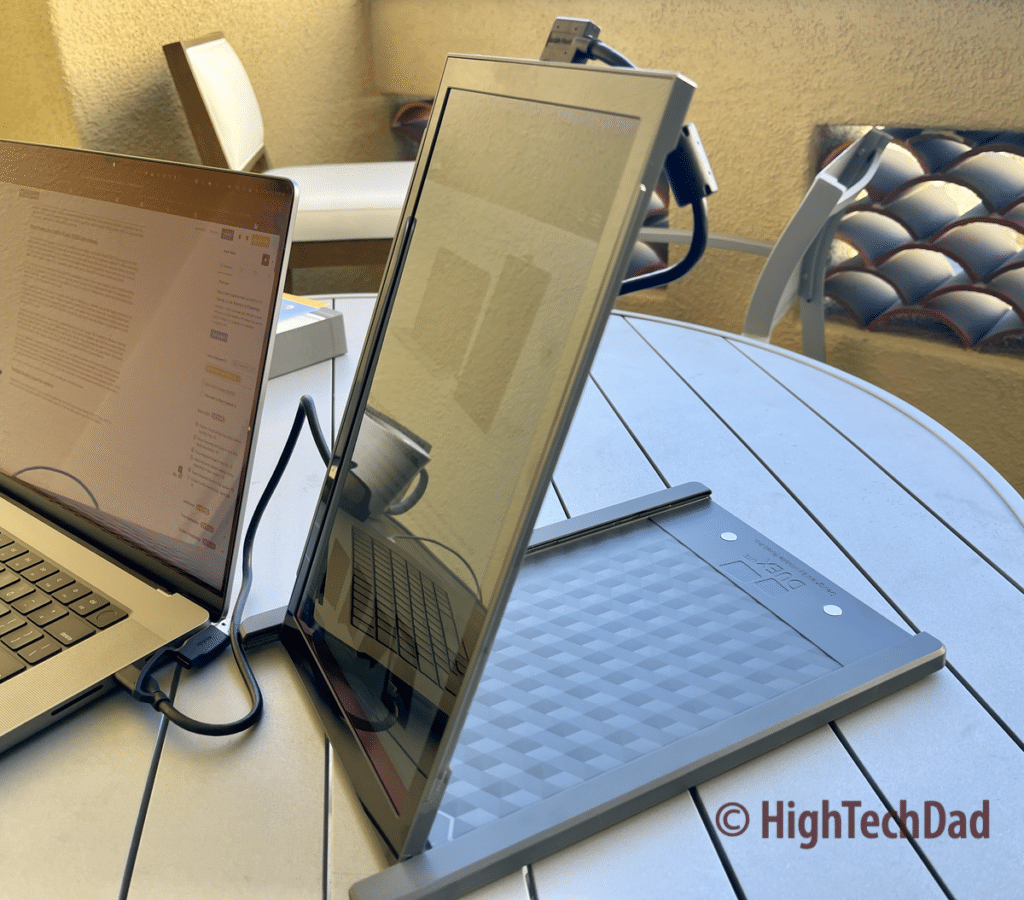 But when you are "on the go" or working with just a laptop or Chromebook or even a tablet, it can be a bit difficult to have that secondary screen. And that is where the Mobile Pixels DUEX Lite monitor is a perfect companion for the road warrior, student, or business traveler. It is a small, portable, and compact 1080p monitor that can give you that extra screen real-estate in a plug-and-play manner.
12/16/21 update: Photos and information added about the Origami Kickstand accessory.
What makes the Mobile Pixels DUEX Lite unique
I have reviewed other portable monitors in the past, but what makes the Mobile Pixels DUEX Lite unique is the fact that it is both portable but also on-demand. Let me explain a bit about the on-demand nature of it. Other secondary monitors are typically more of a large, permanent setup. You have them sitting on your desk, and when you bring your laptop over, you plug them in. You can't typically move them around the house with you. Or, if you do have a more portable solution, it is a secondary device that you do have to find a way to store and carry.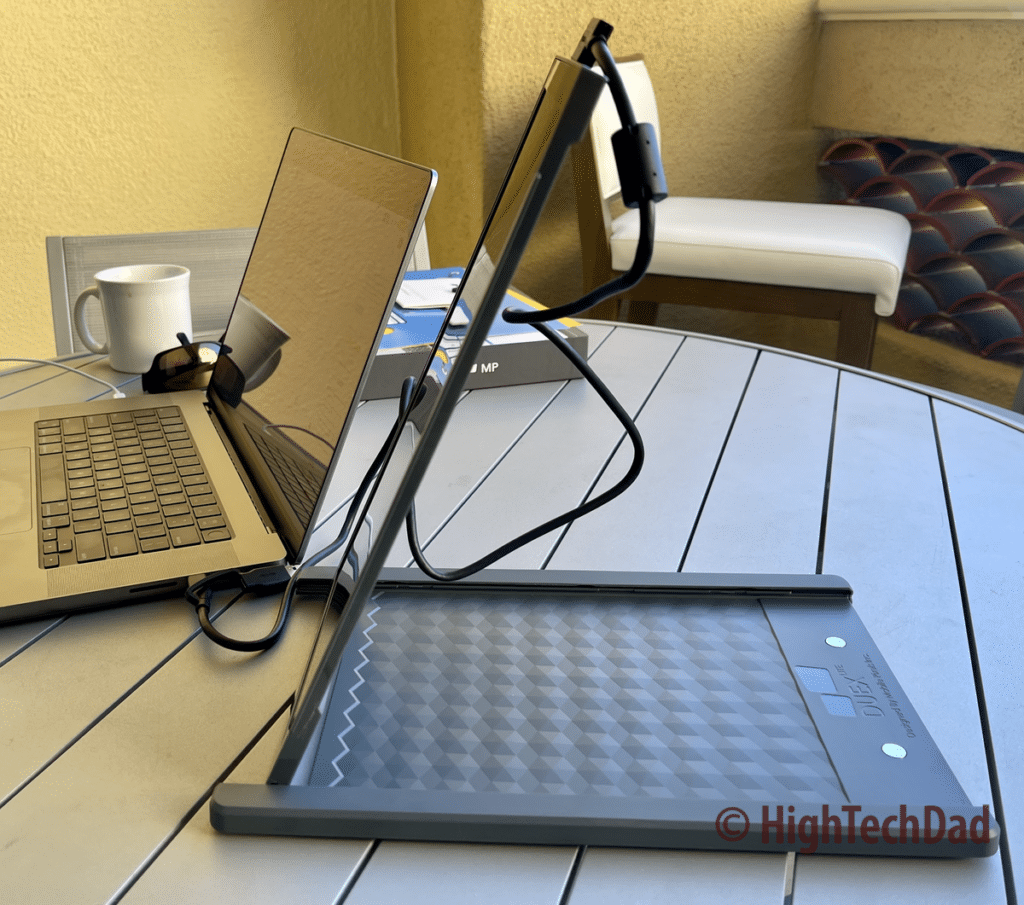 This is not the case with the Mobile Pixels DUEX Lite secondary screen. If you have a laptop, and it could be a Mac or a PC or a Chromebook, the DUEX Lite could be the perfect solution for you because of how it is designed. It is made to physically attach to the back of your laptop's screen lid. And, it is hidden away when you don't need it but can be slid out and connected when you do.
Note: I do want to preface this part of the review with a bit of a disclosure. I recently got a new laptop. While I do appreciate the ingenuity of the design in terms of attaching the DUEX Lite to the screen lid, I decided I didn't want to do that physical attachment because my laptop is so new. I do explain how the attachment is performed as well as some alternate ways of using the DUEX Lite in this review. But you won't see any photos of mine with the DUEX Lite attached to the lid.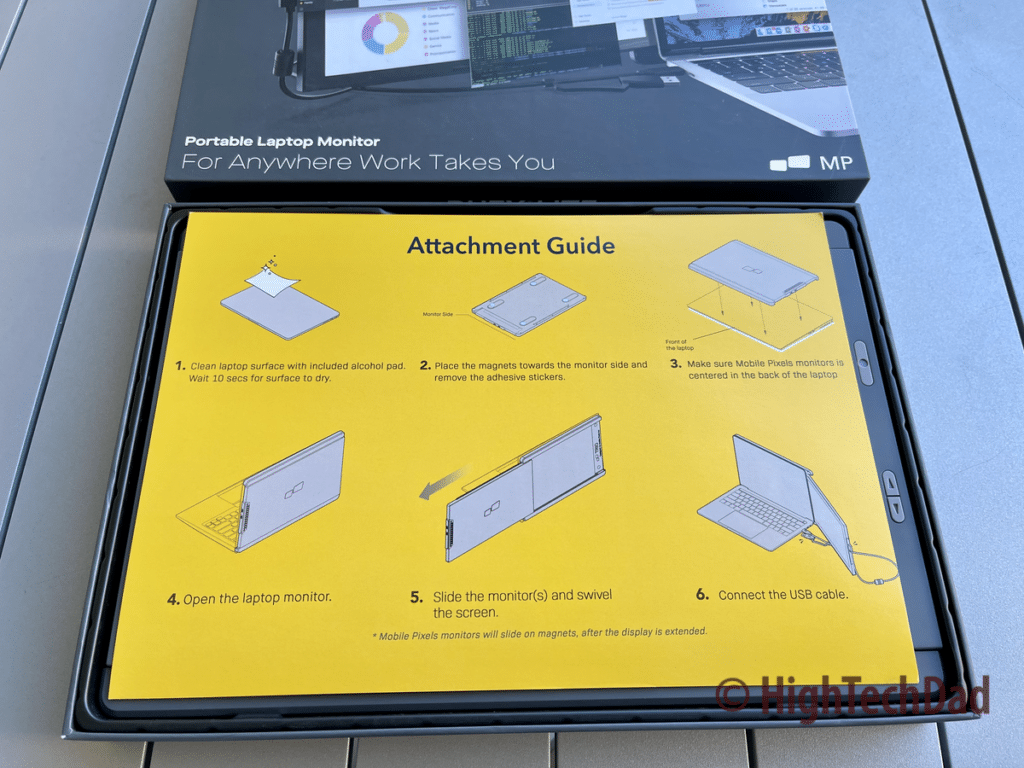 The Mobile Pixels DUEX Lite can be physically attached to the lid of your laptop. The installation process, from my reading through of the instructions, seems relatively easy to do. Four magnets hold the screen to the lid.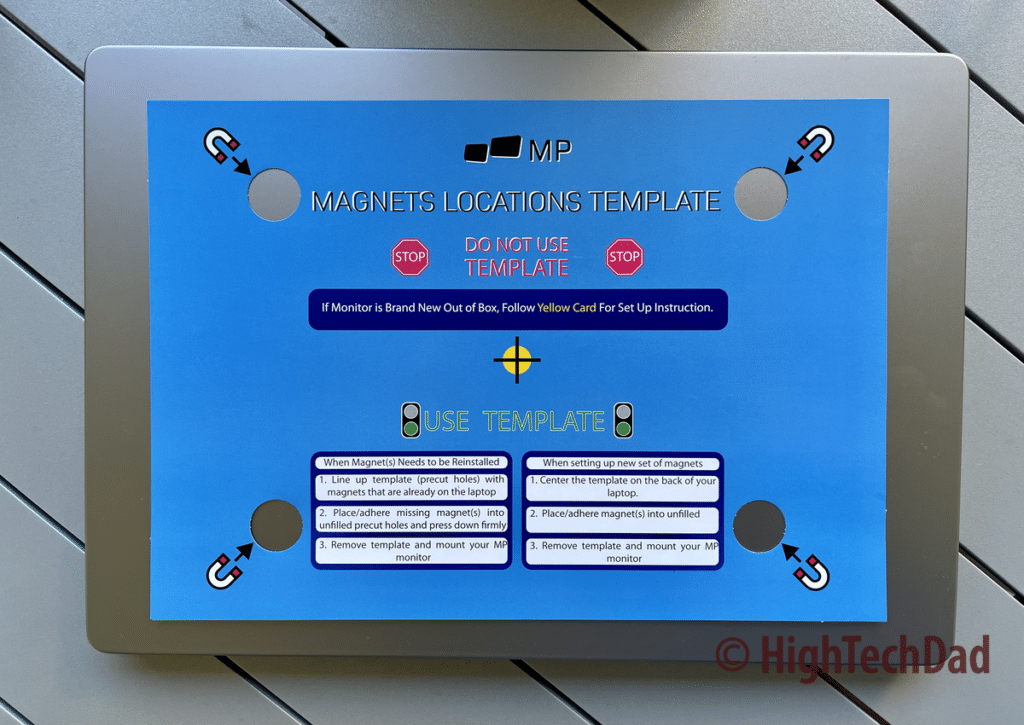 These four magnets have a sticky backing that holds them to the lid. Then, the magnets attach to the DUEX Lite into four magnet slots on the screen itself. So, if you want to remove the DUEX lite, you detach the screen held in place by the magnets. And, all that is left on your laptop are four circular magnets.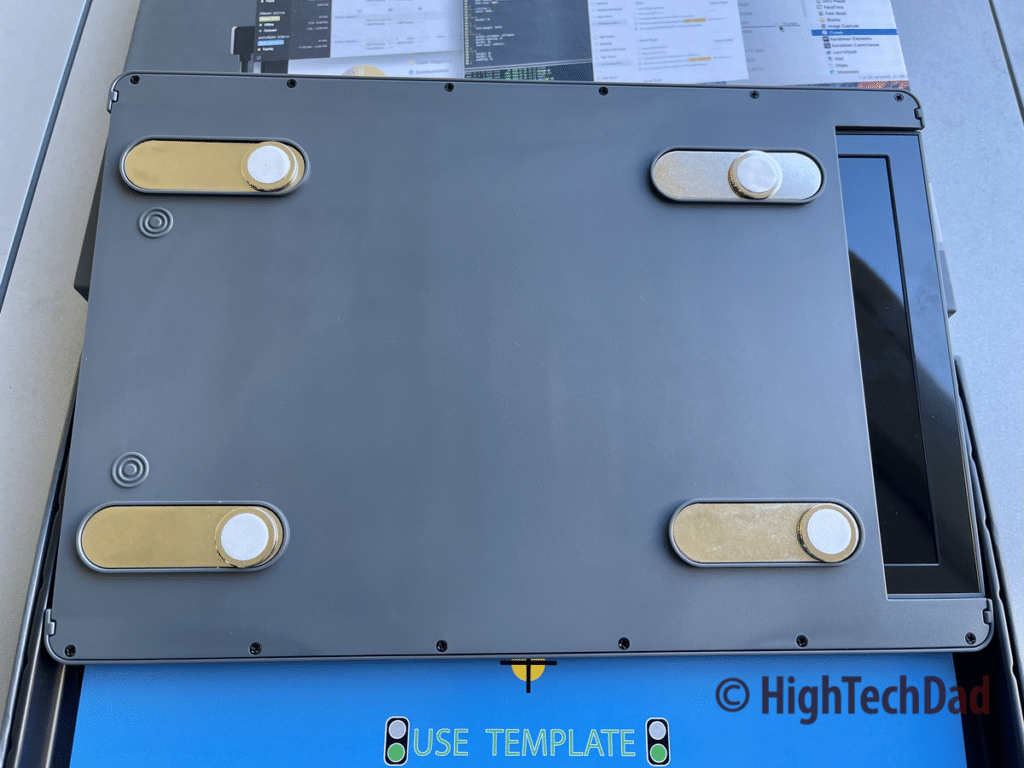 There is a lightweight frame that holds the screen itself. You can slide the screen out to have it facing you, so you have that extra space for another application, or you can have it facing out from the back of your laptop's screen.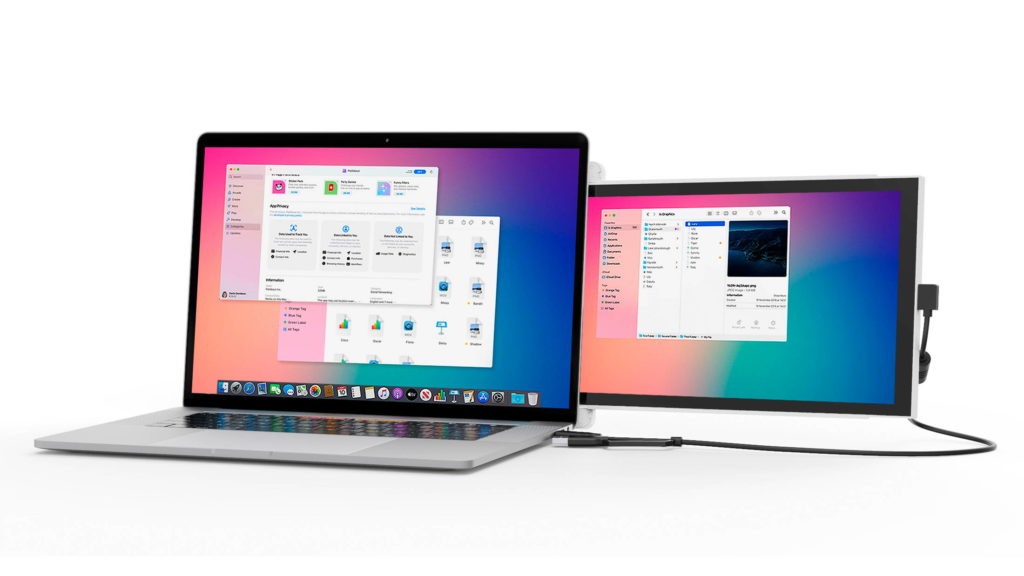 This second scenario is great for business presentations or even co-watching content. You could, for example, mirror your screen so what is displayed on your laptop's primary screen is also shown simultaneously on the DUEX lite. And you achieve all of this by just sliding the DUEX Lite in and out of the protective frame that it is attached to.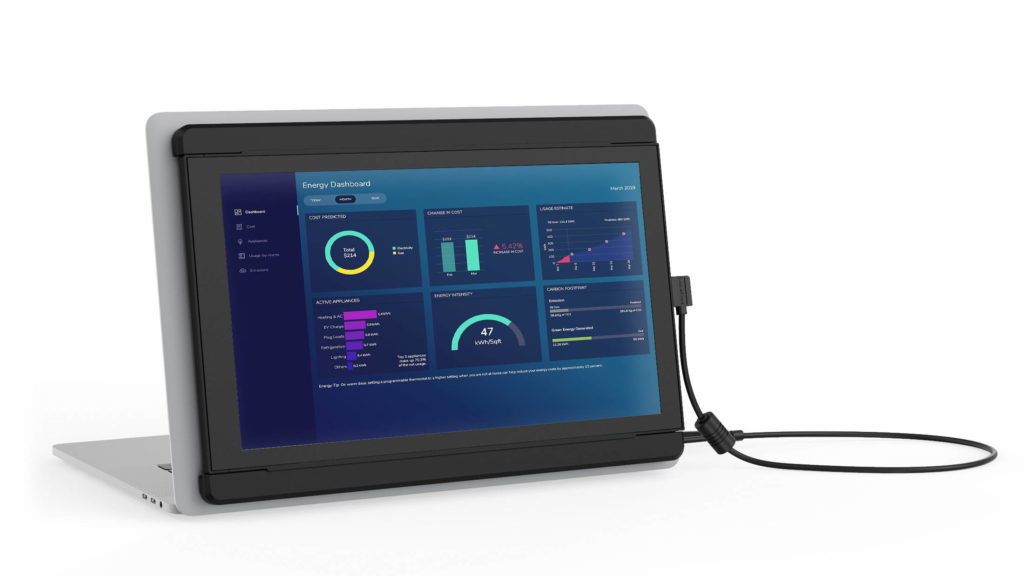 And, there is a third option which is the one that I am using as I write this review.
Portrait Mode is ideal for writers
If you are like me, and you don't want to physically attach the DUEX Lite to your laptop's lid (or if you want to easily allow others to share this portable monitor), you will want to use Portrait Mode. With this configuration, you use the protective frame as the base and then prop the monitor up.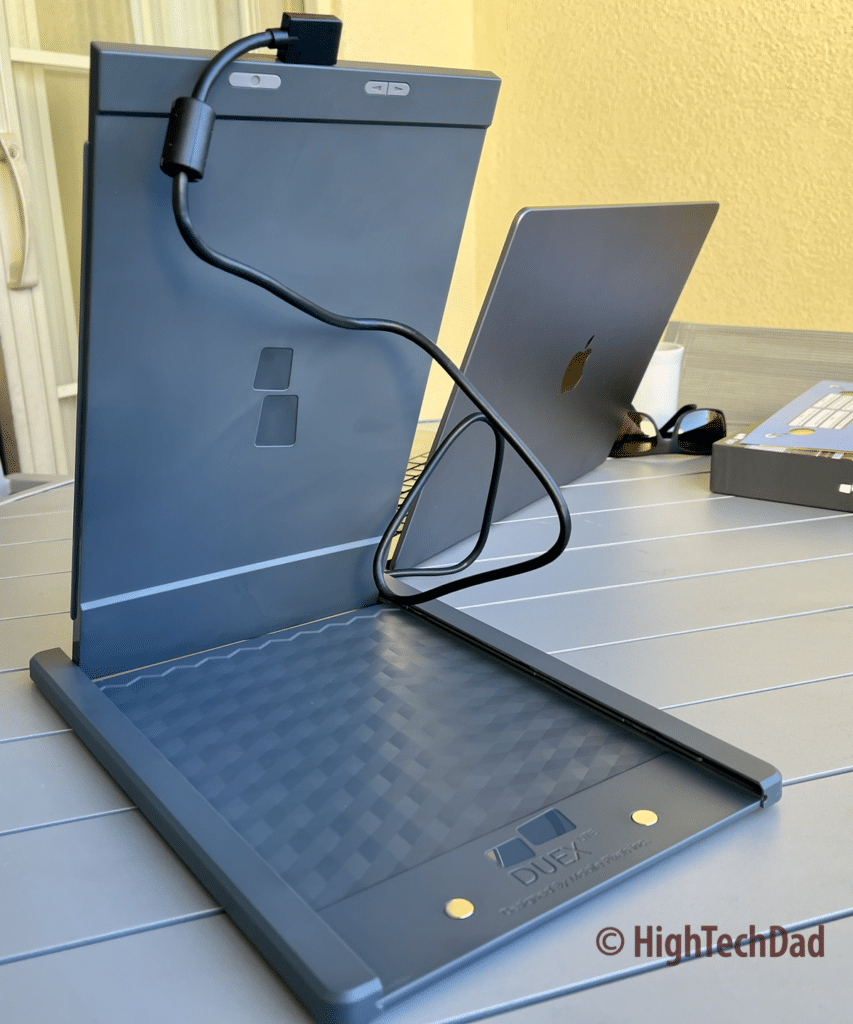 Portrait Mode is ideal for writers, as I mentioned. For example, you can get pretty much a full-page displayed on the DUEX Lite if you are working in Word. Or, it is ideal for viewing a long web page. To enable this, once you have your DUEX Lite physically propped up, you will need to adjust the screen rotation. By default, the screen will show in landscape mode. If you are on a Mac, you will want to go into your Displays preferences and change the rotation. (While you are in there, you may want to change the resolution.)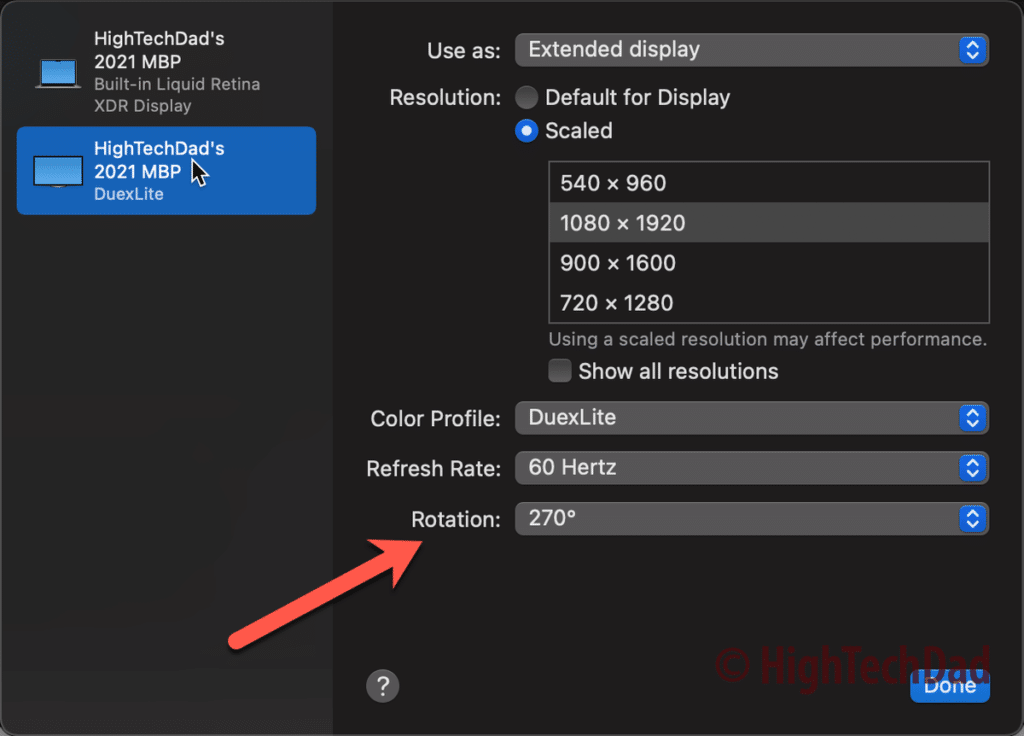 But what if you don't want to either attach the DUEX Lite to your laptop screen, and you don't want to have the stand-alone display in portrait mode? Mobile Pixels does have an accessory called the Origami Kickstand. This nifty little contraption unfolds to allow you to hold the DUEX Lite in landscape mode and place it next to your computer without the need for having it attached to the back of your laptop screen.
12/16/21 update – I received the Origami Kickstand which allows you to easily connect the DUEX Lite and position it in landscape mode.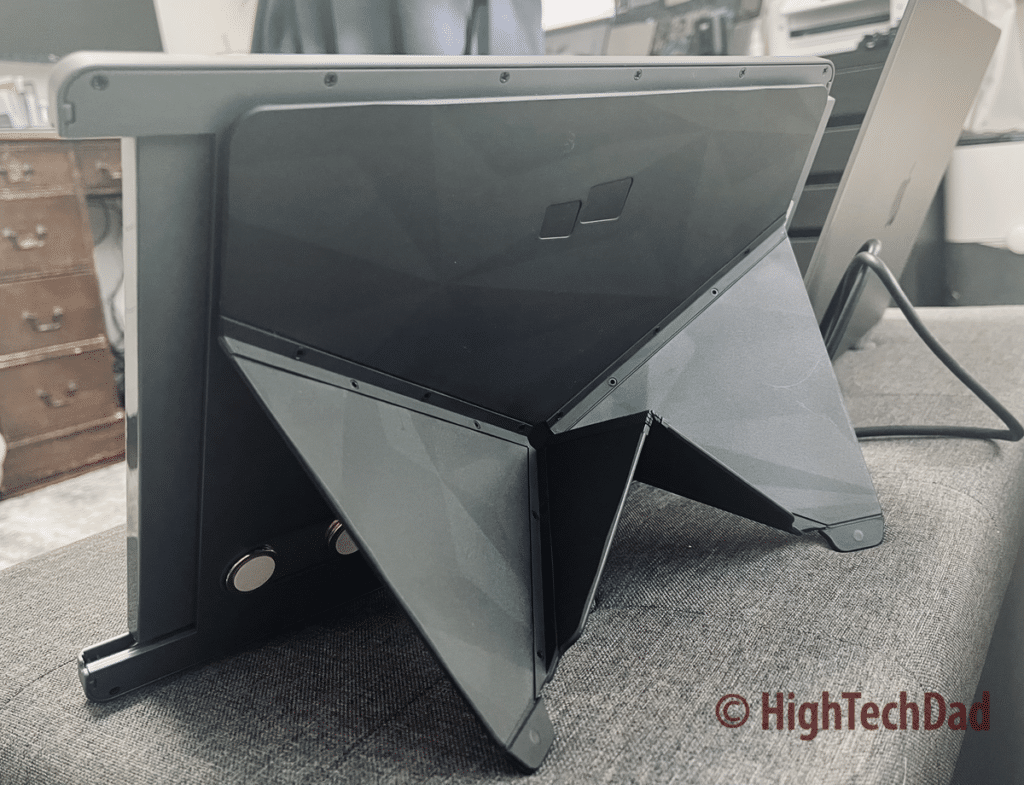 There are two magnets on the Origami Kickstand that allow you to attach it to the DUEX Lite quickly. The legs fold out to support the monitor and when you are finished, they fold flat and the Origami can be stored with the DUEX Lite.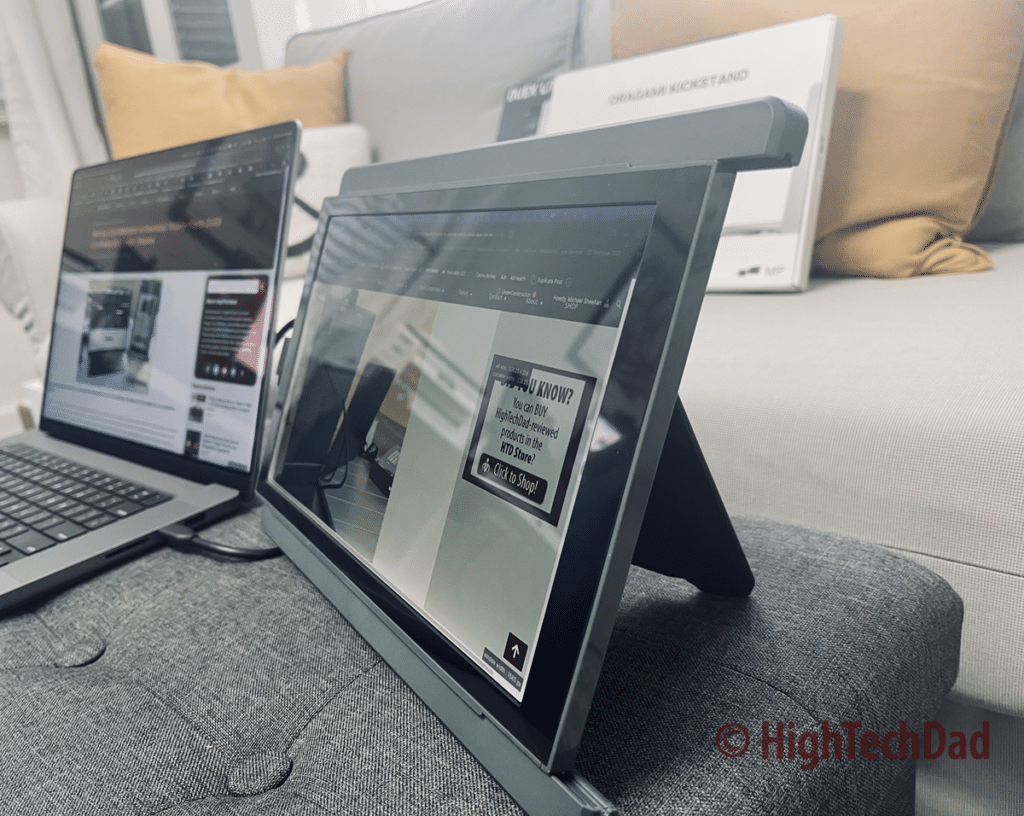 Needless to say, it is fantastic being able to position the DUEX Lite in landscape or portrait mode based on your required work environment.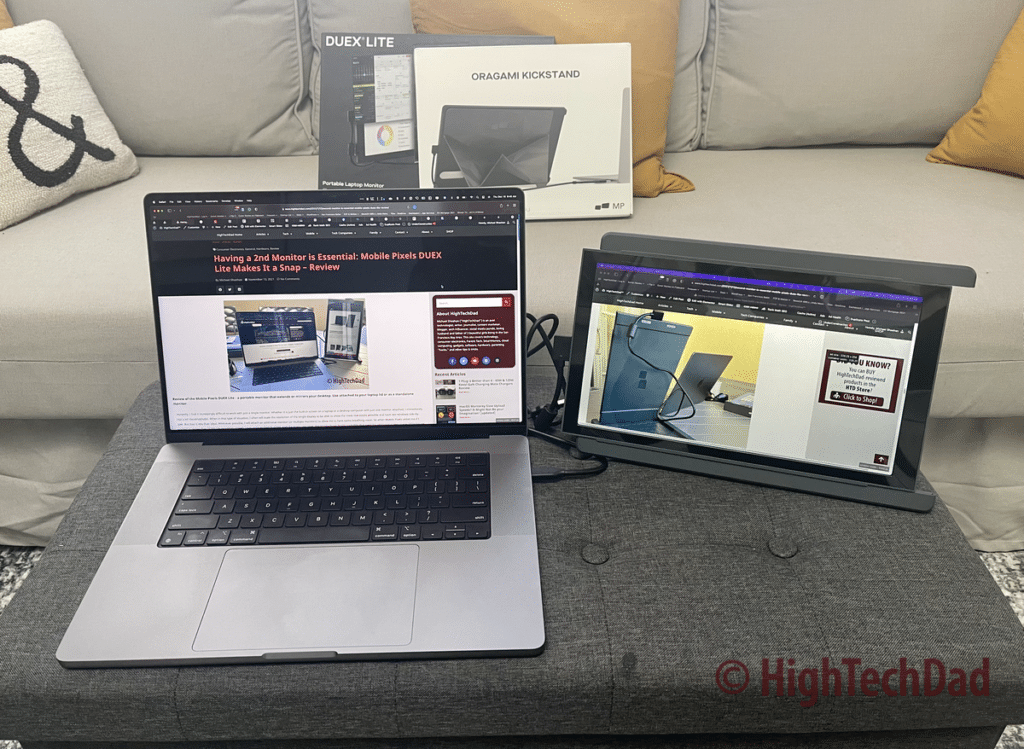 What about the specs?
Let's geek out on the specs for a little bit. It is always important to fully understand what you are getting and what you aren't.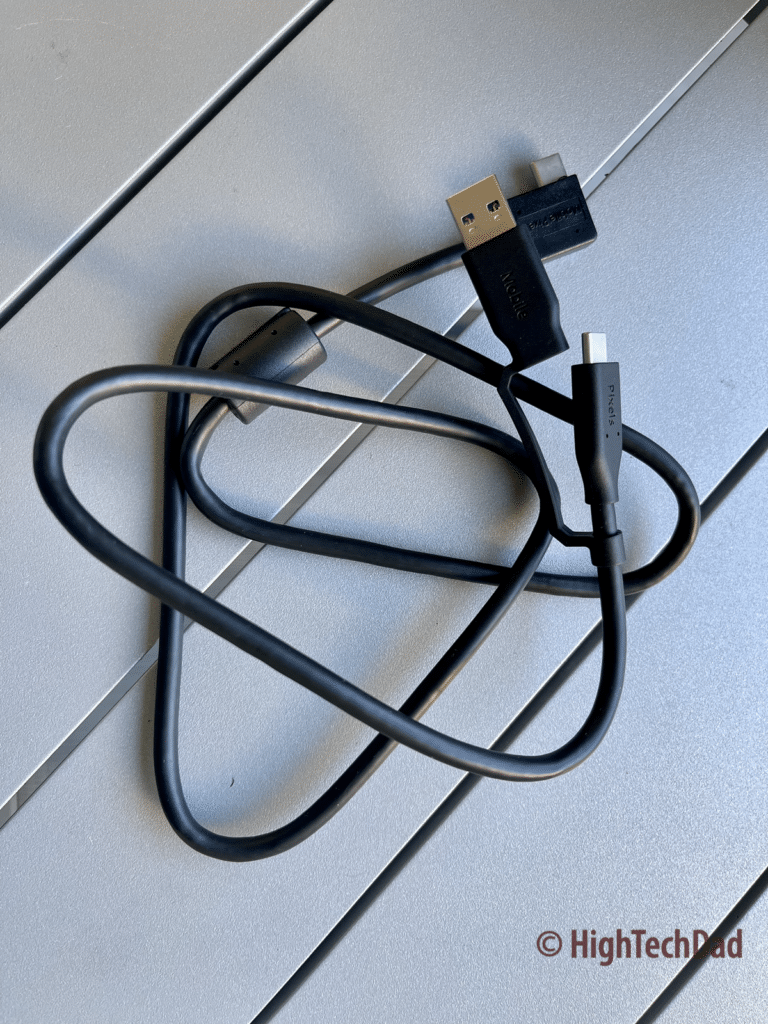 For example, there is a cable included with the DUEX Lite. There is a USB-C connector at a right angle on one end – this connects directly to the DUEX Lite screen. On the other end, there is a USB-C plug as well as a USB-A adapter.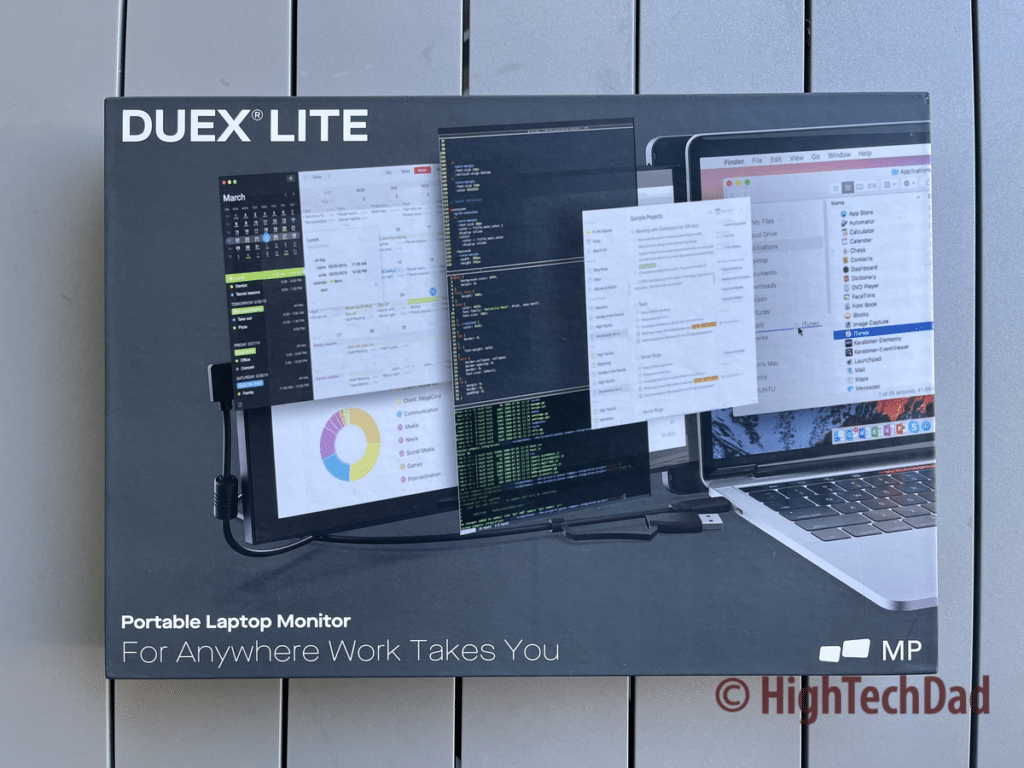 The beauty of USB is that it can pass power. Unfortunately, when I tried connecting via USB-A to an older MacBook Pro (that doesn't have USB-C), it didn't work. At least, not initially. I found that once I went through installing drivers on the Mac, rebooting, and then applying the necessary security settings, it was able to work on an older MacBook Pro. My daughter is now happily able to edit her Spanish homework on a second screen.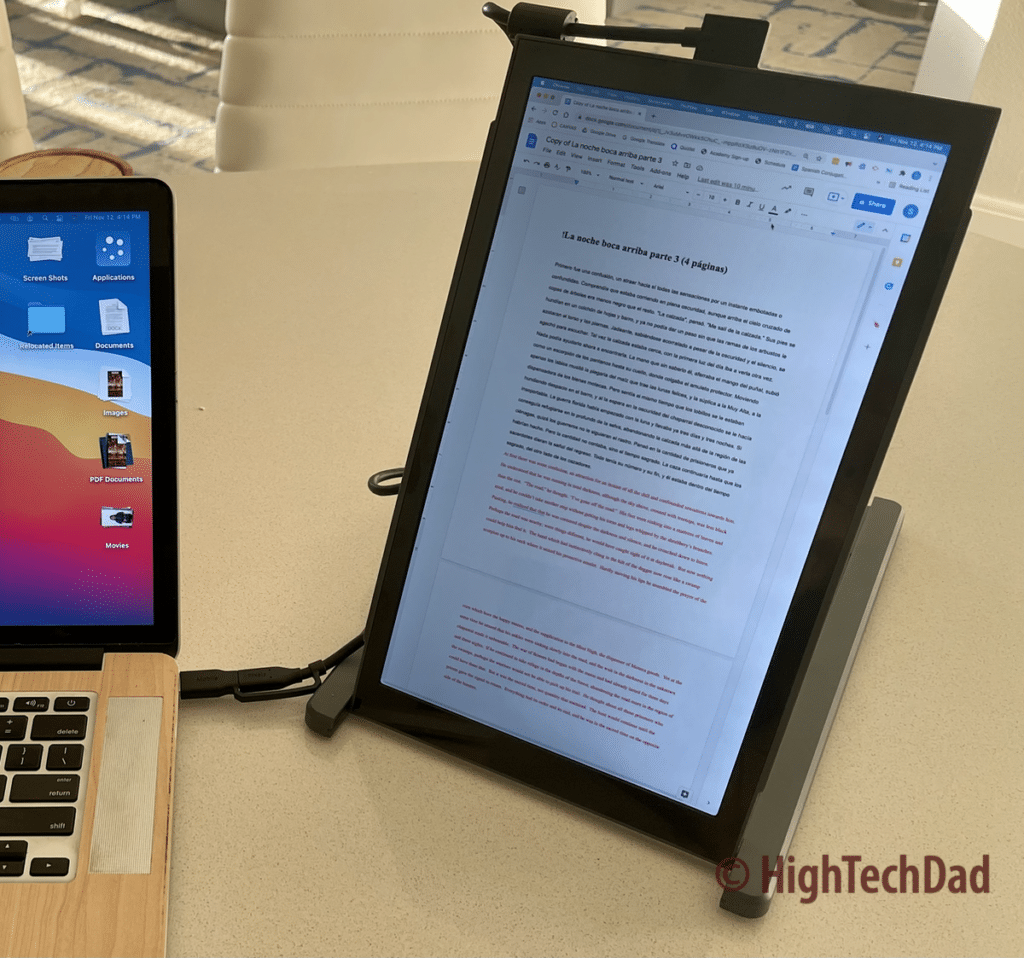 Here are the top-level specifications for the DUEX Lite monitor:
12.5″ diagonal
600 grams/1.3 lbs. weight
0.3″ thickness
FHD 1920x1080P IPS screen
16:9 aspect ratio
60 hertz refresh rate
12.4 x 8.45 x 0.39 inches full dimensions
Yes, you do get a 1080p resolution with this monitor, which is great when you are perhaps watching a show while doing some work (wait, you probably shouldn't be doing that – haha).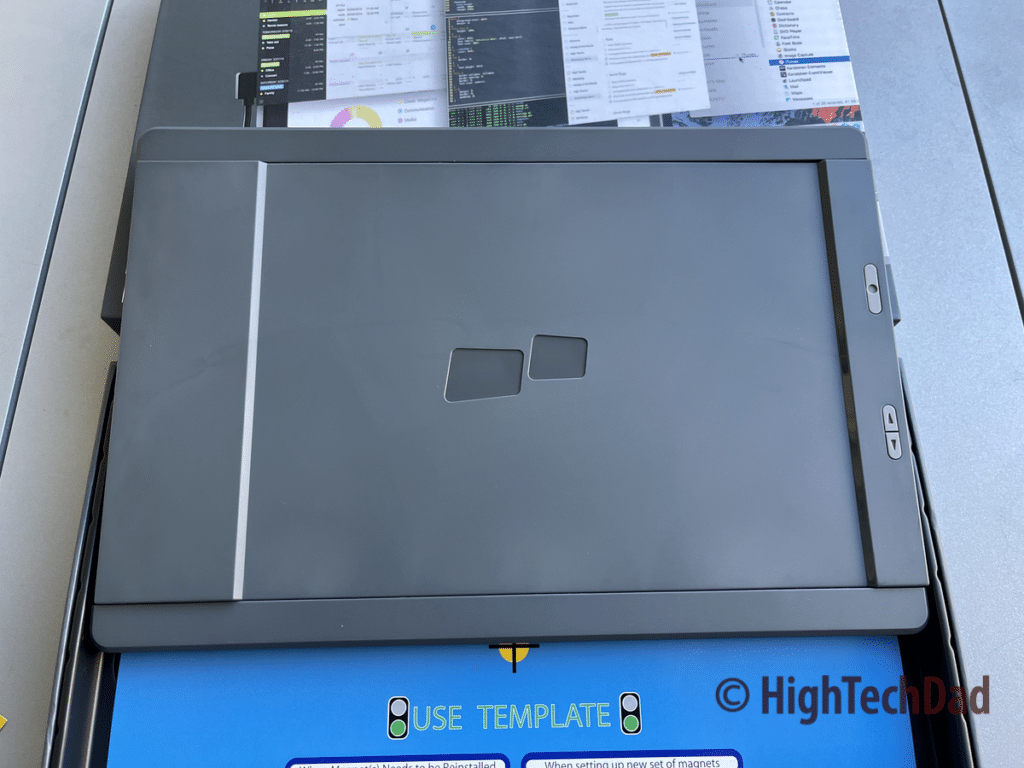 The monitor is relatively lightweight. But despite that, I am still a bit reluctant to have it physically attached to my laptop lid as I don't want to have extra weight potentially causing issues with the working of the lid (and this is the reason why I am recommending using the DUEX Lite as a stand-alone monitor either in portrait mode or using the Origami Kickstand for landscape mode).
The Mobile Pixels DUET Lite retails currently for $359.99, but it is on sale as of this writing for $269.99. And, it is currently available on Amazon for $251.99.
Shop on HighTechDad.com
The product shown below (and related products that have been reviewed on HighTechDad) is available within the HighTechDad Shop. This review has all of the details about this particular product and you can order it directly by clicking on the Buy button or clicking on the image/title to view more. Be sure to review other products available in the HighTechDad Shop.
I believe that having an additional screen is essential. Of course, not everyone will share my opinion, but I hazard to guess that it will be hard to go back once you try out multiple screens. The Mobile Pixels DUEX Lite easily adds that capability. Not only that, it is portable and lightweight, making it quite hard to be against it.
Disclosure: I have a material connection because I received a sample of a product for consideration in preparing to review the product and write this content. I was/am not expected to return this item after my review period. All opinions within this article are my own and are typically not subject to editorial review from any 3rd party. Also, some of the links in the post above may be "affiliate" or "advertising" links. These may be automatically created or placed by me manually. This means if you click on the link and purchase the item (sometimes but not necessarily the product or service being reviewed), I will receive a small affiliate or advertising commission. More information can be found on my About page.
HTD says: The Mobile Pixels DUEX Lite portable monitor makes working on a laptop twice as good as it extends (or mirrors) your desktop, can be easily attached to a laptop screen lid, and when not in use, slides away. Or, simply use it as a secondary monitor without any need for mounting.
HighTechDad's Ratings
Ease-of-Use

Family-Friendly

Price Point

Features
Summary
The Mobile Pixels DUEX Lite portable monitor makes working on a laptop twice as good as it extends (or mirrors) your desktop, can be easily attached to a laptop screen lid, and when not in use, slides away. Or, simply use it as a secondary monitor without any need for mounting. Mounting the DUEX Lite takes just a few minutes. And, it can be easily detached using magnets that stick to your laptop's lid. The monitor can be slid away for protection and transportation. Definitely look to get this portable monitor on sale. And, in some situations, you will need to install drivers to allow it to function. It can be used with both USB-C and USB-A connections (but USB-A will definitely require drivers). It can stand alone in portrait mode and does not need to be attached to the laptop lid, but for landscape mode, you will need to purchase an accessory.
Pros
Lightweight & portable
Easily extends or mirrors your desktop
Reasonably priced (if on sale)
Cons
Have to purchase an accessory to have it stand in landscape mode by itself
May need to install device drivers for it to work
Does feel a bit flimsy so treat with care