We now have supercomputers like smartphones and tablets that we carry in our pockets, purses, bags, and backpacks. These ultra-portable devices let us be productive and connected in places we never dreamed we could before. But sometimes, having a laptop (or a Chromebook) can be quite beneficial. A larger screen and a keyboard make writing much easier. For me, though, I enjoy having multiple screens and monitors. My work desk has a minimum of two monitors (more if they would fit). But I can't just pick up my desk monitor and move around with my laptop. That is where the Lenovo ThinkVision M14t Portable Touch Screen Monitor comes to save the day. This ultra-portable touchscreen monitor extends your viewable desktop with just ONE cable! (*Disclosure below.)
I got my hands on the ThinkVision M14t Portable Touch Screen Monitor several weeks ago and incorporated it into my "mobile lifestyle" – which actually isn't that mobile since we are all still quarantining at home. So for me, mobility means moving from my usual desk to the dining room table. But, my regular monitor remained seated on my desk. At the dining room table, I quickly attached the 14″ ThinkVision monitor and instantly I had two monitors (my laptop and the ThinkVision) extending me desktop – and I'm using it as I write this review.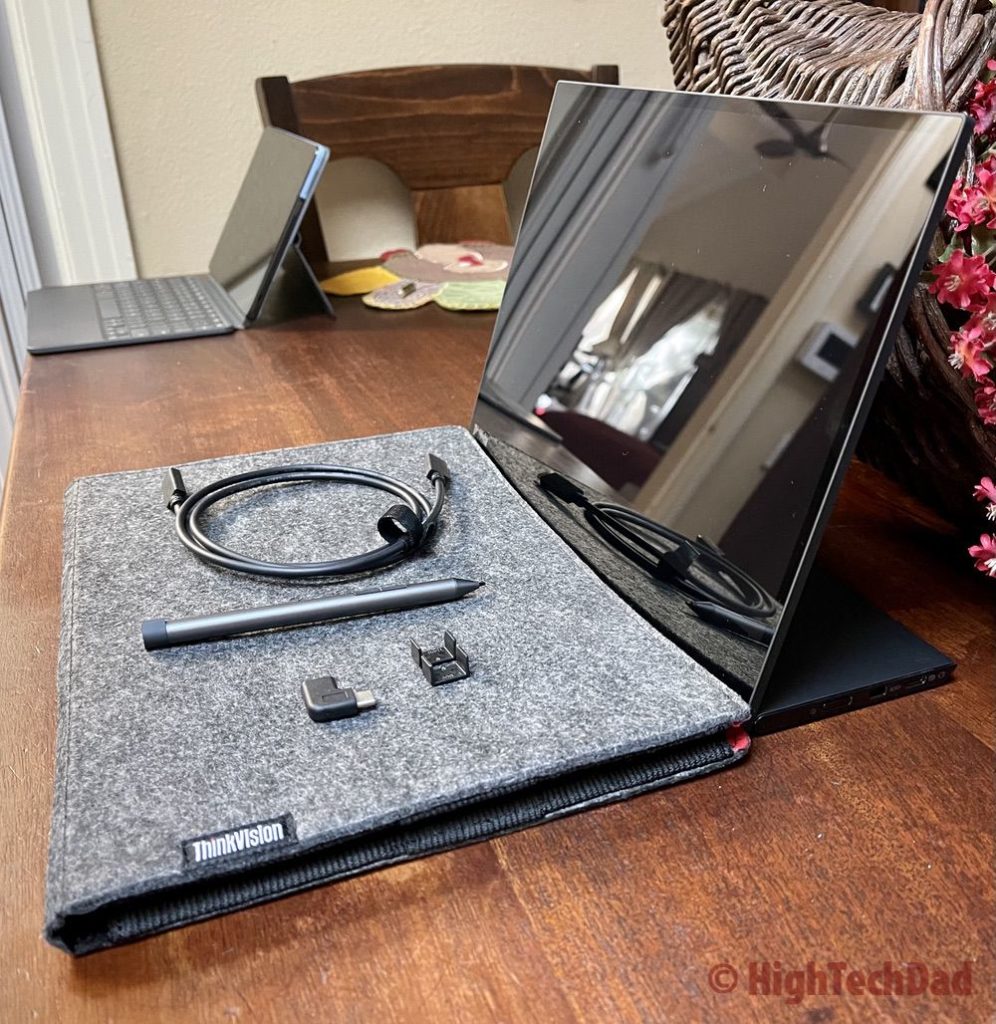 There are some really nifty features built into the Lenovo ThinkVision M14t Portable Touch Screen Monitor that I will go into later on in this review. And there are some things you should know about in terms of compatibility as well. I will go into these items shortly.
An Ultra-Portable Monitor
The Lenovo ThinkVision M14t Portable Touch Screen Monitor, in my opinion, truly defines portability. For starters, it is very slim. The display itself is only 0.17″ thick. That is thinner than many tablets and much thinner than most desktop monitors.
And, when you talk about something being portable, you must talk about how much something weighs. If it weighs too much, it isn't portable in my mind. The ThinkVision M14t weighs a mere 1.54 lbs! That is definitely lighter than most laptops and even some ultra-portables.
The design of the ThinkVision M14t Portable Touch Screen Monitor is truly aligned with portability as well. In the base is a tilt-adjustable foot that allows you to adjust the angle of the display between -5° and 90°. Importantly, however, is the fact that this portable monitor is designed primarily to be seated in a landscape manner. The adjustable foot will not allow for it to be seated in a stable way in a portrait mode.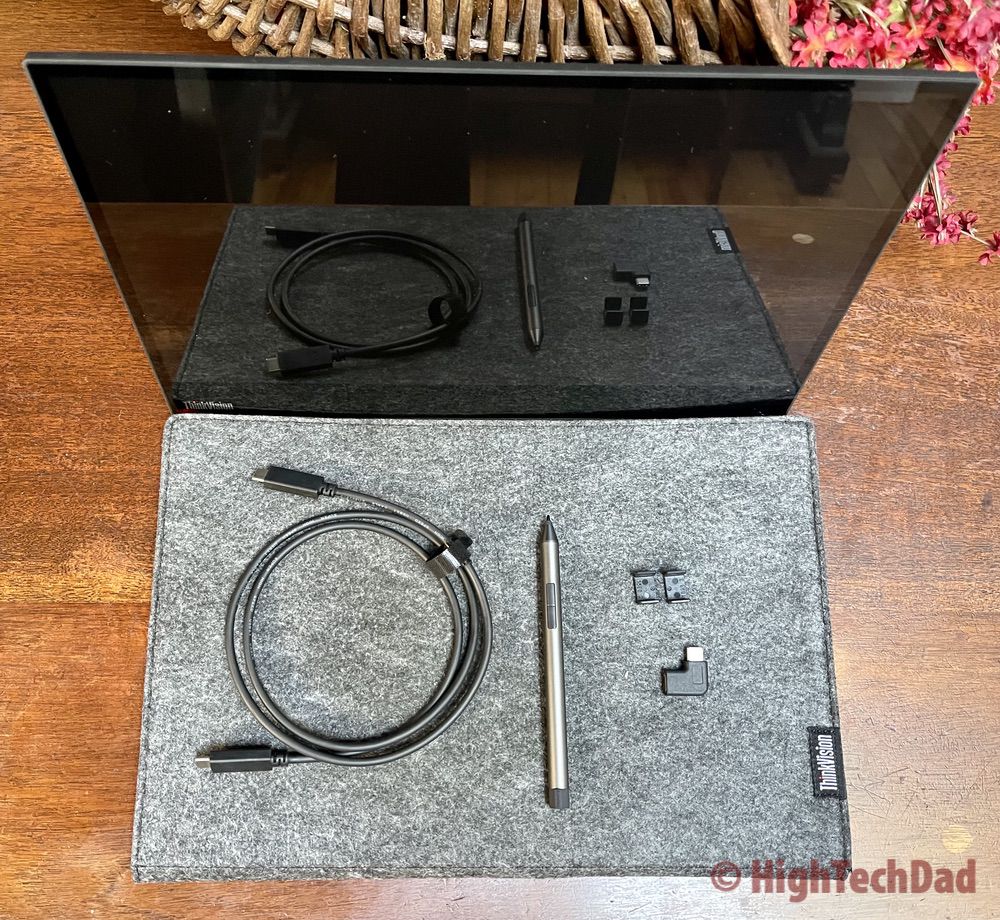 Let me mention the display itself. This is an FHD (Full High Definition) IPS monitor that supports 1920 x 1080 resolution. What does that mean? Well, in simple terms, you get great high-definition resolution for videos or other on-screen work. I truly found the display to be exceptionally crisp with good color balance. It supports 16.7 million colors, a typical 300 nit, and a 60 Hz refresh rate. It also has a Low Blue Light mode to allow you to reduce eyestrain.
Lastly, when you fold up the base/foot into the monitor's body, it is quite flat. In fact, you can fold it up and easily travel with it with your laptop – perfect for business travel or sharing a display at a family gathering.
Ports for Productivity
The ThinkVision M14t Monitor has been carefully designed to support multiple use cases. Earlier, I reviewed the Lenovo Chromebook Duet, I nice little 2-in-1 Chromebook/Tablet. The ThinkVision seems to be a match made specifically for the Chromebook Duet. But as I started thinking about other use cases, I did find some scenarios which worked and a couple that surprisingly did not.
But first, let's talk about the available ports and the one port that is missing (on purpose). On the sides of the adjustable base/foot are ports and buttons. On the right side are the Power Button, a lock slot, and a USB-C port. On the left side are another USB-C port, a Brightness rocker switch, and a Low blue light button (which also activates the on-screen touch-enabled menu).

So what is missing? A port for a power supply. Yes, that's correct. The ThinkVision M14t Portable Monitor does NOT have a power supply! How is this possible? Well, obviously, it uses one of the USB-C ports for power. So, conceivably, if you have a USB-C plug, you could plug it into the monitor to power it, but the better way to do this is to use a device that can provide power over USB-C.
The beauty also about USB-C is that it has pass-through charging capabilities. So, depending on your devices, you could plug power into the ThinkVision and then connect the ThinkVision to your laptop or Chromebook. I tested this out, and it seems to work quite well.
It's important to note that not all USB-C ports are the same (this PCmag article has many good details). At a high level, the generation of USB that the USB-C port support determines both the functionality and the speed. Speeds can range anywhere from 5Gbps to 20Gbps. But more importantly, particularly regarding the ThinkVision M14t Monitor, is what other functionality is supported – especially when it comes to video signals.
Look for Thunderbolt 3 support if you can on the device you want to send a video signal from. If the device supports Thunderbolt 3, you have a winner! If not, your video source device may or may not work. The M14t has USB 3.1 Gen1 ports.
So what have I tested? I only tried a few devices I had around the home. Obviously, the Lenovo Chromebook Duet that I reviewed works extremely well (and there are some added benefits – see the Touchscreen section below).
On a whim, I tried to connect my iPhone 12 Pro Max (I had a USB-C to lightning cable). No love there. Unfortunately, I couldn't do any screen mirroring or anything.
I also tried my wife's Lenovo IdeaPad Flex laptop which has a USB-C port. Unfortunately, and to my surprise, the M14t did NOT work with this. It would connect and then immediately go into power-save mode. I tried giving the ThinkVision its own power supply in one of its USB-C ports and powered the IdeaPad separately, and that didn't work either. So that led me to believe that the USB-C port on the IdeaPad Flex was an earlier generation and didn't support video passthrough.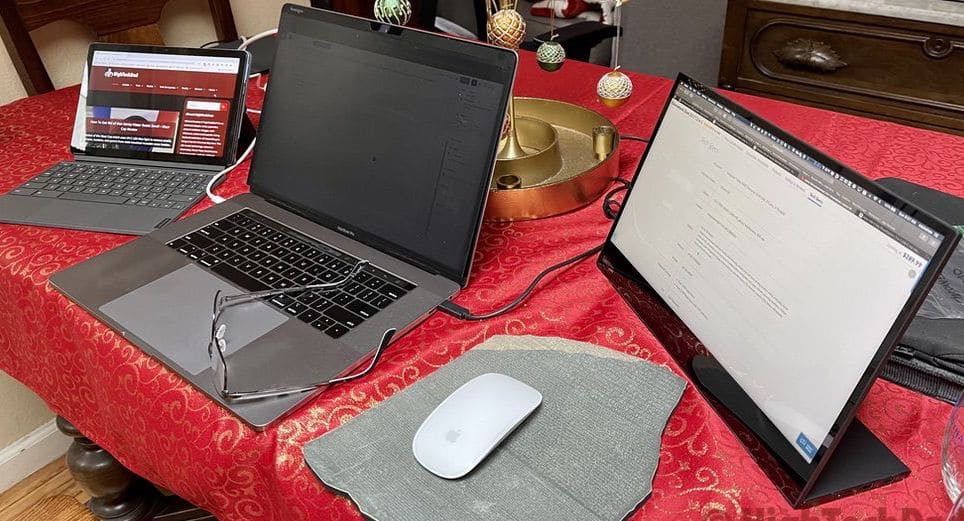 The last test that I did was connecting my 15″ Apple MacBook Pro. This particular MBP has four USB-C ports, two on each side. I plugged that in, and instantly, my desktop display was extended to the ThinkVision. I tested a few scenarios: 1) with my MBP plugged into power and connected to the ThinkVision, 2) with my MBP unplugged from power and connected to the ThinkVision, and 3) with my MPB unplugged from power, connected to the ThinkVision, and the ThinkVision connected to the MBP's USB-C power supply. All three of these scenarios worked flawlessly.
So with the proper configuration and correct USB-C port (the ThinkVision supports Display Port 1.2 Alt Mode and PD2.0), you can connect the ThinkVision M14t Portable Monitor to a Mac or a Chromebook or even a laptop or desktop (and a smartphone as well). And you don't need to hunt around for a power supply for the M14t since it gets its power simply through the USB-C cable and connection.
The thing that I love is that you can just use your device's battery to power the ThinkVision M14t, all on its own!
And the ThinkVision M14t Portable Monitor is a Touchscreen
It's important to note that there are two versions of this portable monitor, the M14 and the M14t. The "t" adds to the capabilities (and price) of this portable monitor by adding touch-screen capabilities.
The ThinkVision M14t becomes a touch-screen monitor when attached to the proper device. For starters, if you press the Blue Light button on the left side of the base, you activate the on-screen display as well. To interact with the display, just use your finger directly on the screen (or you can use the included pen).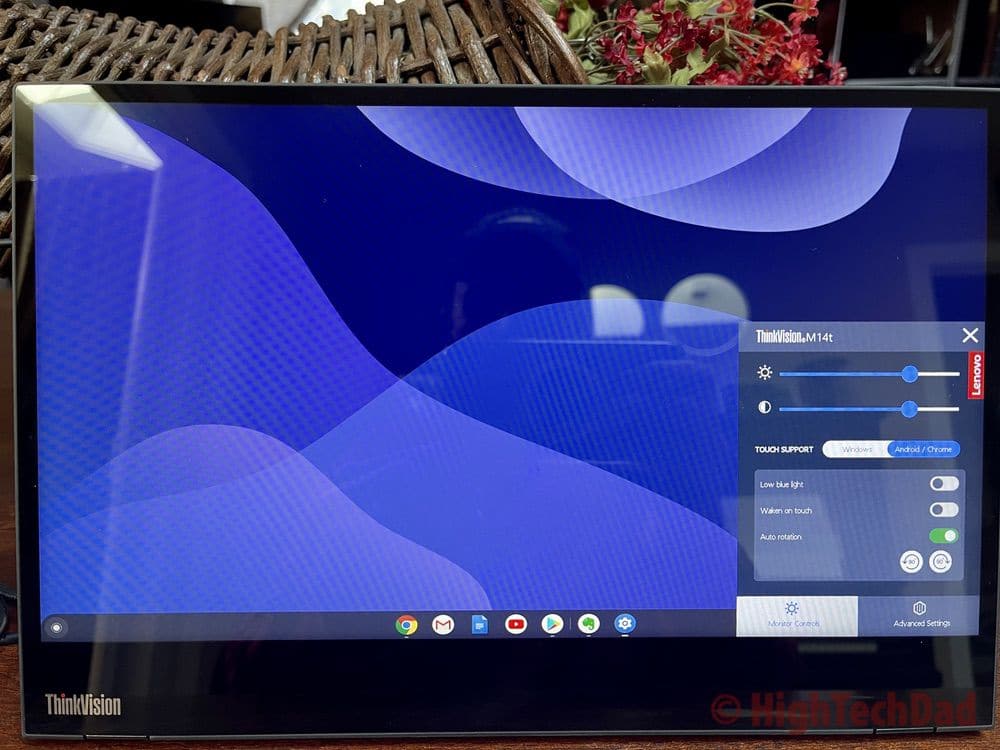 But the true magic comes when you connect the ThinkVision M14t to a device with touch capabilities. Again, I circle back to the Lenovo Chromebook Duet, which I reviewed. When the Duet is connected to the M14t, the M14t has full touch-screen functionality. You can interact using your finger or the included pen. (The only trick that I had to learn was how to move a window between screens – from the Chromebook Duet to the M14t – using a hot-key command of the search button + Alt + m or using the Launcher + Alt + M .)
The M14t comes with a 10-point touch, 4096 pressure level active-touch pen. And, as you rotate the monitor, it will automatically adjust from landscape to portrait mode. If you have the M14t connected to the Chromebook Duet, for example, you can hold it like a large-screen tablet and interact directly on the screen either using your fingers or the included pen. If you were a digital artist, which I am not, you could sketch and draw directly on the M14t's screen.
Essential for Homes and Business Travelers
As we adjust to new ways of working and studying, we have to be flexible about where we "set up camp" from a technology perspective. Our "office" may be in the kitchen one day, on the back deck the next, or in a bedroom later. Or, you may be just working on the road from your car. The nice thing about the Lenovo ThinkVision M14t is that it is more than capable and flexible to handle different environments.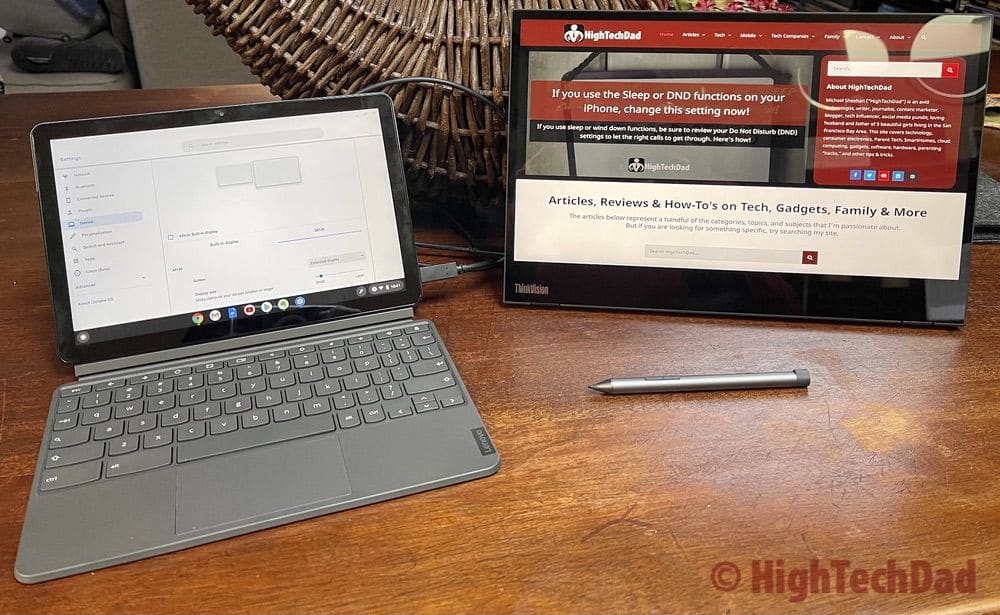 It is light-weight, folds up quite flat, doesn't require a power supply (or a plug for that matter), and is quite reasonable depending on which version you get.
There are two versions available, touch screen or non-touch screen, so be sure to look based on what you need.
Shop on HighTechDad
The product shown below (and related products that have been reviewed on HighTechDad) is available within the HighTechDad Shop. This review has all of the details about this particular product and you can order it directly by clicking on the Buy button or clicking on the image/title to view more. Be sure to review other products available in the HighTechDad Shop.
As you can see, adding touch capabilities does increase the price significantly, so make sure that you definitely need to have the touch screen; otherwise, you can save about $200.
Overall, the Lenovo ThinkVision M14t (or the M14) are, in my opinion, great additions to a family's tech war chest. If you have USB-C devices and those devices support Thunderbolt 3 and video transmission, you will be able to have dual monitors easily and quickly anywhere you go.
Disclosure: I have a material connection because I received a sample of a product for consideration in preparing to review the product and write this content. I was/am not expected to return this item after my review period. All opinions within this article are my own and are typically not subject to editorial review from any 3rd party. Also, some of the links in the post above may be "affiliate" or "advertising" links. These may be automatically created or placed by me manually. This means if you click on the link and purchase the item (sometimes but not necessarily the product or service being reviewed), I will receive a small affiliate or advertising commission. More information can be found on my About page.
HTD says: Before you go and purchase an external monitor for your laptop, desktop, or Chromebook, evaluate how you will be working. If you don't want to be searching for a power plug and the device you are connecting to supports USB-C with Thunderbolt 3, the Lenovo ThinkVision M14/M14t should be on your shortlist!
HighTechDad's Rating
Ease-of-Use

Family-Friendly

Price Point

Features
Summary
Before you go and purchase an external monitor for your laptop, desktop, or Chromebook, evaluate how you will be working. If you don't want to be searching for a power plug and the device you are connecting to supports USB-C with Thunderbolt 3, the Lenovo ThinkVision M14/M14t should be on your shortlist!
 If you MUST have the touch-screen version of the Lenovo ThinkVision M14 (look for the M14t), be prepared to pay almost double the price (thus why I marked the price rating slightly low). However, if you go with the M14 version, this is a fabulous and extremely easy to use external monitor, provided the device you are connecting has the proper USB-C port and can send a video signal. The display is crisp and responsive and makes a great portable monitor. It folds up and can easily travel in the same bag as a laptop. And, you don't need to search for a power plug to power it, it gets its power from the USB-C port of the connected device.
Pros
Non-touch-screen version is a good price point
Very portable (folds down and light-weight)
No power plug needed (powered through USB-C from connected device)
Full High Definition display
Cons
If you need the touch-screen option, the M14t is a bit pricey. Save $200 and get the non-touch-screen version.
Not all devices will pass video with USB-C (not the fault of the M14t) so confirm compatibility)