As the number of smartphones, tablets, laptops, gaming devices, and other gadgets we lug around grows, it's a bit tricky to find plugs to charge them up. We increasingly have to rely on either longer-lasting batteries or carrying around portable batteries to reduce that "charge anxiety" that many gadgeteers face. I am a big fan of UGREEN, and their latest portable battery that I'm reviewing here, the UGREEN 145W Power Bank, is one that definitely reduces those lack-of-power-source anxieties. (*Disclosure below.)
The UGREEN 145W Power Bank boasts an impressive capacity and fast charging capabilities that caught the attention of many tech enthusiasts, including me. It has several fast-charging features, a boast-worthy capacity, and a relatively small form factor, making it an ideal portable battery pack capable of charging up to three devices simultaneously.
But, without diving into some of the tech details and features of this UGREEN power bank battery, you might not fully understand what sets it apart from others in the marketplace.
Table of Contents
Key Features of the UGREEN 145W Power Bank
Below are several features, specifications, and design decisions that I believe are worth mentioning. When shopping for portable battery packs or charging solutions, you should consider many or all of these items. And yes, I'm using the UGREEN power banks as an informal benchmark. There are a couple of things that I do wish this 145W power bank had (which I will share at the end of this review), but for the most part, most of the things I would look for are checked off.
Airplane-friendly Capacity
As we slowly start to travel again, it is essential to remember that there are restrictions on the battery size you can bring on the plane. And remember, you can't check in Lithium Ion batteries; they need to be in your carry-on luggage, I believe.

The current limit is slightly more than 30,000mAh, and the UGREEN 145W is 25,000mAh. It would have been great if this power bank was right at that recommended limit, but still, 25,000mAh is quite a large capacity. According to the TSA website, another limit is on the number of watt-hours a spare battery can have. You can take up to two 101-160 wH spare batteries. Since this UGREEN is at 140wH, this is just fine.
You can convert Milliamp Hours to Watt Hours or Watt Hours to Milliamp Hours fairly easily (links shown go to the appropriate calculator). You do need to know the voltage, though. For these calculators, I used 5V as an estimate.
Updated 7/31/23: A reader kindly pointed out that in the micro type in the image above, there is a listing of the Watt Hours. It shows 90 wH with 3.6V. If I use the 25,000mAh and 3.6V in the calculator mentioned above, it shows as 90 wH.
USB-C and USB-A ports
The UGREEN 145W Power Bank doesn't go overboard in providing a lot of USB ports. It only offers two USB-C and just one USB-A. However, the Power Delivery (PD) of those ports is impressive for the USB-C ones. This power bank uses a variety of output protocols for the USB-C ports: PD3.0 / PD2.0, QC3.0 / QC2.0, FCP, AFC, Apple 5V2.4A, BC1.2, and for the USB-A port: QC3.0/QC2.0, FCP, AFC, APPLE 5V2.4A, BC1.2/5V Adaptive. That's a lot of alphabet soup there – the ones that matter are the PD (Power Delivery) and the QC (QuickCharge) protocols.

More importantly, one USB-C has a 100W output, and the other port is 45W. The single USB-A port is 18W. The maximum power output is 145W (as per the product name). The only way to achieve that output is if you use both USB-C ports simultaneously (like if you have to charge a MacBook Pro and an iPad simultaneously). If you were using all three USB ports, you could hit 130W total (100W for one USB-C but then the other available ports are limited to 15W.
The chart above shows the combination of port wattage.
Two-way fast charging
One complaint I have about other types of power banks or portable chargers is the fact that they are one-way, meaning you can either charge the power bank and then use it later or use the power bank to charge your devices and then re-charge it later. It is one or the other.
The UGREEN 145W Power Bank has two-way charging meaning you can have power going into one of the USB-C ports and energy going out of the other two ports simultaneously. That means that you can always make sure that the Power Bank is charged and your devices are also charging. It is almost like a USB hub to charge your devices but with the added benefit of having a fully charged portable battery at the ready.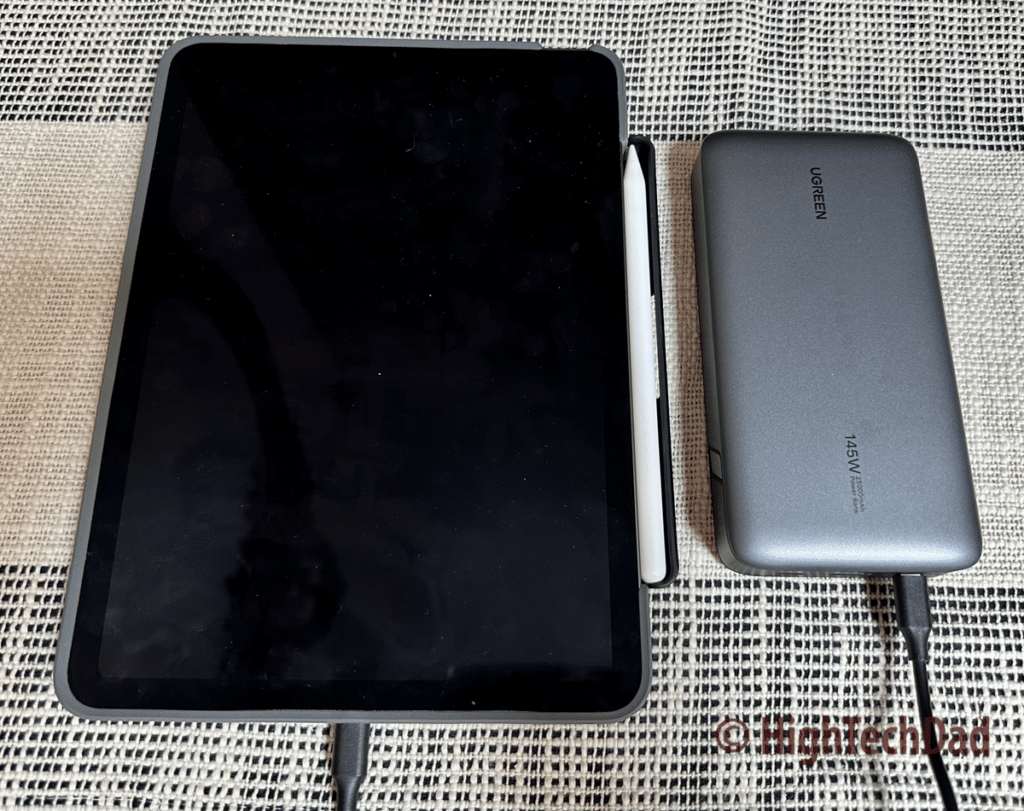 In fact, if you have a 65W PD charger (like this one I reviewed), you can use it to charge up the UGREEN 145W Power Bank in about two hours!
LED display
Built into the Power Bank is an LED display. I believe having an LED display is an important feature of these higher-end portable batteries. Sure, a simple LED light that indicates the battery level is nice, but if you can see more details about the battery state, that is better.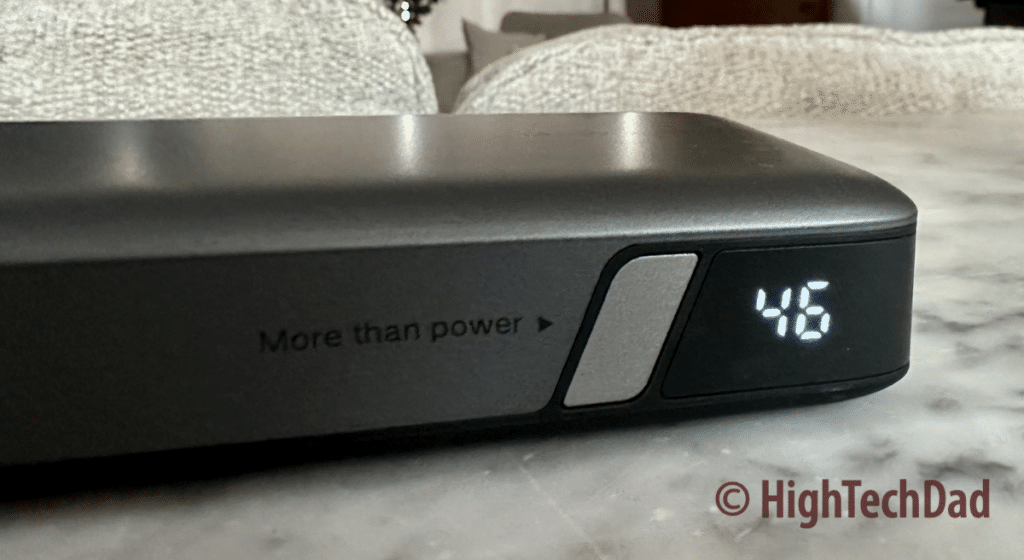 The UGREEN 145W Power Bank has a simple LED display that gives you the numeric value of the battery level. This could be either its current state or its level of charge. There is a button on the side that also lets you activate the LED screen.
This button also activates or deactivates the power to the USB ports. So, if your device is not charging, press the button to turn the USB port on. The only way to stop the charging is to remove the power cord from the Power Bank.
Compact form-factor
When you have this high of a capacity portable battery, it is hard to avoid it being large. However, I was pretty surprised by how reasonably-sized this battery was. First of all, it only weighs about 18.1 ounces – that is about three times the weight of an iPhone 14 Pro Max. So, while it is heavy-ish, it isn't too crazy in weight.
In terms of dimensions, I will use the iPhone 14 Pro Max as a comparison as well. The length and width are almost the same – 6.30″ by 3.2″ for the UGREEN Power Bank (an iPhone 14 Pro Max measures 6.33″ by 3.06″). But the UGREEN is about three times as thick at 1.1″ (while the iPhone is 0.31″).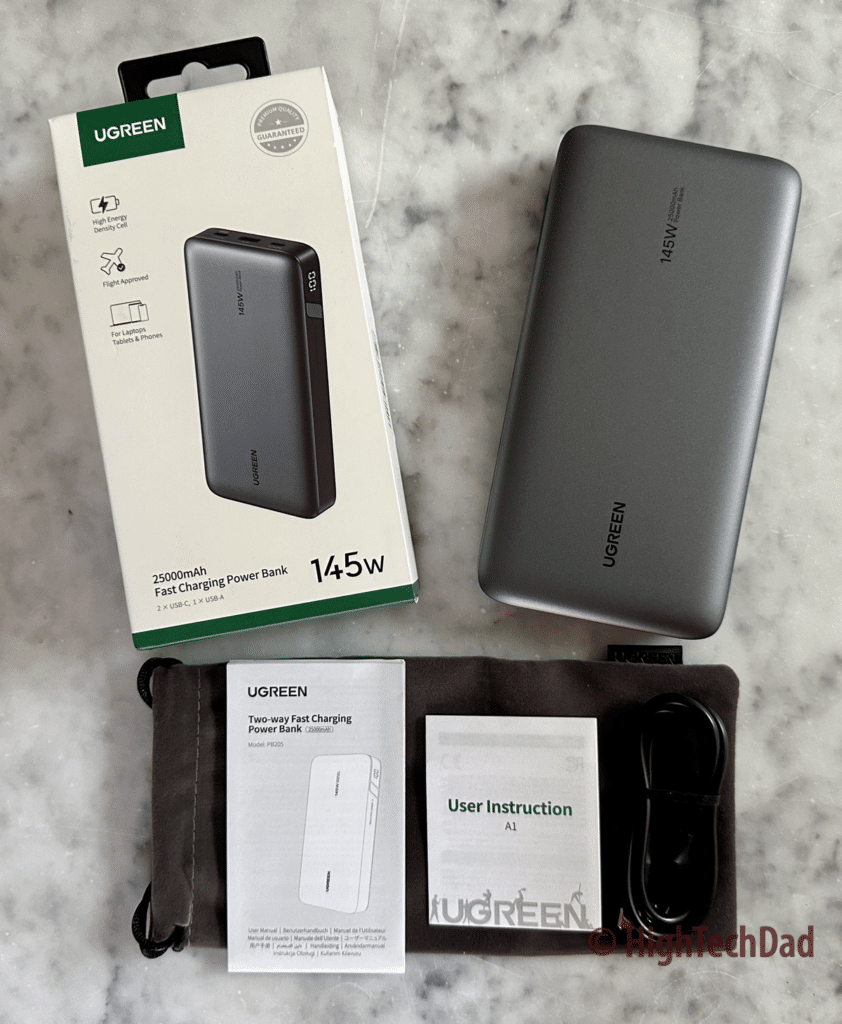 So, while the UGREEN power bank is not "small," it is reasonably sized for its capacity, making it a good portable battery to have available on the go to charge multiple devices multiple times.
Pricing and some final thoughts
The UGREEN 145W Power Bank portable battery is a well-rounded power on-the-go solution that won't break your budget. Not only is it suitable for charging smartphones and tablets, but its high power output also makes it compatible with power-hungry devices like laptops, cameras, drones, and even handheld gaming consoles.
It also comes with a protective felt bag to ensure it doesn't get scratched in transport.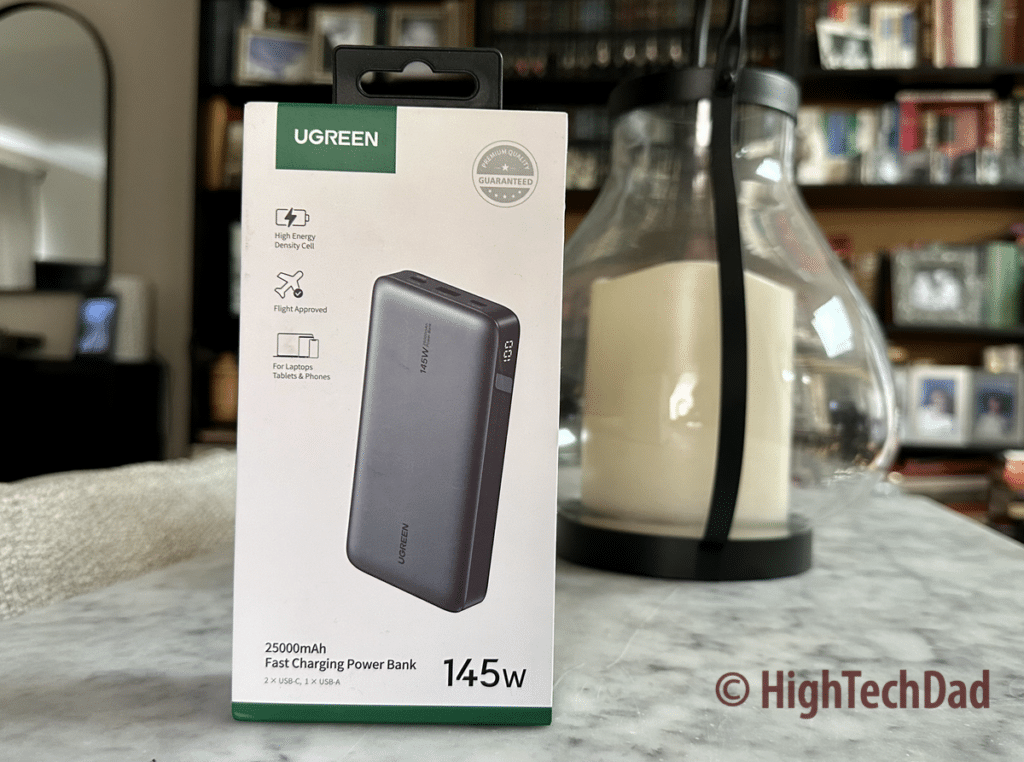 It retails for $149.99 on the UGREEN site and is also available currently on Amazon for $149.99.
Buy on HighTechDad.com
The product shown below (and related products that have been reviewed on HighTechDad) is available within the HighTechDad Shop. This review has all of the details about this particular product and you can order it directly by clicking on the Buy button or clicking on the image/title to view more. Be sure to review other products available in the HighTechDad Shop.
The UGREEN 145W Fast Charging Power Bank lives up to its promises, delivering an exceptional charging experience that leaves many competitors in the dust. Its sleek design, coupled with the convenience of fast charging multiple devices, makes it an ideal choice for individuals who are always on the move. While the power bank's high capacity may result in a slightly longer charging time, this is a minor inconvenience compared to its convenience and versatility.
Disclosure: I have a material connection because I received a sample of a product for consideration in preparing to review the product and write this content. I was/am not expected to return this item after my review period. All opinions within this article are my own and are typically not subject to editorial review from any 3rd party. Also, some of the links in the post above may be "affiliate" or "advertising" links. These may be automatically created or placed by me manually. This means if you click on the link and purchase the item (sometimes but not necessarily the product or service being reviewed), I will receive a small affiliate or advertising commission. More information can be found on my About page.
HTD says: Whether you're a frequent traveler, an outdoor enthusiast, or a tech-savvy professional, the UGREEN 145W Power Bank will keep your devices powered throughout the day. 2-way fast charging is a game changer, in my mind, and the high-powered USB-C output is perfect for laptop charging.
HighTechDad Rating
Ease-of-Use

Family-Friendly

Price Point

Features
Summary
Whether you're a frequent traveler, an outdoor enthusiast, or a tech-savvy professional, the UGREEN 145W Power Bank will keep your devices powered throughout the day. 2-way fast charging is a game changer, in my mind, and the high-powered USB-C output is perfect for laptop charging. Out of the box, this power bank was charged to 45%. I was able to get it to 100% in less than an hour. The LED indicated it has reached full capacity. I love that you can not only fast charge your devices but you can also charge the power bank at the same time as charging other devices. This is a great, all-around portable battery pack. And it has enough output wattage to charge a MacBook Pro and an iPad simultaneously.
Pros
Reasonably priced
2-way fast-charging
100W output – great for laptops
Cons
Would like to have more detail in the LED display