One of the most complicated things to think about packing when you are traveling overseas is something to charge the various devices you want to bring along with you. You need to consider what the voltage is of the country or countries you are visiting, as well as the types of wall plugs. Unfortunately, there is not a universal standard when it comes to either of those two choices. Also, do the devices you want to use readily accept higher voltage? Or do you also need to have a converter? Luckily, the UGREEN Nexode 65W Wall Charger has almost everything you need to travel overseas. And I should know, my wife and I just returned from traveling overseas where we used two of these Travel Chargers by UGREEN. (*Disclosure below.)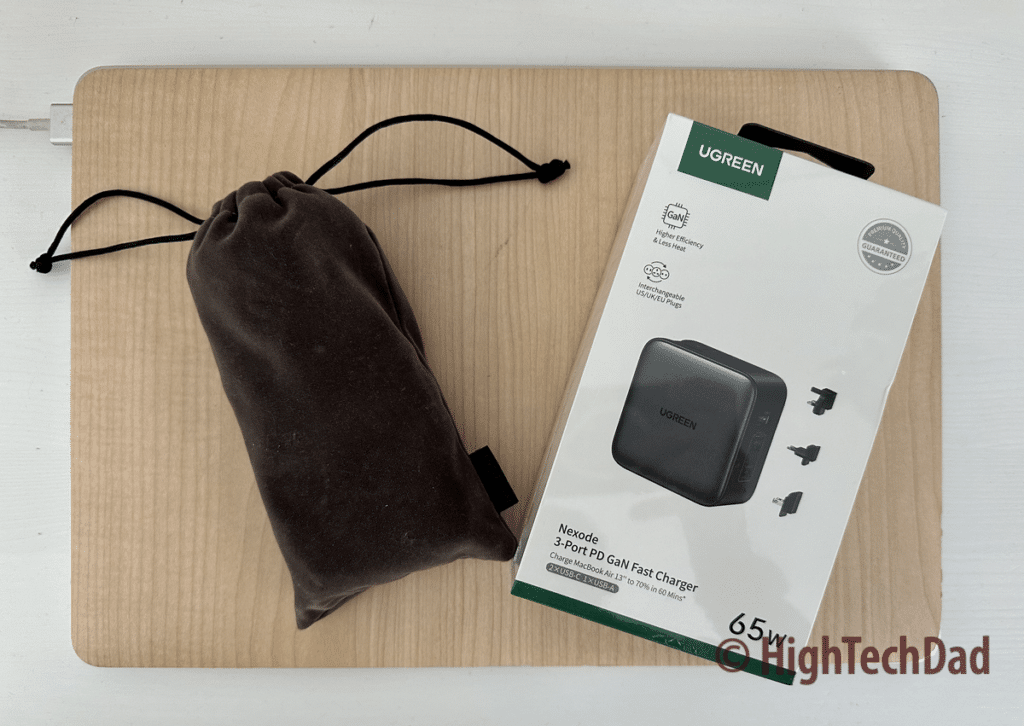 The nice thing about many modern devices that are powered by either USB Type-A or USB Type-C is that they "should" have the ability to handle different types of voltage – 120V or 240V. In the United States, for example, we use 120V, whereas, in the UK and Europe, the standard is 240V. A word of warning regarding your devices, be sure to check the mouse print on the back to see if they support a voltage range. If they don't, you need to be careful what type of plug you will use with those devices, a simple plug converter or a transformer (that actually will transform the power to the proper voltage). 
Table of Contents
A multi-function travel charger
The UGREEN Nexode 65W Wall Charger does much of this heavy lifting for you. And, to make it even better as a travel charger, it comes with removable plugs for the US, UK, Europe, and Asia. We found this particularly helpful when traveling from Italy to London and only needing to bring along one USB charger.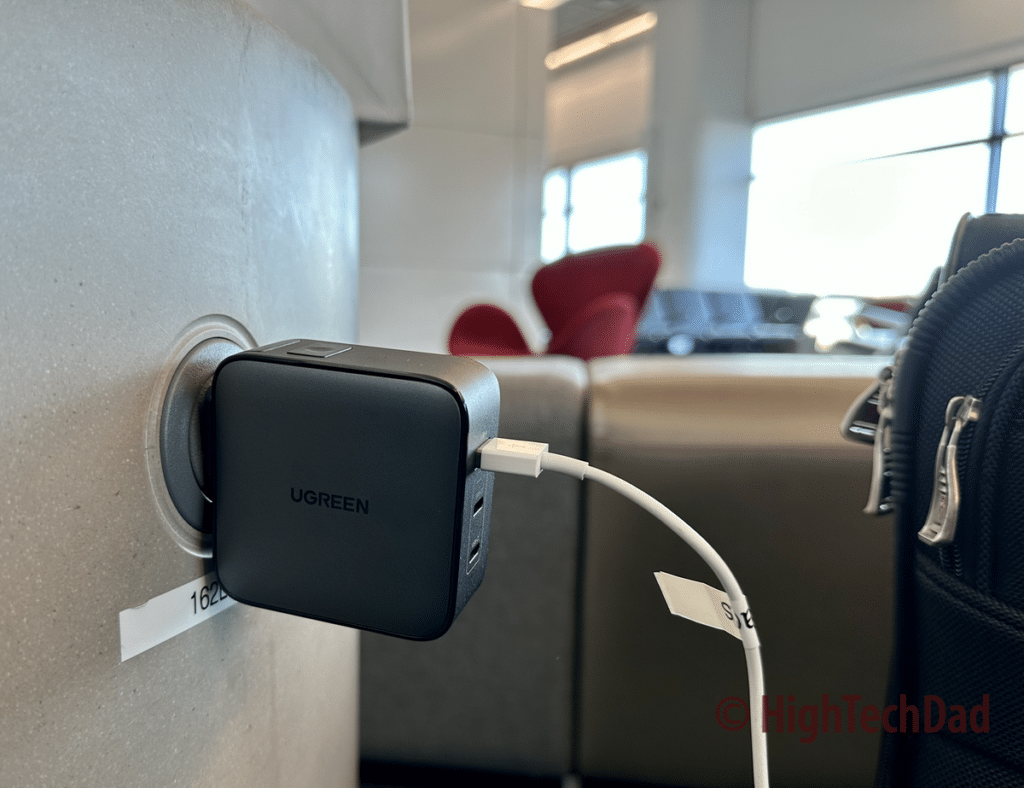 As I mentioned, one of the most important things to look for in a travel charger is the ability to handle different voltages and plug sizes. The UGREEN Nexode 65W Wall Charger has these two items covered. In addition, the plugs are easily removable by pressing down on a release button and sliding the plug out, and clipping a new one into place.
And the plug that you use in the United States conveniently folds into the base to make it compact for travel.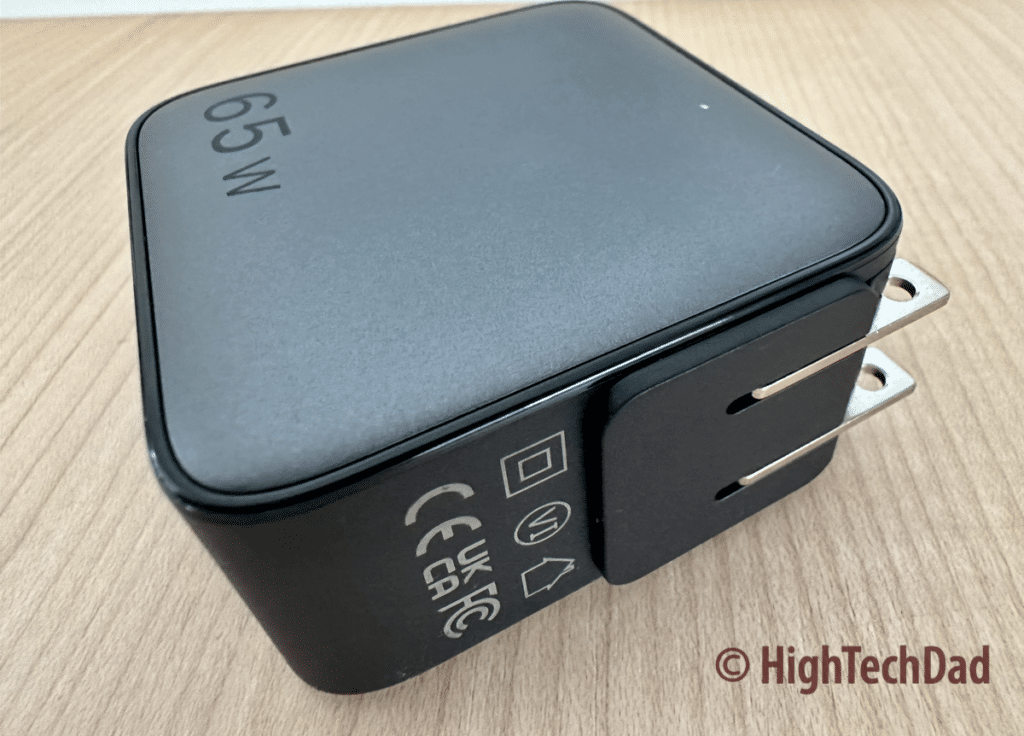 I mentioned the word "compact" in my previous sentence. Because this UGREEN travel changer uses GaN technology, it is also small and lightweight. In fact, it only weighs 0.38 pounds and measures 2.6"x1.57"x1.22".
For traveling, the UGREEN Nexode does come with a soft bag to contain the charger and the three plugs.
Three useful USB ports to charge your devices
The UGREEN Nexode has three USB ports built into it which I believe to be an extremely convenient number. It has two USB Type-C ports and one USB Type-A port. For this trip that I went on, this was the perfect amount as I was traveling with an iPhone, Apple Watch, and an iPad. So I connected my iPhone and iPad to the USB-C ports and my Apple Watch to the USB-A port.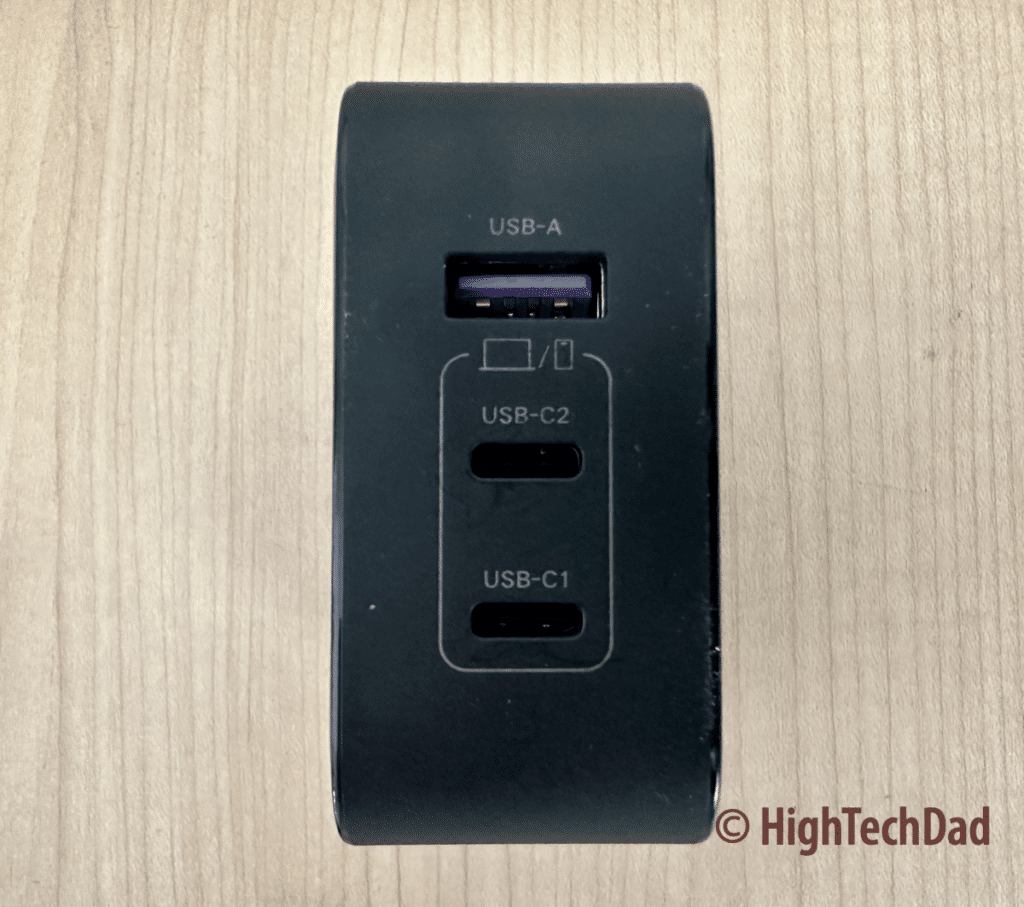 The total maximum output wattage for the UGREEN Nexode is 65W. This power is automatically allocated and distributed based on what devices you have plugged into the Nexode. (And, as I learned, the order in which you plug in your devices.) As a rule of thumb, you will want to plug in the most power-hungry devices first and the lesser power-needy devices later.
Also, for the USB-C ports, you will want to plug the devices that drain the most power at the top. The top USB-C port is a PD (Power Delivery) port with a maximum output of 45W. This is where I plug in either my iPad or iPhone, depending on which device I want to charge more quickly.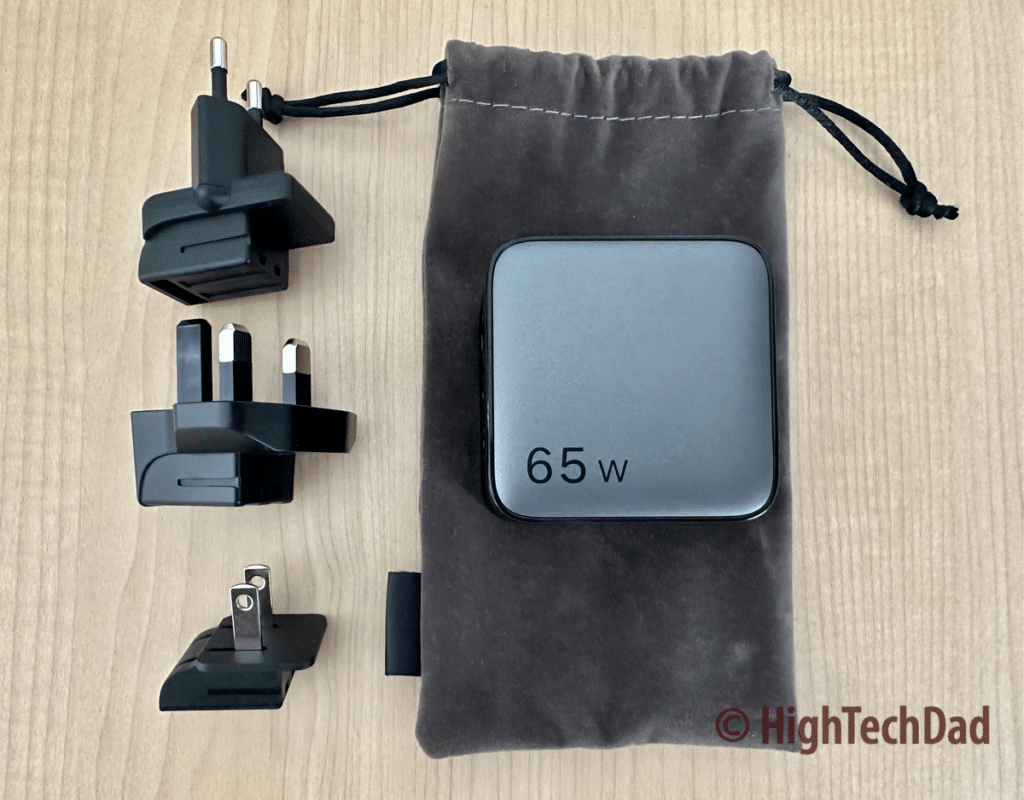 However, the 45W PD USB-C port is excellent for charging up MacBooks or MacBook Airs. If you are trying to charge a MacBook Pro, you may want to only charge it when it is off as the 45W is more of a "trickle charge" and a full powering charge. However, if you are just doing overnight charging, you should be fine.
Usage and Pricing of the UGREEN Nexode 65W Wall Charger
This UGREEN travel charger seemed to work just fine in the various hotels we were at in Italy and the UK. But I found it to be a bit finicky from time to time. For example, I woke up one morning and found that my iPhone had not charged up overnight. In fact, even though it was connected to the UGREEN, it wasn't charging it.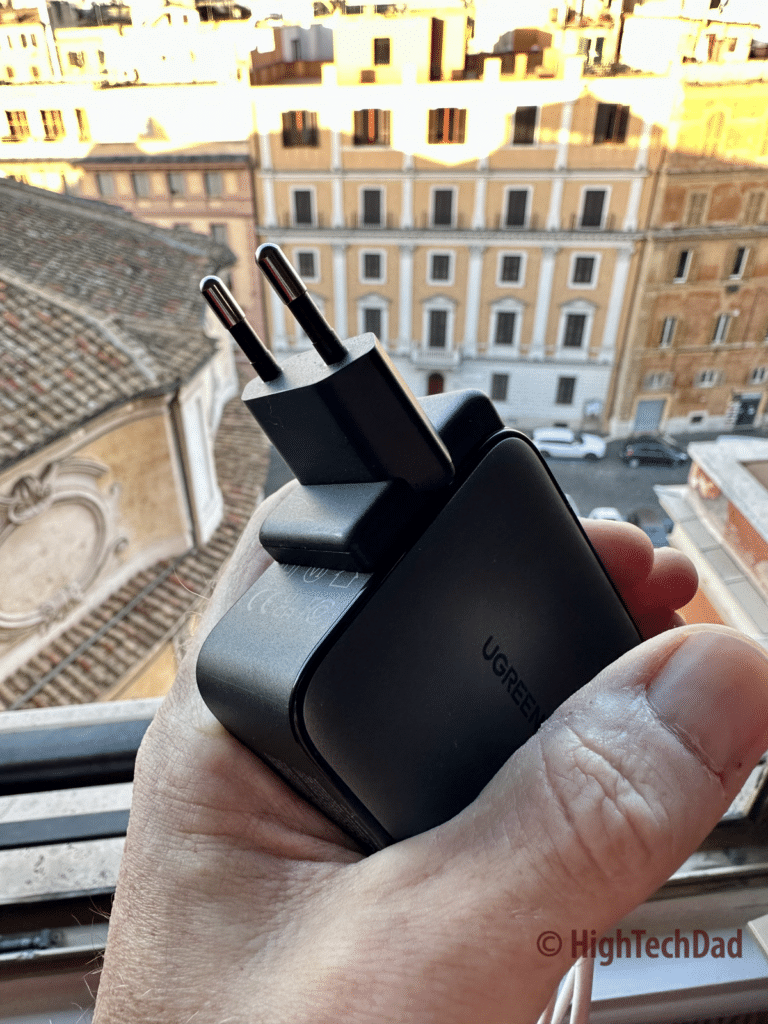 The fix was relatively easy. I just unplugged the USB-C cable from the UGREEN Nexode and re-plugged it in. After that, it started charging again. It could have been because I was charging my iPad on the more powerful USB-C port, and it was using all of the power.
The UGREEN 65W Wall Charger retails for $55.99 and is available on Amazon for $55.99 as of this writing. As this is a new product, I expect the price to decrease slightly in the coming months. Regardless, this charger could easily be your go-to international travel charger, eliminating the need for adapters or converters.
Buy on HighTechDad.com
The product shown below (and related products that have been reviewed on HighTechDad) is available within the HighTechDad Shop. This review has all of the details about this particular product and you can order it directly by clicking on the Buy button or clicking on the image/title to view more. Be sure to review other products available in the HighTechDad Shop.
UGREEN continues to impress me with its wide variety of charging hubs, plugs, and other products. Having this 65W Travel Charger on my trip to Europe, which included the need for multiple plug types for Italy and London, made life incredibly easy for my wife and me. We could charge our iPhones and Apple Watches, and I also could charge up my iPad, all simultaneously. As free luggage space was always an issue, it was great to have a simple, compact, all-in-one charging solution for all of our devices (yes, we did have to use two of these for all devices).
Disclosure: I have a material connection because I received a sample of a product for consideration in preparing to review the product and write this content. I was/am not expected to return this item after my review period. All opinions within this article are my own and are typically not subject to editorial review from any 3rd party. Also, some of the links in the post above may be "affiliate" or "advertising" links. These may be automatically created or placed by me manually. This means if you click on the link and purchase the item (sometimes but not necessarily the product or service being reviewed), I will receive a small affiliate or advertising commission. More information can be found on my About page.
HTD says: When it comes to packing for international travel, one thing you must remember is a gadget to help charge up your devices. The GaN-powered UGREEN Nexode 65W Wall Charger provides plug adapters to use almost anywhere in the world.
HighTechDad Rating
Ease-of-Use

Family-Friendly

Price Point

Features
Summary
When it comes to packing for international travel, one thing you must remember is a gadget to help charge up your devices. The GaN-powered UGREEN Nexode 65W Wall Charger provides plug adapters to use almost anywhere in the world. One of the things that I love about the UGREEN travel charger is that it is quite compact, allowing you to save space in your luggage. The built-in GaN technology allows for 45W of combined charging. And the international plugs are removable (and it includes three of them). When using in the US, the plug also folds into the base. This travel charger is ideal for smartphones, tablets, and lower-powered computers (and other devices like smartwatches or earbuds). It can handle 110-240 voltages as well, which means you can take it to just about any country. The price is reasonable as well, especially when you compare it against voltage converters and transformers. Definitely a must-have for travel!
Pros
Reasonably priced
3 international plugs
Compact design due to GaN technology
Travel case included
Cons
Wish that the other international plugs folded up like the US plug
Sometimes you have to re-plug in your devices to ensure the high-powered ones charge