Ever since I was a teenager and got my first set of JBL studio speakers, I have always been a huge JBL fan! In fact, I still have those speakers stored away somewhere – perhaps they will be resurrected! Over the years, JBL has continued to provide amazing quality speakers in various form factors and with different types of tech and use cases. My wife still uses the JBL Soundgear Personal Bluetooth Speaker, and the JBL Boombox is still my go-to backyard party Bluetooth speaker. That is, until now, potentially! I recently got my hands on the JBL Pulse 5 speaker, and I have to say, this speaker may become the "light" of the party! (*Disclosure below.)
There are thousands of Bluetooth speakers out on the market these days, all of varying quality. And many of them are pretty innovative, with a variety of cool features, including lighting. But there aren't that many that have great features and high-quality sound. You know that with JBL, you will get superior sound quality, and the JBL Pulse 5 Bluetooth Speaker fits right into that scarce segment of great sound plus entertainment. The JBL Pulse 5 is designed to be showcased at a party, whether in your backyard, by the pool, at the beach or park, on a camping trip, or even indoors at your home. The JBL Pulse 5 quickly becomes a beacon for entertainment.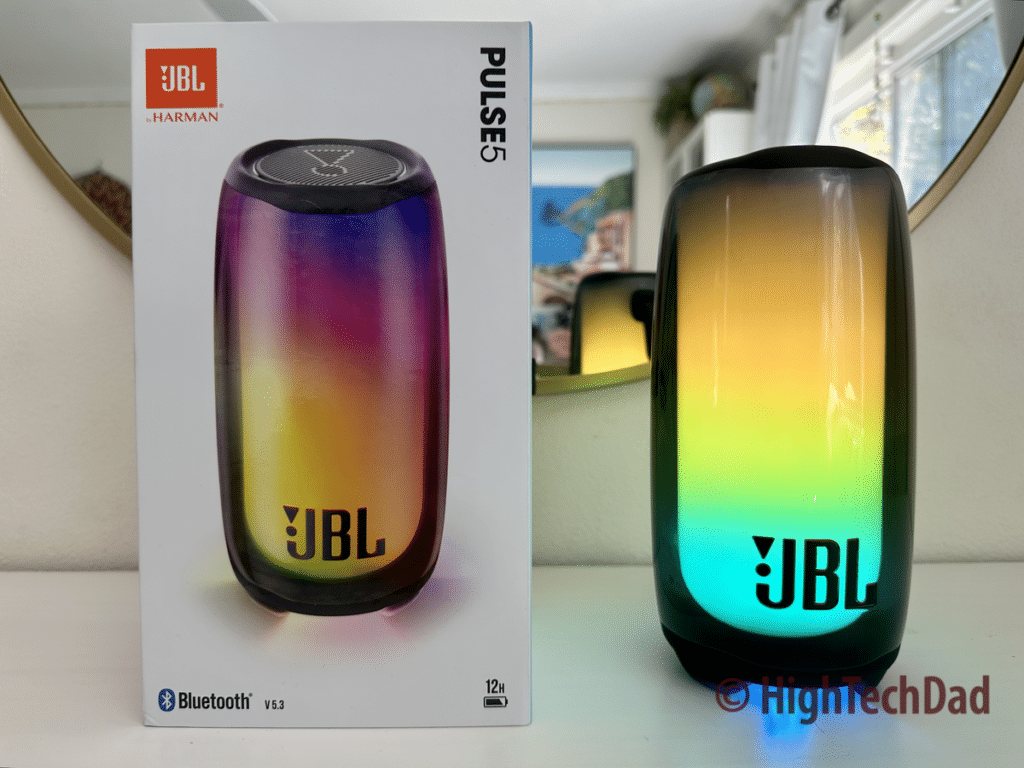 This portable Bluetooth speaker is the ultimate gift for a mom, dad, or grad. Well, just about anybody, for that matter. Anyone who wants a uniquely designed, portable Bluetooth speaker that showers your ears with deep bass and crisp highs but also lights up the environment with an ever-changing light show, configurable to various settings. The Pulse 5 is an entertainment device that rapidly becomes a conversation piece.
Table of Contents
Highlights of the JBL Pulse 5 Speaker
The first thing that grabbed my attention is the 360-degree "light show" that emanates from the Pulse 5's cylindrical-ish body. This is the conversation starter of the design. Wrapped in a transparent acrylic plastic shell, the Pulse 5 has thousands of LED lights embedded within the body. These lights pulse and move to the music and change colors based on the selected settings and sound. The light patterns and waves become mesmerizing as they ebb and flow across the body. And a downward-pointing circular LED light provides an additional light show on the surface where the JBL Pulse 5 is seated.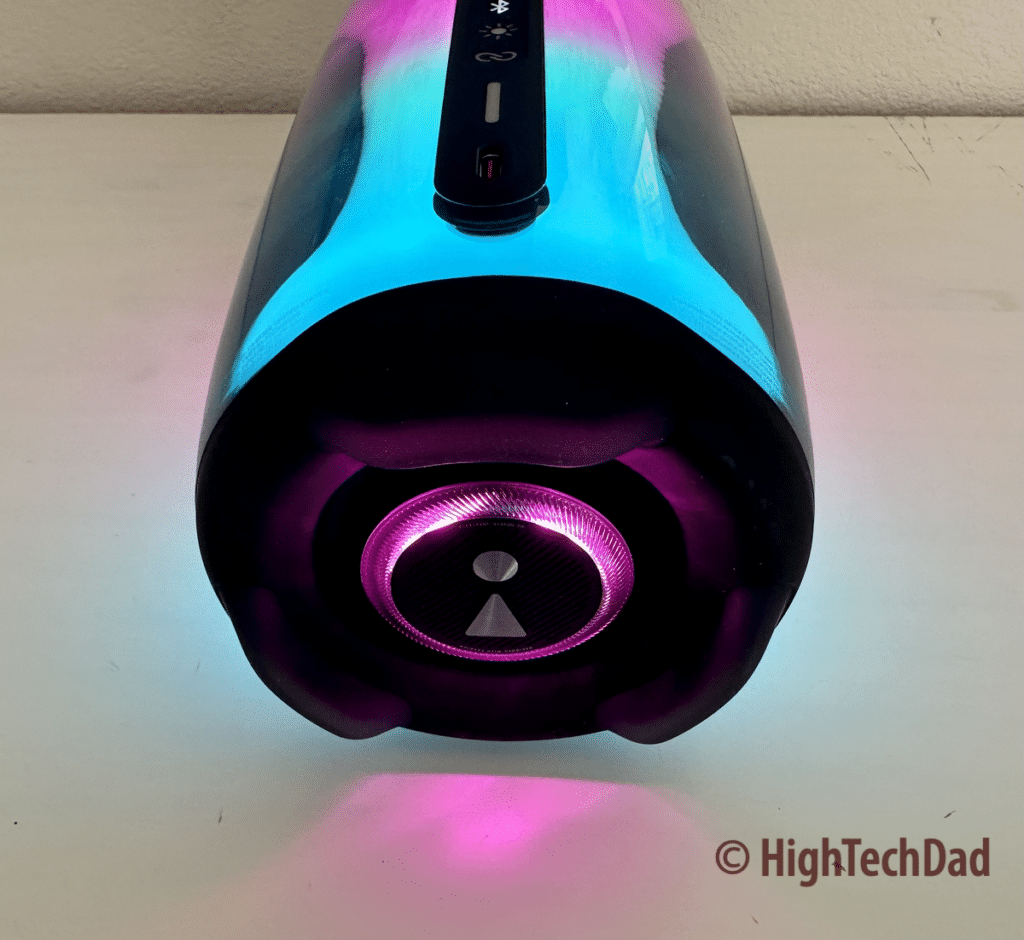 Most of the lighting functionality, the choice of light mood or ambiance, and how rapidly or slowly the lighting reacts are controlled by the necessary (but not required) JBL Portable smartphone app (which I will go into later).
Before I go into the written details, I recorded a video that walks through some highlights of the features…AND…a video is a bit better to showcase the lighting effects I describe below.
There are two built-in speakers – a 64mm, 30W RMS woofer and a 16mm, 10W RMS tweeter. The tweeter points upwards in all directions while the woofer pushes the bass down, often amplified based on what the JBL is sitting on. So the sound, like the lighting, is 360 degrees. RMS stands for Root Mean Square and is related to how power is handled with the speaker. For those audiophiles out there, here are a few more bits of tech specs: the frequency response is 58 Hz to 20 kHz, and the signal-to-noise ratio is > 80 dB.
One key feature that is critical, in my opinion, about a speaker that is used outdoors is the fact that it is both dust-proof and water-proof. It has an IP67 rating which means it has "complete protection against dust over an extended time," and it is "protected against short periods of immersion in water while under pressure" (supposedly up to 1 meter). So while I wouldn't take a chance to have this speaker floating next to me in a pool for a short period of time, the JBL Pulse 5 could probably handle it.
The Pulse 5 is a Bluetooth speaker supporting BT version 5.3 with A2DP 1.3 profile and AVRCP 1.6 profile. (There are a lot of other geeky wireless specifications on the product page.) You can pair it with TWO smartphones or tables simultaneously, which makes it ideal for those competing playlist scenarios. I tested this out, and switching back and forth between devices is smooth. And it will remember the volume level of the connected device as well. Pressing PLAY on one device will pause the other device automatically. No more arguing over who controls the party music (unless you bring a third person into the mix)!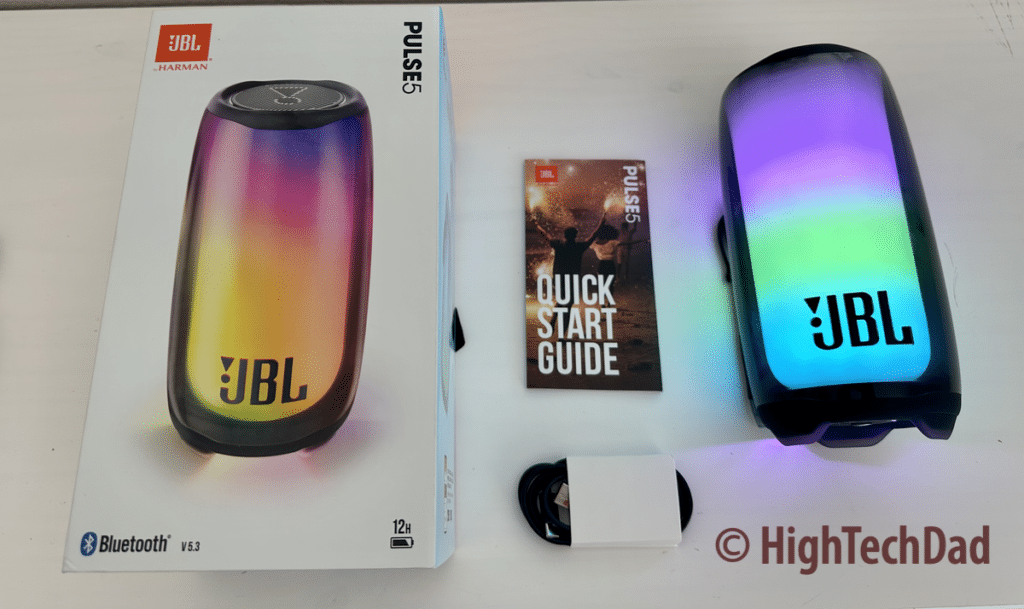 The JBL Pulse 5 is PartyBoost-compatible. What this means is you can pair two Pulse 5s (or other Party Boost) speakers together for stereo sound. Or, if you have multiple PartyBoost speakers, you can link them all together for extended sound. Unfortunately, the JBL Boombox that I have uses Connect+, which is not compatible with PartyBoost. However, both the JBL Boombox 2 and the JBL Boombox 3 DO have PartyBoost, so they could be connected to the Pulse 5! Oh well. I guess, for now, I will keep my sound separate.
Obviously, the JBL Pulse 5 is battery-powered. According to JBL, to charge this speaker fully takes about four hours. There is an included USB Type-C charging cable (with a traditional USB Type-A to connect to a plug or your older computer). You can use a USB-C to USB-C cable as well. The playback time depends on the volume of your music. If you are blasting the speaker (and it DOES get quite loud), your playback time will be less than having it at a reasonable volume level. Playback is estimated at around 12 hours. I have a feeling my kids would blast the music, so their playback time would be much less than mine!
Lastly, I want to discuss the dimensions. First, this speaker feels quite solid (although I would be a bit worried about cracking the transparent outer shell if I dropped it). But it does weigh about 3.23 pounds. So it's not "heavy," but it isn't exactly light-weight either. It measures 4.2″ wide at its thinnest point (it's sort of fat in the middle) and 5.2″ wide at its fattest point. It's 8.5″ high. It has a convenient carrying strap (that you can attach to a backpack if you want to). Oh, and the legs that the Pulse 5 stands on are soft rubber, so they won't scratch the surface where it is placed.
The Light Magic is in the App!
There are very few buttons on the JBL Pulse 5, actually. There is the Power button, the Bluetooth pairing button, a Light button (which can also display the battery level in a vertical light strip below it), and the PartyBoost button to connect other PartyBoost-compatible speakers. The Light button allows you to cycle through the various Light Show presets (Nature, Party, Spiritual, Cocktail, Weather, and Canvas). While you don't need the app for basic usage, the JBL Portable app allows for some additional fine-tuning.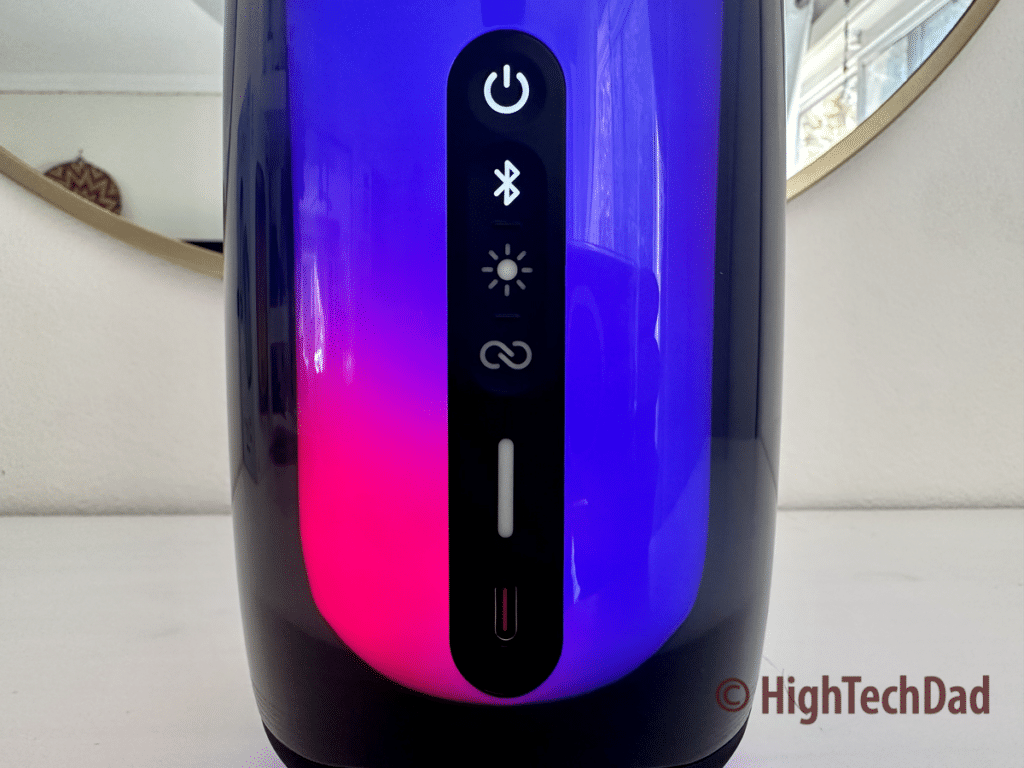 Also missing from the Pulse 5 are the volume, play/pause, and skip/previous buttons. You do all of those functions using your smartphone or tablet when you use your music app.
To really get into the functionality of the JBL Pulse 5, you need to use the JBL Portable app (available for iOS and Android). To activate the functionality within the app, you need to be already paired with the Pulse 5 and have the Pulse 5 connected to your smartphone. Within the JBL Portable app, you will find the following:
Battery State – a tiny bar at the top of the screen shows how much charge is left on your battery.
Light Show – as mentioned previously, there are several Light Shows to choose from. AND, within each Light Show category, you can activate or deactivate different sub-categories. If you want just one sub-category to be playing, you uncheck the other categories. You can have one or multiple sub-categories active at any point.
Color Mode – when you have a particular Light Show active, you can define a single dominant color or tell the Pulse 5 to loop through colors (which is the option I like best). You should play around with this setting within each category and sub-category to get the best personal results.
Light Controls – in this setting, you can control three things: how bright/dim the lights are, the bottom light on/off, and the cylinder light on/off. If, for example, you want to use the speaker with no lights whatsoever, you would simply click on the two light icons and turn them off.
Tempo – you can adjust how fast you want the lights to move when using the Light Show, between turtle (slow) and rabbit (fast).
Equalizer – you can turn on or off the software-based equalizer. If on, you can adjust the Bass, Mid, and Treble. I like having it on to provide additional bass and mid (and a bit of treble). Remember, you can also use this in conjunction with any smartphone-based equalizer.
Ambient Sound – if you want to use the JBL Pulse 5 as a sound machine, you can choose from five possible options (ocean waves, nighttime, campfire, outdoor nature, and running water). And you can mix and match these sounds so you can have a campfire with nighttime sounds simultaneously. Lastly, you can set the duration of the ambient sounds, and they will stop after the pre-defined time.
Feedback tone – it's good sometimes to get audible feedback when using soft-touch buttons
User Guide – there is a link to the user guide
Firmware check – ensure that your Pulse 5 is updated
PartyBoost – turn on the ability to link up 100s of PartyBoost-compatible speakers together.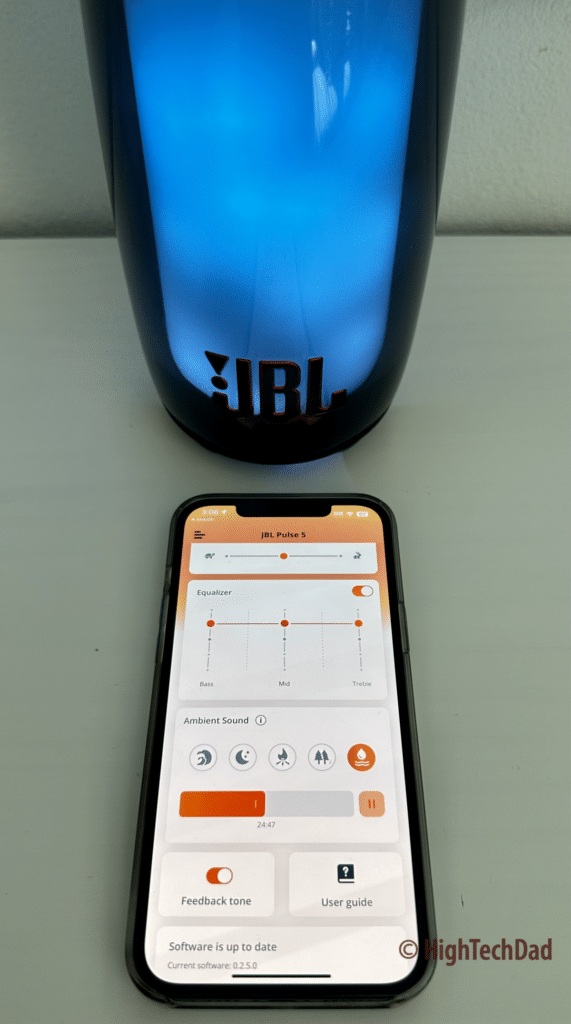 Again, you don't need to use the app to control the basics of the JBL Pulse 5. Once paired to Bluetooth, the core functionality is enabled for music playback and basic lighting control. However, I do recommend using the app to get the most out of your JBL speaker.
Final Thoughts and Pricing Information
I'm truly looking forward to our backyard parties starting up again now that the rainy winter season is almost behind us. The JBL Pulse 5 will definitely be a staple of any of our outdoor entertainment. But even now, setting a Light Show to the Spiritual setting and having the ocean waves ambient sound is a great way to set up for a quick nap!
The only slight negative about the JBL Pulse 5 is the price point. Because of the advanced speaker technology, impressive light show capabilities, and the fact that JBL is a premium brand, the JBL Pulse 5 is not the least expensive portable Bluetooth speaker available. The JBL Pulse 5 currently retails on the JBL site for $249.95 and is also available on Amazon for $249.95. However, the Amazon listing also includes a carbon fiber gSport Case for that same price!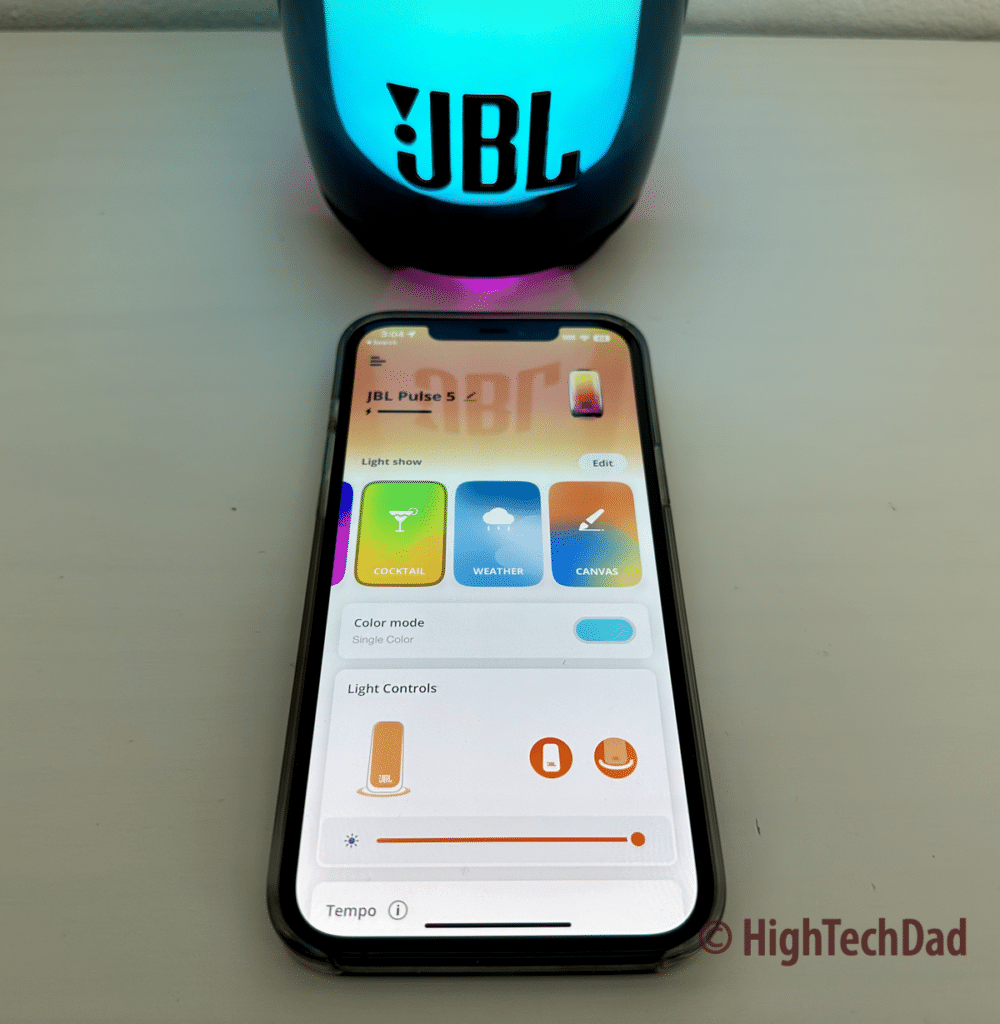 Purchase on HighTechDad
The product shown below (and related products that have been reviewed on HighTechDad) is available within the HighTechDad Shop. This review has all of the details about this particular product and you can order it directly by clicking on the Buy button or clicking on the image/title to view more. Be sure to review other products available in the HighTechDad Shop.
From the fact that this JBL speaker is water-resistant to its ability to display an amazingly mesmerizing light show to the thunderous sound the speaker produces, I truly like the JBL Pulse 5 as a default, go-to, party and entertainment speaker! The sound quality is amazing – I didn't get any discernible distortion, even at high volumes. Outdoors, the Bluetooth range is quite impressive – you definitely don't have to have your smartphone too close to the speaker. And the light show brings a lot of ambiance and fun to any environment!
Disclosure: I have a material connection because I received a sample of a product for consideration in preparing to review the product and write this content. I was/am not expected to return this item after my review period. All opinions within this article are my own and are typically not subject to editorial review from any 3rd party. Also, some of the links in the post above may be "affiliate" or "advertising" links. These may be automatically created or placed by me manually. This means if you click on the link and purchase the item (sometimes but not necessarily the product or service being reviewed), I will receive a small affiliate or advertising commission. More information can be found on my About page.
HTD says: Looking for an amazing portable Bluetooth speaker that will not only produce quality sound for many hours? What about having an added light show synchronized with your music? If so, the JBL Pulse 5 is the speaker you need!
HighTechDad Rating
Ease-of-Use

Family-Friendly

Price Point

Features
Summary
Looking for an amazing portable Bluetooth speaker that will not only produce quality sound for many hours? What about having an added light show synchronized with your music? If so, the JBL Pulse 5 is the speaker you need! JBL always seems to produce amazing quality sound for its innovative speakers. The JBL Pulse 5 is no exception. The addition of the clear shell that houses the LED lighting is truly a conversation starter. There are several Light Shows (selectable either by pressing the button on the speaker or within the App), and within each Light Show category, there are additional options that you can select. While you can't create your own Light Show, there is enough variety to keep your eyes (and ears) entertained. If you have other PartyBoost-capable speakers, you can just network the Pulse 5 into that mix. I'm pretty sure that this will become your default speaker for parties or other events. 
Pros
Very loud, clear, crisp, and deep base, even at loud volume
Mesmerizing configurable light shows
Easy to set up and control via the App
Long battery life
Water & dust-proof
Cons
A bit pricy – but you are paying for JBL quality
No play/pause button on physical speaker
No volume control on physical speaker
No ability to create your own Light Show