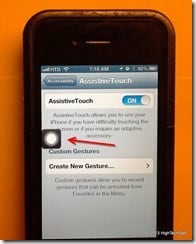 Yesterday I received a panicked call from one of my daughters – "Daddy, my iPhone's home button is broken!" Tears and wailing ensued. But, as with any broken gadget, I was up for the challenge, knowing that I could either replace the iPhone home button myself or figure out some other way to breath a few extra days or weeks of life into her iPhone 4 so that she could still use it. As it turned out, the "temporary" fix (which could be permanent), it quite easy to do and actually a pretty neat function that not too many people know about. And, it's built into all iOS devices.
Normally, when hardware components fail on my iOS devices, I turn to the super-handy iFixIt.com guides. I have done anything from replacing batteries on iPhone 3GS & iPhone 4′s to replacing the power button on an iPhone 4 (let me tell you, THAT one is really hard!). So, I quickly scanned through the steps in the iFixIt guide and realized that even though the part itself was about $15 only, the level of effort to physically replace the button was HUGE. (Here's the daunting fix-it guide.) So, I needed to find another solution.
Luckily, I remembered in the past reading about how you can reassign a button or create a gesture on a jailbroken phone so I knew there was a software solution out there. However, I didn't want to jailbreak my daughter's iPhone. There had to be another solution. And then I found it. What follows are the quick and easy steps on how to fix a broken iPhone home button.
How To Fix a Broken iPhone Home Button
{ 0 comments }