Just a quick post for all of you iPhone fans. It's the start of 2008 and there is, I predict, a lot in store for the iPhone. We will see the release of the iPhone SDK which is a definite. Also, there have been reports (from Gear Live) of a new firmware coming out (more about that in a bit).
But first, here are some other things that I think will happen within the 1st Quarter of 2008 (maybe spilling to the 2nd):
Apple will start releasing 3rd party apps via iTunes
iTunes will let you "rent" movies which means that you will be able to play on your iPhone for a limited amount of plays/time
iTunes will be updated to support 3rd party application eCommerce
Apple will start a rigorous program to certify applications
iTunes will sync Notes (and Tasks?) with the Apple Mail app and possibly with Exchange
The Exchange synching will be dramatically updated to support more functionality (e.g., Calendaring/Tasks/Notes)
A new iPhone model will be release for 3G networks
…"and one more thing…" will be announced at MacWorld (probably new firmware/features?)
Before firmware 1.1.2 launches, I figured that I would do a quick roundup of some apps that I'm using that I like (yes, these are 3rd party apps and yes, they will be blown away by the new firmware coming out, and YES, all of the jailbreaking developers will be scrambling to break into the new firmware). Here is what I currently have installed (with a quick roundup as well). On my iPhone, these are always in a state of flux but here goes:
Mines – great minesweeper game; very addictive
Blinker – flashes your iPhone screen yellow; good for flagging people down
Customize – tweak all sorts of settings on your iPhone with different graphics packs
SMBPrefs – use custom themes on your iPhone
Search – search Events and Contracts quickly (wrote this up here)
SendSong – email songs and set as custom ringtones
Services – enable/disable EDGE, Wifi, Bluetooth and SSH easily
Sketches – great drawing app; super for kids to play with
Finder – graphically browse your iPhone
Light – like Blinker but with a solid white light for flashlight
iBlackjack – very nice Blackjack app
redLight – like Light but red for viewing at night
Sand – interesting drawing app that uses falling/static sand
Splitter – spit your bill easily
TuneWiki – pulls the lyrics for songs in your iTunes; syncs those lyrics with the music on many songs
DressUp – overlay "costumes" on pictures you take; Pirate, Xmas, Halloween, and many others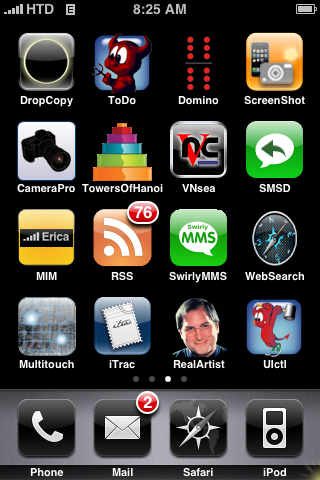 DropCopy – share files wirelessly
ToDo – simple to-do lists
Domino – 1/2 player domino action
Screenshot – take screenshots and save locally
CameraPro – a shareware higher-end version of the camera app with zooming
TowerofHanoi – exactly as the name says (a game)
VNsea – a port of VNC for iPhone
SMSD – more robust SMS app
MIM – set your own custom carrier (mine is HTD)
RSS – an RSS reader with lots of features
SwirlyMMS – an MMS app (outbound only)
WebSearch – one button searches for popular search sites
MultiTouch – be just like Tom Cruise in Minority Report
iTrac – track your various shipments
RealArtist – smudge your latest picture
Ulctl – careful with this one; UI for launchctl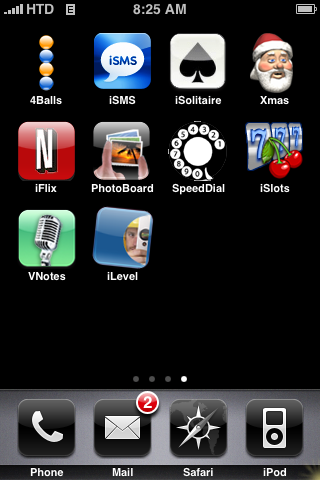 4Balls – like Othello; stack 4 in a row
iSMS – another SMS app
iSolitaire – nice Solitaire card game
Xmas – Xmas costume (included in DressUp)
iFlix – manage your NetFlix account (wrote this up here)
PhotoBoard – ways to view photos
SpeedDial – set up 1 button speed dials
iSlots – nice slot machine app
vNotes – record voice notes and email them
iLevel – uses Accelerometer to create a level
But, I can kiss these all goodbye when Firmware 1.1.3 comes out. Here is what it is "supposed" to include (unconfirmed – my source is GearLive):
SMS to multiple recipients at once
Cell tower triangulation on Google maps (not super accurate)
Hybrid Map view (roads and satellite)
Rearrange apps on your iPhone
Pagination on iPhone
Web bookmarks on home screen (save a "shortcut" to a website)
Baseband version updated
So, again, this is all UNCONFIRMED by other sources, but the changes seem to be pretty reasonable in my opinion. See the screenshots/videos at GearLive.
HTD says: Lots of things (good/bad) to come with the iPhone this first quarter I predict!