Batteries don't last long enough. While the technology is getting better, and they can pack more juice into smaller spaces, unfortunately, for most people like me, this is just still long enough. Macs are no different than PCs. Both run on batteries that use similar technology. Recently, with the MacBook Pro Unibody designs and MacBook Air, while Apple did increase the capacity of the battery, thus extending the battery life, they also made a design choice making the battery very difficult to replace (it is doable, mind you). What this means is that the average user probably won't be replacing the battery or carrying supplies of batteries to swap out (on plane trips, for example).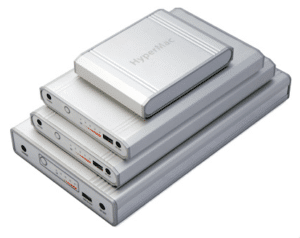 My MacBook Pro (non-unibody) is on its 2nd or 3rd battery now. I think my first one was recalled and a few months ago, my replacement battery started acting up. It was replaced as well. My current battery only lasts about 2-2.5 hours, barely enough to keep me working through a blog post. So, when I heard about a company, Sanho, that had created an external battery solution just for us Mac users, I just had to check it out for myself. The product is called HyperMac and it is truly a solution for those who travel, go to tradeshows, work away from plugs or just want the comfort of having extra juice available on standby.
I must admit, my reasons for contacting Sanho were a bit selfish, from what I had heard about the product, I really wanted to test it out and see if it lived up to the hype. And, I simply wanted to keep one to provide me with that emergency power that tech bloggers often need.
About the HyperMac
The HyperMac comes in many different sizes, each depending on the "capacity." Current models available are: 60, 100, 150 and 222-watt-hour. Each of these different sizes (and, mind you, the longer the battery life the heavier and larger the battery is) extend the length of time you can go without a plug. With the smallest battery (the MBP-060), the worst you can get is 9.41 hours (unverified – that is what appears on their site) on a MB Pro 17″ non-Unibody. With the largest battery (the MBP-222) on the same computer, the battery life is estimated at 21.3 hours. Regardless, take a look at the chart below (taken from the HyperMac page) for some battery estimates and dimensions:
An external battery isn't that sexy. It is a utilitarian type of device. Luckily the Sanho guys have made it look very Mac-like so it blends right in with a Mac environment, complete with brushed aluminum. They have also extended its usefulness by including a USB port (5V out) which allows for charging of various devices including iPhones or iPods. Using just the USB port with an iPhone can extend your battery life anywhere from 14x to 52x.
There is no real interface to the device with the exception of some power plugs, USB port, power button and a battery status meter. In my opinion, simple is good. However, I would have made a slight change to the power in and out plugs. A couple of times during my testing, I tried to plug in the cable that goes to my Mac into the port that is supposed to get the cable from the wall. Nothing happens but still it is a bit confusing.
When the battery is charging, the wall plug has a light that goes red as it charges and then green when it is full. The front of the HyperMac has a blister button that, when pressed, gives you a quick readout of how much power you have left. Also, when you plug in the MagSafe connector to the HyperMac, you see a light go on next to the battery status bar, signifying that the device is on.
A little known fact about the MacBook Pro, depending on the type of usage, it will automatically select either a lower power or high power mode. When running in lower power mode, the voltage draw is 16.5V (more energy efficient), however, when it needs more juice (for something more intensive like graphics processing or movie rendering), it kicks up to 18.5V. The HyperMac actually can handle this dual voltage flexibility.
According to the site, the HyperMac Battery is "military grade" and can be recharged up to 1000 times, which, supposedly is much better than the industry standard time of 300 recharges.
Also included with any HyperMac that is 100-watts and above is a car power adapter that you can use to power your MacBook. According to the HyperMac site, this is the only non-Apple dual voltage car adapter out there (unconfirmed). It is supposedly safer than using power inverters as well as almost 2x as efficient and produces a cleaner power signal. For more details, I suggest reading this page. Personally, I think this is a great add-on, especially coupled with the fact that you probably should go beyond the "entry level" HyperMac if you have a MacBook Pro that has dual voltage built in.
Testing
To test this device and its claims of extended battery, I set up a very simple test. I brought a fully charge MBP-100 (100-watt version) to work, powered down my MBP, took out the internal battery, plugged it in to the HyperMac and powered my MPB up. While I haven't benchmarked my current internal battery, I do, know that on average and under the same conditions, I get about 2-2.5 hours of battery life. Immediately, I noticed that the internal temperatures were a lot lower (sans internal battery). Do note that connected to my MBP is a USB-powered fan cooling hub so there is additional draw on the battery (but I use this with my MBP when plugged in so it's an even playing field).
My test produced a full 3 hours and 8 minutes with typical usage on my MBP. However, when the HyperMac ran out of power, my MPB simply shut off since it thought that it was plugged into a wall and not running off of a battery. I could also test the full duration of the MPB battery with the HyperMac plugged in, but the results may not be typical since my MPB battery has about 44 cycles and may be a refurbished one.
So, I can assume that using a combination of internal battery and the 100-watt HyperMac, I could probably expect anywhere between 5-6.5 combined hours (it could be more based on the activities happening on the MBP as well as how efficiently the HyperMac charges the battery).
Final Thoughts
There aren't many features or functions in the HyperMac. It's an external battery that plugs into the wall to charge and then into your Mac to power your Mac. Here are the highlights:
Charging station – The HyperMac can act as a charging station to fully load up your battery.
Tethered power supply – It can also be used simply as a power supply (as noted in my test above)
Power Connector – It would be nice to have MagSafe charge ability for the HyperMac (option) – be able to string the battery to wall MagSafe charger and from HyperMac to MacBook
Price Point – The 100-watt version retails for about $300 but you do get a car adapter with it (free) for the 100-watt and above HyperMacs. Given that the price point for a replacement battery for my MPB is about $129 AND that the HyperMac lasts longer that an internal battery AND that you can charge an iPhone or USB device at the same time, I feel the higher price is justified (especially for the 100-watt version)
I view this device not only as something extremely helpful for the road warrior or traveler, but also for emergency purposes. The fact that you can juice up your iPhone (e.g., during a power outage) or use your car battery to power your MacBook makes this almost essential for any household that uses Macs (with MagSafe connectors – works with MacBook Air as well).
DISCLOSURE OF MATERIAL CONNECTION: http://cmp.ly/2. Details on my Review Policy is also on my "About" page.
HTD says: It's hard to find negatives on something as essential as extra power for your MacBook, MacBook Pro or MacBook Air. The HyperMac is a sound solution to meet your "on the go" power needs.