A few weeks ago our 2001 Honda Odyssey died. The transmission on our 10 year old family shuttle that had "only" 130,000 miles conked out, for the second time. It had served us really well until the last year or so, and then it had developed an expensive habit of relentlessly having to visit the repair shop every few months. My wife and I finally agreed that it was time to move on.
I decided to try something different in my shopping for a new car. I wanted to make it a bit more transparent and even social. I wrote a blog post about it, created a Twitter hashtag (#HTDcar) and started contacting dealers and PR firms in my quest for a new car. I was pretty clear on my terms for the dealerships, no more than $18,000 out the door. That would include taxes, license, documentation, transportation fees, etc. I was also going to try to shop with a series of Friends & Family discounts (from Ford, Chevy, Nissan and Hyundai) and perhaps look at some online shopping sites.
It is now a few weeks later, and I have a new car sitting in my driveway. So, how did I get there? Below are just some quick musings on the process. There are probably other things that may work better, and definitely some that work worse (like not haggling at all, but I almost think that that is insulting to the salesperson).
Some Dealers Still Do A Traditional Sell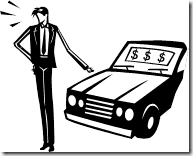 One of the most annoying things in my opinion is "the traditional sell". These can take a variety of forms. In some cases, when you pull up to the dealership, you see a group of sales people hanging around in a group. I almost feel like they drew straws to see who gets to approach a new customer. I found the interaction could range from being extremely friendly and not with a hard sell, to downright insulting. For example, I went to one dealer and was walking around the lot with my daughter looking at some cars. This salesperson cut straight to the chase "Are you ready to buy a car today?" To which I answered "No" and he pretty much left me and my daughter on my own. He wouldn't get my business that day…or any other day for that matter.
Another dealer played the "write a figure down on this piece of paper with a number you are comfortable with" after my family had taken a car out for a test drive. We then watched the paper make its way back to the glass back office, where the "manager" and the salesperson reviewed the number. I knew the price that we were willing to pay was much lower than what the dealer invoice was AND after incentives (hint, be sure to pay a little extra with Consumer Reports and you can find out all of those details with their New Car Price Report). After about 5 minutes (or more), they came back with a "my manager just can't quite do that number, how about this one". We walked out of the door after that.
Remember that making you wait and dragging out the process is all part of the traditional sell game. It's their job to make the deal and they have nowhere else to be. You, on the other hand, are probably busy and cannot spare a half of a day worth of negotiations and waiting. So, you will try to rush the process along and give in sooner than the dealer will. Just be sure that you can simply walk out the door if you have to.
Anyway, there are plenty of other tactics that they will try on you. Just be firm and be ready to just get up and leave and try another day or another dealer. Wait until the end of the month/year as well since dealers frequently want to close the deal more readily at that time.
Oh, and one more traditional trick that most dealers do pretty much every weekend is offer one vehicle at a super discounted rate to get you down to the lot. There is usually the fine print ("just one at this price") and there is probably some sort of catch when you actual go to view the car. But it is just a way to get your attention and definitely part of the traditional "bait and switch"…uh, I mean "sell."
If you can find a salesperson that you like, start to work with them. They may either be a genuinely nice person or a stellar sales person (or a little bit of both). The dealership that we eventually got our new car from definitely had a sales person that we liked. When I pitched her on the story that I was doing and how car manufacturers are now starting to understand the power of social media and blogging and my "dealer incentive", she seemed to get it. I was encouraged by this a lot. Most of the other dealers didn't get it.
Friends & Family Discount Plans are Great, Sorta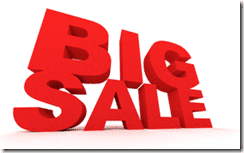 Because of some of the blogging I have done in the past and some other connections, I was able to get Friends and Family Discounts from Ford, Nissan, Chevy and Hyundai. What makes these so good, if you are able to get one, is the time savings you get with it. There is no need to go through some of the things that I mentioned in the section above. With a Friends and Family code, you simply walk into a dealer and give them a PIN or a certificate or some kind of code. The dealer looks up the code and then comes back with a "no negotiation" price. That is the beauty of it. Typically this price is just a fraction above (or below) the dealer invoice and you can apply some of the current incentives to the price as well.
But, as I learned, the price is not the rock-bottom one that you can get. You get a low price though, not the lowest, but you can't negotiate a lower deal based on that price. Dealers do frequently get some kind of kick back or something from the manufacturers when they do a Friends and Family sale. It's a good deal for them as well. But remember, you CAN do better by doing some strong negotiation.
If you know someone (e.g., an employee or PR firm that represents a car manufacturer) ask them if they have access to Friends and Family discounts. It can't hurt and can definitely help.
Online Services

While I mentioned these services, and there are plenty of them out there to choose from, I didn't end up using one. However, if you can't qualify for a Friends and Family deal, you should definitely take a look at one or more of these auto buying services. Typically for a fee, you can get a pre-negotiated price for the car that you want with one of these service. And, the price might be right at that Friends & Family level, or even lower. They are definitely a bit better than doing the "traditional sell".
Some of these services will even have the car delivered to your home. THAT is convenience! If you are someone without much time to handle the negotiation or need a specific car, color and set of features, online services are a pretty good option.
Email and Phone Negotiations

Another method that you can try is that of a conversation via the phone or email. Many car manufacturer sites have a form that you can fill out to send your request directly to a dealer that is local to you. I tried this initially and conducted a pretty good negotiation, all via a combination of phone calls and emails. This gives you a bit more power, provides you with real documentation of prices and the negotiation, and allows you to cut through much of the chitter-chatter once you go in to the dealership.
Just remember though, even though you get quotes from a dealer over the phone, be sure to have them follow up with an email of all of the specifics. Ask them for the "out the door" price that includes everything. Armed with a print out of your email, you definitely can do a lot more once you are physically there at the dealership.
Lastly, you might want to try this tactic. Find out all of the fleet manager emails for the dealers in the area where you live. Then, do your research into the EXACT vehicle that you want. Again, the Consumer Reports New Car Price Service is very helpful to find out the Dealer Invoice, incentives, rebates, etc for your vehicle. Then email ALL of the fleet managers with exactly what you want and what you are willing to pay. Be sure to put all of those email addresses on the TO: line so that they can all see who they are competing against for your business. Be sure to include your contact info. Then, assuming you aren't in a rush to buy a car, wait for them to start emailing you back with offers. Be prepared to drive a bit to the dealers that might be a bit further away. This all depends on your search radius though.
Deep Search Your Networks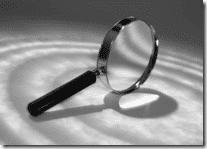 If you can, dive deep into your own personal network. Ask your friends if they know of any dealership connections. This is where Six Degrees of Separation really works. Your friend's friend might know a dealer owner, for example. This was the method that actually worked for us in terms of the owner of a dealership. It turned out that we actually attended a 40th birthday party of a mutual friend together. And my wife happens to know many of the dealer's wife's friends as well. Yes, you can say "small world" here.
In the end, knowing and working directly with the dealership owner went a long way. While we had initially dealt with a very friendly salesperson at that dealership, having the connection with owner really helped move things along. And the owner was able to help with some other items (e.g., negotiating a trade-in price for our minivan without having actually seen the vehicle AND the fact that they later arranged to tow our minivan from our home for free).
The funny thing is, that even after finalizing the "out the door" price at this dealership, we still had to go through the "up-sell" in Financing on an extended warranty. We said NO to that as well and walked out the door with the price that was agreed upon a few days earlier.
Pay for Upgrades & Options Later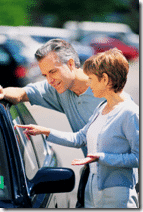 So here are some of my recommendations for getting your car. This is a personal opinion and you may choose to do things differently. For us, what worked was buying the base model of the car without any optional packages or higher level trimlines.
Do a bit of research before you buy your car. Understand what optional equipment comes in a "package" or in the next level trimline and really decide if you need the heated cup warmers, for example. Once you figure out your "must have" options, find out how much that part or service costs and then how much the labor is to install it later. In some cases, the package at the dealership may make sense. In many cases, it will not.
Things to look at:
Window Tinting/Privacy Glass
Stereo/Speakers/Amps
TV/Video
Alarm System
GPS
Leather
Bluetooth phone integration
These items can all be added after-market and probably a fraction of the cost that you would pay for a package. AND, you typically get a better quality after-market device or service and the same or lower price. I have actually gotten the windows tinted after-market and I will be writing a post about that shortly.
There is, of course, the convenience of having all of these items "upgraded" before your drive off the dealer's lot. If you have the means to do this, you might want to pursue that route. However, I'm guessing that many more consumers are budget-minded and need to cut some costs somewhere. Remember, by buying a lower model, you might be able to not only get into a better car (as compared to buying the top-of-the-line lesser model), but you also have to factor in the additional auto insurance costs of a new car. You could apply your savings there, for example.
Dealers & Manufacturers make there money with the packages and the more expensive trimlines. But you can still get some of those items even from the dealer themselves. You get to pick and choose the options you like and don't install the ones you don't. For example, the rear spoiler option on our car is not something that we wanted. But, in the future, if we want to add a spoiler, we can do it.
In the days where money is tight, you need to shop smart. I will be trying to do a series on how money-conscious consumers can actually SAVE MONEY by doing after-market installs of a variety of "upgrades."
Oh, and by the way, we got a 2010 Nissan Rogue. Special thanks go out to the Dirito Brothers in Concord for their great help in the purchase of our Rogue. Miley, our sales rep, was great and Dave, the owner, was transparent, didn't push us, provided great, timely feedback, and helped us get the car that we really wanted.
HTD says: Stay tuned for more ways to save money AFTER you drive your car off the dealer's lot!