Liquid and laptop keyboards are not a match made in heaven in any way. In fact, if you don't act quickly, a liquid spill will fry out the circuitry in your laptop very quickly. I recently received a mid-2012 MacBook Pro (MBP) 15" with Retina display from a family member who spilled some coffee on it. A row of keys wasn't working nor was the space bar. With some help from iFixIt.com (guides and parts), I was able to replace a MacBook Pro Keyboard. The process is NOT easy, in fact, I would be very careful attempting to do this type of repair. But if your MBP is already broken, you might give it a shot.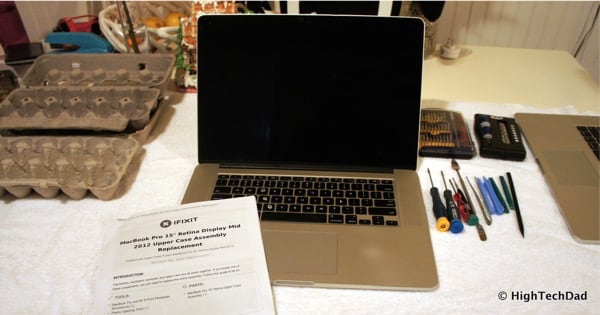 The important thing to remember is that you should do your best to keep liquids away from electronics. But if you DO happen to spill on your laptop, there are two things you should do immediately:
Turn off the laptop
Turn the keyboard upside down to drain the liquids
The faster you can do this, the less likely you will have permanent damage to the circuitry. But with the 2012 MacBook Pro that I had, the damage had already been done. While it did boot up, I couldn't log onto it because my password had some letters that could not be typed on the keyboard (luckily a USB keyboard worked fine). Oh and the keyboard had a wonderful aroma of coffee.
How To Replace a MacBook Pro Keyboard
Unlike older Mac laptops where you could replace just the keyboard, newer unibody MacBook Pro's have the keyboard fully integrated with the upper case assembly so, unfortunately, if you have to replace the keyboard, you will be paying quite a bit more because you also are replacing the trackpad, the batteries and the upper metal case in addition to the keyboard.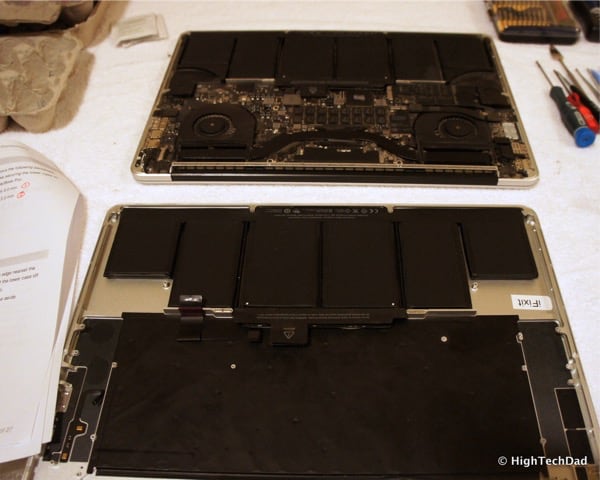 Before I go any further, I have to issue a few warnings:
Doing this repair voids your warranty
I'm not responsible for any damage or issues as a result of any of this article or video
This repair can take several hours
This repair is NOT easy
You MAY feel like a super-hero if you do this repair properly (enjoy it)
That all being said, instead of listing out all of the steps with photos of how to replace a MacBook Pro keyboard (which the folks at iFixIt.com have already done and whose guide I use for all of my repairs), I decided that I would just embed this rather long video that I did of me going through the entire process.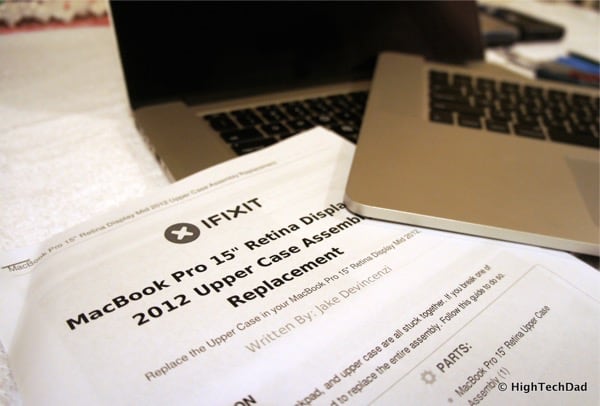 Here are the tools/materials I used in this repair:
MBP Upper Case Assembly – refurb/A-stock from iFixIt ($550) or new from iFixIt ($800)
T5 & T8 Torx Screwdrivers
MBP/MBAir 5-point pentalobe screwdriver
Spudger
Plastic Opening tool
Tweezers
Egg carton (to hold small screws)
Video: Replace a MacBook Pro Keyboard
Here is the video (which is also available directly on YouTube . Do note, it is over 30-minutes long. The actual process, the first time through (which included filming) took me about 4 hours. A second time through only took me about 2 hours, once I knew what I was doing.
The most important thing to remember is don't rush throught the process. There are many tiny, fragile ribbons and connectors that can easily rip or break.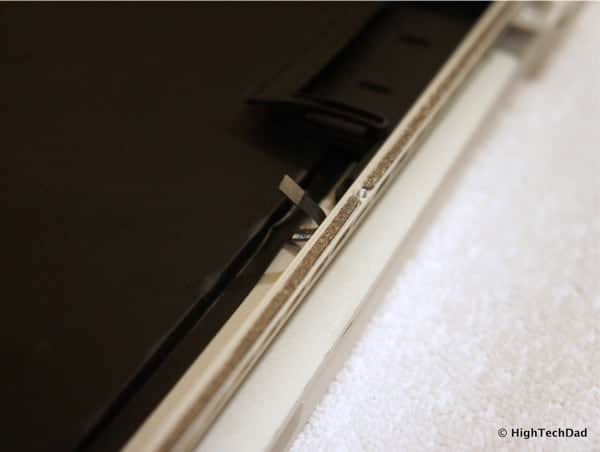 While this was one of the more difficult repairs that I have done, it also allowed me to really understand all of the components that make up a MacBook Pro. And although I'm not a repair expert, I'm happy to answer any questions that you may have about this how to replace a MacBook Pro Keyboard article.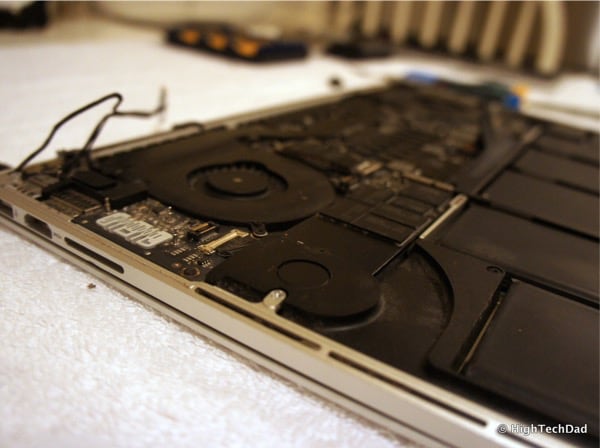 Disclosure Text : I have a material connection because I received the part at cost from iFixIt.com for consideration in preparing to write and film this content. I was/am not expected to return this item. All opinions within this article are my own. More information can be found in my About page.
HTD says: Keep liquids away from computers! But if you do spill and damage is done, you CAN repair it yourself!