Have you ever wanted to learn how to play the piano but didn't have the time for lessons? Or perhaps you just wanted to learn one song and didn't want to put in years and years of study. Or maybe you just want to perk the interest of your kids and perhaps inspire them to be musicians? Or, you just needed an activity to amuse your kids so that they didn't just stare at their phones or the TV for hours without moving. There is a solution for all of these scenarios and it is called The ONE Light Piano (I actually like calling it The ONE SmartPiano because it has some intelligence). It's essentially a smart piano keyboard that can amuse adults or children alike and teach or help relearn piano basics.
The ONE Light keyboard is not just a basic piano keyboard. It can integrate with an iPhone or iPad to present sheet music that you can play along with. And the play-along function is assistive, meaning that the keys you need to play according to the notes on the iPad will light up with red lights on the appropriate keys to press. From classics to modern pieces, you can find a variety of music using The ONE smart piano app.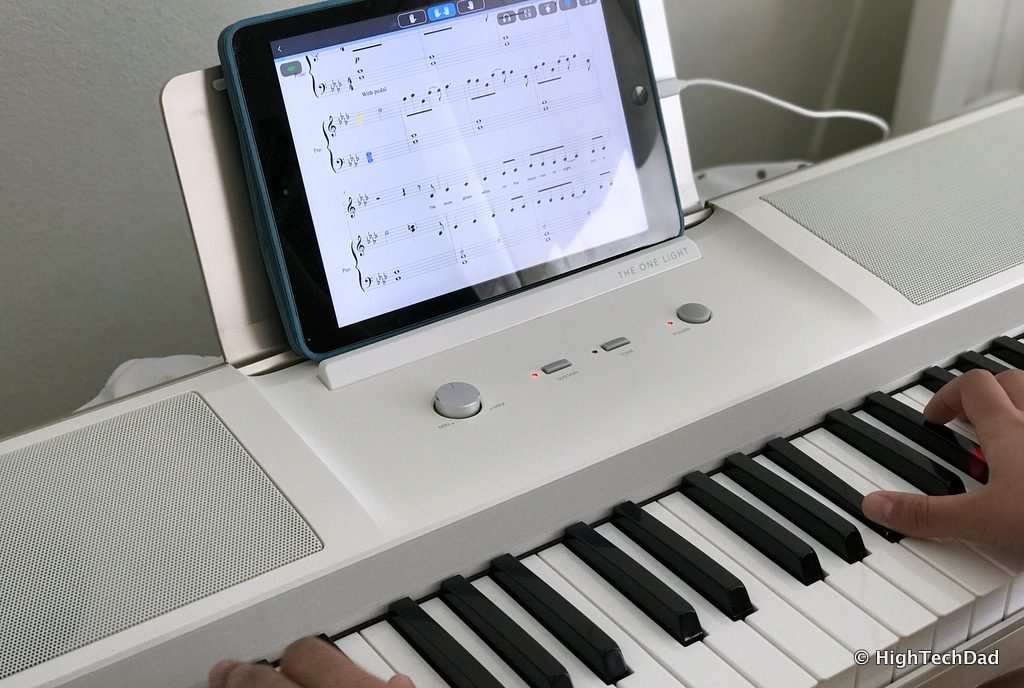 The app consists of several sections:
Sheet Music – here you can find all levels of music from beginners to advanced, some free (like classical) and some paid
Crash Course – lets you quickly learn some particular pieces interactively
Games – these games let you polish your skills and have fun while doing it
Videos – a handful of tutorials that you can watch and learn from
As I mentioned, some of the music is free, while other needs to be purchased. Games as well are both free and premium.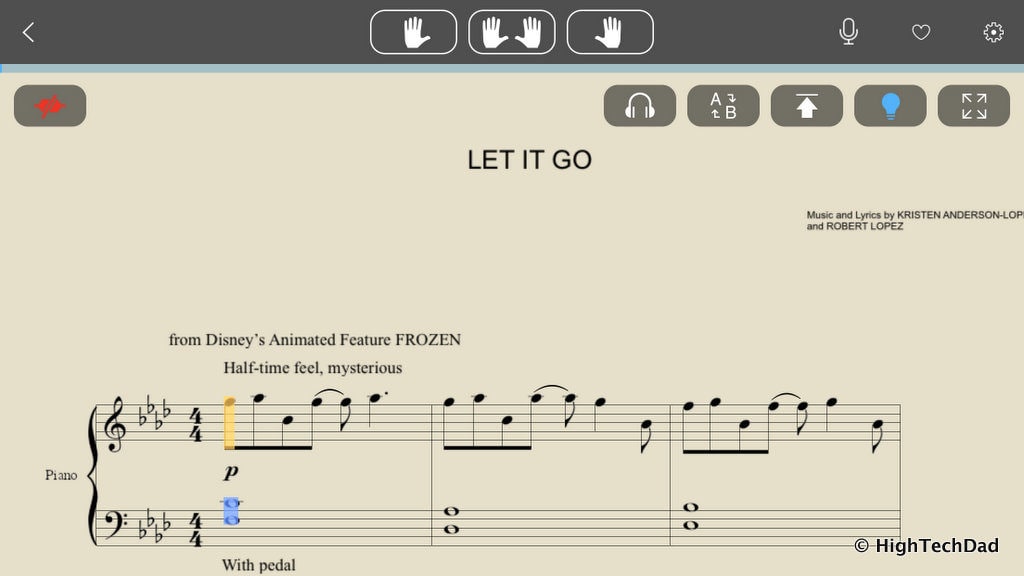 But you don't need the app to have fun with the keyboard. Just plug it in and turn it one. It has several different instruments pre-programmed in and up to 128 when using other software. You can adjust the volume, sustain (like holding a pedal down), and tone (change the instrument). The 61 keys are touch sensitive, meaning you can play them hard or soft, which means it's more realistic sounding. Some electronic keyboards are just sort of on or off, but with the ONE, you can play staccato or legato, and the sound reflects that action.
Using the ONE SmartPiano Keyboard
I played piano as a child for about 5 years and my middle daughter also played piano for about the same amount of time. We both felt that the ONE had a fairly good feel. Obviously, it's not like playing on an actual piano (the sound is pretty nice though), but I thought the keys were responsive to fast, quick touches and the responding tones were not mushy or blurred out.
Also, some really, really cheap keyboards only let you press a couple of keys simultaneously and get the resulting 1-2 tones. This keyboard provides full sound and chords. It's truly a fully functional keyboard.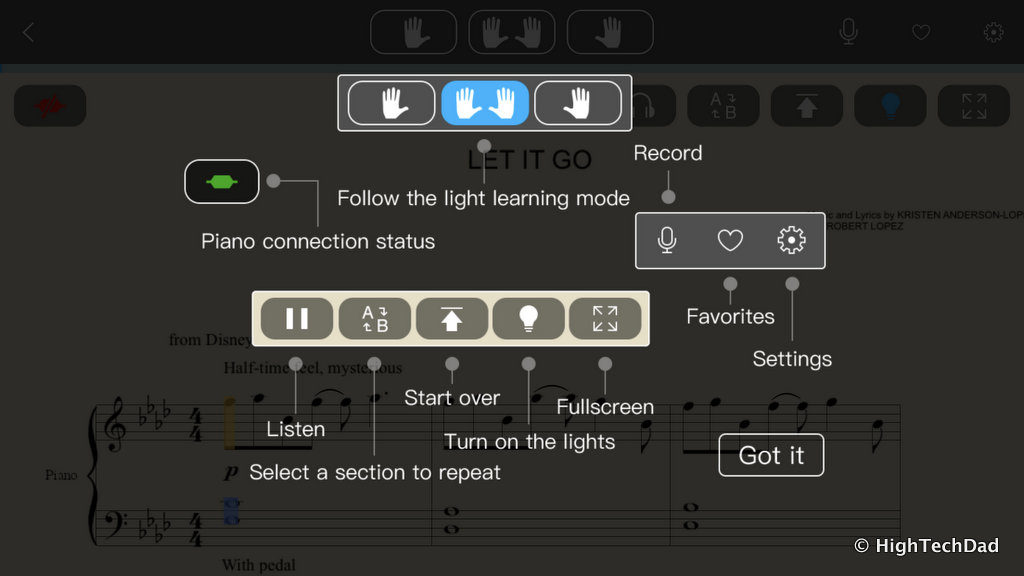 And, the ONE can integrate with other music apps. I had the most fun experimenting with GarageBand. You can integrate the ONE as an additional instrument as part of a Jam Session or it can be used to control a GarageBand instrument. The only confusing issue that I ran into with that scenario was that you often had two instruments playing simultaneously through the ONE's speaker: the instrument chosen on the piano and the one chosen in GarageBand.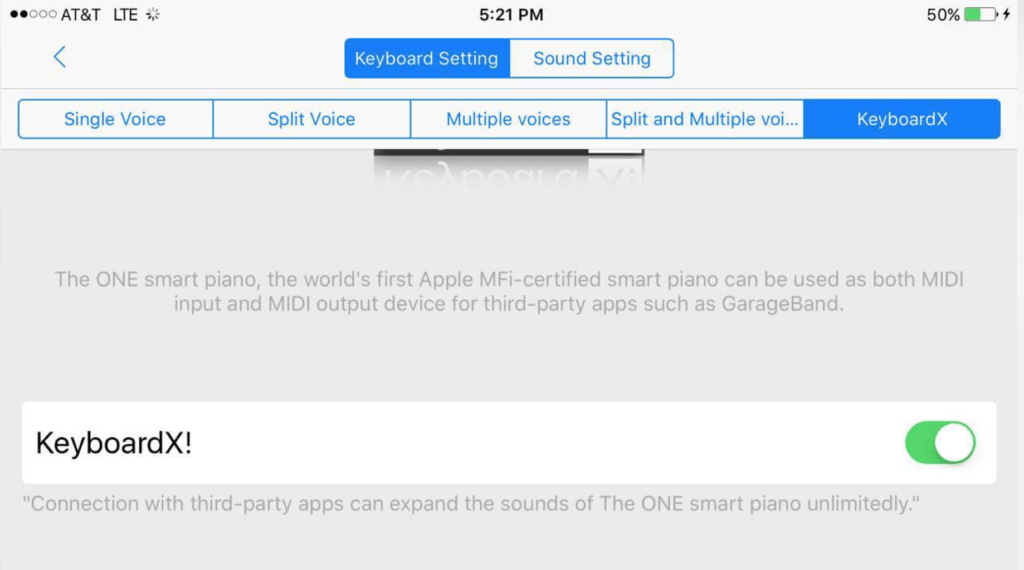 There is a way to somewhat disable that. Within the ONE App, go to Setting, go to My Account > Sound Settings > Keyboard settings (you have to have the keyboard connected) and enable the KeyboardX! toggle.
On the back of the One smart keyboard are a variety of ports. There is the USB port for connecting your iOS/Android device. There is the DC power to plug into the wall. A Mic In allows you to optionally connect a microphone. Aux In and Aux Out ports let you connect other devices. And there is a port to optionally connect a physical pedal.

I feel the ONE is a fun 61-key piano keyboard to have around. While it is large since the keys are standard size, and it has speakers built in, it is small enough to be portable and storable. For example, if you are having a party and someone plays the piano, you could quickly bring it out and even hook up a microphone to it. I can be attached to an amplifier as well. So you could have a mini-band wherever you want. While the ONE plugs in for power (and, by the way, charges your connected iOS device at the same time), you can also put in batteries and take it on the go.
The ONE light keyboard retails for $299 (and it is currently available on Amazon as well). Some might find this price a bit high but you have to remember that this is not a toy keyboard. It has a premium feel and sound, and it integrates with a variety of music applications, including its own. Sheet music varies from being free to costing a dollar or two. It comes in three colors: White, Black, and Sakura Pink. It is fairly lightweight (11 pounds) and measures 36" x 13" x 4" so it is definitely portable. You can either plug it into the wall for power or use batteries to take it on the go. Batteries are NOT required though. It comes with 3 cables as well: Apple 30-pin cable, Apple lightning cable, and Android Cable.
New Kickstarter Initiative!
The makers of The ONE have just launched a Indiegogo campaign for a product called Piano Hi-Lite. Using many of the same concepts as the SmartPiano, this innovative gadget actually provides similar capabilities, but on your own piano. No, the piano keys don't light up. Instead, the Piano Hi-Lite sits on top of your piano keyboard and the lights appear on its bar. It will work on any 88-key piano (or keyboard).
Using an app, players can learn the elements of piano playing in the same way the SmartPiano does. You attach an iOS or Android device like a tablet and chose from songs or games to learn piano basics or gain additional knowledge or practice. With lessons and on-screen teaching, it makes learning the piano fun.
The Piano Hi-Lite has actually surpassed its flexible goal of $20,000 (which as of this writing has gotten over 198% of its funding request), it should be shipping in October 2017. So now you will have a choice! For existing pianos, you will have the Piano Hi-Lite and for stand-alone keyboards and music/learning on the go, you have the SmartPiano!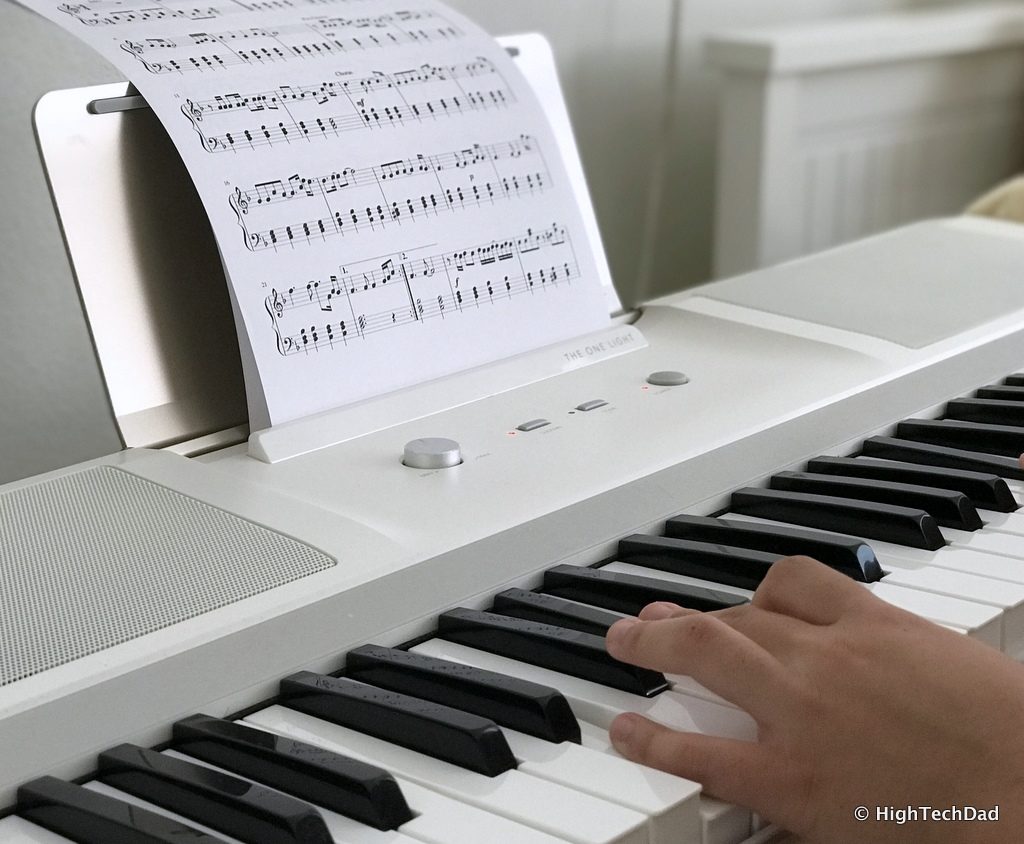 My kids have pretty much monopolized the piano's time and keep it in their room. I have actually had very little time on it despite my best efforts. However, my kids have often emerged from their room to play some spooky organ music that they learned or a song rift. My daughter who had taken lessons found a couple of old pieces she had played and re-learned them. It was fun to hear music once again, this time, without having to nag her to practice the piano. The ONE got her interests and excitement back again. And that made me happy.
Disclosure: I have a material connection because I received a gift, sample of a product or service, and/or monetary compensation for consideration in preparing to review the product/service and write this content. I was/am not expected to return this item or gift after my review period. All opinions within this article are my own and are typically not subject to the editorial review from any 3rd party. Also, some of the links in the post above may be "affiliate" or "advertising" links. These may be automatically created or placed by me manually. This means if you click on the link and purchase the item (sometimes but not necessarily the product or service being reviewed), I will receive a small affiliate or advertising commission. More information can be found on my About page.
HTD says: With the ONE smart piano, you can get new and previous players, old or young, excited about playing the piano. The interactive keyboard which lights up, showing the keys to press, allows anyone to become a pianist!
HighTechDad's Ratings
Ease-of-Use

Family-Friendly

Price Point

Features
Summary
Review of the ONE SmartPiano light-up keyboard that allows new or seasoned piano students to learn or practice their skills or learn for the 1st time. If you are looking to learn how to play a piano or perhaps brush-up on your skills, the ONE Light Piano gives you the tools to do so. It is very easy to use and set up, so much so, my kids regularly pull it out to learn new songs. You can integrate it with other music apps like GarageBand to create some crazy and amazing sounds and music. While much of the music notes and content are free, some do require in-app purchases which means things could get costly. While the smart piano itself is great in terms of touch and feel and sound output, I hope that more features will be added to the ONE app as some items like videos didn't have that much content. But overall, the ONE smart piano is easy, and more importantly, FUN to use!