I am a huge fan of Nixplay and all of their digital frames. There is simply something wonderful about being able to share digital photos on various frames, no matter where those frames are located. I have a digital frame at work, my parents each of NIxplay frames, and we have many around our home, allowing good memories to bubble back up to the surface. Nixplay just introduced their Next Generation Smart Frame, which actually looks like it will be a collection of various new smart frames. And I got some early hands-on experience with the new 9.7″ 2K digital picture frame, and it's definitely a nice upgrade. (*Disclosure below.)
Nixplay has impressed me over the years with their regular announcements of new digital picture frames. As technology, in general, is evolving, Nixplay has been right there, ensuring that their products and services remain updated and current. And what is nice is that as their hardware evolves, so does the software controlling it. While they recently had a fairly major update to their mobile apps, the concepts remain the same. You have photos, you create albums for those photos, you create playlists of those albums, and you assign various playlists to whatever Nixplay frames you have. It's that simple and easy.
To that point, this article is not an in-depth review on how to use the Nixplay Next Generation Smart Frame; it's more of an overview and reiteration of the fact that the Nixplay ecosystem of digital frames continues to grow and improve. If you want to read some of my more in-depth reviews of Nixplay frames, you can take a look at any of these previous articles:
But I will go over some of the upgrades and updates of this new Smart Frame from Nixplay. But first, here is an introduction to their new campaign around these updated and improved digital picture frames:
The message is pretty clear, and it is one that I (and others) have been saying about Nixplay and digital frames in general for a while. A digital frame is a priceless way to preserve and share memories. And, if you can upload and share wirelessly, you can spread those joys of memories to others anywhere.
Next-Gen Nixplay Smart Photo Frame – What's New?
I encourage you to look at my other articles about how to use the Nixplay digital frames. I'd like to quickly tell you about adding this new frame to my current collection. If you already have a Nixplay account and are administering other digital frames, the setup process literally takes a couple of minutes. Just plug in the frame, go through the process of connecting it to Wi-Fi, wait for updates to install, and then activate the digital frame.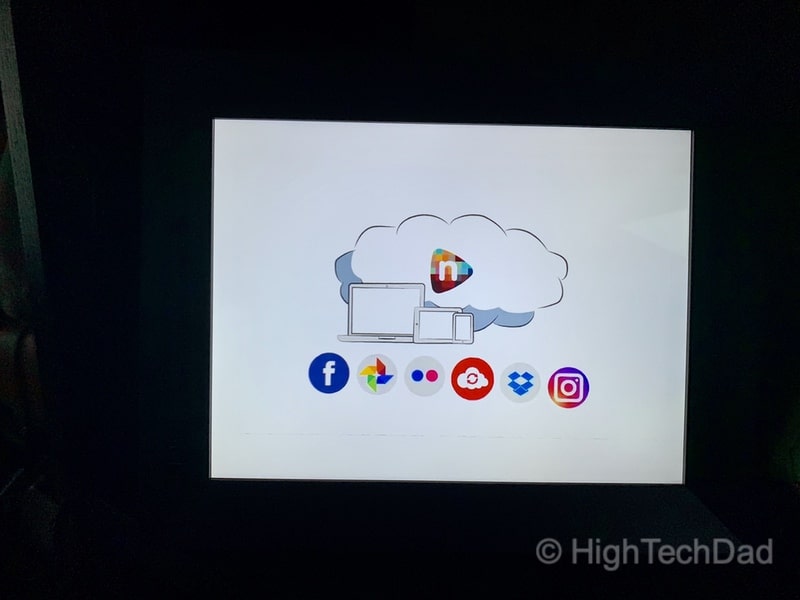 The activation process is super easy; it almost does it itself. Often the Nixplay app will self-discover the new frame if you are on the same network. You can also quickly enter in the frame's serial number. But once the frame is activated and associated with your account, you can assign playlists that you already have directly to the digital frame.
We have various playlist and albums, some that we share "publicly" (like on the office or grandparent's frames), and some that we keep a bit more "private" (like when the kids were little or photos that weren't completely "approved" by my daughters. The Nixplay software makes it quite easy to do. And, you can also share short videos, not just photos. Note though, videos are duration capped to about 15-20 seconds so as not to consume storage.
So what's new about this 9.7" Smart Photo Frame? For starters, it has a new mounting system. While the innovative back cord which is stiff enough to prop the frame up horizontally or vertically is still there, the back connector is now detachable, allowing you to mount the frame on the wall. You could do that before, but now the process is easier. (I personally still stick to the free-standing method.)
The next upgrade I noticed is one for the eyes. This new frame has ultra-high pixel density. It's 2K. The display itself has a 4:3 aspect ration with screen resolutions of 2048×1526 & 2K. The 9.7" frame measures 7.83" x 9.76" and is about 1.22" deep.
But what does that mean? Increased resolution and pixel density essentially translate to a much better and more realistic image. It is, unfortunately, quite difficult to take photos of a digital photo frame because of the tendency for the backlighting of the frame to overpower the surrounding area. So you are going to have to take my word for it! The high-density pictures are great, and a bit step forward from previous generations. Just make sure you are using high-resolution photos to start with (garbage in means garbage out – so start with high quality to maintain high quality).
Lastly, another item that looks like it had a significant upgrade is the remote control. For starters, it is now magnetic. Why would that matter? Well, if you hang the Nixplay digital frame on the wall, you need a place to put the remote. So now, you can attach it directly to the frame. I, as I mentioned, still use the desktop placement, so I hide the remote behind the frame.
The remote itself also has been changed. It is no longer the square remote but is a bit more elongated with the same functionality available. But there are some dedicated volume buttons. I like the new remote a bit more than the previous one. But both remotes still love to grab dust particles!
Here are some other quick specs:
Wi-Fi enabled: 802.11 b/g/n
On-board storage: 8 GB
RAM: 1 GB
Sensors: IR, Hu-Motion, G-Sensor
Speakers: 2 x (2W) Mono
The new Nixplay Smart Photo Frame (the 9.7" version) currently retails for $279.99. The model is W10E – 2K Ultra. You can also find this digital frame on Amazon for $279.99 as well.
Shop on HighTechDad
The product shown below (and related products that have been reviewed on HighTechDad) is available within the HighTechDad Shop. This review has all of the details about this particular product and you can order it directly by clicking on the Buy button or clicking on the image/title to view more. Be sure to review other products available in the HighTechDad Shop.
It does look like Nixplay has some more product announcements coming regarding these next-generation smart frames. So be sure to bookmark their new page on these digital smart frames.
Disclosure: I have a material connection because I received a sample of a product for consideration in preparing to review the product and write this content. I was/am not expected to return this item after my review period. All opinions within this article are my own and are typically not subject to editorial review from any 3rd party. Also, some of the links in the post above may be "affiliate" or "advertising" links. These may be automatically created or placed by me manually. This means if you click on the link and purchase the item (sometimes but not necessarily the product or service being reviewed), I will receive a small affiliate or advertising commission. More information can be found on my About page.
HTD says: I love how Nixplay continues to evolve their digital smart frame family. These next-generation smart digital frames provide high-quality and dynamic photo and video playback, allowing you to relive cherished and fun memories.
HighTechDad's Ratings
Ease-of-Use

Family-Friendly

Price Point

Features
Summary
I love how Nixplay continues to evolve their digital smart frame family. These next-generation smart digital frames provide high-quality and dynamic photo and video playback, allowing you to relive cherished and fun memories. This new next-gen digital frame is just as easy to set up as before. It literally takes just a minute or so. The picture quality is fantastic. The frame design itself is elegant. And the price point is quite reasonable. Trust me, a digital picture frame is a gift that keeps on giving – for yourself or loved ones.
Pros
Image quality (2k)
Updated remote
Easy set up
Cons
Remote tends to attract dust (so hide the remote away)