The winter weather is upon us with rain and snow making all attempts at dampening the holiday spirit. The weather is perfect for getting a book and snuggling by the fire…or grabbing the wheel and heading out into the bad weather to visit friends and family, do some holiday shopping, or just generally get into the season of giving. As part of Toyota's Season of Giving, I was loaned a 2019 Toyota Sequoia Platinum to make a trip or simply hop around town doing holiday errands. But while getting a vehicle for ten days is great, it's really the other parts of the Toyota Season of Giving program that makes it all special. (*Disclosure below.)
The Toyota Season of Giving programs are special because they focus on giving back to those less fortunate and families in need. As part of this program, participants are given $150 gift cards, which are meant to be used to purchase meals or other necessities for families who may be encountering hard times. Last year, I was lucky enough to participate in Toyota's Season of Giving. As it happened, the Northern California Camp Fire had happened. Hundreds of families lost their homes and belongings. And, some close friends of ours have some relatives who lost everything. So I donated my cards directly to them to help.
This year, my department at work is adopting a family. They have many requests for clothes and other items. And one of them is for gift cards to do simple shopping for food necessities. So the $150 gift card is going to them to hopefully make the holidays a bit better and less stressful. Others in the group of this year's Toyota Season of Giving influencers purchased food and then donated them to a local food bank.
I commend Toyota for continually doing this Season of Giving program.
Toyota at the San Francisco Auto Show
As part of our influence program this year with Toyota, we got to have a private booth tour at the San Francisco Auto Show. On display were many of the newest models (I'm starting to identify some favorites of mine, especially since TDR is coming to the Avalon and Camry lines, and I love the redesigned RAV4 Hybrid).
But what stood out at the show refers back to what I wrote about above, the NorCal Camp Fire that completely obliterated the city of Paradise, CA. There was one story that really stood out, particularly from Toyota's perspective.
Allyn Pierce, a nurse in an ICU at the local hospital, drove his Toyota Tundra (nicknamed "the Panda") back directly into the fires TWICE to evacuate people. In the process, the Tundra became fire-scarred and damaged. But that didn't matter to Allyn; he was all about risking his own life to save the life of others. A true hero.
Well, at the SF Auto Show, in the Toyota booth was the fire-damaged Tundra. For me, this was almost better than seeing all of the new models because it was a physical example of true heroism.
But the story of Pierce's Panda Tundra doesn't end there. When Toyota learned of his heroics, they quietly worked on a surprise for him. Long story short, they ended up gifting him an upgraded version of a new Tundra. The Toyota reps told me that they tried to do all of this below the radar. They didn't want a media circus as the true story was both about Pierce's actions but also about the fire victims.
In the end, Pierce got a new Tundra. But he wanted to remember the devastation of the fires. Check out this article that shows how he painted his new Tundra.
It was quite sobering to see the original Panda on display, complete with burned sides, melted brake lights, blistering paint, and still dusty with ash.
Little Things of the 2019 Toyota Sequoia
As I mentioned, part of the Season of Giving influencer program was getting a Toyota vehicle as a loan. I was lucky to get a 2019 Toyota Sequoia Platinum to play around with for the week. While I wasn't able to take it to the mud, snow, or mountains to test it out fully, I was able to see how it worked around town and driving around the SF Bay Area. In fact, I surprised my kids by picking them up from the airport in it as they were returning from Orlando, FL from a cheer event in Disney World.
When I write about vehicles, I do things a bit differently. I stay away from geeking out on the technical aspects since there are plenty of other publications that do a much better job than I would ever do. Instead, I focus on things that matter to me, a dad driving the family around. I look for things I like and listen to when my girls say something is cool (or not). And I look at the tech and some of the smaller features that you might not see on a fancy website or glossy brochure.
So I'm going to list out a few things that I uncovered in my test drives. These may not seem like much, but when you put it all together and look at the full vehicle package, these little things do add up to a better experience and vehicle.
In no particular order, here are some little things I discovered about the 2019 Toyota Sequoia.
Conversation Mirror
Looking like another sunglasses holder, I was surprised when I opened this overhead compartment to find a convex mirror. So, instead of having to (dangerously) whip your head around to see what is going on in the back seats, you can get a better perspective by simply using this mirror.
Seating for Seven
My cars only seat five people. Yep, they are smaller sedans or cross-overs. So it was a lot of fun to have the ability to transport seven people quite comfortably. Directly behind the driver's row are two captain seats, and behind that, a split bench seat that folds away. Speaking as a dad, it's nice to actually have some separation between kids so that you can avoid the "stop touching me" shrieks. My kids are well beyond that stage, thankfully.
The rear seats are controlled by buttons so they are easy to unfold or fold away. And having the split in the back means that you can have a single (or double) seat up for someone to sit in while the other side is open for storage.
Sport or Comfort
When I first started driving the Sequoia, it felt a bit "soft" to me. It wasn't a bad feeling; it just reminded me of being in an older luxury sedan that drove like a boat and slowly bounced up and down when going over dips in the road. (It wasn't that bad.) It was only after a few hours of driving that I discovered this great dial that allows you to set the type of ride you want using an electronically-controlled suspension. It was set on Comfort. When I changed it to Sport, more bumps in the road were apparent. And the shocks were definitely much less dampened. In sport, the handling was better. But, I ended up dialing it back to Comfort. My kids don't like it when I drive test vehicles in "sport mode." They want the comfort. Regardless, it's nice to have the option.
Back Seat Entertainment
If you plan on going on a road trip with children, you need to have some kind of entertainment available to hopefully keep them occupied.
This Sequoia not only came equipped with a BluRay player with a fold-down roof display, you also had the ability to directly plug in corded headphones to allow them to watch and let the front seat passengers "enjoy the silence."
Blind Spot Indicators
I'm hoping that blind spot indicators will become a standard feature in all future vehicles. When you are driving a vehicle as large as the Sequoia, you can easily "lose" cars on your sides. Having a bright orange light light up when there is a car in your blind spot prevents you from sideswiping another vehicle.
Built-in Shades
While I'm a big fan of having tinted windows, the Toyota Sequoia has retractible shades built-in to all of the rear windows, even the back row. These shades are made of mesh so that you can still see through them, but they still can block out sunlight or provide some extra privacy.
Huge Center Storage
In the front row, there is a huge storage compartment. Not only is it wide, it is also quite deep. I almost thought that if I put a little pillow bed in there, I could have a dedicated seat for our tiny rescue Chihuahua.
The middle row also has a large center storage console that is quite innovative. If you are sitting in the middle row, you can flip it open for one level. But if you are in the back row, you can open it a different way to have additional storage.
More Handy Storage
The more I looked around the Sequoia, the more storage I found. In both of the front doors, there are some tiny fold-out bins for keys or coins or smaller items.
In the center console by the shifter, there is a long, covered storage as well. It doesn't really work well with phones, but it is yet another compartment you can use for cables, pens, or other items.
Above the glove compartment is yet another area to store items as well.
And in the rear row, there are two large covered storage compartments on either side. So nobody in the Sequoia is left out!
LED Headlights
I really like LED headlights. All of my current vehicles still have the yellow-ish, traditional bulbs. The Sequoia has automatic headlights that turn on when it is dark outside. The daytime running lights are edgy-looking and a necessity for safe driving.
Also, there is a handy automatic high-beam function. You can basically drive around with your high beams turned on, but as soon as an oncoming vehicle is detected ahead of you, the high-beams turn off. Also, as you slow down to a stop sign or stoplight, the high beams turn off.
Parking Assistance
When you drive a vehicle as large as the Sequoia, any help maneuvering it into a parking space is essential. Obviously, the Toyota has the requisite rearview camera, but it also has sensors in the front and rear bumpers to let you know if you are too close to an object in front of or behind out. The faster the beeps, the closer you are to an object. This is extremely helpful until you get used to the size of the Sequoia.
Three Zone Climate Control
Everybody likes different temperature settings. My old cars have just one. If you are too hot or too cold, too bad (depending on who is the boss of the vehicle and it is usually not me.) The Sequoia has three climate control zones: driver, passenger, and rear. You can synchronize the front settings or have them independent of each other. And you can control the rear settings from the front (but there are rear controls as well.) Oh, and don't forget about the heated and cooled front seats! That's a must-have.
The Bottom Line
I had a great time driving the 2019 Toyota Sequoia Platinum around town and the Bay Area. I wish I could have gone up to the mountains and gotten it a bit more muddy or dirty because this 4×4 is meant to get dirty and pull around heavy loads. That was not something that I was able to test.
But from a comfort perspective, the Sequoia has it. It was a pleasure to drive for short or long trips. The gas mileage is pretty much what you would expect for an SUV: 13mpg City, 17 Highway, and 14 Combined. I can confirm that I hit around that mark.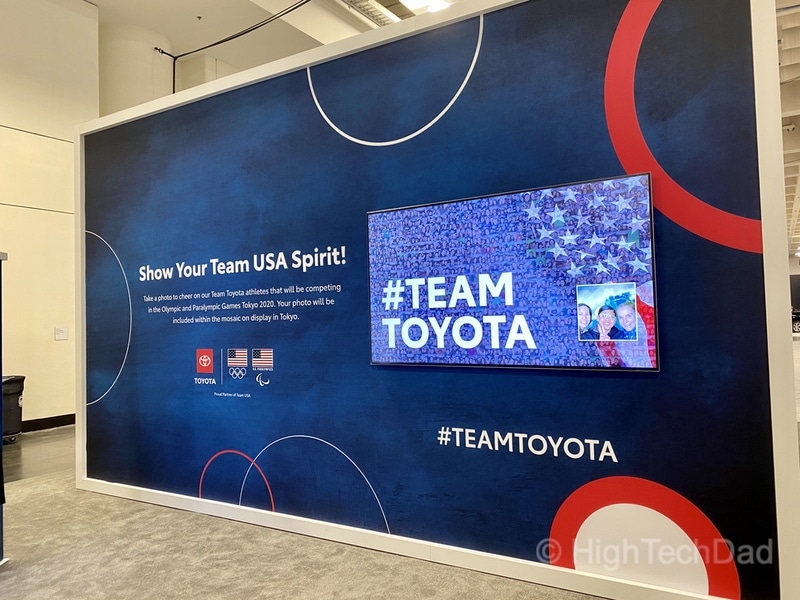 The 2019 Toyota Sequoia Platinum has an MSRP of $67,635. The price of the vehicle we tested topped out at $69,303. I have a neighbor who had a Sequoia for many, many years (and is now using a Tundra), and absolutely loved it. It lasted forever and was worth the investment.
I thank Toyota for letting me participate in this year's Season of Giving. It was great to have a "new ride" for a week (two of my three cars have over 100k miles). Also, it was great to be able to give back to those who are in need. Happy holidays!
HTD says: The 2019 Toyota Sequoia Platinum has lots of great little features you won't read about. And Toyota has proven they are committed to giving by replacing the fire-damaged "Panda" to giving to those in need.