My family and I love Lake Tahoe. We have been going up there from the San Francisco Bay Area ever since my kids were babies. They are at the tail end of their teens, and one is in her 20's now. It's a tradition we try to follow every year. This year has been a challenge given the global pandemic, social distancing requirements, the lack of longer-distance travel, and many other hurdles. We postponed our trip a few months, and even with the new timing, we were a bit reluctant to go where it seems like everybody near and from the Bay Area was congregating. And there is currently a bit of a backlash from the Tahoe locals on the increased "tourist" density. But we had planned out trip over a year ago, and we were ready to recharge our batteries in the glory of the Lake Tahoe area. And we couldn't have a better vehicle to shepherd us around – one that seemed to fit naturally among the trees, hills, and dark blue waters – than the 2020 Toyota 4Runner TRD Pro! (*Disclosure below.)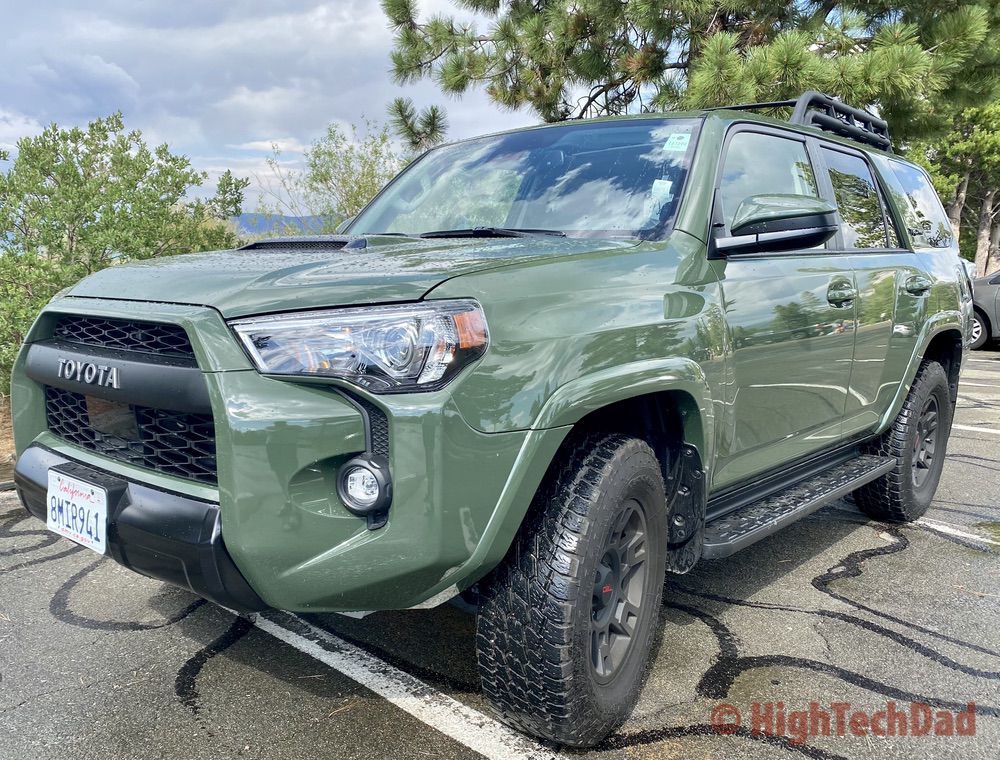 For our road trip, we did have some elemental requirements. The vehicle (and do note, this was a 10-day loaner from Toyota as part of the Toyota Partner program), we needed the following:
Seating capacity of 5 (we aren't large people, but we are a family of 5)
Comfortable seating (Lake Tahoe is only 3 hours away, but we don't want to be cramped)
Good storage for many, many bags (we tend to overpack even for short trips)
Good sound system (kids like their music)
Have some tech like Apple CarPlay (that's quickly becoming a requirement for me)
Nice design (as stated, the 4Runner looked at home up in the mountains)
Ready for dirt & mud and off-roading (well, due to my loan agreement, off-roading is prohibited, but we did get on some dirt roads)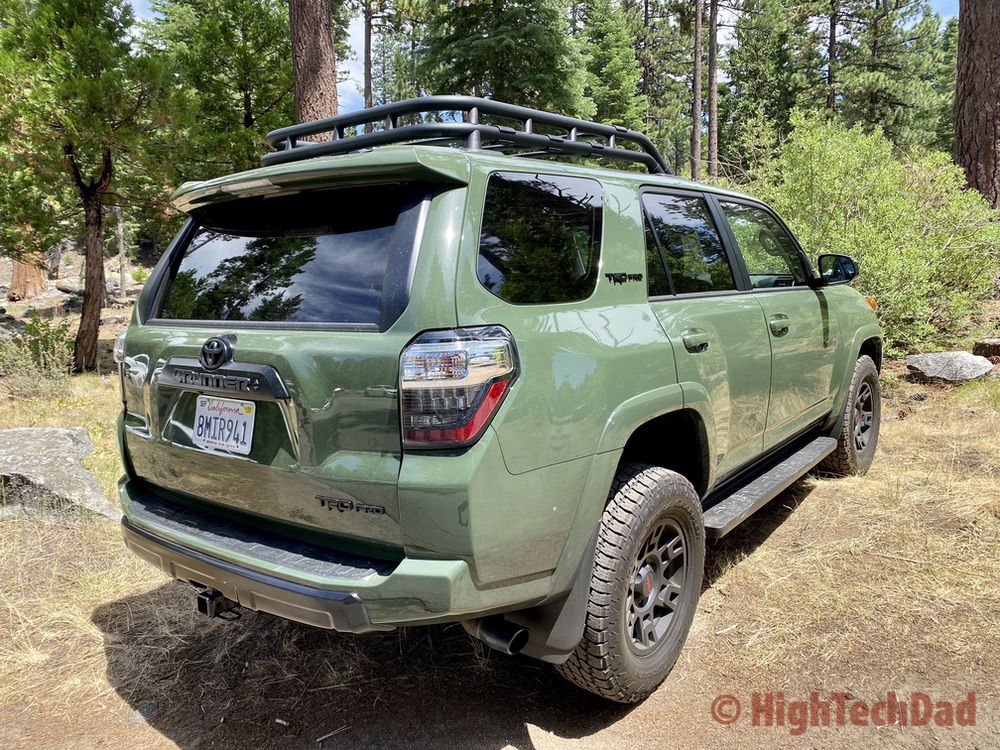 The 2020 Toyota 4Runner TRD Pro fit this mark almost perfectly. And remember, when I evaluate a vehicle, I'm less about all of the technical aspects which are covered much more professionally by the likes of Car & Driver or Road & Track. I approach my vehicle reviews by how well the vehicle works with our family, if we are comfortable, if it can store all of our baggage, if it is fun to drive, if my family likes it (beyond just me), if there is enough tech to keep me occupied, if it is safe, and more. Essentially, how this vehicle would (or would not) integrate into our family or a family like ours, so, apologies if I don't deep dive into how the four-wheel-drive performs (as I said, I'm not really allowed to test that), nor will I geek out on all of the TRD Pro features (but I do have to say, the TRD Pro line really differentiates this 4Runner from other trim lines.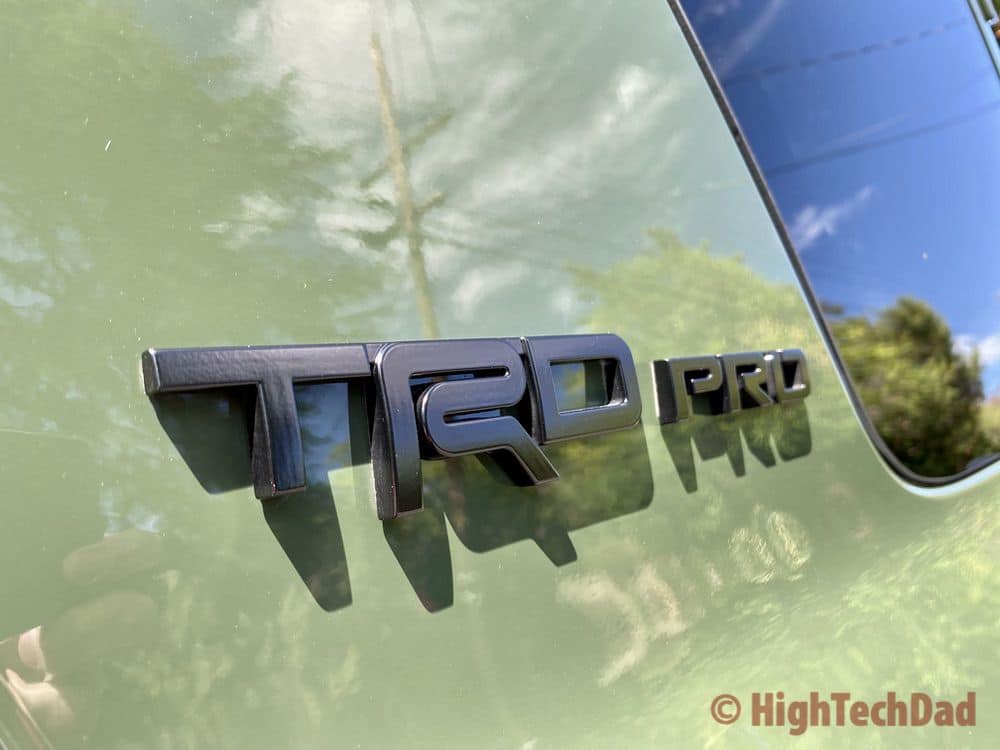 So let me walk through some of the things my family and I enjoyed of the 4Runner TRD Pro!
The Color
Let me start by saying that this was the first thing that we noticed about this 4Runner. It was an Army Green color; in fact, that is the official name of the color. The color grew on me immediately, and I developed some nicknames for the 4Runner itself, based on the color – "The Tank" and "The Green Machine" were two that stuck in my mind.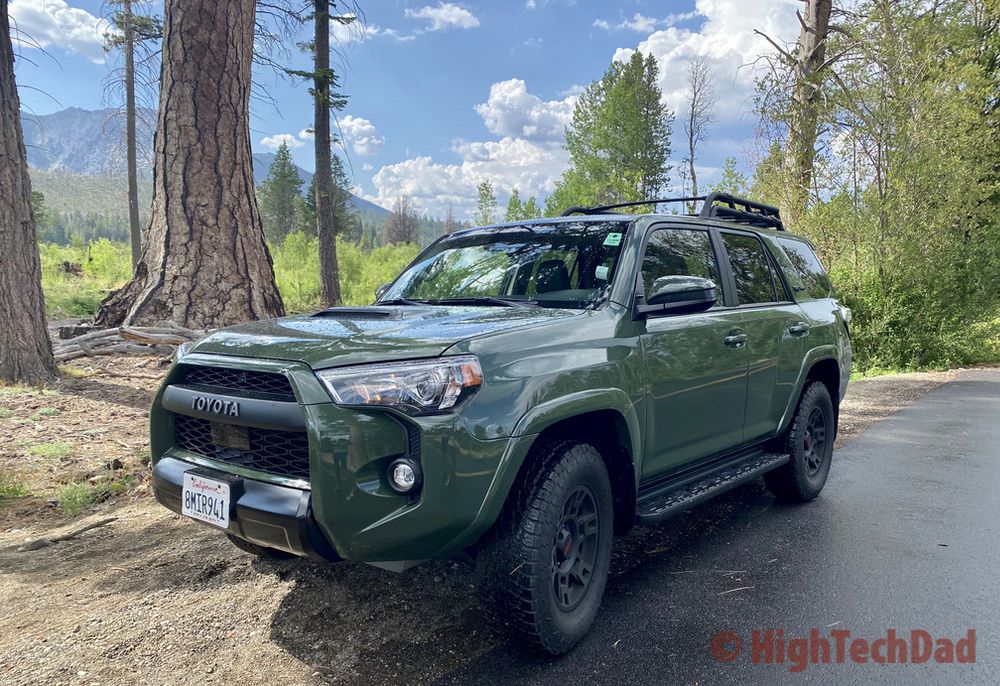 I do have to say, driving the Army Green 4Runner around the suburbs did feel a bit odd. In my mind, the 4Runner looked like it was clamoring to get dirty, dusty, or muddy, and that wasn't something that it could do heading to the supermarket and back. As an SUV, however, the 4Runner is entirely acceptable and presentable in the burbs.
Once we got the 2020 Toyota 4Runner up to Lake Tahoe, it was in its natural environment. In fact, I would hazard to guess that we looked more "local" than "tourist" – or maybe a bit less tourist.
Surprising Storage
As I mentioned, with a family of five, anytime you go on a trip, you need to be sure that whatever vehicle you have has ample storage for all of your luggage. Also, since we were heading to a place where we had a full kitchen (we wanted to avoid eating out at all costs due to social distancing), we also brought up food and kitchen supplies to be sure we kept shopping to a minimum as well. And, with a lake and many hiking trails, we had to be sure we had beach equipment and hiking gear. As you can imagine, our baggage amount continued to grow.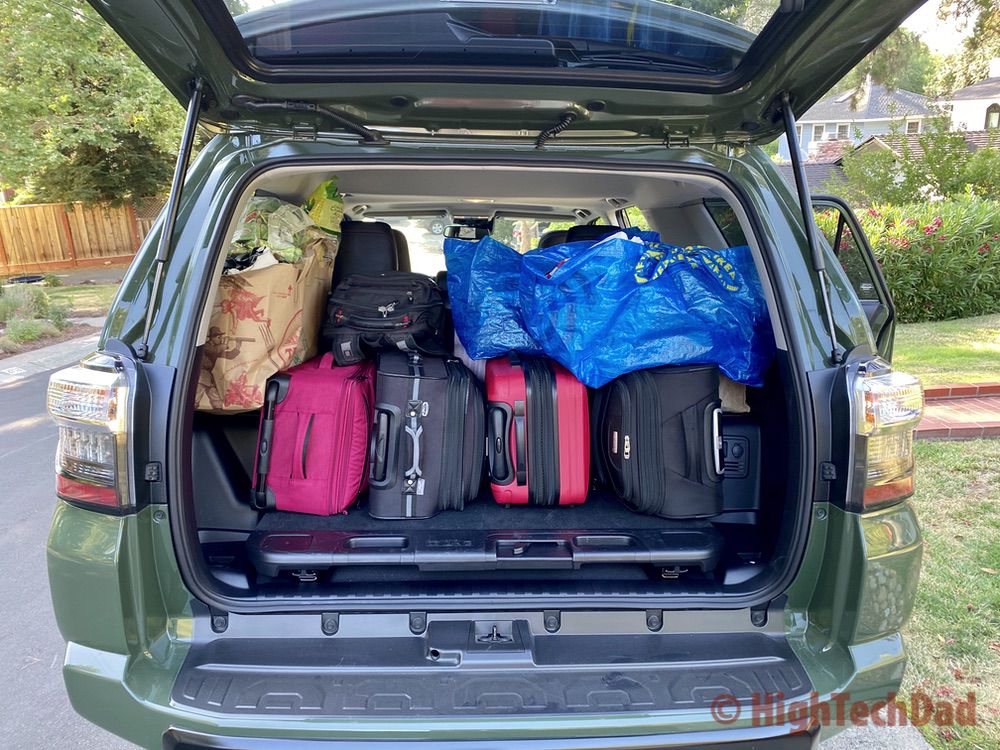 So, as with any vehicle I take up to Lake Tahoe, I was concerned with both the storage capacity and the seating. The 2020 Toyota 4Runner TRD Pro actually completely surprised me with the number of things I could cram into the rear cargo space. Not only could we fit all five suitcases without a problem, but the beach and kitchen supplies were also easily accommodated as well as many of the other items we had deemed as being "required."
There were two other features of the rear cargo area that made packing and unloading even better: the slide-down rear window and the slide-out cargo bed.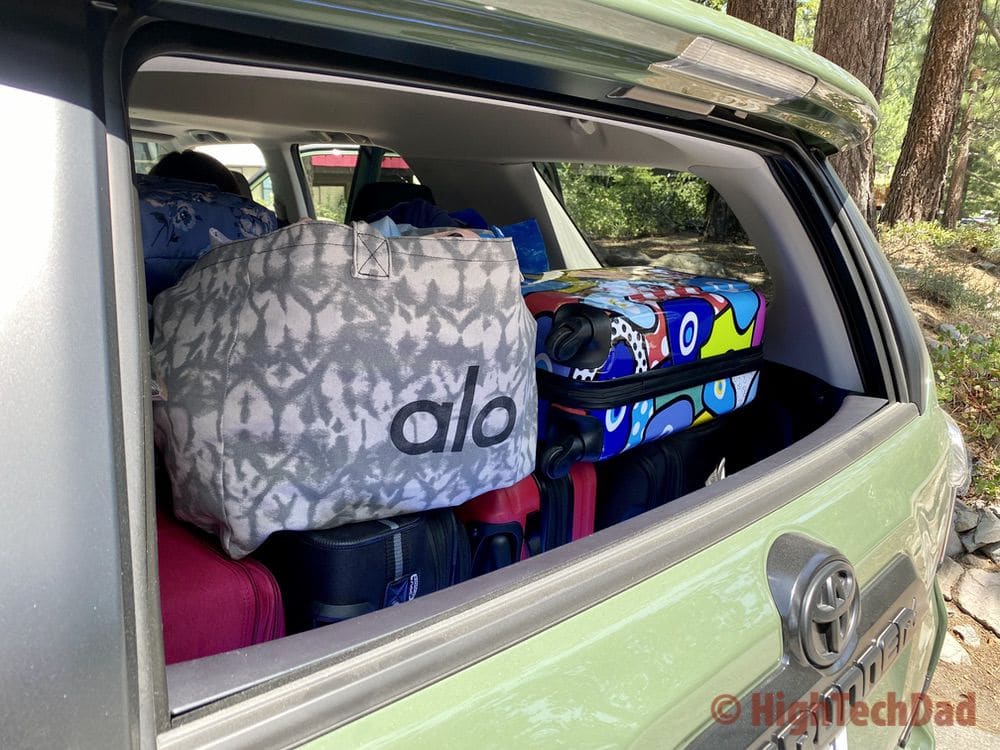 While you might be able to pack everything into the rear cargo quite easily with the hatch up, once you close the hatch, there is a lot of room to squeeze in more bags. And the best way to accomplish that is to roll down the rear window and drop the bags right in through that opening. Just a word of warning, be sure you tell anyone that is unpacking the 4Runner that you did that, otherwise, if they open the hatch (and not the window first to get out the stuff that was packed that way), it will all come tumbling out!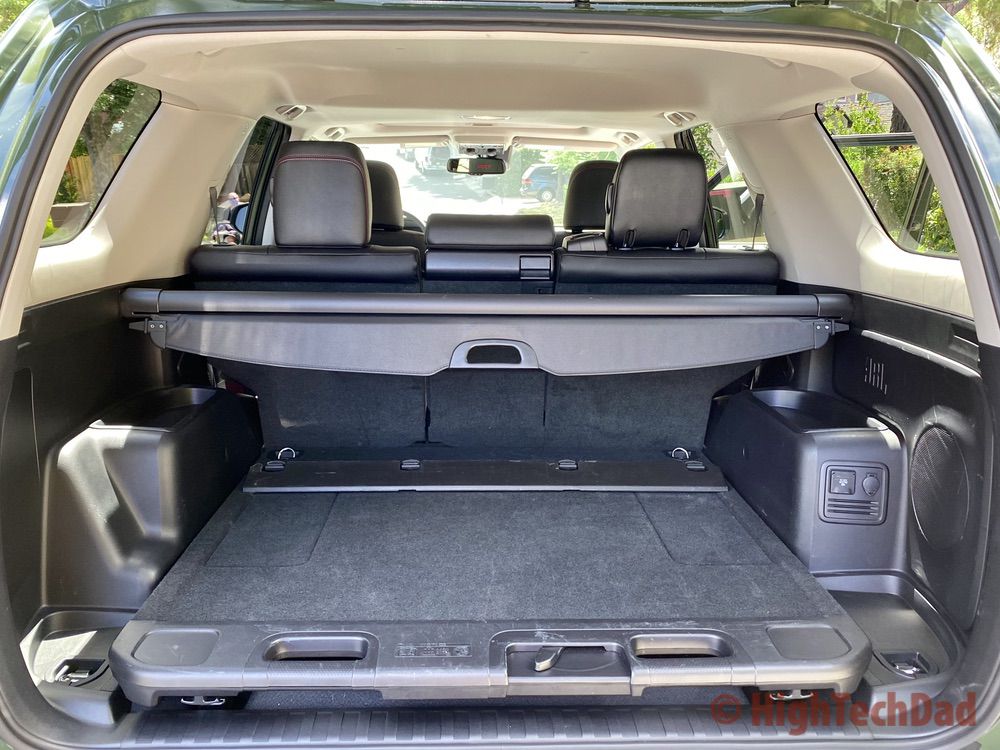 The sliding rear cargo tray or bed was something that made me scratch my head at first. I wasn't quite sure what it was supposed to be used for. Once I figured out how it worked and slid out, I understood why it was such a nice feature to have. If you load up all of your luggage way into the back of the cargo space, you can slide the bed out to get at all of that luggage without having to break your back doing so. And, the slide-out bed does act as a pretty cool tailgating bench!
Seating Comfort
The 4Runner seats four quite comfortably with the center part of the rear bench seating folding down into an armrest and dual cup holder. The rear seats also recline slightly (I don't think my girls figured that out, but they didn't complain about the seating position whatsoever). And if you fold up the middle armrest, you can seat another smaller adult in the middle. All in all, my three girls were able to snooze in comfort the entire way down the mountain on the way home.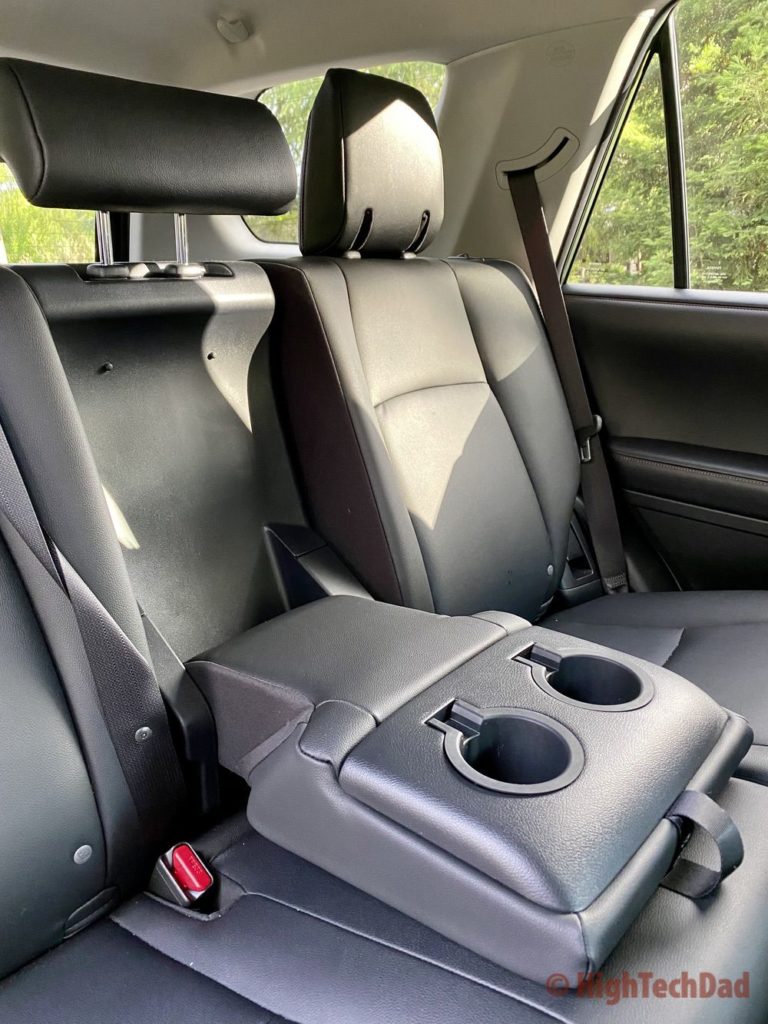 Up in the front, the leather seats were quite comfortable as well. The passenger side had automatic seat adjustments with two lever/buttons. And the driver's side seat had even more electronic adjustments. I'm not the tallest of guys (pretty short actually at 5'7″), but I was able to dial in the seating so that I was both comfortable and had excellent visibility over the hood-line.
Overall there were no complaints about being uncomfortable…which is critically important on any road trip.
Car Tech Dad
For me, having some array of technology makes me happier. And while the 4Runner was not as techy as some other vehicles I have driven in the past; there were enough tech features to give it a passing grade. For starters, having Apple CarPlay (and Android Auto) is a fundamental tech feature that I hope all vehicle manufacturers make as a standard offering. The GPS apps that you can use with either of those two services I feel are better than having GPS built-in to your car. (But if you are off-the-grid, you have to be sure you download some offline maps that work with either CarPlay or Android Auto like Google Maps.)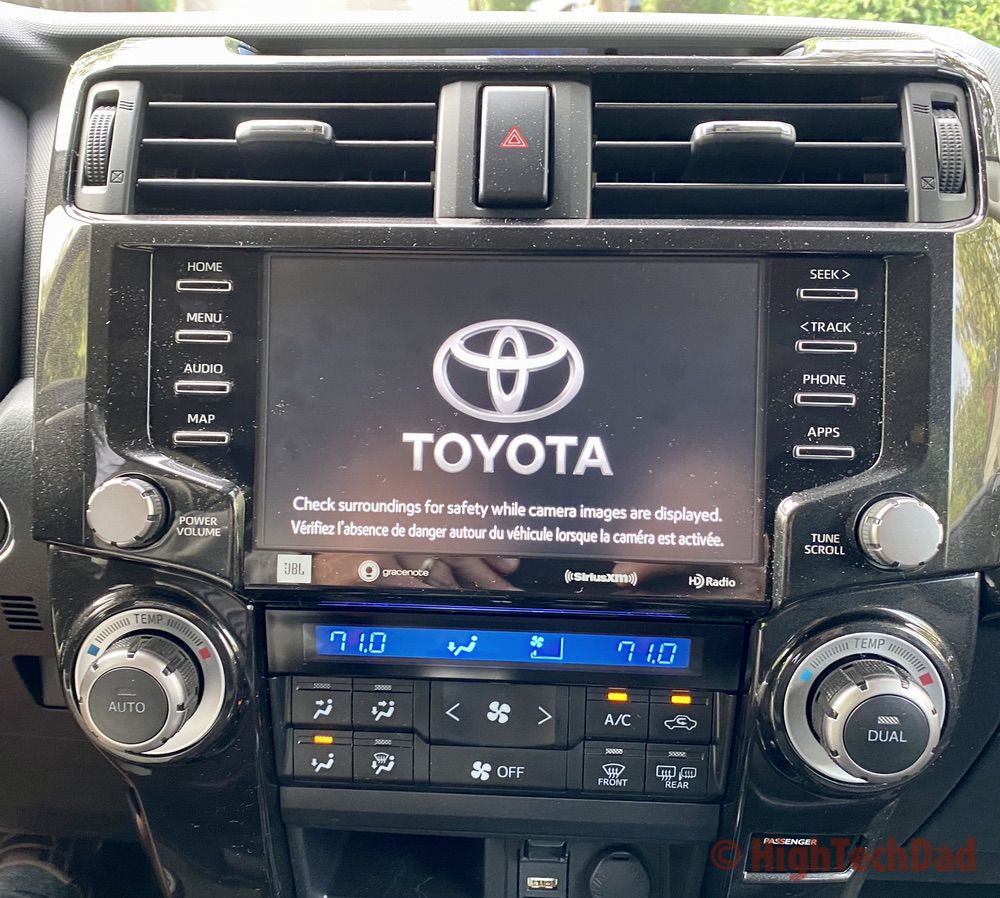 Using CarPlay was a huge win, and while it wasn't the wireless version, using it via a USB connection is usually better if you are going on a more extended road trip – you arrive with your smartphone fully charged!
The 4Runner came equipped with a premium audio system and 8″ touch screen with 15 JBL speakers, subwoofer, and amplifier. We did use the SiriusXM satellite radio since up in the mountains, and along the road, traditional radio coverage was a bit spotty.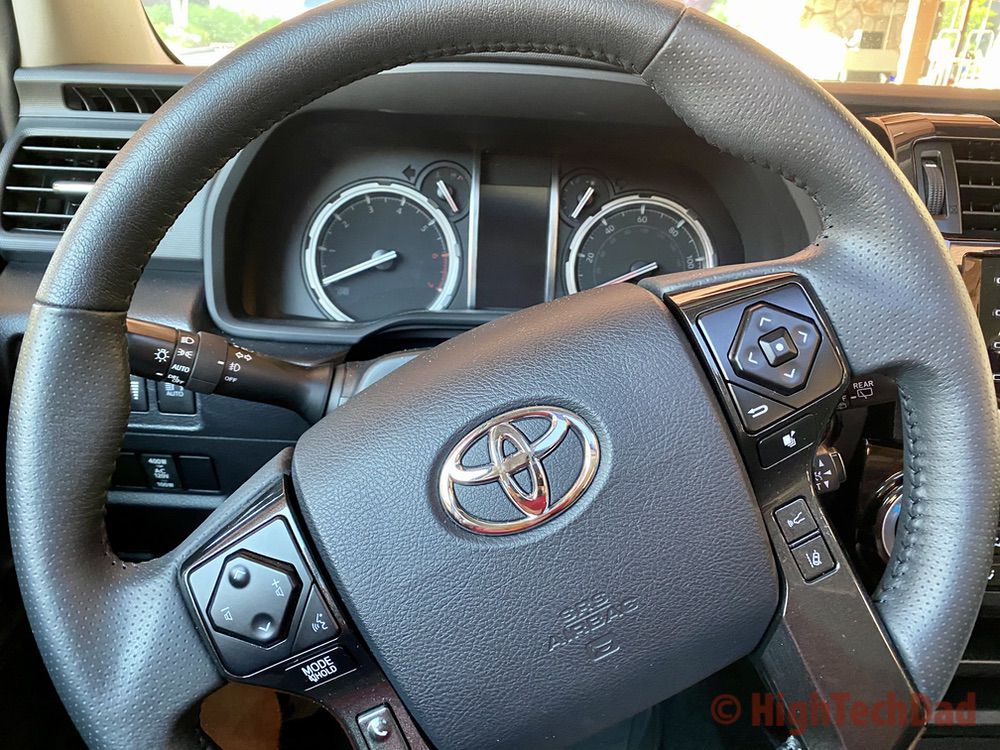 There are some automatic options like headlights, push-button start, lane departure alerts, and dynamic radar cruise control, which will monitor cars ahead of you and either slow down or speed up automatically.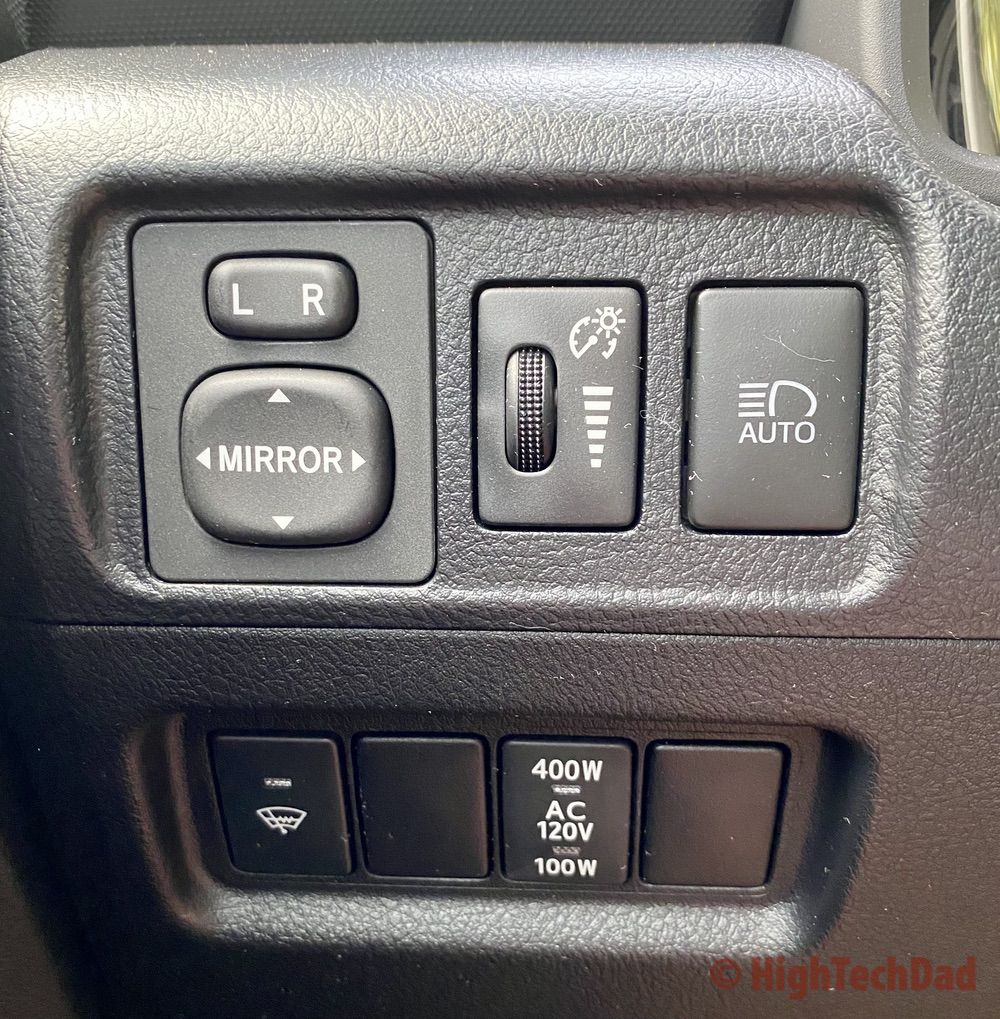 Lastly, another important feature is having enough power ports throughout the cabin to ensure that all devices could be charged while on the road. In the front, there were two USB ports (one for using CarPlay) and in the rear row were more traditional power ports, which we used adapters to charge other devices.
Engine and Body of a Mountain Climber
I did write earlier that I wasn't going to geek out on any tech specs, but I should mention a bit about both the engine and the body. The engine of the 2020 Toyota 4Runner TRD Pro has 270 HP and 278 pounds/foot of torque (not that I could explain to you what that means other than it has some good pulling power). It's a 5-speed automatic with an electronic locking rear differential (to give you better gripping power).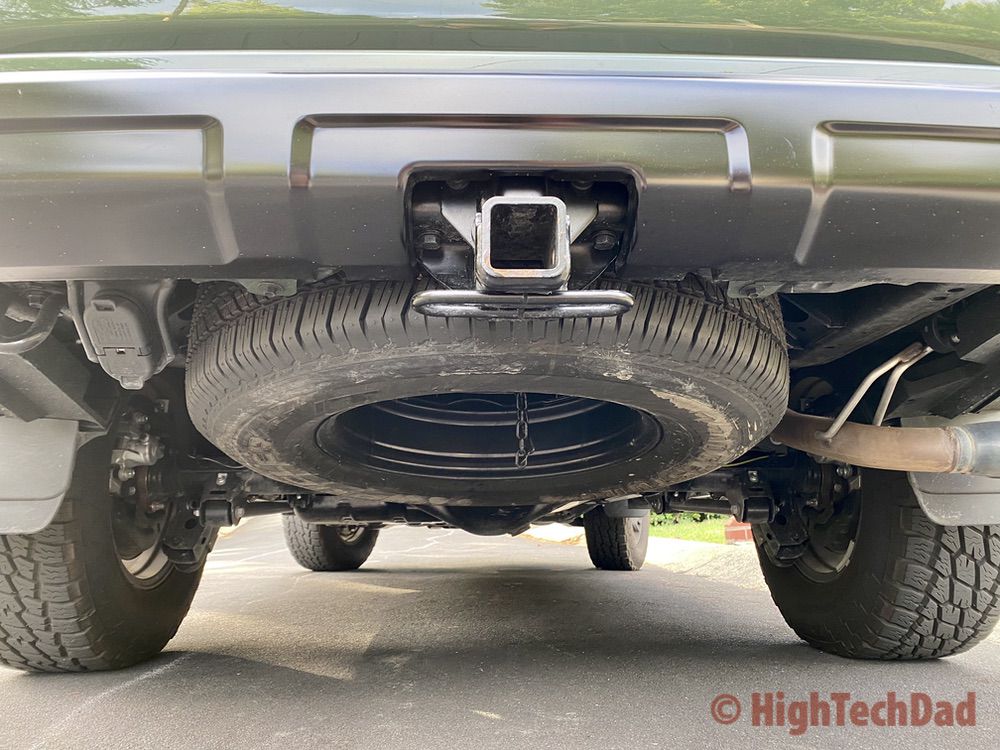 From within the cabin, you can dial to choose the terrain you will be tackling and enable crawl control. Our model came with a tow hitch and pin connector to hook up those rear trailer lights.
We didn't test the 4WD, but it has two modes: part-time with Active Traction Control (A-TRAC) and full-time with A-TRAC and the locking center differential. The towing capacity is 5000 pounds.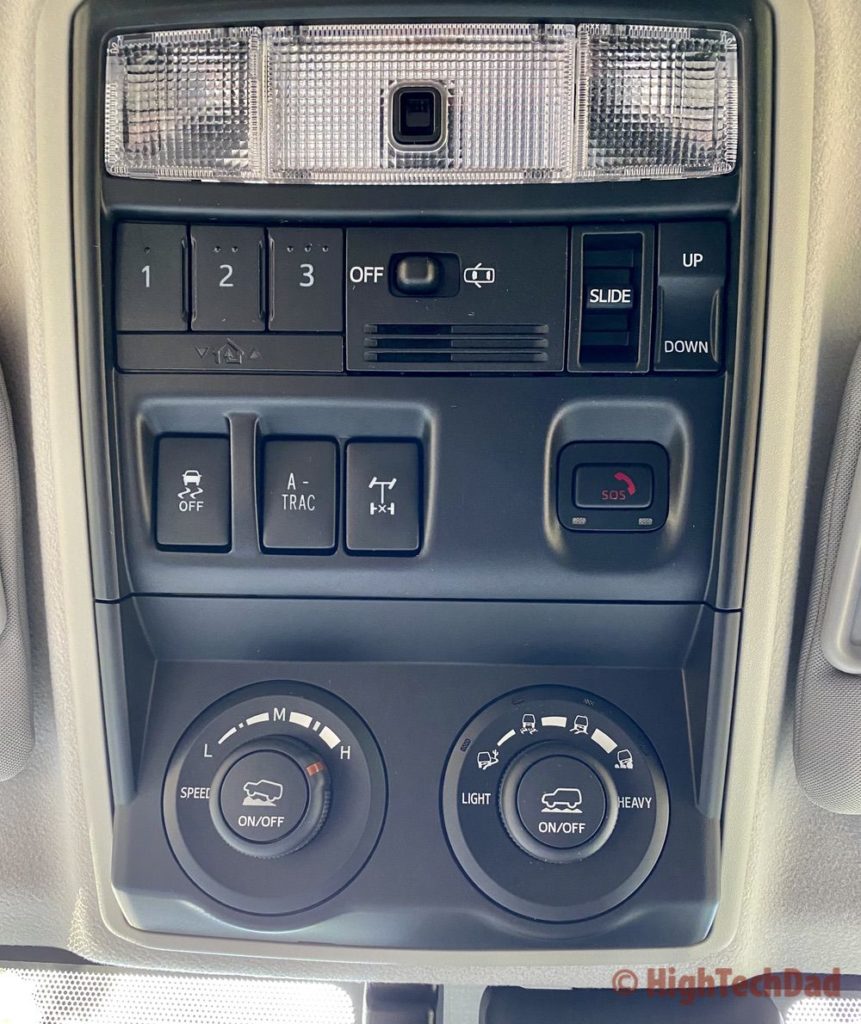 The engine does have a bit of a rumble when accelerating. While I didn't mind it that much, my family did comment about how loud it was. I thought it added to that army feel, but I agree that perhaps some better insulation or some sound engineering would be good to bring that engine rumble down a bit.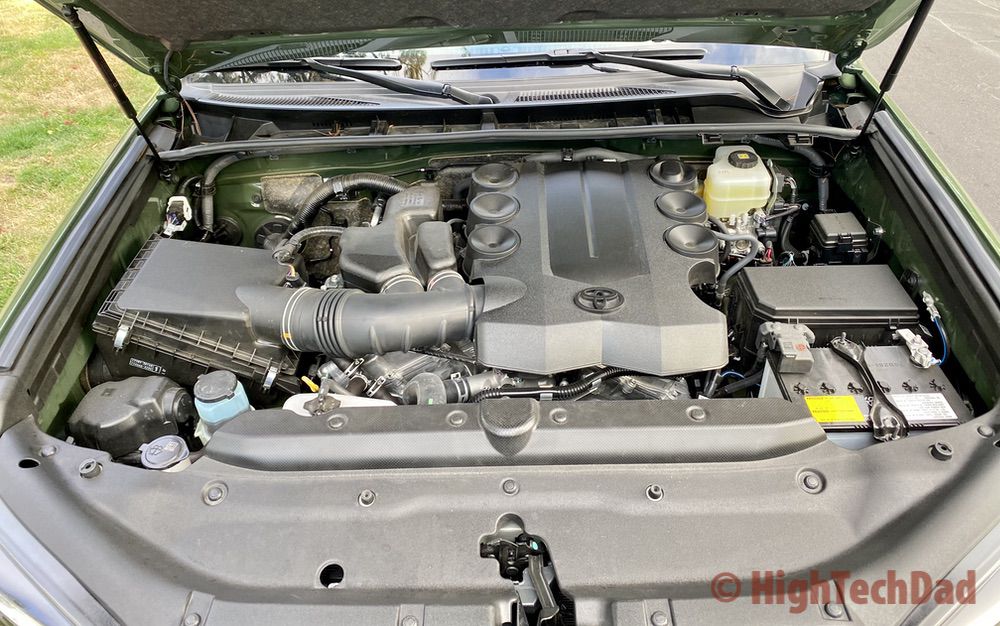 The body construction is body-on-frame, which many trucks use to make the frame much more rigid and sturdy to handle off-roading since the body is typically mounted higher than a unibody vehicle. But they do weigh a bit more (which means reduced gas mileage – we averaged about 16.9 MPG combined).
The TRD Pro Brand
When you get the TRD Pro trimline, you are essentially getting an updated sport package.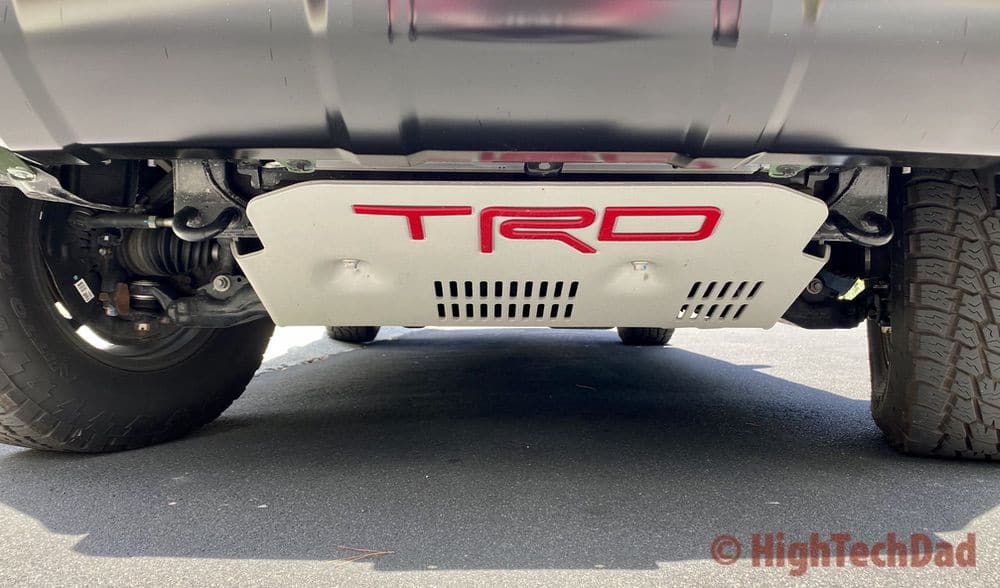 With the 2020 Toyota 4Runner TRD Pro, this timeline comes with 17″ TRD Allow Wheels, Nitro Terra Grappler tires, TRD-Tuned Fox shocks and springs, TRD Stamped Aluminum front skid plate, various TRD black-colored badges and emblems, fog lights, shift knob, and what I truly liked best, the black roof basket!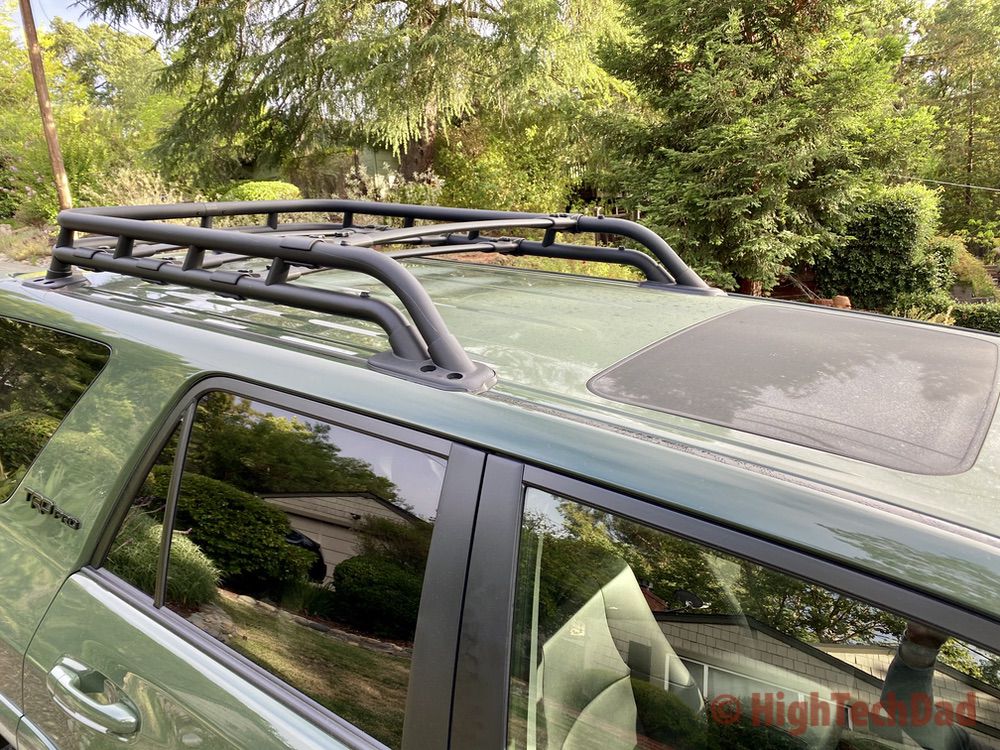 MSRP and More
The 2020 Toyota 4Runner TRD Pro has an MSRP of $49,765. The price of the model we test drove, which included a few other options like the sliding rear cargo deck, the running boards (great for us shorter people to help get in), cargo divider, cargo cover, and more brought the total price to $52,147. So, while it is not the most inexpensive of vehicles, the features and capabilities do make it, in my mind, an excellent SUV for the outdoors.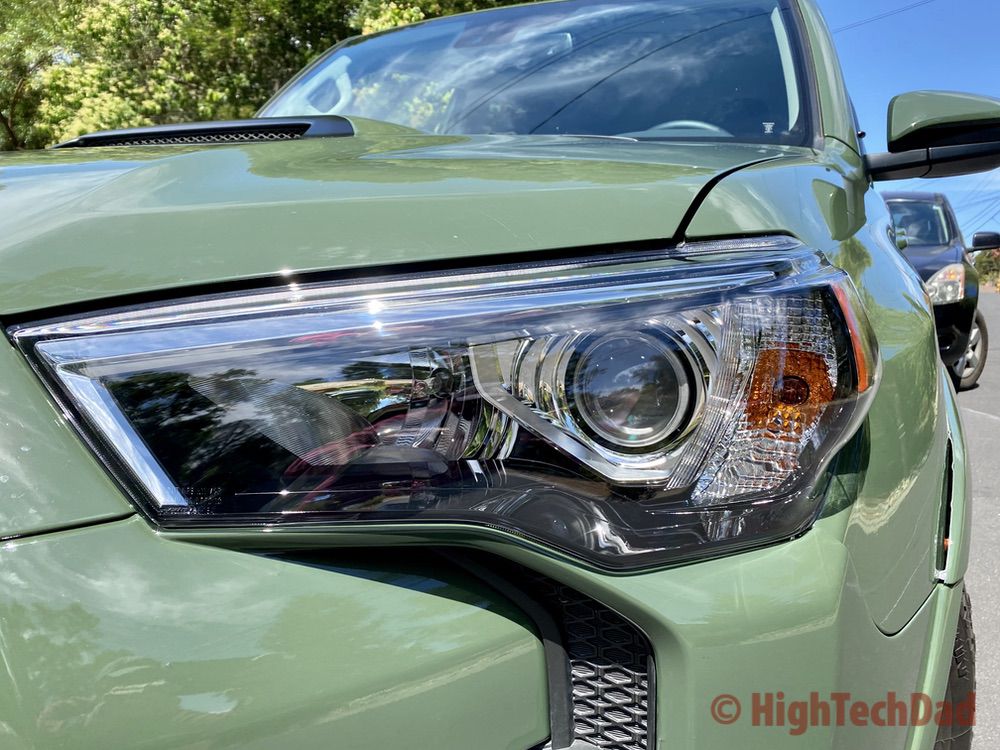 Overall, my family and I had a great time with the 2020 Toyota 4Runner TRD Pro. From it being quite comfortable and able to hold a lot of cargo, to being able to go off-roading and/or tow a trailer or boat or camper, the 4Runner is a fun and capable SUV designed to run to the lake or the hills!
Disclosure: Apart from the loan of the vehicle (which also included a tank of gas and insurance), I have no material connection to the manufacturer. As noted, this is a sponsored review, but all opinions within this article, unless otherwise noted, are my own and are not subject to the editorial review from any 3rd party. More information can be found on my About page.
HTD says: Having the right vehicle when you head up to nature, whether it's the lake during the summer or the mountains during the winter, can make the difference of having a good trip and an amazingly awesome trip. The 2020 Toyota 4Runner TRD Pro definitely made our trip to Lake Tahoe, amazing!