The easiest way to start creating home automation and making a smart home is probably by getting some smart light bulbs. Being able to turn on or off a light using an app or your voice is pretty darn cool. And, if you can change the intensity or the color of the light, it adds to the ambiance of the room. Smart light bulbs, like the Nooie Aurora, can make that process of making a dumb lamp smart and bring a room to life incredibly easy. And, while some colored LED smart bulbs require a hub to function, the Nooie Smart LED bulbs are standalone – all you need is WiFi. (*Disclosure below.)
My smart home's IQ seems to be regularly increasing. I have numerous hubs from different vendors, smart switches and lights, smart locks and security cameras, smart speakers and displays. As my home gets smarter, it does become more complex—understanding which smart devices integrate with what ecosystem can sometimes be a bit daunting. Luckily, there seems to be increasing cross-compatibility among devices and systems.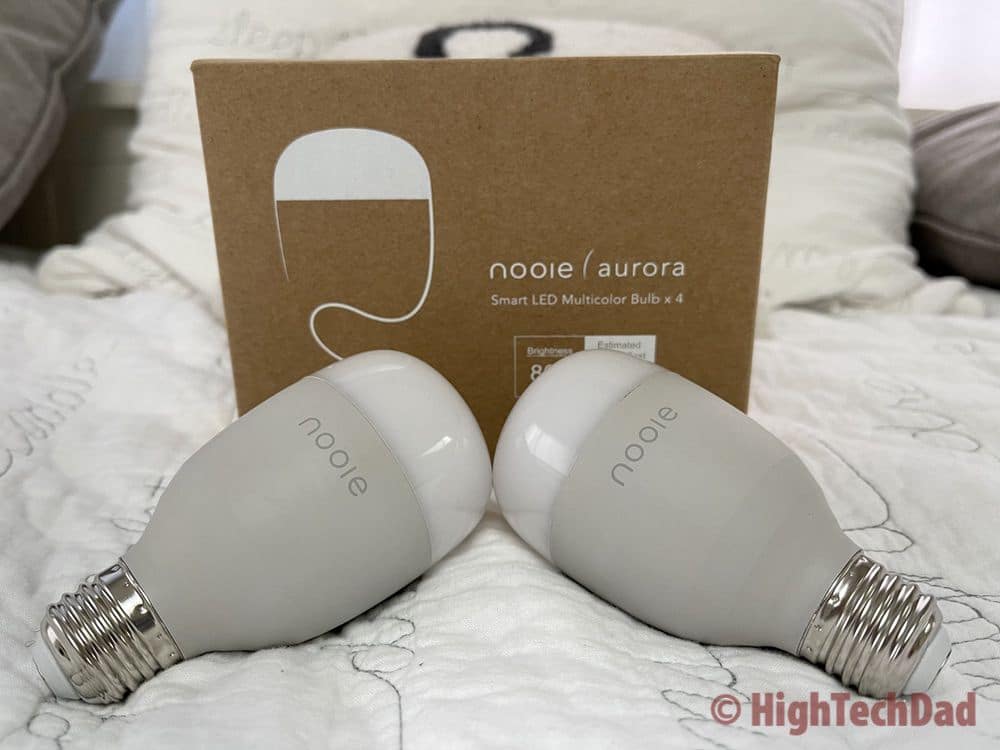 But, a quick recommendation – try to stay away from proprietary devices that have limited or no integration with some of the larger smart home ecosystems like Amazon Alexa, Google Assistant, Samsung SmartThings, and Apple HomeKit. Otherwise, you may have to stick proprietary hubs into hidden corners around your home and hope and pray that they integrate with the ones above.
The Nooie Aurora is Smart on its Own
The Nooie Aurora Smart LED bulbs are compatible with a couple of the large smart home ecosystems, specifically Amazon Alexa and Google Home. But you don't even need one of those hubs and ecosystems. Each smart LED bulb is self-contained – just bring your own WiFi (2.4GHz only), and you can set up automation and control the bulbs manually.
For me, this is an important feature. Perhaps you don't want to give people access to your entire smart home ecosystem, or you want to give your kids access to smart lighting just in their room. Or you want to set up a photography or video filming environment with easily controllable lighting. The Nooie Smart LED bulbs let you do all of this easily.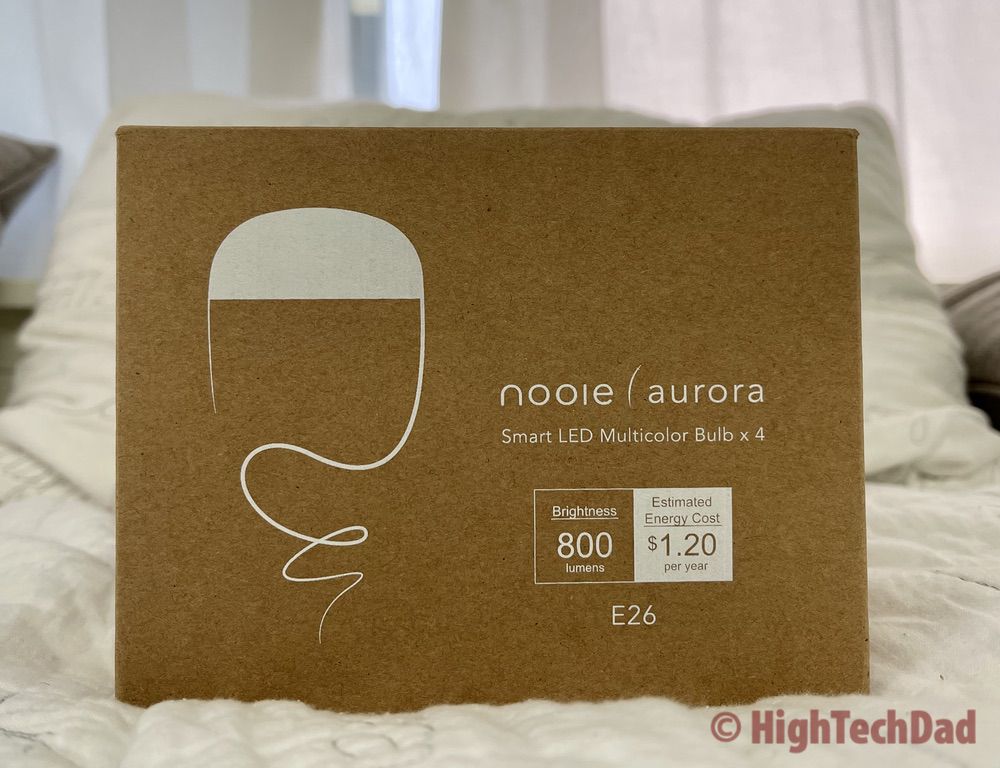 The Nooie Aurora has some great features:
Bright (800 lumens) yet dimmable
Warm-to-cool white color balance (2800K-6000K)
16 million colors
Low energy consumption
20-year life
Easy setup
2.4GHz WiFi compatible
App-controlled
Smart Assistant-enabled
Sleek design
Budget-minded
Having all of the features in a self-contained, single LED bulb is fantastic and opens up various smart lighting environments throughout your home or office.
Setting Up the Nooie LED bulbs
I received a 4-pack of the Nooie Aurora Smart LED bulbs to review. Since I have pretty much packed every corner of my house with smart switches and smart lighting, I was faced with a bit of a challenge. I really didn't have anywhere to put the Nooie smart bulbs. And this bothered me because I honestly love smart lighting and being able to command things via spoken voice, via an app, or from a time schedule.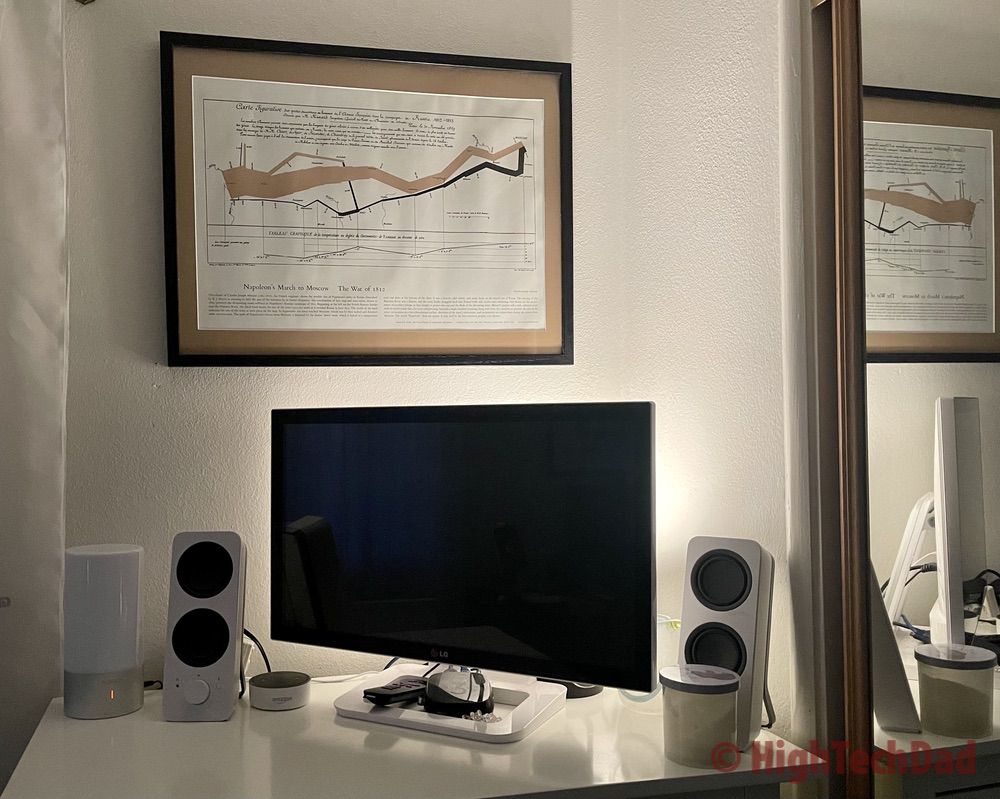 But an opportunity presented itself. My oldest daughter had recently moved out of our house, and suddenly her bedroom was available for me to take over as an office. It had been many, many years since I had had dedicated space just to me and my work. Long story short, my wife helped me set up a style and color palette (it couldn't completely become just a dark man cave).
I had overhead lighting that was already controlled via a smart switch. But I wanted some ambient lights that were more subtle. This is where the Nooie Aurora's came into play. I decided I would use three of the four I received in the corners of my office to provide that ambient lighting and I would give the fourth Nooie to my daughters for their room – and that they would control via the Nooie app on their own.
I did pick up four of these spotlight/wall mount accent lamps for about $20 each on Amazon, which I highly recommend because of their price and style (and the fact that they work great with the Nooie LED smart bulbs). They almost look like something from an old Hollywood set.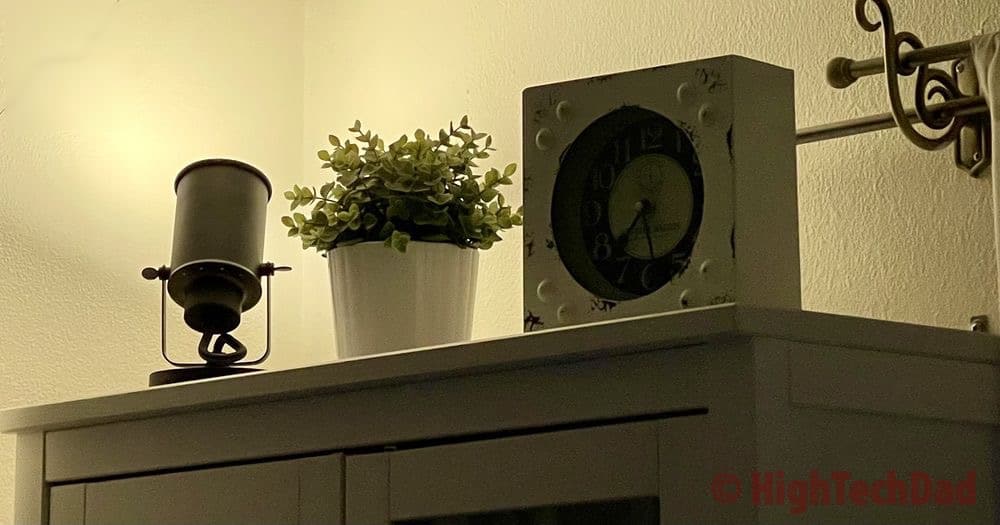 I screwed in the Nooie's into these spotlight lamps and turned on the bulb. You set up one bulb at a time, and you need to be sure you are within the 2.4GHz WiFi range. Simply use the Nooie app to configure (and later control) the lights.
If you don't already have a Nooie account, be sure to set one up and set up your Home. Then click Add to add your device, in this case, the Nooie LED smart bulb.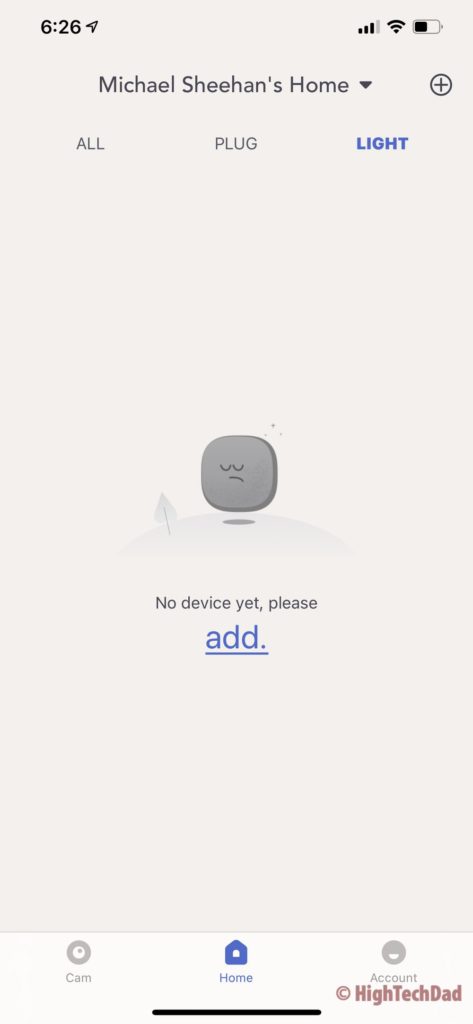 Choose the "Nooie Smart Light Bulb" option.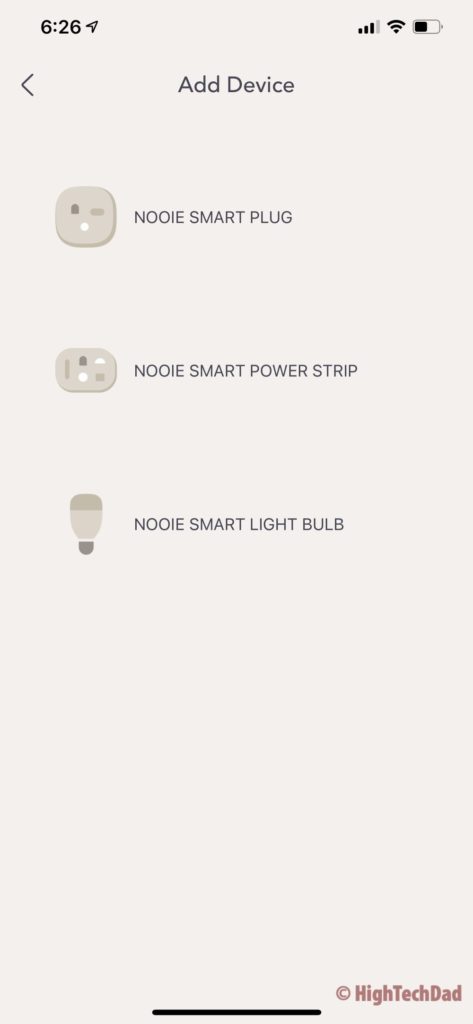 Next, power on the Nooie bulb – on the spotlight lamps I recommended above, there is a simple on/off switch on the cord.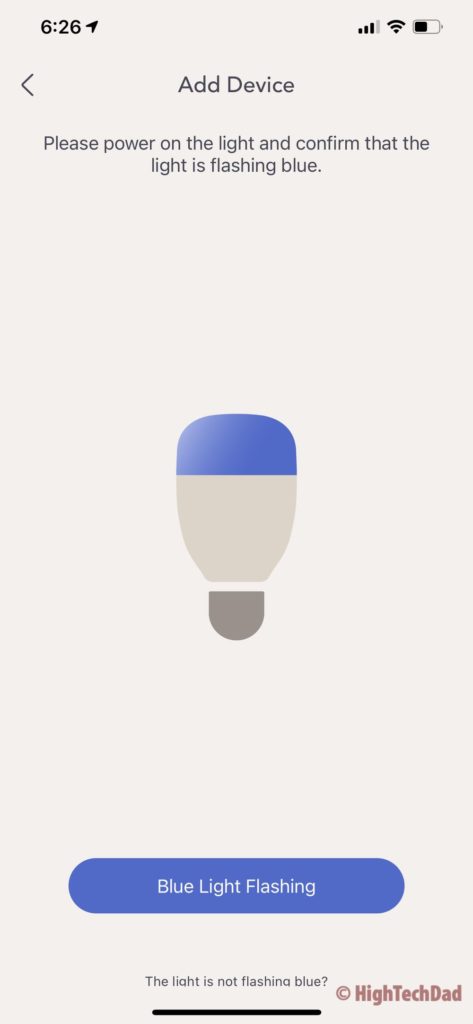 When you turn on the Nooie for the first time, it should flash a blue light to indicate it is in pairing mode. If the bulb isn't flashing, you just need to turn the light on and off 4 times in a row to reset it. I did have to do this a couple of times, and it worked perfectly.
Next, you connect the Nooie bulb to your 2.4 GHz WiFi. Select your WiFi and enter the password. It is helpful to have your smartphone in the same area where the Nooie Smart LED bulb will be set up. The pair typically takes less than a minute.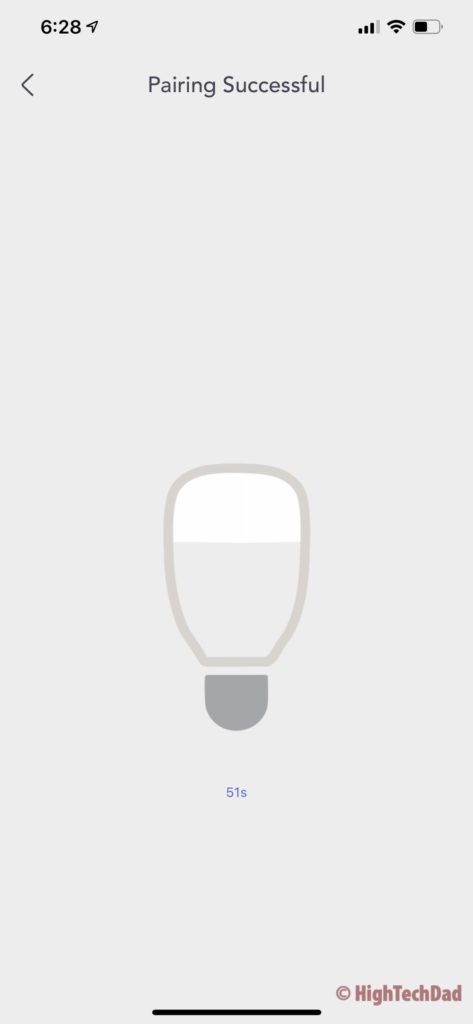 After you have paired the bulb, you can name it, put it in a control group, control it, and share it with other users in your family who already have a Nooie account set up.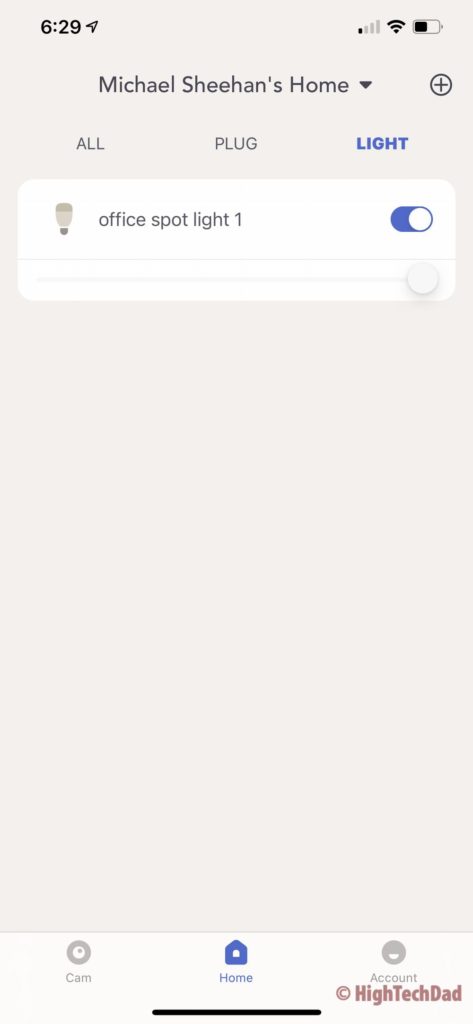 The last step is completely optional – that of connecting it to Smart Home assistants like Amazon Alexa or Google Assistant. You need to either enable the skill on Alexa and/or choose a "works with" from Google. You can then fully control your Nooie bulbs from the smart assistant apps or via your voice.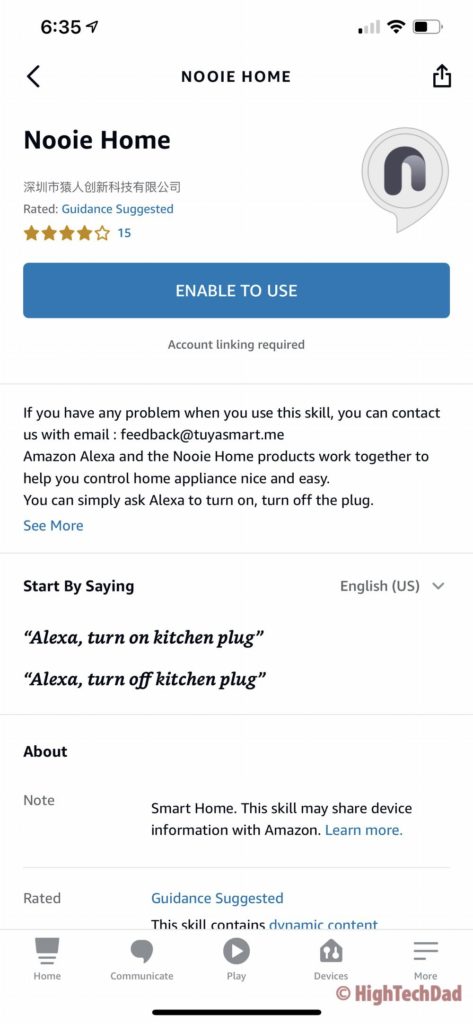 I must say, the setup took literally a few minutes from getting the Nooie bulb configured to having it fully set up within Google Home and Amazon Alexa within lighting groups and rooms.
Using the Nooie Smart LED Bulbs
I'm not going to go into too much detail about using the bulbs, mainly because this is a very personal setup. What color scheme or lighting approach that I use might not be liked by others. I did, as I mentioned, set up my three Nooie LED bulbs in the spotlight accent lamp holders and placed them around my office. I also configured them to be part of my office lighting group so that I simply need to say "Alexa/Google, turn off office" or "Alexa/Google, turn on office spotlights," and the Nooie Auroras will turn on or off.
You can even use voice commands to change the color of the spotlights. Just to test out the power of Alexa (and because I'm a Star Trek geek), I set up some routines where I could say "active Red Alert," and the current overhead lights would turn off, the Nooie's would turn on with red coloring, and the Red Alert sound effect would play from my smart speaker. Then I would say, "cancel Red Alert," and the red spotlights would turn off, the sound would stop, and the regular overhead lights would turn back on. Super geeky, but my family started to get annoyed with it, so I decided to delete it and focus on ambient and accent lighting only.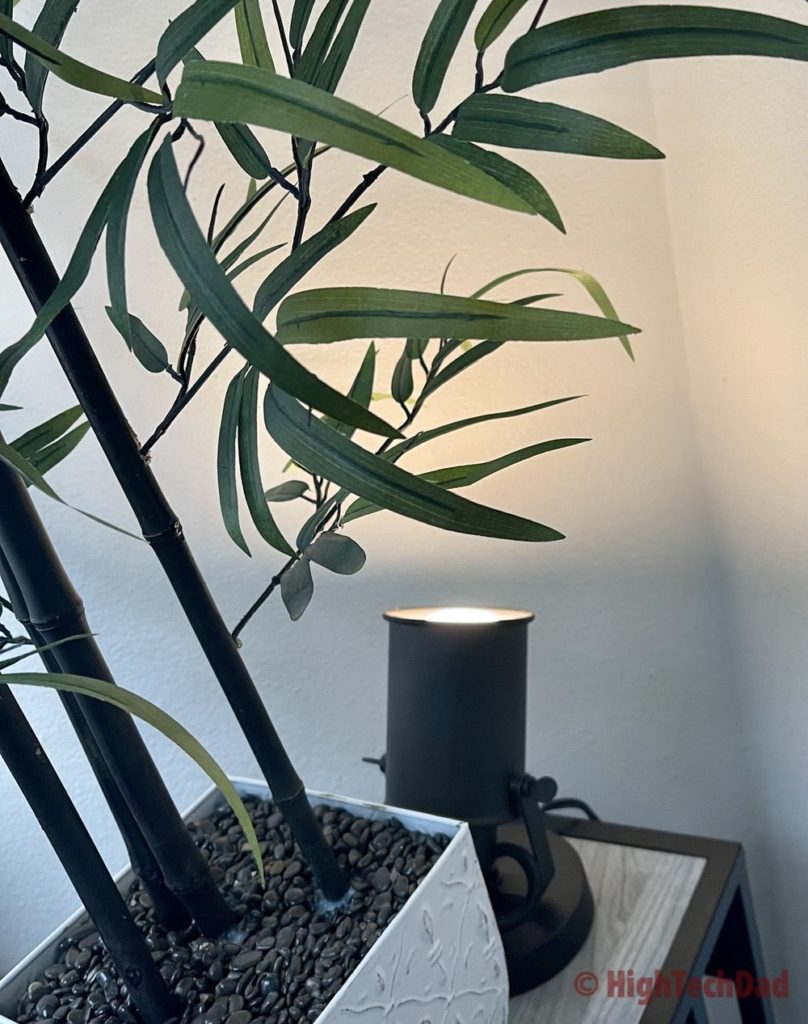 The Nooie app does have some out-of-the-box color lighting suggestions. They call these "Themes," and you can also create your own theme if you want. But I personally like and use the "Focused" and "Natural" themes. These are my morning lighting choices because they aren't too bright.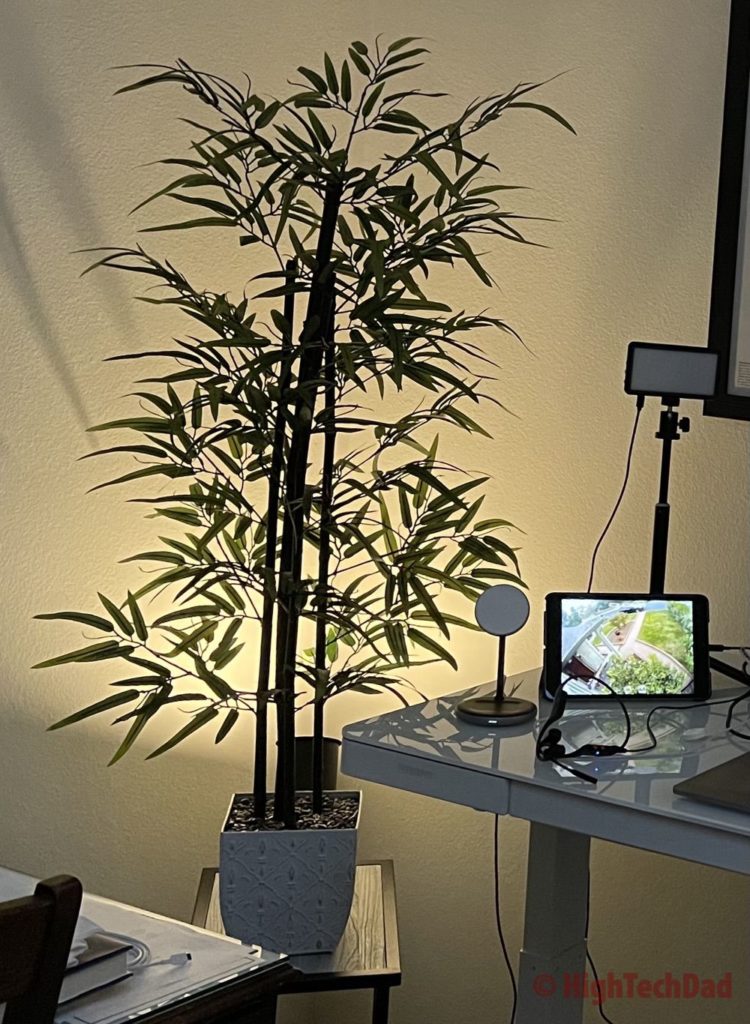 Accent lighting does wonders for any environment. All of the photos in this review are from my office. And my daughters use the Nooie within their bedroom as well.
Let Nooie Shine the Way to Lighting your Smart Home Easily
With an easy setup, elegant yet simple design, and the ability to be smart without relying on a proprietary or dedicated smart hub, the Nooie Aurora Smart LED bulbs are an easy way to bring home automation to any lamp or light socket with the click of a button on a smartphone app or via voice command.
Lastly, the Nooie Smart LED bulbs are quite reasonable (especially if you factor in that you don't need to get a smart hub to control them). On Amazon, you can get a 1-pack, 2-pack, or the best deal currently, I think, is the 4-pack. See below for prices as of this writing:
You can also purchase a 4-pack on the Nooie website currently for $55.99.
Shop on HighTechDad
The product shown below (and related products that have been reviewed on HighTechDad) is available within the HighTechDad Shop. This review has all of the details about this particular product and you can order it directly by clicking on the Buy button or clicking on the image/title to view more. Be sure to review other products available in the HighTechDad Shop.
Disclosure: I have a material connection because I received a sample of a product for consideration in preparing to review the product and write this content. I was/am not expected to return this item after my review period. All opinions within this article are my own and are typically not subject to editorial review from any 3rd party. Also, some of the links in the post above may be "affiliate" or "advertising" links. These may be automatically created or placed by me manually. This means if you click on the link and purchase the item (sometimes but not necessarily the product or service being reviewed), I will receive a small affiliate or advertising commission. More information can be found on my About page.
HTD says: If you are looking for an easy way to add smart lighting to your home, the Nooie Aurora Smart LED bulbs easily allow you to create dimmable and colored ambient and accent lighting without needing a smart hub.
HighTechDad RatingTechDad Ratings
Ease-of-Use

Family-Friendly

Price Point

Features
Summary
If you are looking for an easy way to add smart lighting to your home, the Nooie Aurora Smart LED bulbs easily allow you to create dimmable and colored ambient and accent lighting without needing a smart hub. The setup is incredibly easy with the Nooie smartphone app. This app allows you to configure and adjust the colors as well as the white warmth. You can easily share configured Nooie smart bulbs with others via the Nooie app. The price point, especially for 4 bulbs, is quite competitive. And the fact that you don't need to have a smart hub to set up, configure, and control these smart LED light bulbs is a definite plus. This is a great smart device to get your smart home started or build out one that you already have, especially lamps.
Pros
No hub required
Good price point
Dimmable & adjustable white color temp
Millions of colors
Integrates with Google Home and Amazon Alexa
Cons
No integrations with Apple HomeKit or Samsung SmartThings