A couple of weeks ago, my family and I visited Yosemite National Park. It was an amazing "glamping" experience – we had a tent cabin nestled among the trees. But one thing we weren't sure about was how we would be able to charge our phones at night. Luckily, I had just received the TECHOSS Portable Power Station P300W and thought this would be a perfect way to test it out. And the TECHOSS proved to be a fantastic technical companion for the trip! (*Disclosure below)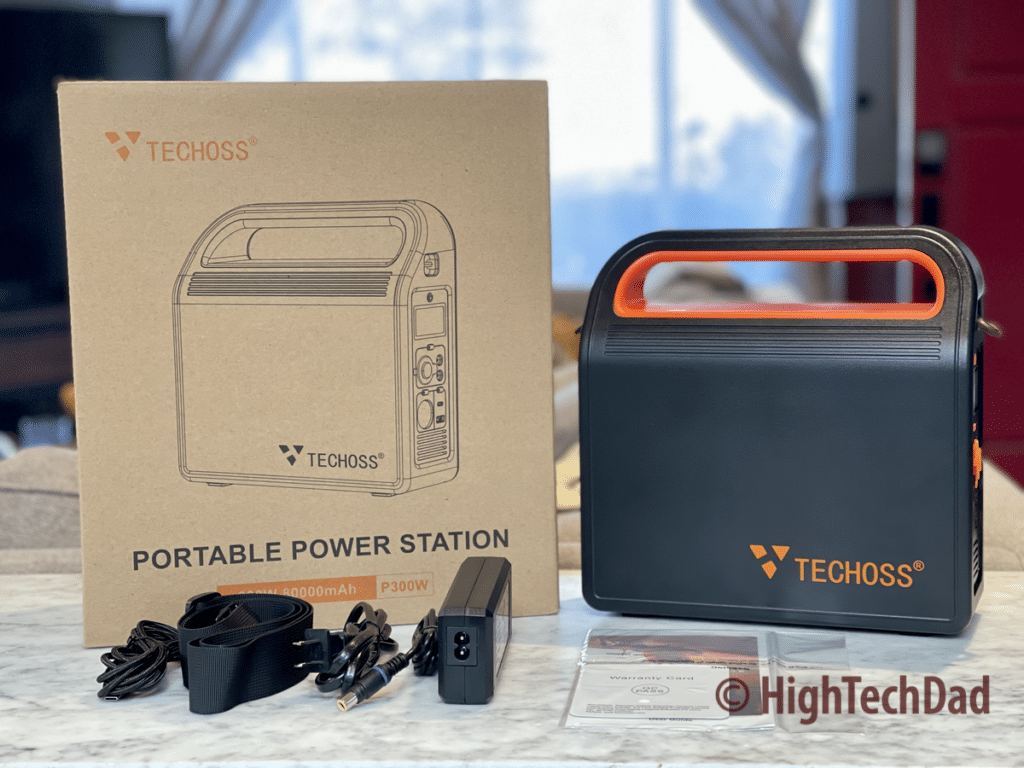 I have many portable chargers and extended batteries storing energy to power up various family devices. Some are small that slip in a pocket, while others are larger capacity yet still portable – suitable for long airplane flights or hiking excursions. But what I was lacking was something that was portable but could be left at a base camp, could charge multiple devices (large and small), and didn't itself need to be charged frequently. Also, I needed something for emergencies that could be used during a more prolonged power outage at home, for example. The TECHOSS P300W Portable Power Station easily filled that gap.
The TECHOSS Portable Power Station honestly is one of those useful gadgets that you will be glad you have as there are probably many use cases for it. As I mentioned, camping and emergencies are two scenarios where the P300W can be extremely useful. But how about using it to power your laptop if you are sitting in the yard? Or taking it to your child's sports activity to make sure everyone has power? Just take an extension cord along and plug in multiple devices, even small appliances. The possibilities don't end there either.
The TECHOSS P300W specs
This TECHOSS battery (they do have other models) has some pretty impressive features and specs. For starters, it is portable, but it isn't something you probably would want to carry around all day. It weighs about 7.7 pounds. To make carrying it a bit easier, there is both a handle and an adjustable shoulder strap.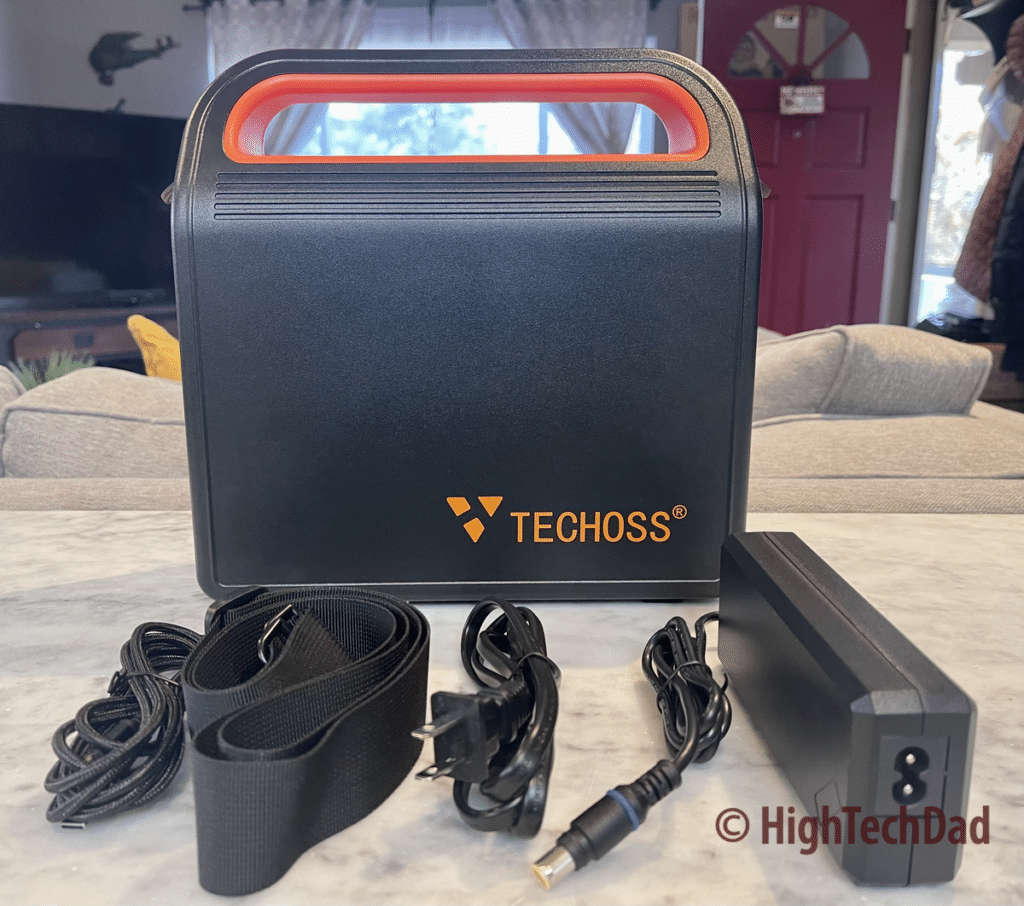 It measures 10.25″ x 10.25″ x 3.25″ and is constructed from hard, durable plastic. There is nothing on the front other than the product name, and the back has a simple but important specification sticker. It reads:
Battery Capacity: 80,000mAh (3.6V) 288Wh
Car Charger Output: 12V/8A
Type-C Output: 60W (PD), 5V/3A, 9V/3A, 15V/3A, 20V/3A
DC1 & DC2 Output: 110V/60Hz 300W
DC Input: 17V/5A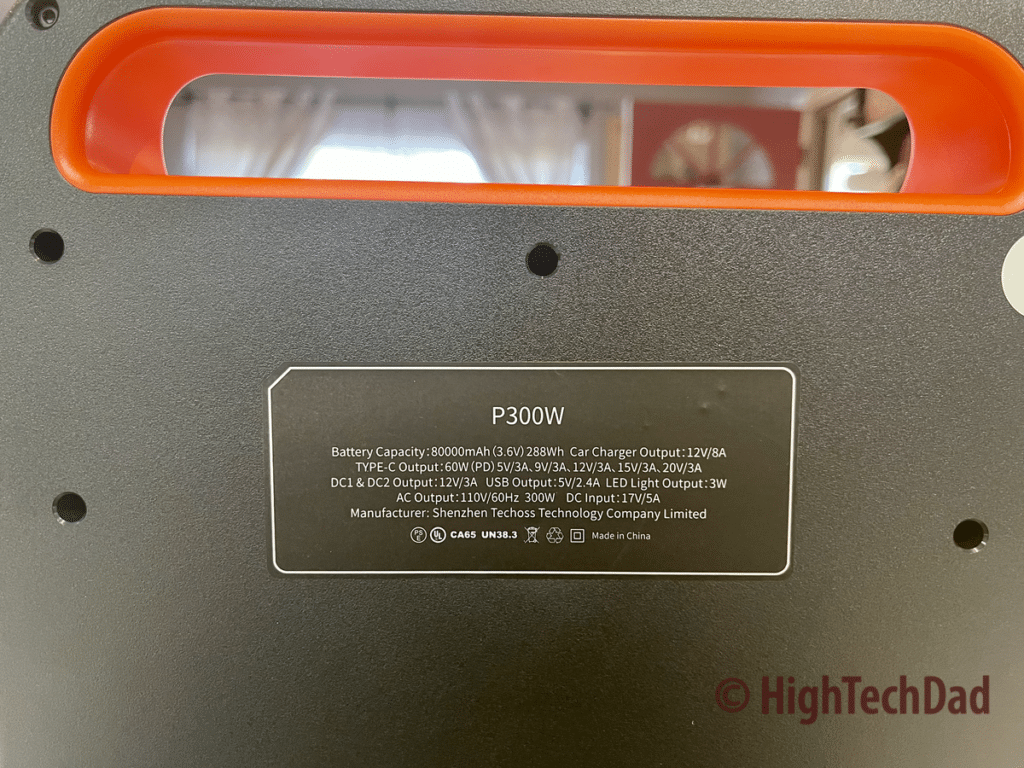 What does all of that mean? mAh stands for milliampere/hour, essentially a unit of measurement of electric power over time. To give some perspective, a smartphone typically is between 2000 mAh to 4000 mAh. And Wh stands for watt-hour. So, with the TECHOSS, if you had a 100 W lightbulb plugged into it, it could theoretically run for almost 3 hours (2.88 hours).
The TECHOSS Power Station has some impressive built-in safety features as well. The list includes:
Input High-Voltage protection
Output High-Voltage protection
Input current regulation
Output current regulation
Automatic current matching
Input Short-Circuit protection
Output Short-Circuit protection
Device Overcharge protection
Static resistance
Battery Overdischarge protection
Output temperature control
I wasn't able to test each of these safety features (probably a good thing), but one thing I did test out was to plug in something that consumes a lot of voltage – a vacuum cleaner. I was able to plug it into the 3-pronged plug and turn the vacuum on. The vacuum did turn on for a second or two, but then an alarm went off, and the voltage was cut off from the vacuum. So, while you can't vacuum your tent, you can know that there is high-voltage protection in place.
The various ports on the TECHOSS portable power station
Now, let's take a look at the sides of the TECHOSS portable power station because that is where the "power" of this device really resides. There are two ports on the left side (when facing the front). One is for the DC input. Included with the TECHOSS is obviously a power cord. This is a 17V/5A input. While I haven't fully drained and charged the TECHOSS, it will take several hours from empty to charge it fully.
Directly above the charging input is the 110V/30W output plug. One important thing to note. To activate any of the ports or plugs on the TECHOSS, you must press an orange button. When you do that, a light on the button turns on, and the port can be used.
The rest of the output plugs are on the right side of the TECHOSS. At the bottom are two USB ports, one USB Type-A (for older devices) and one USB Type-C. The Type-A port is 5V/2.4A, and the Type-C is a 60W PD (Power Delivery) port. The Type-C can be used to charge up and power various laptops, but it tops out at 60W.
Next to the USB ports is a light. Pressing the orange button above that turns on the light – there are three modes: low, high, and blinking. According to the onboard input/output screen, the energy consumption shows just 1W, so you could conceivably leave the light on for 288 hours or 12 days!
Above the light and the USB ports are three other ports. One of them is a DC car port socket (12V/8A). And then, there are two 12V/8A car charge outputs. Honestly, I haven't found the proper connector for that, but I'm assuming you can use the TECHOSS to jumpstart your car when the battery is dead. As the documentation on the TECHOSS is a bit sparse, and there weren't any cables included, this is probably one output port that I won't use.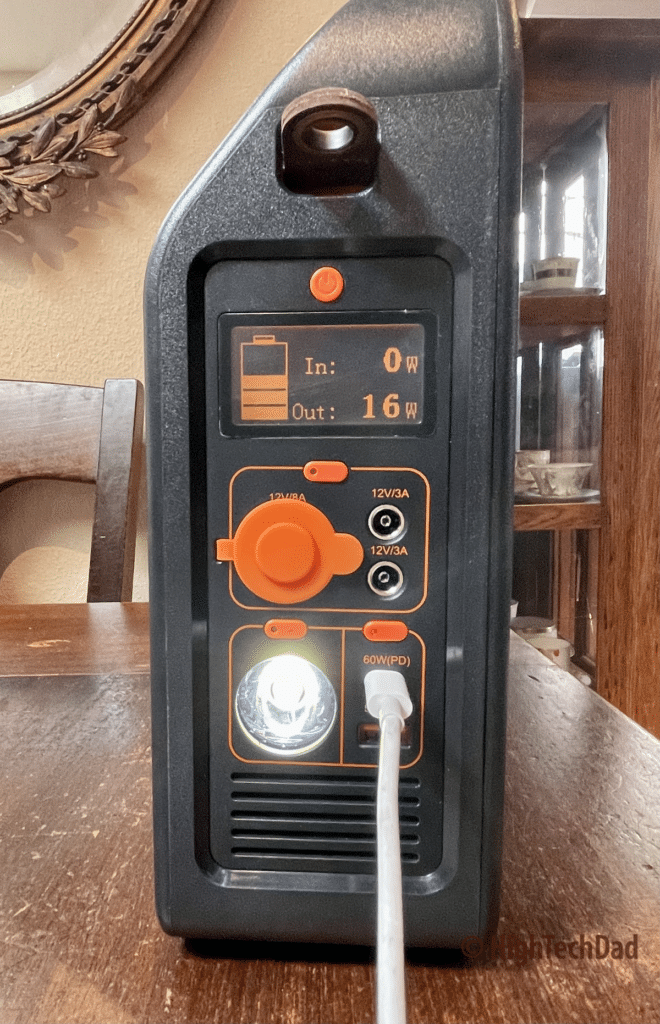 Lastly, above the car output ports is the display. The display will turn on when you activate any of the ports via the orange button. Also, when you charge the TECHOSS, it will turn on. The display shows both the input and output wattage, which is a great feature to have.
Plug in any device, and you immediately get a real-time view of the power being consumed, as well as the state of the TECHOSS battery. When you plug the TECHOSS in to charge, you will see the voltage as well (when charging, the input wattage shows around 81W). You can also see if your plugged-in devices are fast or trickle charging.
I tested the two USB ports for charging an iPhone. The Type-A seemed to output about 10W, and the Type-C was closer to 13-14W. And charging an older MacBook Pro via the 3-port plug showed around 80W. And, when charging the MacBook Pro at that level, the built-in fan in the TECHOSS cycled on and off periodically to keep the battery cool.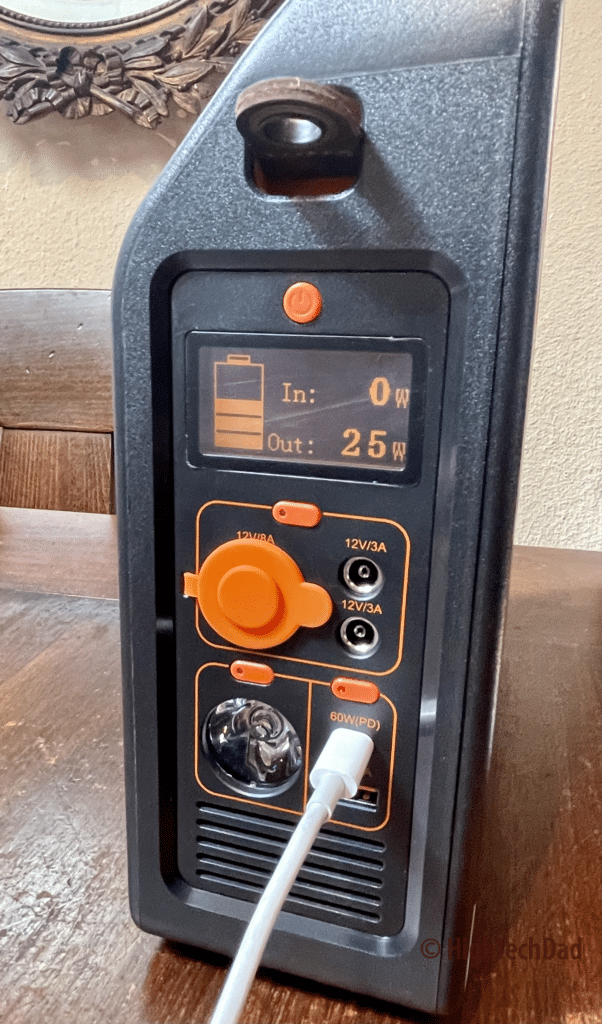 The price for peace of mind
When you look at other battery chargers on the market, you will see quite a range. In some cases, you pay for portability and smaller sizes. But when it comes to something larger like the TECHOSS portable power station, you will pay a bit more because of the features and the energy storage capabilities.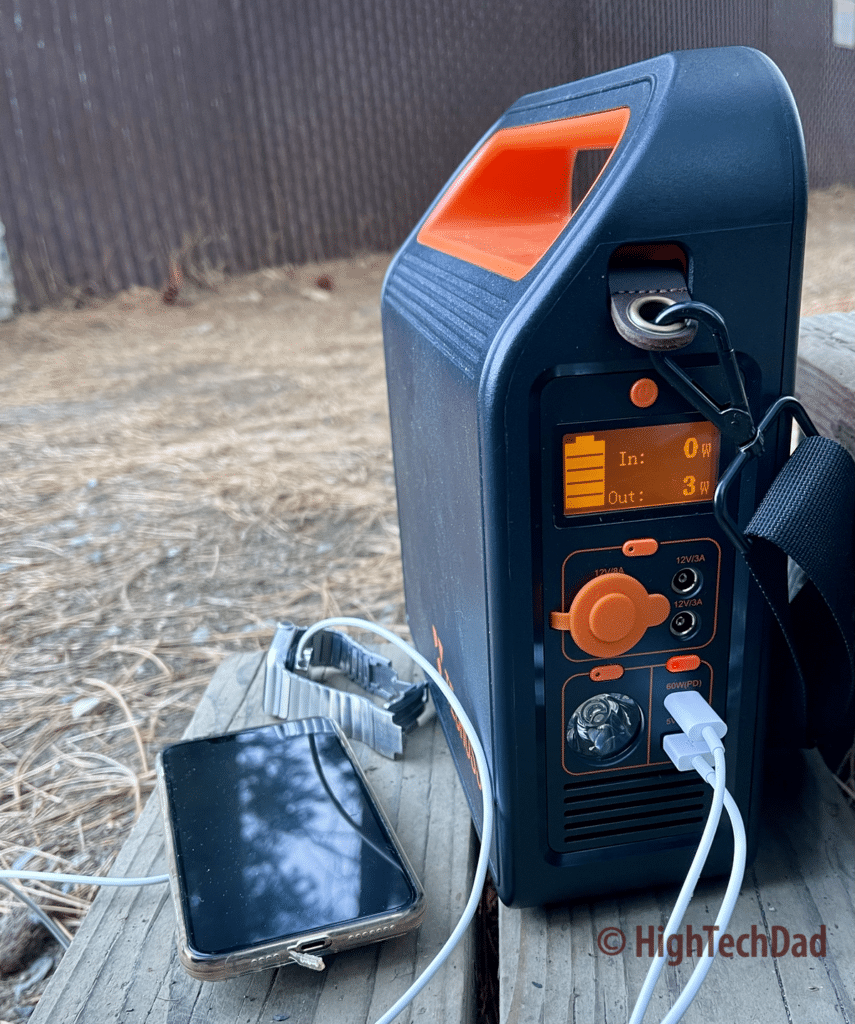 That being said, you do have some good pricing options available. You can currently get the TECHOSS P300W on Amazon for $218, which I feel is pretty reasonable. But, if you order directly from the TECHOSS site, as of this writing, the Portable Power Station is on sale from $348.00 to $99.89. I'm not sure how long that sale will last. And, you get the P300W unit PLUS a Solar Panel.
Yes, you can charge the TECHOS P300W with a 35W solar panel! I honestly wish I had received the solar panel for part of this review, but unfortunately, I did not. That would have been a perfect camping and emergency package!
Shop on HighTechDad.com
The product shown below (and related products that have been reviewed on HighTechDad) is available within the HighTechDad Shop. This review has all of the details about this particular product and you can order it directly by clicking on the Buy button or clicking on the image/title to view more. Be sure to review other products available in the HighTechDad Shop.
Having a larger capacity battery and charger like the TECHOSS P300W is, in my opinion, essential for any household. Not only is it capable of charging over the days when you are camping or on an outdoor excursion, it is also extremely important to have for emergencies. The P300W can power smaller appliances (like a camping refrigerator) or charge various devices.
HTD says: The TECHOSS Portable Power Station P300W is a device that you don't know you should have until you actually need it. Having a large-capacity battery not only is great for emergencies, but it can also help your on-the-go activities be a bit more relaxing!
HighTechDad Ratings
Ease-of-Use

Family-Friendly

Price Point

Features
Summary
The TECHOSS Portable Power Station P300W is a device that you don't know you should have until you actually need it. Having a large-capacity battery not only is great for emergencies, but it can also help your on-the-go activities be a bit more relaxing! The initial charge may take a few hours based on the state of the battery, but once you have it charged up, you can power a bunch of different devices as well as charge others. This large capacity and portable power station is great for camping, using around the house and garden, on the road, or in emergencies. Being able to see the state of energy being used when charging or being charged is extremely useful. The P300W is a definite must-have for the home. There is a bit of confusion around the pricing (Amazon versus on the site) as well as what is included so be sure to shop around.
Pros
Compact design
Large capacity battery
Input & Output wattage screen
Cons
Documentation is a bit sparse
Only 2 USB ports
No cable included for car charger