I have written about GaN (gallium nitride) chargers in the past. And they continue to grow in popularity. Even Apple, with their newer MacBooks, is moving over to GaN chargers. The GaN semiconductor technology provides more charging power in smaller form factors due to the way they can dissipate heat, among other things. However, until recently, I haven't seen any higher wattage GaN chargers. They typically topped out around 100-120W. But I just got my hands on a 200W GaN charger, the UGREEN Nexode 200W USB-C GaN charger, and now I can connect various USB-C (and Type-A) devices and spread the charging love around. (*Disclosure below.)
First and foremost, I recommend getting a multi-port GaN charger for travel or everyday use around the home or at school. In fact, my daughter in college uses one to charge her MacBook and iPhone from one smaller plug. However, I have multiple devices that I would want to charge from a single charging hub, and that is where the UGREEN Nexode 200W GaN charger is rapidly becoming my go-to charging solution.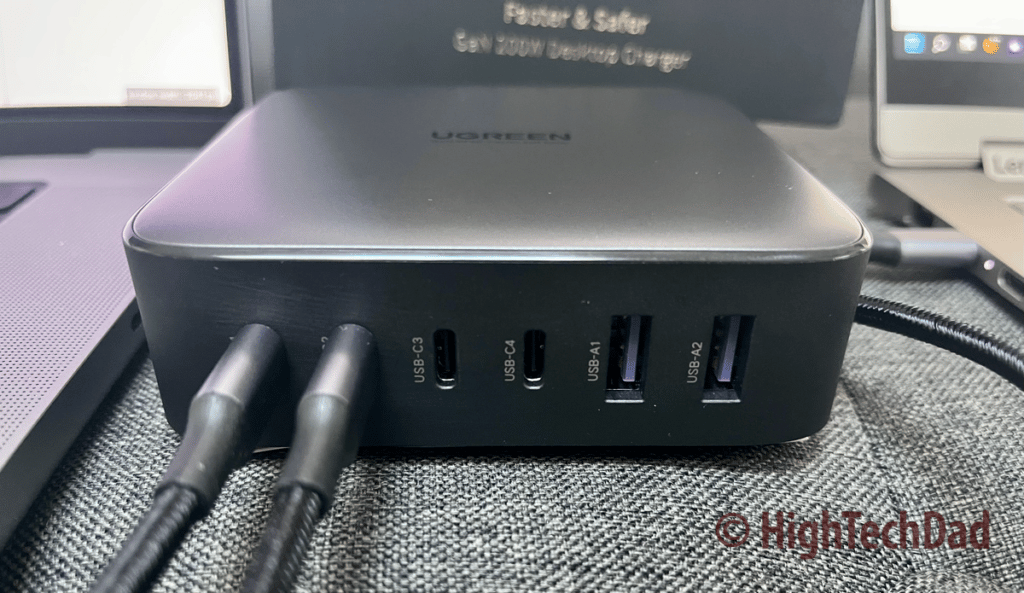 As more and more devices are moving toward PD (power delivery) via USB Type-C, including laptops, tablets, and smartphones, I feel that it is important to gather solutions with multiple charging ports. For example, if you are at the office, you may only have access to a single wall plug, but with the UGREEN Nexode, you suddenly have access to up to 6 ports and a total combined wattage of 200. Or, if you are traveling, your family will be extremely happy if you have multiple ports for a single plug (you just have to remember to have all the necessary cables).
The Power is in the details of the UGREEN Nexode
I have tested out two and four-port GaN chargers of varying wattage (65, 100, and 120 W). And as I mentioned, this is the first higher-wattage GaN charger I have reviewed. A quick and non-scientific search on Amazon shows very few 200W GaN chargers currently on the market. Mark my words, more will come as more people understand the utility of having chargers like this.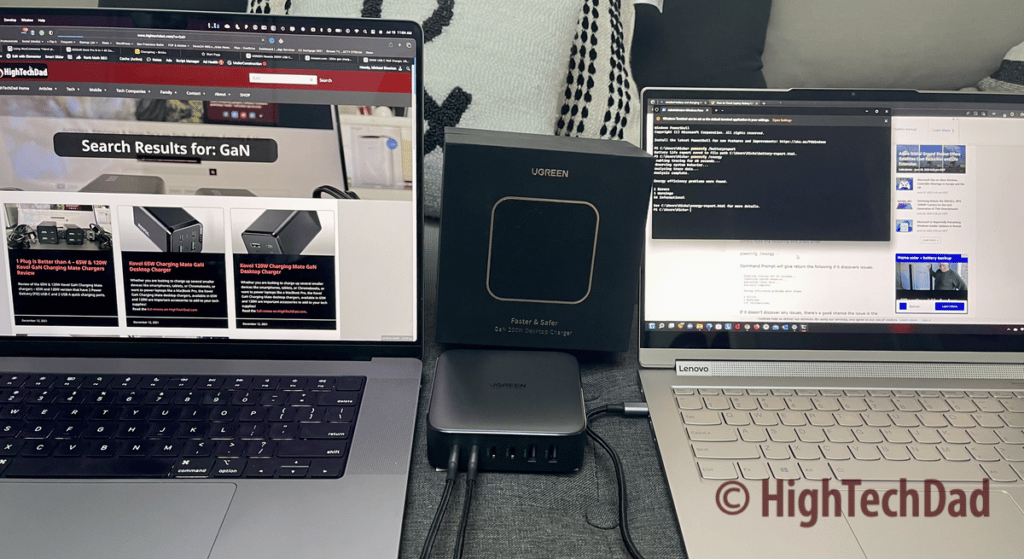 The UGREEN Nexode does have one excellent advantage. Quite a few of them, honestly. Here's a quick list of the things that I like about the UGREEN Nexode:
4+2 USB ports – it has 4 USB Type-C and 2 USB Type-A ports
6.6′ cable – it doesn't occupy too much space in the wall because of the 6.6-foot cable
2x100W – you can output 100W simultaneously
GaN technology – as mentioned, these are GaN semiconductor driven, which makes them smaller, not as hot, and more efficient for charging
What do some of those items mean to the end user? Well, for starters, having 4 USB-C and 2 USB-A ports means that you can effectively get rid of a bunch of other chargers. But, of course, this does depend on your use case. For me, I regularly charge a laptop, iPhone, Apple Watch, and occasionally my Airpods. So, even with those four items, I still would have a couple of ports available.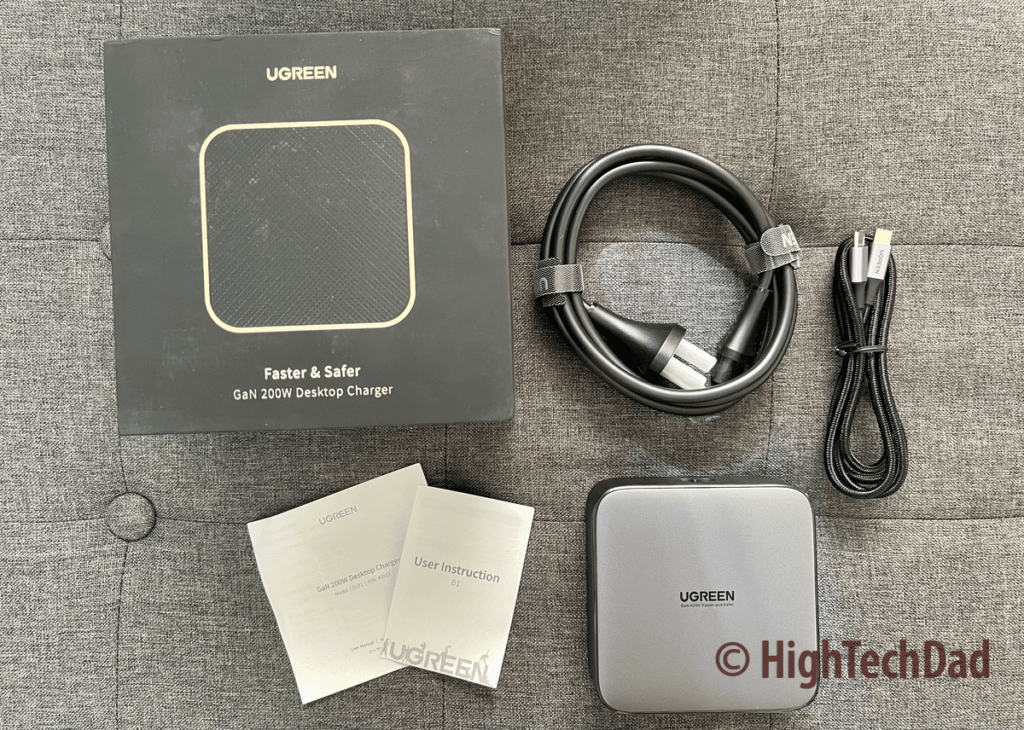 The long power cable is also nice to have since it prevents a plug from being hogged up by a large power brick. And, you can put the UGREEN Nexode in a more centralized location so others can use it.
The power itself is intelligently distributed based on the consumption of the connected device. There is an order of which devices you plug in that should be followed but isn't required. Typically, you want to start with the highest power-consuming device and then work your way down. But, if your larger-consumption device is just trickle-charging, it won't pull as much power.
And there is safety built into the UGREEN Nexode. For example, the Nexode takes a temperature reading every half second to prevent it from overheating.
Mix and match charging
Having six available USB charging ports does present a variety of options for your charging needs. As I mentioned, I connected my MacBook Pro to one of the USB-C ports. According to both coconutBattery and the Mac Systems Report, the wattage came in at 100W. This allows the Mac to charge quickly, faster than lower-powered GaN chargers out there.
Here are the coconutBattery details: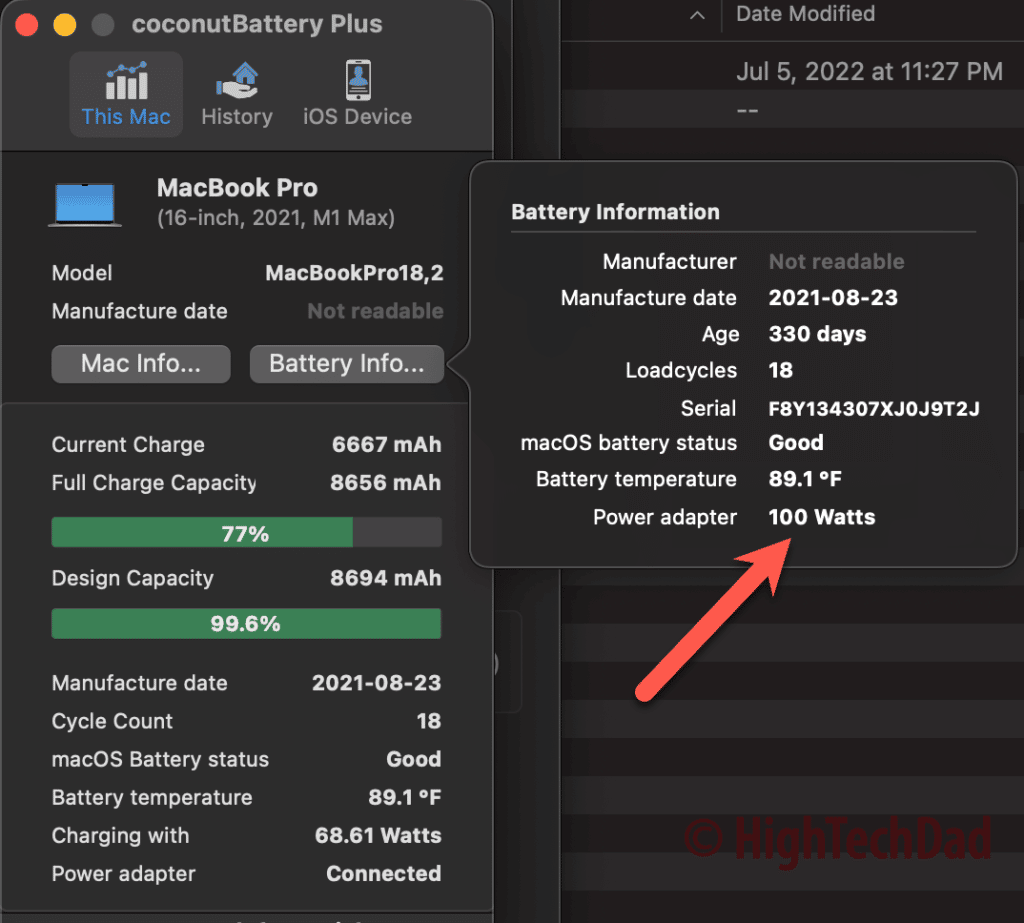 And here are the results from the Mac System Report: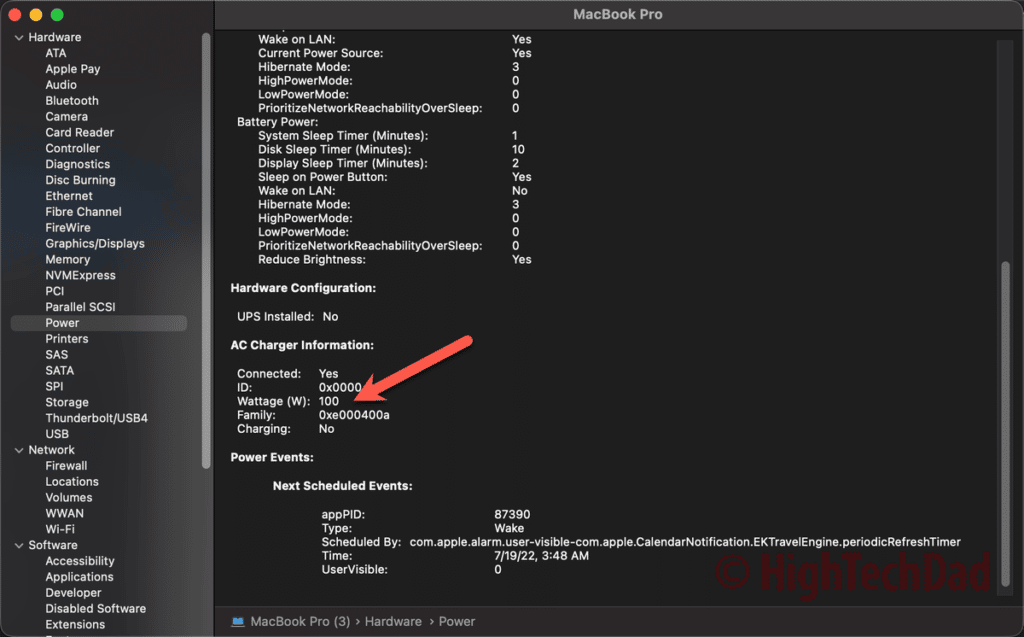 I did an informal test with another device to measure the wattage pull to the UGREEN Nexode. With two devices connected (a MBP and a PC laptop), the wattage was below 100W. But, that is because both devices were trickle charging. I haven't fully loaded up the Nexode with six low-charged devices yet.
But, one of the things I wanted to know from the beginning was what the power draw is by port based on what is plugged in and the power demands of those devices. I haven't done any scientific testing on this, but UGREEN has produced two graphics that outline the theoretical mix-and-max power consumptions based on the ports.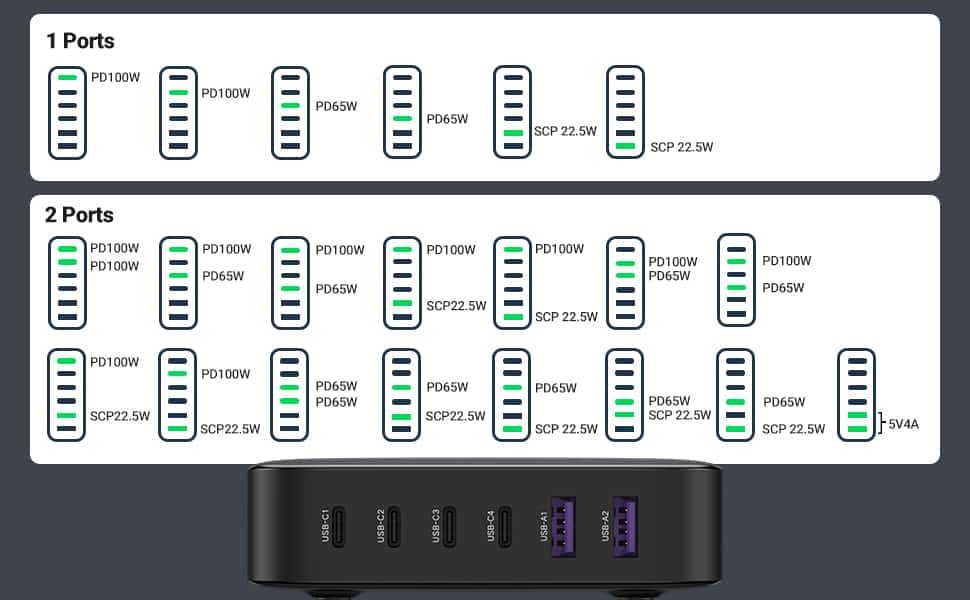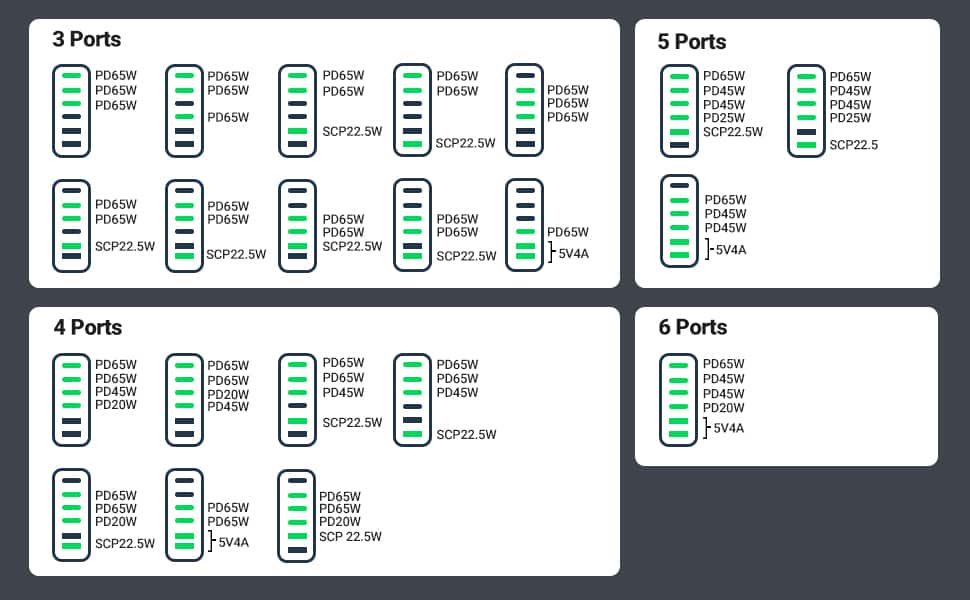 As mentioned, I did test the 2-port usage. The MBP will pull 100W most definitely. And the second port, according to the power rating of the brick charger (a Lenovo laptop), the max wattage pull is 65W. So while I put the plug into the top two plugs, I could have used the first and third USB-C plugs just fine.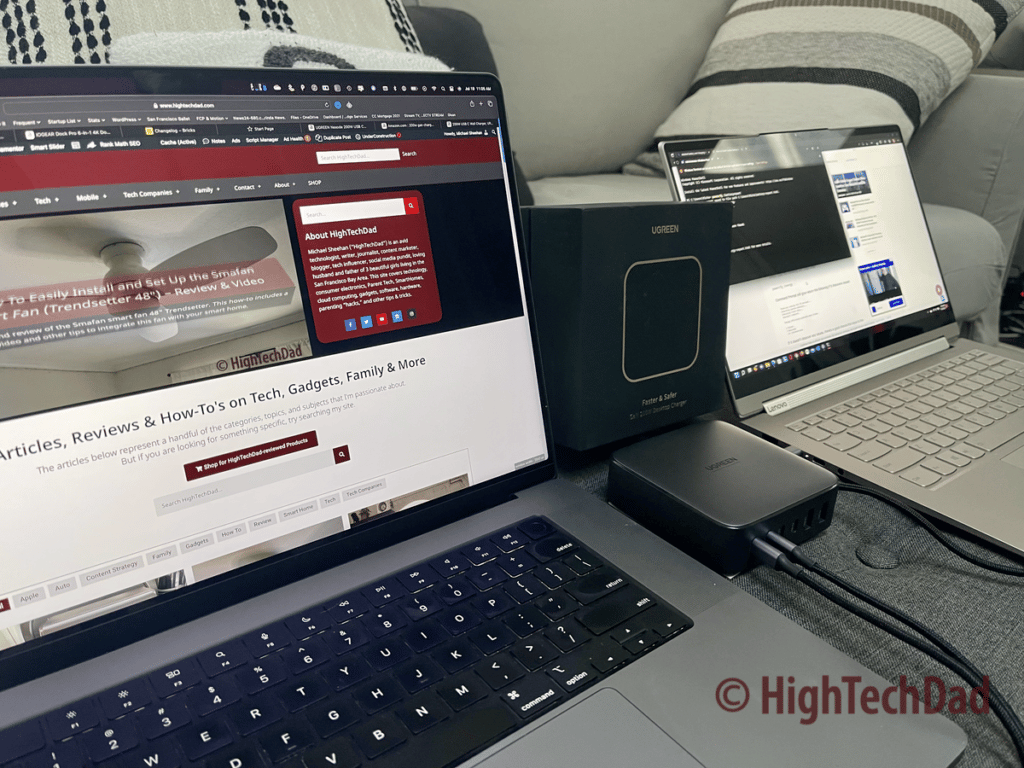 Once you go over two plugs being used, the wattage output drops and is distributed more evenly. I could effectively charge three lower-powered laptops, all at 65W each. You just have to mix and match based on what you need to be charged and how quickly you need them charged.
The price of multi-device power
This GaN charging solution might not be for everybody as it is a bit pricy (~$200). But, when you add up the cost of individual chargers for each of your devices, AND you think about having to carry around all of those additional chargers, the cost-benefits get a lot better.
Some quick specs on the UGREEN Nexode:
Weight: 1.14 pounds
Dimensions: 3.97″ x 3.97″ x 1.27″
Cord length: 6.56′
Input: 100-240V~ 2.5A 50-60Hz
There are different models available for US and UK. The power cord can be swapped out easily. It has the mickey mouse type of connector, so you can probably get replacement cords based on the plugs in your area.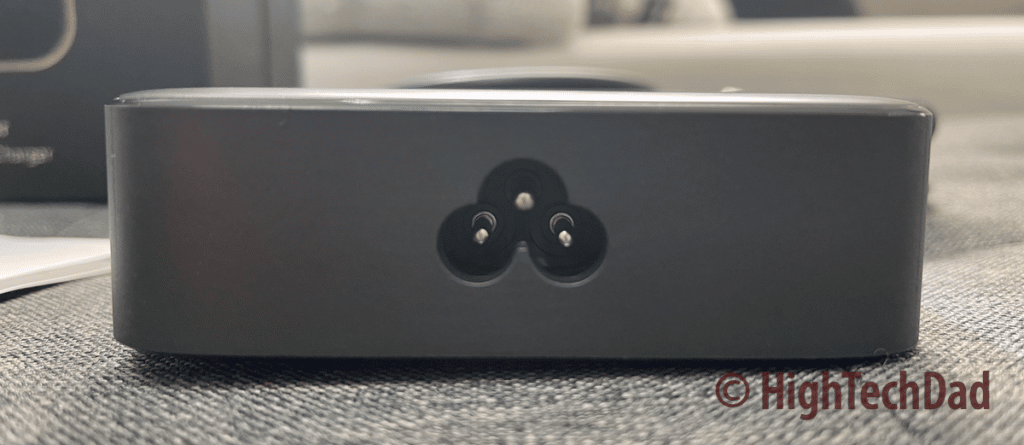 I did mention the price already. The UGREEN Nexode GaN 6-port charger is currently available on Amazon for $199.99. This is a relatively new product, so I do expect the price to drop slightly in the coming months. Although the price is a bit steep, lower-powered GaN chargers with fewer ports are typically around $100.
Oh, and as an added bonus, the package does also include a 3-foot USB-C to USB-C charging cable!
Shop on HighTechDad.com
The product shown below (and related products that have been reviewed on HighTechDad) is available within the HighTechDad Shop. This review has all of the details about this particular product and you can order it directly by clicking on the Buy button or clicking on the image/title to view more. Be sure to review other products available in the HighTechDad Shop.
As my kids head back to college in a month or so, I couldn't help but think about items that might be good for a dorm room or apartment. The UGREEN Nexode GaN charger is one of those devices that not only is extremely useful to have but, given the number of power ports available, can also be a social device as well, allowing people to share a single plug yet charge their devices together. It's a perfect collaboration type of device.
Disclosure: I have a material connection because I received a sample of a product for consideration in preparing to review the product and write this content. I was/am not expected to return this item after my review period. All opinions within this article are my own and are typically not subject to editorial review from any 3rd party. Also, some of the links in the post above may be "affiliate" or "advertising" links. These may be automatically created or placed by me manually. This means if you click on the link and purchase the item (sometimes but not necessarily the product or service being reviewed), I will receive a small affiliate or advertising commission. More information can be found on my About page.
HTD says: The UGREEN Nexode 6-port GaN charger allows you to charge up to six devices via USB up to 200W of output. This single charging hub offers incredible flexibility of charging for all of your USB-powered devices, including charging two 100W devices simultaneously.
HighTechDad Ratings
Ease-of-Use

Family-Friendly

Price Point

Features
Summary
The UGREEN Nexode 6-port GaN charger allows you to charge up to six devices via USB with up to 200W of output. This single charging hub offers incredible flexibility of charging for all of your USB-powered devices, including charging two 100W devices simultaneously. This GaN charger is elegantly packaged and comes with a 3-foot USB-C to USB-C charging cable as a bonus. It is great having a long power cord to be able to centralize the UGREEN charger and not have it confined to a wall plug. While there are no LED power indicators on the charger, which is too bad as you don't know what ports are actively charging. However, the device is able to charge higher-wattage items like laptops simultaneously while still having extra power for lower-consumption devices like smartphones, earbuds, and tablets as well.
Pros
Multiple charging configurations
Charge two 100W devices simultaneously
Charge three 65W devices simultaneously
Long power cord
Cons
A bit pricy
No indicator lights to show active ports or if power is on