I truly haven't had hands-on time with a Windows laptop in quite a few years. My wife is the one Windows user in my family, and while I have tried to keep my skills tuned to understand Windows, I'm a bit behind the times. But as I write this review, I'm doing it on the Lenovo Yoga 9i 2-in-1 laptop, and I honestly have to say, I'm impressed. But this review is not about Windows (although the Yoga 9i is running Windows 11 Home); it is more about the hardware that has been engineered to take advantage of the latest version of Windows. And I'm having fun fine-tuning my Windows skills! (*Disclosure below.)
Being a tech writer evaluating all types of hardware specifically focused on Family Tech as well as helping others solve technology problems, I need to be sure that I'm technically ambidextrous – being able to talk both Windows and Mac. I have even played around with Chromebooks a bit, and many years ago, I went through a period of installing various flavors of Linux on a variety of devices.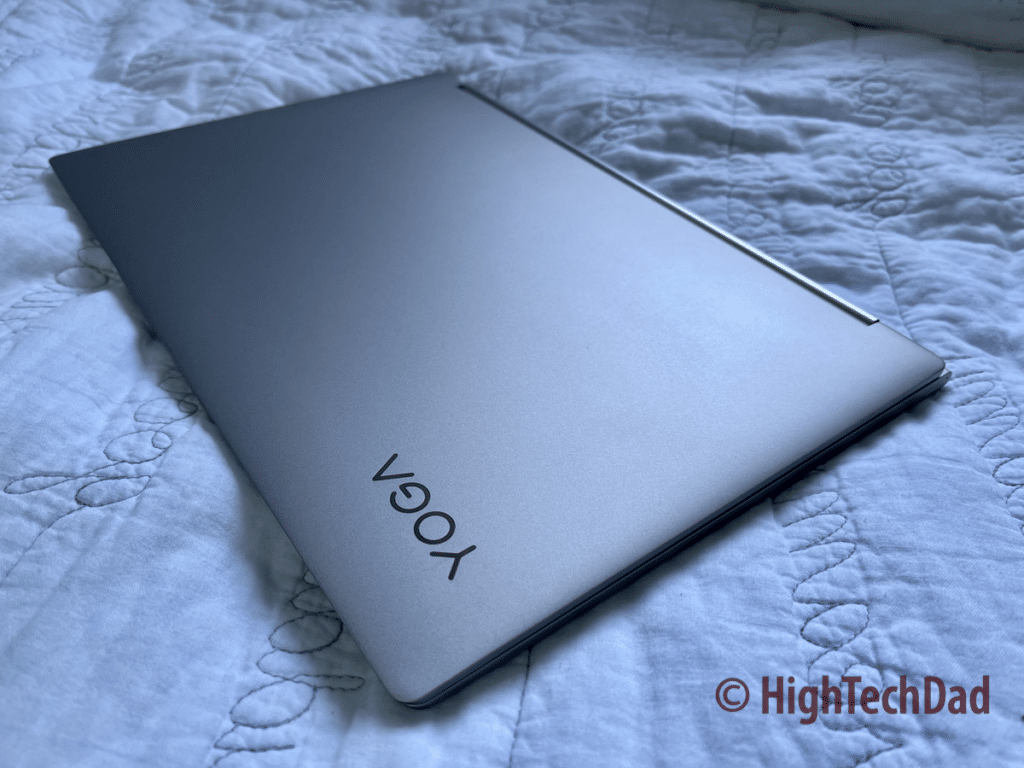 But this review is about the Lenovo Yoga 9i hardware that wraps the Windows experience in physical technology. I'm actually writing this review using the Yoga 9i after spending several days ditching my usual laptop and exploring the Yoga. And I have come up with ten things that I like about the design, the hardware decisions, and how it all works together.
1 – Compact Formfactor and Design
Let's start right with the design of the Lenovo Yoga 9i. This is a lightweight, easy-to-carry laptop. There are different versions of the Yoga 9i, including an optional leather-clad version (Shadow Black). The version I received for review was the more traditional, silver version.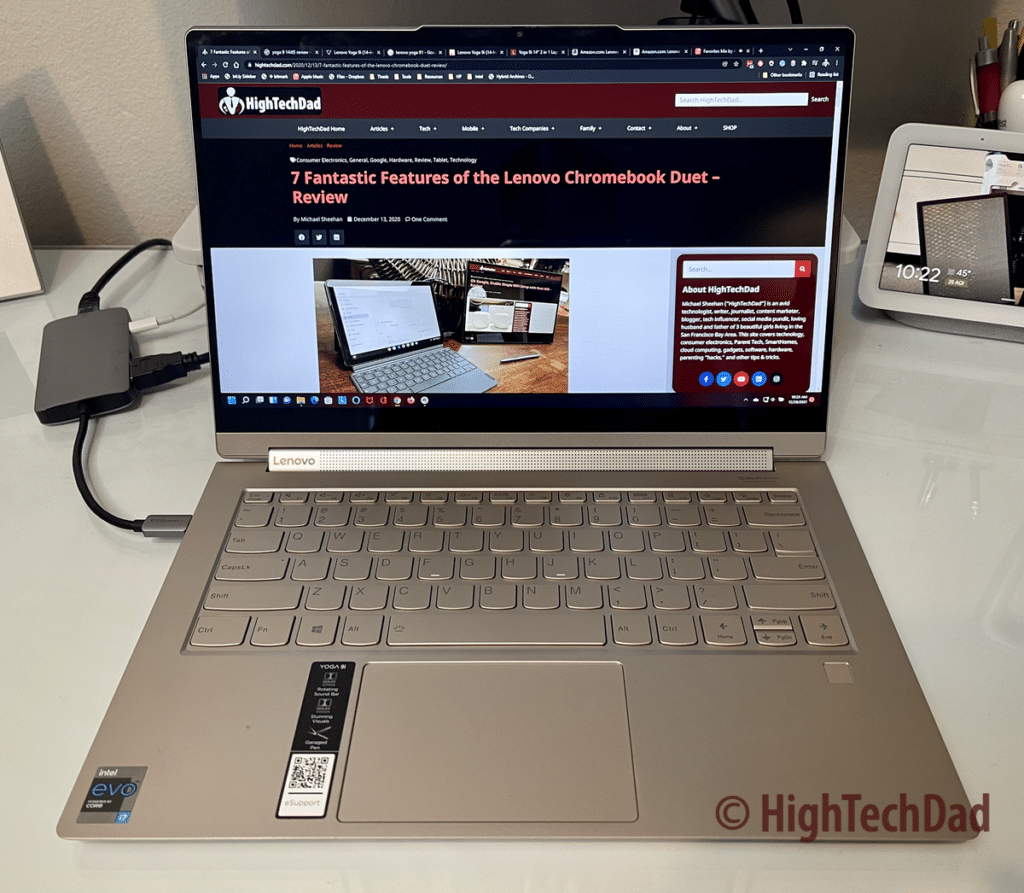 The base has a slightly tapered body, thinner in the section closer to the trackpad. But what impressed me was how thing the entire Lenovo Yoga 9i was. It is a mere 0.6″ high and is 12.57″ wide by 8.51″ deep. This makes it highly portable yet can house a full-sized keyboard.
To add to the portability of the Yoga 9i design is the fact that it only weighs about 3.02 pounds. At that weight, it is easy to throw into a backpack or bag and barely notice that it is there.
2 – Quick Dive into the Spec
I always go to the specific specs listings of any device to really understand what you get (and what you don't). So while there is a lot to dive into, I have pulled out the items that I think to be the most important and relevant about the Yoga 9i. Specs below are from my review model.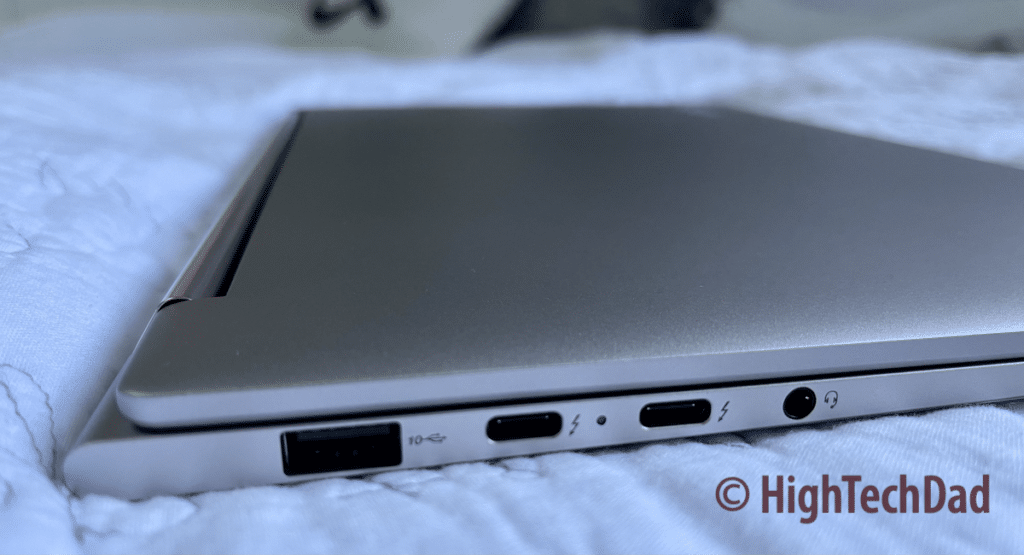 Processor: Intel Evo i7 – 11th Gen Intel(R) Core(TM) i7-1195G7 @ 2.90GHz 2.92 GHz
RAM: 16.0 GB (15.6 GB usable) – note, this is not upgradable and the RAM is soldered in
Harddrive: 512 GB hard drive
Ports:

One USB-A port 3.2 Gen2 port
Two USB-C / Thunderbolt 4
Headphone/Mic jack

WiFi: 802.11AX (2 x 2)
Bluetooth 5.1
Speakers: Stereo speakers, 2W x4 (2x woofers, 2x tweeters), optimized with Dolby Atmos
Battery: Integrated Li-Polymer 60Wh battery, supports Rapid Charge Express
Power Adapter: 65W USB-C (3-pin) AC adapter
A quick note on some of the items above. If upgrade options are available, I would recommend getting the maximum RAM possible (in this case, 16GB). RAM options are 8GB, 12GB, and 16GB. Also, the available hard drive configurations are 256GB, 512GB, and 1TB. I would not go lower than 512GB for storage.
3 – Multiple Working Possiblities
This Lenovo laptop is aptly named the Yoga. This name implies that it is flexible and can support multiple positions. While it is listed as a 2-in-1, there are actually three core positions that the Lenovo Yoga 9i supports: laptop, tent, stand, and tablet.
As I am a writer, I prefer using the laptop mode most of the time. I like having a tactile experience for typing, and on-screen keyboards simply don't provide that.

You can fully open the Yoga to have the bottom case touching the top/screen, meaning it folds open to put it into tablet mode. When fully open in tablet mode, the physical keyboard is disabled, and all of your interaction takes place on the screen. The screen automatically adjusts as you rotate the display (landscape or portrait). (And you can use the built-in pen for interaction on the screen if you want).
Honestly, while this is an interesting mode to use, it is not something that I want to use much. I feel a bit odd grabbing a keyboard, and the entire tablet feels a bit too large in full tablet mode.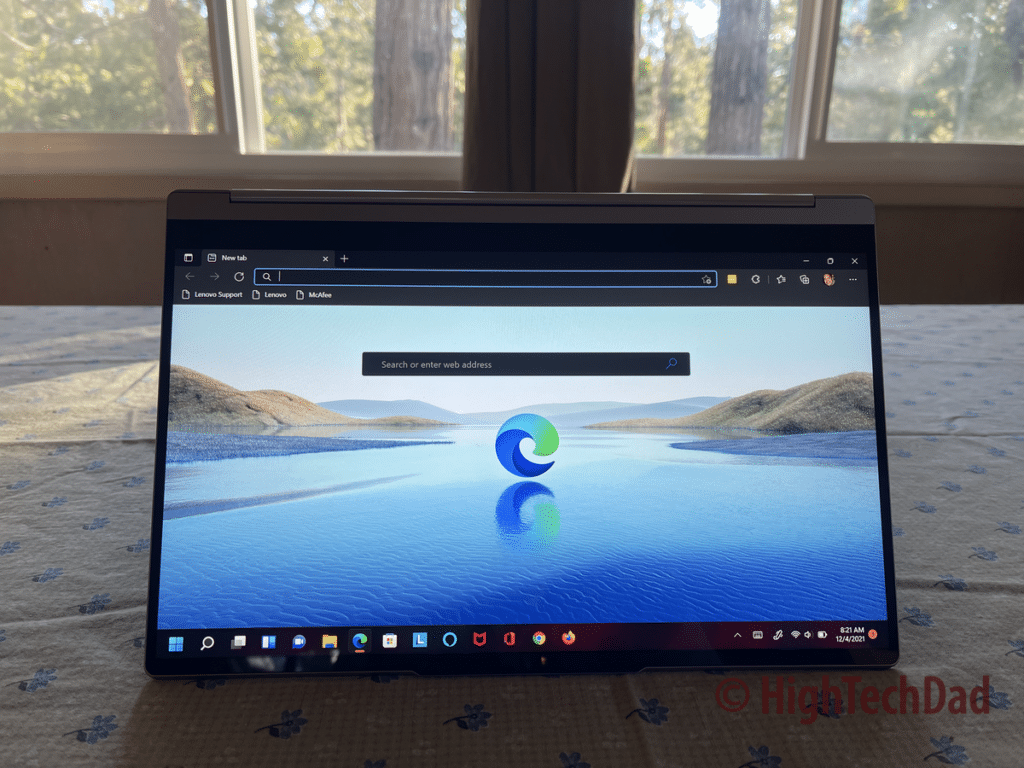 While my preferred mode is laptop, I do like the tent mode a lot. You basically bend the Yoga in half and prop it. This mode is ideal for watching movies or videos (or even using the built-in Alexa mode). When in tent mode, all of the interaction is done via touch or pen.
There is also a stand mode where the keyboard acts as a stand. This is similar to tent mode. All of these "yoga positions" are made possible by the unique 360° hinge.
4 – Display and Touchscreen
One thing that I am not accustomed to but actually do quite enjoy is the fact that the Lenovo Yoga 9i is a touch-screen device. I always yell at my kids when they touch the screen of their Macs (there is no reason to touch a Mac screen other than to smudge it up). But, with the Lenovo Yoga, you should touch the screen. I'm just not used to it.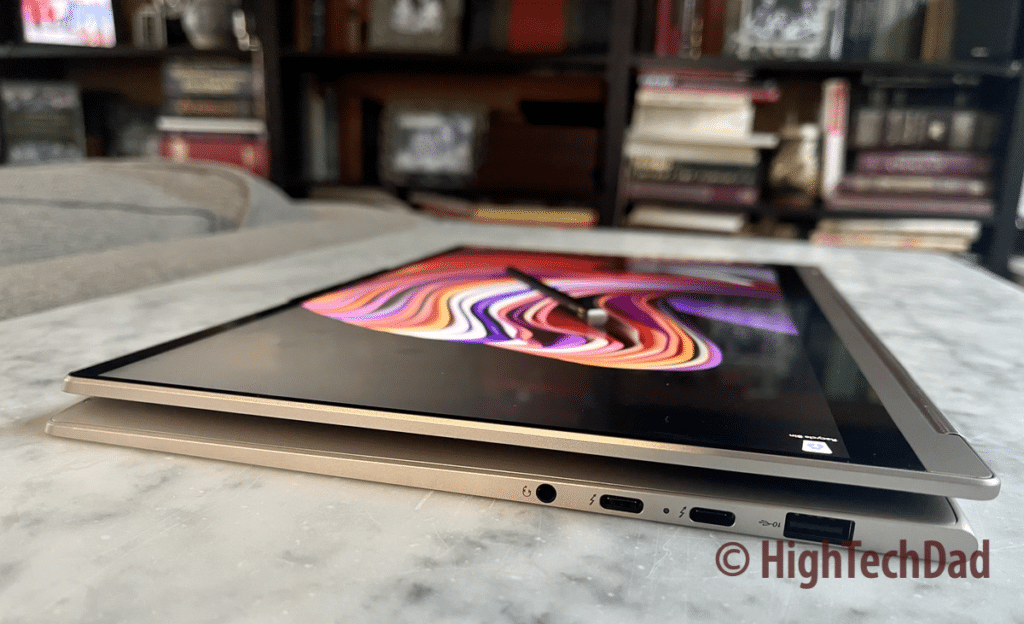 Being able to interact with content or websites or just not use the trackpad all of the time is refreshing for me. The Yoga has a 14″ display. There are two options available for the display: FHD (1920×1080) or UHD (3840×2160). The model I tested was the FHD IPS display. The FHD is slightly dimmer 400 nits of brightness compared to the UHD at 500 nits. FHD support Dolby Vision and the UHD does HDR 400.
Depending on the size of your fingers, you may want to decrease the screen resolution to be able to interact with objects on the screen. Otherwise, you can also use the built-in pen for precision or those very small buttons.
5 – Pen Included
Built into the body of the Yoga 9i is a battery-powered pen that can be used to interact with the screen, sign documents (avoiding having to attempt to scrawl something on the trackpad), or use any of the drawing or illustration applications available.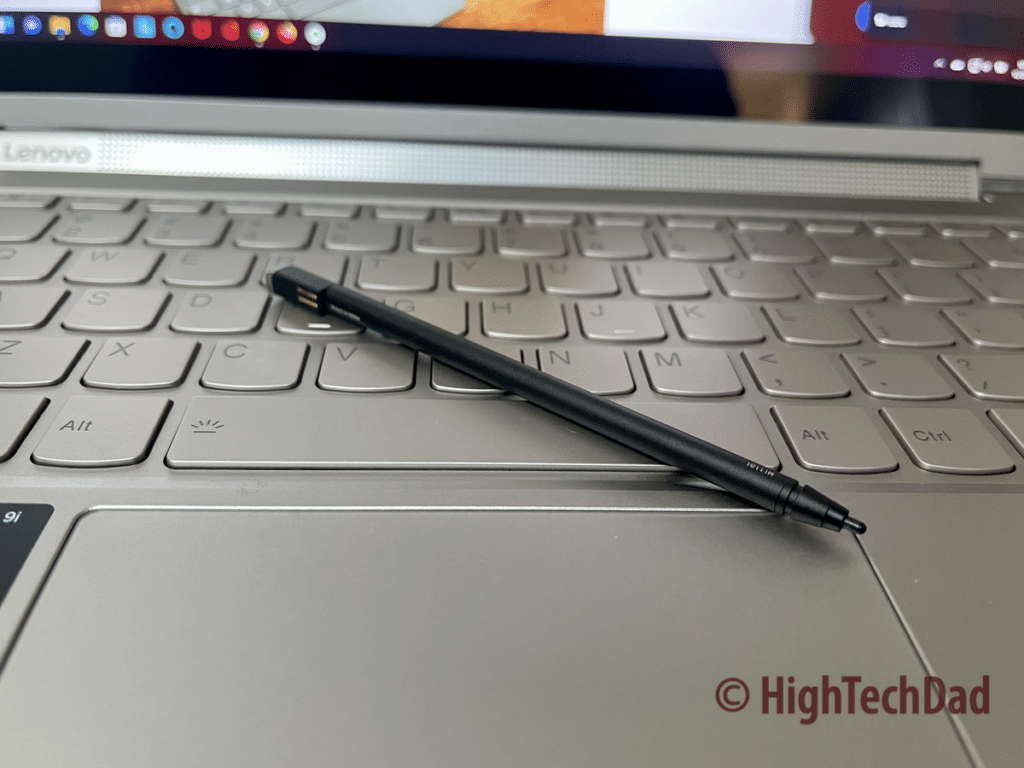 The Lenovo Integrated Pen has a built-in rechargeable battery, 4096 levels of pressure sensitivity and is stored (and charged) in the back portion of the Lenovo Yoga 9i. While it is a bit tricky to pull out because it is housed in the back, it is great to have it integrated into the body.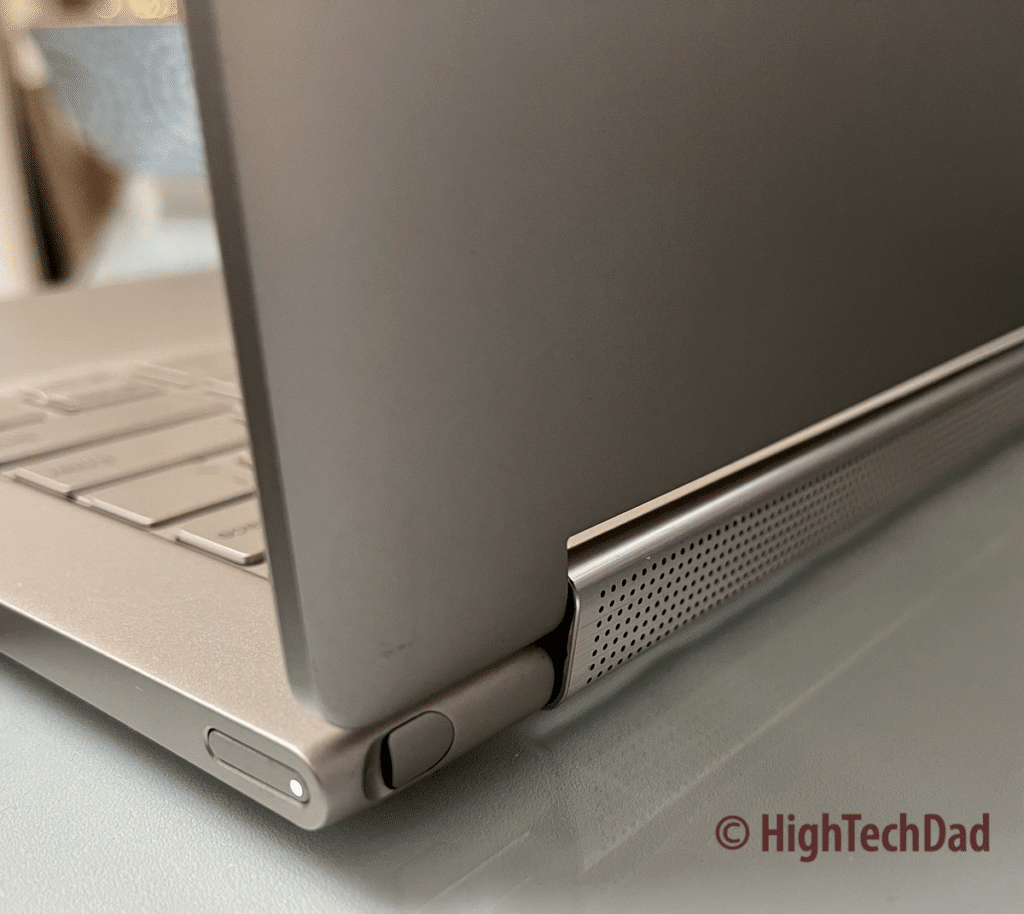 I'm not an artist by any means. But just spending a few minutes exploring Microsoft Paint almost made me inspired to put the Yoga in tent or stand mode to try to make what I call very "abstract art." The pen is pressure-sensitive, and the pen nub's movements are tracked even when the pen is not touching the screen.
6 – Good Battery Life
One thing that plagued higher-end or even mid-range laptops was poor battery life. There is nothing worse than working on an article or project, only to have to go and search for a plug to recharge the laptop. Luckily, battery technology is improving, and processors consume a lot less power for the same amount (or more) of processing power.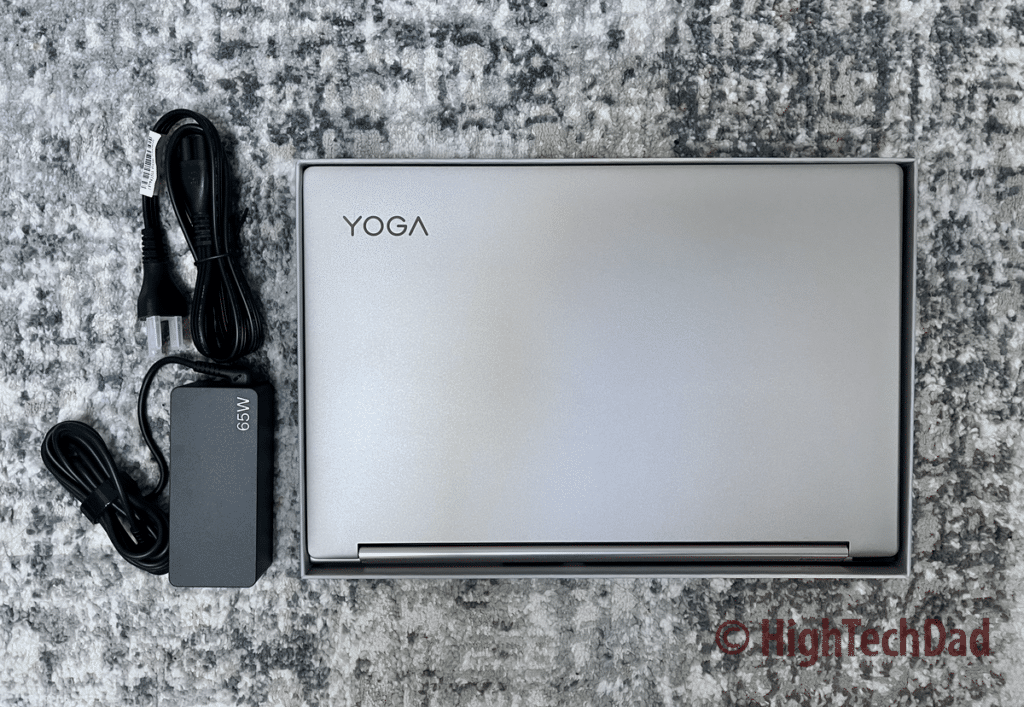 The Lenovo Yoga 9i has an integrated Li-Polymer 60Wh battery that supports Rapid Charge Express. That means, according to Lenovo, that you can get 3 hours of runtime with just a 15-minute charge.
Battery life does vary by the Yoga 9i model that you get and how you are using the device. For example, if you are doing some processor-heavy work, the battery duration will be a lot less than with lighter work like word processing or web browsing.
According to Lenovo, the maximum battery life is pretty darn long:
FHD model:

MobileMark® 2014: 17 hr
Local video (1080p) playback@150nits: 18 hr

UHD model:

MobileMark 2014: 10 hr
Local video (1080p) playback@150nits: 11 hr
These numbers are pretty respectable. I, for example, have been writing this review over several hours of active work and idle time. The battery has only drained to about 50%. Looking at the Windows Power & Battery panel shows that I have about 3.5 hours remaining, but I know that I haven't truly trained the battery yet.
7 – Dolby Atmos Soundbar Pivot
Another innovative design that the Lenovo engineers did with the Yoga 9i (and a few other models) is to integrate the speakers into the hinge between the screen and keyboard. This hinge is called the rotating soundbar. By placing speakers within the hinge, you are ensured that sound is facing outward, regardless of what mode you have the Yoga in.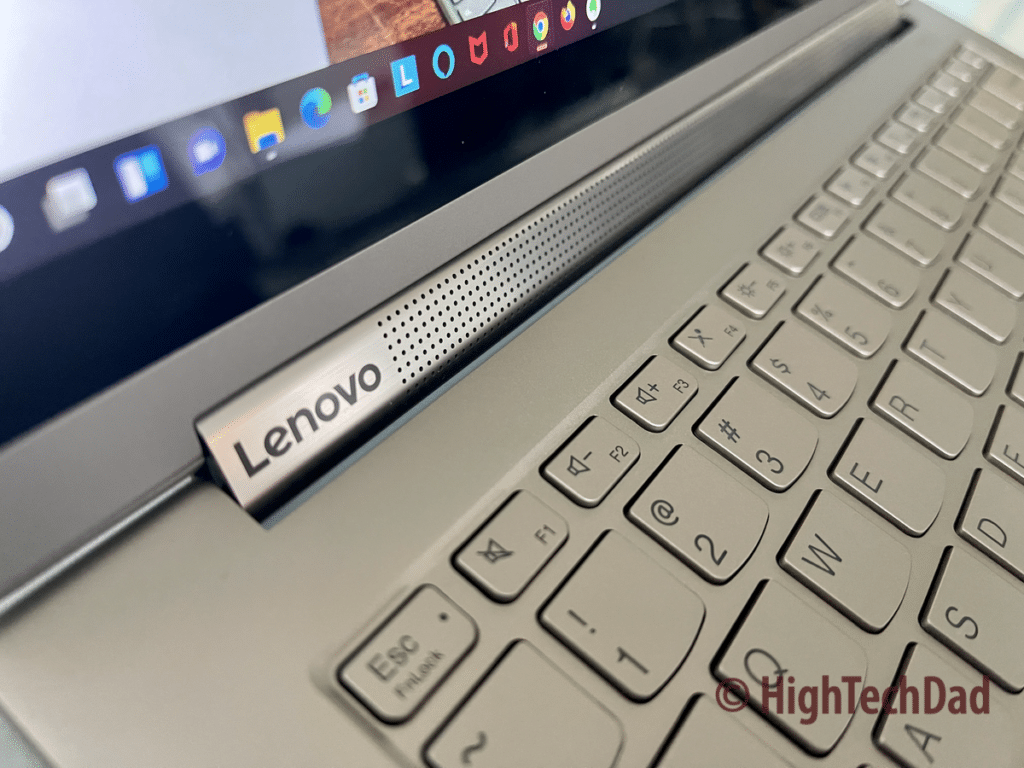 In traditional laptop mode, the speakers are forward-facing, ensuring you get immersive sound. I found the speaker playback to be crisp and not muddy. Bass performance was fairly good but not thunderous.
Built into the soundbar are two subwoofer speakers and two tweeters which ensures a good balance between highs and lows.
8 – Windows 11 Home
I know I said that this review is primarily about hardware and not software. But, using the Lenovo Yoga 9i was my first experience with Windows 11. I have worked with previous generations of Windows in the past, and once I started interacting with Windows 11, I found myself reverting settings back to things that were more familiar to me.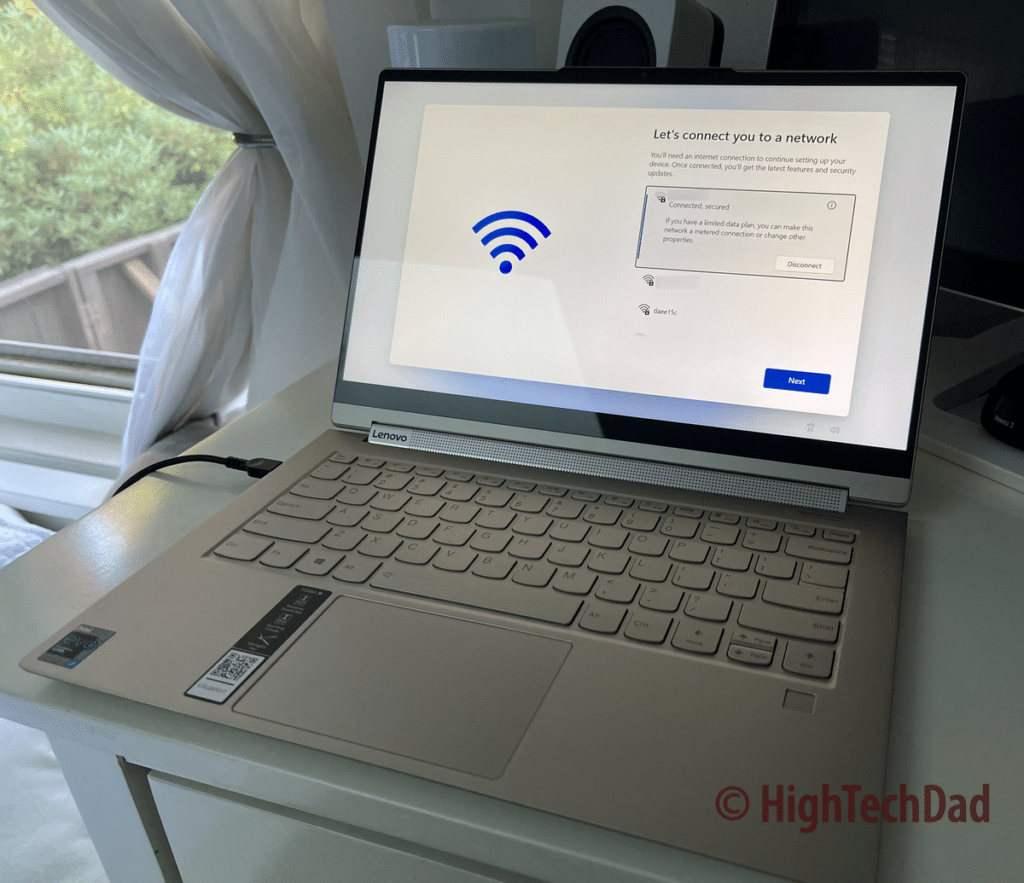 For example, I put the Windows menu back to the left bottom corner instead of in the bottom middle of the screen that I believe it defaulted to.
Much of the underlying core of Windows is still quite familiar, but the "window dressing" has changed and improved dramatically. I did also install Office 365 as I have a few family licenses. All of the Office products seem to be quite cleanly integrated into Windows (as they should).
The Windows 11 experience on the Lenovo Yoga 9i is tight and clean. I only wish that there was less bloatware to uninstall at the beginning.
9 – Solid Keyboard
This article is about 2000 words, all of which I have written using the Yoga 9i keyboard. I did have to retrain my muscle memory a bit to use the CTRL key versus the ALT key, but that was fine after just a little bit of practice. In fact, the keyboard is soft touch and quiet. There isn't too much play as you press the keys, which allows you to be quite fast when typing.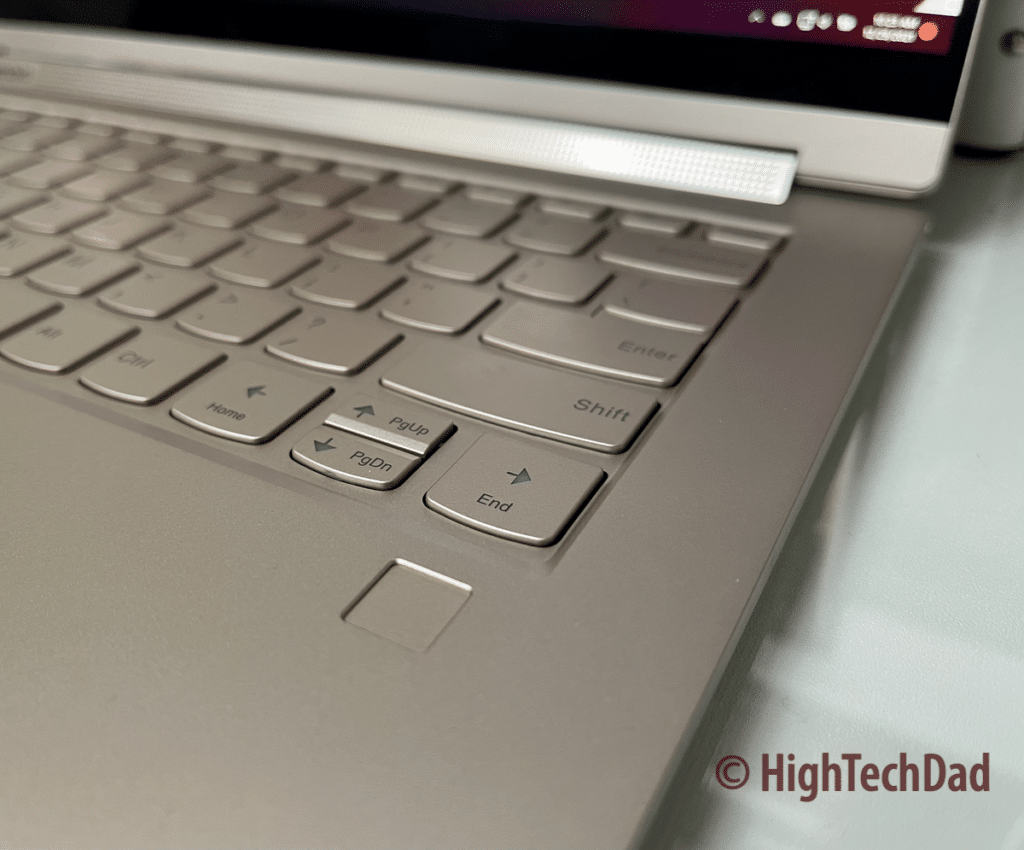 Other nice things about the keyboard:
Backlit – there is nothing nicer than having a backlit keyboard when typing at night. Using the FN key and the spacebar, you can manually adjust the backlight strength
Full-sized – while the Yoga is compact, the keyboard is full-sized which is great for larger hands like mine
Top Function Row – I quite enjoy the built-in and dedicated function keys for things like volume, screen brightness, mic control, airplane mode, screen locking, Alt-tab, calculator, Lenovo smart key, snipping, and more
On the model that I tested, there is also a fingerprint reader that works with Windows Hello. I love being able to quickly log in without having to remember passwords.
10 – Webcam is Fine
I did have to put the webcam into my list of things that I like. Although, what I like is less about the camera (which is the bare minimum, in my opinion) and more about the built-in privacy control slider, which I almost didn't see until I was taking close-up photos.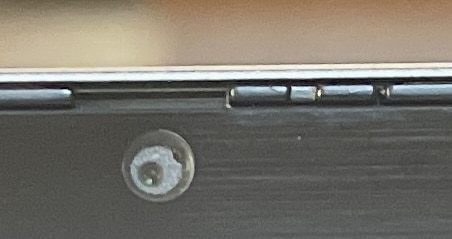 The webcam itself is just a 720p 1.0-megapixel RGB with a fixed focus. Unfortunately, it does NOT support facial recognition login using Windows Hello.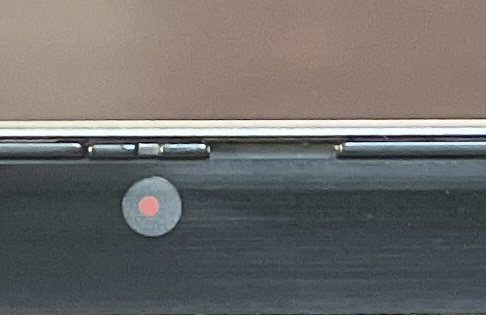 But, the feature that I discovered quite accidentally was the privacy switch. There is a tiny little notch that allows you to slide a physical cover over the webcam. No more need of taping a post-it note over the camera!
Bonus – Add a Lenovo Monitor for the Perfect Home Office
Laptops are great for their portability and flexibility. But, if you are like me, having more than just your laptop screen is a huge bonus. I also hooked up a Lenovo Q24iL monitor as part of my testing. This is a basic, non-4K FHD monitor. It is 23.8″ diagonal, which provides more than enough additional screen real estate. The refresh rate is 75 Hz.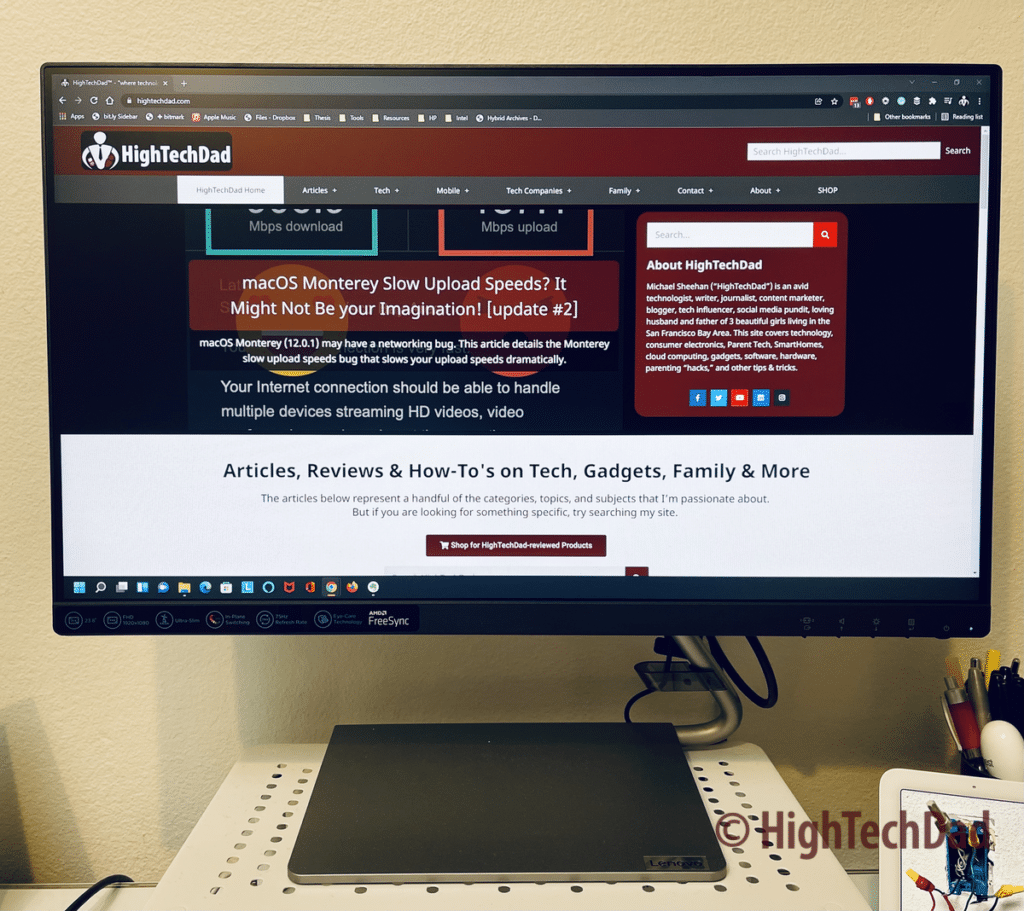 The full resolution of this FHD monitor is 1920 x 1080, which makes it fine for a secondary screen. I personally wish and prefer having a 4K monitor for that extra resolution. Since the Yoga does not have an HDMI port, I used one of many USB-C hubs in my possession to connect to the Q24iL monitor (as well as charge the Lenovo Yoga). If you use the Yoga and the Q24iL monitor together and don't use a side-by-side setup, I do recommend getting a laptop riser.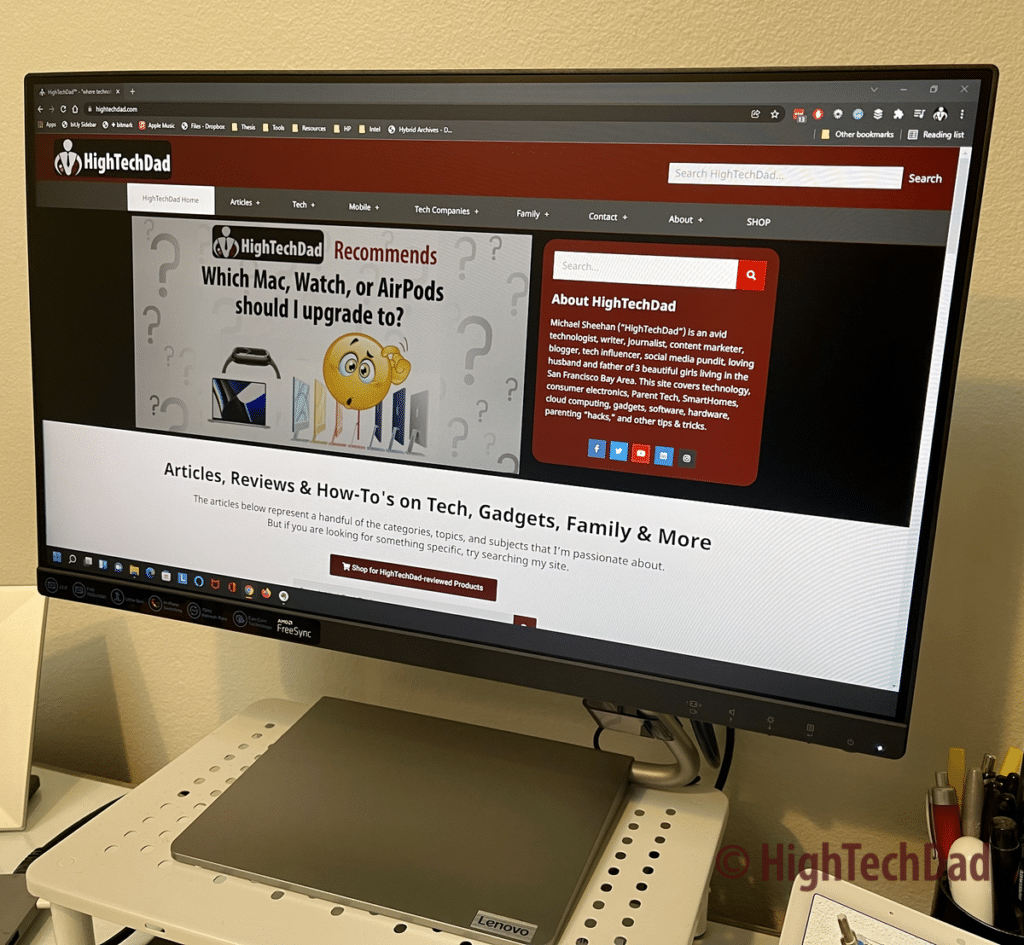 I liked how the Q24iL is designed with the holding stand arm off to the side. This allows you to place items directly under the monitor and has a unique look. It is practically without a bezel and, more importantly, reduced eye strain due to lower blue light emissions. The built-in speakers are a bit too tinny and without much bass, so it is better to use the Dolby Atmos speakers of the Yoga 9i instead. Make sure that when you connect the Q24iL, you switch the audio playback back to the Yoga!
Perfect for the Home Office – Lenovo Yoga 9i plus the Lenovo Q24iL
The Yoga 9i is one of those all-around functional laptops that is great for work, school, or entertainment. Its multi-position capabilities (hence the Yoga name) allow you to work on an article or research paper, pivot it to watch movies or create a drawing, or carry around in tablet mode to have that "room cleaning" checklist you can use against your kids.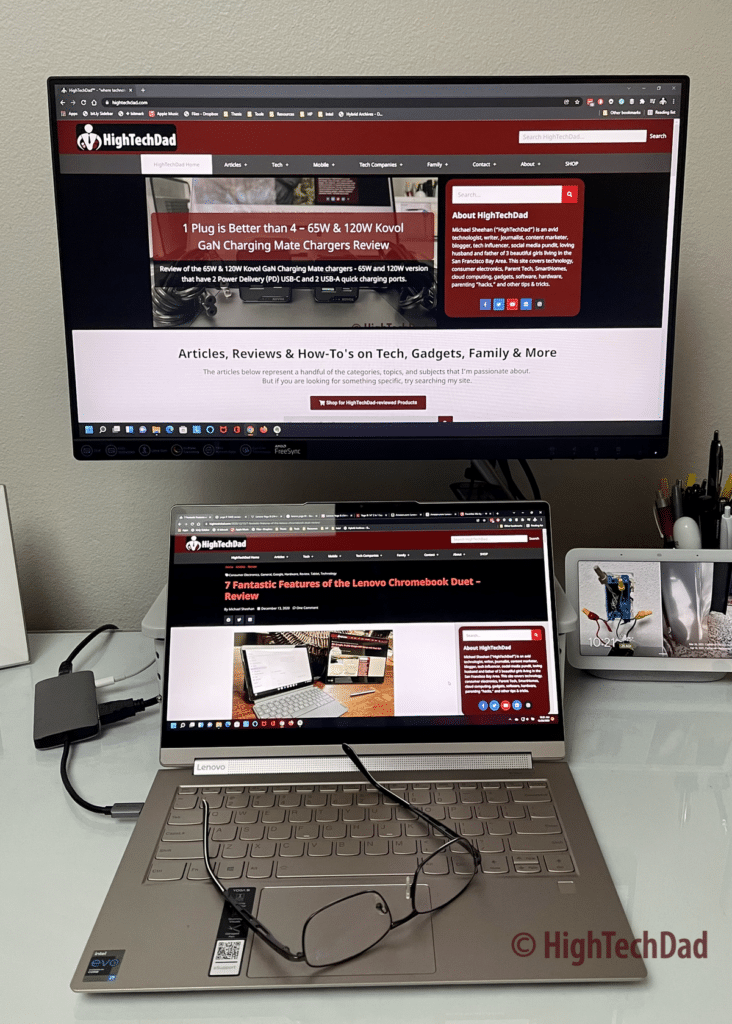 The Yoga 9i has many different configuration options. I recommend getting the 16GB of RAM, and at least 500GB for the SSD hard drive. On the Lenovo site, the Yoga 9i starts at about $1,104.99. The model I have been testing retails for about $1,474.99 (see the specs earlier). You can configure the Yoga 9i to your liking. On Amazon, a similarly configured Yoga 9i (but with the black leather) is currently listed for $1,697.
And if you want to add the same monitor shown in this review, you can get the Lenovo Q24iL 24″ FHD monitor on the Lenovo site for $229.99. You can get the same monitor on Amazon currently for $229.95.
Buy on HighTechDad
The product shown below (and related products that have been reviewed on HighTechDad) is available within the HighTechDad Shop. This review has all of the details about this particular product and you can order it directly by clicking on the Buy button or clicking on the image/title to view more. Be sure to review other products available in the HighTechDad Shop.
For someone who regularly does NOT use a Windows laptop, I really enjoyed using the Lenovo Yoga 9i. It is more than capable for a wide variety of tasks from writing to streaming media to crafting illustrations to basic work or school tasks.
Disclosure: I have a material connection because I received a sample of a product for consideration in preparing to review the product and write this content. I was/am not expected to return this item after my review period. All opinions within this article are my own and are typically not subject to editorial review from any 3rd party. Also, some of the links in the post above may be "affiliate" or "advertising" links. These may be automatically created or placed by me manually. This means if you click on the link and purchase the item (sometimes but not necessarily the product or service being reviewed), I will receive a small affiliate or advertising commission. More information can be found on my About page.
HTD says: If you are looking for a lightweight, good performing, multi-function laptop with a good battery life that can contort to 4 different display modes, you should take a look at the Lenovo Yoga 9i 2-in-1 laptop. And, the Lenovo Q24iL monitor complements it perfectly!
HighTechDad Ratings
Ease-of-Use

Family-Friendly

Price Point

Features
Summary
If you are looking for a lightweight, good performing, multi-function laptop with a good battery life that can contort to 4 different display modes, you should take a look at the Lenovo Yoga 9i 2-in-1 laptop. And, the Lenovo Q24iL monitor complements it perfectly! Having not used Windows, particularly Windows 11, the Lenovo Yoga 9i was a perfect way to be re-introduced to the Windows ecosystem. The laptop is easy on the eyes, ears, and fingers. FHD screen is crisp and clear. The unique, 360-degree hinge that houses a Dolby Atmos speaker system sounds great. And the keyboard is easy to hammer through a ton of words. 
Pros
4 positions to work – laptop, tablet, tent, and stand mode
Lightweight and slim design
Dolby Atmos soundbar 360 hinge
Long battery life
Cons
No HDMI port
No ports on the right-hand side (would be good to have an additional USB-C port)
Webcam does not support Windows Hello (facial recognition)