Everyone loves cleaning their home, right? Whether you are "encouraging" your kids to do their chores or you want to get up and move around (vacuuming is actually pretty good exercise), cleaning your home is something you want to do fairly regularly. We use a few vacuums around the home (including a robotic one), but sometimes it is helpful to have a lightweight, cordless vacuum to do multiple surface types quickly. Recently, I have been testing out the Greenote Cordless Vacuum Cleaner (model GCS50), which offers a convenient and powerful cleaning experience at a relatively budget price. With its impressive suction power, lightweight design, and versatile features, this cordless vacuum is a reliable choice for busy families seeking an effective cleaning solution. (*Disclosure below.)
As I have used quite a few cordless and corded vacuum cleaners, ranging from the "stick" version to the more traditional upright (to shop vacs and ones where you wheel the suctioning base behind you), I have come to like the cordless ones as they are lightweight and do a good job for quick cleans anywhere around the home. I do like the corded, upright models for deeper rug cleaning, but for mixed environments (e.g., hardwood floors, carpets, and rugs), there is no beating the easy maneuverability of a stick vacuum.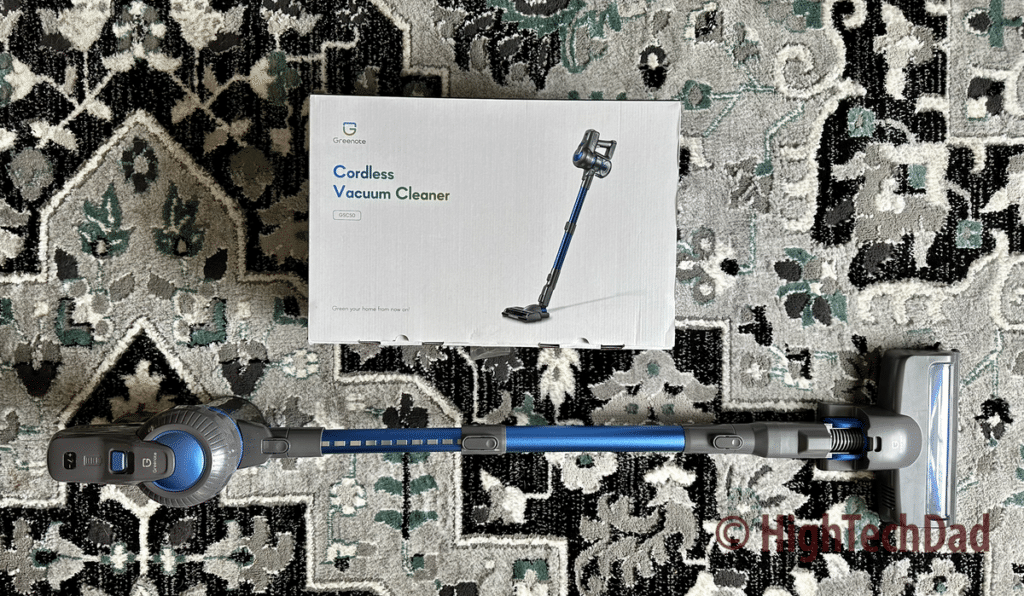 The Greenote Cordless Vacuum Cleaner offers a wide range of use cases because of what it comes with. As I think about how to use it around the home, these are the uses that come to mind:
Quick and Convenient Spot Cleaning – with its cordless design, the Greenote Cordless Vacuum allows you to effortlessly clean up small messes, spills, or pet hair without the hassle of unraveling cords or plugging and unplugging.
Full House Cleaning – the Greenote 's powerful suction and long battery life make it ideal for deep cleaning your entire home; whether you need to tackle carpets, hardwood floors, or even above-floor surfaces, this vacuum has you covered.
Car Interior Cleaning – thanks to its lightweight and portable design, the Greenote Cordless Vacuum is perfect for maintaining a clean car interior; its attachments and maneuverability enable you to reach every nook and cranny, ensuring your vehicle looks and feels fresh.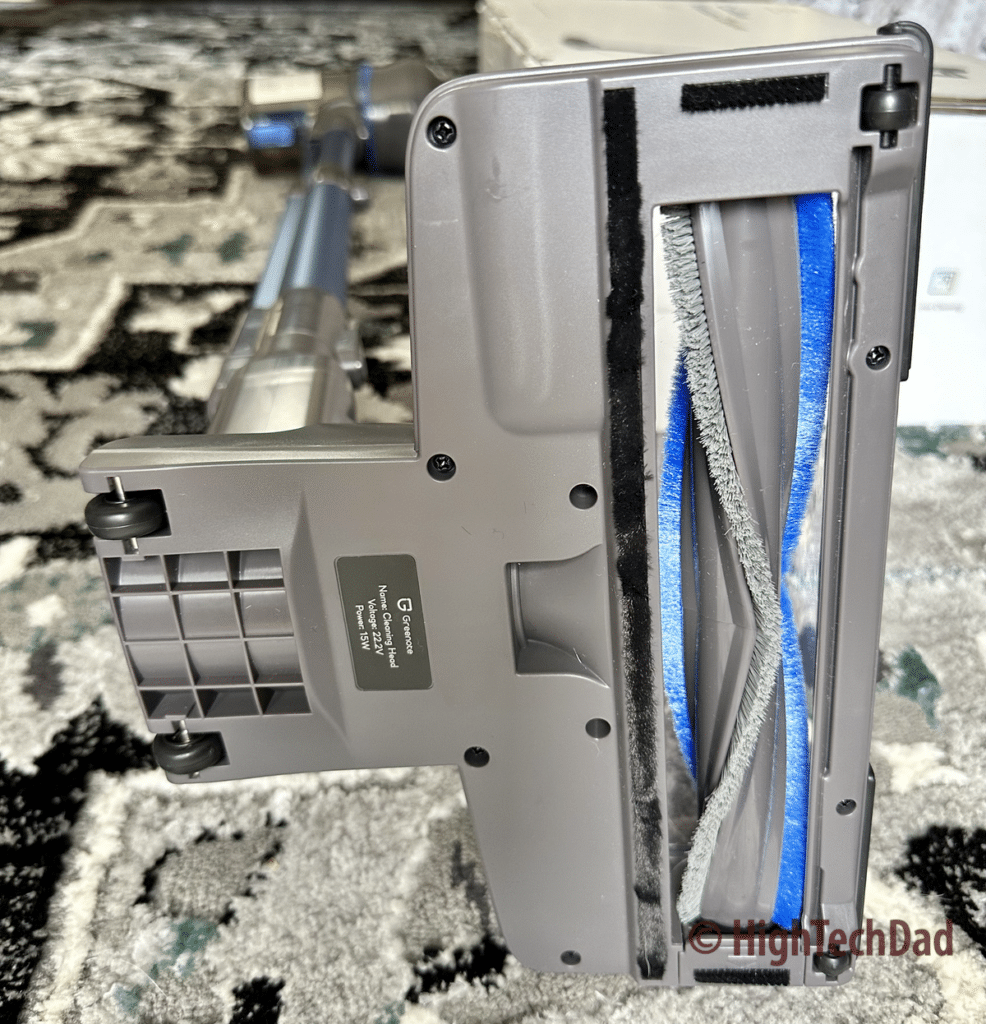 Does any of that sound like something important to you? I can get through most of the rooms in my home on the highest suction setting in less than an hour without running out of battery charge. And while I was testing, I kept trying to find other places in my home to clean (e.g., kitchen, dining room, living room, office, two bedrooms, and a bathroom). With the Greenote Cordless Vacuum, I could do all of these.
Table of Contents
Features of the Greenote Cordless Vacuum Cleaner
Below are some of the key features of the Greenote Cordless Vacuum Cleaner. I have included some additional context as to why these items are important. Your (vacuuming) mileage may vary based on the suction level you choose and the floor surfaces you are cleaning.
Powerful suction with advanced motor and cyclonic technology 
There are two power suction levels for the Greenote. I tend to prefer the more powerful one, especially when I'm on rugs or carpets. You can see the "cyclone" in action as the captured dirt, dust, hair, and debris get sucked up into the collection chamber. The chamber itself is easy to open up to dump out the captured items, and since the chamber is clear, it is easy to see when it is full.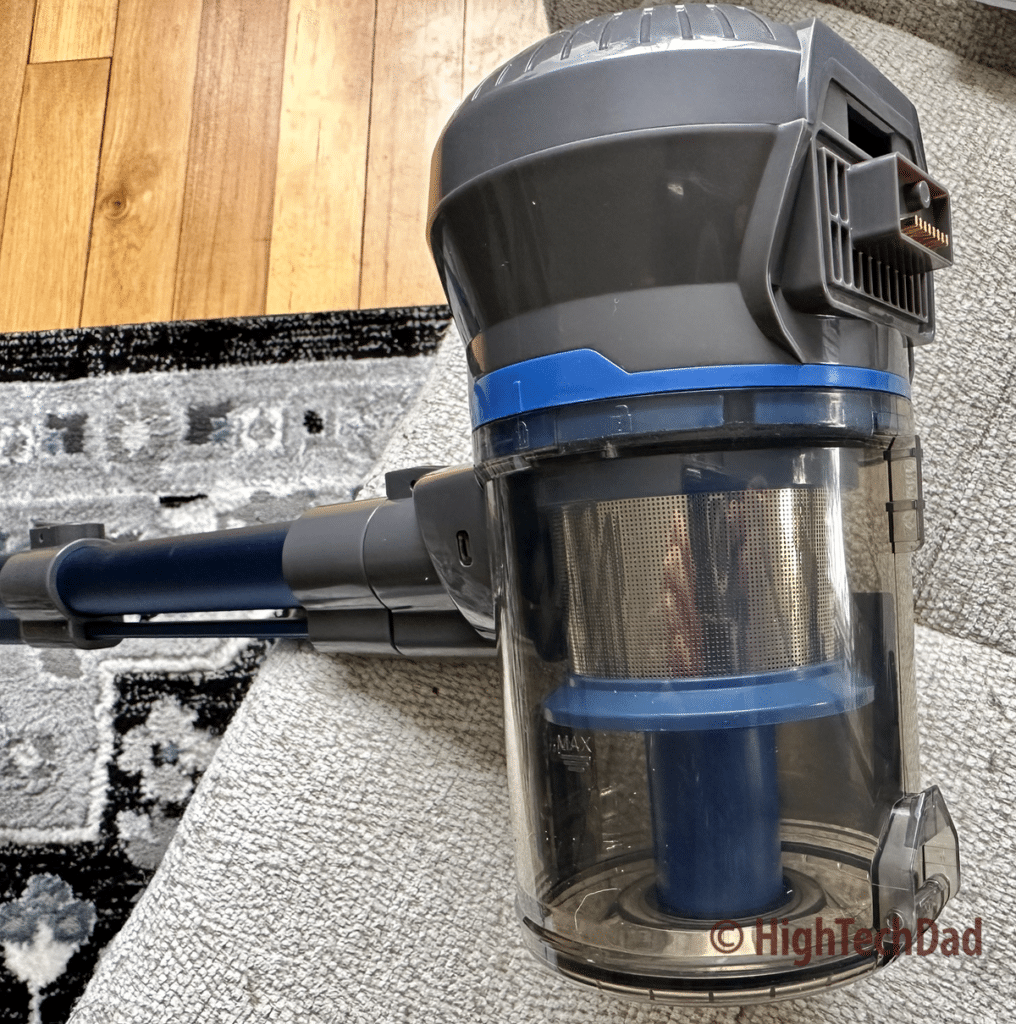 You can also use the higher suction setting (deep cleaning mode) if you use some attachments to clean out dirt or sand in your car or other crevices. It is great to have the option for an additional boost when vacuuming. Do note, however, it does drain the battery much faster.
Lightweight design (under 5 pounds) for easy handling
I was pretty impressed with how lightweight this stick vacuum is. That makes it fantastic for doing a lot of rooms quickly or handing off the responsibility of cleaning to your children, for example.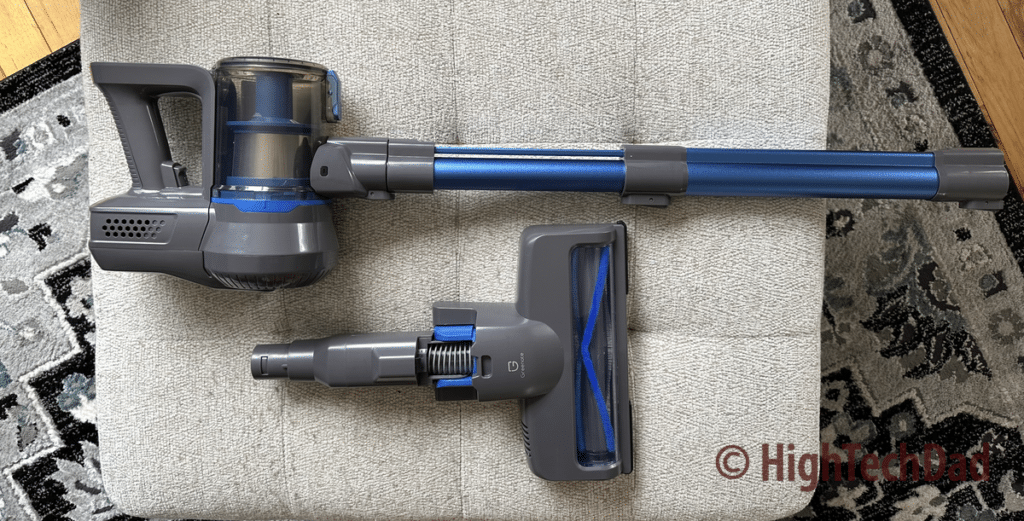 The vacuum itself, when assembled, weighs about 2.5 pounds (perhaps a bit more or less, depending on what brushes you have attached). And, when you want to store it, it can stand up on its own. You don't have to attach any kind of wall mount, making it easy to put it away on its own.
Swivel steering for enhanced maneuverability
One of the problems with an upright vacuum is its maneuverability. Yes, you can get into corners, but if you want something agile, you will want to get a stick vacuum. The Greenote Cordless Vacuum has an innovative swivel steering that allows you to get into those hard-to-reach corners, and it pivots enough to let you almost lay it flat to get under sofas, chairs, or other furniture.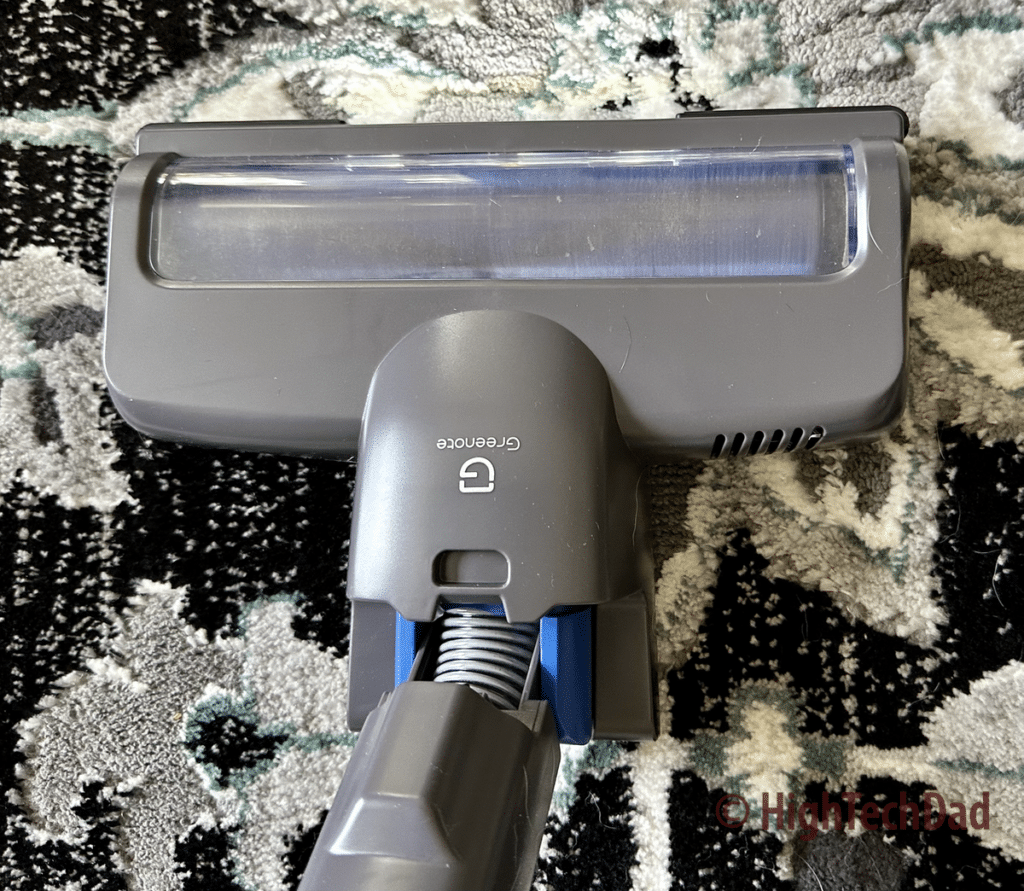 The flexibility of the swivel of the Greenote makes it ideal for those quick and frantic cleanings where you may have spilled something in the kitchen and have to reach those tricky spots quickly. Think of the difference between an upright vacuum and a stick vacuum – it's almost like navigating a truck versus a sports car!
Rechargeable lithium-ion battery with up to 40 minutes of runtime
As mentioned, I could clean several rooms using the higher suction setting on a single charge. I recommend keeping the lithium-ion battery fully charged so that you can have full vacuuming power when needed. The plug is in the base, and what is nice about the Greenote is that you can detach the base from the main body, so if you want to hide away the vacuum while charging, that is easy to do.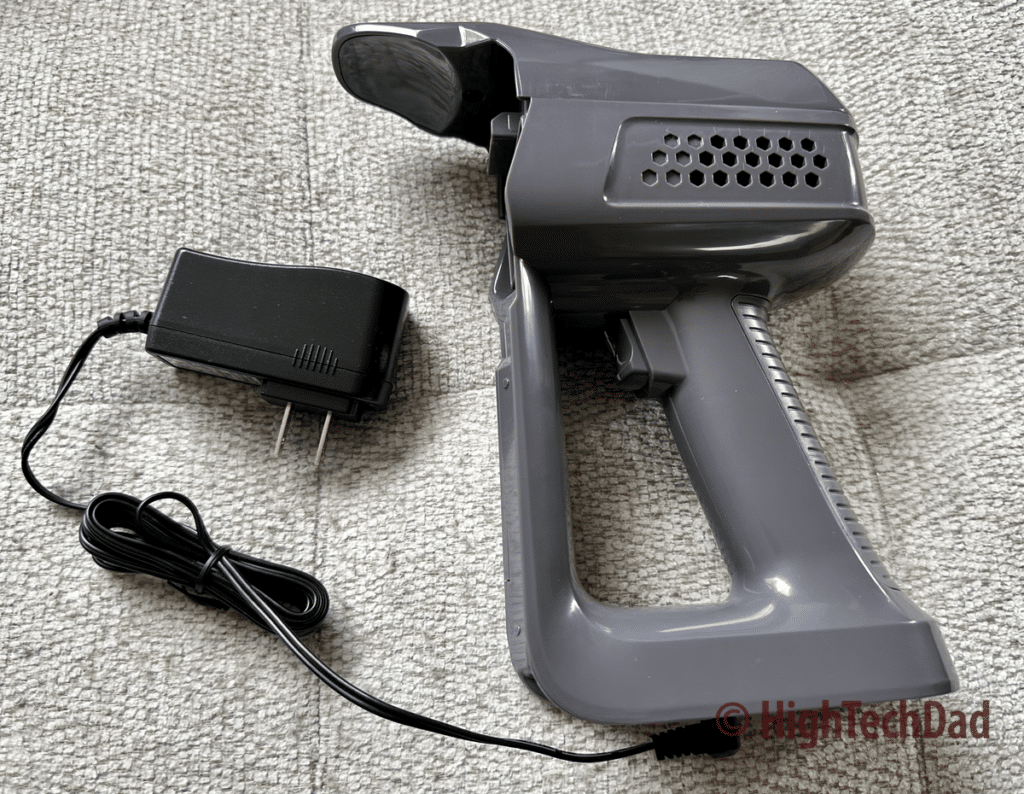 The battery is 2200mAh, which, according to Greenote, provides up to 35 minutes of vacuuming on the standard power setting and about 18 minutes on the high-power setting. My tests around the home confirm that. Charging to full capacity takes about 4 hours, and an LED lighting indicator shows how much battery is left (when in use) and at what stage the charging is at.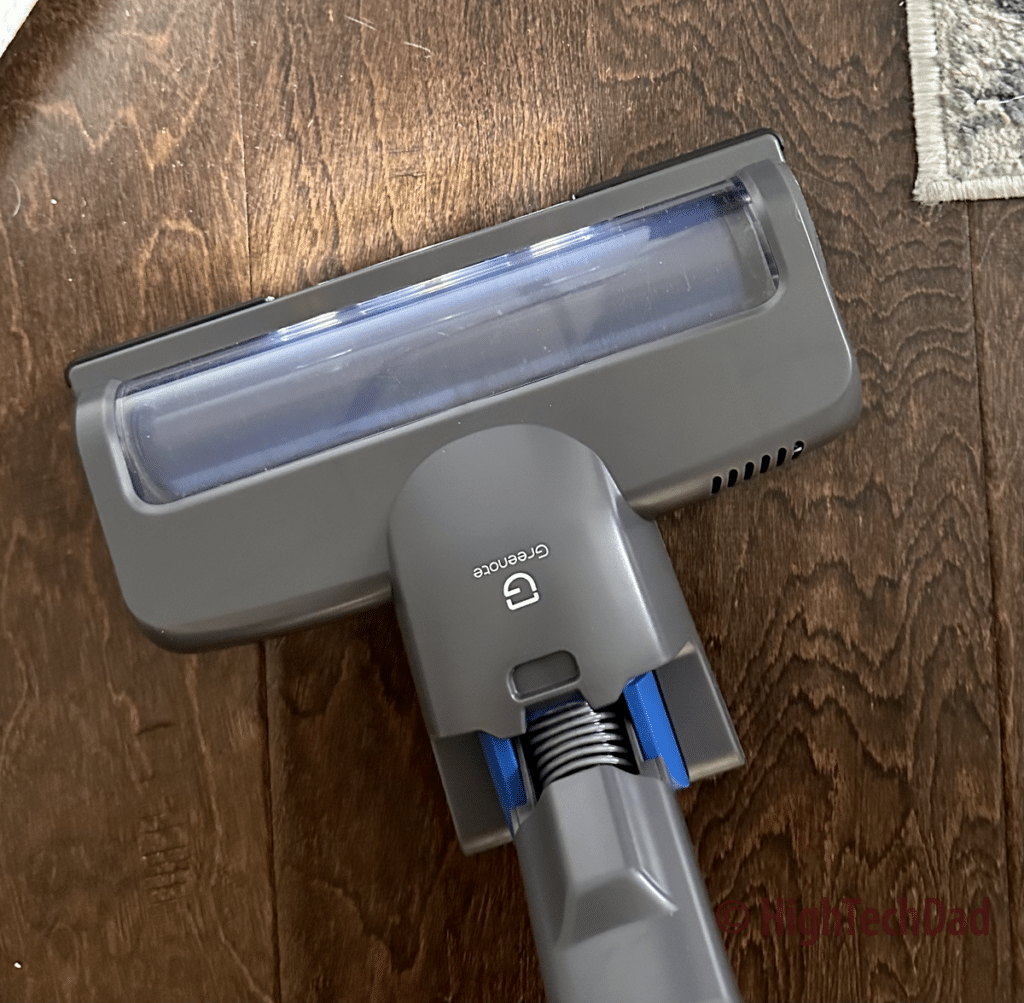 One additional great feature is the fact that it has an LED headlight. That makes seeing what you are vacuuming much better. The headlight is built into the roller brush.
Versatile attachments for different cleaning needs
The Greenote Cordless Vacuum Cleaner does come with some attachments to allow you to clean your automobile and get to hard-to-reach places. If you remove the tube, it instantly becomes a hand-held vacuum for cleaning your car or sofas, or other more tricky areas. The items that can be swapped out are the electric floor brush, the dusting brush, and the crevice brush. Usually, you would use the floor brush for floors, rugs, and carpets. It has a moving brush inside that will rotate to pick up dirt, hair, and dust quite well.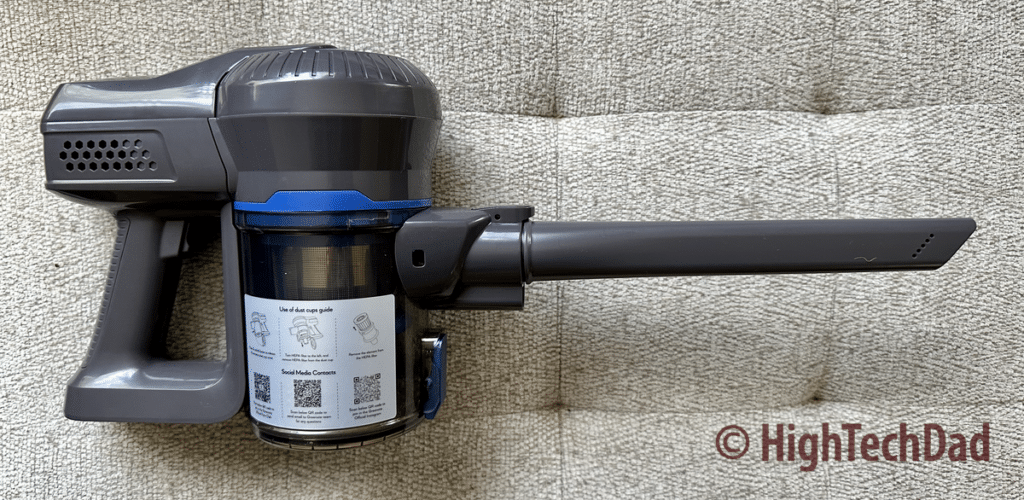 You can extend the metal tube for shorter or taller people as you like as well.
The dusting brush is great for shelves and tabletops, pushing the surface dust into the vacuum. And the crevice brush is suitable for baseboard cracks and in your car. There is also a cleaning tool that helps to remove hair in the electric floor brush.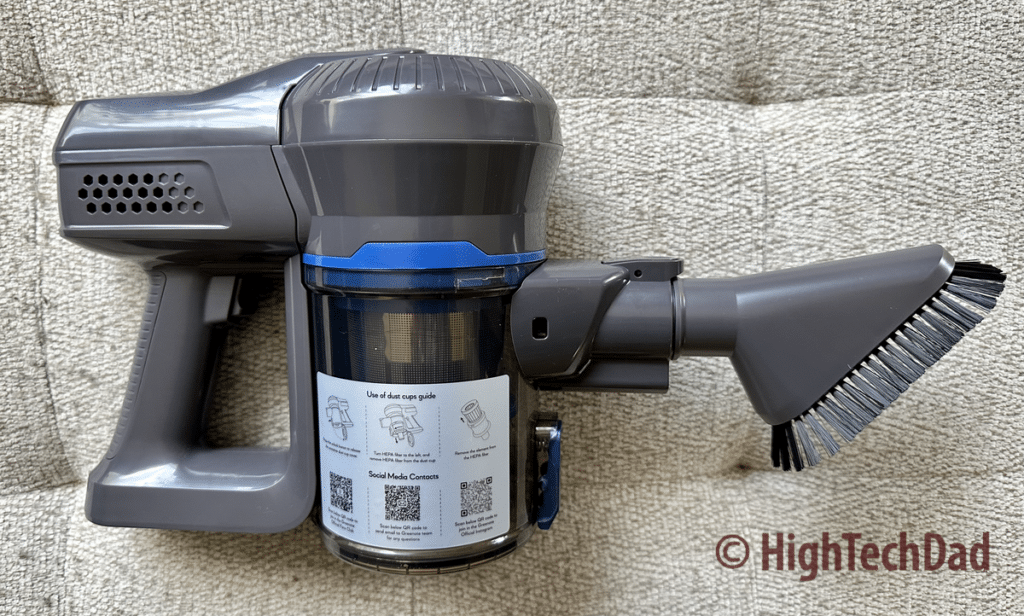 Also, you can fully detach all of the parts for easy storage in case you don't want the vacuum out in plain sight.
Washable filters for easy maintenance
Let me talk about the filtration system quickly. The cyclone has all the suction power, but there is also a metal mesh filter AND an H11 HEPA filter. Lastly, a sponge filter in the exit area ensures no dust is coming out of the vacuum. Another nice thing is that the HEPA filter (it comes with two of them) is washable. So you don't need to replace the filter all of the time. Just wash what was included out periodically.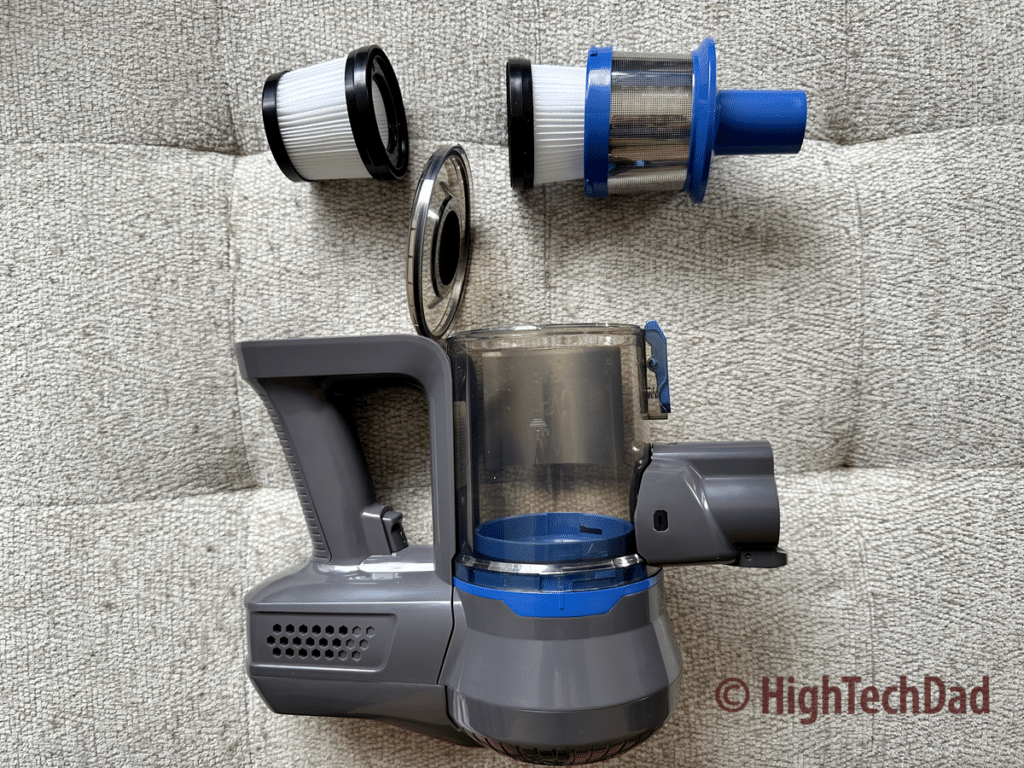 The dust bin that captures all the debris has a one-click release, so you don't have to get your hands dirty trying to empty it.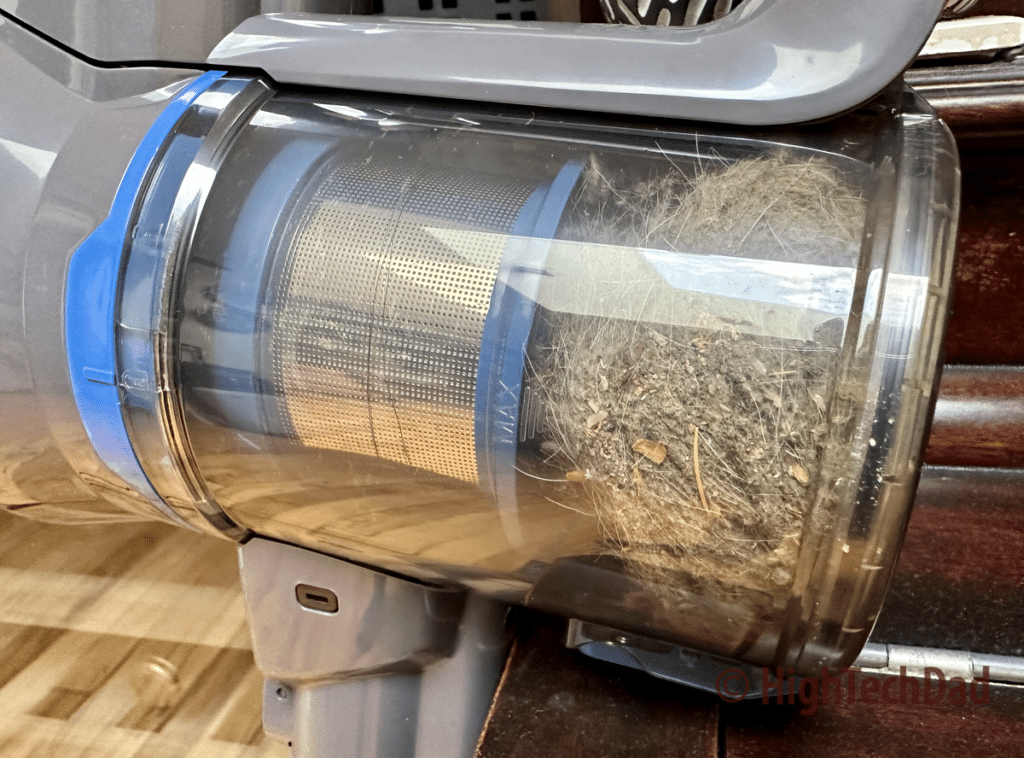 Final thoughts on the Greenote Cordless Vacuum Cleaner
This Greenote Cordless Vacuum Cleaner is a perfect, lightweight vacuum for most of your vacuuming needs around the house. It is relatively quiet (only about 62 dB) and has a reasonably strong suction power, given the size of the vacuum. While the dustbin is relatively small, the fact that you can easily empty it with the one-touch button and that you can see how much debris is in the vacuum is quite helpful. With its powerful suction, lightweight design, and versatile attachments, this vacuum simplifies and accelerates your cleaning tasks.
It retails for $249.99 on Amazon, but as of this writing, it is nicely discounted to $109.99!
Shop on HighTechDad
The product shown below (and related products that have been reviewed on HighTechDad) is available within the HighTechDad Shop. This review has all of the details about this particular product and you can order it directly by clicking on the Buy button or clicking on the image/title to view more. Be sure to review other products available in the HighTechDad Shop.
The convenience and flexibility of the cordless design, coupled with the vacuum's decent battery life and maneuverability, make it an excellent choice for spot cleaning and deep cleaning sessions alike. If you seek a reliable and efficient cleaning companion that effortlessly tackles various surfaces and fits seamlessly into your busy lifestyle, the Greenote Cordless Vacuum Cleaner is a worthy investment. Say goodbye to the limitations of cords and bulky vacuums, and embrace the convenience and power of cordless cleaning.
Disclosure: I have a material connection because I received a sample of a product for consideration in preparing to review the product and write this content. I was/am not expected to return this item after my review period. All opinions within this article are my own and are typically not subject to editorial review from any 3rd party. Also, some of the links in the post above may be "affiliate" or "advertising" links. These may be automatically created or placed by me manually. This means if you click on the link and purchase the item (sometimes but not necessarily the product or service being reviewed), I will receive a small affiliate or advertising commission. More information can be found on my About page.
HTD says: The Greenote Cordless Vacuum Cleaner is a reliable choice for busy families looking for an effective yet inexpensive cleaning companion. With its portable and lightweight design and its flexibility and vacuuming attachments, it's an extremely useful vacuum to have around the home for quick or deeper cleanings.
HighTechDad Review
Ease-of-Use

Family-Friendly

Price Point

Features
Summary
The Greenote Cordless Vacuum Cleaner is a reliable choice for busy families looking for an effective yet inexpensive cleaning companion. With its portable and lightweight design and its flexibility and vacuuming attachments, it's an extremely useful vacuum to have around the home for quick or deeper cleanings. Assembling the Greenote Cordless Vacuum Cleaner is literally a snap. All of the parts simply click together, and it is quite easy to disassemble for storage. The battery lasts a decent amount of time, especially on the lower setting – enough to do several rooms. The added accessories are great for cleaning the car, dirt from the corners, or dust from shelves or tabletops. As of this review, the price was discounted, making it a great day-to-day, around-the-house vacuum, capable of cleaning floors, carpets, and rugs. The operation is relatively quiet. This vacuum is good for families if you want kids to help with the vacuuming as well.
Pros
Easy to maneuver
Lightweight
Good accessories
Multi-use
LED light
Washable filters (nothing to repeatedly buy)
Cons
Wish there was a turbo button to temporarily max out the suction power