If you are looking for a multi-purpose pair of over-the-ear headphones that won't break your budget, the Monoprice Workstream Headset might be a good bet. Whether you are on online video calls (like I am all day), just chilling listening to music, or blowing off some steam doing a quick gaming session, this headset has got you covered. With its advanced Bluetooth 5.0 technology, USB compatibility, and comfortable design, this headset promises to enhance many listening, relaxing, and working scenarios. (*Disclosure below.)
With various connectivity options, including Bluetooth 5.0, a USB transmitter, or even a directly wired connection, this headset gets the sound to your ears. And it's not just a one-way device. It has a built-in microphone as well as a detachable boom mic do allow you to praise your coworkers or curse at your gaming opponents. While these are not noise-canceling headphones, their over-the-ear design is padded by soft cushions around each ear, which does act to dampen the outside sounds.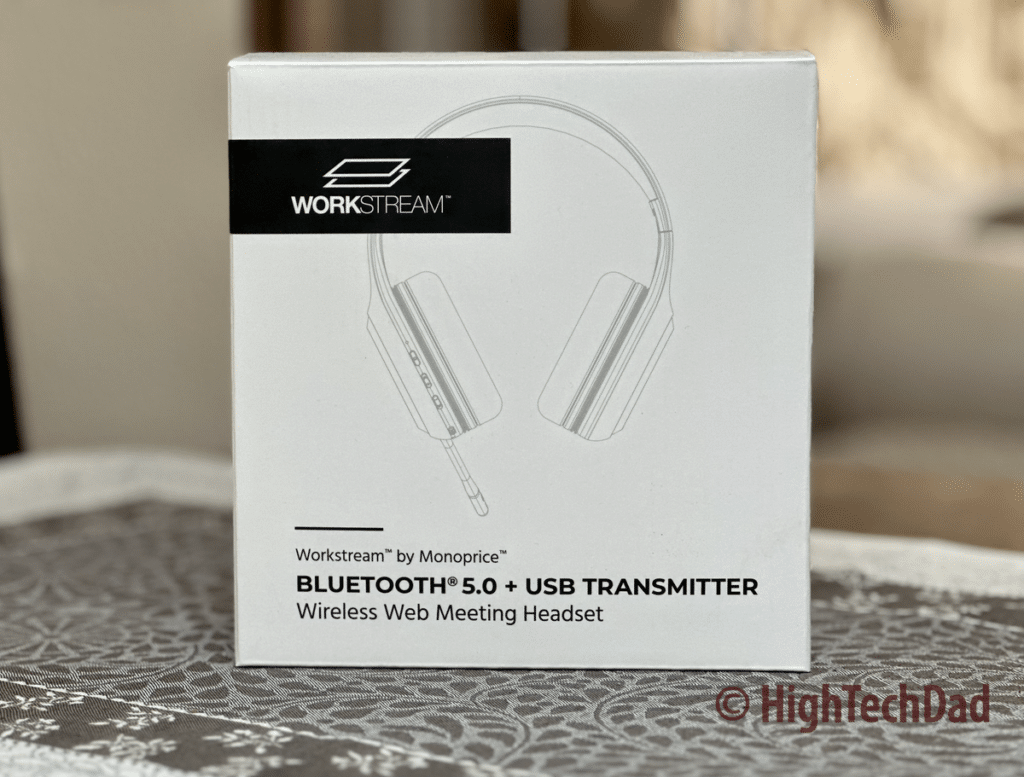 And there is a secret switch that makes your gaming or music-listening sessions even more powerful. Until I turned this feature on, I had no idea what to expect. Read on, and I will go into the details.
Table of Contents
Features of the Monoprice Workstream Headset
Before diving into some of the workings of the Monoprice Workstream Headset, let's go through some of the technical specifications and core features.
Bluetooth 5.0 Technology: Integrating Bluetooth 5.0 in the Monoprice headset ensures a stable and reliable wireless connection. This advanced version of Bluetooth offers improved range, faster data transfer speeds, and better signal stability. It allows seamless connectivity with your computer or other compatible devices, minimizing audio interruptions and providing a consistent audio experience during web meetings.
USB Transmitter Compatibility: The Monoprice Workstream Headset includes a USB Type-A transmitting dongle designed to expand the headset's usability and versatility. This feature enables direct connectivity to various devices, including laptops, desktops, and gaming consoles. It ensures a reliable and lag-free connection, making the headset suitable for various applications beyond web conferencing, such as gaming or multimedia consumption.
Adjustable Boom Microphone: The Monoprice headset's adjustable boom microphone plays a crucial role in web conferencing and online collaboration. With its ability to be positioned closer to your mouth, it captures your voice with clarity, ensuring that your messages are delivered clearly to meeting participants.
Comfortable Over-ear Design with Soft Cushioning: The comfort of a headset is paramount, especially during long web conferences or extended gaming or listening sessions. The Monoprice headset features an over-ear design with soft cushioning, providing a comfortable fit that reduces strain and discomfort. The cushioning enhances comfort and helps with passive noise isolation, minimizing external sounds that could distract you during meetings or calls.
Built-in Controls: The built-in controls on the headset offer convenient access to essential functions such as volume adjustment, microphone mute/unmute, and call management. These controls allow you to make quick adjustments without having to reach for your computer or mobile device. The ability to adjust the volume or mute the microphone on the fly is particularly important during web meetings when you need to react swiftly to changing situations.
The Actual Specs:
Bluetooth version – 5.0
Bluetooth range – ~32 feet
Lithium-Ion battery – 1000mA
Charge time – 2 hours
Weight – 8.6 ounces
Now that that is out of the way, let me go into a few of the features that stood out to me. For starters, the headset is quite comfortable. And you can fold it up for much easier transportation.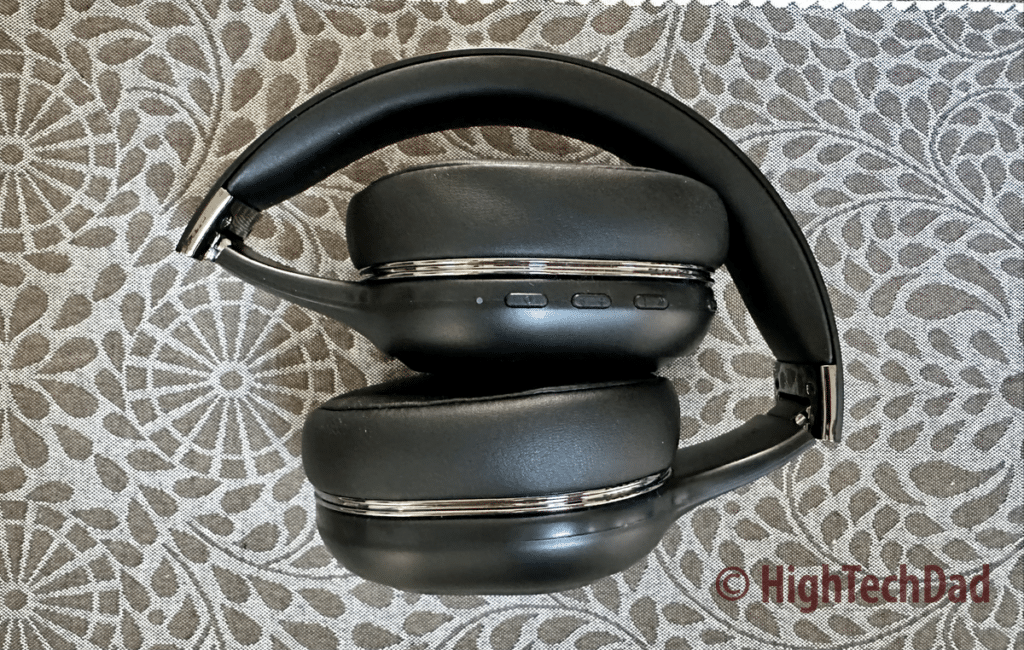 You charge the Monoprice Workstream Headset using a USB Type-C connector. The package does include a USB-A to USB-C connectors if you happen to have one of those "old-fashioned" computers that have the USB Type A. I have been using a pure USB-C cable plugged into a USB-C charging hub. You could use any USB-A wall plug as well to charge it. The charging time takes about two to three hours from empty. A red LED turns on while charging and turns off when the Monoprice Workstream Headset is fully charged.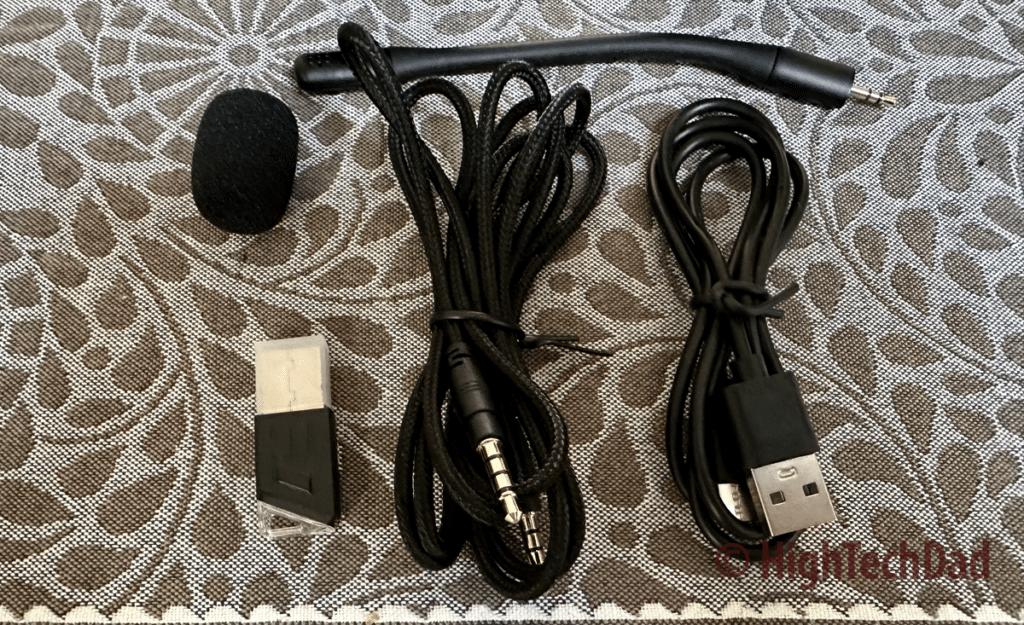 While there is a microphone built into the headset, which seems to work quite well, there is also an included plug-in boom mic that extends from the left earpiece. This boom mic is flexible so that you can slightly bend it to put it closer to your mouth. I do like the fact that it is an optional attachment. The boom mic does come with a foam pop cover to mask out wind noise or when you pronounce words that "pop" the mic (like the word "pop"). And there is a mute button on the boom mic to turn off the mic with just a button press conveniently.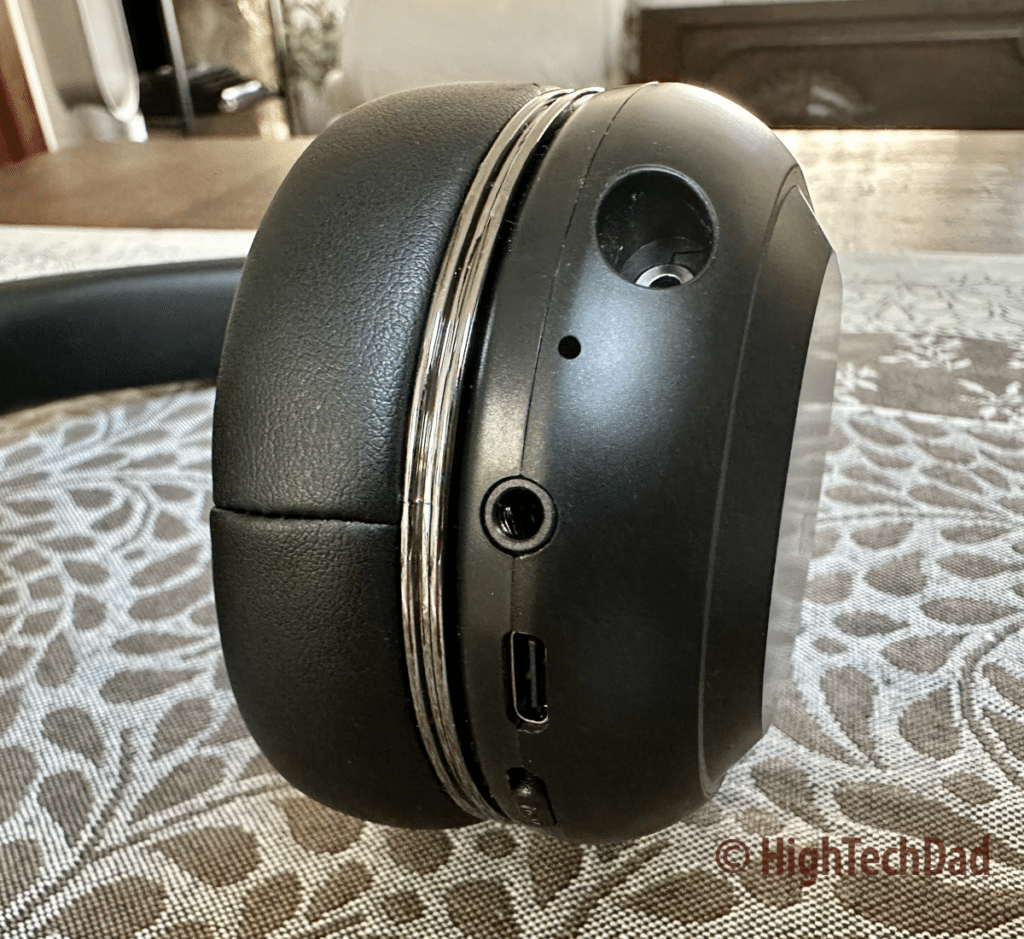 There are various ways to connect the Monoprice Workstream Headset, three, in fact. For starters, you can connect to a computer, tablet, or smartphone using Bluetooth. On the first startup, it enters into Bluetooth pairing mode, and you can then connect your device. If you ever want to reset the Bluetooth connection, press and hold the volume up and down buttons simultaneously.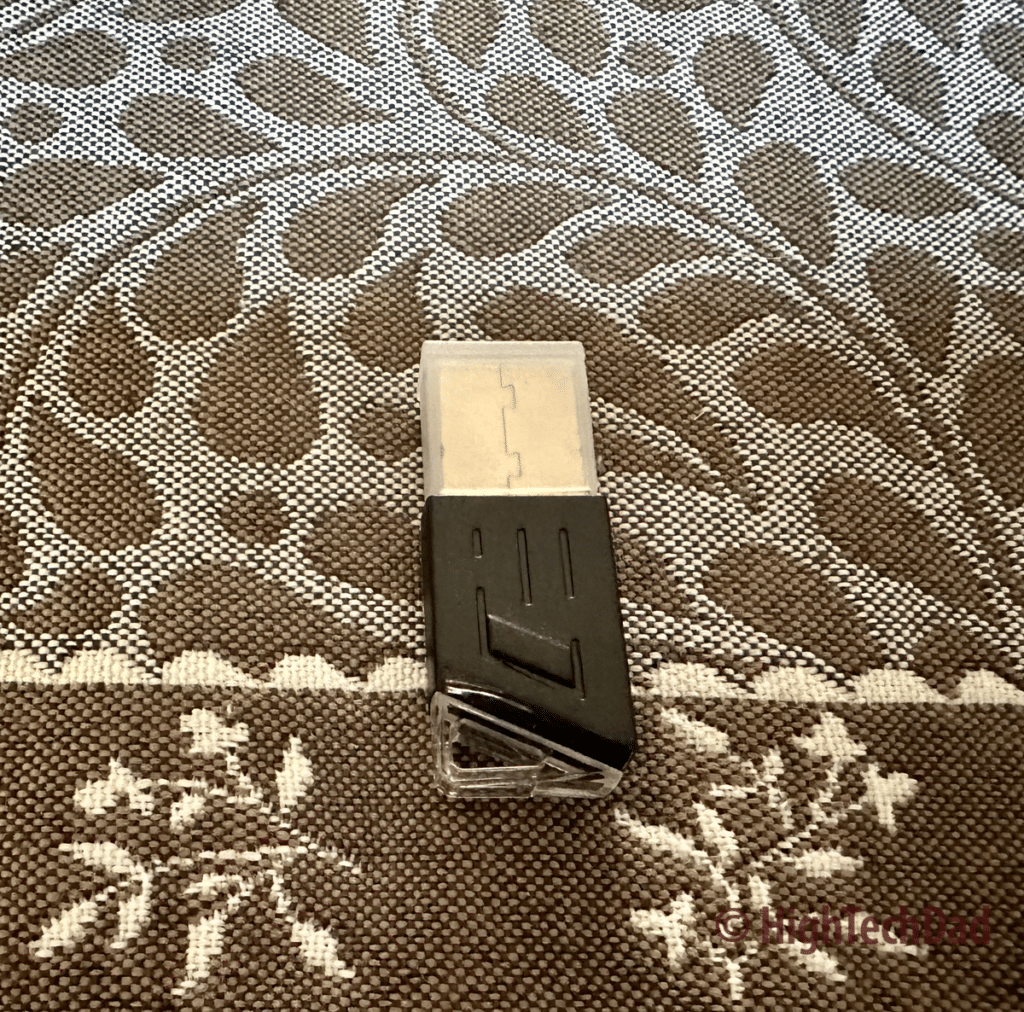 The second way to connect is by using the included USB transmitter. While I haven't tested out this option since I don't have a computer with an older USB-A plug, this connection option provides a quick plug-and-play option for connecting the headset. Just plug the USB dongle in, and the dual-chip connection fires up. You can use this with compatible computers, media devices, or game consoles. It supposedly has a very low latency, but again, I have not tested this option.
The last and probably my favorite option is to use the included 3.5mm audio cable. There is a port on the headset that you plug one end of the cord in, and the other goes into your computer, tablet, game console, or smartphone. The nice thing about this option is that it is much nicer on the battery, and the audio quality seems to be better than the Bluetooth connection. There didn't seem to be much attention paid to this type of connection in the manual or on the website, so I wanted to be sure that I highlighted it.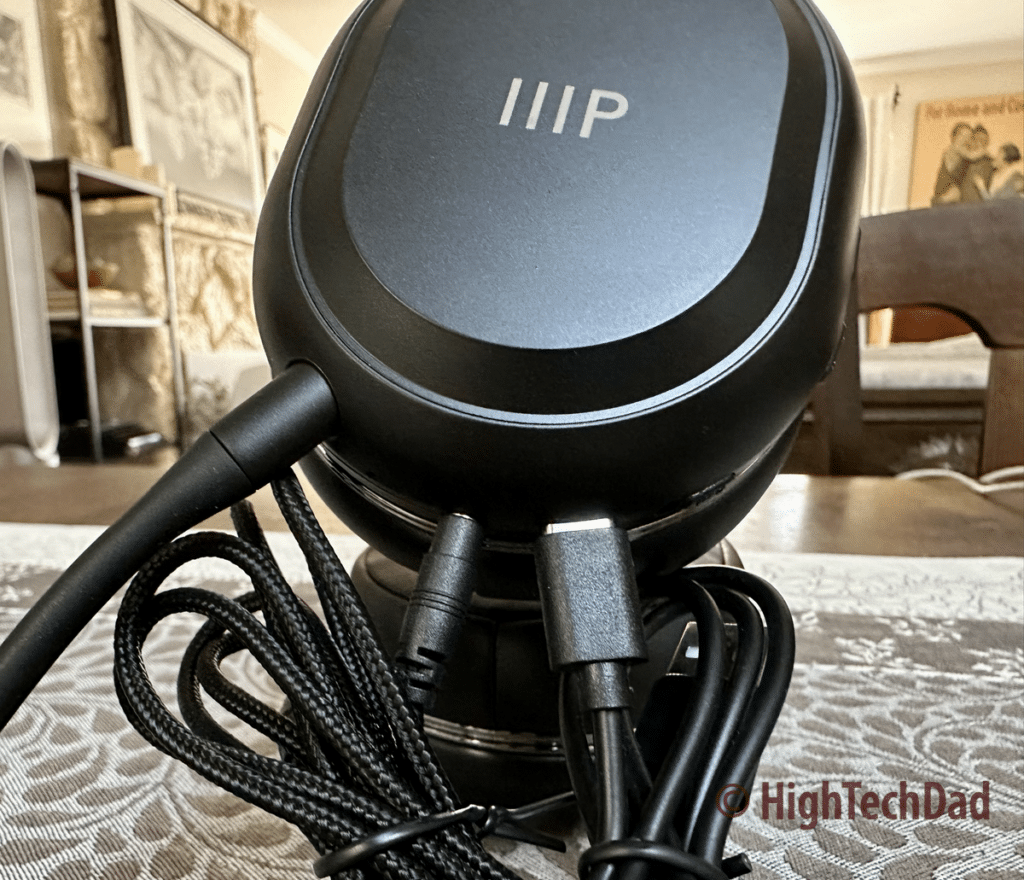 I did some tests comparing the Bluetooth connection with the audio cable and found that the audio cable was more reliable. I was simply recording audio using QuickTime. I found that the Bluetooth connection sometimes dropped the initial part of my voice, perhaps the first second or two, whereas the audio cable kicked in immediately.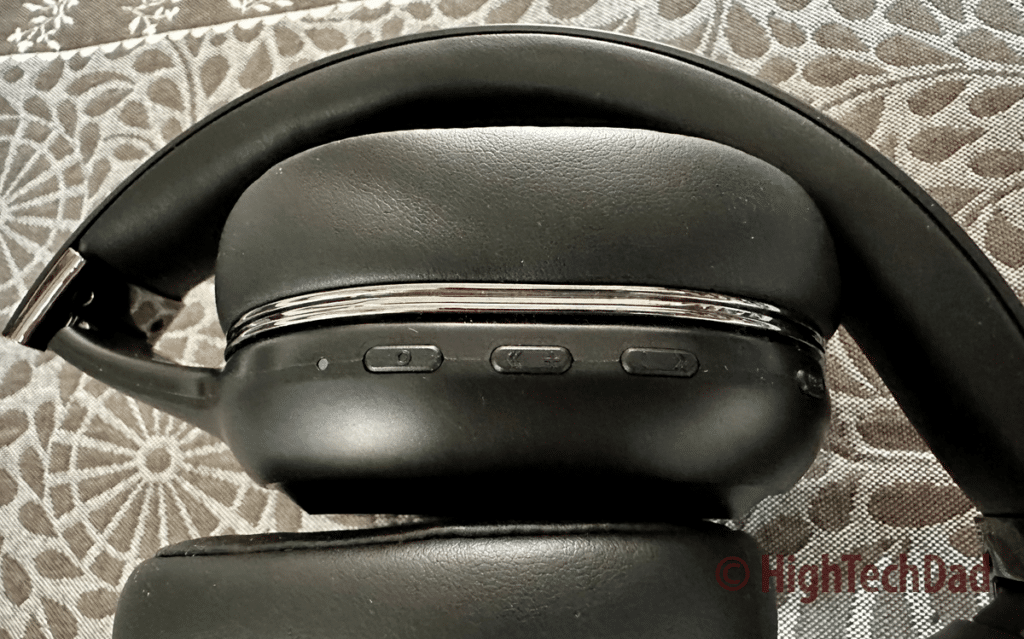 There are also audio controls on the left headset. I have to say, these buttons are tiny, so it will take some muscle memory to remember which button does what and where they are. There is a Power button and the next/previous buttons (these buttons also control the volume up/down). To answer or end calls, you press the power button. To turn off the headset, press and hold the Power button (you will hear a tone indicating the operation was successful).
Lastly, there is a switch. The manual simply calls it the "vibration switch."
What is the "vibration switch?"
The vibration switch is an odd little feature that, like the audio cable connection, didn't seem to have any mention in the manual and was only lightly touched upon on the product description page. On the website, it is simply called "3D Stereo Surround Sound." But that is only partially accurate. Let me explain a bit more.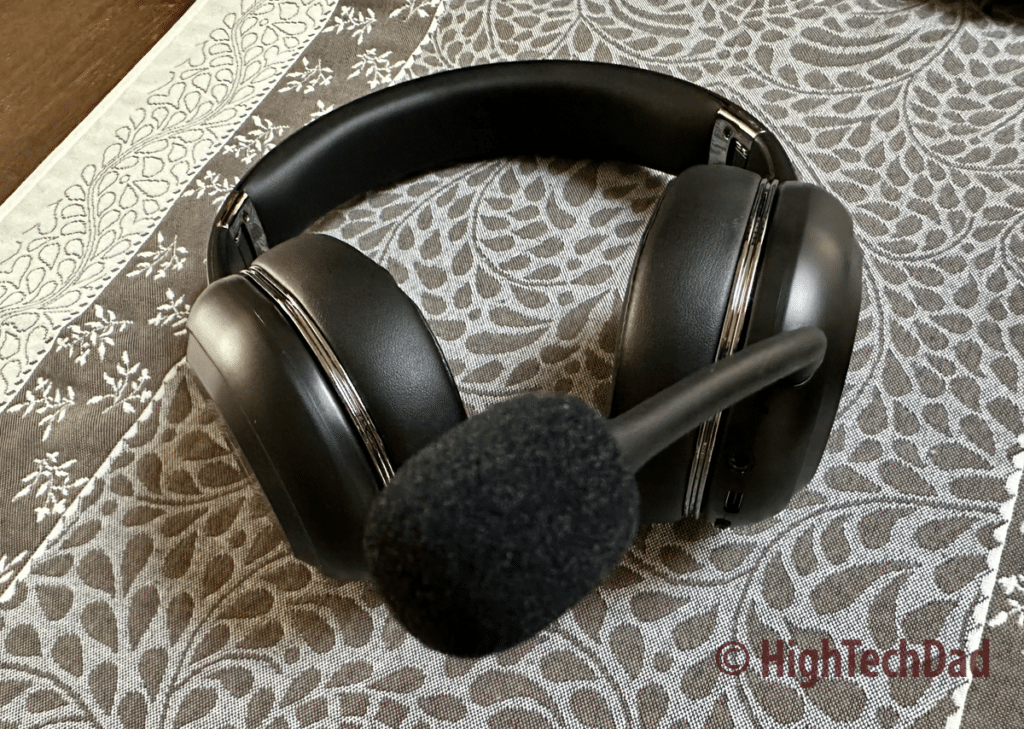 Have you ever been driving in your car, listening to music, when suddenly a car comes along with thunderous bass that essentially vibrates your car? (Yes, that is a bit annoying.) This is what the vibration toggle switch is. When you are in any listening mode (Bluetooth, USB transmitter, or even the audio cable), you can flip this switch, and suddenly the two earpieces will start to vibrate along with your music or game or whatever audio you are listening to.
That thumping car bass next to you is suddenly you! The headset starts to thump and extend the bass significantly. While I haven't tried it with a video game, I have done it with my music. And, at full volume (which I don't recommend doing for extended periods of time), it is truly amazing. People around you WILL hear it (especially at high volume). Regardless of whether you have the vibration on or off, sound at a higher volume will bleed out.
But wow! This little vibration toggle switch is truly amazing. Remember, though, using the vibration WILL drain the headset battery much more quickly than with the switch off. When you have the audio cable plugged in, you don't really drain any battery until you flip on the vibration. You will see the power LED turn on when you enable the vibration.
Final thoughts and price
The Monoprice Workstream Headset is a pretty capable solution for having two-way audio whether you are doing phone calls, video conferencing, gaming, or just listening to music or audio. At full volume, the sound remained clear and not distorted, as far as my uneducated and older ears could tell. The highs were crisp, the lows were solid, and the bass, especially with the vibration enabled, was terrific.
For extending listening, conferencing, or gaming, these Monoprice headphones were quite comfortable. While the Bluetooth connection was nice to have, I preferred the more analog approach of using the 3.5mm audio cable. While that does tether you to your computer or smartphone, I felt the outbound audio quality was better and more responsive than the Bluetooth. Again, I did not test the USB transmitter.
The Monoprice Workstream Headset retails for $59.99, which I feel is a pretty fair price. It does not have noise canceling, though, remember that. This headset is currently listed for $57.59 on Amazon.
Shop on HighTechDad.com
The product shown below (and related products that have been reviewed on HighTechDad) is available within the HighTechDad Shop. This review has all of the details about this particular product and you can order it directly by clicking on the Buy button or clicking on the image/title to view more. Be sure to review other products available in the HighTechDad Shop.
Whether you are attending virtual meetings, doing online gaming, or simply listening to music, the Monoprice Bluetooth 5.0 + USB Transmitter Wireless Web Meeting Headset proves to be a valuable tool for enhancing productivity and communication. Its positive aspects, such as excellent audio quality, multiple ways to connect, and comfortable design, outweigh the minor limitations in Bluetooth issues. With its competitive price point, this headset offers an affordable and effective audio solution for professionals, gamers, or casual audio listeners navigating the remote work landscape or simply chilling at home. And the vibration feature is next-level in terms of listening fun. It truly brings the rumble to any audio listening.
Disclosure: I have a material connection because I received a sample of a product for consideration in preparing to review the product and write this content. I was/am not expected to return this item after my review period. All opinions within this article are my own and are typically not subject to editorial review from any 3rd party. Also, some of the links in the post above may be "affiliate" or "advertising" links. These may be automatically created or placed by me manually. This means if you click on the link and purchase the item (sometimes but not necessarily the product or service being reviewed), I will receive a small affiliate or advertising commission. More information can be found on my About page.
HTD says: If you are looking for a reasonably-priced, comfortable headset with multiple ways to connect to your device, the Monoprice Workstream Headset is a solid choice. With two microphone options (built-in or on the boom mic) and the three ways to connect to your device, just about any 2-way conversing environment is covered. And flip that vibration on for an added thump to your listening pleasure!
HighTechDad Ratings
Ease-of-Use

Family-Friendly

Price Point

Features
Summary
If you are looking for a reasonably-priced, comfortable headset with multiple ways to connect to your device, the Monoprice Workstream Headset is a solid choice. With two microphone options (built-in or on the boom mic) and the three ways to connect to your device, just about any 2-way conversing environment is covered. And flip that vibration on for an added thump to your listening pleasure! Initial Bluetooth setup is quite easy as the Monoprice Workstream immediately goes into pairing mode. Once paired, you can have full 2-way communications for phone or video calls or gaming. The USB dongle allows for quick connectivity (although I didn't test it). And the 3.5mm audio connection is great to have especially when using a desktop microphone, for example. The suprise feature for me was the vibration toggle switch which makes music listening (and probably gaming) a much more immersive and thumping experience.
Pros
3 connection types (Bluetooth, USB dongle, 3.5mm audio cable)
Competitively priced
Vibration toggle brings the thump
Minimal to no distotion at high volume
Cons
Bluetooth connection would cut first couple of seconds occasionally
No ANC (Active Noise Cancelling) but that would increase the price
Buttons a bit small