Working from home and doing home online schooling has made several things obvious to me. First, you must have an extremely fast broadband connection. Second, you need to have office or study space that is yours alone to use (even if you are just carving out a section of a table or something). And third, you need to have good, multi-function computer equipment to be able to support a variety of needs. For my family of five doing schooling and work, we needed a multi-function laser printer. And it was the Brother MFC-L3770CDW color laser printer that saved the day for all of our color printing, scanning, copying, and even faxing (yes, people still fax). I have been testing this Brother multi-function printer now for a couple of months; this article is what I have discovered thus far.
As of this writing, we are well over eight months into the work from home and online schooling process. And this journey has been a learning experience for everyone. For me, I quickly realized that I needed to update my broadband speeds (learn why in this article and video). But more importantly, I needed to have a printer that was a workhorse and that would be able to support many different needs of my family. My home environment is probably like many in several ways with my kids doing college and high school online via distanced learning and me doing all work from my home office.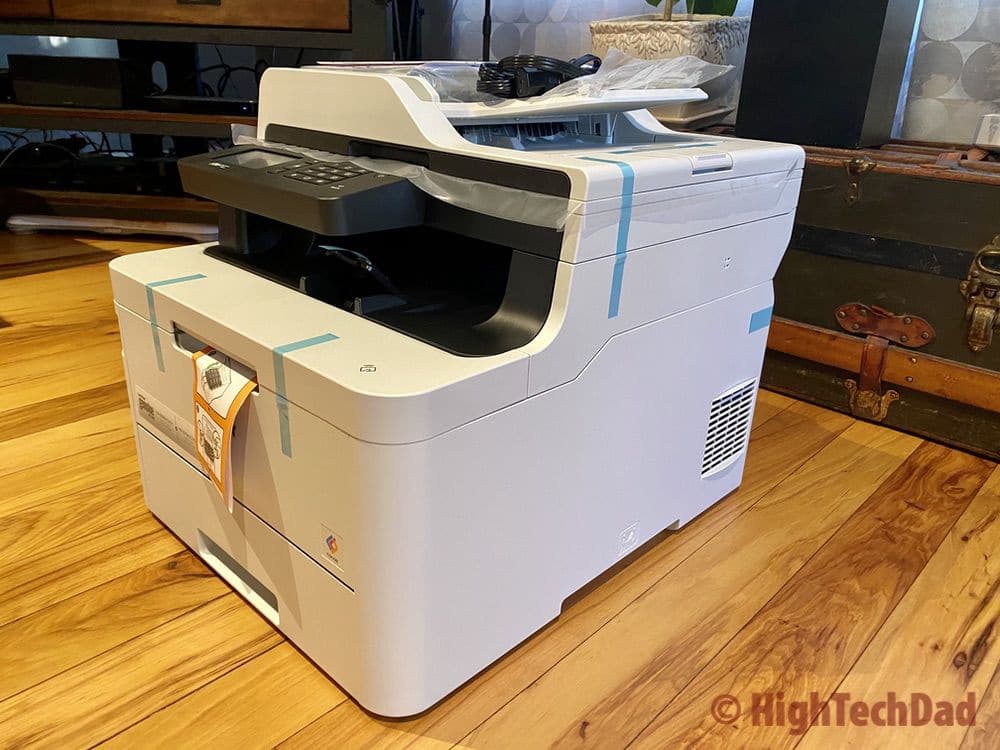 When I spoke with Brother about doing a review of one of their laser printers, they originally recommended one that would have been absolutely perfect for my daughter going to college and having a simple non-color laser printer connected to her laptop via USB in her dorm room. But as I started explain a larger use case, it became clear that I needed to go with a much more robust solution with more capabilities. (Guess what, the price point actually wasn't that much more expensive than the simple USB laser printer!)
The New Home School & Work Environment
While everyone has their own unique use case for home schooling or working, I'm going to guess that there are several commonalities between what I look for and what others might have as requirements. Again, your needs may very, but definitely consider these items:
Laser instead of inkjet
Color printing instead of black-only
Multiple networking capabilities
Fast printing speed
Copying capability
Faxing capability
Scanning capability
Fast printing
Quiet printing
Easy-to-use
That is just a high-level list of some of the things we needed in our home environment. Honestly, as I look at the list, it is almost a small business type of environment. And that is how I approached evaluating the Brother printer with many different use cases and different types of users.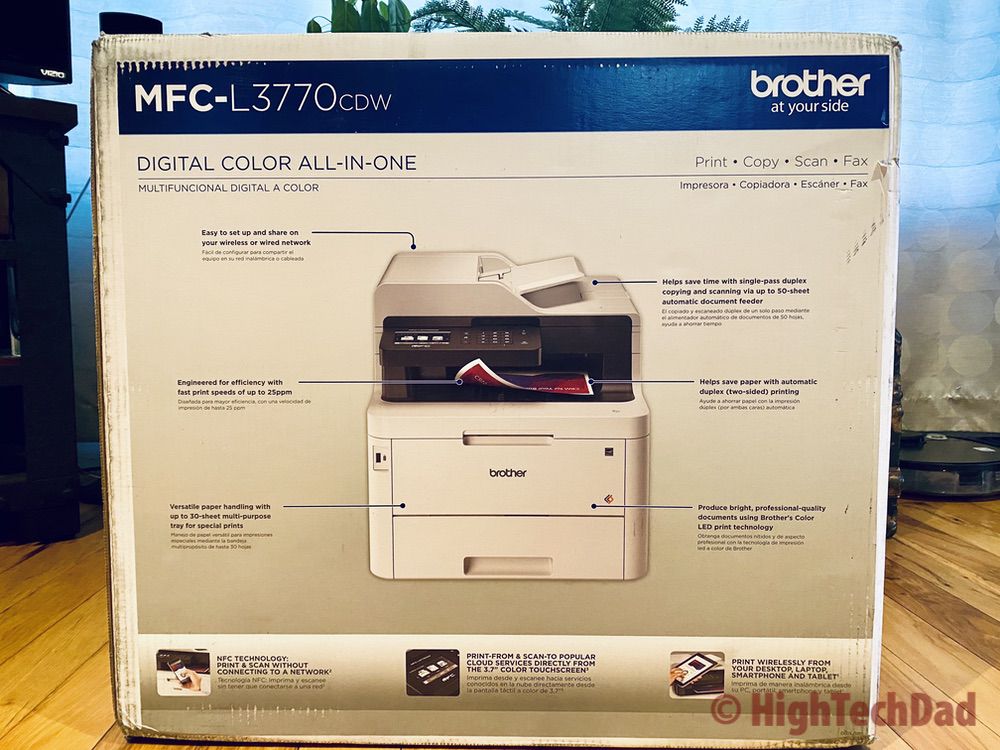 My daughters need to print out school assignments, both in black and white as well as in color. For work, I needed to be able to scan documents easily as well as do a high-volume of text-only printouts. And being the IT manager of our household, I needed to be able to be able to fine-tune the settings to conserve laser ink, paper, and energy, all of which I can do with the Brother MFC-L3770CDW multi-purpose printer.
So, let's take a look at some of the features in a bit more detail and how they fit in and worked in our family.
Setting up the Brother multi-purpose printer
One of the biggest requirements on putting a new gadget into the home is ensuring that the setup is easy to do without pulling your hair out. The Brother comes with very clear instructions on the setup process and despite the fact that I was ready to geek-out and have to configure things on everybody's computers, the process was clear and easy.
I have come from only using ink jet printers in the past and while they are great in many aspects, I wanted to "upgrade" to a laser printer. I was getting a bit tired of having printouts get smudged or the quality of the printout not be as clear as I would like. If that is something that you have run into, I highly recommend looking at replacing your ink jets with laser printers.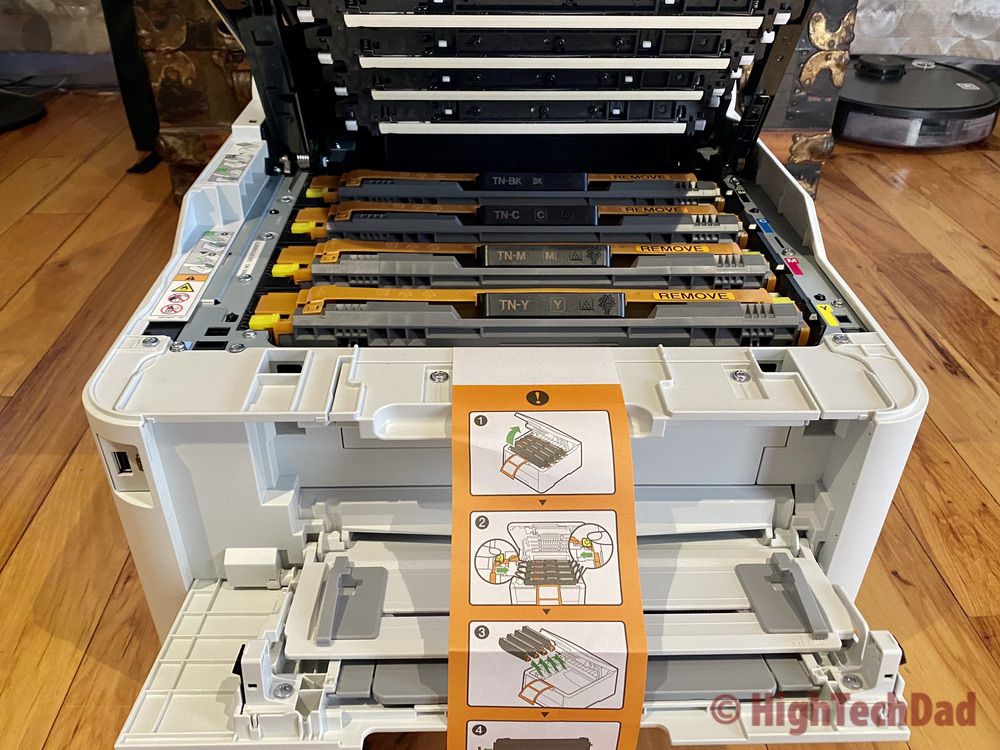 And there is the whole issue of replacing ink cartridges. This was an on-going issue in our house due to the sheer volume of printing that students have to do on a regular basis. So while laser printers also have ink (toner cartridges) that have to be replaced, my personal belief (especially with more of an "office" type of printer) is that you can print a lot more with a laser printer before you have to replace the cartridges.
This Brother printer comes with a starter pack of black and color cartridges (toner) and you can get regular and high capacity replacement toner cartridges that handle 1,300 and 3,000 pages respectively. The starter pack cartridges have a 1,000 page estimated capacity.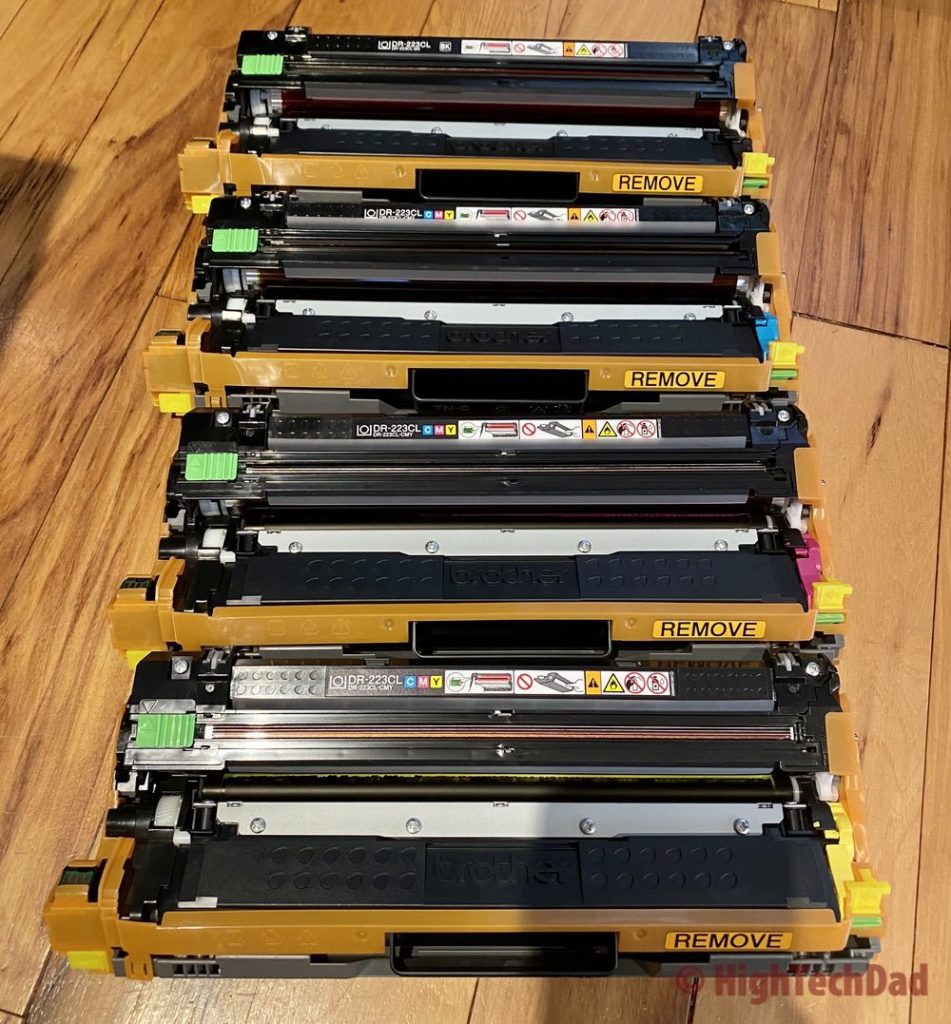 Inserting the cartridges was easy to do and actually is quite different from ink jets in that the toner takes up much of the space of the printer's innards. I was able to get everything setup and configured quite quickly.
Connecting the printer to our home network was easy as well. One of the big requirements for me was to have both Wi-Fi and Ethernet connectivity capabilities. I prefer to do a wired connection simply because I don't have to worry about ensuring I have a strong Wi-Fi connection where I'm setting up the printer.
You can use the 3.7″ color touchscreen to set up many of the basic functions of all aspects of the printer/scanner/fax/copier. Or you can use the Windows/Mac software to do much of the configuration that way. And, if you really want to go into more details, the Brother does have a built-in web interface to be able to fine-tune a TON of settings as well as a huge readout on the status of everything.

Of course, once you have everything hooked up and configured, it is easy to find out the status of the ink levels using, in my case, the built-in Mac system preferences. Regardless of whether you have an inkjet or a laser printer, this is something that you do want to keep an eye on so ensure you don't run out of ink at a critical time.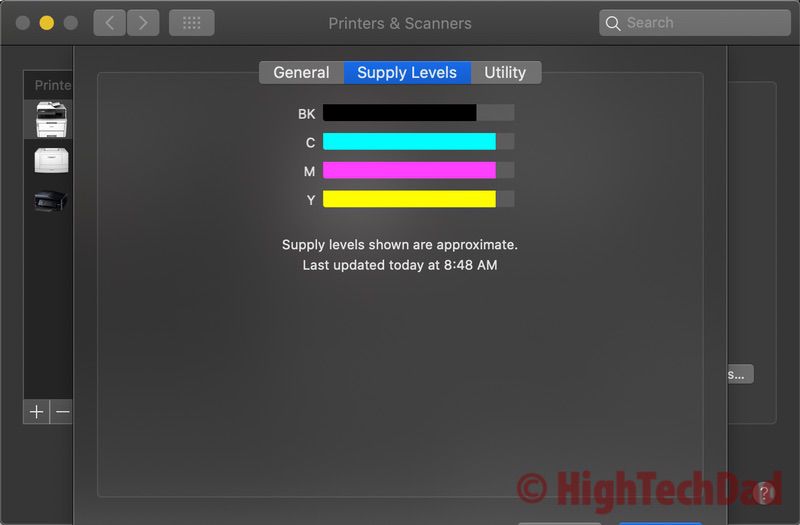 Brother does have an optional service that will automatically monitor your ink toner levers and re-order toner when you start running low. It is an entirely behind-the-scenes process so you essentially set it and forget it and don't worry about running out of ink.
Specs geek-out time!
There are a lot of specs for this multi-purpose Brother device, especially since it does have print, fax, scan, and copy functionality all built into one magical device. So while you can go to the Brother page for this printer and read through it, I have gathers the specs that I feel are important and listed them below with some commentary.
Fast printing – up to 25 pages per minute (which blows away many inkjet printers); often my kids rush to print things out while doing online school and need their printers immediately!
High-capacity print paper storage – you can pretty much put a ream of paper in (up to 250 sheets) so you don't have to worry about running out of paper (much)
2-sided everything – to save paper, I set the printer up to automatically do 2-sided printing by default; but, you also can scan/copy 2-sided documents in a single pass which allows for a very easy & fast process
Multi-networks – WiFi, AirPrint, NFC (don't need a network), USB, and wired connection allows you to print (even from your mobile device!)
Cloud services – yep, you can connect things like Google Cloud Print, Google Drive, DropBox, OneNote, Box, Evernote, OneDrive, etc. to truly integrate your entire work/school environment (I haven't tested this yet)
Copying – you can copy color or B&W docs up to 25 pages per minute at a 600×600 max DPI (trust me, that a high enough resolution for school & small business)
Fax – super simple to use (and see below on how you can actually set up your Mac to send a fax just like printing)…but who faxes these days?
Multiple Print Capabilities – you can use the standard paper (Letter) or there is a 50-page capacity document feeder for other longer paper types; the multi-purpose tray holds 30 pages; BEST THING – the output tray (where your printout/faxes come out) can hold 150 pages and they DON'T just spit out on the floor!
Save Energy – when printing, the Brother does seem like it uses a lot of power (430W), but, and I highly recommend this, you can enable Deep Sleep or regular Sleep to just sip power and then come on when a print job is sent to it.
Print resolution – as I mentioned, inkjet printers are pretty good, but I personally feel that laser gets a much crisper printout; the max DPI resolution of printouts is 2400×600 which is fantastic for our uses
Scanning – I already mentioned duplex/single-pass scanning, but if you really want to get high-quality scans, you can do it with this Brother; optical scan resolution is 1200×2400 using the flatbed and using the Automatic Document Feeder (ADF), you get 1200×600
Whew! That's a lot to geek out on, no? Boiling it all down, the Brother MFC-L3770CDW multi-purpose printer/fax/scan/copier is more than capable for a home, home office, and school from home environment where many people have different uses based on what they are doing.
Faxing like printing (on a Mac)
Yes, above I did mention I would show you how to set up this Brother on your Mac to be able fax just in the same way you would print. This was buried in the documentation but I figured I would quickly provide a How-To in case you need to be able to fax.
First go into your print dialog box on your Mac. Choose the output dropdown and select Send Fax.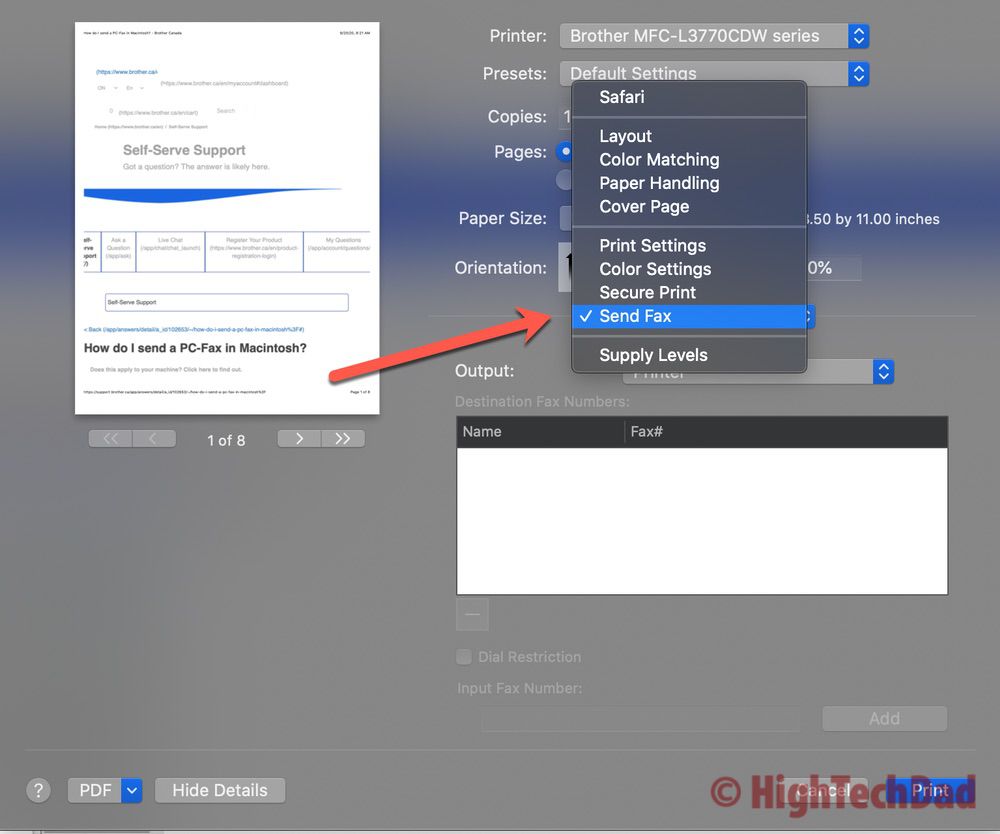 From there, be sure you change the Output from Printer to Facsimile (otherwise I don't believe this process will work).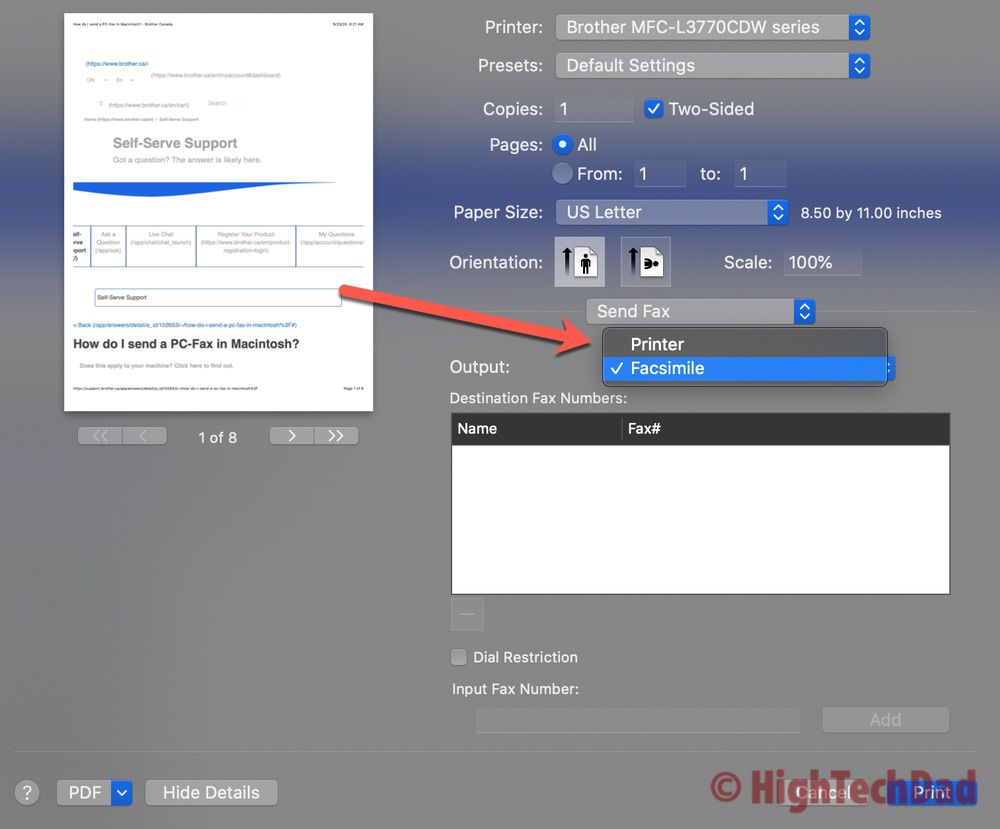 After that, you need to enter in a Destination Fax number. This will, I believe, be stored for future use. Once you enter in the number, you just do the "Print" function to send it as a fax to the number you put in.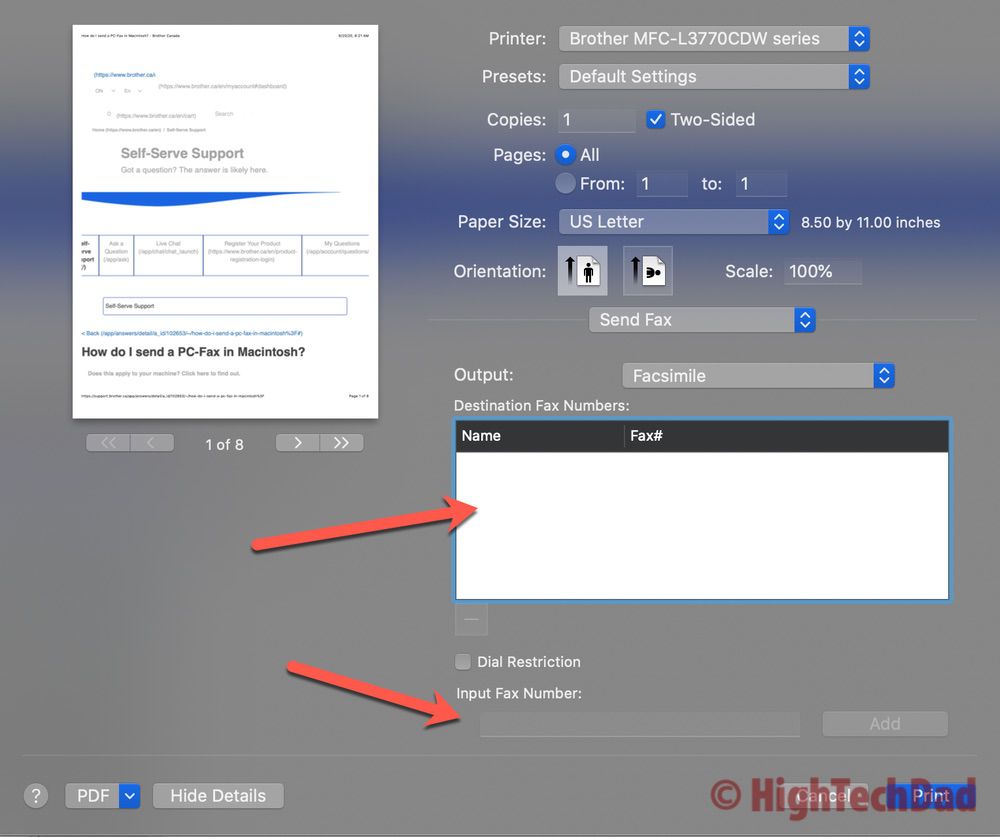 While I haven't had the need to actually do this yet (so honestly, I haven't tested it), I do now know that there is the capability to do this. So that is my little "How To" article within this review!
Pricing and more
The Brother MFC-L3770CDW is an extremely feature-packed and capable, multi-purpose device which can handle printing, scanning, copying, and faxing. And it is quite a workhorse. We have probably printed over 300 pages (not that many but I feel it was a good test run) and really haven't encountered any issues (apart from needed to occasionally reconnect the computers to the network to "see" the printer again – but that isn't a printer problem I feel).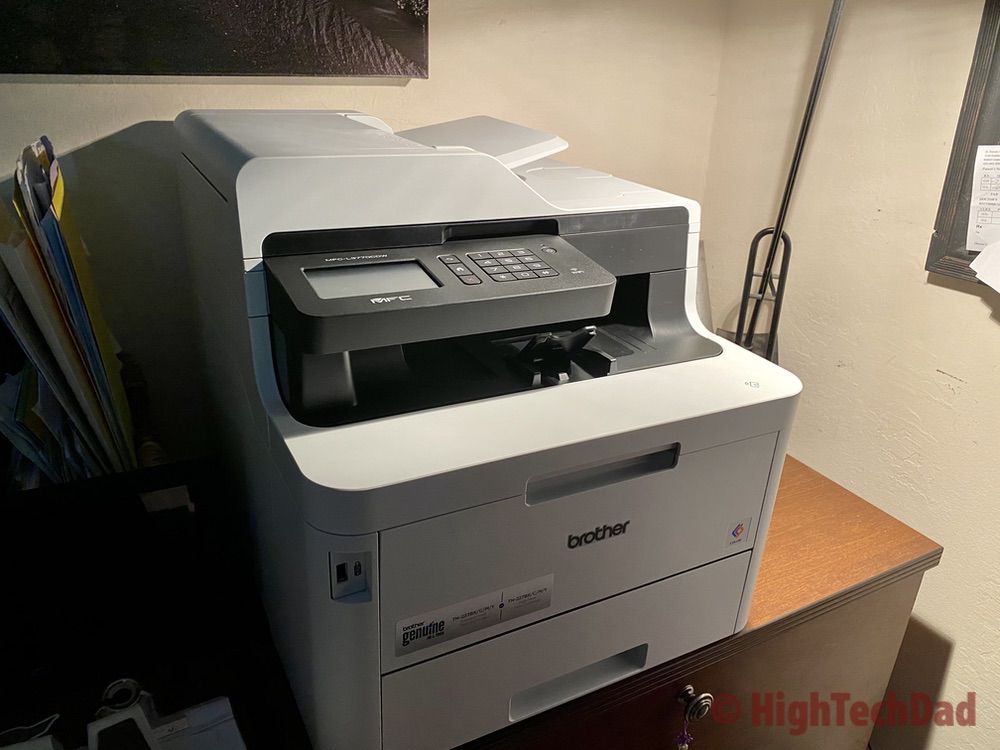 So how much does this laser printing goodness set you back? Remember, this is a color laser printer and more! Honestly, it's not too crazy. The MSRP is $399.99 which is comparable to some of the higher-end inkjet printers actually. And when you consider that the simple, black-only, USB-only laser printer I mentioned earlier is about $120, this is a great "upgrade" in my opinion.
Unfortunately, on Amazon, this particular model (MFC-L3770CDW) is only being sold by 3rd party sellers so the price is a lot higher. You can buy directly from Brother though for $399.99. However, there is another model that is pretty much identical (MFC-L3750CDW) which retails for $399.99 on Amazon and has an "Amazon's Choice" badge.
Shop on HighTechDad
The product shown below (and related products that have been reviewed on HighTechDad) is available within the HighTechDad Shop. This review has all of the details about this particular product and you can order it directly by clicking on the Buy button or clicking on the image/title to view more. Be sure to review other products available in the HighTechDad Shop.
After a quick scan, there was no major difference that stood out to me. So if you can't find the L3770, go with the L3750.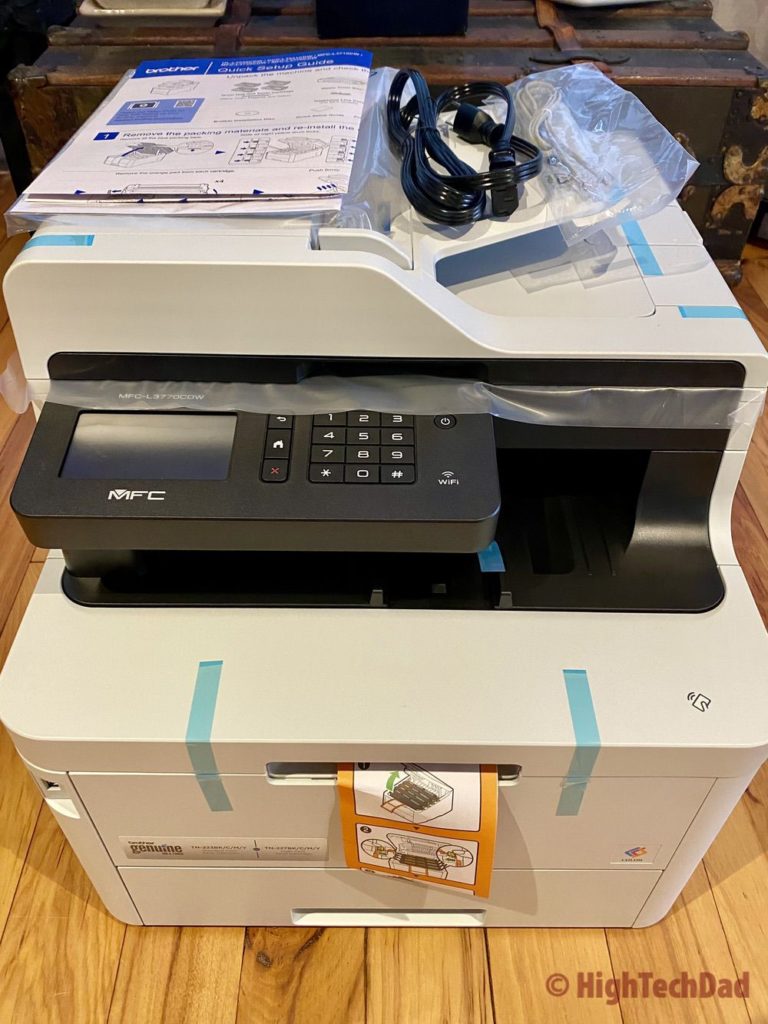 Lastly, you do have to consider the cost of the toner cartridges (and drum unit). Below are two prices, one as listed on the Brother website and one on Amazon.
Whew, you made it to the end of my review! I'm happy to answer any questions you may have about this Brother multi-function printer. Feel free to leave a comment below or ask me on Twitter or on my Facebook page. Bottom line is, the is a very capable device for working and schooling at home!
Disclosure: I have a material connection because I received a sample of a product for consideration in preparing to review the product and write this content. I was/am not expected to return this item after my review period. All opinions within this article are my own and are typically not subject to editorial review from any 3rd party. Also, some of the links in the post above may be "affiliate" or "advertising" links. These may be automatically created or placed by me manually. This means if you click on the link and purchase the item (sometimes but not necessarily the product or service being reviewed), I will receive a small affiliate or advertising commission. More information can be found on my About page.
HTD says: The Brother MFC-L3770CDW multi-purpose printer/scanner/copier/fax is a perfect device to handle all types of work-from-home and business requirements while being more than capable for new homeschooling needs.
HighTechDad Rating
Ease-of-Use

Family-Friendly

Price Point

Features
Summary
The Brother MFC-L3770CDW multi-purpose printer/scanner/copier/fax is a perfect device to handle all types of work-from-home and business requirements while being more than capable for new homeschooling needs. Having used this multi-function device by Brother for over a few months now as my kids, wife, and I shelter at home, I can say that it has proven its worth as it is able to handle school and work from home challenges easily. The setup is extremely simple and the usage is pretty much an afterthought (meaning it just works). Having 4 functions in one device makes it extremely useful around the home (or office or home office) and it is great for any type of school project that kids may be challenged with (color printing, scanning, copying).
Pros
Multi-function
Quiet usage
Fast speed
Easy to use
Cons
Can draw a bit of energy when actually printing
Large footprint (you need space for it)