While I love the portability of my Apple MacBook Pro (MBP), the fact that I spend most of my time NOT moving around now and working at my desk means that I want it to be more like a desktop. And, the MBP is physically limited to four USB-C ports. That's it. Other MacBooks have even fewer USB-C ports. But I want to connect to many more peripherals like monitors and hard drives and have a hard-wired ethernet connection. To achieve this without a hub would mean I would have hundreds of port connectors and dongles plugged in. That's messy. So, for the past few months, I have been testing out the HyperDrive 12-Port USB-C Docking Station, and I must say, it is now my favorite hub for multiple functions. (*Disclosure below.)
USB Type-C is a pretty magical type of port. More and more devices are adopting it as THE standard for ports. Not only does it plug in upside down or right side up (I hated that about previous versions of USB – Type A, Micro, Mini, etc.), it also has many other capabilities which will make it the standard moving forward for all types of devices (laptops, desktops, monitors, peripherals, smartphones, and more).
USB-C handles the USB 3.1 (and higher) standards and, importantly, can deliver power to your devices, known as USB power delivery (USB PD). A quick side note here – when shopping for USB-C cables, the USB PD-capable cables will cost a bit more, but you can then use them to power and charge your devices. And, USB-C can handle other "modes" that are used by monitors and displays, which were previously covered by HDMI, DisplayPort, and VGA, to name just a few. USB-C can handle all of these.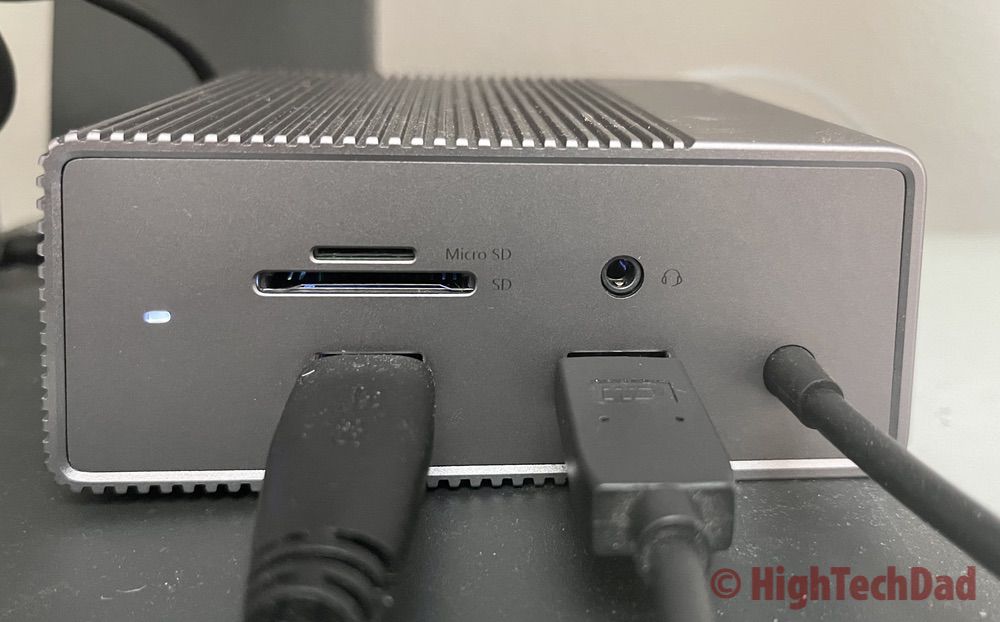 So, why is this important to a USB-C docking station like the HyperDrive 12-Port USB-C hub? With this device, you have a single USB-C connection plugged into the MacBook, and this handles pretty much everything (including power). This is what drives my XX reasons why the HyperDrive is my favorite USB-C docking station.
Reason #1 – Uses only one USB-C port on my MacBook Pro
While the MBP that I have has four USB-C ports, it's nice to not take them all up with different connections, especially if you want to have the easy ability to unplug and get on the go easily.
With this single USB-C port plugged into the HyperDrive 12-Port USB-C Docking Station, I have everything connected that I need to have and still have three other ports available should I need to connect more devices.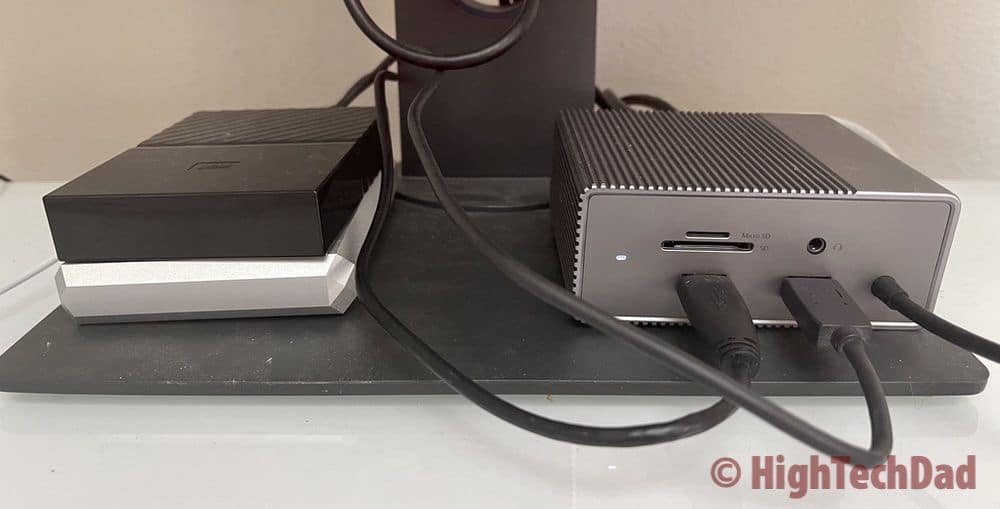 The 12-port version of this USB-C hub has a short, built-in USB-C cable that you plug into your Mac (or PC). This cable is the USB PD (Power Delivery) type, so not only will it charge your MBP, but it also provides all of the connectivity to the other ports contained within the hub.
This built-in upstream USB-C cable can transfer 100W of power to charge and power your computer. And it supports Display Port (DP) 1.4 alt mode.
Reason #2 – It has built-in Ethernet
While WiFi continues to get faster, it's still WiFi which means that you will encounter dead spots or potential WiFi congestion if you have many devices connected to WiFi. And WiFi is not as fast (yet) as a hard-wired connection like Ethernet.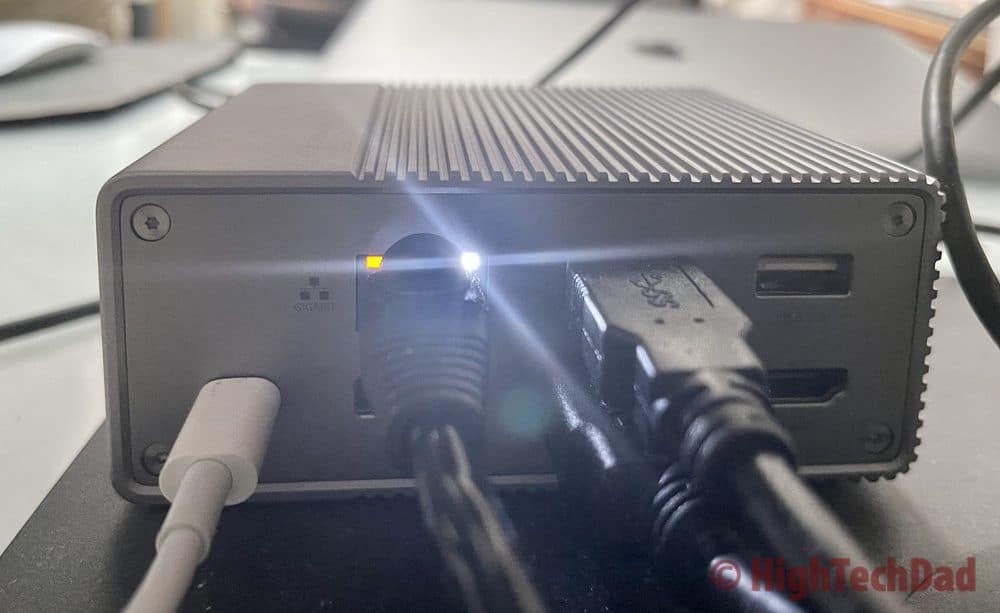 When I moved into my home, I ran ethernet cabling to every corner of the house so that I would have the ability to have hard-wired connections everywhere. Unfortunately, if you put your WiFi router in the center of your home when you go to the corners, the transmission speed is not as fast as when you are close to the WiFi router. So, I have an ethernet switch for my office, and connected to the switch is the HyperDrive 12-Port hub.
There is a jack on the hub for the ethernet cable. This Ethernet port supports 10Mbps/100Mbps/1Gbps connections at either half or full-duplex connection.
Reason #3 – Connect multiple monitors
I honestly cannot work without having multiple screens. As I write this review, I have a 27″ 4K monitor, my laptop screen, and a portable USB-C display. If my desk could hold more displays, I would connect them (but I haven't as of yet).
Before having the HyperDrive docking station, I had a USB-C to HDMI adapter (and yes, that took up a USB-C port on my MBP – as did another adapter I used for USB-C to Ethernet). That meant that three of my four USB-C ports on my MBP were used up (display, ethernet, and power).
What is great about the HyperDrive USB-C Docking Station is that it has the ability to connect up to three monitors. Built into the hub are two HDMI 4K (60Hz) HDR ports and one 4K (60Hz) DisplayPort. While I have seen some hubs that will only support mirroring of displays unless you install some kind of driver, these three ports are independent, and you can do mirroring OR have three extended displays.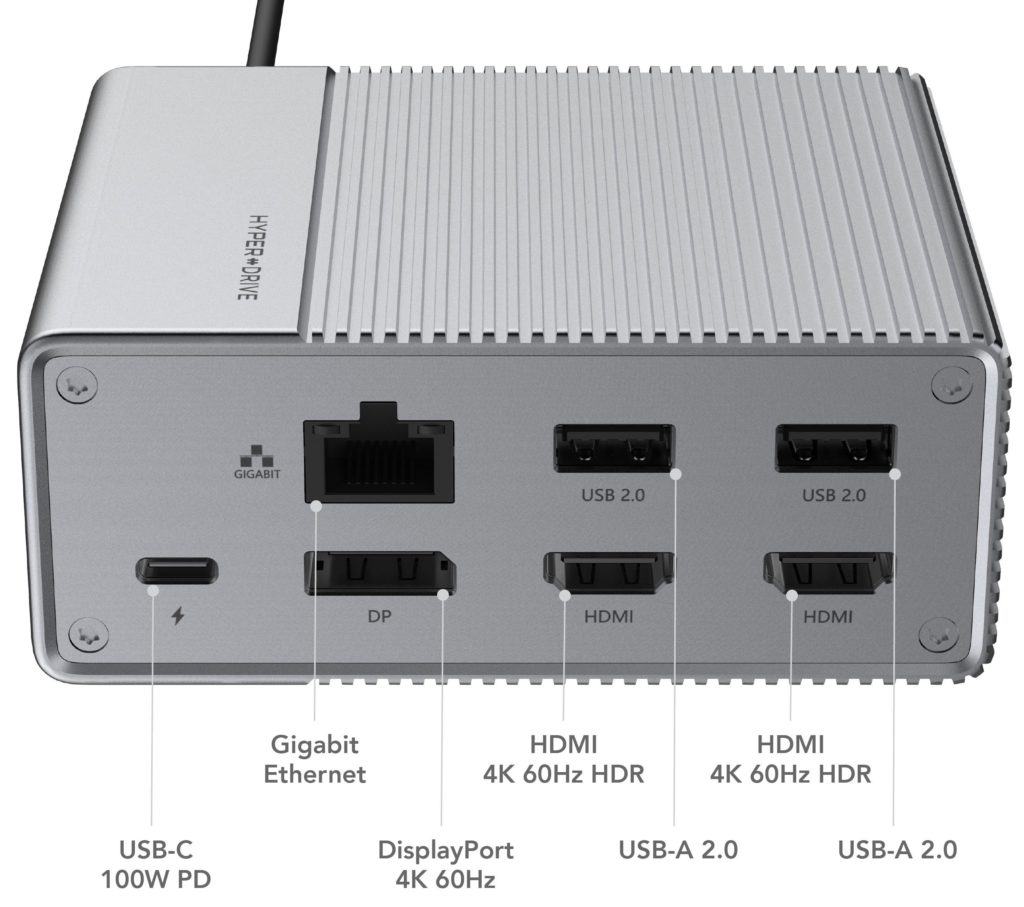 A quick note here – and this is not something that I have tested – but on macOS, while you CAN connect multiple monitors, the (up to 3) monitors will all be mirrored. So you could have four displays (including your Mac) showing the same screen, or you can have the three connected monitors showing the same (extended) screen and a different screen showing on your Mac itself. With Windows, you can do mirror mode (the same display on all screens) or do extended mode with different monitors showing different extended displays. See this FAQ for more details.
I currently have my 27″ monitor as an extended display. Unfortunately, since the 12-port HyperDrive only has one extra USB-C port, which is used to connect the power supply from my laptop, I do have to plug that third display of mine directly into my MBP. But, this setup does allow me to have three distinct displays showing simultaneously.
But again, the important thing to remember here is that for the Mac, there are no drivers or additional software you need to install to have this hub support multiple displays. You just plug it in, and it simply works!
Reason #4 – It has the old USB-A ports as well
Unfortunately, we are not going to escape from USB Type-A for a while. There are many, many devices and peripherals that still use this older standard. And luckily, the HyperDrive 12-port hub supports them. I actually have two USB external hard drives, a microphone, a webcam, and some other devices connected through the hub.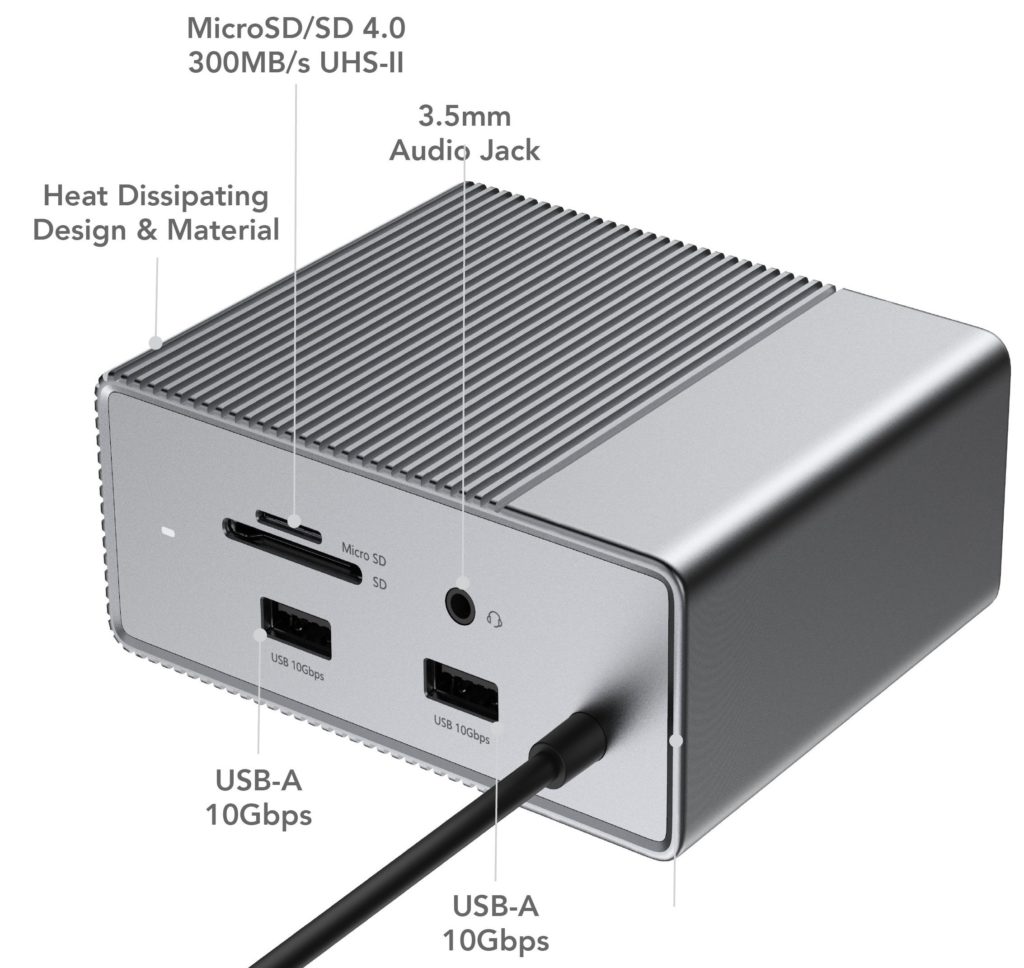 Wait, you say! Those are more than four USB-A devices. Yes, I cheated a bit. I actually have a powered USB-A hub that I plug into the HyperDrive as well in order to support even more devices than the HyperDrive can handle. However, for the two external USB drives, I do plug them directly into the HyperDrive to get faster data transfer.
The HyperDrive has four USB-A ports – two are the older (and slower) USB-A version 2.0, and two are the newer (and faster) USB-A 3.0.
The USB-A 2.0 ports share 480Mbps bandwidth and have a 500mA power output. The USB-A 3.0 ports share 10Gbps bandwidth and have a 1.5A power output.
Reason #5 – Support for SD cards
Those of you who are digital photographers (and who don't just use their smartphones as I do) will be happy to see the inclusion of Secure Digital (SD) cards. There is a slot for MicroSD and one for SD. These ports support the UHS-II SD 4.0 specification, and they are backward compatible.
These slots support a maximum read/write speed of 312 MB/s and can handle SD cards up to 2TB in size. And, you can use both the SD and MicroSD slots to read/write simultaneously.
So, if you use a DSLR or have a drone capturing 4K video and need to easily connect to your computer to download video or images, having these two SD slots within the HyperDrive hub is a huge blessing!
Reason #6 – A (gasp) 3.5mm audio port
Yes, the 3.5mm audio port still lives despite it being removed from modern smartphones. And while there IS still a 3.5mm audio port on my MBP, I'm wondering how long that port will continue to live in future generations.
But one of the nice things is, using the 3.5mm audio jack allows you to connect speakers to the HyperDrive dock and leave the 3.5mm audio jack on your laptop to be for headphones.
The port is a 4-pole (TRRS) stereo (384Khz, 32-bit max sampling rate) which also supports a 384Khz 32-bit microphone. This is a true stereo headphone and microphone port.
Reason #7 – It's "cool" – literally!
One thing that I have noticed about various types of hubs is that they tend to heat up. This really isn't surprising because there is a lot of information, data, and signals being transmitted through various distinct chips within these hubs. Add power to the hub, and there is a tendency for the hubs to carry a lot of heat.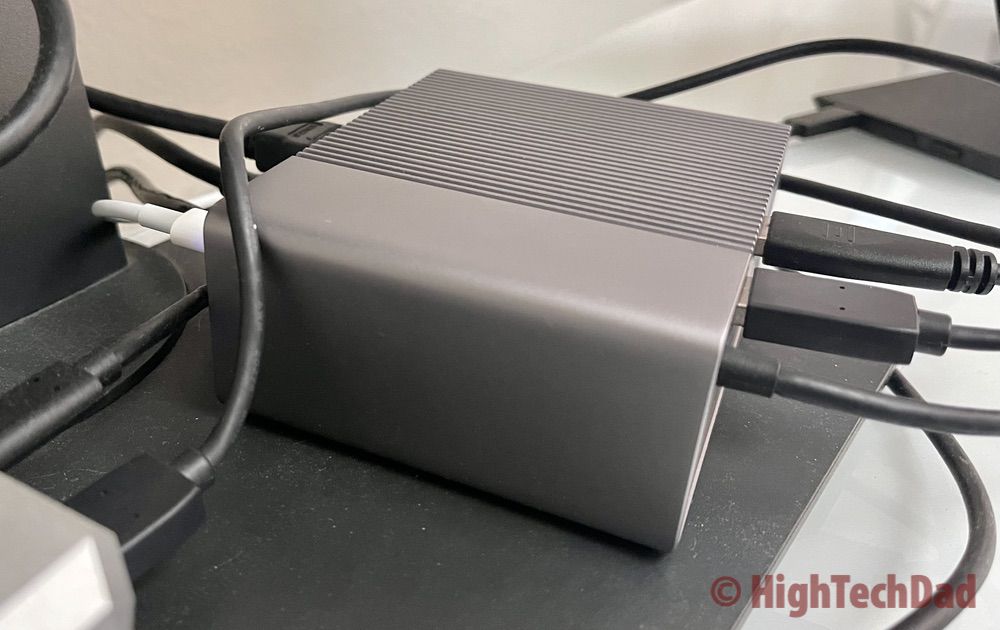 The HyperDrive 12-port USB-C docking station, to my surprise, actually is only mildly warm to the touch. Yes, there is heat, but it's not something you can fry an egg on (like some other ports I have tested). This is due to the design of the hub itself. It has heat-dissipating ridges built into its design, and the metal used seems to disperse heat nicely.
Lucky 7 makes the HyperDrive Gen2 12-Port USB-C docking station a winner!
I'm sure I could have come up with more than seven reasons why this USB-C hub and docking station is my go-to favorite currently. However, the thing that I truly like best is that it simply works. You plug it in, connect your devices, and everything connects! No need for drivers or other utilities.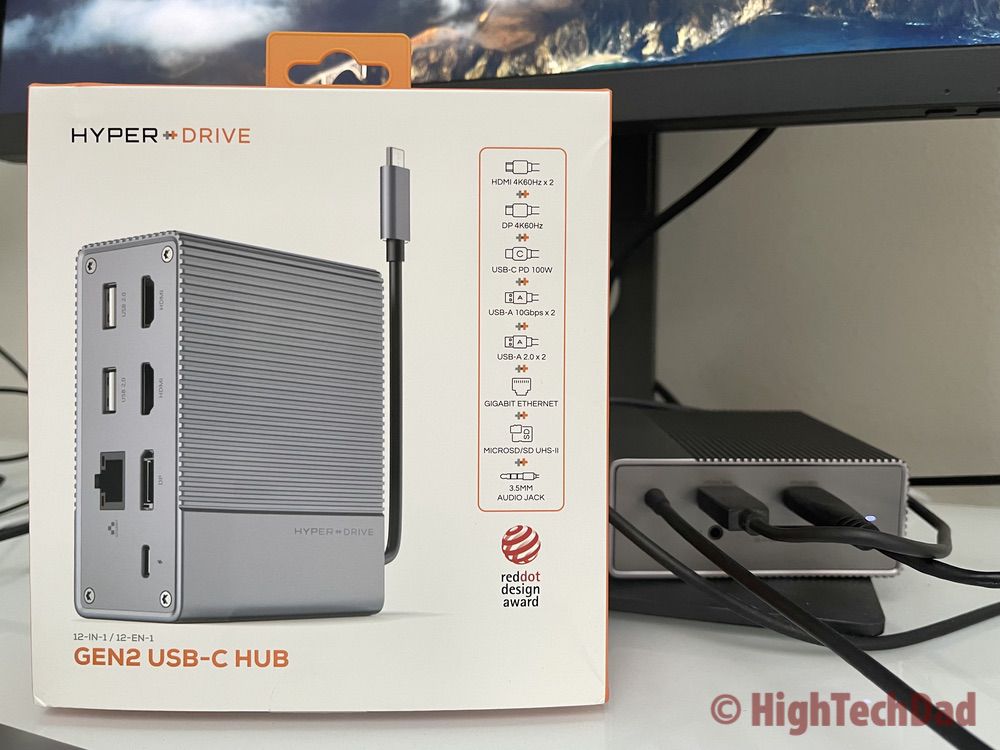 One problem though is the limited availability of the 12-port docking station. I guess with everybody working from you, there is high demand for hub solutions like these. The 12-port version is listed on the HyperShop site for $169.99. Unfortunately, it is currently not available on Amazon.
However, the version that I really wanted to have, which is a bit pricier, IS available on Amazon (as well as on the HyperShop site). It is the 18-port solution. To the 12-port, the 18-port adds:
VGA – to connect those really old monitors
Optical Taslink Audio – if you want digital audio connections
Digital Coaxial Audio – another audio option
USB-C ports – it's nice to have additional USB-C ports
DC Power Port – you can get an optional power supply to power the entire hub and then don't nee to plug in a USB-C PD
The HyperDrive GEN2 USB-C 18-Port docking station is available on Amazon for $199.99. Note: this does NOT include the optional power supply – you have to purchase that separately at $99.99.
Shop on HighTechDad
The product shown below (and related products that have been reviewed on HighTechDad) is available within the HighTechDad Shop. This review has all of the details about this particular product and you can order it directly by clicking on the Buy button or clicking on the image/title to view more. Be sure to review other products available in the HighTechDad Shop.
Lastly, if you are looking for a great portable hub solution, be sure to read my review of the HyperDrive Pro 8-in-2 Hub!
The bottom line here is, if you are looking for a high-quality USB-C docking station that handles a variety of different connectivity scenarios, you will want to avoid getting a bunch of single-purpose adapters and opt for a multi-function hub. The HyperShop 12-port USB-C Docking Station gives you the flexibility to connect multiple devices easily without any worry.
Disclosure: I have a material connection because I received a sample of a product for consideration in preparing to review the product and write this content. I was/am not expected to return this item after my review period. All opinions within this article are my own and are typically not subject to editorial review from any 3rd party. Also, some of the links in the post above may be "affiliate" or "advertising" links. These may be automatically created or placed by me manually. This means if you click on the link and purchase the item (sometimes but not necessarily the product or service being reviewed), I will receive a small affiliate or advertising commission. More information can be found on my About page.
HTD says: I honestly don't think I could survive without the HyperShop 12-port USB-C Docking Station as it helps me connect monitors, hard drives, Ethernet, audio, and more while only using a single USB-C port on my MacBook Pro.
HighTechDad Ratings
Ease-of-Use

Family-Friendly

Price Point

Features
Summary
I honestly don't think I could survive without the HyperShop 12-port USB-C Docking Station as it helps me connect monitors, hard drives, Ethernet, audio, and more while only using a single USB-C port on my MacBook Pro. There are many things to like about this USB-C docking station and hub. For starters, there is nothing you need to do to "set it up" when using with a Mac. Just plug in your Mac's USB-C PD/power supply into the HyperDrive hub and then connect the built-in USB-C PD cord to your Mac and that is it! Then simply connect all of the peripherals and devices you need. 
There is no need to install any additional software or drivers on the Mac. I have a single, 4K monitor directly connected to the hub and it extends my Mac's desktop. Also, I have two USB-A external hard drives directly attached and taking advantage of the faster USB-A 3.0 speeds. And this hub does not heat up, even with multiple devices connected to it. It is a great all-in-one docking solution using USB-C as the primary connection.
Pros
Easy to set up
Easy to use
Nice design
Many connection options (HDMI, DP, USB-A 2.0 & 3.0, Audio, SD card, ethernet)
Set it and forget it
Cons
Only one USB-C port
Ethernet data indicator lights are bright
Limited availability (hard to find in stock)
On macOS, can only mirror the attached displays