What's the worst thing that could happen to you when you host a party? No guest show up. Yeah, that's a big one. You run out of alcohol. Well, that's true, but hopefully, it is not because people drank too much. You run out of food. Not hard to do, but you can usually scrounge up something to eat. But honestly, in my book, it's running out of ice! Nothing is worse than warm drinks or having to run to the supermarket to grab more bags of ice! I want to tell you a secret, though, Newair has a variety of ice makers, and I'm going to walk you through how one of them, the Newair Countertop Ice Maker (model #NIM030SS00), can literally make your parties even "cooler!" (*Disclosure below.)
Update! I have added a 10% discount code at the end of this review!
I do have to admit, anytime we host a backyard party, I freak out a bit about buying lots of bagged ice. And then I over-rotated even more and had my wife buy a bunch of coolers to hold said ice. But, as I said, there really isn't anything much worse than warm drinks. But now, as I have been using the Newair 30 lb. Countertop Nugget Ice Maker, I think I'm starting to relax a bit about the whole ice situation.
I believe my ice anxiety does come from the fact that our ice-producing refrigerator actually doesn't produce much ice. And the ice that it does produce seems to take eons to make. It's almost like the movement of a glacier (yeah, sorry, another ice reference). There is a tiny storage container built into the door, and the total amount of ice the refrigerator produces adds up to like two trays of ice.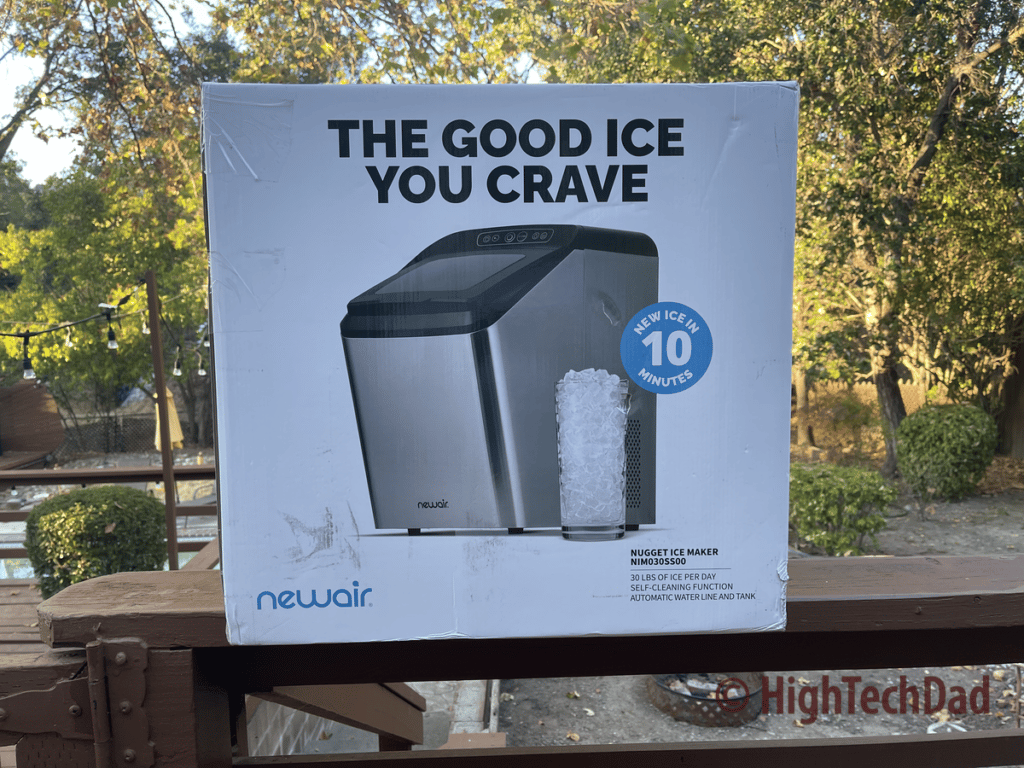 The Newair Countertop Ice Maker is now my secret weapon for parties and a whole lot more. I still need to use the coolers my wife got, but now I can crank out pounds of ice to be ready for that next party on the day of the party.
Some "Cool" Features of the Newair Countertop Ice Maker
Yeah, I'm going to be using the word "cool" a lot in this review. Before I go into detail on some of the features I really like about the Newair Icemaker, I want to present a shortlist of items that truly stand out.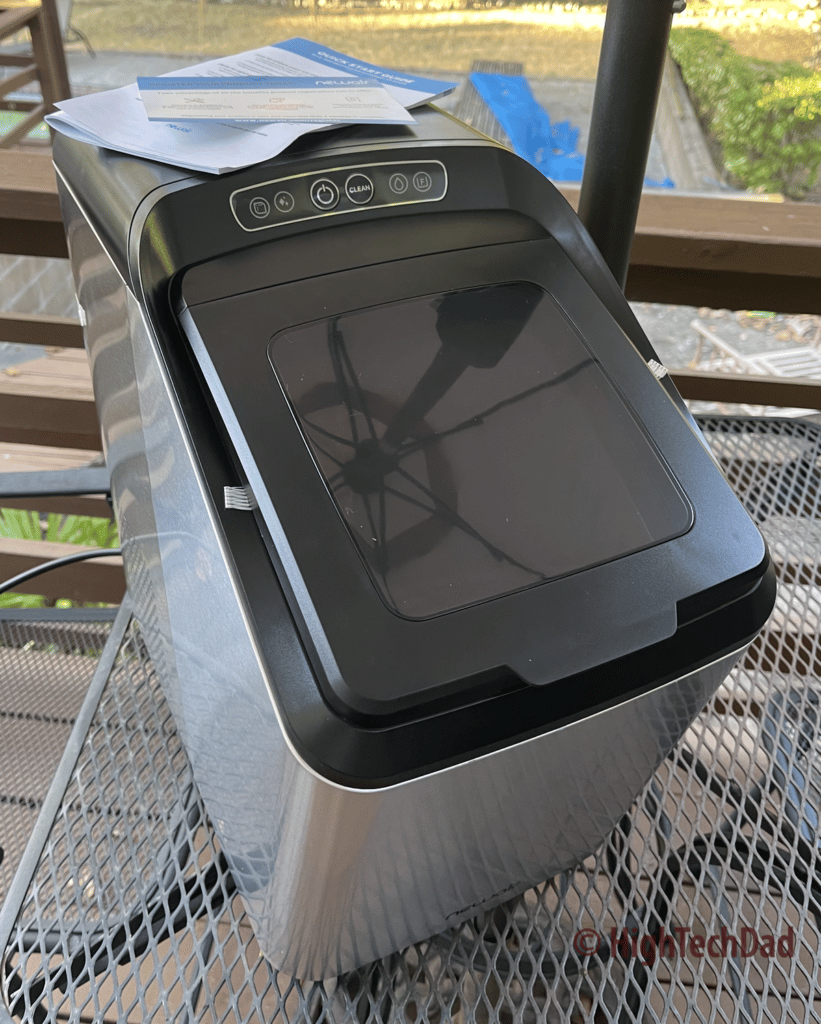 These are some of the highlights:
Countertop – this ice maker is designed to sit on a counter or pretty much anywhere where there is a power supply
Easy to fill – water can be added manually, or you can hook it up permanently to a water supply
Nugget ice – these aren't big ice cubes; they are more nugget sized; great for chewing
Fast ice production – 9 pieces of ice every 10 minutes, so in an hour, you have 54 pieces of ice (good math, right?)
Self-cleaning – there is a 5-minute self-cleaning option to ensure you don't have freezer-burned ice
Easy to empty – a built-in ice basket stores the ice, which can easily be dumped into a cooler or scooped directly into drinks
That is just the tip of the iceberg (again, sorry). But it wasn't until I actually did some real-world, hands-on testing that more of my likes really surfaced.
Space-saving Design of the Newair Ice Maker
Honestly, I didn't have much space to work with when it came to discovering the proper place to host the Newair Countertop Ice Maker. But, as the product's name suggests, this ice maker truly finds its home sitting on your countertop.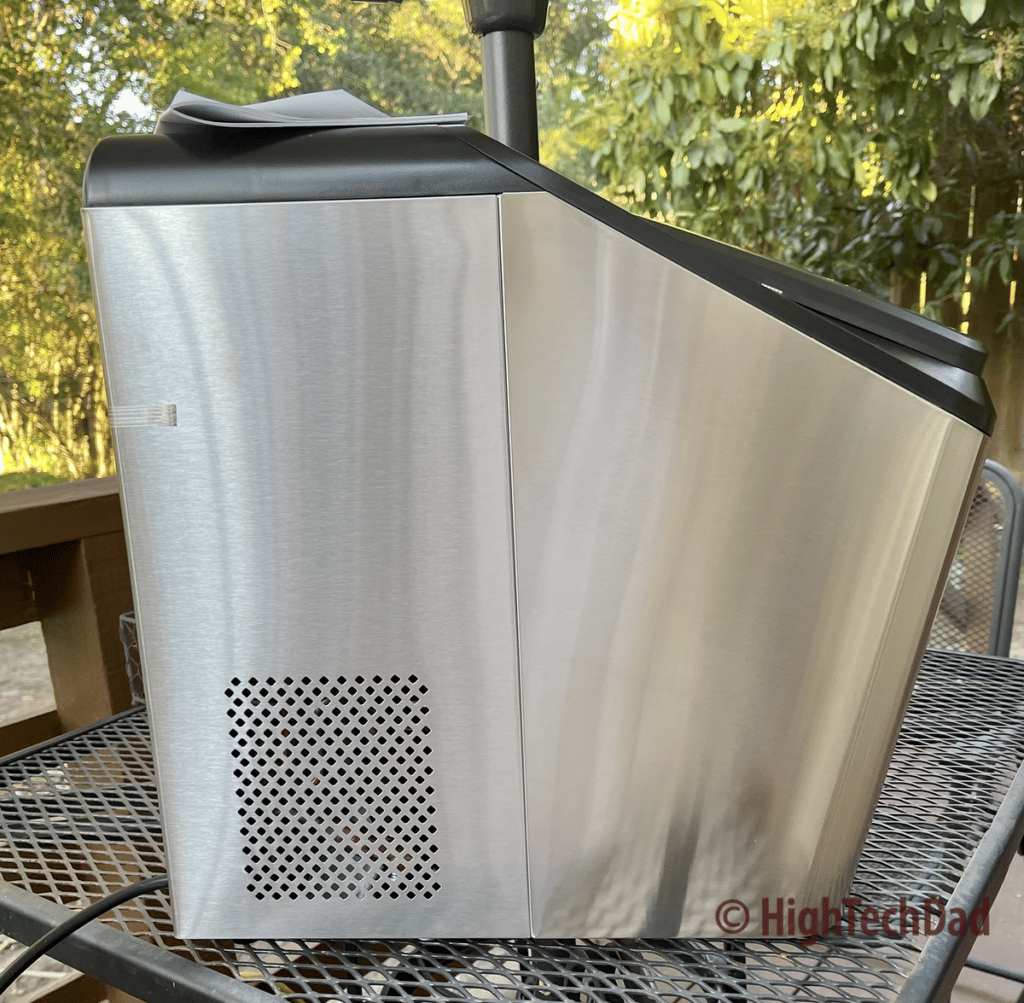 Also, an important feature of this ice maker is that it is (somewhat) portable, meaning you can place it pretty much anywhere you desire, provided you have a power outlet. Of course, the most logical place is the kitchen, close to a water supply (more about the H2O in a bit). But honestly, it can be placed anywhere: bonus room, bar, office, or even outside for parties.
In terms of physical dimensions, the Newair Ice Maker measures 17.64″ deep by 9.69″ wide by 16.93″ high. But before you go racing out to measure your anticipated space, you do have to remember that there needs to be some "padding" around the sides and the back of the ice maker for adequate ventilation. Newair recommends 6 inches on each side for proper ventilation. Unfortunately, my space was a bit tight on a couple of sides, so I could only do a few inches. It weighs about 34 pounds.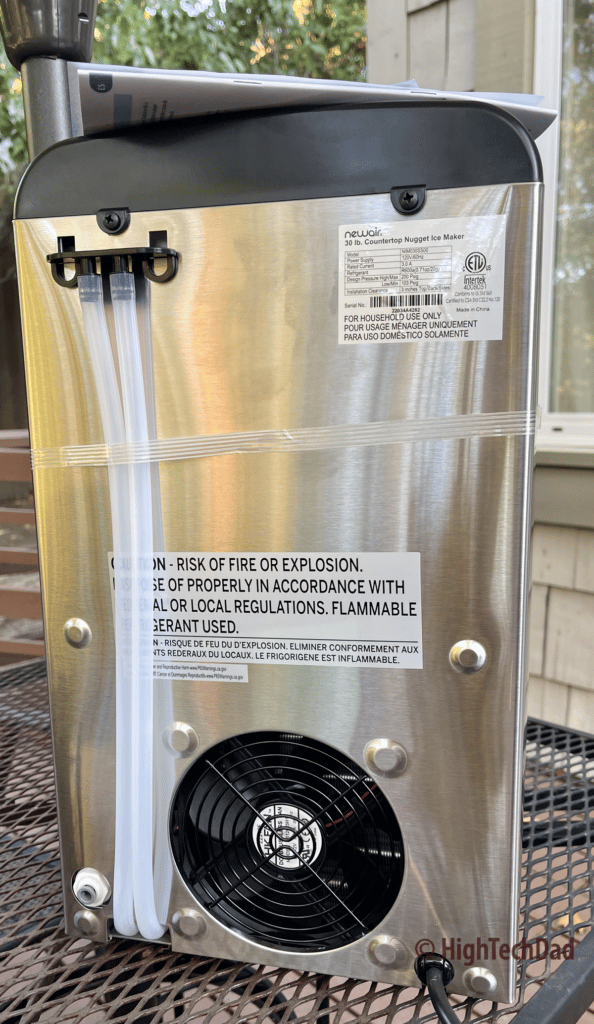 The Newair Countertop Ice Maker is thoughtfully designed for smaller spaces. For example, there is a semi-transparent (smokey) lid on that top that opens upwards to allow you to access the ice directly from above as well as see how full the ice container is. And directly above that lid are all the control buttons you need to control the ice maker.
Initial Setup
For me, the setup consisted of just a few easy steps: find a location, plug it in, clean the ice maker, fill the water, and watch the ice come tumbling out. If you have a water supply handy, you can take the optional step of connecting it to that. That does make the ice maker a bit less portable. I liked being able to move the Newair around to wherever the party was happening.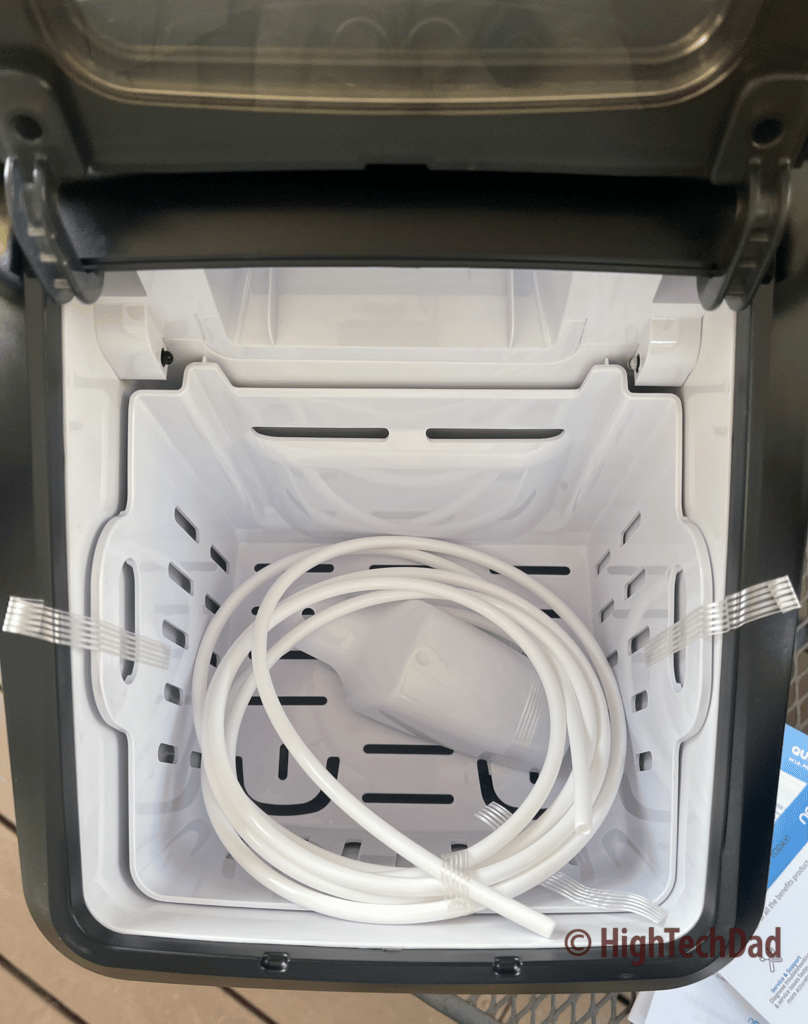 The initial cleaning is relatively easy. However, Newair does recommend that when you plug the ice maker in the first time, you let it sit for 2 hours before doing anything. There is a dedicated cleaning button to help with the process. Essentially, you need to thoroughly flush the system and the internal workings before your first use. I washed all of the removable items (basically the ice holder and the scoop) by hand.
To clean the ice maker itself, you can use either a vinegar and water solution or a few drops of dish soap and water. I chose the latter. I filled up the soapy water to the "Full" level marked inside the ice maker and then pressed the "Clean" button. Take care to NOT put too much soap in there to avoid too many bubbles.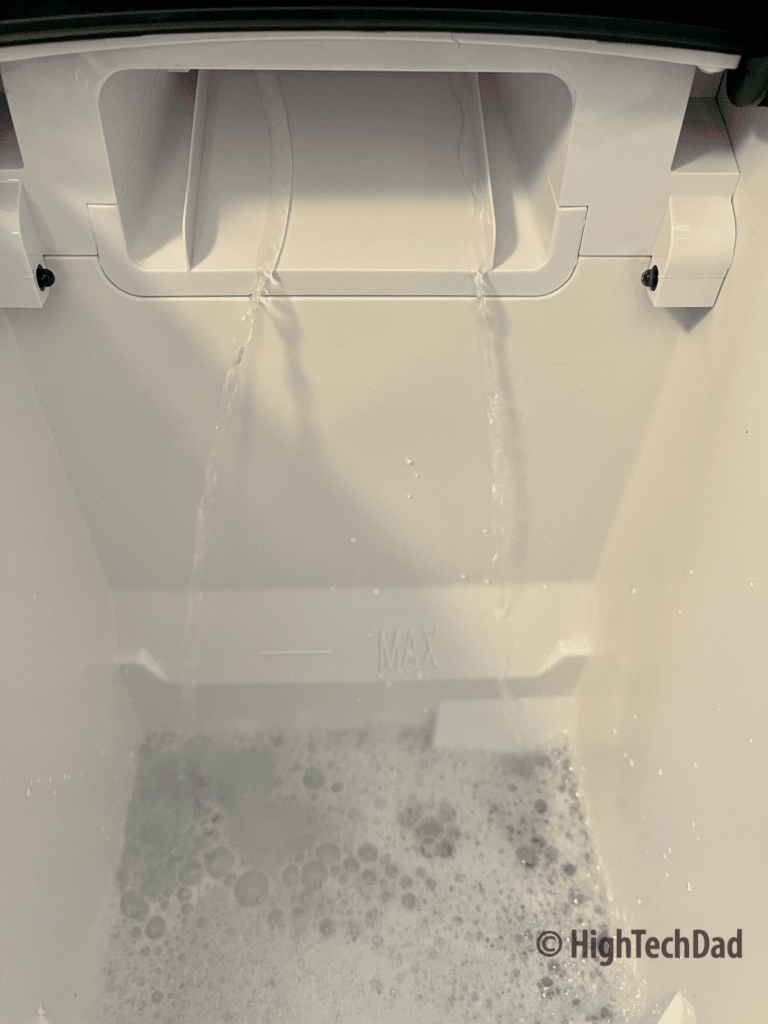 The Clean cycle will run for several minutes (about 5) and indicate when it is complete. What you then want to do is drain all of the water out. To do this, there are two drain tubes attached to the back of the ice maker (and plugged with stoppers). Just put the Newair Ice Maker next to your sink, detach and unplug the drain hoses, and let it simply drain into your sink.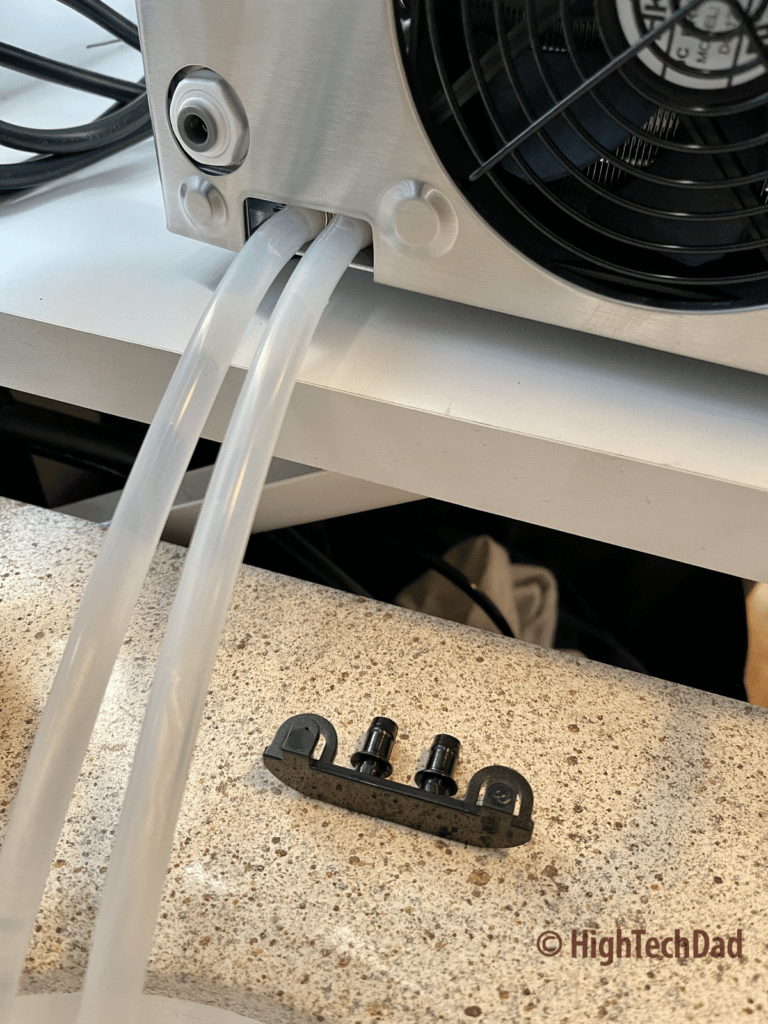 After I had drained it once, I did a couple more rounds of just plain water to ensure that all of the soap was entirely out of the system. Once that is complete, you are ready to start cranking out ice nuggets!
Using the Newair Countertop Ice Maker
Using the Newair Ice Maker is even easier than the setup and cleaning process. Since I haven't hooked it up to a main water line for a continuous water supply, I cannot speak to THAT ease of use. But if you do have it hooked up to a water supply, you never have to fill up the water reservoir. The ONLY thing you have to worry about is removing the ice (and cleaning it).
Since I have to fill the water manually, the process is still pretty easy. Below the removable ice basket is the water reservoir that holds about 0.7 gallons. And there is a water level mark that says MAX. You just fill the water up to that level. (By the way, Newair does have some recommendations on how to get perfect ice – and they do recommend using distilled water.) Our municipal water has extremely high quality, and it is not hard, so I have been using tap water directly.
To access the water reservoir, lift the lid, remove the ice basket, and fill it up to the MAX level, as I said. Then press the POWER button. Once you do that, the ice cube light will light up, telling you it's on the job crafting crunching ice goodness.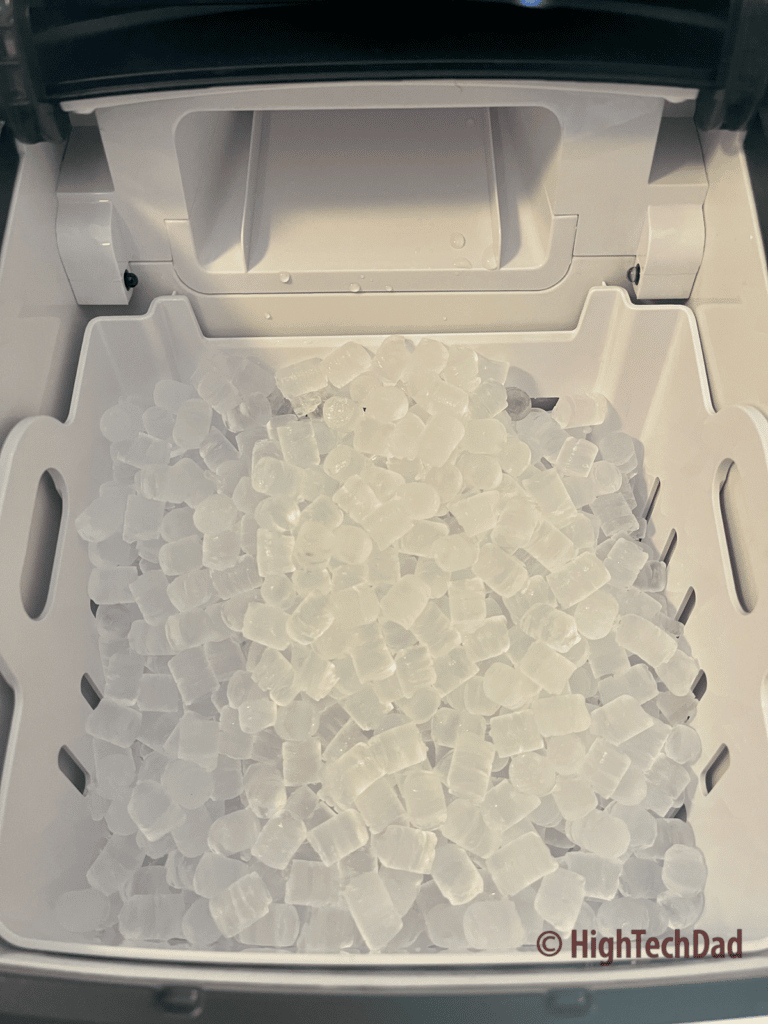 To fill up the ice basket, it will take the Newair about 20-30 minutes. Remember, it cranks out about nine pieces of ice per ten minutes. In my testing, it seems to produce ice a lot faster than that. I can fill up the reservoir and return in just a little bit, and the basket is almost full. Your ice mileage may vary. Also, if you have been cranking out ice all day and perhaps moving it to a cooler or to bags for the freezer, it will keep churning out the ice rather quickly.
Don't worry about suddenly having an avalanche of ice all over the place. There are ice-level detectors that will stop the ice-making process automatically once they detect that the basket is full. Just open the lid, remove the basket and ice, replace the empty basket, and close the lid. Then, assuming you have water in the reservoir (or are connected to a water supply), the ice-making will start again automatically.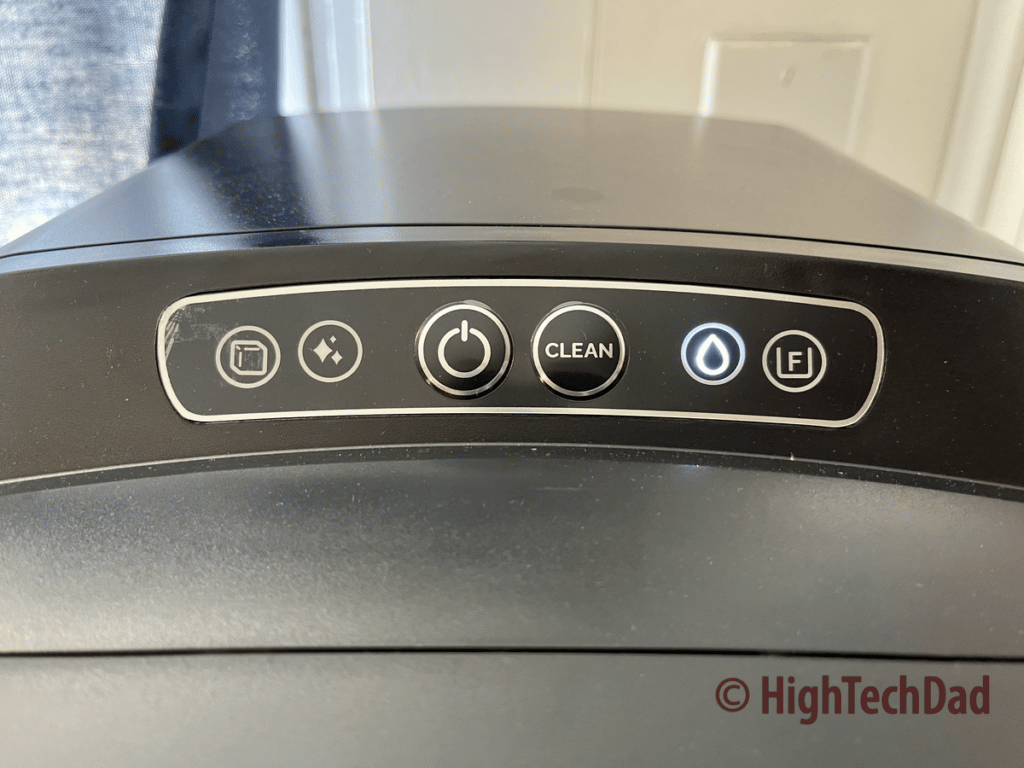 And, if you haven't removed the ice after 8 hours of sitting idle, the Newair will automatically shut off.
But what happens to that ice after shut off? Well, this ice maker is NOT a freezer, so the ice will melt over time. But, because of the design, the ice simply melts back into the reservoir – a great reclamation process!
You can always start or stop the ice-making process at any time by pressing the power button. And, if you don't have a dedicated water supply and are manually adding water, if the water level gets too low, not only will the water indicator light up, but also the ice-making process will stop until it is filled again.
Newair recommends you don't leave the water sitting for much more than a week. You don't want to have "stale" ice. So it is truly handy having the drain tubes attached to the back. And you can periodically clean it all with a vinegar and water solution.
The "Icing" on the Cake
Ok, I realize I probably have taken the #dadhumor a bit too far, and "icing" has nothing to do with actual ice production, but I do want to talk about the ice cubes themselves.
These cubes are not big, chunky ice cubes. They are much smaller and more refined – more like what you might get at a bar or fancy restaurant. And, in fact, they are great for teeth crunching, I have found. But another nice thing about ice nuggets is they are great for bags of ice needed for sports or other injuries. The smaller nuggets offer more surface area of "cool," and they can be molded around wrists, knees, and ankles a bit more easily than with large ice cubes.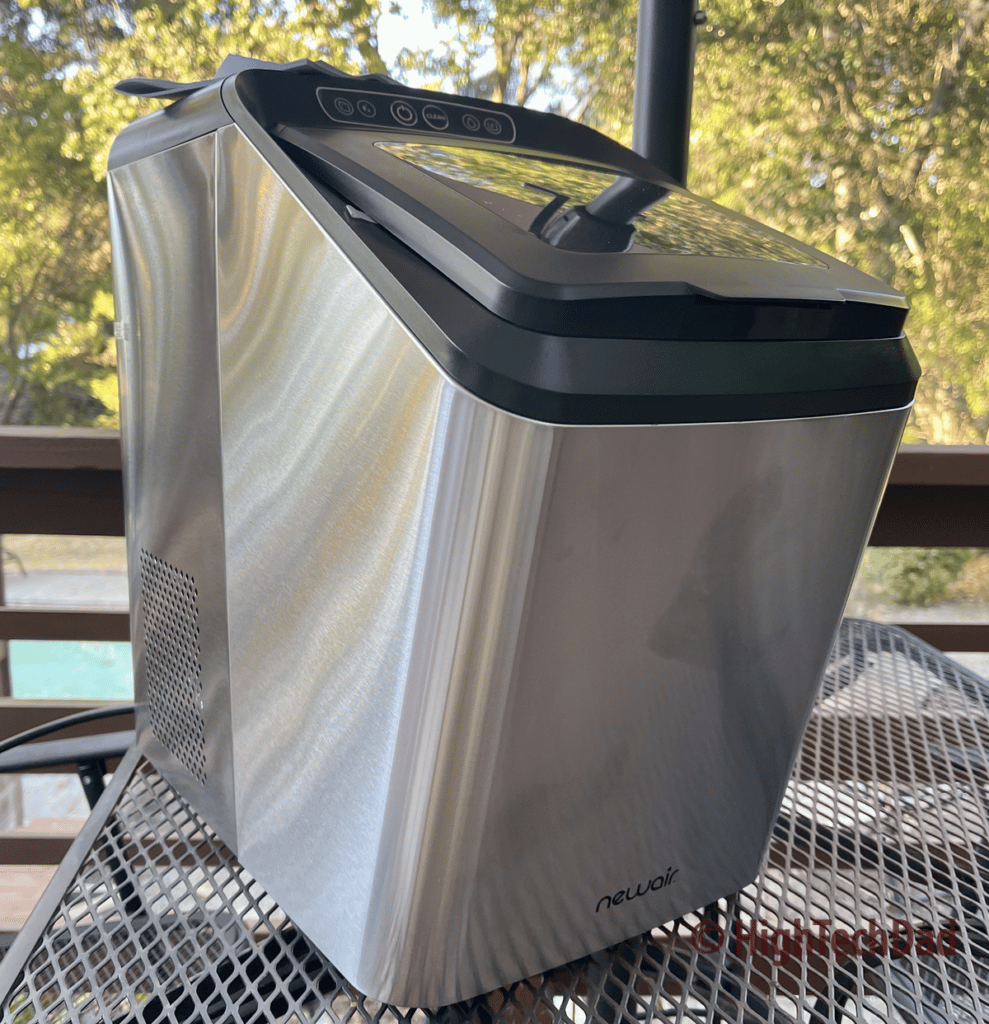 The Newair Countertop Ice Maker is a premium addition to any party, bar, office, or kitchen environment. The brushed aluminum and dark plastic with the smokey lid have a very modern yet elegant look. And it is truly a workhorse when it comes to ice production. Printed on the box is the fact that in 24 hours, you can churn out 30 pounds of ice! And I believe it!
The Newair Ice Maker retails for $499.99 on the Newair site. And it is also currently available on Amazon for $449.00.
Update! If you use the code "HIGHTECHDAD" at checkout on the Newair site, you will receive a 10% discount!
Shop on HighTechDad
The product shown below (and related products that have been reviewed on HighTechDad) is available within the HighTechDad Shop. This review has all of the details about this particular product and you can order it directly by clicking on the Buy button or clicking on the image/title to view more. Be sure to review other products available in the HighTechDad Shop.
The Newair Countertop Nugget Ice Maker is one of the easiest devices I have tested. Cleaning and set up took literally a few minutes. Using the ice maker was a snap (especially since I didn't connect it to a water supply). And the quality of the ice and the speed at which it was produced was fantastic!
Disclosure: I have a material connection because I received a sample of a product for consideration in preparing to review the product and write this content. I was/am not expected to return this item after my review period. All opinions within this article are my own and are typically not subject to editorial review from any 3rd party. Also, some of the links in the post above may be "affiliate" or "advertising" links. These may be automatically created or placed by me manually. This means if you click on the link and purchase the item (sometimes but not necessarily the product or service being reviewed), I will receive a small affiliate or advertising commission. More information can be found on my About page.
HTD says: Don't ever run out of ice at your own party again! The Newair Countertop Ice Maker churns out mounds of crunchable, nugget-sized ice in literally minutes, sparing you the embarrassment of serving warm drinks!
HighTechDad Ratings
Ease-of-Use

Family-Friendly

Price Point

Features
Summary
Don't ever run out of ice at your own party again! The Newair Countertop Ice Maker churns out mounds of crunchable, nugget-sized ice in literally minutes, sparing you the embarrassment of serving warm drinks! From the incredibly easy setup to the even easier nugget ice production, the Newair Countertop Ice Maker will literally become the "coolest" appliance at any home (or office). Gone are the days of running out of ice or having to pre-buy bags and bags of ice (you can make them all ahead of time). The Newair will churn out restaurant-grade nugget ice within 10 minutes and will continue doing so until either the ice basket is full (it will stop automatically) or you run out of water (there is an option to either manually add water or attach it to an automatic water supply). And the Newair Ice Maker takes up a very small area of counter space.
Pros
Portable
Quiet operation
Easy setup & maintenance
Quality nugget ice
Fast ice production