Being able to watch sports or a movie outside with friends and family has always been a big thing for me. I have tested various digital projection solutions over the years, but that process of setup and tear down was always long and complicated. I wanted something I could plug in and start playing. The Sylvox Deck Pro is a 55″ QLED Smart TV that fits all of my requirements for outdoor entertainment, including the fact that it's outdoor-ready to withstand heat, cool, dust, and rain. (*Disclosure below.)
But let's face it, spending an hour trying to set up an outdoor entertainment system using a projection system and connecting peripherals to be able to stream your media, or a sports game is not ideal. Ideally, you would want to just head out to your backyard, pick up a remote, and start streaming immediately. That is exactly what the Sylvox Deck Pro enables you to do.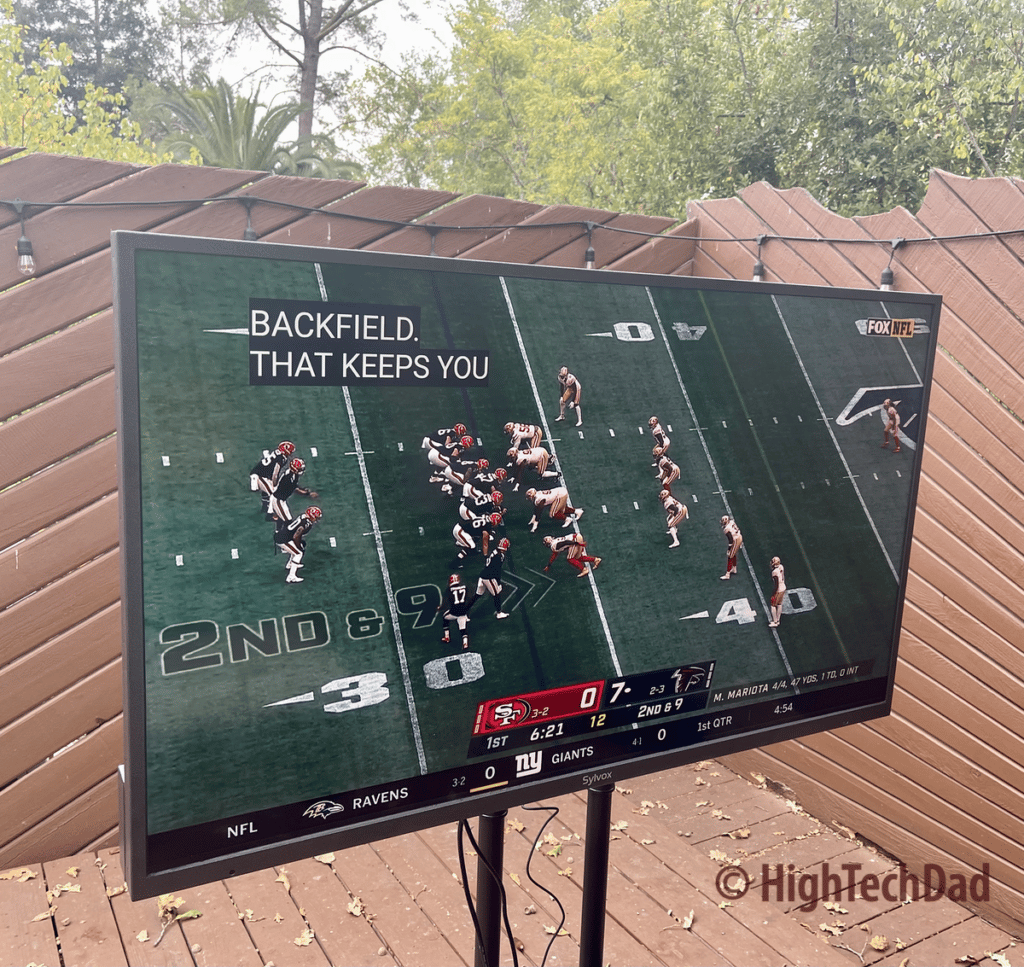 And, I would highly recommend against just taking your smart TV outside and setting it up. TVs that you have INSIDE your home will not stand up to the weather encountered outside. Rain, heat, wind, dust and debris in the air, and other environmental elements do not nicely coexist with electronics. Unless they are built to withstand a bit of a harsher environment. Again, this is where a Sylvox outdoor TV comes into play.
Sylvox Deck Pro is ready for outdoor entertaining
Whether you want to mount your TV within an outdoor patio, have it attached to a wall completely exposed to the elements, or attach it to an outdoor portable TV stand (which is what I did), any smart TV you put outdoors has to be built for that exact purpose.
I have gone to other people's homes where they have TVs outside, most of which are in well-protected, semi-indoors, or covered environments. And, in most cases, that is probably fine. But also remember, electronic circuitry is temperamental when it comes to extreme temperatures (highs and lows).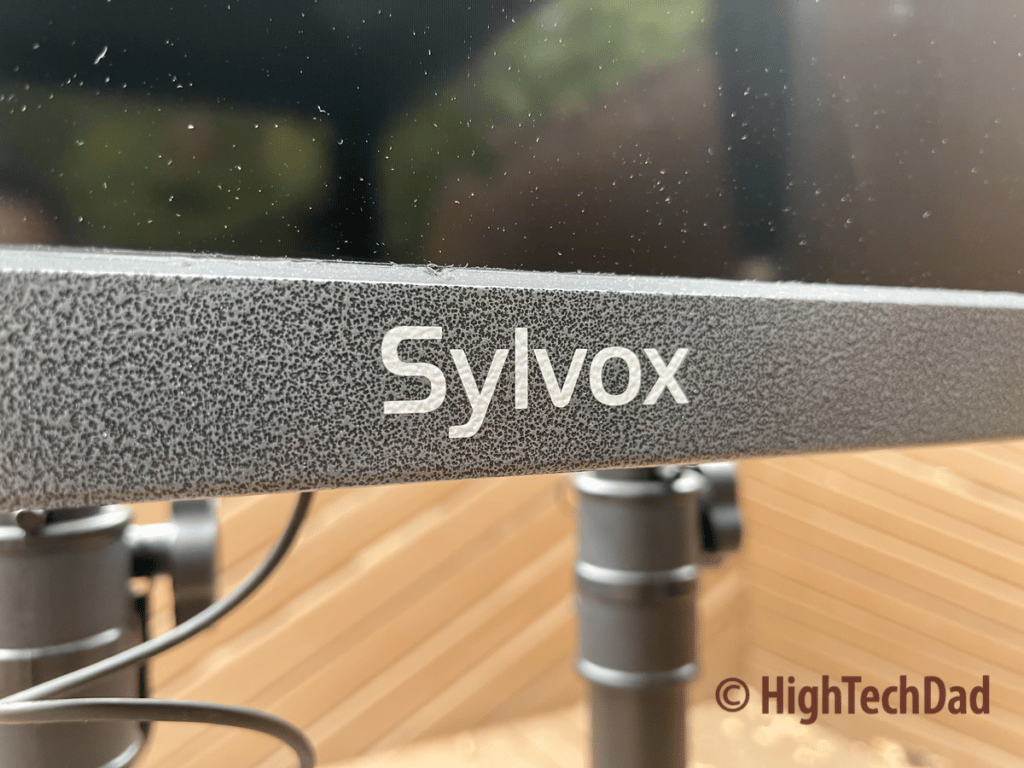 This is where the Sylvox Deck Pro 55″ QLED Smart TV caught my attention. As I read the specs (some of which are listed below), I realized that the TV in my living room would not be up to the task of being outside in the elements.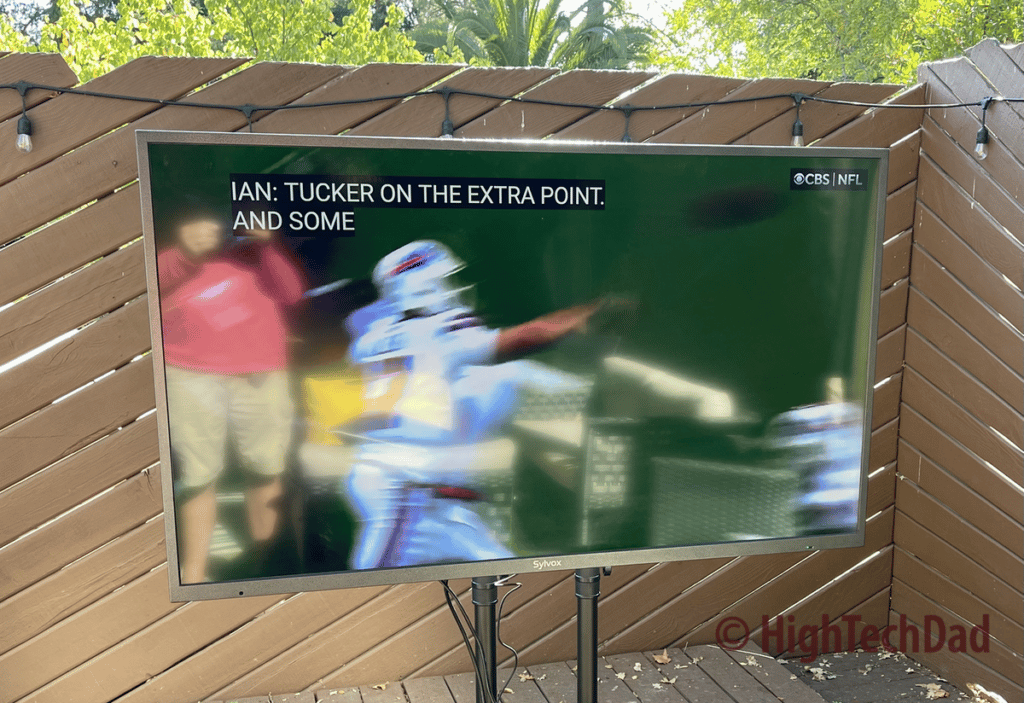 Some specs of the Sylvox worth noting, specifically as it relates to outdoor electronics living:
Waterproof – it is rated IP55, which means it is protected against water jets (think about a sprinkler or a downpour happening)
Dustproof – again, it is rated IP55, which means it is also protected from dust (think about those leaf blowers that move a bunch of materials into the air)
Higher contrast & brightness – one thing about projection systems is you really have to wait until it is dark to be able to see the picture fully. With the Sylvox, the level of contrast and brightness is good enough to view well in partial sunlight. The Sylvox I tested has up to 700nit brightness, good enough for almost direct sunlight. And, 700nits is about three times brighter than traditional indoor TVs.
Extreme operating temperature – the Sylvox can operate between -22 degrees F and 122 degrees F. So you can watch TV during a blizzard or in the middle of a heatwave (and have it next to a pool because it is splash-resistant)
Durable body – the Sylvox has a highly scratch-resistant aluminum metal frame. While this does make it quite heavy compared to other traditional TVs, it also means it can withstand a lot of abuse.
Scratch-resistant screen – while not as robust as the metal frame, the Sylvox screen does have protection which is critical in an outside environment.
Wireless connectivity – while I will go into some of the tech specs in a bit, this is an important one for an outdoor TV. The Sylvox does have both wired and wireless connection options. If you have wired ethernet you can attach, go for it. But if you want a more portable solution (like how I have mine set up), you will want to embrace the wireless option. And it handles both 2.4 GHz and 5 GHz bands.
Wide viewing angles – If you are going to use your outdoor TV in more of a party environment, you will want to be sure that your guests can view the screen clearly from many angles. The Sylvox has a 178-degree viewing angle that allows even people watching from the side to see the picture quite well.
Those are just of few of the outdoor-related specifications of the Sylvox Deck Pro Smart TV. I can pretty much guarantee you will NOT find these types of things in your traditional indoor TV. If you are going to play outdoors, you have to be ready for the outdoors!
The Sylvox is also a feature-packed Smart TV.
But what about the TV itself, once you remove it from its protective shell? Could you or would you actually want it as your primary smart TV? Honestly, I would say, "yes!" If it weren't for the fact that it is designed for outside entertaining, the Sylvox would do just fine anywhere in your house, office, business, or restaurant. And its smart tv specs would go head-to-head against most smart TVs available now.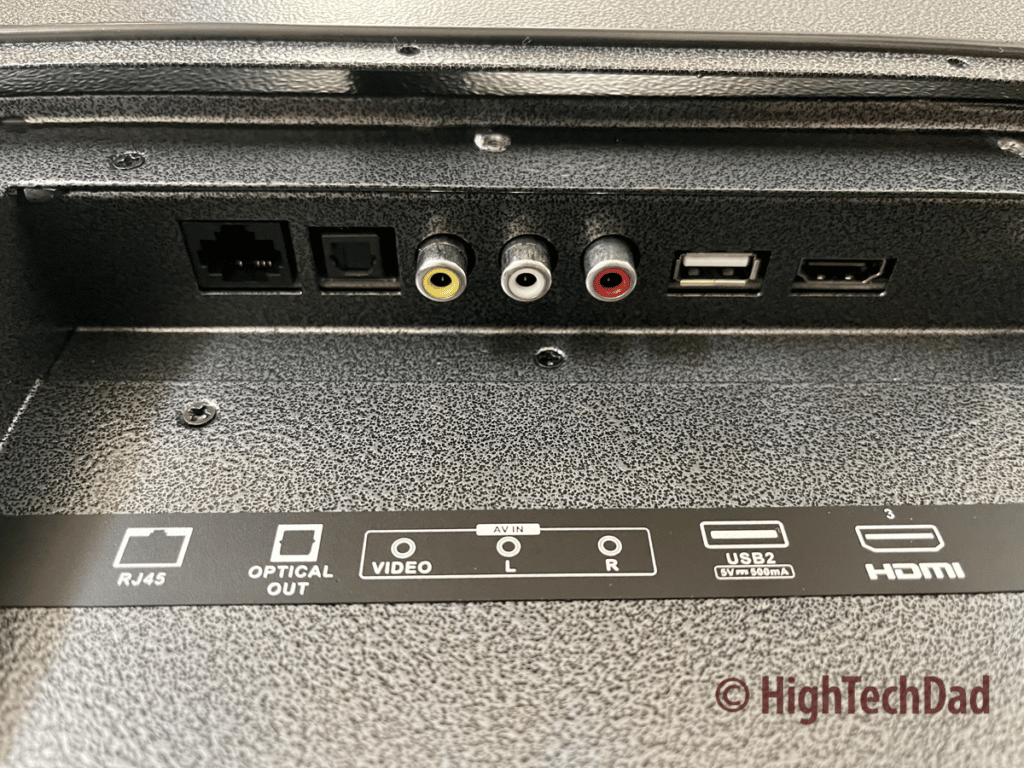 Ready for another list of specifications to geek out on? These are related to the smart TV itself:
QLED – QLED stands for Quantum dot LED (check this definition for all of the geeky talk). While it isn't OLED, I found the picture quality quite good.
4K UHD – the screen resolution is 3840 x 2160 pixels (2160p) which has four times as many pixels as HDTVs (1080p). UHD is Ultra High Definition.
HDMI ports – there are 3 HDMI ports
Optical out – you can use an optical connection for audio to connect to a separate HiFi
Earphone out – if you want to connect an external speaker, use the earphone out port.
USB – two USB ports allow for other connectivity or power for other streaming smaller devices
AV input – one AV input lets you connect older audio-visual components that may not support HDMI
Bluetooth – you can optionally connect Bluetooth devices like speakers or headphones.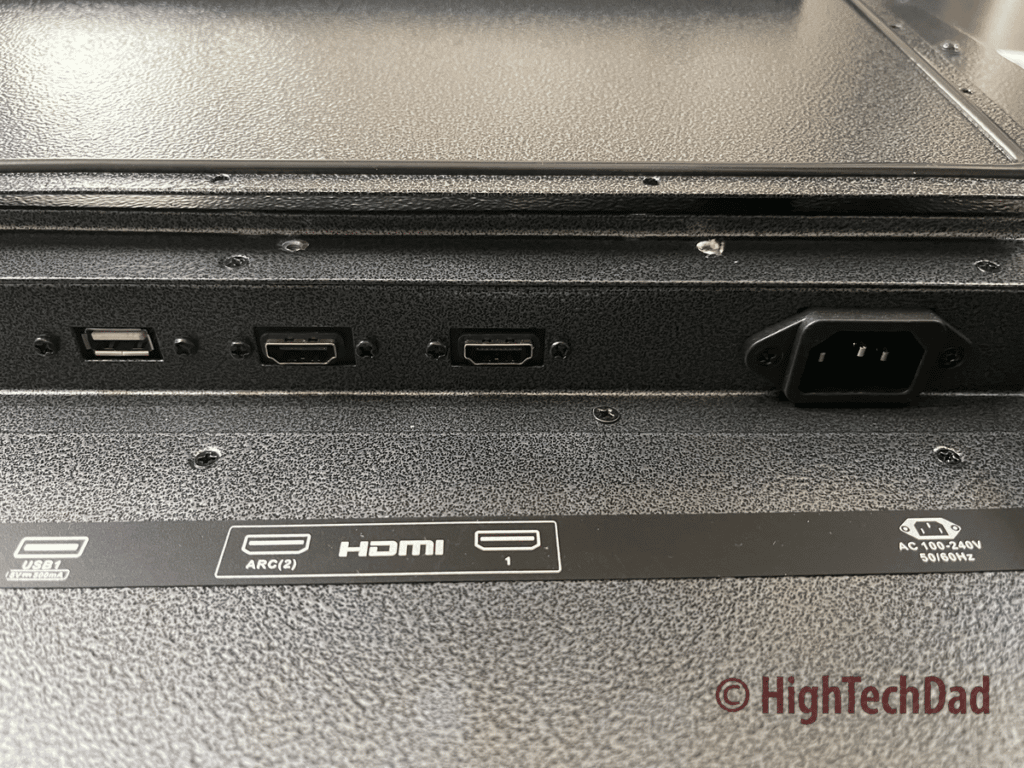 So those are the hardware specs. Let me go into the "smarts" of the TV, as those are definitely worth noting. For starters, the operating system powering the Sylvox is the LG WebOS, an operating system designed by LG to allow more advanced features when interacting with the TV. The GUI is extremely intuitive and easy to use. Sylvox has licensed this operating system for this TV to ensure the user experience is of high quality.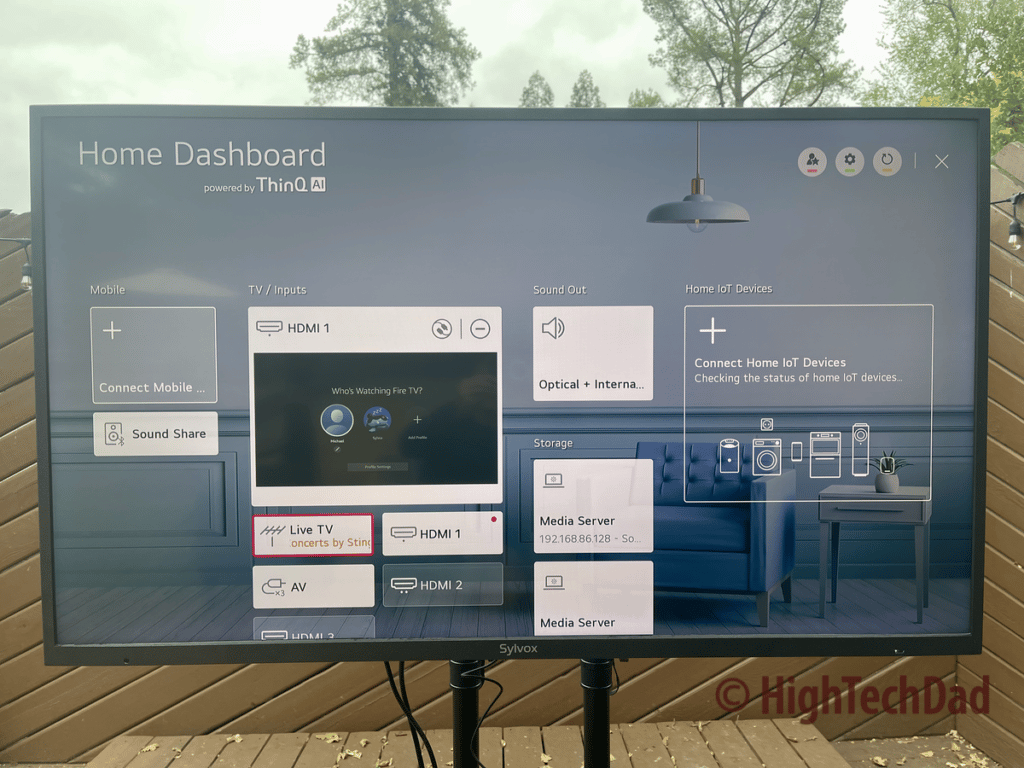 One important callout about what you get with the Sylvox Deck Pro is that you get TWO remote controls, one traditional and one that allows you to move a cursor around the screen and click on menu items, tiles, and other screen objects. So, first of all, there won't be (as much) fighting over a remote. And, for those people who like a traditional remote with direction arrows, you have that. But those who want a more interactive experience can use the smart remote, which also accepts voice commands!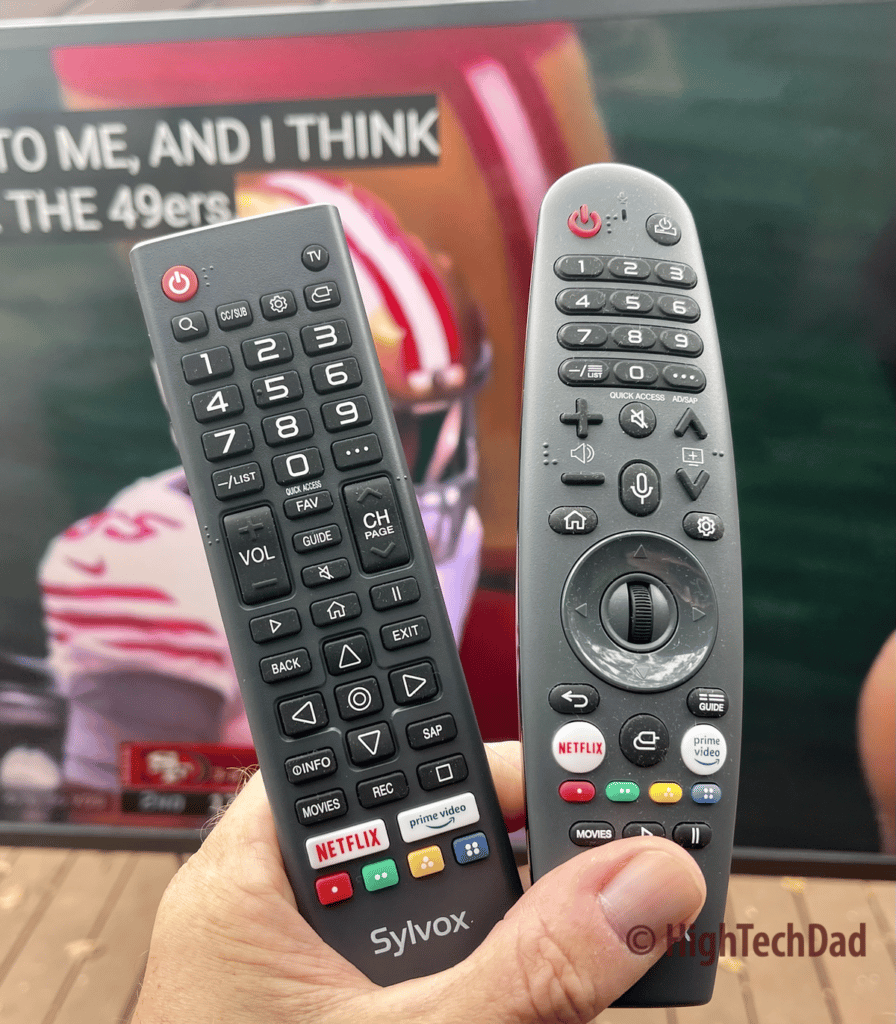 Back to the WebOS – having a smart interface also means that you can install and use various apps from the WebOS store. The great thing about this is that you don't need streaming hardware to attach physically; you simply download the app, log in, and start streaming. It is all built into the TV operating system. And the remotes have dedicated app buttons for Netflix and Amazon Prime Video. Many of the leading streaming services are supported.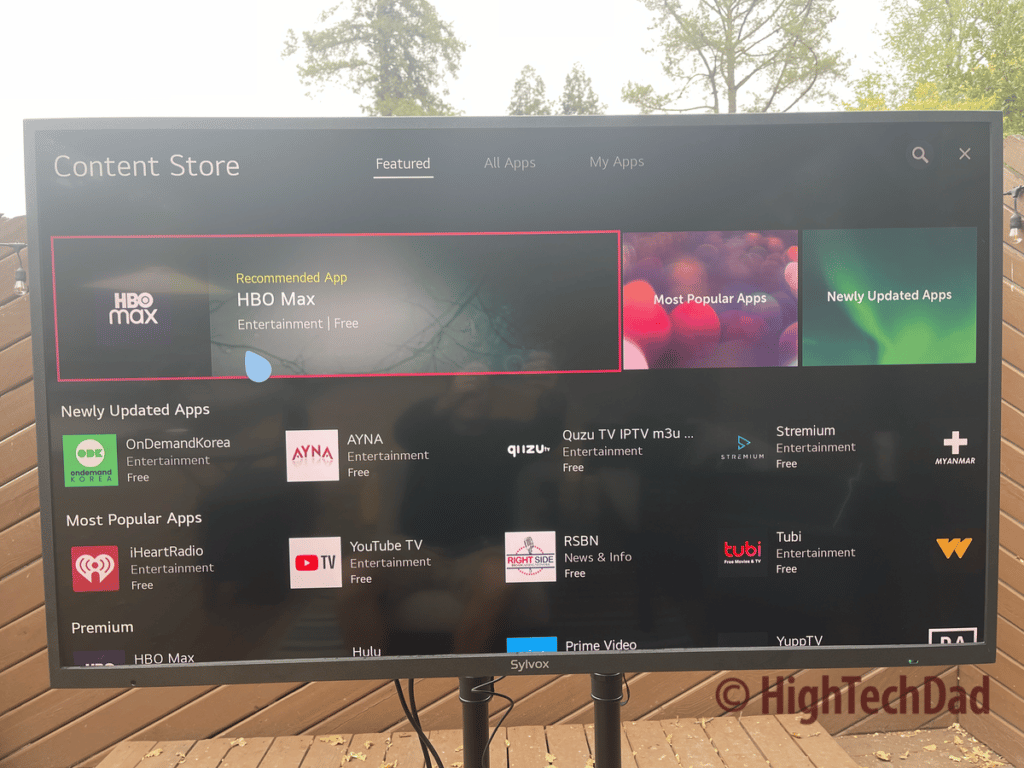 Also, Amazon Alexa is built into the Sylvox via the WebOS system. I have to say, I haven't yet configured Alexa on this Smart TV but will do so in the future. I'm thinking about creating a command called "movie time" that would turn off my outdoor patio and cafe lights so that just the Sylvox TV has the focus. There are other voice capabilities built in, which I haven't explored yet.
Set Up and Usage
While I have only used the Sylvox a few times, I do have some initial impressions. First of all, as I mentioned, I wanted to make sure that it was movable, and I didn't have a good wall to hang it on permanently. So, I had to find a good, outdoor stand that was also weather-proof and could support the weight.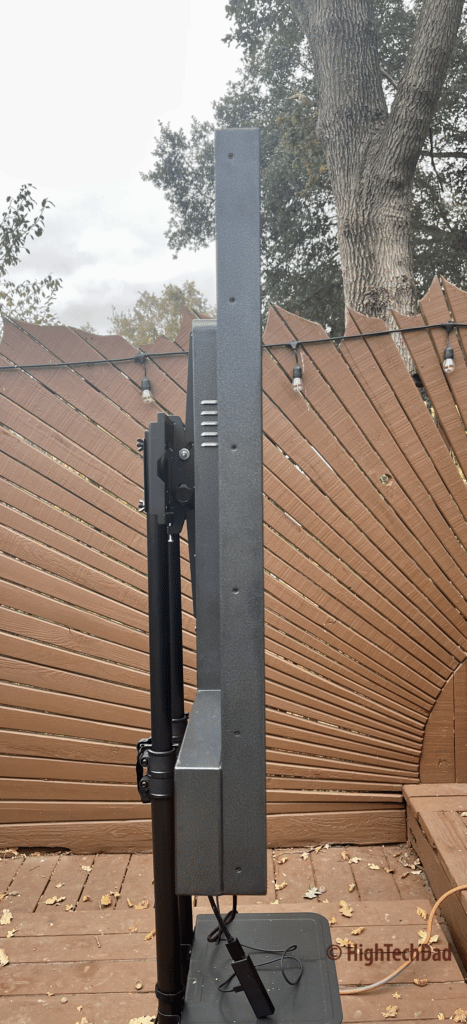 Let me talk a little bit about the weight. As this smart TV is literally encased in metal, it definitely weighs much more than a traditional big-screen TV you might have in your home. So, if you are going to mount it to a wall, I highly encourage you to mount it deep into the studs or have some sort of heavy-duty hanging bracket. Sylvox does have a mount that you can purchase that tilts and pivots.
This 55″ QLED TV weighs about 58 pounds, so you will want to get help to hang it. It does support VESA mounts (just be sure you review the specs for that). Also, if you order one, mine came in a huge but well-protected wooden crate (it kind of reminded me of the movie "A Christmas Story" and getting a "major award"). Again, you will probably need help unpacking, although I did manage to do it myself.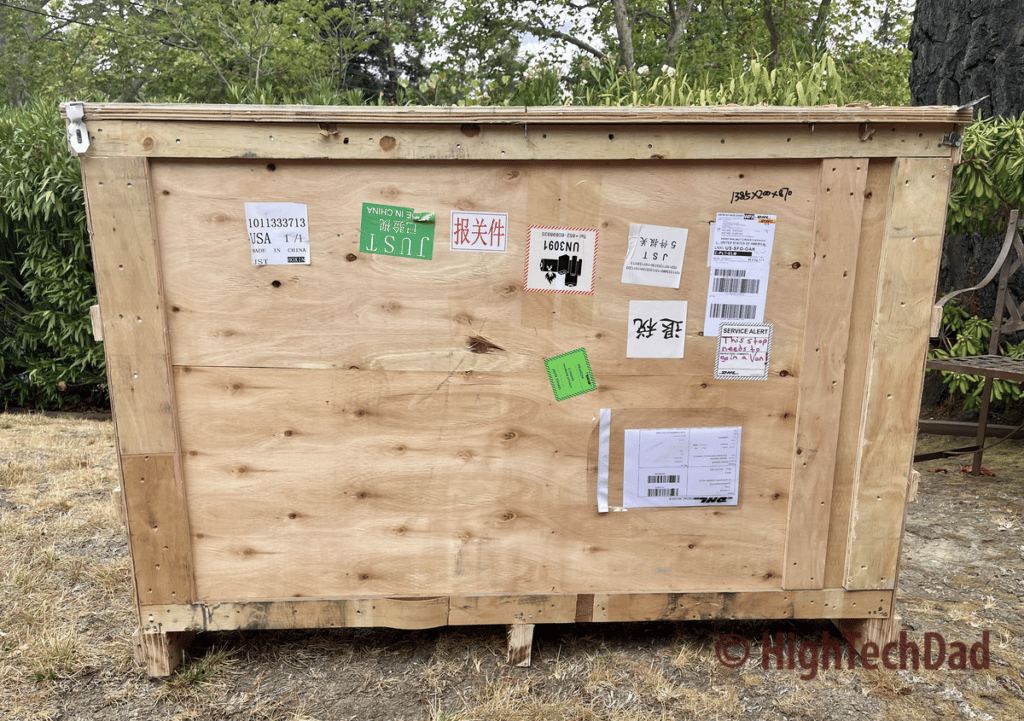 I fully set up and did some initial testing of the Sylvox as much as I could indoors and close to my WiFi router to ensure I had a good connection for any downloads or updates that were needed. I also wanted to put the stand's mounting bracket on with the TV face down on the carpet. All of that went well and was easy enough.
The setup using WebOS was quite intuitive and easy to do. I used the smart remote that supported motion and clicking on the screen. The funny thing was, I set the TV up directly below our older LG TV and the Sylvox remote kept turning the LG on.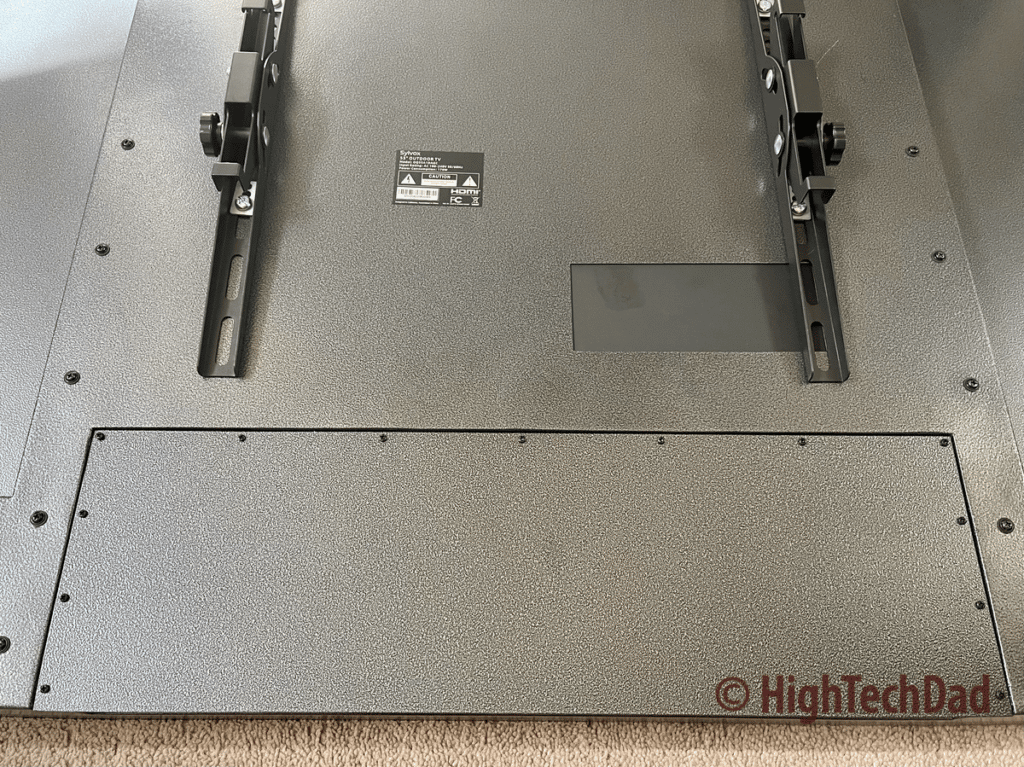 One interesting thing about the design is that all of the ports are packed away behind a protective panel in the back. There are many tiny screws that need to be removed to access all of the ports, including plugging in the power cable. I ended up purchasing an HDMI extender cable so I could put the panel back on, but still easily plug HDMI devices in without repeatedly removing the panel.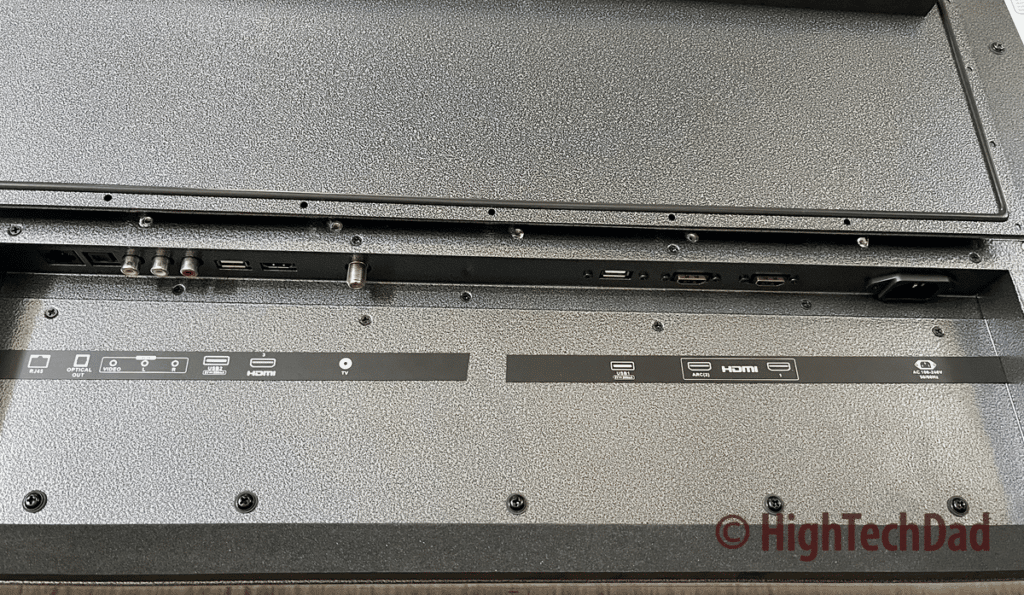 I do have a recommendation for Sylvox. While I understand the need to protect and cover all the ports well to seal them from the elements, I worry that I will strip some of the screws out if I have to do that repeatedly. So, I may attach some velcro straps to hold the cover in place and not use the screws. I'm still thinking it through, but definitely not having the screws would be better, in my opinion.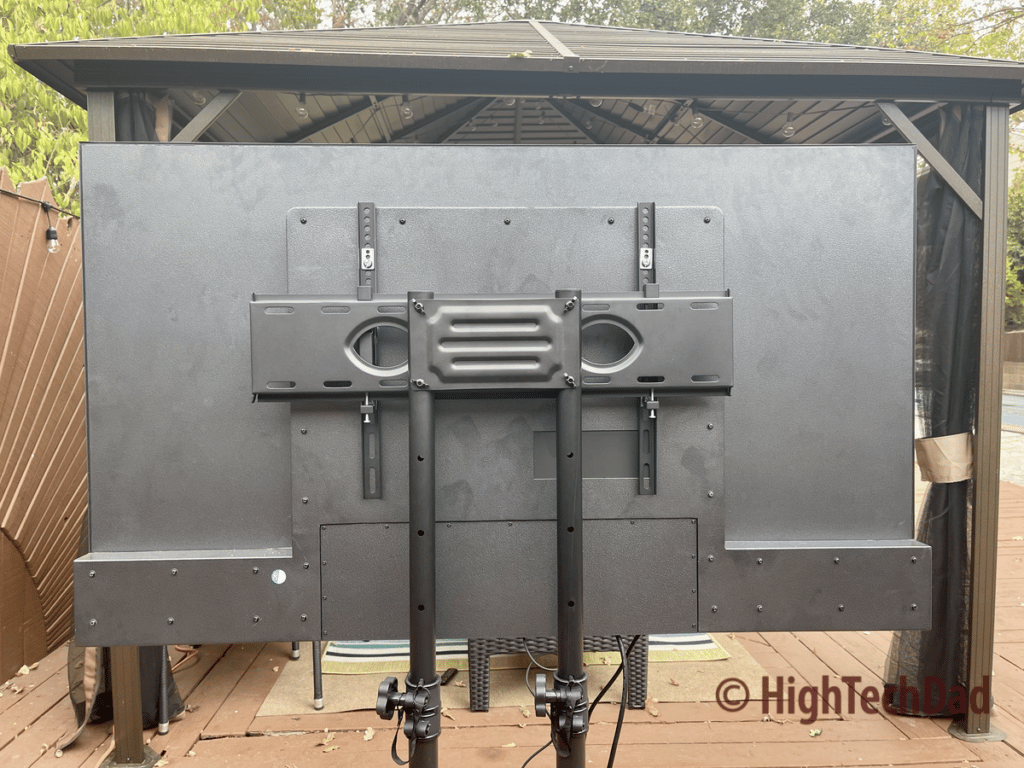 Once I had the VESA mount attached, with the help of my wife, I got the Sylvox attached to the stand, out in our backyard. I then went through some streaming tests using both the in-device apps for Amazon and Netflix, as well as using an Amazon Firestick. I found that both devices could connect to my 5 GHz WiFi perfectly fine with a good signal, and I was streaming 4K UHD just fine with various services that supported that.
Outdoor Entertainment on Demand
Sylvox does a nice job not only leveraging great technology with a solid TV operating system (WebOS), but they also have managed to package the TV into a great, weather-proof design worthy of being shown in your outdoor entertainment area.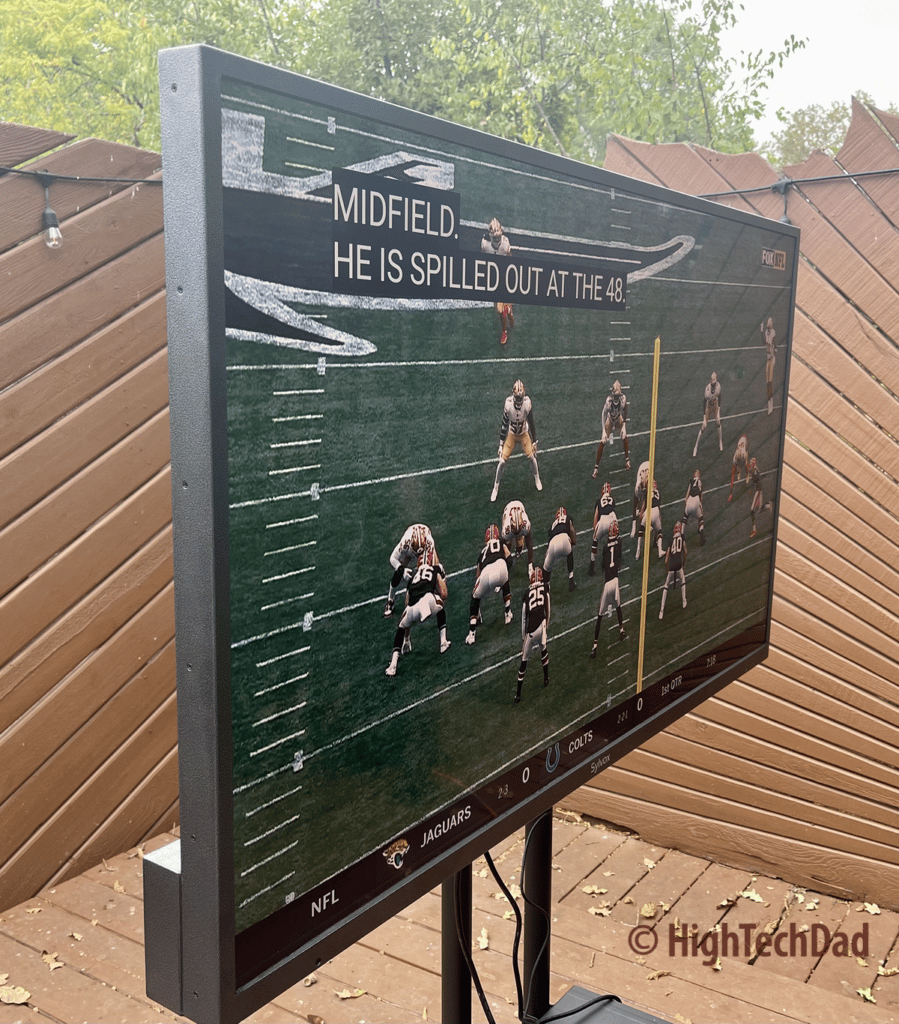 As of the writing of this review, the Sylvox Deck Pro 55″ QLED Smart TV is just coming off a crowd-funding campaign. According to their published timeline, they are in the shipping stage of production units. Unfortunately, by the time you read this, you will probably have missed out on the Super Early Bird pricing, which is listed at $1,698 USD, which is 29% off of the suggested retail price of $2,398 USD. They do state that there is free shipping in the USA. There are some other bundles available, including the pivoting wall mount and the Bluetooth sound bar.
And a quick note – looking at a big box retailer and searching for "outdoor TV," produced several partial sun/full shade TVs for 100s or 1000s more than the non-discounted price of the Sylvox I have reviewed!
But if you missed the crowd-funded discount price, you can still get Sylvox outdoor TVs on their website! They have a variety of different TVs for outdoors, indoors, RVs, bathrooms, kitchens, and more to choose from. The outdoor options are Deck and Pool Series, with the difference being that the Pool Series is up to 6x brighter than traditional TVs (the Deck Series is 3x brighter).
If you have any questions about things that were NOT covered in this review (I couldn't cover everything), please leave a comment below, and I will be happy to answer them.
Trust me, though, having the option of watching the game or a movie with friends and family in the backyard that doesn't involve a complicated setup is a great luxury to have. With the Sylvox Deck Pro, all I have to do now is plug it in and turn it on! Instant backyard digital entertainment!
Disclosure: I have a material connection because I received a sample of a product for consideration in preparing to review the product and write this content. I was/am not expected to return this item after my review period. All opinions within this article are my own and are typically not subject to editorial review from any 3rd party. Also, some of the links in the post above may be "affiliate" or "advertising" links. These may be automatically created or placed by me manually. This means if you click on the link and purchase the item (sometimes but not necessarily the product or service being reviewed), I will receive a small affiliate or advertising commission. More information can be found on my About page.
HTD says: With the outdoor-ready Sylvox Deck Pro 55″ QLED 4K Smart TV, you suddenly open a new world of outdoor digital entertainment for friends and family. This Smart TV is easy to set up, has fantastic picture quality, and can withstand most of your backyard weather conditions.
HighTechDad Ratings
Ease-of-Use

Family-Friendly

Price Point

Features
Summary
With the outdoor-ready Sylvox Deck Pro 55″ QLED 4K Smart TV, you suddenly open a new world of outdoor digital entertainment for friends and family. This Smart TV is easy to set up, has fantastic picture quality, and can withstand most of your backyard weather conditions. While there are still a lot of features and functions I haven't tested out yet, I have tried the most critical ones:
Is it built to withstand the outside elements > Yes
Is it a Smart TV > Yes
Does it have many HDMI ports > Yes, 3
Can you connect other devices to it > yes via AV input, USB, Bluetooth
Can you do wired/wireless connection > yes, both
Is there an app store and/or built-in apps > yes, both
How is the picture quality > great, UHD 4K QLED allows for great picture quality
How is the brightness for outside > very good in partial shade and great at night
Pros
See the points above
Reasonably priced versus competitive products
Easy to set up and use
Multiple picture warmth settings based on viewed content
Can fine-tune many video and audio settings
Cons
Sound could be a bit more robust, but various options to choose from as well as connect speakers via Bluetooth, Optical, headphone jack
Panel covering the ports should be redesigned for easier access