I have been reviewing a lot of on-the-go power solutions recently. This could be because we have more and more power-hungry gadgets or because we don't want to have charging anxiety when we are out and about. I have long followed Mophie and their charging and power bank solutions, and wanted to provide some review insights into two of their latest Powerstation solutions – the Mophie powerstation pro XL and the Mophie powerstation plus. Both of these battery power banks have unique features and use cases, but I wanted to provide details about both in a single review. (*Disclosure below.)
My iPhone is a couple of generations behind the current release, and as a result of using it all the time, the battery health and capacity have increasingly become less than ideal. While it says it is at "Peak Performance Capacity," it also states that the Maximum Capacity is only at 88%. For the most part, this is fine, but if I leave my home for the day and am away from my wall charger, I, too, suffer from lack of charging anxiety. Call it FOMO (Fear Of Missing Out) or what have you. But I always pack a battery charger in my pocket if I plan to be out for an extended period.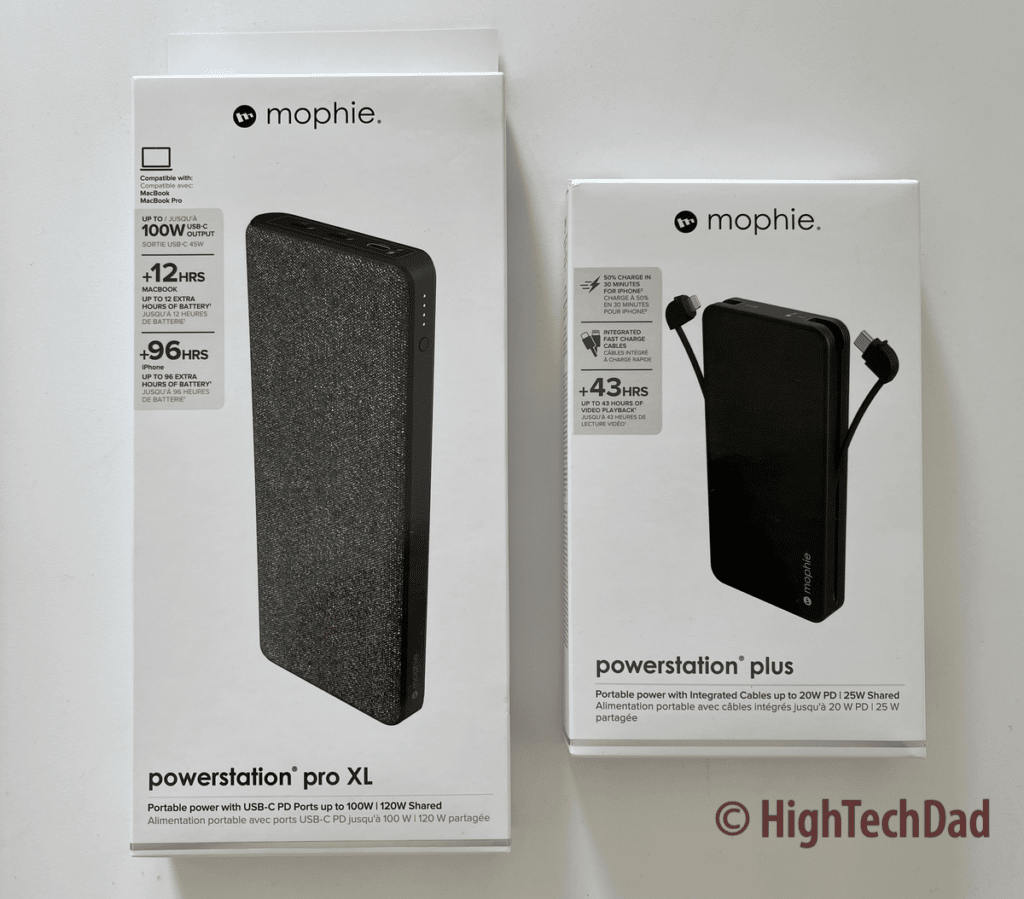 With my MacBook Pro, I'm a little less concerned because the new Macs simply have amazing batteries and power conservation. But, you never know, honestly, when you will need to power up your laptop and charge it in anticipation of an extended period away from the wall plug. Long flights or meetings away from the office can produce that lack of charging anxiety.
This is where these two new Mophie Powerstation solutions help reduce that anxiety, knowing that you have on-demand power for your smartphone, tablet, or laptop when you are away from that glorious wall plug. While the Powerstation Pro XL is a bit more geared towards laptop users and the Powerstation Plus more for smartphones and tablets, they both are important power banks to have at the ready when you prepare to leave home or the office.
The Mophie Powerstation Pro XL juices up all of your devices
I will start with the Mophie Powerstation Pro XL, as this is one of those portable power devices that can pretty much do anything. While it only has USB Type-C ports, most newer devices now support the USB-C standard, even laptops. And for those cases where you only have a USB Type-A cord, you can always purchase a USB-A to USB-C converter.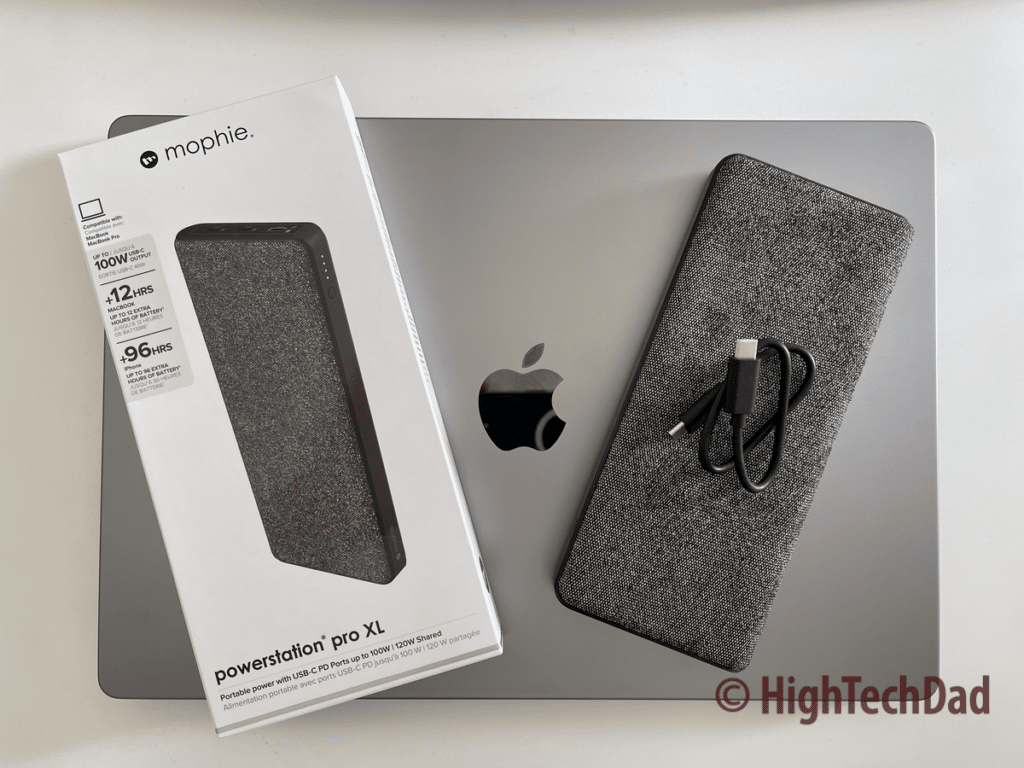 Let me quickly cover the specifications of the Powerstation Pro XL portable power solution:
Capacity – 25,000mAh battery
3 USB-C ports
120W total combined power across the 3 ports
USB-C PD output #1 – up to 100W / also used for charging the Powerstation
USB-C output #2 – up to 30W
USB-C output #3 – up to 20W
USB-C to USB-C charging cable included
4 LED battery level indicator
Weight – 1 pound
The Mophie Powerstation Pro XL can charge three USB-C devices simultaneously. In addition, the primary USB-C port is set up for Power Delivery (PD), making it the port you will want to use to charge up a laptop that supports USB-C PD charging.
But with three USB-C cables (not included with the Powerstation Pro XL), you could conceivably charge a laptop, a smartphone or tablet, and your Airpods or Apple Watch all at the same time.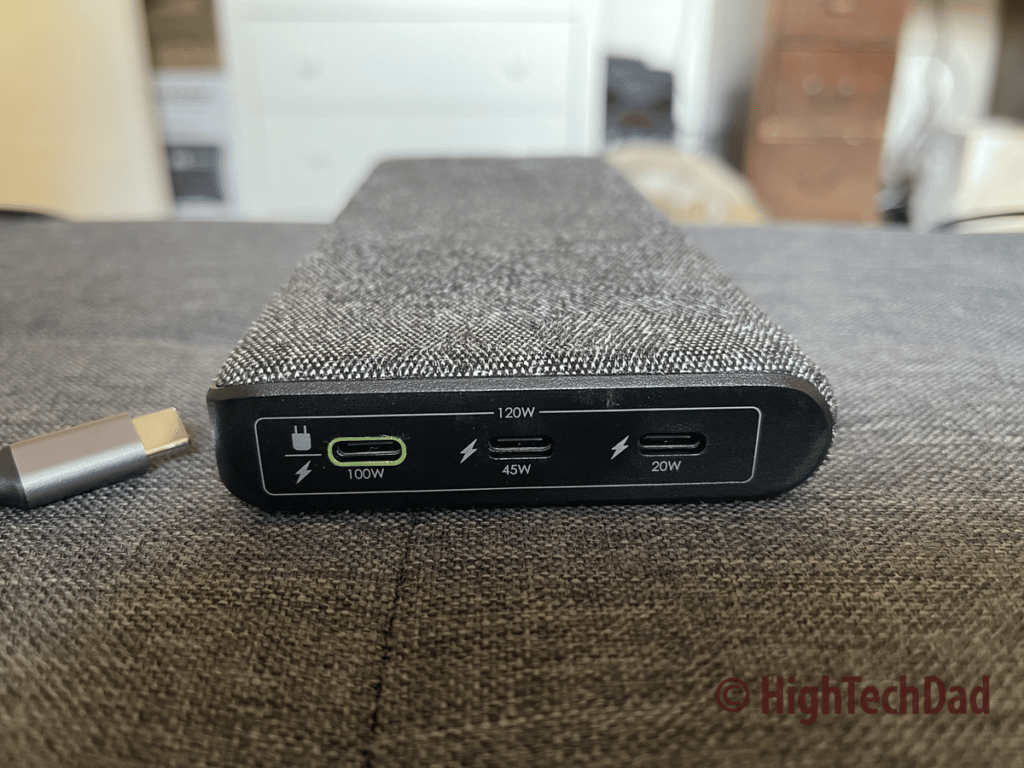 According to Mophie, you could give an extra 12 hours to your MacBook or an extra 96 hours to your iPhone! Pretty impressive. And the battery capacity of the Powerstation Pro XL is below the TSA threshold, meaning you can bring it on your carry-on luggage when you travel on a plane.
I do like the fact that the primary USB-C port (the PD port) is also the same port that you use to charge up the Powerstation Pro XL. While that does mean that you cannot both charge the Powerstation Pro XL and charge up a laptop at the same time, you probably wouldn't be doing that anyway.
The Mophie Powerstation Pro XL is wrapped in a non-slip fabric finish, making it look less like a tech gadget and more like a premium accessory to complement your Apple products. It is approximately 7.75″ long by 3.5″ wide and is less than an inch thick.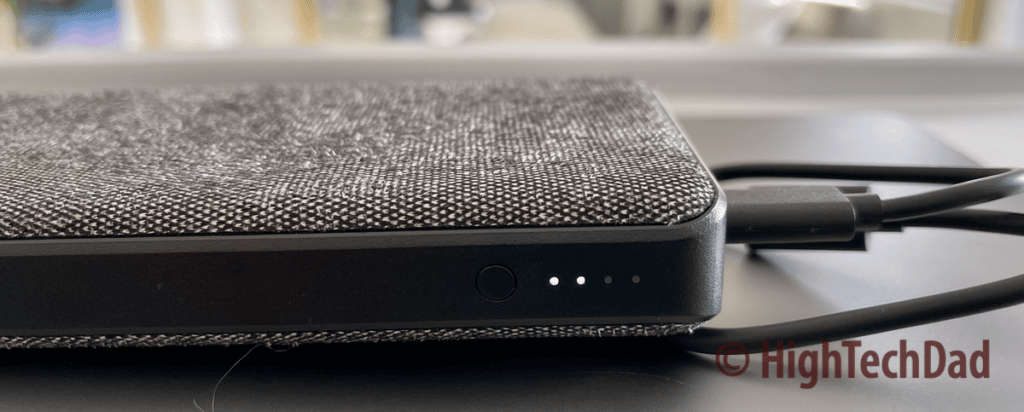 Overall, it has an elegant design that houses quite a capable charging solution for many modern devices. Being somewhat lightweight and compact means that it is a perfect travel accessory for personal or business uses. Just don't forget your USB-C cables for both re-charging the Powerstation as well as charging up your devices!
The Mophie Powerstation Plus is perfect for adding power to your smartphones
While the Powerstation Pro XL is great for charging up laptops and is an extended on-the-go portable battery, the Mophie Powerstation Plus is a bit more portable and designed for smartphones due to its design.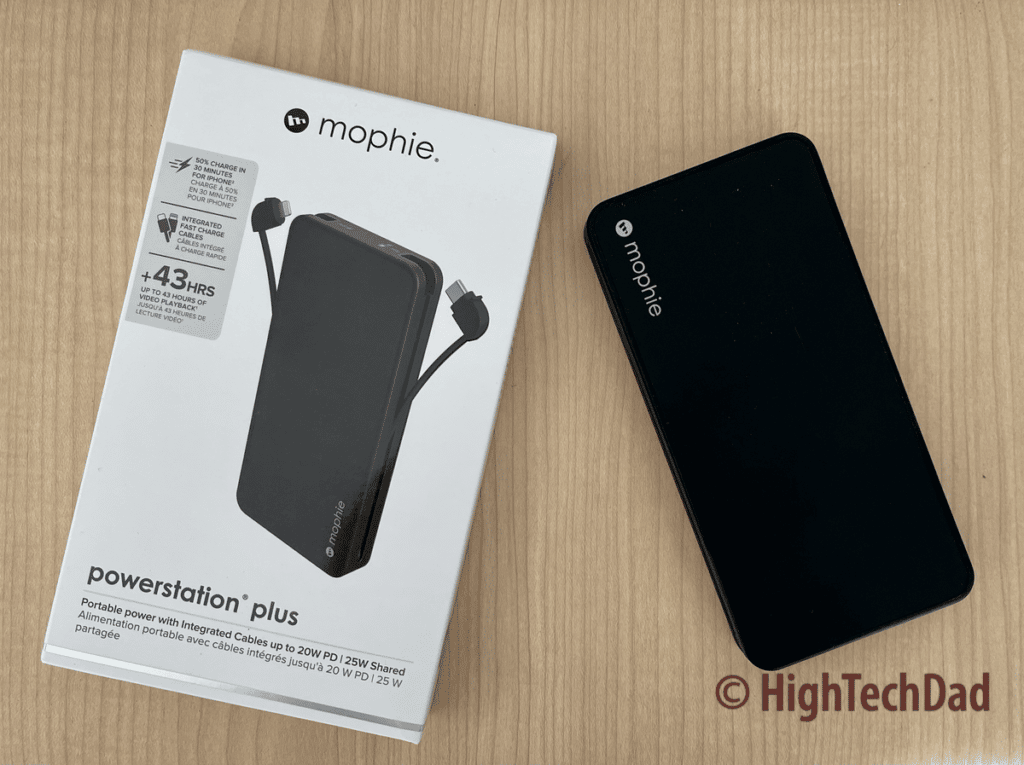 The Powerstation Plus is quite a bit smaller and weighs less than the Powerstation Pro XL. It is definitely less than a pound in weight and measures approximately 5.75″ long by 2.75″ wide, and is about 5/8″ thick. The Powerstation Plus can easily be put in a jacket pocket or a small purse, whereas the Powerstation Pro XL needs a slightly larger bag for carrying.
As the size of the Powerstation Plus is smaller, the specifications are a bit different, including some unique features not found on the Powerstation Pro XL:
Capacity – 10,000mAh battery
Maximum shared/combined output – 27W
USC-C PD output – up to 20W / also used for charging the Powerstation
Integrated Apple Lightning cable – up to 20W
Integrated USB-C cable – up to 20W / also can be used to charge the Powerstation
4 LED battery level indicator
Weight – less than a pound
As you can see in the specs above, the Powerstation Plus is quite a bit different than the Powerstation Pro XL. The most significant difference is in the power output. It only has a combined output of 27W, so while you could, conceivably, charge a laptop, the Plus is truly not designed for that.
Instead, the Powerstation Plus is more focused on charging smaller devices like smartphones or earbuds. And it is made to have everything contained within one package. Built into the sides are two charging cables, one for USB-C and one is an Apple Lightning cable. They fold up neatly directly into the body of the battery.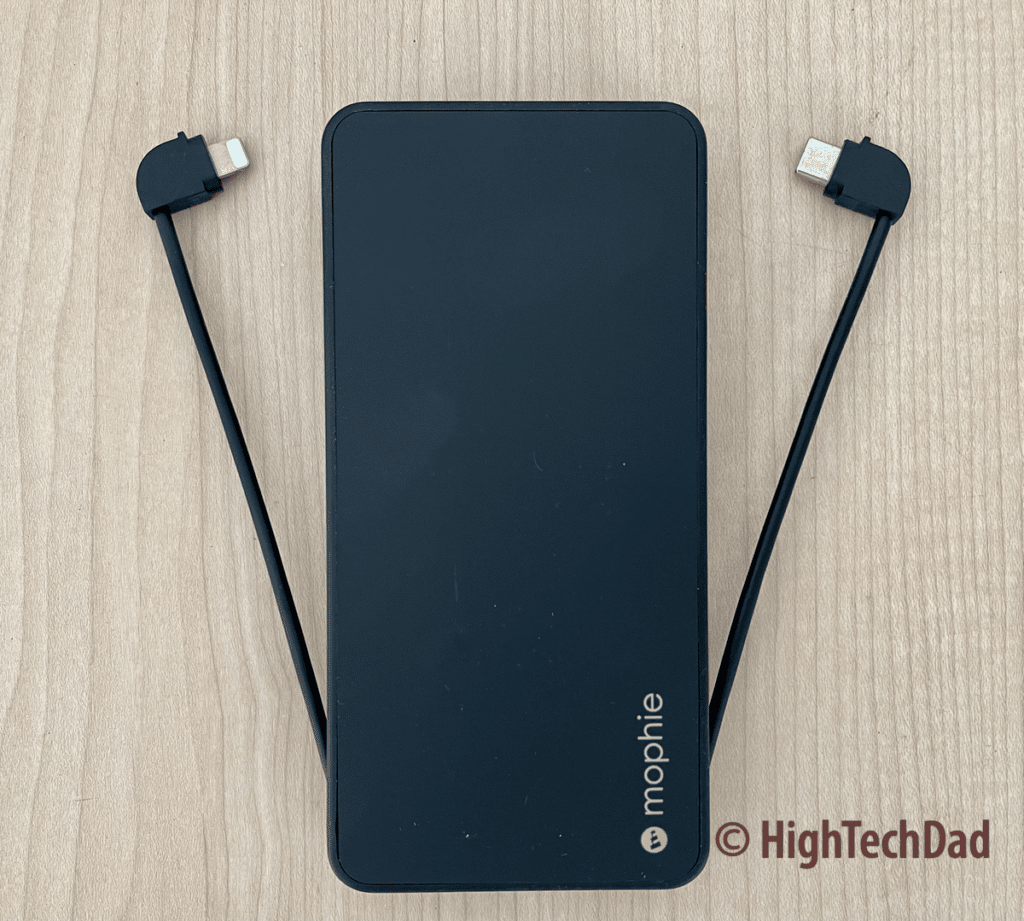 There is also a USB-C port on the front, so if you want to attach a third smaller device for charging, you can easily do that. And that USB-C port is both output and input. You can plug your wall charger into the USB-C port to charge the Powerstation Plus, provided you have the necessary cable.
But, if you don't have a USB-C cable, you can also use the built-in USB-C cable to charge up the internal Powerstation battery. This is a great option to have!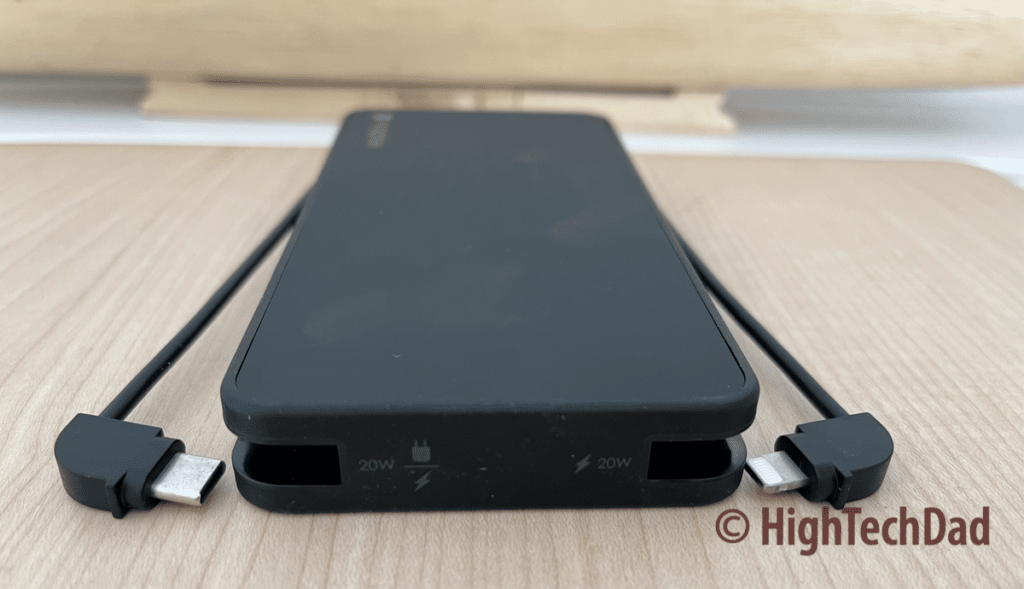 Do remember, however, that each port or cable supports up to 20W output for the charging of your smartphone or other smaller device. And, if you plug in more than one device, the Powerstation Plus will balance the charging across devices up to a total of 27W.
As a portable battery solution for a smartphone, the Mophie Powerstation Plus is a great option. Its capacity will allow you to add 40+ to your device (obviously, depending on that device's capacity).
Two great portable battery solutions from Mophie
I do view both of these Mophie Powerstation portable batteries to be important on-the-go power supplies for most people. But, they are unique based on the use case you truly need.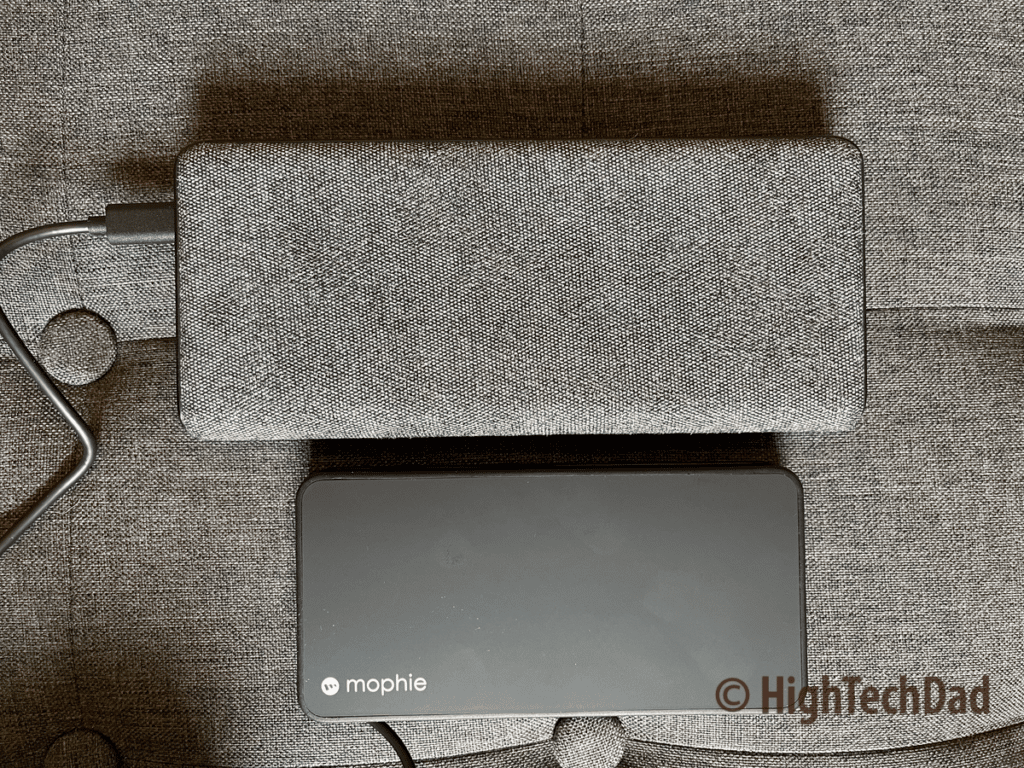 The Powerstation Pro XL is a good, all-around portable battery that can charge laptops and smartphones/tablets. While it is a bit bigger and heavier, it is designed to give more hours to larger devices, making it ideal for road warriors or people who will be away from a wall plug for an extended period of time.
The Powerstation Plus is more designed for someone worried that their smartphone may die when they are on the go, and they don't want to lug around something heavier or a bunch of extra cables. With its built-in USB-C and Lightning cables, it's an all-in-one solution that you can throw in a bag or pocket to extend your smartphone's battery quite a bit longer.
The Mophie Powerstation Pro XL retails for $199.95 and is available for purchase on the Mophie site. And the Mophie Powerstation Plus goes for $79.95 on the Mophie site. As these two charging solutions are relatively new to the Mophie lineup, they are not yet available on Amazon. However, I encourage you to look for deals and find other portable batteries and Powerstations on their Amazon store.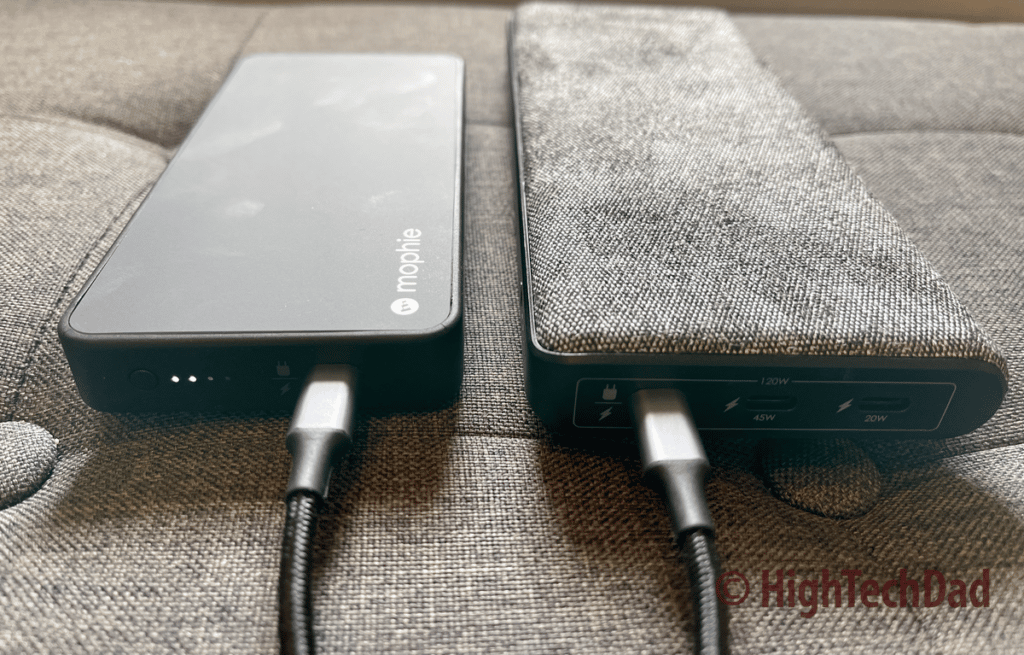 So, be sure to think about the type of solution you truly need. The Pro XL is a great, well-rounded battery for many different types of devices. And the Plus is more applicable to people wanting to ensure their smartphones have a backup battery at the ready.
Disclosure: I have a material connection because I received a sample of a product for consideration in preparing to review the product and write this content. I was/am not expected to return this item after my review period. All opinions within this article are my own and are typically not subject to editorial review from any 3rd party. Also, some of the links in the post above may be "affiliate" or "advertising" links. These may be automatically created or placed by me manually. This means if you click on the link and purchase the item (sometimes but not necessarily the product or service being reviewed), I will receive a small affiliate or advertising commission. More information can be found on my About page.
HTD says: The Mophie Powerstation Pro XL ensures that you have a backup battery for your USB-C powered laptop and other devices, while the Mophie Powerstation Plus is more targeted towards keeping your smartphone fully juiced with its compact form factor and built-in charging cables.