I'm currently writing this review at 37,000 feet on my way to Europe. And while writing on an airplane is familiar to me, this is the first time my primary writing device is an iPad. While the on-screen iPad keyboard is great, I'm not using it. Instead, I'm using the Logitech Combo Touch Keyboard, which includes a trackpad and a protective case. While I'm not typing at full speed (quite yet), I do feel that the keyboard is almost full-sized and perfect for travel. There are many great things to write about with this Logitech keyboard, so read on! (*Disclosure below.)
One of the biggest problems I have found about writing on an airplane is the fact that you don't have a lot of room to do much. This is especially true if you have a larger laptop. I always worried that someone would tilt back the seat and crash into my laptop. Luckily, the iPad Air is much smaller, so it fits pretty well on the tray top. And, with the Logitech Combo Touch Keyboard fully open, you still have a lot of room to do your work.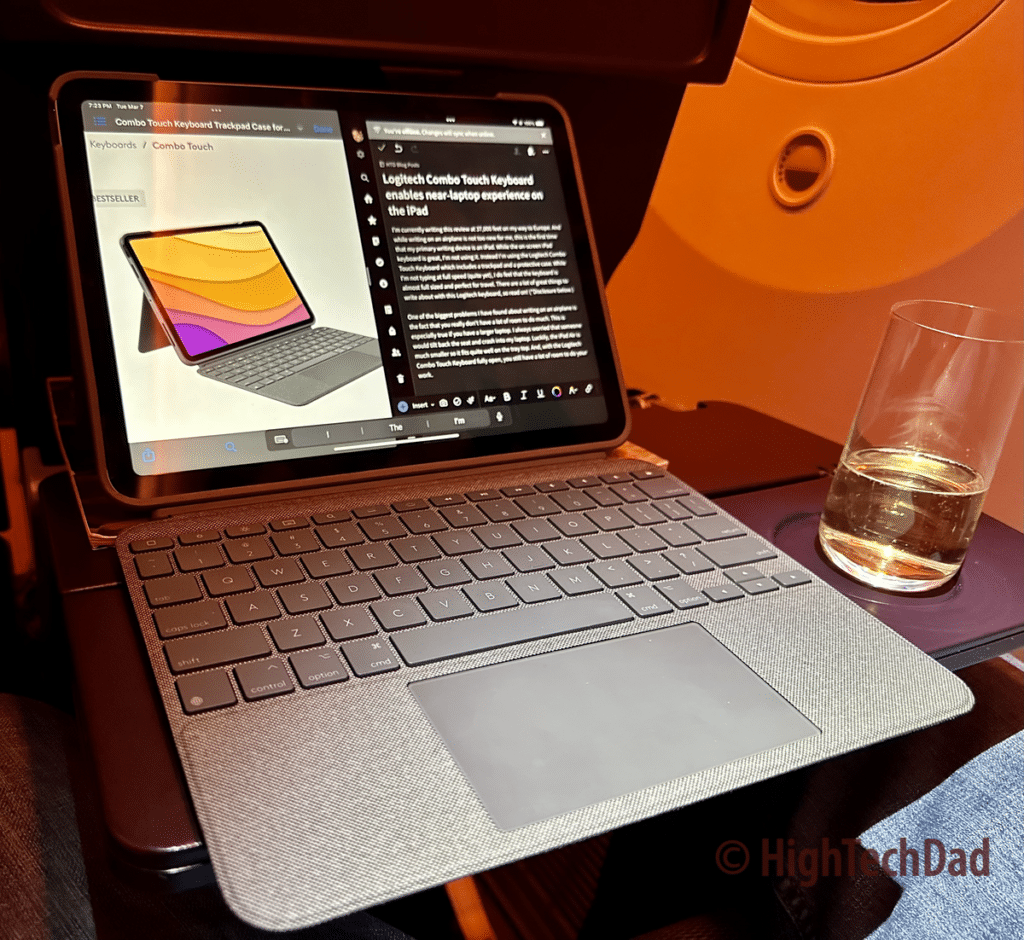 Logitech has versions for various iPads – the iPad Pro 12.9-inch, the iPad Pro 11-inch, and the iPad Air (4th & 5th gen), which is what I'm using. They have carefully designed the keyboard and case to utilize many of the new connectivity features built into the iPad (and used by the Apple Magic Keyboard Folio, for example). Let's dive into some of these features.
Update 5/4/23: Head-to-Head comparison video now available! In this video, I compare this Logitech Combo Touch keyboard with the Zagg Pro Keys keyboard.
Table of Contents
The Logitech Combo Touch Keyboard is not your typical keyboard
I have tested a lot of portable keyboards in the past. Some can simply connect to your computer or laptop, while others allow you to type on your tablet or smartphone. For example, my wife uses a small portable keyboard that folds in half to speed through her messages and emails on her iPhone. Before I got the Logitech Combo Touch Keyboard, I paired an Apple Magic Keyboard to my IPad.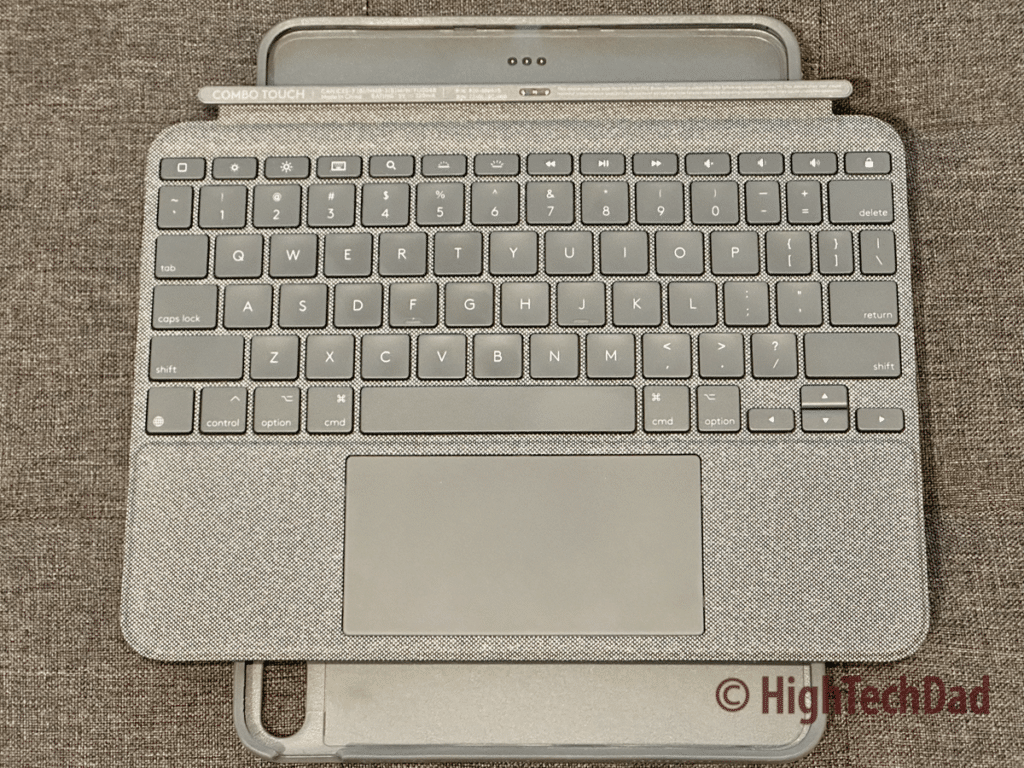 But the Logitech Combo Touch Keyboard brings much more to the table when it comes to working with your iPad. Here are some of my favorite features.
It is self-charging – there is no need to connect this Logitech keyboard to a power supply, unlike other keyboards, which often require a USB-C or micro-USB connection to charge it up. The Combo Touch Keyboard charges by being magnetically attached to your iPad and leverages the iPad's Smart Connector. The charging power comes directly from the iPad.
Automatic pairing – another great benefit of using the Smart Connector built into the iPad is that it automatically pairs the keyboard to your iPad. There is no need to initiate any Bluetooth pairing. To disconnect the keyboard, detach it from the Smart Connector. The only disadvantage to this not being a Bluetooth connection is that you cannot place your iPad in one area and have your keyboard elsewhere. They always need to be physically connected in order to work.
Four positions – there are four distinct modes for you to use your iPad leveraging the Logitech Combo Touch. The first is the most obvious – with the keyboard fully extended. This is typing mode. If you detach the keyboard and use the adjustable kickstand in the back, you can easily position the iPad screen to watch movies. If you fully extend the kickstand and remove the keyboard, you can use an Apple Pencil or Logitech Crayon to sketch or write notes. And finally, you can detach the keyboard to use the iPad as a tablet. And if you want, you can re-attach the keyboard backward to keep it with the case.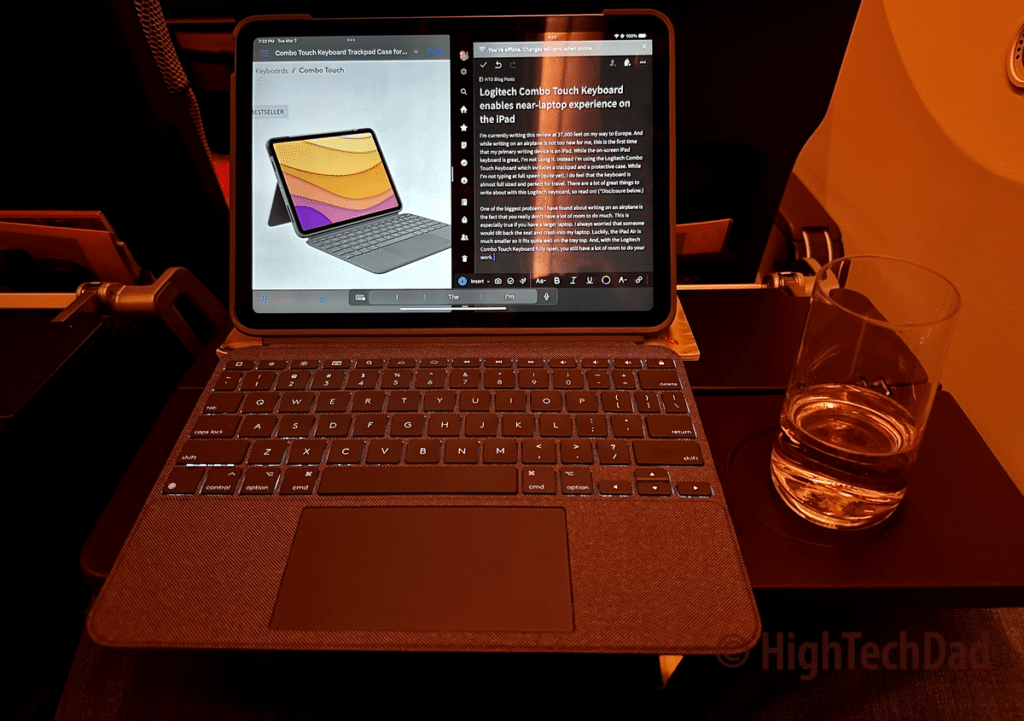 Almost a full-sized keyboard – I have to say, even with larger hands, the size of this Logitech keyboard is pretty good. As I type this review, my hands don't feel cramped (much). The keys are a bit tighter and smaller than a full-sized keyboard, but the size is good enough to actually get some speed as you type. Also, they are relatively quiet when clicked and have a tiny bit of travel so that you do know when you are typing – much different than using the built-in screen keyboard.
A great trackpad – I had a little debate with a friend who said that if you get a keyboard with a trackpad, you might as well just bring your laptop. After using the Logitech trackpad that is built into the keyboard case, I have to disagree respectfully. Having a keyboard and a trackpad with the portability of a lightweight iPad is a game changer when it comes to being mobile and portable. This trackpad is quite wide, so you don't feel constrained in your movements. Also, when you press down, you feel a physical click to activate the "click" action. But you can also configure the click to be a tap and use multi-finger gestures for things. Using the trackpad quickly becomes intuitive as you can make many of the same motions on the iPad screen as you can on the trackpad.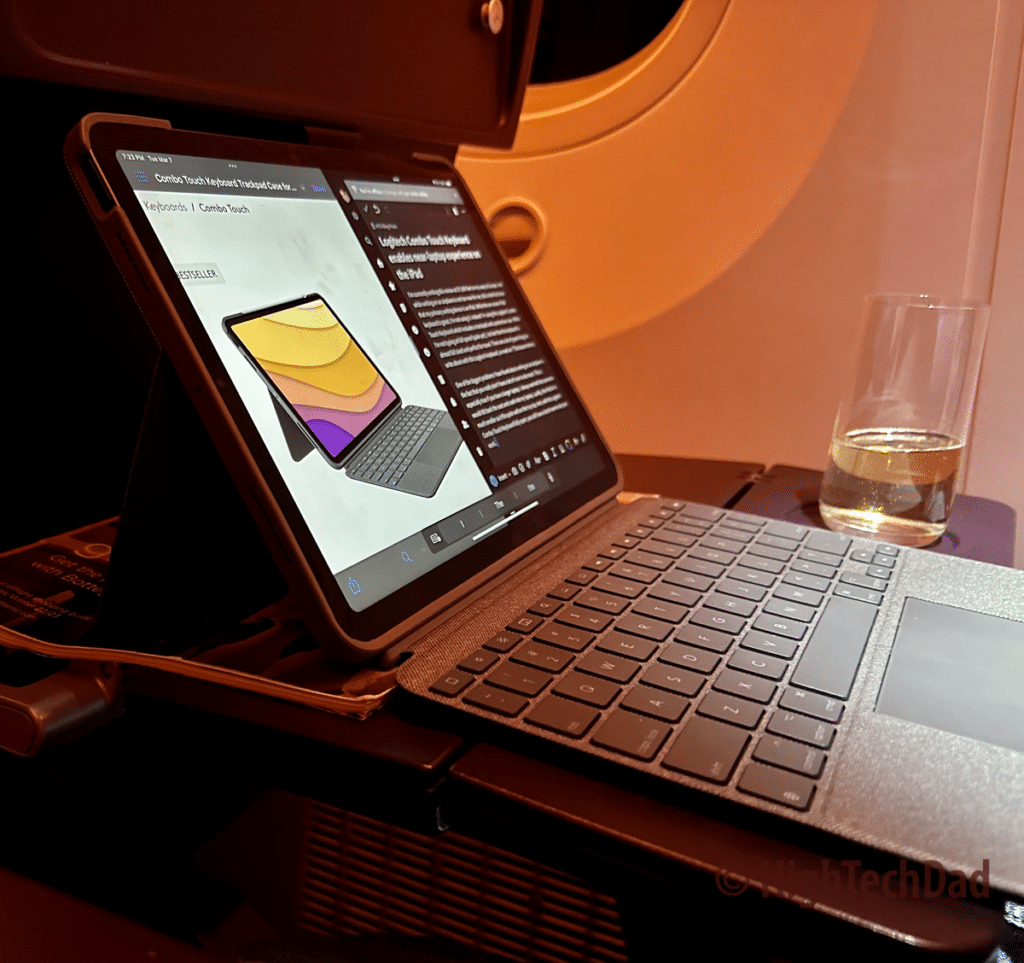 Backlighting is a lifesaver – I absolutely love backlit keys. Being able to work at night with minimal light but still find the proper character you don't have in your muscle memory when you type is critical – literally. With the Logitech Combo Touch Keyboard, you can adjust the brightness of the backlighting to 16 levels. You can even use a key on the keyboard to do that manually (if it doesn't change automatically).
A full keyboard – I have used keyboards in the past that were missing a right or left Shift key, or the key was much smaller than it should be. This Logitech keyboard DOES have two Shift keys, and they are full-sized. Also, there are dedicated arrow keys, a big space bar, CMD & Option keys on both sides, and a bunch of other function keys that are super useful. There is a home button, a screen lock button, brightness, search, an on-screen keyboard button, media controls, and more.
A case, too – it is essential to ensure that you are also protecting your iPad. All of the keyboard and trackpad stuff is just "a bonus." I'm kidding, of course, but it is pretty important to provide protection to your iPad, and this Logitech case and keyboard combo does just that. The keyboard stays magnetically closed when it is not in use and protects the screen. While the keyboard, case, and IPad combo can add a bit of weight to the entire package, I didn't find it to be that bad. In fact, it is much less weight than having to lug a laptop around.
Room for the Apple Pencil – it's nice to see that there is a notch at the top of the case to allow you to magnetically attach (and charge) your Apple Pencil (the second generation Pencil). However, while the magnet is strong, it is pretty easy to knock the Pencil off. I wish there were some type of Velcro strap or a way to attach the Apple Pencil more securely. Some physical attachment or holder could potentially allow you to secure the Logitech Crayon (which is NOT magnetic). Instead, you have to carry the Crayon separately.
OK, those are a lot of features to like!
An excellent typing solution for the iPad
I was able to crank out almost 1400 words for this review, purely using the Logitech Combo Touch Keyboard. The typing felt quite natural, and my hands didn't cramp up (much). I have rather large hands, so I expected the keyboard to be slightly uncomfortable. But honestly, it really wasn't bad whatsoever.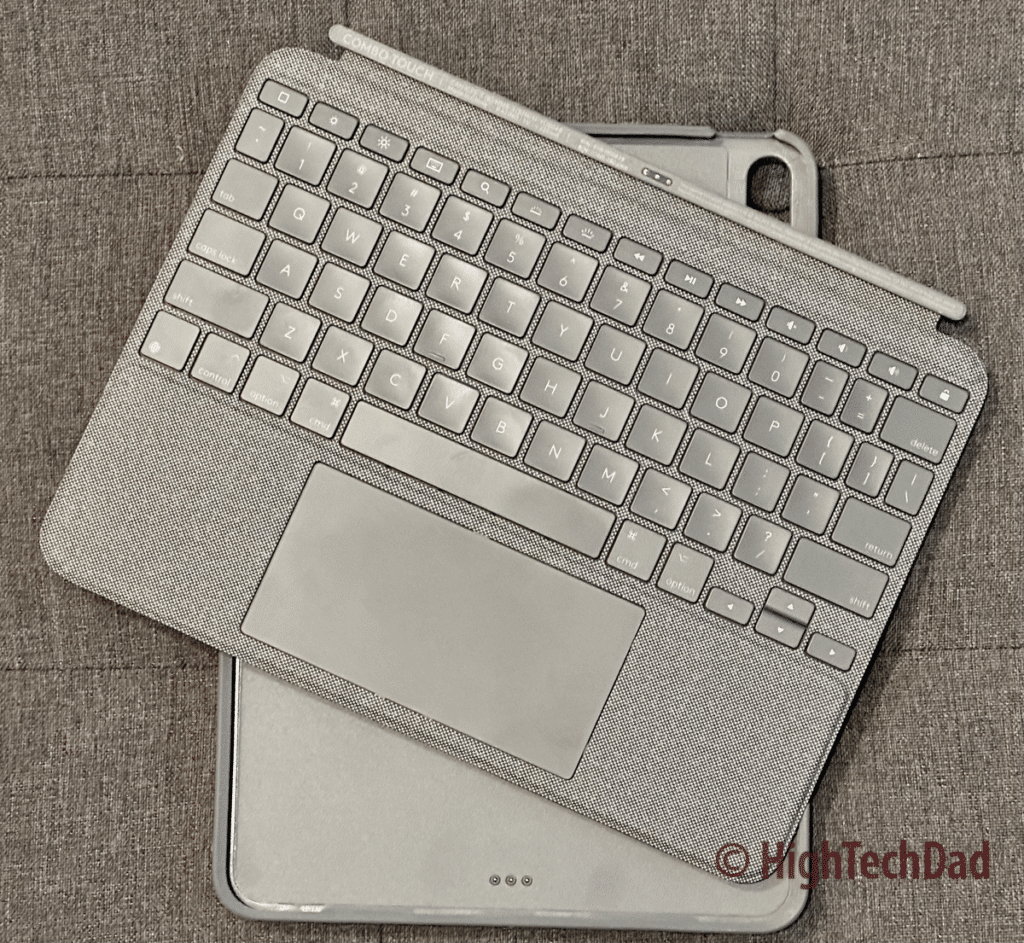 The outer fabric feels solid and durable and looks quite decent. What is truly surprising is how thin the keyboard is. Of course, the dimensions depend on which version you get. Here are the specs for the iPad Air:
Height – 9.92″
Width – 7.45″
Depth – 0.67″
Weight – 20.25 ounces
The Logitech Combo Touch Keyboard retails for $199.99 and is available on Amazon for 190.87. While less expensive keyboards and cases are available on the market, this Logitech is still less costly than the Apple Magic Keyboard Folio and cases (while still having many of the same features like a trackpad and the Smart Connector).
Buy on HighTechDad.com
The product shown below (and related products that have been reviewed on HighTechDad) is available within the HighTechDad Shop. This review has all of the details about this particular product and you can order it directly by clicking on the Buy button or clicking on the image/title to view more. Be sure to review other products available in the HighTechDad Shop.
If you use an iPad to simply browse the web, watch movies or videos, or stay updated on social media, you might not need a keyboard. But, if you occasionally do some typing where the on-screen keyboard simply doesn't provide you with the tactile experience you need, you may want to consider getting an external Bluetooth keyboard that you occasionally connect.
But, if you want to have the capabilities of a mini-laptop on a fairly regular basis, and you want to protect your iPad, and you don't mind a slightly larger size and a bit more weight, then I would recommend getting a keyboard case like the Logitech Combo Touch Keyboard. I discovered that I could type quite quickly and appreciated using keyboard shortcuts in combination with the trackpad to improve my productivity.
Disclosure: I have a material connection because I received a sample of a product for consideration in preparing to review the product and write this content. I was/am not expected to return this item after my review period. All opinions within this article are my own and are typically not subject to editorial review from any 3rd party. Also, some of the links in the post above may be "affiliate" or "advertising" links. These may be automatically created or placed by me manually. This means if you click on the link and purchase the item (sometimes but not necessarily the product or service being reviewed), I will receive a small affiliate or advertising commission. More information can be found on my About page.
HTD says: The Apple iPad is a beautiful device for many use cases, but it doesn't replace a laptop on its own. However, using a keyboard case with a trackpad like the Logitech Combo Touch Keyboard suddenly transforms a "screen reader" into a super-powerful writing device, clearly capable of adding speed and productivity to your workflow.
HighTechDad Rating
Ease-of-Use

Family-Friendly

Price Point

Features
Summary
The Apple iPad is a beautiful device for many use cases, but it doesn't replace a laptop on its own. However, using a keyboard case with a trackpad like the Logitech Combo Touch Keyboard suddenly transforms a "screen reader" into a super-powerful writing device, clearly capable of adding speed and productivity to your workflow.
Setting up the Logitech Combo Touch Keyboard case is literally a snap. You put your iPad into the upper case and then simply connect the keyboard and trackpad to the connector on the iPad. There is no need for any Bluetooth pairing, it simply works. The keyboard is responsive with enough key travel to feel your typing and the wide trackpad is very responsive and configurable as well. There is no secure way to hold an Apple Pencil or Logitech Crayon to the keyboard case, unfortunately. The keyboard is easily removable to have just the case-covered iPad in action.
With the keyboard extended and the back stand extended, it does take up a lot of space so you if you have limited table top area or just using your lap, it may be a bit tricky. However, the keyboard case is slim and lightweight, making it a great companion for your iPad (and less expensive than similar Apple products).
Pros
Slim profile
Lightweight
Charges automatically via smart connector on iPad
No need for Bluetooth pairing
Keyboard plus trackpad makes for a near laptop experience
4 potential usage positions
Cons
No way to hold Apple Pencil securely
Larger footprint is needed for keyboard extension and the tripod stand behind iPad