I knew the moment I got the Llano Magnetic iPad Stand that I would only be able to use it when I was testing it out for this review. And, once I was done, my wife would exert eminent domain and take it over completely. I was not wrong! The Llano Magnetic iPad Stand is a sleek, innovative solution to enhance your iPad experience. I do view this iPad stand as a must-have accessory for home offices, businesses, or the digital user in the home. In fact, I think the Llano iPad stand is incredibly handy at home for several use cases. (*Disclosure below.)
The first thing that struck me about the Llano Magnetic iPad Stand is its modern and minimalistic design. Crafted from premium materials (specifically aluminum alloy), this stand exudes elegance and sophistication, effortlessly blending with any workspace or home interior. The aluminum body enhances its visual appeal and ensures durability and sturdiness. The stand's adjustable arm allows you to find the perfect viewing angle, providing optimal viewing comfort for long hours of use.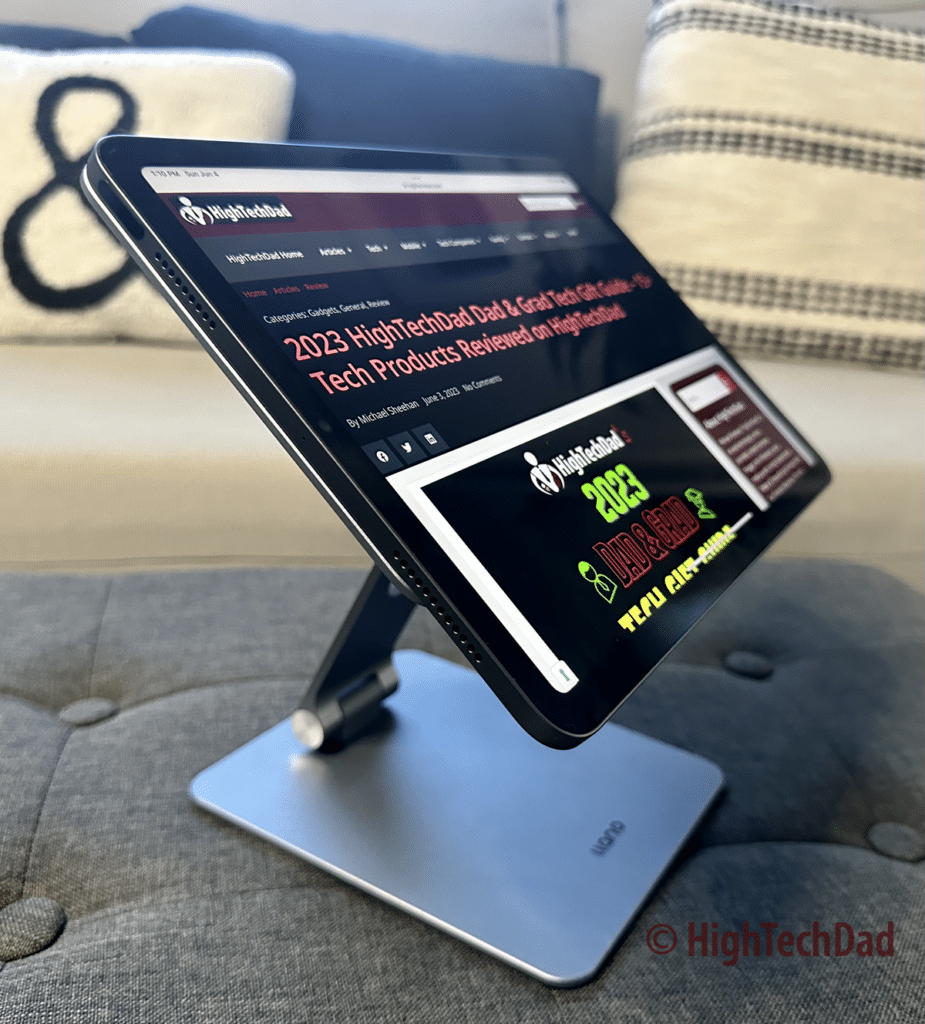 While I believe this magnetic iPad stand would be great within a work environment, it is best suited for the home or home office (since they are sometimes interchangeable). For example, using the Llano Magnetic Stand is ideal in the kitchen. You can binge-watch your latest show or a movie and move your iPad from place to place within the kitchen. Or, you have the recipe on the iPad screen while you do your cooking in an elevated manner, which is much easier than constantly picking up your iPad to view things better.
Table of Contents
Key features of the Llano Magnetic iPad Stand
Before I go into some of the written details, I want to share a short video review I did on the Llano Magnetic iPad Stand. The video shows how the stand can be used, how the rotation and pivot hinges work, and the powerful magnets that hold your iPad in place.
One of the standout features of the Llano Magnetic iPad Stand is its unique magnetic attachment system. With powerful neodymium magnets (N52), your iPad Air securely attaches to the stand, providing a reliable and stable base for all your activities. Whether you're typing, watching movies, or making video calls, you can trust that your iPad Air will remain securely in place, regardless of its orientation. The magnetic attachment also allows for quick and effortless detachment when you need to grab your iPad on the go.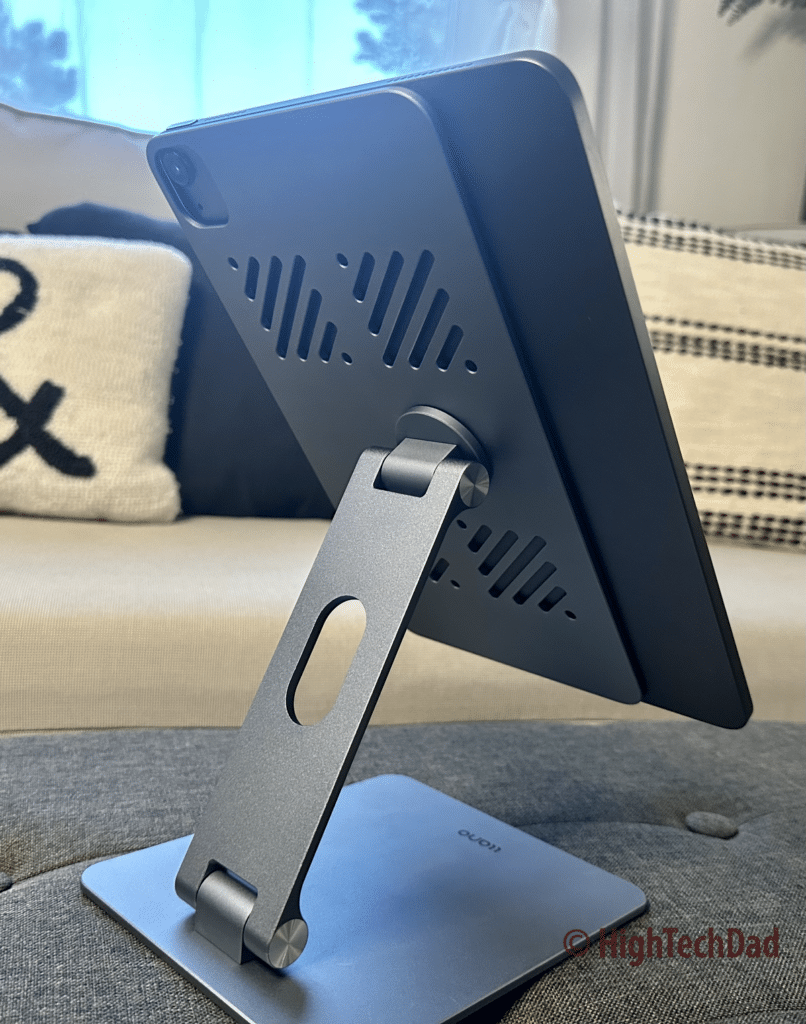 One thing to note, you have to attach your iPad "naked," meaning that you cannot have a protective case on your iPad as the magnets won't be able to connect. This could be a bit of a disadvantage having to remove your protective case every time you use the magnetic stand, but that is the price you pay for using this innovative stand. My wife, for example, props her iPhone up on some boxes with her MagSafe charging stand. It's unstable, and I cringe every time she uses it. However, with the Llano stand, her iPad is lifted up AND securely held in place.
To attach the iPad, you simply align the camera hole in the Llano Magnetic Stand with the camera lenses on your iPad, and the magnets will suck your iPad into place. It's important to note that there are different sizes based on the type of iPad you have – one for the 10.9″ iPad Air, one for the 11″ iPad Pro, and one for the 12.9″ iPad Pro.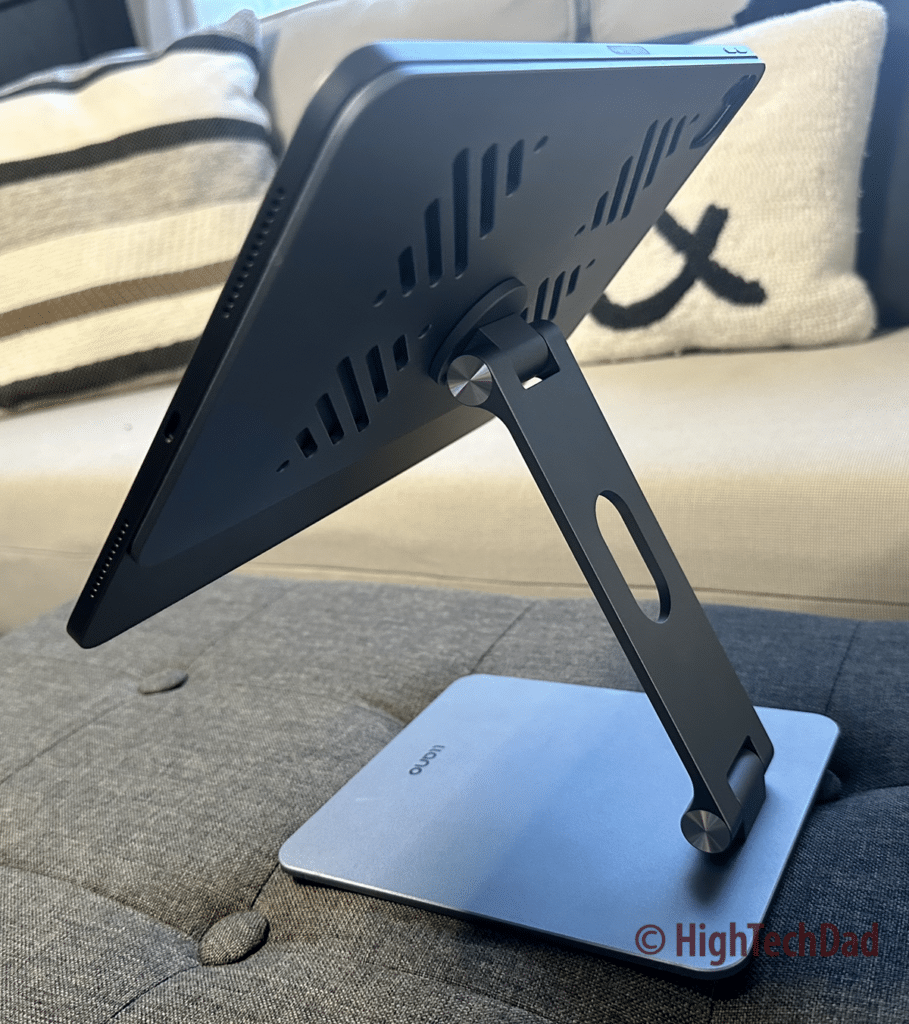 The Llano Magnetic iPad Stand is designed with versatility in mind. It offers 360-degree rotation, allowing you to switch seamlessly between portrait and landscape orientations by simply rotating the iPad in place. This feature proves invaluable for tasks like video conferencing, reading, or even following step-by-step recipes while cooking. With the iPad Air version of the stand, the fit is practically perfect as it lines up with the back of the iPad well while still allowing for unhindered access to all ports and buttons.
I have always been a big champion of getting devices that help with ergonomics. Ergonomics is crucial in maintaining a healthy posture while using digital devices. The Llano Magnetic iPad Stand addresses this concern by offering adjustable height settings. You can easily elevate or lower your iPad Air to eye level, reducing strain on your neck and shoulders. This feature is especially beneficial for professionals who spend long hours working on their iPads or individuals who rely on their tablets for online learning or entertainment.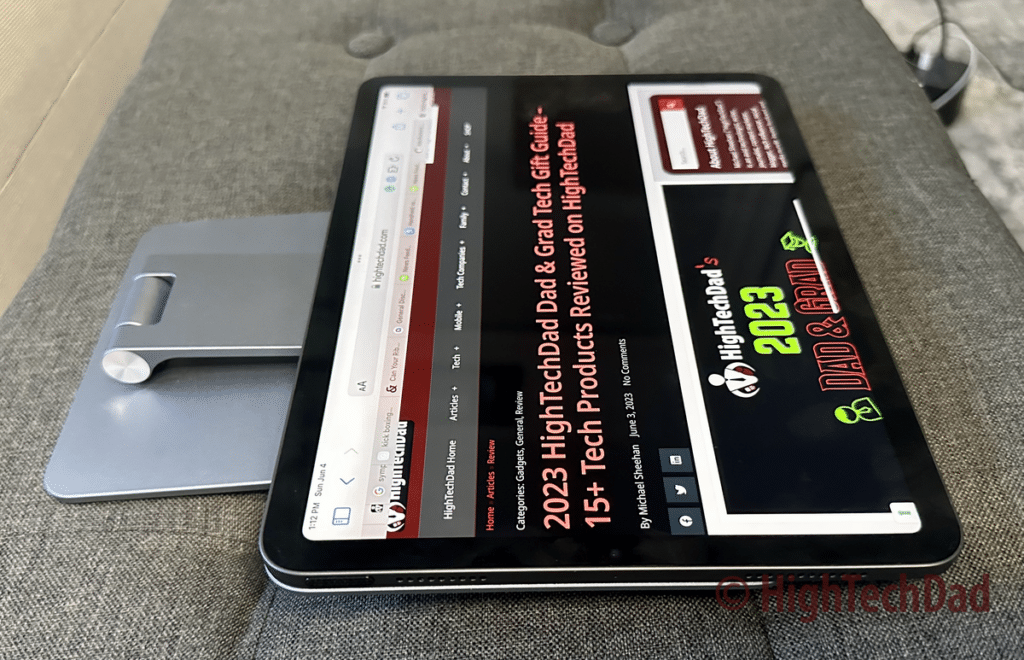 The ergonomics of this iPad stand are driven by two strong and firm hinges. You can not only tilt the angle of your iPad, but you can also adjust the base and how high or low the iPad will be. So, the combination of the 360-degree rotation with the two strong hinges means that you can position your iPad in just about any way you want. The thing to keep in mind, however, is that you must be sure to balance your iPad's weight carefully. If you put too much weight towards the back, the stand will topple over (see my video review for details).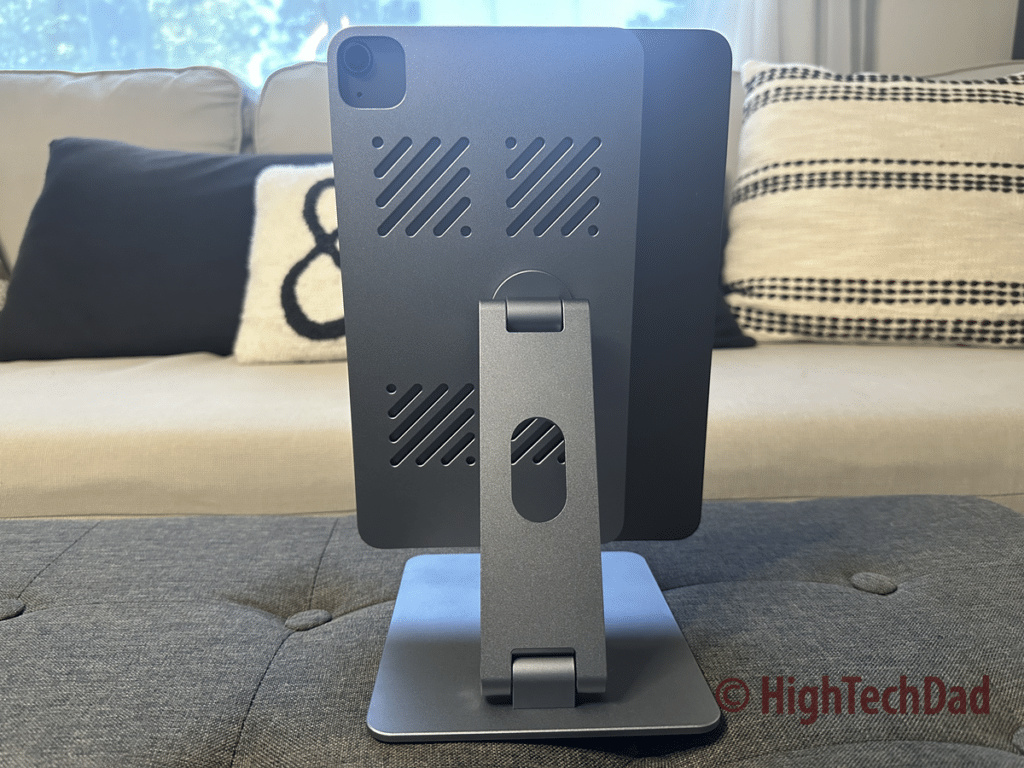 As I mentioned, the design is modern and sleek. The back of the section that holds the iPad in place with the magnets has ventilation slots to keep your iPad cool. There is also a hole in the stand's arm where you can feed a charging cable through. It does not come with a USB-C cable, though. It would be nice if an angled USB-C cable was included (sort of like this one or perhaps include an adapter similar to this) so that you can hide your cable behind the stand and thread it through the stand's arm.
Get the proper version for your iPad!
If you have an iPad Air or an iPad Pro, this is a very nice and useful stand to have at the ready. Be sure you select the correct version based on your iPad type so that the magnetic part of the stand matches up with your iPad. The links below are for the three options available on Amazon (and the current prices as of this writing).
Shop on HighTechDad
The product shown below (and related products that have been reviewed on HighTechDad) is available within the HighTechDad Shop. This review has all of the details about this particular product and you can order it directly by clicking on the Buy button or clicking on the image/title to view more. Be sure to review other products available in the HighTechDad Shop.
The Llano Magnetic iPad Stand is a versatile accessory suitable for various environments. In a home office or business setting, it serves as a valuable tool for presentations, meetings, and multitasking. Its stable base and adjustable angle ensure optimal visibility and comfort, enhancing productivity and efficiency. Moreover, the stand's sleek design and premium finish make it an elegant addition to any professional workspace. At home, the stand is equally useful, enabling hands-free entertainment, video calls, or following recipes while you cook, all without sacrificing style.
Disclosure: I have a material connection because I received a sample of a product for consideration in preparing to review the product and write this content. I was/am not expected to return this item after my review period. All opinions within this article are my own and are typically not subject to editorial review from any 3rd party. Also, some of the links in the post above may be "affiliate" or "advertising" links. These may be automatically created or placed by me manually. This means if you click on the link and purchase the item (sometimes but not necessarily the product or service being reviewed), I will receive a small affiliate or advertising commission. More information can be found on my About page.
HTD says: If you are looking for an elegant way to "elevate" the display of your iPad, the Llano Magnetic iPad Stand is a perfect option. Its high-production value and crafting make it ideal for any tabletop, and the hinges and rotation offer nearly limitless viewing options, all held securely in place via strong magnets.
HighTechDad Rating
Ease-of-Use

Family-Friendly

Price Point

Features
Summary
If you are looking for an elegant way to "elevate" the display of your iPad, the Llano Magnetic iPad Stand is a perfect option. Its high-production value and crafting make it ideal for any tabletop, and the hinges and rotation offer nearly limitless viewing options, all held securely in place via strong magnets. There is truly no setup involved, as the Llano Magnetic iPad Stand comes pre-assembled. You simply need to make sure your iPad doesn't have a case on it and then line the iPad's back up to the stand's magnetic holder. It rotates 360 degrees and has two hinges to allow for multiple viewing perspectives. It is quite well-built and feels solid.
Pros
Strong magnets
Modern design
Strong hinges
Cons
No included USB-C cable to connect iPad
Only available for iPad Air or iPad Pro, not iPad or Mini