Those tiny inkjet printer cartridges should be outlawed! You know the ones I'm talking about. They barely hold any link, aren't recyclable, and are expensive when comparing cost against the number of papers printed. And there is nothing worse than having a kid who needs to print out a project, and suddenly the ink has run out. Trust me, I have been there! That's why I genuinely love the EcoTank concept – bulk loading of ink for an inject printer. It's cost-effective and seems to last forever. In this review, I look at some of the features of the Epson EcoTank ET-4850 printer, which I view to be quite essential to any family or home office environment. (*Disclosure below.)
I'm no stranger to the EcoTank concept; in fact, I reviewed the "smaller" family member, the ET-2850, a couple of years ago. This model, the Epson EcoTank ET-4850, adds a few more features to the ET-2850, namely an Automatic Document Feeder (ADF) for the scanner, an ethernet port for connectivity, and faster print speeds, among the key differences. Both share the EcoTank benefits of being cartridge-free, money-saving (according to Epson, one set of Epson ink bottles equates to about 90 ink cartridges), and eco-saving (not dumping cartridges into the landfill).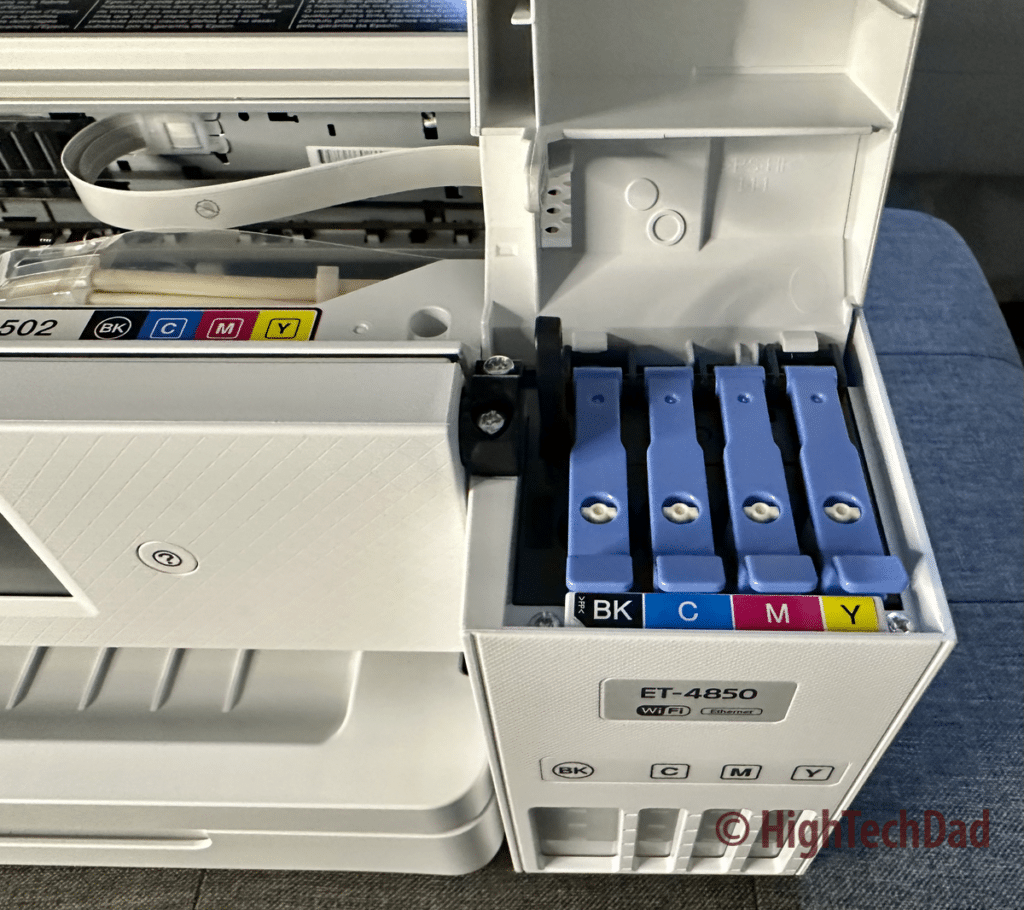 The Epson EcoTank ET-4850 is an all-in-one device, meaning that it is a printer, a scanner, a copier, and a fax. This versatility is key to having this Epson printer in the home environment. I currently work a majority of the time at home, and the convenience of having a printer and scanner at arm's reach is incredibly beneficial. And, while my girls are no longer in middle or high school, they do occasionally come over to print out term papers for college or other important documents. But if you have younger kids at home, you are truly going to want to have an all-in-one device like this at the ready…and NOT worry about if it has enough ink in it.
Table of Contents
Video Walkthrough
The video below walks through the unboxing, the setup, and the calibration of the Epson ET-4850 and should give you an idea of the size and some of the features of this inkjet printer. The video is also directly available on YouTube. 
The top features of the Epson EcoTank ET-4850 printer
Printing technology has come a long way, and the Epson EcoTank ET-4850 exemplifies this progress. Designed to cater to the needs of both home-based professionals and families, this printer combines advanced features with cost-effectiveness, particularly when it comes to ink. It stands out from the crowd with its unique EcoTank technology, multiple connectivity options, quick print speeds, automatic document feeder, and high-quality output. Let's dive in and see how the ET-4850 elevates the printing experience for everyone.
1. EcoTank Technology
Epson's ET-4850 printer distinguishes itself from the competition with its revolutionary EcoTank system. Instead of traditional ink cartridges, it employs refillable ink tanks that can hold a substantial amount of ink. This not only results in significantly lower printing costs but also reduces the frequency of cartridge replacements, making it an eco-friendly choice.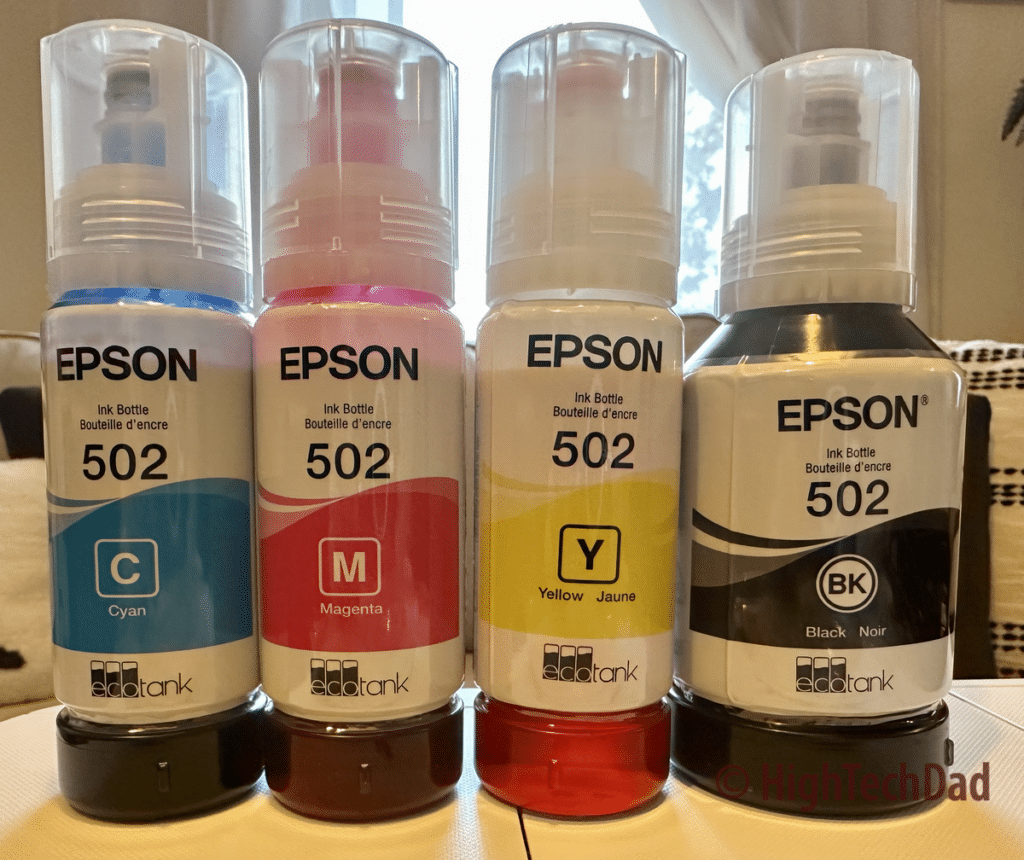 According to Epson, one ink bottle can print up to 7500 pages in black or 6000 pages in color. This is the equivalent of what 90 individual ink cartridges would take! And one supply of bottles should last up to two years, and a set of bottles (black and colors) is included with the printer. I also saw replacement bottles at our local Costco, so that is a win.
2. Multiple ways to connect
The ET-4850 supports wireless and wired connectivity, enabling seamless printing from multiple devices. While the previous model I reviewed only had wireless (which worked fine), the ET-4850 also includes an Ethernet port, eliminating my need to connect it to my WiFi network. Whether you're working from a laptop, smartphone, or tablet, Epson's mobile printing solutions, including AirPrint and Google Cloud Print, make sending print jobs from anywhere in your home or office effortless. You can even set up WiFi Direct Mode, which bypasses your WiFi network and allows for direct communication between your device and the printer, no network needed. So, in essence, you can connect via WiFi, Ethernet, Direct WiFi, USB, and the Cloud.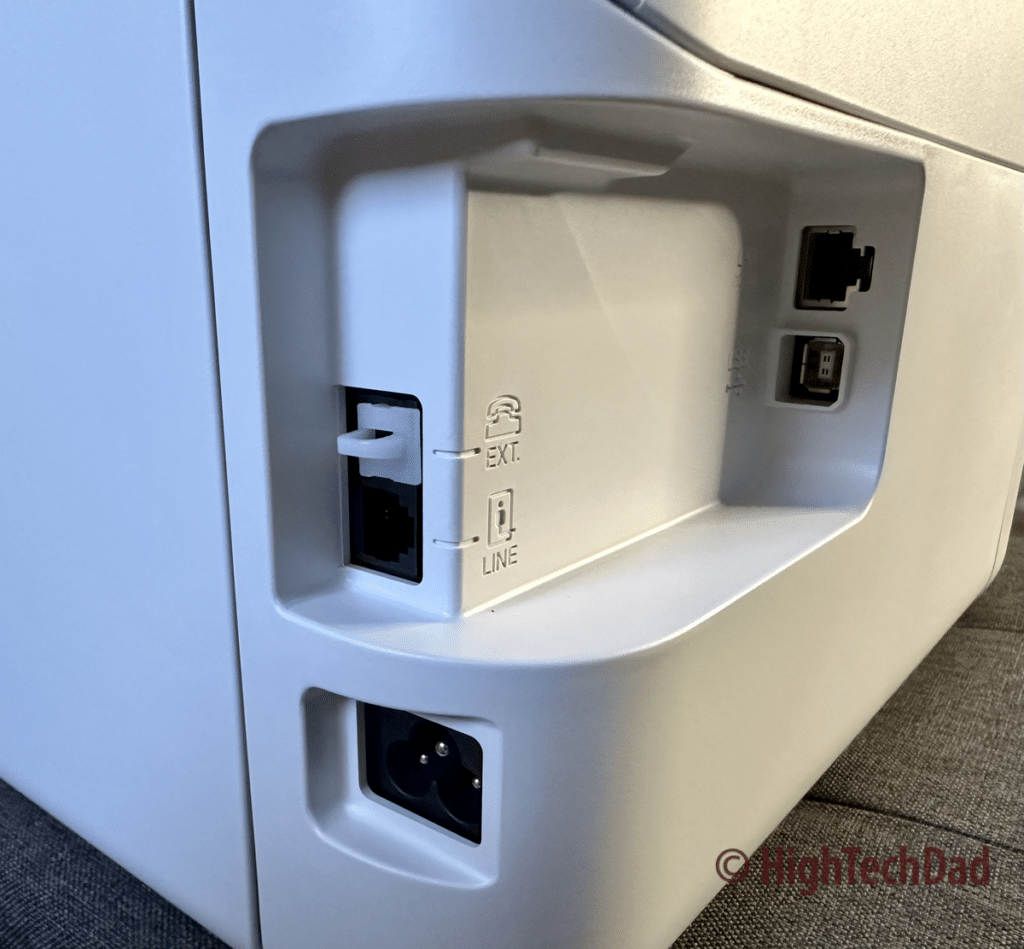 I particularly like the AirPrint feature, which seems to work quite well if you want to print from an iPhone or iPad. Also, the Epson Smart Panel app brings a lot of functionality built into the printer conveniently to your smartphone. You can fine-tune the settings directly on the app, eliminating the need to use the (rather small – 2.4″) touchscreen. This screen is larger than the one on the ET-2850, which is only 1.44″ and not a touchscreen.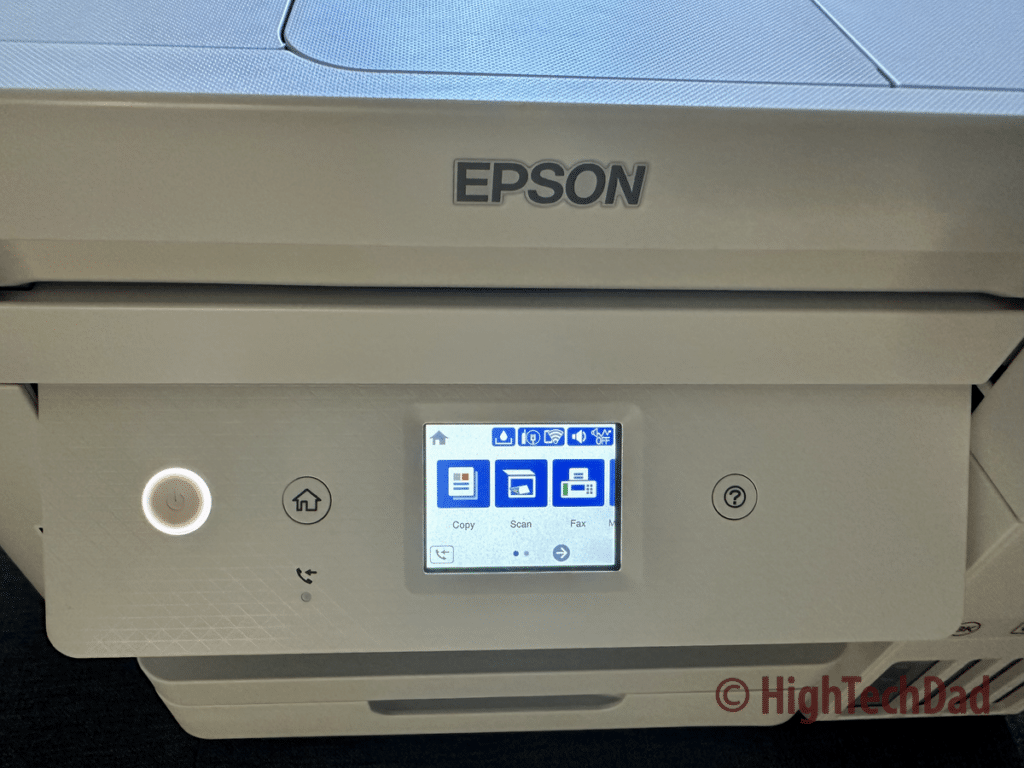 Using the Epson Smart Panel App, you can print documents directly from the app without the need to fire up a computer or laptop. And you can now print photos from your iOS Photos app. If you feel inspired, you can also set up the capabilities to print via email, remote print, or even scan to the Epson cloud. I still need to test out those functions.
3. Impressive Print Speeds
With the ET-4850, Epson delivers impressive print speeds of up to 11.5 pages per minute for black and 8.5 pages per minute for color prints. This rapid performance ensures that you can complete printing tasks efficiently, whether it's a last-minute school project or a stack of business documents.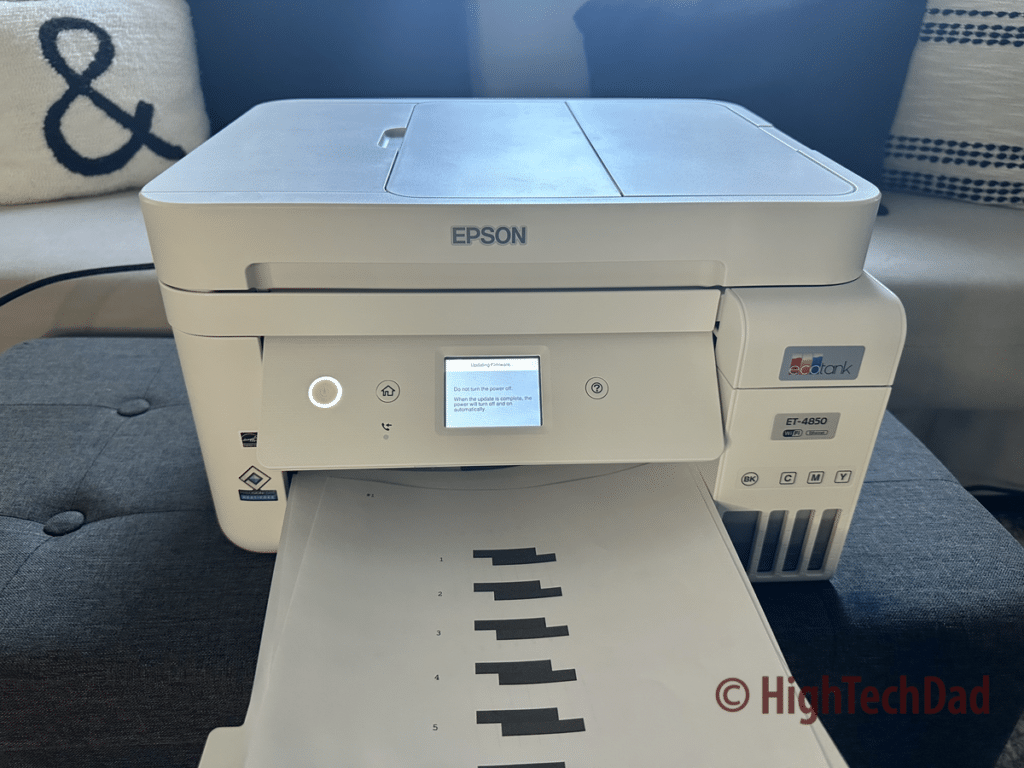 The Epson EcoTank ET-4850 also can do automatic dual-sided printing at a rate of 6.5 pages per minute in black and 4.5 pages per minute in color. Simply make the selection in the print dialogue box for dual-sided printing, and away you go.
4. Automatic Document Feeder (ADF)
The built-in 30-sheet ADF is a boon for busy home offices and families alike. It allows you to quickly scan or copy multi-page documents without the need for manual intervention. This feature is handy for digitizing important documents or creating multiple copies of school assignments effortlessly.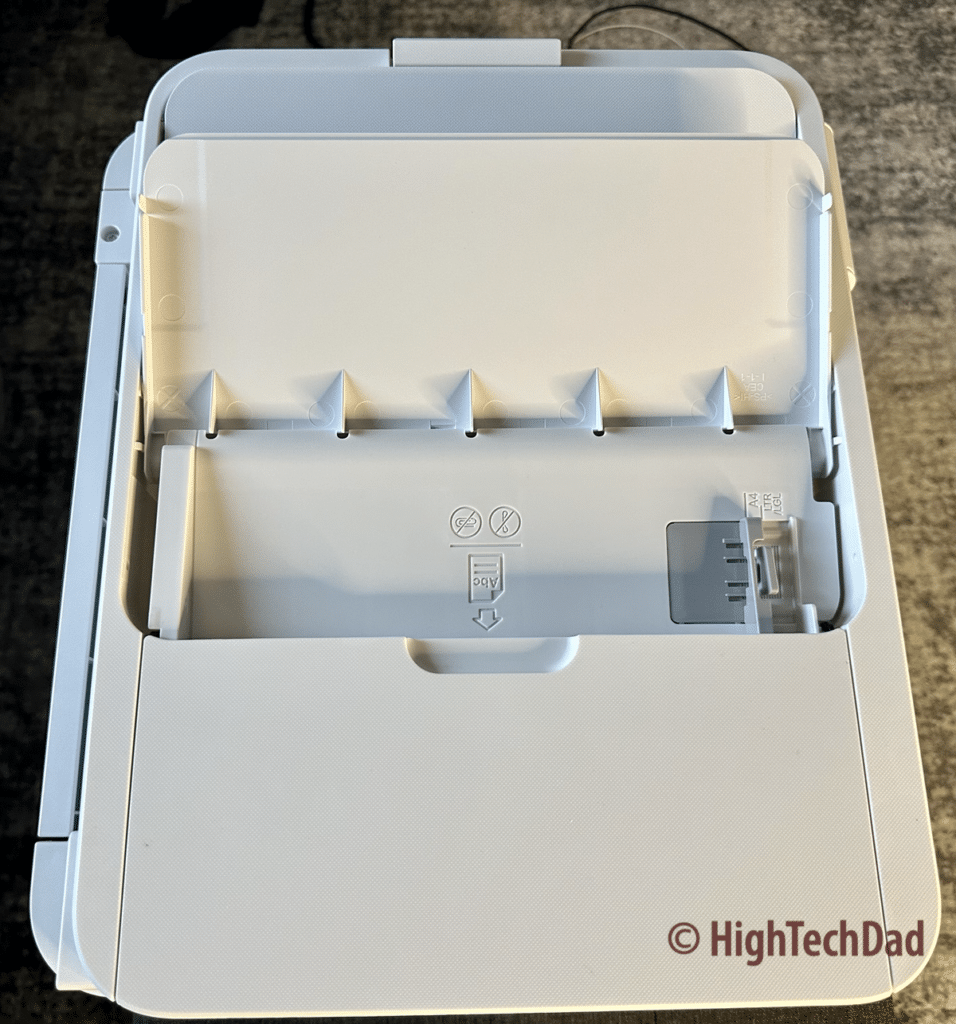 The ADF functionality works for both scanning and copying. The copy speed is 11 copies per minute in black and white and 5.5 copies per minute in color. You can even copy 1-sided documents into 2-sided copies. The scanner hardware resolution is 2400 DPI with a maximum interpolated resolution of 9600 DPI (but watch out for massive file sizes for that high resolution).
5. High Print Quality
Epson's PrecisionCore technology, coupled with its pigment-based inks, ensures that the ET-4850 produces professional-grade prints with vibrant colors and sharp text. From crisp documents to vivid photos, this printer consistently delivers exceptional print quality, making it suitable for a wide range of printing needs.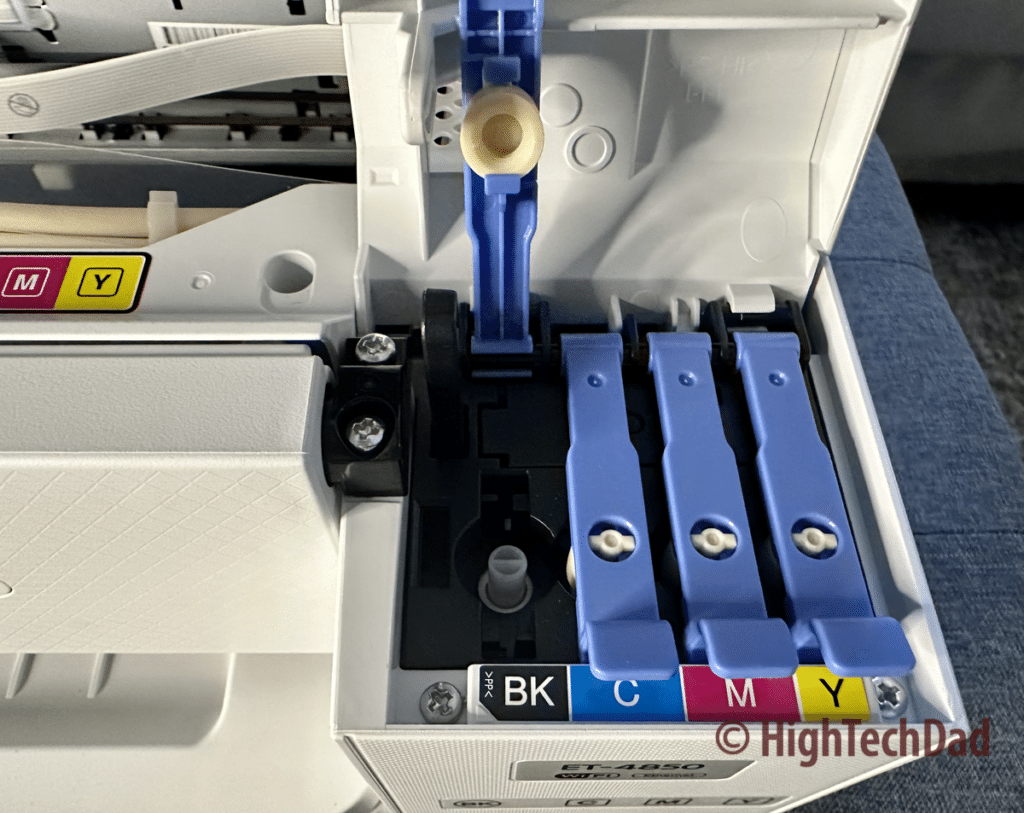 It uses four colors (Black, Red, Yellow, and Cyan – CMYK) and MicroPiezo inkjet technology to print up to a resolution of 4800×1200.
Other features, specs, setup, and pricing
Here are a few other items to mention about this Epson EcoTank printer. For starters, it weighs about 15 pounds and measures 16.4″ x 19.8″ x 10″ (W x D x H). I have mine on a small cabinet which is actually a bit more narrow than the width, but that is ok because the padded rubber feet on the bottom are more inset.
The input paper tray holds 250 sheets of plain paper, about half of a ream. As long as your paper is 8.5″ wide, this Epson can handle it. The paper tray has a fold-down front which allows you to put in longer paper sizes like 11″. You could, conceivably, feed in paper that is 47″ long, according to the specifications. It can also handle different paper types (plain, glossy, matte) and No. 10 envelopes.
You can also use the flatbed scanner and not use the ADF if you need to scan things like books or items that don't work with the Automatic Document Feeder.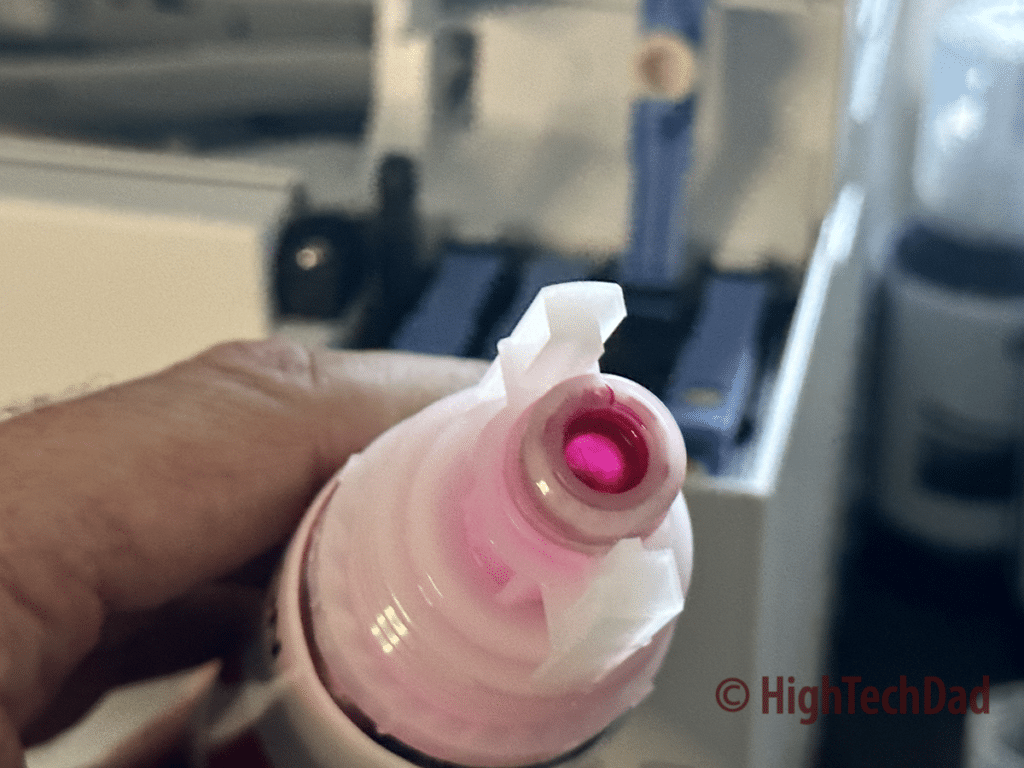 Setting up the Epson ET-4850 is relatively easy, including getting the ink from the bottles into the EcoTank. My video (above) walks through that process. Once the ink is fully charged, you should go through the calibration process to ensure your printouts are crisp and aligned properly. This process does take a few minutes to do and is actually a bit of fun. During the setup process, I did have to update the firmware. Expect to spend about 30 minutes doing the actual setup and calibration. Note: I did not configure the fax portion of the Epson printer.
The Epson EcoTank ET-4850 printer retails for $549.99 on the Epson site. As of the writing of this review, it is on sale on Amazon for $469.55.
Shop on HighTechDad.com
The product shown below (and related products that have been reviewed on HighTechDad) is available within the HighTechDad Shop. This review has all of the details about this particular product and you can order it directly by clicking on the Buy button or clicking on the image/title to view more. Be sure to review other products available in the HighTechDad Shop.
If you have any questions, please feel free to leave a comment below and I will do my best to answer them. I have not yet tested each and every feature, but I am familiar with the Epson printer lineup.
The Epson ET-4850 printer is ideal for home offices and families due to its versatility and cost-effective features. Its EcoTank technology significantly reduces printing costs in the long run, making it perfect for households with high printing demands. The wireless connectivity options enable seamless printing from various devices, accommodating the diverse needs of a modern household. Whether it's printing important documents, scanning receipts, or creating stunning photo prints, the Epson EcoTank ET-4850 printer caters to the requirements of both professionals and students.
Disclosure: I have a material connection because I received a sample of a product for consideration in preparing to review the product and write this content. I was/am not expected to return this item after my review period. All opinions within this article are my own and are typically not subject to editorial review from any 3rd party. Also, some of the links in the post above may be "affiliate" or "advertising" links. These may be automatically created or placed by me manually. This means if you click on the link and purchase the item (sometimes but not necessarily the product or service being reviewed), I will receive a small affiliate or advertising commission. More information can be found on my About page.
HTD says: Whether you need to print professional documents, capture cherished family memories, or scan important paperwork, the Epson ET-4850 printer delivers outstanding performance every step of the way. It's a must-have addition to any home or small office, empowering you to accomplish your printing, scanning, copying, and faxing tasks easily and efficiently.
HighTechDad Ratings
Ease-of-Use

Family-Friendly

Price Point

Features
Summary
Whether you need to print professional documents, capture cherished family memories, or scan important paperwork, the Epson ET-4850 EcoTank printer delivers outstanding performance every step of the way. It's a must-have addition to any home or small office, empowering you to accomplish your printing, scanning, copying, and faxing tasks easily and efficiently. The setup does take about 30 minutes or so, depending on if you need to also set up the fax capabilities. I highly recommend doing the print calibration (and it is almost a bit fun). This is an awesome, multi-function printer/fax/copier/scanner that is perfect for the home environment. The Epson ET-4850 EcoTank is very easy to connect to via a computer, laptop, tablet, or smartphone. Great to have as a printer at home for kids in school. Print speed and quality are quite good – it's not super fast, but it does a great job. And the EcoTank will save you time and money in the long run when it comes to replacing ink!
Pros
EcoTank and Ink bottles will save you $$$ and time!
All-in-one capabilities – print/copy/fax/scan
Multiple connections – WiFi/Ethernet/Direct USB/Cloud
Cons
A bit pricey – watch for a sale!
Touchscreen is a bit small