Stop me if you have heard this one before. Your child has an essay due. It requires multiple pages to be printed out. Just the other month, you replaced all of the ink cartridges (setting you back about $100+) in preparation for a night like this. It's getting close to midnight and your child is trying to print out the final version…but, the printer won't print because it is out of ink (even though you recently changed the ink cartridges)! This scenario wouldn't happen with the Epson EcoTank ET-2850 printer because this inkjet printer literally has a tank load of ink stored inside it – and not in some tiny little ink cartridges. (*Disclosure below.)
I have been in that scenario I just described many, many times despite trying to buy cartridges ahead of time and having them stashed safely somewhere. There have been times where I had to race to the local office supply store right before the close just to buy ink cartridges and other times where I waited for a sale to stock up on supplies. I typically would get high-capacity cartridges (which are more expensive) so that they wouldn't run out as quickly, but those can set you back almost $100 depending on the printer model.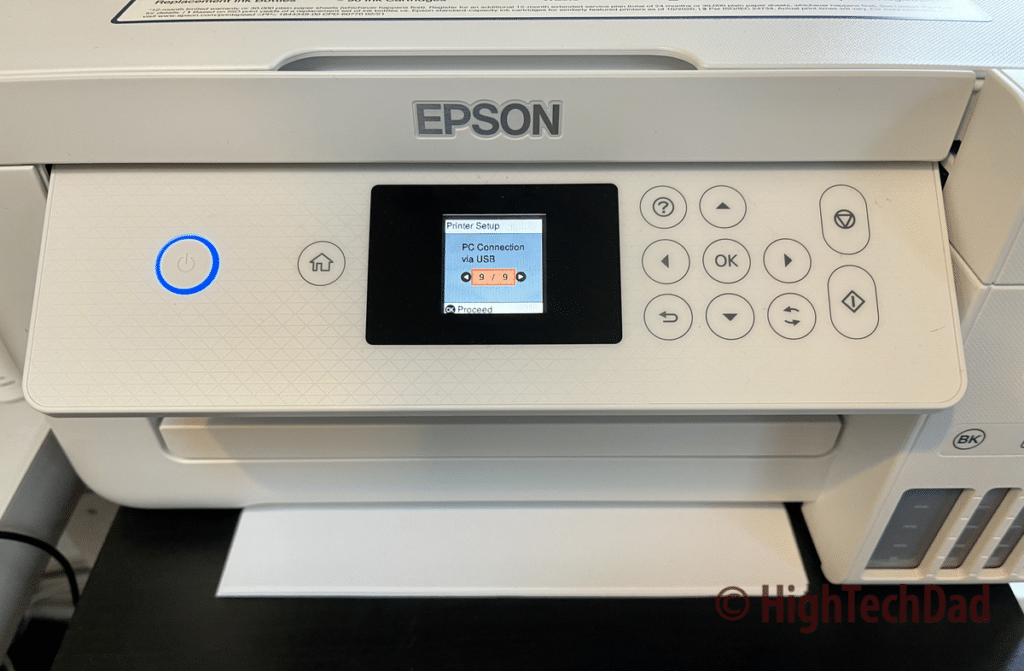 With the Epson EcoTank ET-2850 that panicked, last-minute buying of ink cartridges or hoarding of just-in-case stashes of ink pretty much becomes a thing of the past. And honestly, I LOVE the concept of the EcoTank. Oh, and by the way, this particular Epson printer (the ET-2850) is pretty darn practical and functional as well!
Let's talk EcoTank
The EcoTank I feel is something long overdue. In the past, if you wanted to save money, people either bought knock-off ink cartridges or even tried to refill empty cartridges themselves. Both of these methods are actually pretty bad for your inkjet printer. They are fairly complex machines and if you put sub-standard ink into them, it can ruin the print heads, causing them to jam, produce not accurate colors, have lines and missing sections, or simply not print at all. Bottom line – don't use knock-off or non-authentic ink cartridges.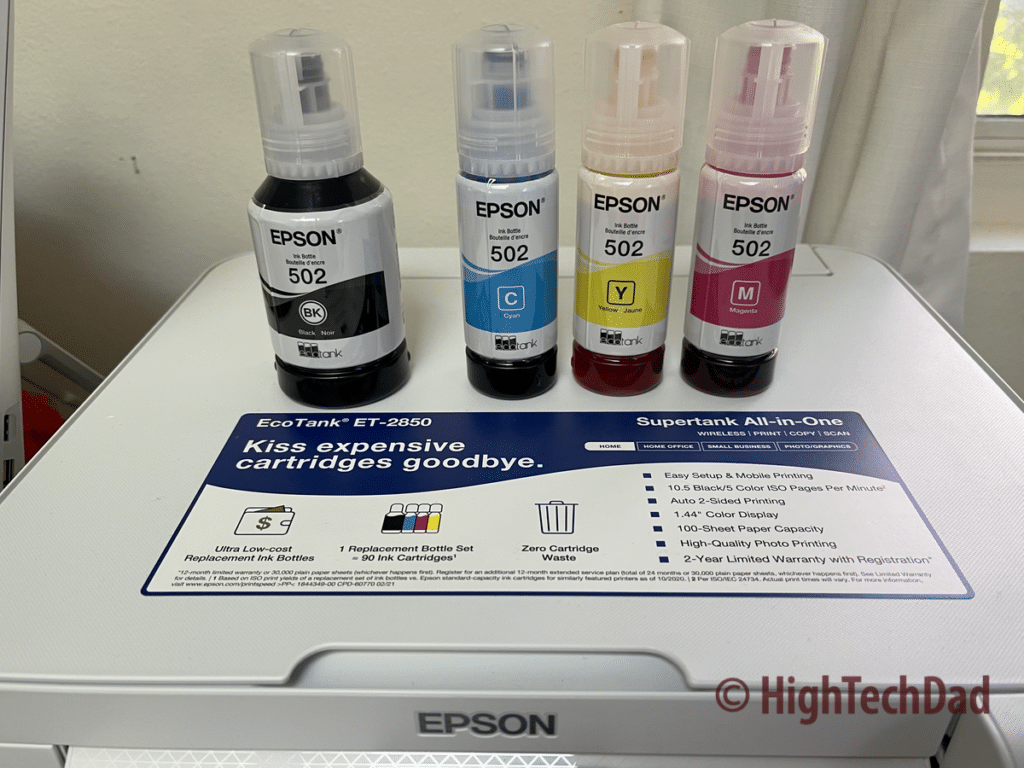 But why did we do that? Because ink cartridges were expensive and the ink didn't seem to last very long. The EcoTank removes both of those barriers. Let's look at two examples here – ink cartridges from another Epson printer and the EcoTank bottled ink. All of the data and pricing below is from the Epson site.
Epson 202XL Black High-Capacity and Color Standard-Capacity

4 colors as part of this – C/M/Y/XLK
Epson site price – $60.49
Yield – Black: 550 pages and Color: 470 pages (based on printing with the Expression Home XP-5100)

Epson T502 (Black) & T502 (Multi-color) Ink Bottles

3 color bottles in the pack (CMY) and one larger black bottle (K)
Epson site price – $19.99 for black and $38.95 for color for a total of $58.94
Yield- Black: 7,500 pages and Color: 6,000 (based on printing with this printer, the Epson EcoTank ET-2850)
Ok, did you actually READ the bullets above? For starters, to replace ALL of the ink in the EcoTank ET-2850 is actually about $1.50 less expensive. But the bigger difference that should really scream out at you is the fact that you get about 13 times the output…for the same price.
Call me a cheapskate or incredibly smart (or both) but the EcoTank truly sounds like a winner. And honestly, from my initial days of testing, I think it is.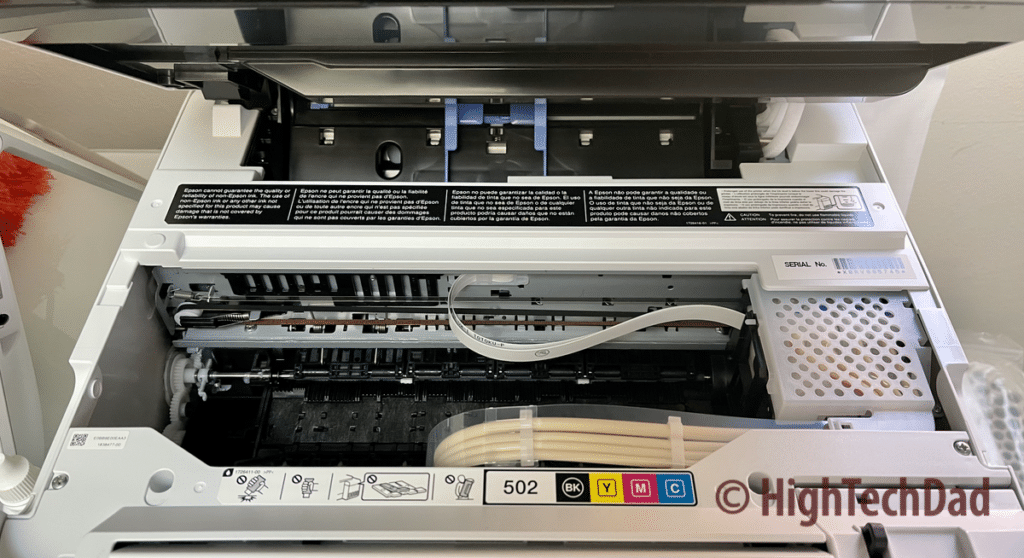 Filling the individual color and black tanks is almost easier (and more fun) than replacing ink cartridges. And, according to Epson, you get up to 2 years of inks with just one ink bottle. Amazing!
You open up the printer tank cover, open whichever tank color you want to fill, open the bottle (don't shake it), put the bottle opening into the appropriate color slot, and let the bottle automatically empty into the ET-2850's tank.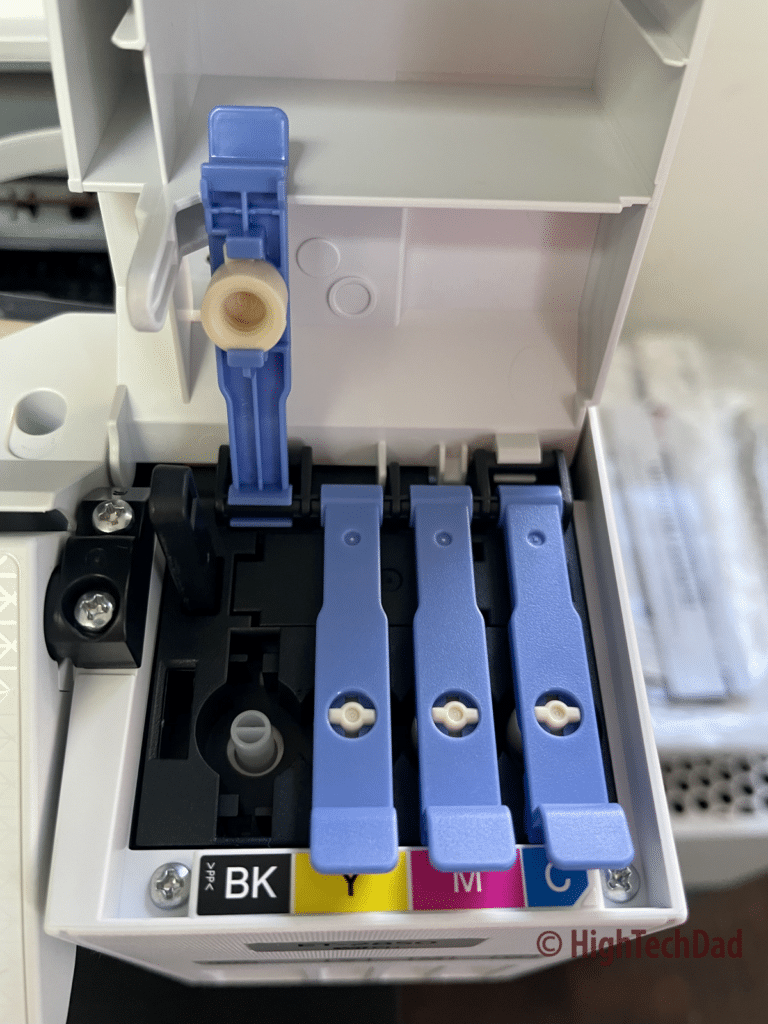 Epson has designed the tank slots and bottles to only allow the proper color to be slid in, eliminating the mistakes of putting the wrong color into the wrong tank.
The bottle will fill up the tank and magically stop when the tank is full. You can store extra ink for later if you want. And you just do that with all of the rest of the colors that need filling.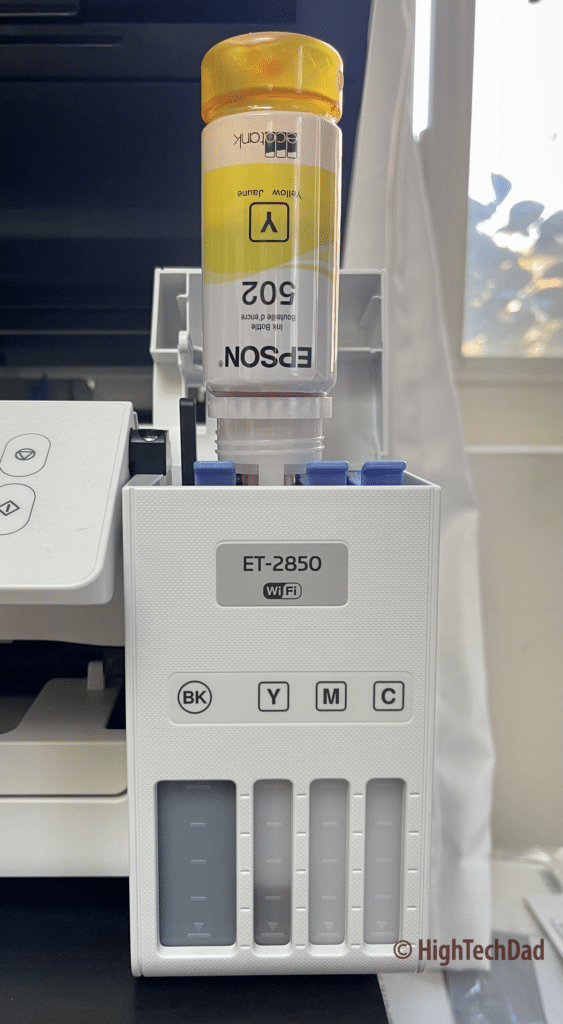 On the front of the ET-2850 are physical tank level readers that let you actually see the levels of the ink stored in the printer (you can also get the ink level information from your computer or smartphone app if you want). Or you can use the tiny onboard screen to get the ink levels digitally.
More setup and usage fun
Getting the ink into the EcoTank is the first step of the setup. This happens even before you power on the Epson printer. Then you also have to let the Epson printer charge up the ink which happens once you turn the power on. This process will take a few minutes to complete.
Once that is complete, I highly recommend you do some calibration of the printer heads. This may take a few minutes to complete, but trust me, if you don't do it, the print quality won't be as good compared to if you did. The printer will print out pages to test alignment, clean the ends to ensure there aren't any gaps in ink dispersal and do some other fine-tuning.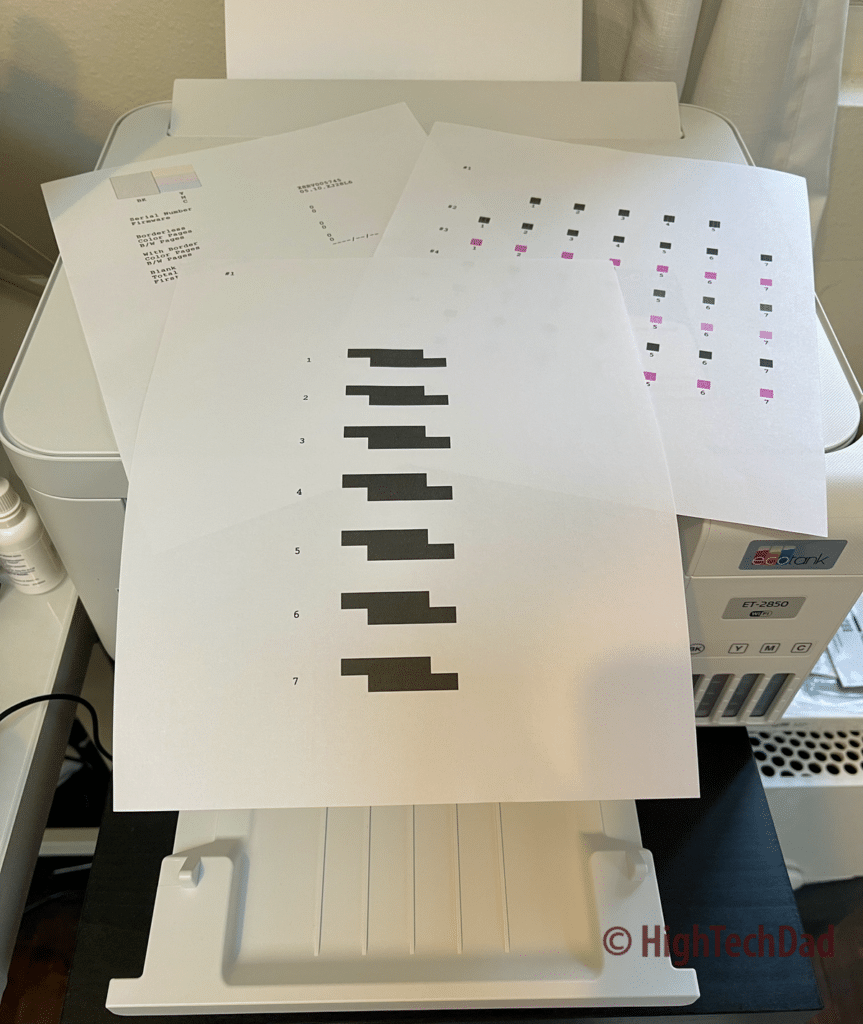 By doing all of this, you can be sure that when you do print, even edge-to-edge printing, things will look tight and crisp.
Lastly, and importantly, you will want to connect the Epson EcoTank ET-2850 to your WiFi network. You can do WiFi Direct Mode that allows you to print directly to the Epson without the need of a WiFi router or access point, but by doing a true WiFi connection, you enable other great features, listed below:
Epson Smart Panel App – available for iOS and Android, this is a great app to do anything with the printer directly from your smartphone. Print photos or documents, scan or capture documents, copy, easily print ID cards, and perform maintence all from this smartphone app.
Apple AirPrint & Android Printing – I particularly like being able to connect my Mac to the Epson in just a few clicks and start printing. And with AirPrint, I can print directly from my smartphone as long as I'm on the same network.
Epson Connect – use Email Print, Epson Remote Print, or Epson Scan to Cloud with your connected Epson printer from anywhere.
While I haven't set up the Epson Connect yet, I have tried both of the other items. I already mentioned AirPrint, but the Smart Panel App is a great suite of functions and features that I'm just starting to explore. As I write this, I'm testing out the printing of a coloring book based on a photo I imported into the app.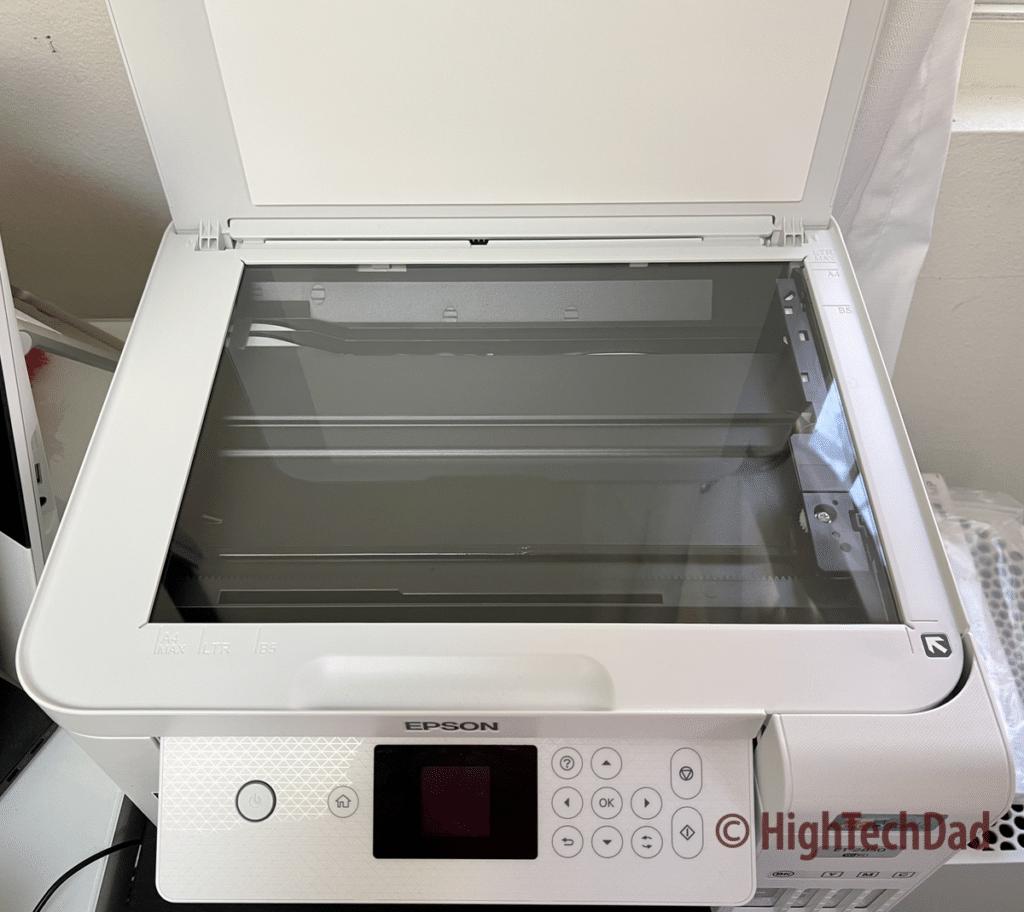 Has your kid ever run out of graph paper? You can print a couple of sheets in an emergency. Or for those quick crafts projects, you can print out colored patterned paper directly from your smartphone.
The Specs of the Epson EcoTank ET-2850
Obviously, you are going to want to read through the spec sheet on the Epson site to get all of the details, but I have selected a few things that I believe stand out about this handy printer. In no particular order:
EcoTank – well this should be obvious!
No more wasteful cartridges – again, obviously because of the EcoTank
Scanner & Copier – did I mention that it also has a scanner? Up to 2400 dpi via the hardware itself. No Automatic Document Feed for the scanner unfortunately – just one page at a time.
Print resolution – 4800×1200
Print speed – 10.5 pages per minute (black) and 5 ppm for color
2-sided printing – since you are saving on ink cartridges, you should also save on paper and print on both sides
USB-connection – print directly from your computer via USB
WiFi – 802.11 b/g/n
Voice-Activated Printing – if you have a Smart Home, you can configure the ET-2850 to work with Alexa, Siri, or Google Assistant to print out things like graph or ruled paper or other items (I did not test this feature yet)
In terms of the footprint on your table or desktop, the ET-2850 is fairly compact but will take up some space. It is 14.8″ wide. The depth and height vary by whether you have it in storage mode or printing mode. Printing mode has the paper feeder sticking out the back with paper in it and the printing tray that grabs the printed items out. I leave mine ready to go so the depth is 22.3″ and the height is 10.2″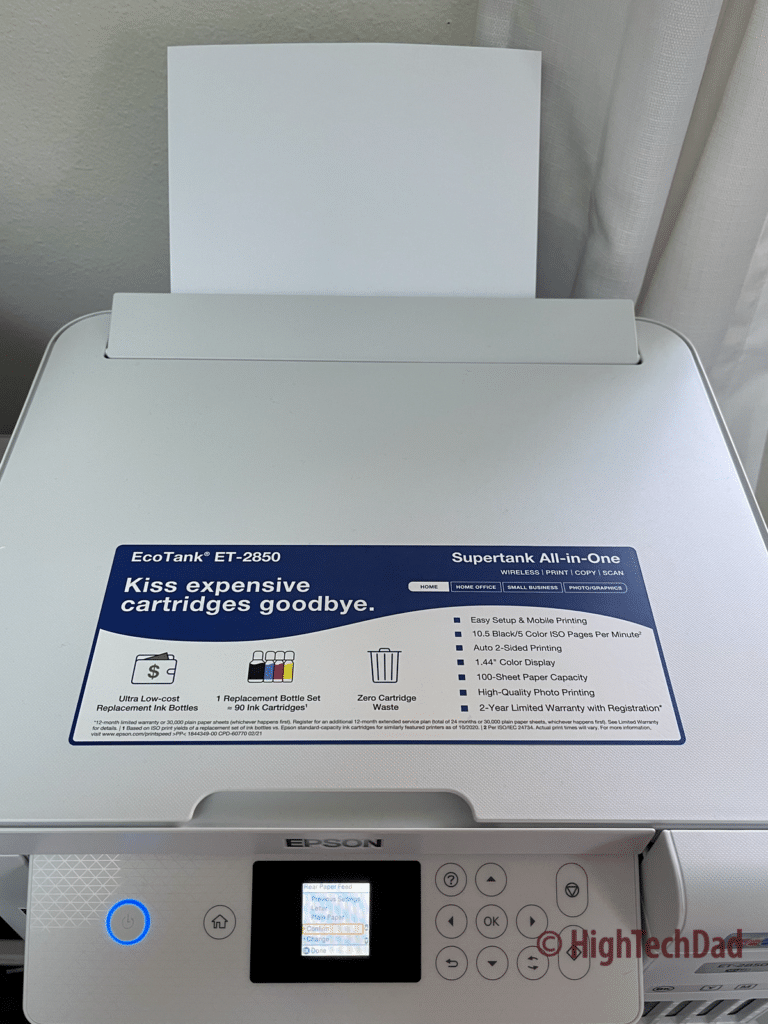 By the way, I did find this ingenious slot in the base where you can store about 20-30 more sheets of paper. You just slide them out of the way and then hopefully nobody in the family will steal them.
A perfect printer for a home office and/or family
As I tested out the Epson EcoTank ET-2850, the more I realized how great this printer would be in either a home office or just as a family printer (or both, for that matter). It is incredibly easy to set up and the fact that you fill it up with gobs of ink that lasts several years means that you can use it for a long time and only worry about stocking it with paper.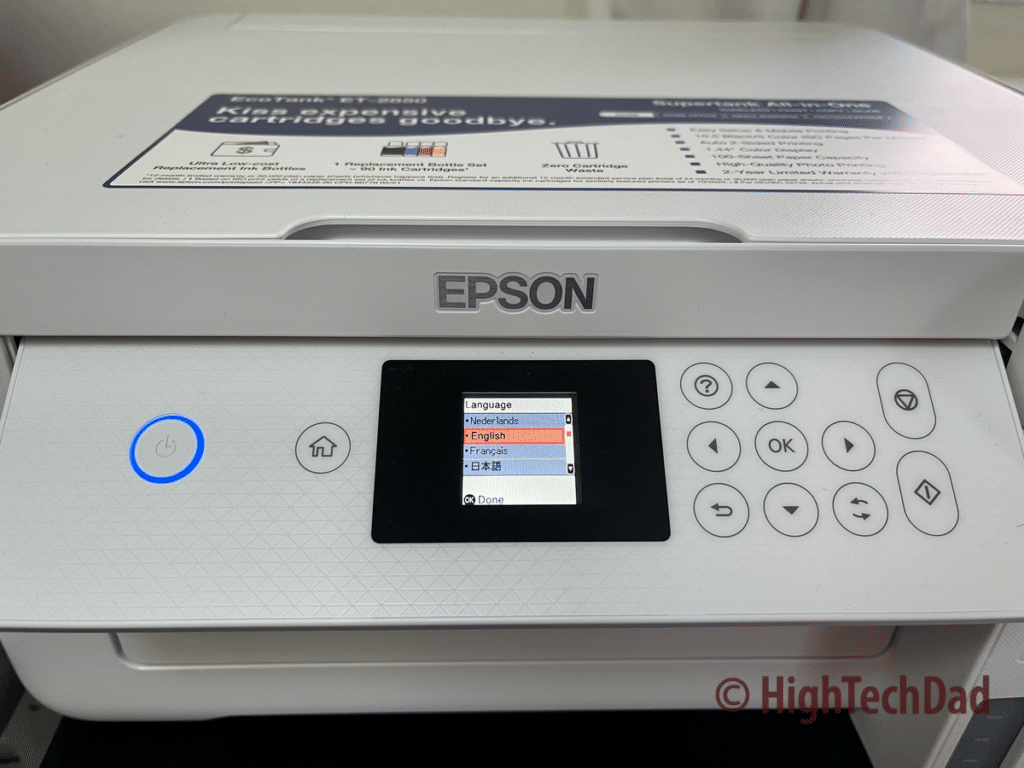 Also, it is quite budget-minded. The Epson site lists it at $299.99. It is also listed on Amazon for $299.99. On the Epson site, the ink has a range of options. The Black bottle is $19.99, the colors are $12.99, and the tri-color pack is $38.95. On Amazon, Black is $16.89, colors are $12.99 and tri-color is $34.99.
There are a variety of EcoTank printers by Epson. The ET-2850 is pretty much the entry-level version, but the Epson ET-15000 is truly drool-worthy as it is a 4-in-1 device with touchscreen display, ethernet, large capacity paper tray, auto document feeder, and a large print format. The ET-15000 retails for $599.99.
Also, I have reviewed other Epson printers in the past so be sure to check out those reviews (here, here, and here).
Buy on HighTechDad
The product shown below (and related products that have been reviewed on HighTechDad) is available within the HighTechDad Shop. This review has all of the details about this particular product and you can order it directly by clicking on the Buy button or clicking on the image/title to view more. Be sure to review other products available in the HighTechDad Shop.
Having used the Epson EcoTank ET-2850 Printer for a few weeks now, I'm impressed with its functionality. Not only will it save you money when it comes to replacing ink (and the fact that it will definitely take a while before it actually runs out of ink), it also has the core features required for the home office or student. With double-sided printing, scanning, and copying, and the fact that you can easily connect and print from computers as well as tablets and laptops, it's pretty much an essential tool for the modern household.
Disclosure: I have a material connection because I received a sample of a product for consideration in preparing to review the product and write this content. I was/am not expected to return this item after my review period. All opinions within this article are my own and are typically not subject to editorial review from any 3rd party. Also, some of the links in the post above may be "affiliate" or "advertising" links. These may be automatically created or placed by me manually. This means if you click on the link and purchase the item (sometimes but not necessarily the product or service being reviewed), I will receive a small affiliate or advertising commission. More information can be found on my About page.
HTD says: Save yourself some money and time and invest in the Epson EcoTank ET-2850 Printer. Once you fill up the dedicated ink tanks on this inkjet printer, you won't have to for years! It's a perfect workhorse for a family that is working or studying at home.
HighTechDad Ratings
Ease-of-Use

Family-Friendly

Price Point

Features
Summary
Save yourself some money and time and invest in the Epson EcoTank ET-2850 Printer. Once you fill up the dedicated ink tanks on this inkjet printer, you won't have to for years! It's a perfect workhorse for a family that is working or studying at home. The setup is almost fun as the printer guzzles down a bottle of colored ink. Once you have the ink charged up and you do all of the required printer head validation and alignment (also, a fun and easy process), you will be printing in minutes. This Epson printer has all of the core features you need for a home office, a college student, or a busy family – print, copy, and scan. And you can print from computers, smartphones, and tablets wirelessly and easily.
Pros
Save a ton of money on ink (and save the environment as well with no ink cartridges)
Has all of the necessary functions
Easy to set up
Good quality prints, scans, and copies
Cons
No ethernet port (choose a higher version of this printer)
No Automatic Document Feeder (choose a higher version)
Not a speed demon when it comes to printing but pretty typical speed
No touch-screen and screen is pretty small (use the app instead)