Doing product reviews can be a pain in the neck…literally. Hunching over a computer and hammering on the keys to get an article completed sometimes brings me neck or shoulder cramps. Unfortunately, I don't have a personal masseuse until now. Comfier, a wellness brand, sent me the Mini Massage Gun (CF-4909) to review. The Comfier Mini Massage Gun is a hand-held, compact massage gun that can work out knots and soreness while stimulating circulation using its multi-speed vibrating head. Despite its smaller size, its vibration is surprisingly powerful and effective. (*Disclosure below.)
Key features of the Comfier Mini Massage Gun
There are several key features of the Comfier Mini Massage Gun that are worth mentioning in a bit more detail. Let me start with the compact size. I have seen other percussion guns similar to these that are much larger. There could be some benefits to having a larger massage gun, like more power or longer battery life. However, these larger percussion guns have many disadvantages – they are heavier, more expensive, and a bit harder to control with one hand.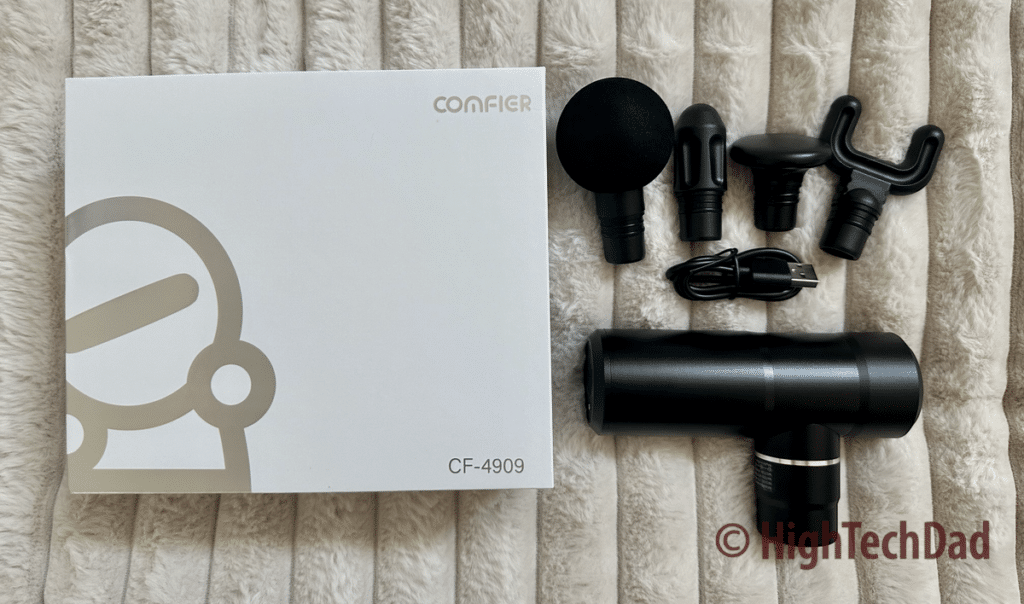 The Comfier Mini Massage Gun is small enough to easily carry in a backpack, gym bag, or suitcase without adding too much weight or bulk. With the battery and a massage head attached, it only weighs a little over 1.2 pounds. Without a massage head attached, it measures 5.5″ x 3.75″ x 1.75″. This compact size makes it quite portable and a great massager to travel with.
It comes with four different massage heads for various areas of your body. It has a spherical head for the neck or spine as well as some of the larger muscle groups. There is a U-shaped head that is good for the shoulder area or your lower back. Also included is a smaller round head that is good for the spinal region and other muscle groups. This one gets a bit deeper into the muscle than the large round one. And lastly, there is a flat-headed massage head that is a good, general-purpose massage head – useful for all muscle types.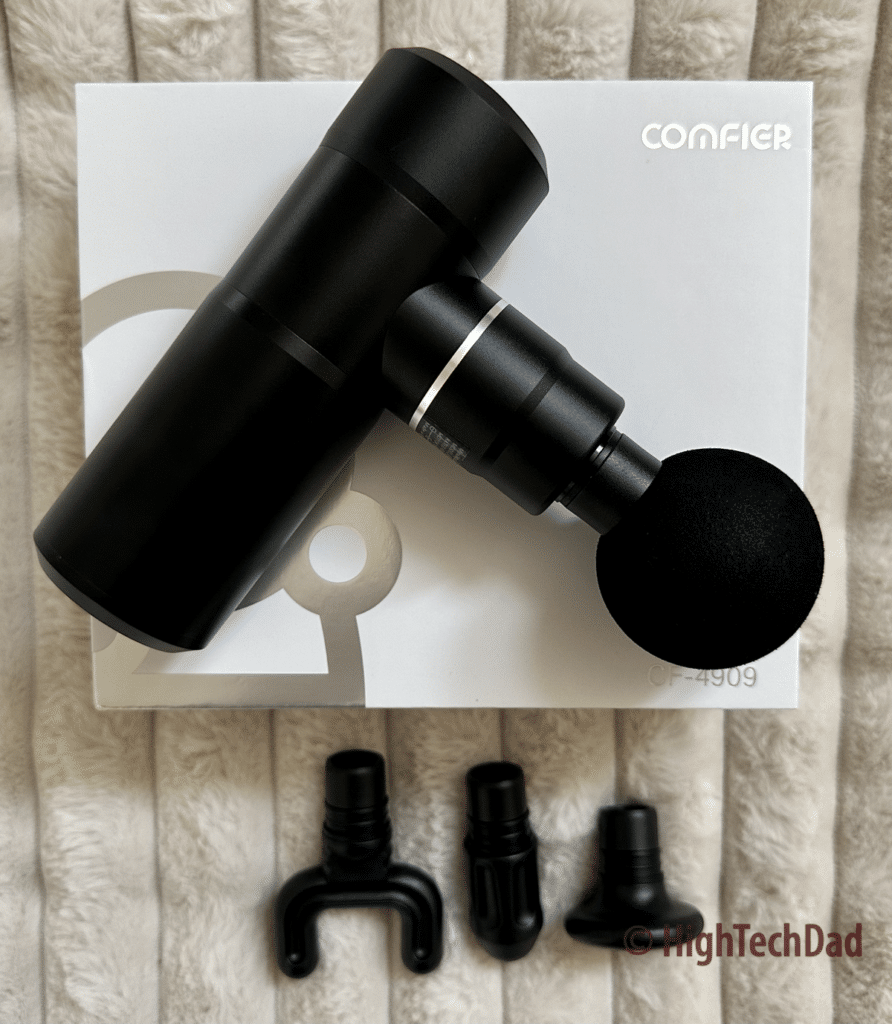 The various massage heads simply slide on or off. You have to use some force to put them on and take them off. They are tightly attached to the massage handle base unit; even at high-vibration speeds, the heads will not shake loose. It does take a bit of force to put them on or take them off. It helps to twist the head slightly as you push it on or turn it off.
The heads themselves are made out of lightweight plastic and would not add any significant weight if you were to travel with them. The heads are pretty hard with no foam or padding (with the exception of the large ball, which does have some foam padding).
Another nice feature of the Comfier Mini Massage Gun is that it is entirely battery-powered. That makes it much easier to take on the go. The battery capacity is 2000mAh, powered by a lithium-ion battery. To charge the Comfier Mini Massage Gun fully from empty takes a few hours. But, a fully-charged massage gun can last many hours (up to 5).
I did a test where I charged it fully and then ran the massage gun on high for as long as I could. But, I learned that the Comfier does have an auto-shutoff feature. This is a good thing since if it is accidentally turned on in your bag, you wouldn't fully drain the battery without knowing about it. So, I had to turn it back on to continue my testing repeatedly. I believe it would run for about 10 minutes or so before shutting off. But the battery lasted all day.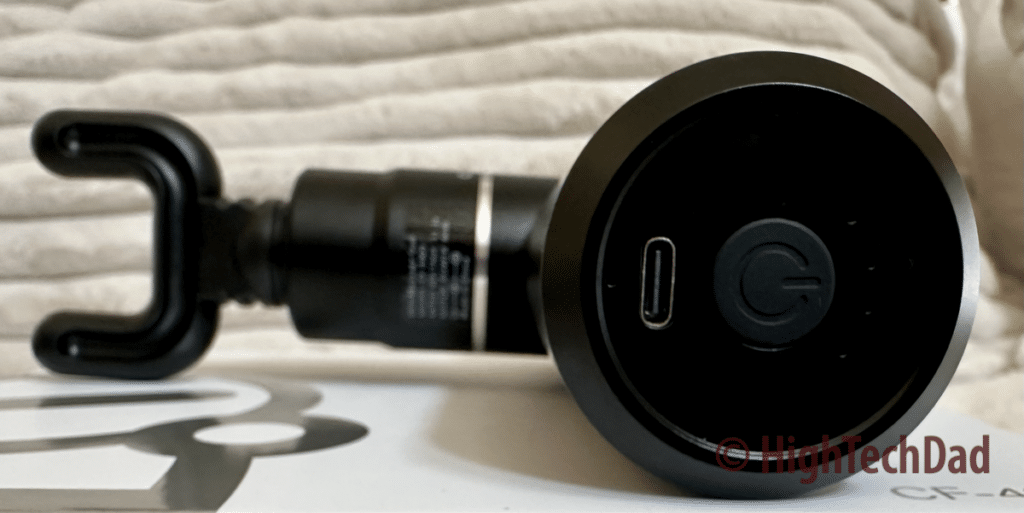 My only complaint I have about the battery is that there is no way to check the battery level. Only at the very end of the battery life (literally when it was almost dead) would the blue charging light turn red. There was no other way to know at what level the battery was until it was practically dead. Also included is a USB-C charger.
The Comfier has a four-speed motor, up to 3600 percussions per minute. I have to say, the highest level is almost too strong for me. You need to be careful when using these percussion massagers because if you use them for too long in one place, you can bruise your muscles. So, be sure to use the appropriate motor level and move it around the muscle, and don't leave it in one place.
The motor is also surprisingly quiet. Because it leverages a brushless motor, the noise output is less than 44 dB. This is another nice advantage of having a smaller-sized massage gun. It is easy to use – simply press and hold the power button to turn it on and then press it to cycle through all of the levels. To turn it off, press and hold the power button again.
Lastly, this massager can perform a reasonably deep tissue massage of up to 6.5mm of travel. This is great for relieving muscle pains and knots that are a bit deeper, but again, move the massage ball around so you don't stay in one spot too long.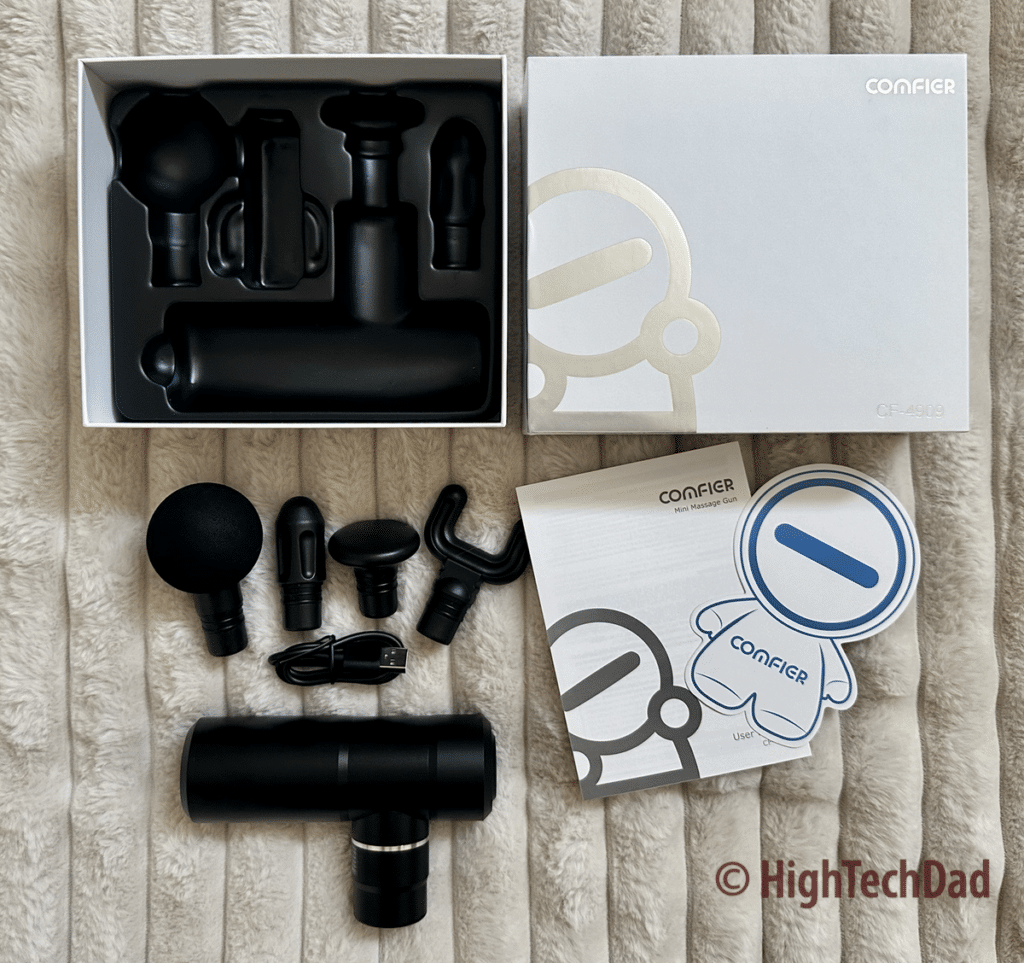 The Comfier Mini Massage Gun retails for $89.99 on the Comfier site and is currently on sale for $74.99 as of the writing of this review. It is also available on Amazon with a regular price of $79.99. It is also currently on sale for $59.99.
Shop on HighTechDad.com
The product shown below (and related products that have been reviewed on HighTechDad) is available within the HighTechDad Shop. This review has all of the details about this particular product and you can order it directly by clicking on the Buy button or clicking on the image/title to view more. Be sure to review other products available in the HighTechDad Shop.
Overall, the Comfier Mini Massage Gun CF-4909 provides an impressive combination of portability, power, and customization. Its compact design and extensive features make it an excellent choice for individuals seeking a reliable and convenient massage gun. With its targeted relief capabilities and user-friendly operation, the CF-4909 offers a great value-for-money option. While it may lack some advanced features found in larger massage guns, its performance and usability make it a worthy investment for anyone looking to incorporate relaxation into their busy lifestyle.
Disclosure: I have a material connection because I received a sample of a product for consideration in preparing to review the product and write this content. I was/am not expected to return this item after my review period. All opinions within this article are my own and are typically not subject to editorial review from any 3rd party. Also, some of the links in the post above may be "affiliate" or "advertising" links. These may be automatically created or placed by me manually. This means if you click on the link and purchase the item (sometimes but not necessarily the product or service being reviewed), I will receive a small affiliate or advertising commission. More information can be found on my About page.
HTD says: If you are looking for a smaller-sized, travel-ready, powerful portable massage gun, definitely take a look at the Comfier Mini Massage gun. It's easy to use, can definitely work out those muscle knots, and is super convenient for being on the go.
HighTechDad Ratings
Ease-of-Use

Family-Friendly

Price Point

Features
Summary
If you are looking for a smaller-sized, travel-ready, powerful portable massage gun, definitely take a look at the Comfier Mini Massage gun. It's easy to use, can definitely work out those muscle knots, and is super convenient for being on the go. Out of the box, it was ready to use and didn't need to be charged. But, I do recommend charging it up fully prior to using. The one major negative point is that there isn't a battery level indicator. The LED light will turn red only right before the battery is fully depleted. However, this is a strong and powerful massage gun that can really help those tight muscles. And it is ready for travel because of its small size.
Pros
Compact
Lightweight
Easy to use
Powerful
Cons
No battery level indicator
Massage heads do not have foam except for the large ball