There is something to be said about cable management. Some people plug all their devices into their computer, which looks like a digital octopus. Of those people, some try their best to organize, group, and attach cables together. Some don't even connect many devices because of the clutter. And others use a technical solution to hide a cable mess away from eyesight (the backend) and have a clean frontend. I'm kind of a mixture of all of these (clean connections and a spaghetti cable mess tucked away). But I just hooked up the Monoprice 15-in-1 Triple Display Docking Station to my MacBook Pro, and I have a single USB-C connection providing everything for my Mac! (*Disclosure below). 
I could improve at cable management. I have tried using zip-ties and flexible cable management sleeves, but since I swap hardware and gadgets in and out for testing, my cables have become quite messy once again. When Monoprice asked if I wanted to review their 15-in-1 Docking Station, I thought, wow – this could be an excellent solution for cleaning up one of my desks! Long story short, using the Monoprice 15-in-1 docking station, I now have a single USB-C cord coming into my Mac, and it is providing power, connection to a second monitor, connections to two external hard drives (one USB-C SSD and one USB-A), Ethernet, LED lighting, and a connection for my iPhone via USB-C. And I have yet to use all of the available ports!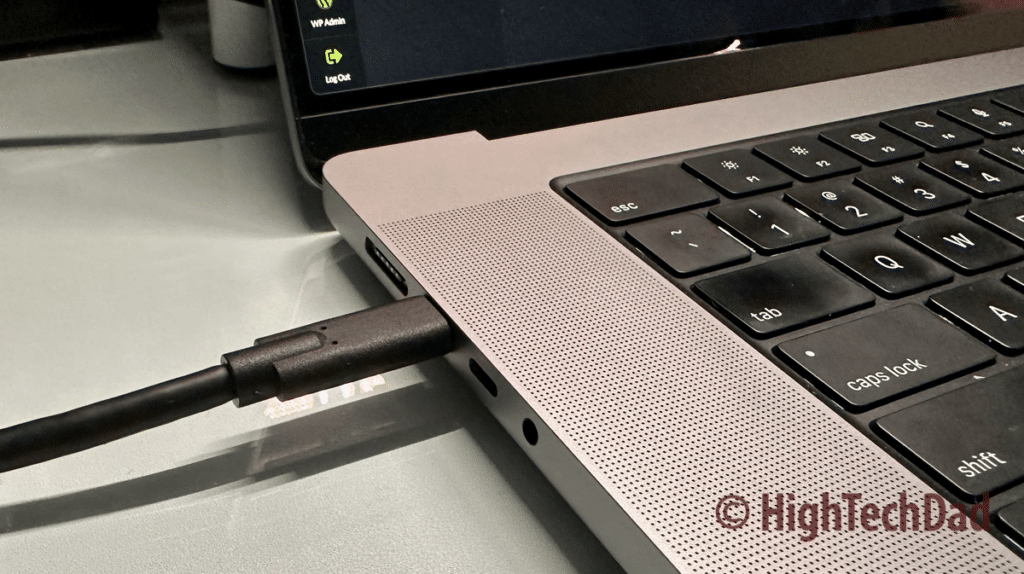 Before I go into all the details of this highly versatile and functional docking station, I have to outline a couple of use cases. First, any home worker with multiple monitors (key to being successful at home) and various devices (printers, scanners, hard drives, etc.) that need to be physically connected to their laptop or desktop should look at these types of docking stations. And, with school starting, this is an excellent tool for students for their dorm room or apartment. Gone are the days of connecting multiple devices and hubs and dongles to access all of your digital devices. One USB-C connection allows you to have all your gadgets connected and your laptop charged and then unplug and rush off to class (remember to eject those external hard drives, though).
Table of Contents
What are the 15 connections in the Monoprice 15-in-1 docking station?
I will go into a few of the port and connection details below, but I thought it would be important to list out all fifteen of the ports and slots on the Monoprice 15-in-1 Docking Station. The count does NOT include the 20V Power Supply port nor the anti-theft locks. A quick note on the Power Supply – yes, you do have to plug this docking station into a wall plug. This is a good thing, in my opinion, as it can provide charging power (a max of 150W) to devices as well as your laptop instead of relying on power transmission from your laptop only.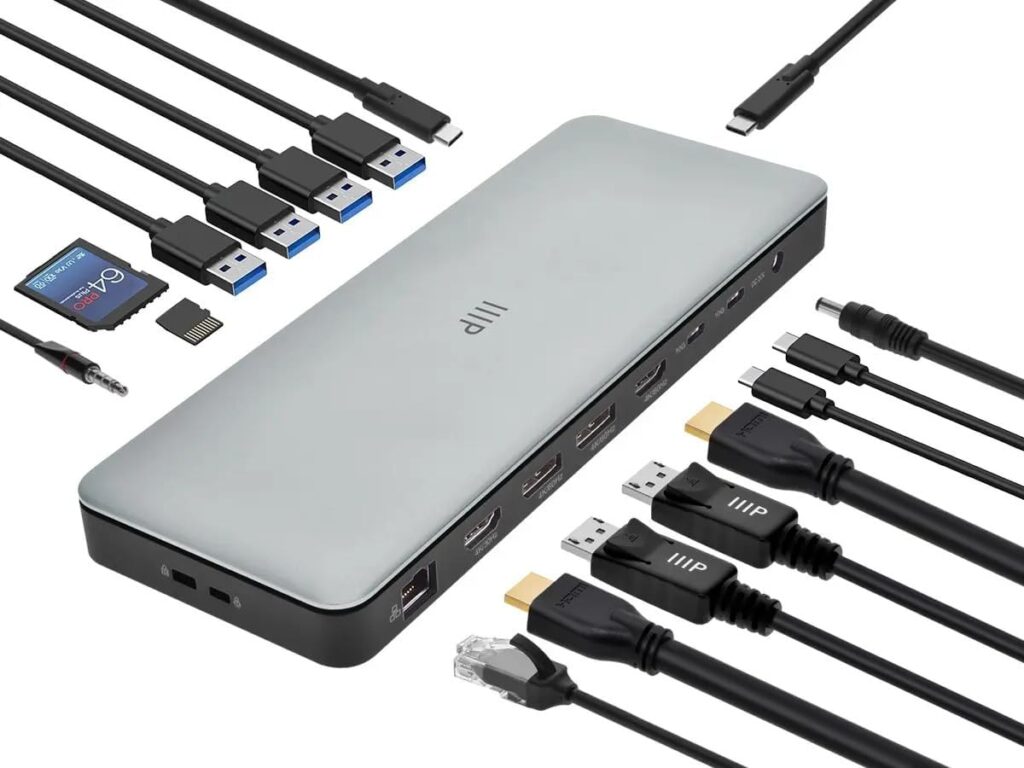 In no particular order other than how they appear on the Monoprice Docking Station, here are the 15 ports:
Ethernet – RJ45 Connection
HDMI 1 – Stream 1
Display Port (DP) 1 – Stream 2
Display Port (DP) 2 – Stream 3 – shared with HDMI 2
HDMI 2 – Stream 3 – shared with DP2
USB-C
USB-C
USB-C
USB-A
USB-A
USB-A
SD Card
MicroSD
3.5mm Audio Jack
UBC-C to host (e.g., your laptop)
It is a well-rounded mix of ports, although I would have loved to have had more USB-C ports and fewer USB-A (perhaps 4 and 2, respectively). Or, possibly have a couple of Thunderbolt ports instead – but that would have added to the price of the docking stations.
Display Connectivity Options
The big selling point of the Monoprice Docking Station is the fact that you can connect up to three external displays. The connections depend on the types of monitors you have and the type of computer you will be connecting to them. In fact, Windows provides better monitor modes than Mac (at least for now). If your Windows device supports Multi-Stream Transport (MST), you could potentially display four different desktops from your Windows computer through the Monoprice 15-in-1 Docking Station.
With a Mac, you can only do two extended desktops (which is what I'm doing). You could, however, connect another monitor directly to your laptop via Thunderbolt or HDMI to have more extended desktops available (which is what I do with my work environment), but the result of that is having multiple cables connecting to your Mac (which is what we are solving for here with the Monoprice Docking Station).

With both Windows or Mac, you can have three external displays mirroring your desktop, but I like having multiple desktops available for different tasks and applications.
So, there are up to three streams you can set up – Stream 1 is HDMI only at up to 3840 x 2160P (max 30Hz on Windows) or 3840 x 2160P (max 60Hz on Mac). And it supports High Dynamic Range). Stream 2 is purely a Display Port (DP) and supports 3840 x 2160P (60Hz and HDR). And Stream 3 is either DP or HDMI – both HDR and 3840 x 2160P.
For a single display setup, it supports 4K@60Hz, for dual display – 4K@30Hz, and for triple – 4k@30Hz + 1080p@60Hz—quite a nice configuration.
A quick note in my testing – I had been using Stream 1 (HDMI) for my primary (and solitary) external monitor. It was working quite well, but recently, the monitor would not display even though my Mac said it was connected. Removing the HDMI cable from the Docking Station and plugging it directly into my Mac worked fine. Powering off the Monoprice and powering it back on with the HDMI connected to it brought the monitor back, but only briefly. So, I actually switched my connection to DP now, and things are working fine. I don't know if it is the result of running a developer MacOS beta, if it is an issue with the monitor or the HDMI cable, or something with the Monoprice, but I did want to point it out.
A Plethora of USB Ports
Yes, we all love USB Type-C, especially now that the new iPhones use USB-C. But, if you are like me, you probably have many USB Type-A devices on or around your desk. And you may have hubs for those that use a USB-C connector because you can't find too many computers that go back to using USB-A.
The Monoprice 15-in-1 Docking Station has you covered in terms of USB-A. There are three Gen2 USB-A ports that support 10Gbps transfer speeds. So, connect those old backup hard drives or other "legacy" devices to the docking station and stop worrying!

There are also three USB Type-C ports. All three are Gen2 supporting 10Gbps as well. And one of the USB-C ports also has a PD (Power Delivery) output of 30W, which is great for charging your iPad or iPhone. Just make sure you connect the proper one.
Lastly, there is another USB-C port, but this one is reserved for connecting your laptop or computer. This "to host" connection (and a PD USB-C cable is included) not only powers and charges your laptop, but it also does all of the data transmission (including your Ethernet connection, audio, video, etc.). This is the ONE (and hopefully ONLY) cable you have directly connected to your laptop. According to the spec, the Monoprice outputs a maximum of 96W for dedicated host charging. My Apple System report shows the wattage at 100W and the Ethernet connectivity at 2.5 Gbps.
And, while I did say that I wished I had more USB-C / Thunderbolt ports, you do have to remember that depending on your computer, you may have extra ones available as a result of running everything through the Monoprice 15-in-1 Docking Station (however, if you use those on-computer ports, you are defeating the purpose of having minimal to no cables attached). But, with the Monoprice connected to my MBP, I have one HDMI port and two USB-C / Thunderbolt ports available.
Other Ports of Interest
There are three other ports/slots available that are potentially useful – the SD and MicroSD card slots and the audio port.
The SD slot is SD4.0 with a speed of up to 312MBps, and the MicroSD slot is SD3.0 with a speed of up to 104MBps. Having these two SecureDigital card slots available is excellent for photographers or using with drones, or anything that uses a SecureDigital card for storage. Both sizes are available on the Monoprice.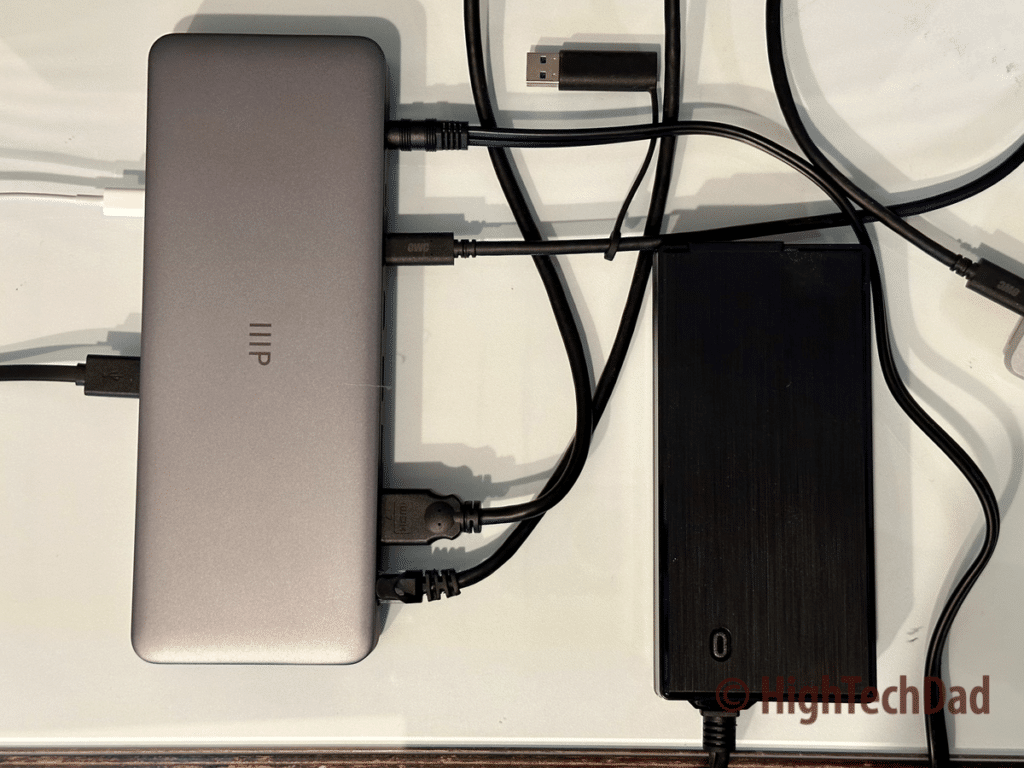 There is also a digital audio port with a max of 96KHz and a 24-bit sampling rate. This is a 3.5mm stereo audio and microphone jack. If you aren't using Bluetooth or your computer is tucked away, and you don't have easy access to the headphone jack, it's great to have this port available on the docking station.
Pricing and Final Thoughts
The Monoprice 15-in-1 Tripple-Display Docking Station retails for $149.99 but is currently on sale on the Monoprice site for $129.99 as of the writing of this review. It is also available on Amazon for $149.99. 
Buy on HighTechDad
The product shown below (and related products that have been reviewed on HighTechDad) is available within the HighTechDad Shop. This review has all of the details about this particular product and you can order it directly by clicking on the Buy button or clicking on the image/title to view more. Be sure to review other products available in the HighTechDad Shop.
I think my next step in the evolution of my workspace environment will be to tuck away my laptop, get an external keyboard (Bluetooth to eliminate the cords), and only have the Monoprice docking station available on my desktop. Yes, I do use a mouse and have some other things on my desktop. And I do like using my MacBook Pro's display and keyboard currently, as I like having a minimum of two displays available (internal and external).
Until I think through those options and potentially get an additional external or larger primary display, I will probably continue to use my Mac, leveraging the Monoprice 15-in-1 Docking Station to keep my physical desktop cable-free.
Disclosure: I have a material connection because I received a sample of a product for consideration in preparing to review the product and write this content. I was/am not expected to return this item after my review period. All opinions within this article are my own and are typically not subject to editorial review from any 3rd party. Also, some of the links in the post above may be "affiliate" or "advertising" links. These may be automatically created or placed by me manually. This means if you click on the link and purchase the item (sometimes but not necessarily the product or service being reviewed), I will receive a small affiliate or advertising commission. More information can be found on my About page.
HTD says: Want to eliminate cables connected to your laptop computer? The Monoprice 15-in-1 Docking Station brings your cable-free bliss but still provides access to numerous USB devices, up to three external displays, and much more, all through a single USB-C connection!
HighTechDad Ratings
Ease-of-Use

Family-Friendly

Price Point

Features
Summary
Want to eliminate cables connected to your laptop computer? The Monoprice 15-in-1 Docking Station brings your cable-free bliss but still provides access to numerous USB devices, up to three external displays, and much more, all through a single USB-C connection! This multi-port docking station from Monoprice is the perfect desktop (or under-the-desk) hub to allow you to have a single connection going into your computer but not sacrificing any port connectivity. In fact, once you plug it in (and no drivers are required), you can easily add a bunch of peripherals to your computer setup. Try to get the Docking Station on sale as it is a bit pricy at regular price.
Pros
Connect up to 3 external monitors
High-speed ethernet connection
6 USB ports
Cable elimination to your laptop
Cons
HDMI issue with loss of signal
More USB-C and/or Thunderbolt ports