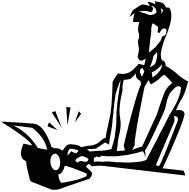 Sure, this sounds like a very boring and subjective topic. I assure you, it really is. But I'm writing this on the odd chance that someone out there might find it useful. I have been blogging now for several years, starting back in 2005. And during that time, I have tried out several methods and tools that have gotten me to the point where I am now. It is a process of continual refinement.
This article mainly talks about how I do my personal blog posts and not my work ones. There is an important difference here. The ones I do for work are done AT work during work hours and typically at the same computer. The ones I do for this blog typically span a few days, are done on various computers, and are done at different times of the day (including night and commute – offline – time). There are some similarities but for the most part, I follow a different workflow.
An Overview of My Blogging Process
Blogging is an extremely personal thing, so what works for me, might not won't work for you. Some people will scrawl ideas on a napkin while others formulate the entire post in their head and write it directly into their blogging system. And these methods can evolve over time.
But for me, at least, the process for both my work and personal email revolves around a core set of tasks.
Write a Draft
Print the Draft out
Let the Draft sit for at least an hour
Do hand-written edits to the Draft
Incorporate changes into the electronic version
Save as Draft on my blogging system
Read online Draft online in blog context
Make last minute edits and then Publish
This is the method that I follow pretty religiously. Depending on the length of the article, I may do a couple of iterations of the printed draft but for the most part, my writing process follows this path.
There is something about seeing the text printed out and being able to draw lines on a paper, insert hand-written comments and scratch out portions by hand that makes the whole idea of writing electronically a bit more tangible. Having a physical piece of paper with your words on it, makes it more real, especially prior to converting the words back into electronic bits and bytes.
For the most part, for my work-related posts, I simply follow the steps listed above. But as I commute or work in multiple locations, while I follow the same basic steps, I also do it slightly differently using specific tools as well.
Blogging from Multiple Locations
When you move from computer to computer, it's important to have your content available to you all of the time, regardless of where you are or if you are online or offline. So, following the same steps outlined above, I simply fold in a few of the Tools (listed in the section below this one) into my workflow. A typical blog post (on the road) would then consist of the following modifications:
Write a Draft using a Text Editor
Create a folder within my DropBox (see The Tools I Use below) folder specific to the article
Save the draft (and other images) to that folder within my DropBox environment
Continue to edit (from various computers) on the synced article
Move the article into my Blog Writer for final edits & adding of images/media
Print out and review the article with handwritten edits
Incorporate changes
Publish article to Blogging System as a draft
Do final review online within your blog to ensure it looks correct
Publish the article (typically during Business Hours for maximum exposure)
So, as you can see, much of the core process remains the same, it is just the tools that are used that vary. Obviously, the way that YOU do this may be different so my steps and tools should only be viewed as my personal preferences. Take them or leave them as you see fit.
The Tools I Use
As I said, blogging is very personal. For each writer, their process and toolsets that they use may differ dramatically. That being said, I wanted to list out some of the tools that I use with many of my posts.
Final Thoughts
I'm truly curious how others do their blogging process. I know that some people integrate Google Docs in the process (which could be a way at replacing the DropBox functionality I mention). My method works for me but I would love to know other people's tips and tricks for their writing methods. Are you a hand-writing person? Do you outline things ahead of time? Do you do all of your composition online only? Is it a mixture of processes?
For many including myself, blogging is a great way to get ideas out into the open. It's important to share them, regardless of the process to get that written word out into the public world. You can learn a tremendous amount of things from others and sharing your ideas in blog posts is just one of many ways to do so. Please share your thoughts!
HTD says: How do you blog? What is your process? Let me know!