I spend much of my daytime on Webex calls, and while I have a great headset that is lightweight and cordless, I wanted to improve the audio of my "glorious" voice. The best way to do this is to get a device dedicated to capturing my voice and doing so "professionally." The TONOR TC30 mic does this using a lot of built-in design features to truly improve your audio game. If you regularly do video calls, podcasting, gaming, voice-over work, or the like, but perhaps you don't want to shell out $100s of dollars, the TONOR TC30 is for you. (*Disclosure below.)
When it comes to audio input (capturing audio), there are many options available. You can use your laptop's built-in mic. Newer laptops have gotten a lot better in this regard. The new M1 Max MacBook Pros, for example, touts a "studio-quality, three-mic array"; it's a lot better than previous versions. But many computers simply have a single mic input, and they often are not that great. You can use a simple corded headset with a built-in mic, but the quality of those often is not spectacular. You can use a Bluetooth headset which is what I have been doing, but sometimes the audio in that is not spectacular, and if your battery dies, you are stuck with a built-in mic. Or, you can use a dedicated microphone, and that is where the TONOR TC30 shines.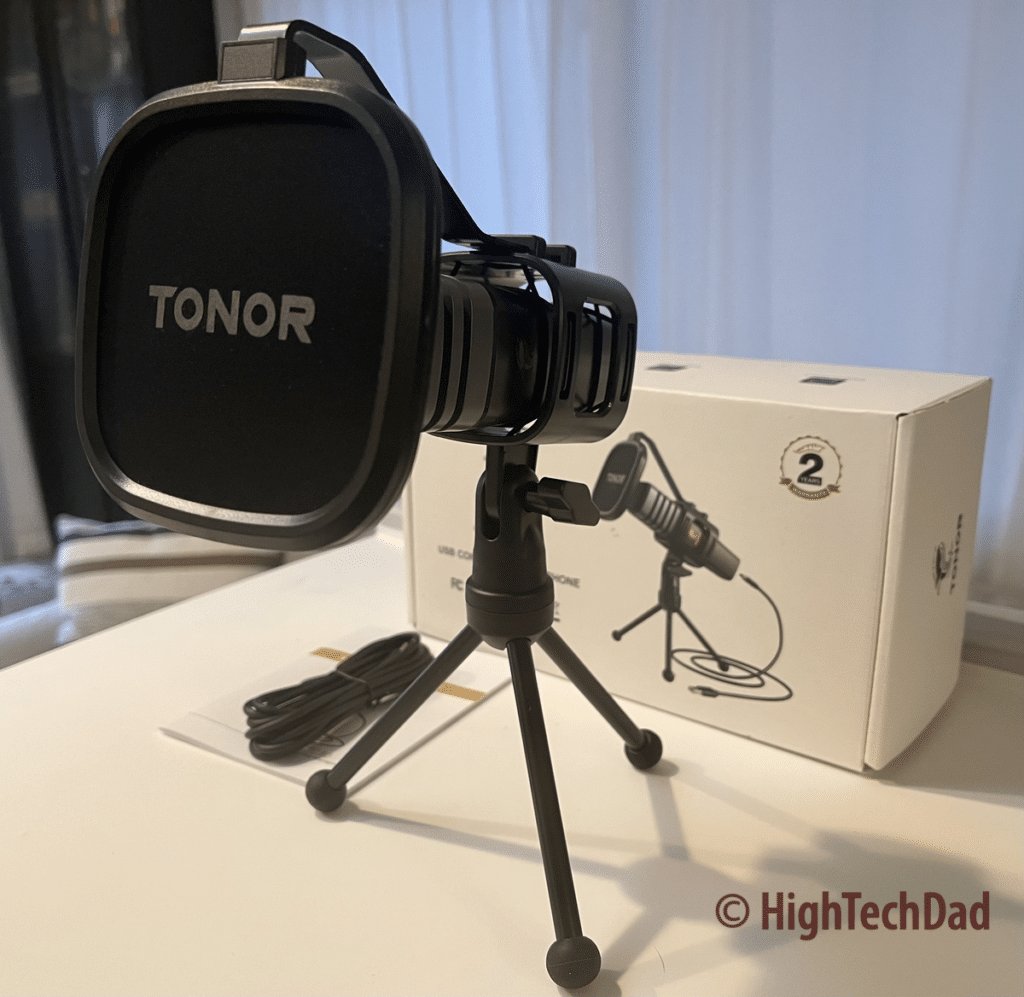 I'm not an expert on microphones, but I have done enough research to know some of the features and add-ons that I would want. I have a boom mic that I have accessorized, but that comes at a bit of a price tag. Here are some core items you would want to have with an external mic:
Stand, boom arm, or tripod
Shock mount
Pop filter
Plug-and-play
So how does the TONOR TC30 map to those basic requirements (oh, and I'm a bit of a cheapskate, so I try to stay budget-minded when it comes to tech)? Let's take a look.
The TONOR TC30 Specs
Let me do a quick dump of specification information on the TONOR TC30 USB mic and then go into a bit more details. These specs may mean a bit more to you, but for me, I am concerned a bit more with the add-on items I mentioned above (because they can add to the price of the mic).
The TONOR TC30 specs:
Polar Pattern: Cardioid
Input Sample Rate: 48kHz
Bit Rate: 16Bit
Output Impedance: 2.2k ?
Sound to Noise ratio: >68dB
Sensitivity: -32dB±3dB
Frequency Response: 50Hz-20kHz
Power source: USB
From my understanding, these specs are basic entry-level ones. You definitely can do a bit better, but if you are on a budget, some of that savings comes at being at the TC30 being an entry-level mic. You could look for a mic that has a higher Bit Rate (e.g., 24Bit) or that has a slightly wider Frequency Response range.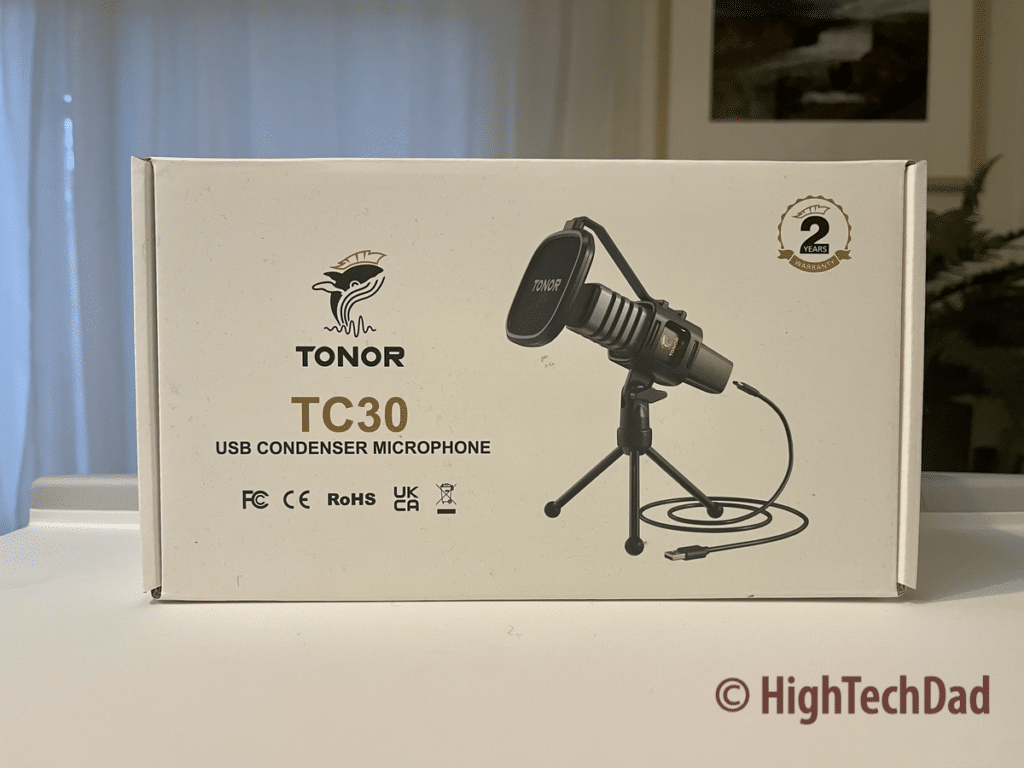 Also, the Polar Pattern of the TONOR TC30 is restricted to Cardioid. You can also get microphones that support Omnidirectional patterns (or Shotgun). What's the difference? According to NPR, Omnidirectional mics can capture sound from all directions equally (front, behind, or to the side). Cardioid mics capture most of their audio from the front, dropping sounds from the side and rear.
If you are just using a mic sitting on your desk for the activities I mentioned earlier (streaming, video conferencing, podcasting with a single person, voiceovers, etc.), you will be fine with a Cardioid mic.
The add-ons that add up
As I mentioned before, I have another mic that I have mounted to my home office work environment. Normally a desktop mic, I decided I wanted to make it a bit more "studio quality," so I attached it to a flexible mic boom arm (the mic blocks my face with video conferencing, so I don't really use it much that way). I also bought a shock mount and a pop filter to go with it.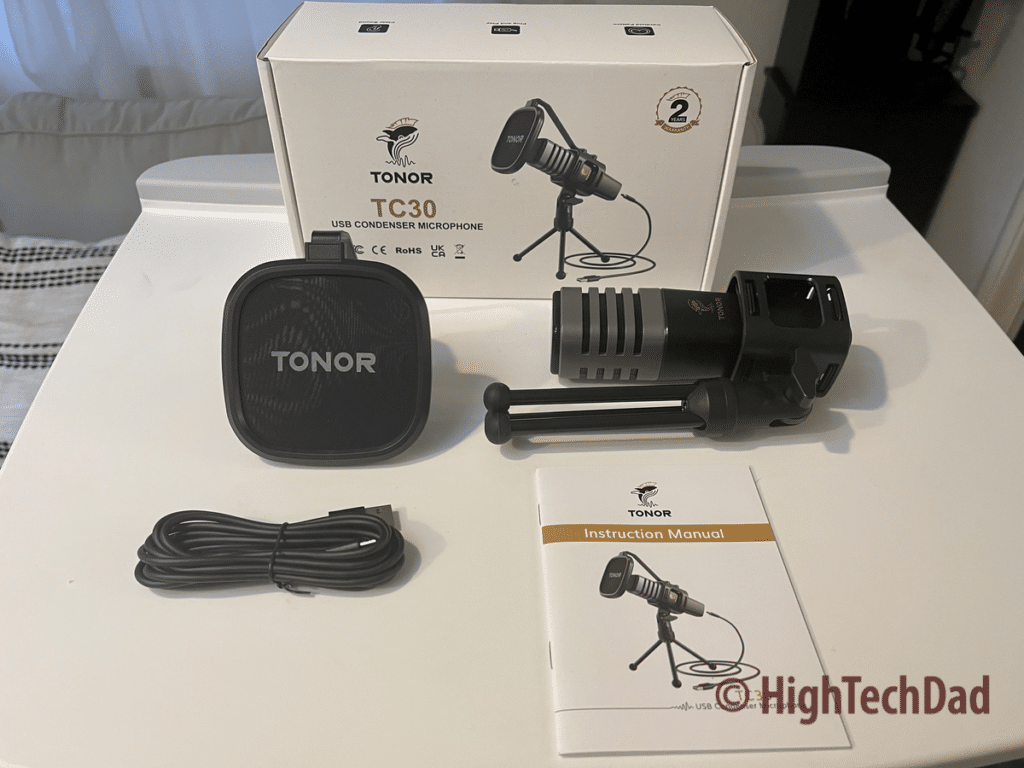 If you have a mic on the same work surface as your keyboard and you might be regularly typing while doing a voice capture, you will want to get some sort of a shock mount. Shock mounts are designed to eliminate most vibrations from typing or other noises being transferred through a boom arm or mic stand. But, trust me, it's impossible to edit out those typing noises after you do a recording.
A pop filter is another add-on that I view as a necessity. It functions pretty much as what its name says – it prevents pops when you are speaking close to the mic. It typically consists of a thin membrane type of fabric that will dampen the air when you say words that start with "p," for example. If you are close to the mic and say a word that begins with a "p," you will often see a peak in the sound level. Pops are another thing that is hard to edit out after the fact.
Those three accessories, when added to the cost of a mic itself, can definitely add another $50-100+ to the cost of your mic setup. But this is where I really like the TONOR TC30 – it has all of those items included in the price.
The TONOR TC30 is great entry-level mic with everything
I have been using the TC30 for a couple of weeks now with my video conference calling. And I have been soliciting feedback from those co-workers on my calls. They have told me that my audio sounds crisp and clear and even has a bit more bass. Remember, they have become used to hearing me use a Bluetooth headset, so this is definitely a sound upgrade.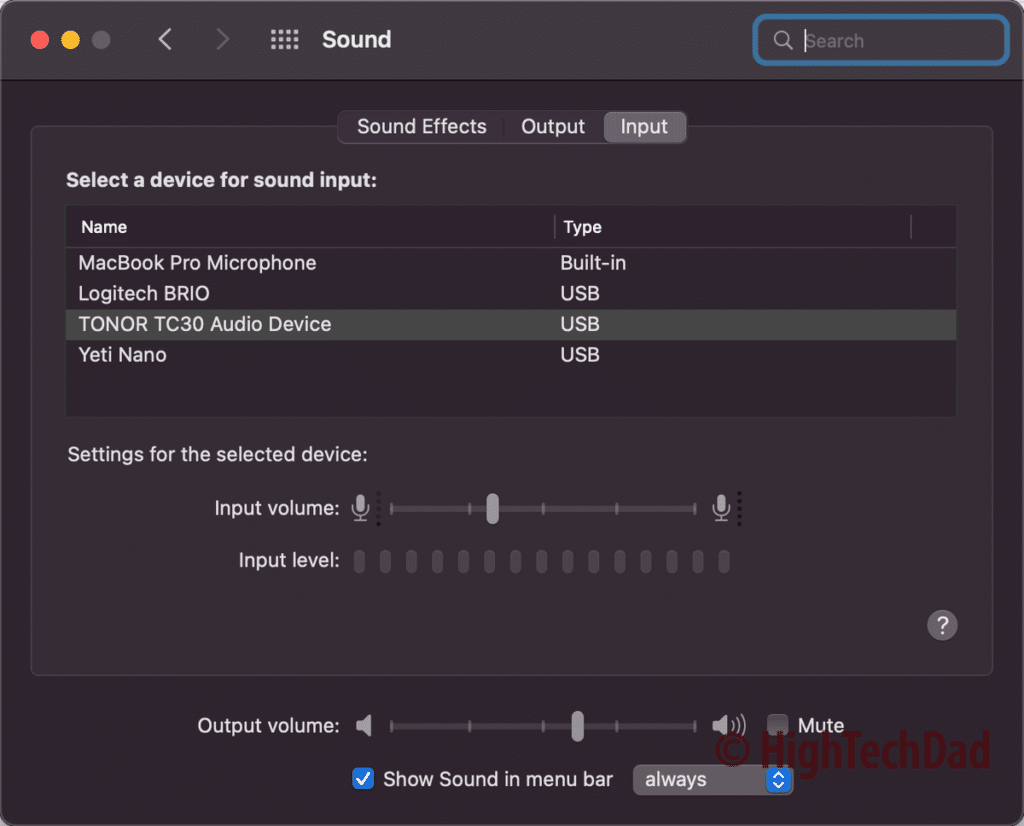 But one thing I decided to do was change only the input source on my mic to be dedicated to the TONOR TC30. For output, I alternate between using the built-in speakers of my Mac or my Bluetooth headset (I do disable the input of the mic on the headset and send it from the TONOR instead).
The TONOR TC30 mic is a plug-and-play mic. Just plug into a USB Type-A port, and you should be good to go on either a Mac or PC. You will have to select your input source to use the TC30. It comes with a USB-C to USB-A cable for backward compatibility, but you can use a USB-C to USB-C cable (I have not tested this yet).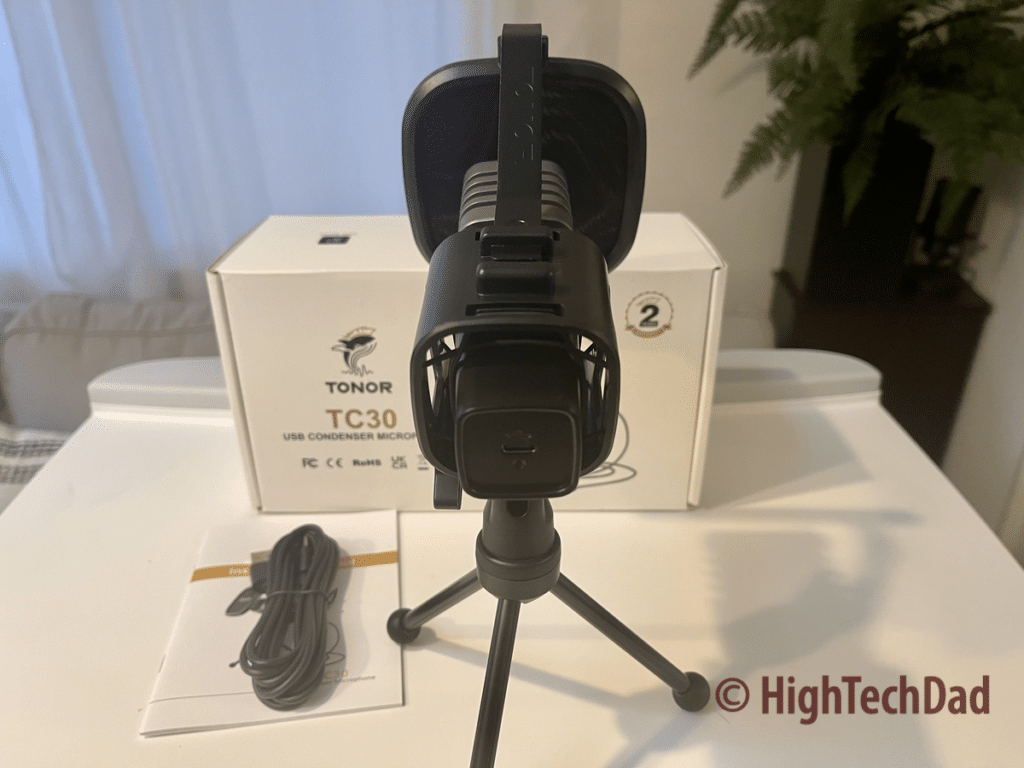 Assembly takes just a few minutes. The mic comes already mounted to the shock mount. You simply screw in the small tripod (which is relatively stable with anti-slip/scratch feet on the legs) to the mount. Then just slide the pop filter onto the shock mount. Lastly, plug the included 2m USB cable into your computer.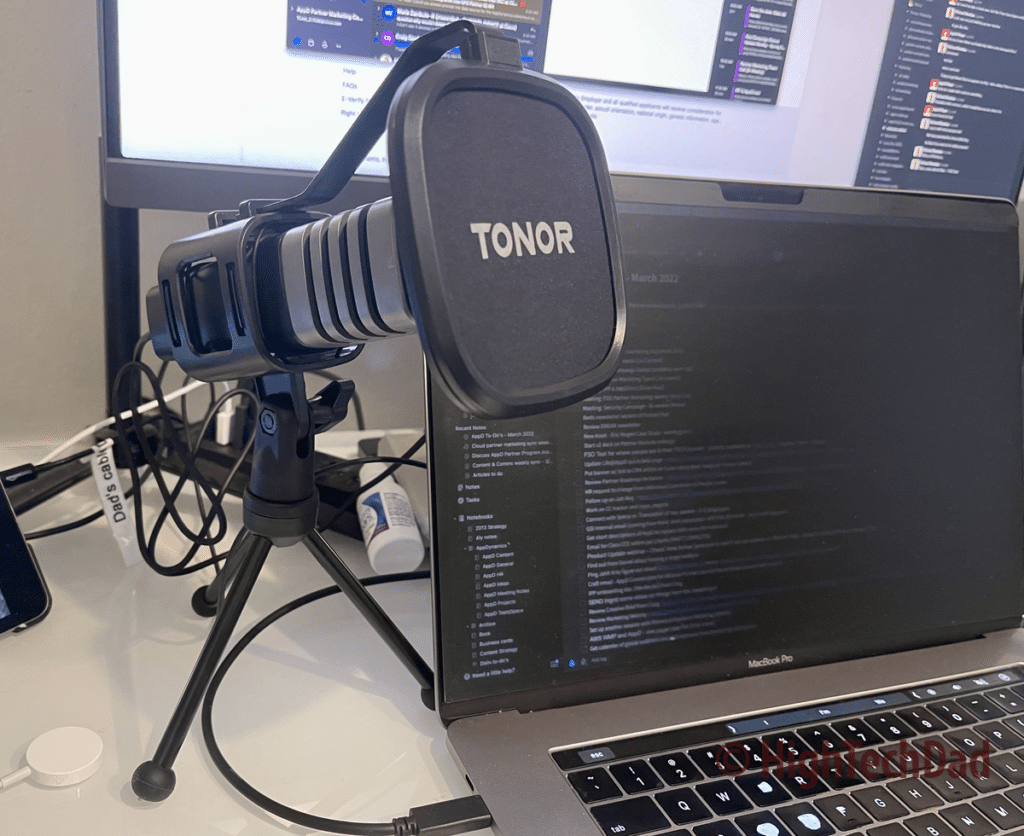 You can optionally attach the shock mount to a boom arm as long as you have a 5/8″ thread (you can get a 3/8″ adapter as well). I currently use it sitting on my desk, slightly off-center to the left of my laptop but directionally pointed at my face (you can adjust the mic's angle to your liking).
So what does this all-in-one USB Cardioid mic cost? For all of the items that you get with it, it is quite reasonable. It is currently listed on Amazon for $42.99.
Shop on HighTechDad.com
The product shown below (and related products that have been reviewed on HighTechDad) is available within the HighTechDad Shop. This review has all of the details about this particular product and you can order it directly by clicking on the Buy button or clicking on the image/title to view more. Be sure to review other products available in the HighTechDad Shop.
If you are looking to upgrade your audio input, definitely consider the TONOR TC30 USB Cardioid Condensor Mic. It has all of the features to improve audio recording and streaming quality, as well as has the core add-on features to make the audio better.
Disclosure: I have a material connection because I received a sample of a product for consideration in preparing to review the product and write this content. I was/am not expected to return this item after my review period. All opinions within this article are my own and are typically not subject to editorial review from any 3rd party. Also, some of the links in the post above may be "affiliate" or "advertising" links. These may be automatically created or placed by me manually. This means if you click on the link and purchase the item (sometimes but not necessarily the product or service being reviewed), I will receive a small affiliate or advertising commission. More information can be found on my About page.
HTD says: The TONOR TC30 Cardioid USB Mic is a great upgrade to your home or office environment at an inexpensive price point. With included add-on features like a pop screen and shock mount, the entire package is extremely compelling.
HighTechDad's Ratings
Ease-of-Use

Family-Friendly

Price Point

Features
Summary
The TONOR TC30 Cardioid USB Mic is an excellent upgrade to your home or office environment at an inexpensive price point. With included add-on features like a pop screen and shock mount, the entire package is extremely compelling. Everything that you need is included in the price – tripod, pop filter, and shock mount. This is a great entry-level mic for use for gaming, podcasting, voice-over work, and video conferencing. Assembly takes just a few minutes and you just plug into a free USB port and you are ready to upgrade your audio.
Pros
Great price
Includes add-ons
Plug-and-play
Cons
No omnidirectional setting
No physical mute button