For many years, I always bought or used the stock chargers that came with my devices. For iPhones, I always hoarded the Apple wall chargers. I never used third-party "bricks" for my Macs, as I was worried they would not deliver a high-quality charge. However, those times have changed, dramatically. The UGREEN Nexode USB charger line of power solutions has made me realize that quality third-party USB charging solutions are the way to go, especially if they are built using GaN technology. In this review, I look at two USB GaN chargers from UGREEN, the 140W USB-C Wall Charger, and the 45W Dual USB-C Charger. (*Disclosure below.)
I'm not a stranger to UGREEN GaN charging solutions (see a couple of my reviews here). And I have been using these other chargers regularly with positive results. But the DigiNest Pro and the 200W Nexode USB power solution are much more for non-mobile environments. Sure, you can throw them in a bag and use them wherever you end up, and they have the great advantage of having a long cord to get you away from the wall. But they are larger and heavier. For a more mobile worker or traveler, you definitely need something smaller and lighter weight but that still has USB ports to allow for the charging of multiple devices. That's where the smaller, cord-free UGREEN Nexode chargers come into play.
I recently took a trip with my wife to Washington DC and decided that I would only bring the UGREEN Nexode chargers mentioned above along with me to power a variety of devices (laptop, watch, earbuds, portable battery, and smartphone). Of course, each has different power requirements, but all use USB-C as the charging port (except my Apple Watch, which still has a USB-A cable).
While both of these UGREEN Nexode USB GaN chargers are similar in that they use GaN technology, are pretty lightweight and compact, and can distribute charges across multiple connected devices based on how you plug them in and the charging requirements, they are also unique in terms of how you might use them. Briefly, if you want an all-around GaN USB charger for laptops and other devices, you will want to get the 140W USB-C Wall Charger. But if you are just charging a couple of smartphones or tablets, the smaller 45W Dual USB-C Charger might be more appropriate.
Multi-purpose UGREEN Nexode 140W USB-C Wall Charger
The UGREEN Nexode 140W wall charger is a great all-around charger for travel. It is compact, doesn't weigh much, and can charge three devices at once. It utilizes GaN PD (Power Delivery) 3.1 for its power distribution. The important thing to look at here is the wattage. It is rated at 140W maximum output.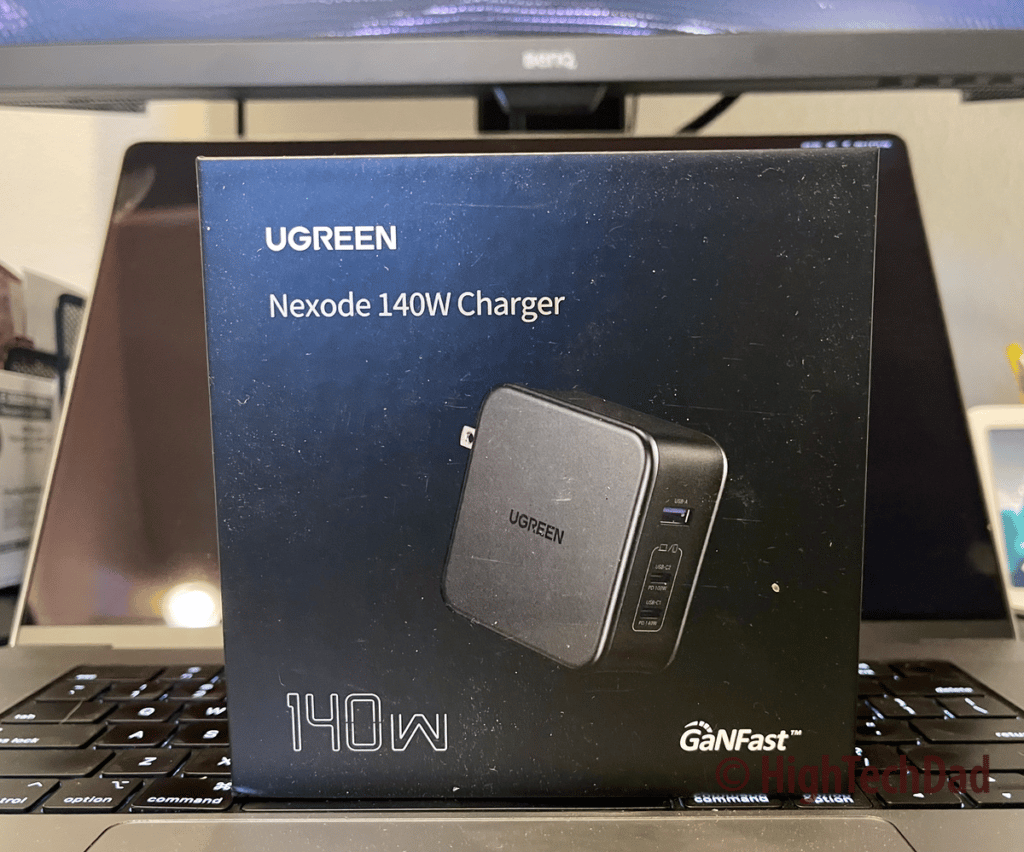 Why does this matter? Well, there are many charging solutions that reduce the output of wattage for their USB-C connections, meaning that it will take longer to charge your device. This is particularly important when you want to charge up and power more energy-hungry devices like laptops.
The newer MacBook Pros that include the Thunderbolt/USB-C port support up to 100W charging. So, while not as fast as using the new MagSafe 3 port (which supports 140W charging), 100W is a lot of juice coming in. However, you can leave the MagSafe 3 brick at home and simply bring along the MagSafe charging cable, and then you will have the full 140W fast-charging capability using the UGREEN charger!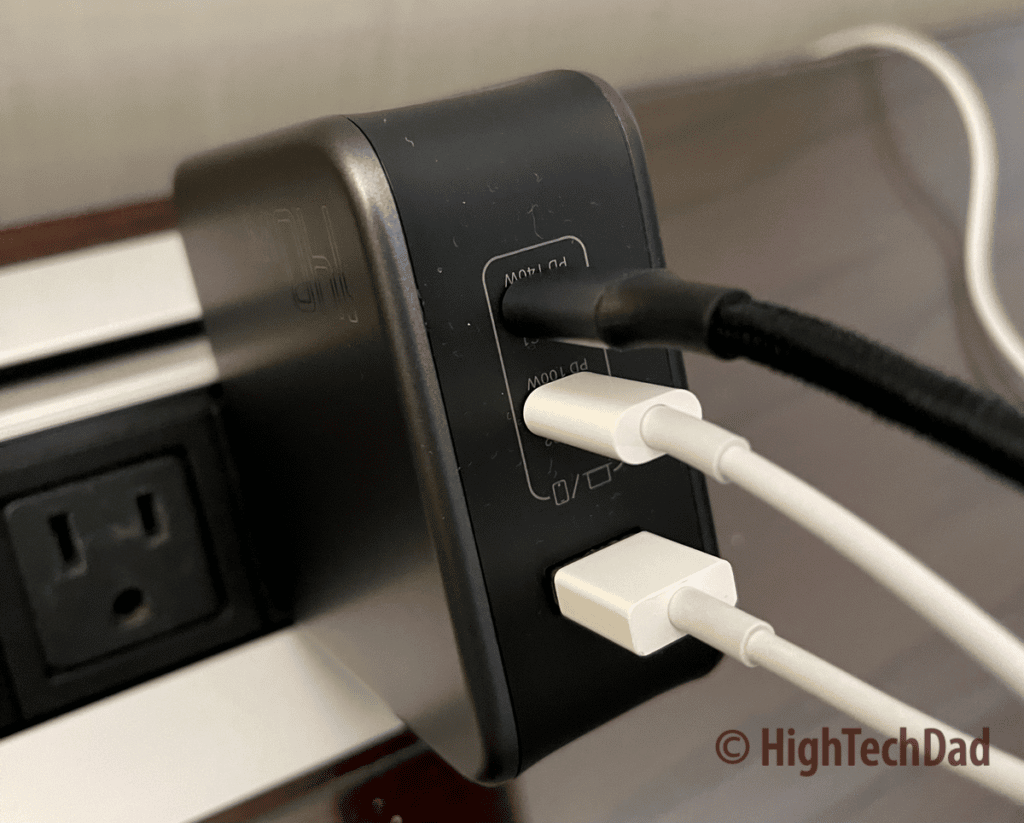 For the new MacBook Airs, you can get either a 35W Dual USB-C power adapter or a 30W adapter, as well as a 67W USB-C fast charge adapter. Those are some of the Apple power options (and note Apple is also moving to GaN technology).
But why be tied down to those limited options? With the 140W UGREEN Nexode charger, you can easily charge a MacBook Pro at 100W and still have 40W left over for other devices. And if you have a MacBook Air, you can power a couple of them simultaneously and still have power to spare!
Here are some quick specs on the UGREEN Nexode 140W USB-C charger:
Input – 100-240V
USB C port 1 output – 140W maximum output
USB C port 2 output – 100W max
USB A output – 22.5W max
Total Output Power – 140W max
Also, as a quick side note, the 140W UGREEN Nexode charger also includes a 1.5-meter USB-C cable capable of 240W max output. In my mind, you can never have enough USB-C cables that can handle PD (Power Delivery)!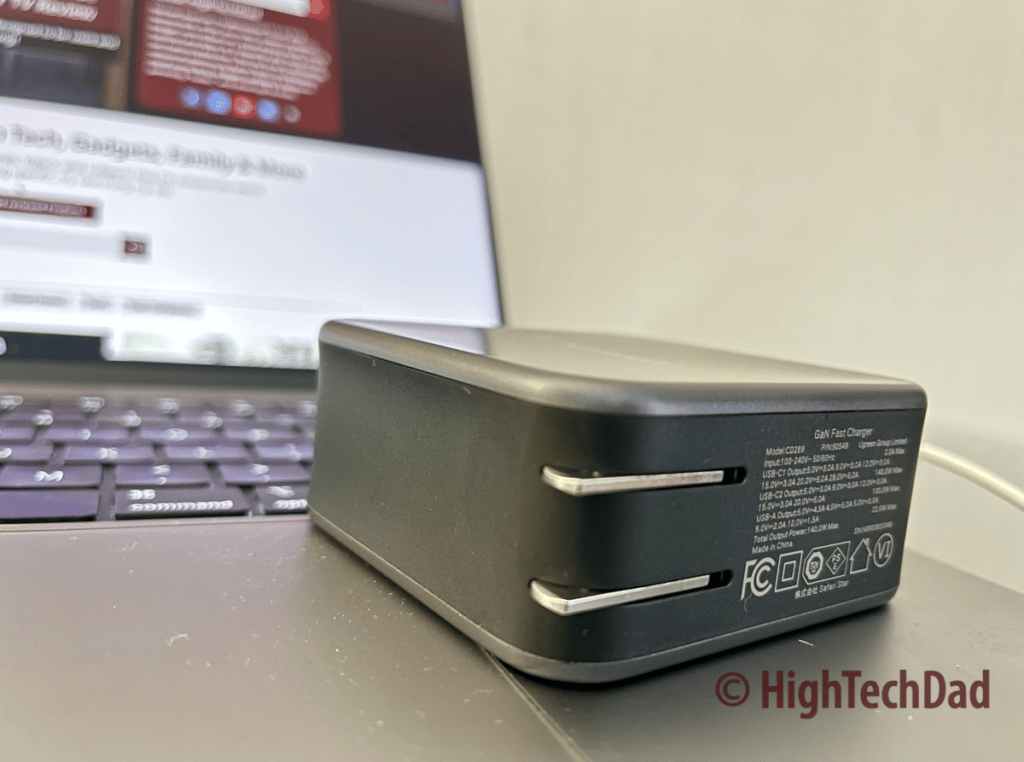 I mentioned that this is a very travel-ready charger. It weighs only 10.6 ounces and measures 2.99″ x 2.99″ x 1.38″. And, as a great additional travel feature, the 2-pronged plug folds up conveniently into the body when you are not using it.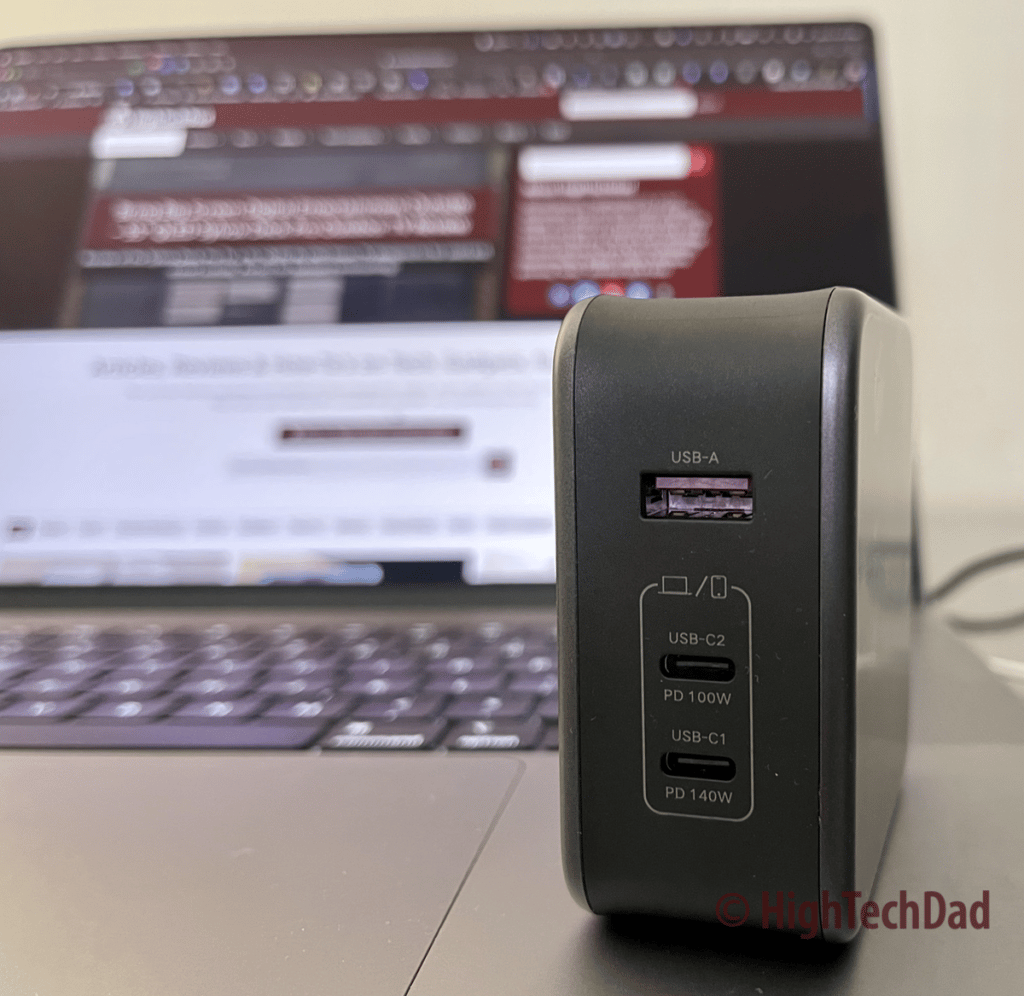 The USB-C ports on the body are clearly labeled in terms of which one outputs 140W (port 1) and 100W (port 2). This way, you will know exactly which USB-C port to use for your more power-hungry devices. And having the more legacy-oriented USB-A port allows you to connect older, less powerful devices.
There are several safety protocols and features built into this 140W charger. For example, the UGREEN Thermal Guard will scan the internal temperature of the charger 800 times per second to ensure that it is not overheating. And the Power Dispenser System will smartly distribute and adjust power to the proper device based on demand.
I used the UGREEN Nexode 140W charger to charge up my MacBook Pro, as well as later to re-charge a portable battery (which I used throughout the day for my travels). And it worked great at night, charging my iPhone and Apple Watch simultaneously.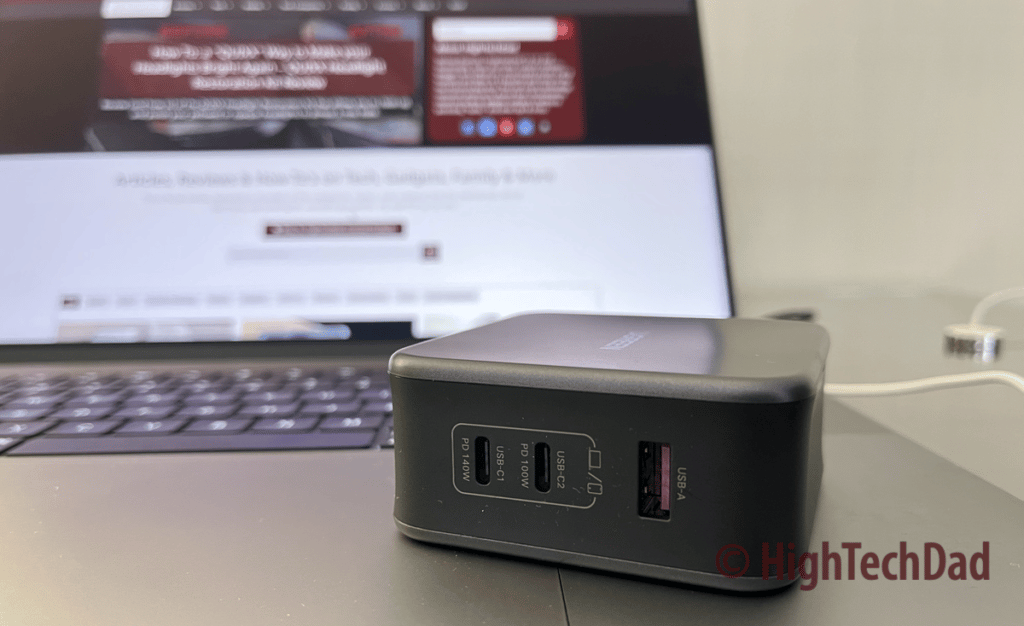 The charger does warm up quite a bit if you are using the full 140W (or even 100W), but as the temperature is monitored, it won't overheat; it just might get quite warm.
The UGREEN Nexode 140W USB-C Charger retails for $149.99 and is currently on sale on Amazon for $119.99 (as well as listed as an Amazon's Choice product).
The product shown below (and related products that have been reviewed on HighTechDad) is available within the HighTechDad Shop. This review has all of the details about this particular product and you can order it directly by clicking on the Buy button or clicking on the image/title to view more. Be sure to review other products available in the HighTechDad Shop.
I believe the 140W charger is the best bet for mobile workers who need to charge up various devices, including larger items like laptops with higher power demands.
UGREEN Nexode Mini 45W Dual USB-C Charger is Great for Mobile Devices
While the 140W UGREEN charger is perfect for larger devices, sometimes you just need something small and light for your smartphones or other USB-C-powered devices. This is where the UGREEN Nexode Mini 45W Dual USB-C charge comes into play.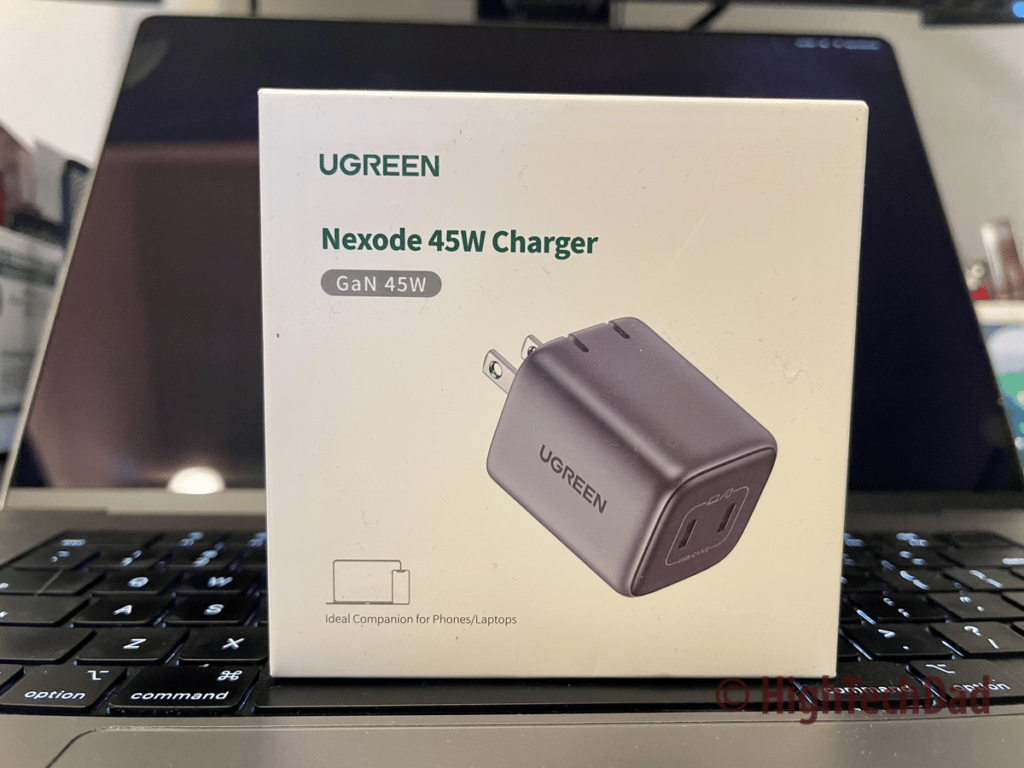 This charger is a perfect replacement for many stock chargers that come with smartphones, tablets, or even smaller laptops with lower charging wattage requirements. And the fact that it has two USB-C ports built-in makes it ideal for charging two smartphones while you travel (think "him" and "her" ports on a single charger).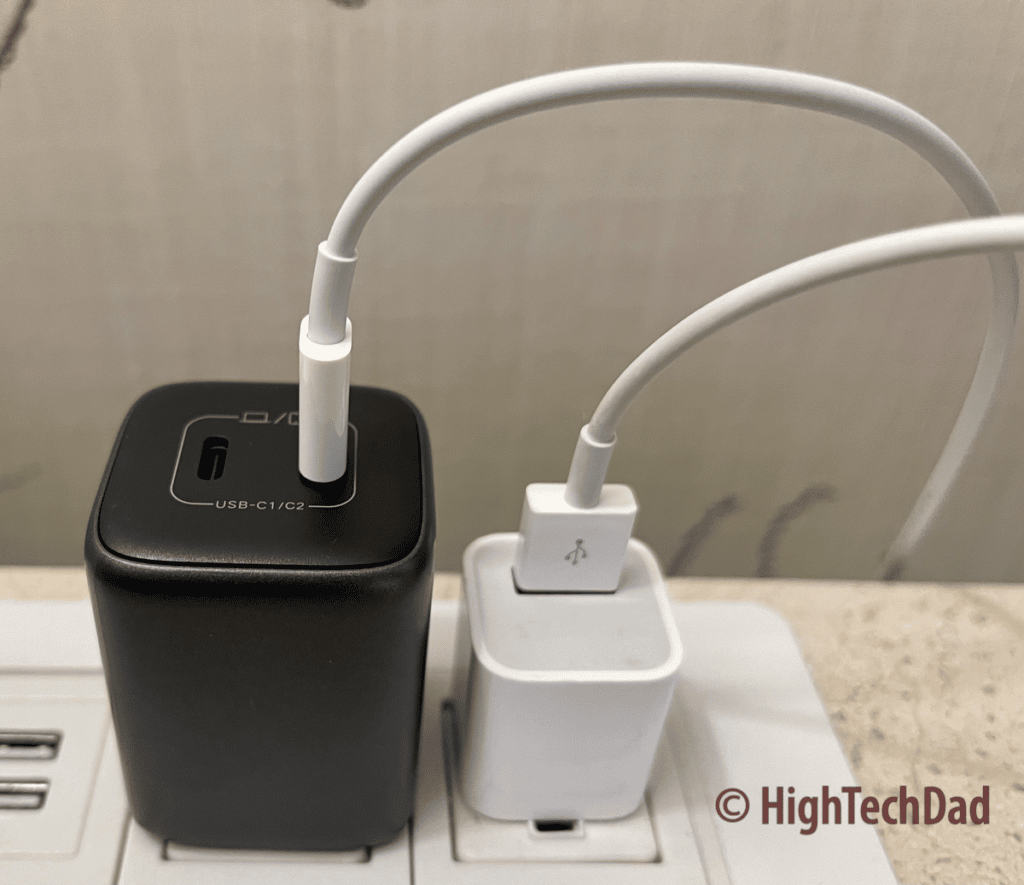 It has a total output capacity of 45W, meaning you could charge even a MacBook Air, iPad, AirPods, or other devices. But, since there are two USB-C ports, the power can also be divided between two devices.
Below are the technical specifications of the 45W UGREEN Nexode Mini:
Input – 100-240V
USB-C Port 1 – 45W maximum output
USB-C Port 2 – 45W max
Total Output Power – 45W max
This UGREEN charger is also using GaN technology which allows it to not only be smaller and lightweight but also have better temperature dispersion. This charger checks the internal temperature 238 times a second to ensure it is not overheating. It also has overvoltage, overcurrent, short circuit, and overtemperature protection.
If you are using a single USB-C port, you can use the full 45W that is available. However, if you want to split the power between the two ports, it doesn't matter which USB-C port you plug into (unlike the 140W version). The 45W Nexode Mini will spit the wattage to 20W and 25W based on the power being drawn from both ports.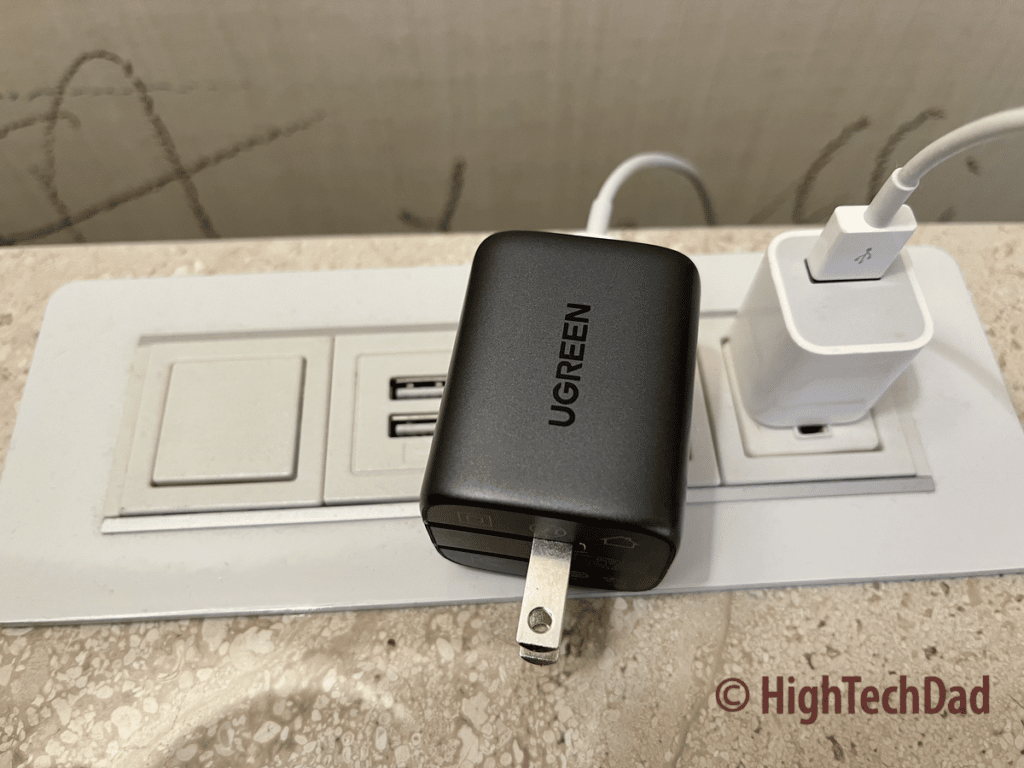 The 45W UGREEN Nexode only weighs about 3.35 ounces (very light) and measures 1.57″ x 1.57″ x 1.93″. If you compare it against an older Apple USB-A charger, it is only slightly larger but significantly more powerful AND can charge two USB-C devices. Like its larger sibling, this Nexode also has a plug that folds into the body.
The UGREEN Nexode Mini 45W Dual USB-C charger retails for $39.99 on Amazon and is currently listed as an Amazon's Choice with a 5-star rating average.
The product shown below (and related products that have been reviewed on HighTechDad) is available within the HighTechDad Shop. This review has all of the details about this particular product and you can order it directly by clicking on the Buy button or clicking on the image/title to view more. Be sure to review other products available in the HighTechDad Shop.
This smaller GaN charger, in my mind, is a perfect replacement for many smartphone chargers that can only charge one device at a time. It can evenly distribute power across the ports or be used with a single port for smaller laptops or tablets.
So which UGREEN Nexode charger to choose?
The answer to that question truly depends on two factors – what you need to charge and what your budget is.
If you want to charge higher-powered devices like a MacBook Pro or other laptops, as well as smaller items that may include legacy devices that still use USB-A cables, then the answer is pretty clear. You will want to choose the 140W UGREEN Nexode charger. In my opinion, if you could bring one charger with you for all types of devices, this is the one I would choose.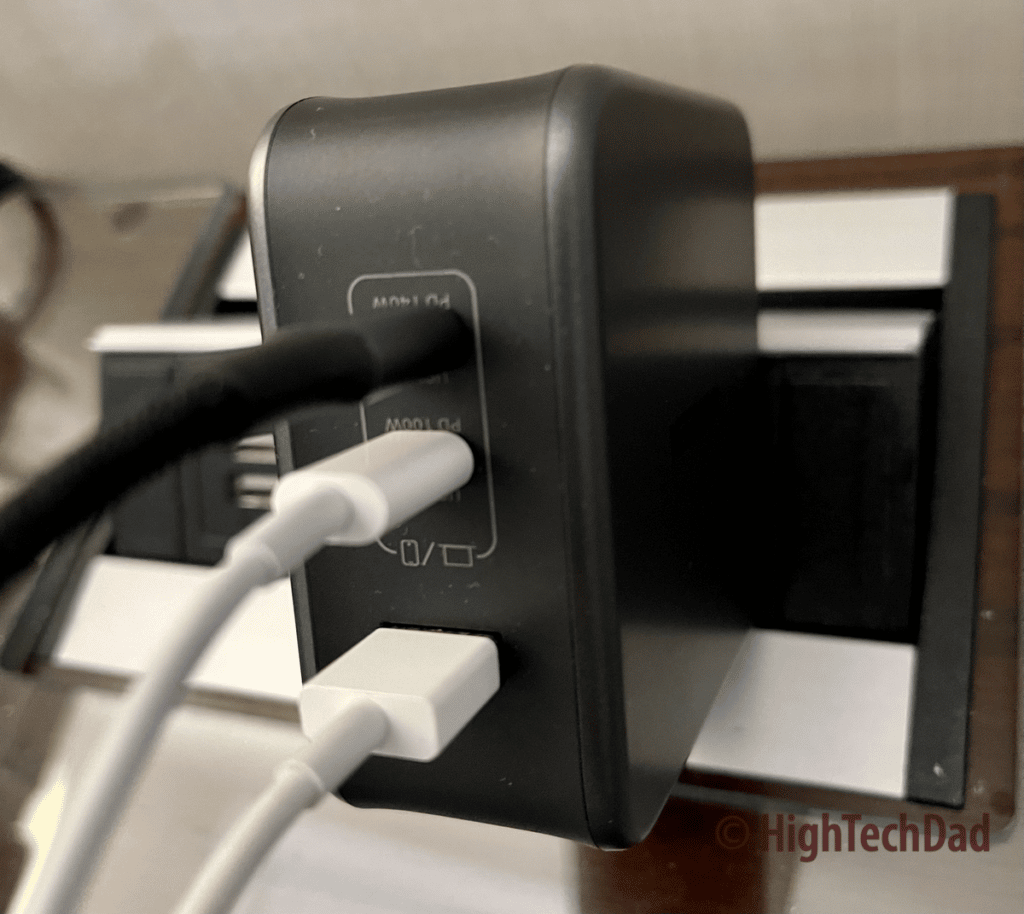 However, if you simply want something small and lightweight in your bag for quick trips or overnights, and you want just to charge your smartphone and perhaps another device, then the 45W UGREEN Nexode charger is an awesome choice.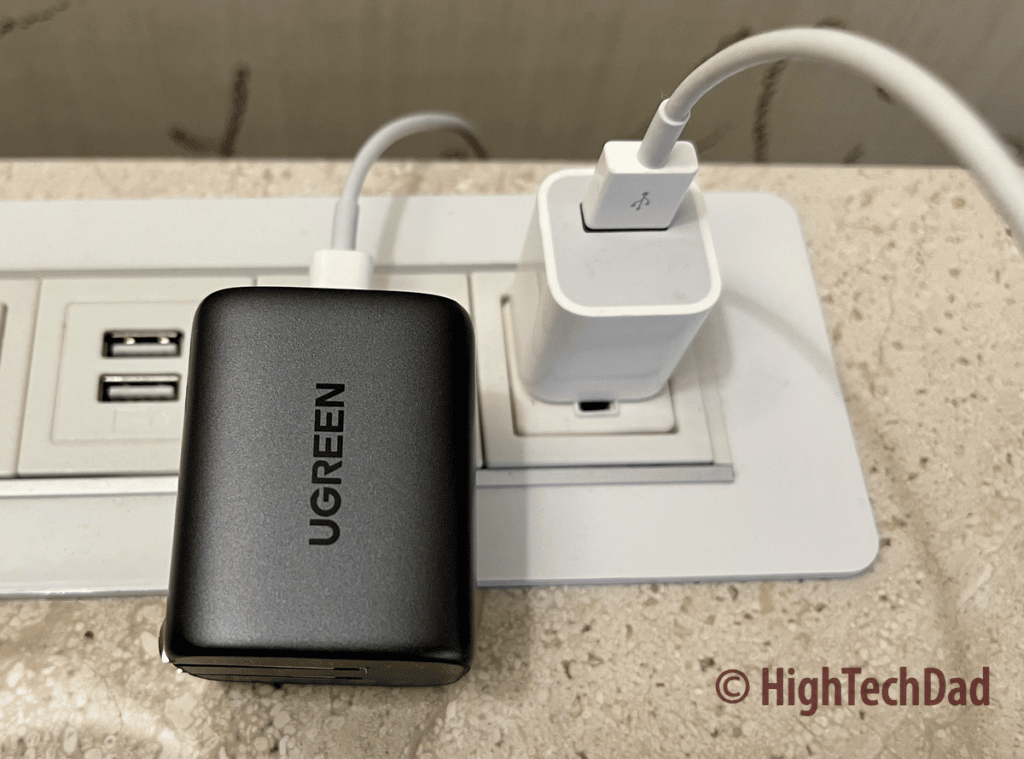 Honestly, though, the price points on both of these devices are quite good. You could get them both for less than $200, and you would have four USB-C ports and one USB-A port at your disposal. You simply can't go wrong with either choice, in my opinion!
Disclosure: I have a material connection because I received a sample of a product for consideration in preparing to review the product and write this content. I was/am not expected to return this item after my review period. All opinions within this article are my own and are typically not subject to editorial review from any 3rd party. Also, some of the links in the post above may be "affiliate" or "advertising" links. These may be automatically created or placed by me manually. This means if you click on the link and purchase the item (sometimes but not necessarily the product or service being reviewed), I will receive a small affiliate or advertising commission. More information can be found on my About page.
HTD says: The UGREEN Nexode USB GaN chargers offer a variety of power charging solutions in compact form factors. For multi-purpose larger charging requirements, the 140W is the clear choice, and the 45W is a perfect charging solution for smartphones and smaller devices.