I'm going on my third year of working from home. Honestly, I have found myself more productive having the flexibility of work hours – extending the work day as needed and eliminating hour-long commutes at either end of the day. However, working from home means that you have a requirement to do all meetings via video conferencing. It's definitely different from being in person, which does have substantial advantages. But to compensate and have the best online experience possible, you need several core things, and one of those is a quality microphone. The Dark Matter Sentry Streaming Mic by Monoprice is a great, multi-purpose mic not only for video conferencing but also for gaming and professional content creation as well.
Before I dive into the features of the Sentry Streaming Mic, which is currently my go-to microphone for my Webex calling, I wanted to share the items that I believe are necessary for productive and efficient work-at-home environments. I realize this is probably a topic for a completely dedicated article, so I will just share my top-level thoughts. And, of course, this is entirely subjective and truly depends on your work-at-home environment (e.g., are you using the kitchen table as your workspace or a dedicated office?). Regardless, from a tech and gadget perspective, here are my recommendations:
Fast internet – get fiber or high-speed cable if it is available and ensure your upstream speeds are equal to or near your downstream speeds
Good headphones – for those calls that need to be quiet and you don't want to blast out using your speakers, get some good earbuds or over-the-ear headphones. I would recommend corded ones, as Bluetooth headsets may be downsampled a bit.
Multiple monitors – yes, this is my BIG thing; the more monitors, the better!
Sit-Stand desk – optional, I realize, but you simply can't sit all day.
Quality microphone – well, that is what this review is about
Having fast upload speeds for your internet connection goes hand-in-hand with the video and audio quality of your streaming or conference calls. If your upload speed is slow, your video may be pixelated, and your audio may be choppy. Oh, and try to use a wired (Ethernet) connection over Wifi (or cellular) to ensure the best audio and video quality. But having a good microphone is equally as important. As vinyl records and record players are back in fashion, the most crucial part of your record player is your needle. The same can be said about audio on your computer – if you have a lower-quality mic, you will not sound professional.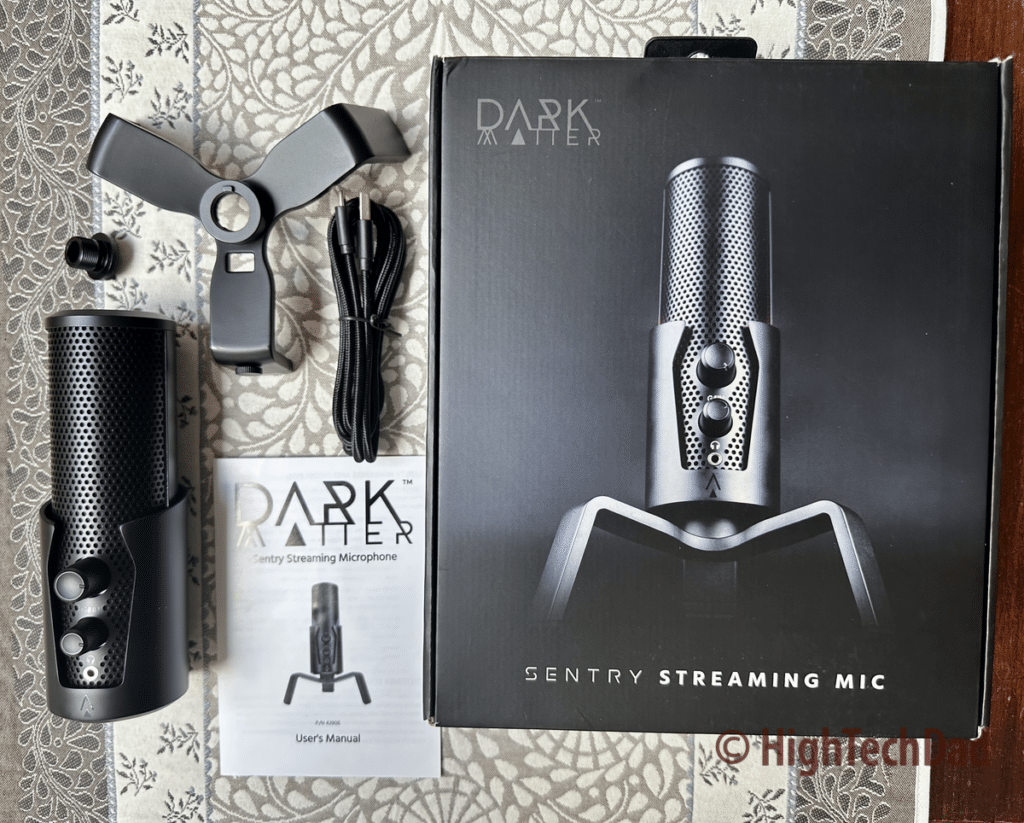 The Dark Matter Sentry Streaming Mic provides you with both quality and flexibility for a variety of use cases, not just limited to video conferencing. This desktop mic can also be used for podcasting, live streaming, voice-overs, and other content-creation use cases. Its exceptional audio reproduction, sleek design, versatile connectivity options, adjustable gain control, zero-latency monitoring, and easy setup delivers a professional-grade audio experience for virtual meetings, content creation, and streaming. Let's dive into some of the features and details.
Table of Contents
Key features of the Sentry Streaming Microphone
"Professional flexibility" is a great phrase to describe the Sentry Streaming Mic. When you look for a microphone, there are a few things you want to focus on; specifically, what types of environments and use cases does the mic have to solve? Are you going to be doing podcasting? If so, is it just you, or will you have guests? Will you ever be in an environment where you must record an entire room? Do you want to focus on just your voice or others near you? Will someone else be sitting across the table from you? Do you need to distinguish between sounds on the left or the right of you?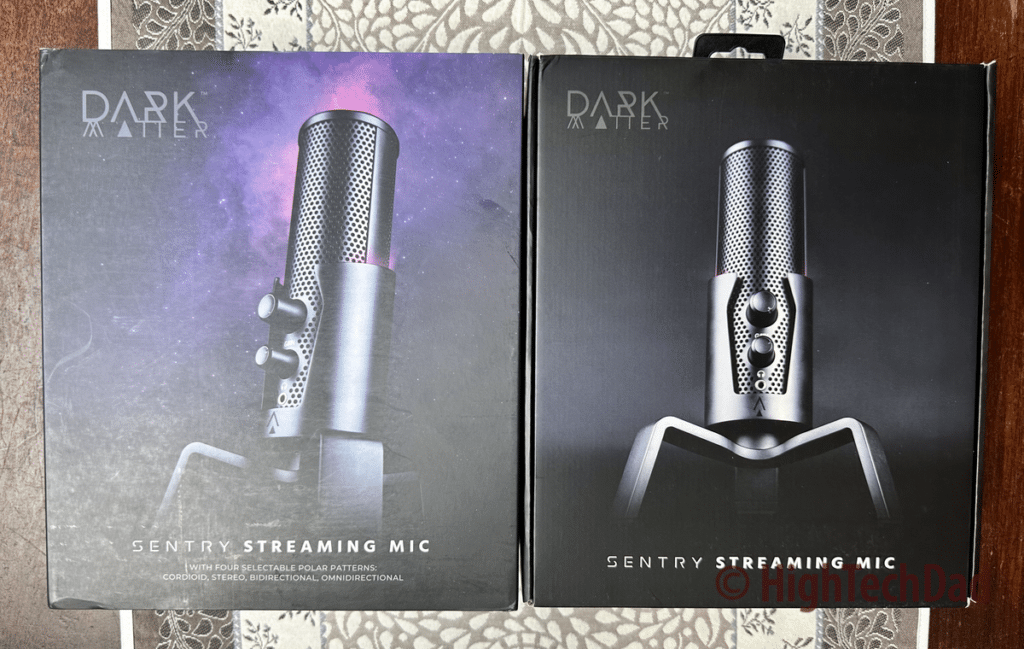 The answers to these questions will help you determine a core feature of a mic that you select. These represent four primary pickup or gain patterns: Omnidirectional, Bidirectional, Stereo, and Cardioid. More often than not, mics have only one or two of these options. The Sentry Streaming Mic has all four. You select the pickup mode by pressing the Mode button on the top. When the mic is not muted, there are four LED lights on the top that quickly show which mode you are in. I do most of my work using the Cardioid setting, which focuses on whatever is directly in front of the mic. This is best for video conferencing, as it deprioritizes sounds coming from the sides or the back of the mic. You will need to angle the mic towards you to ensure your voice is directly picked up.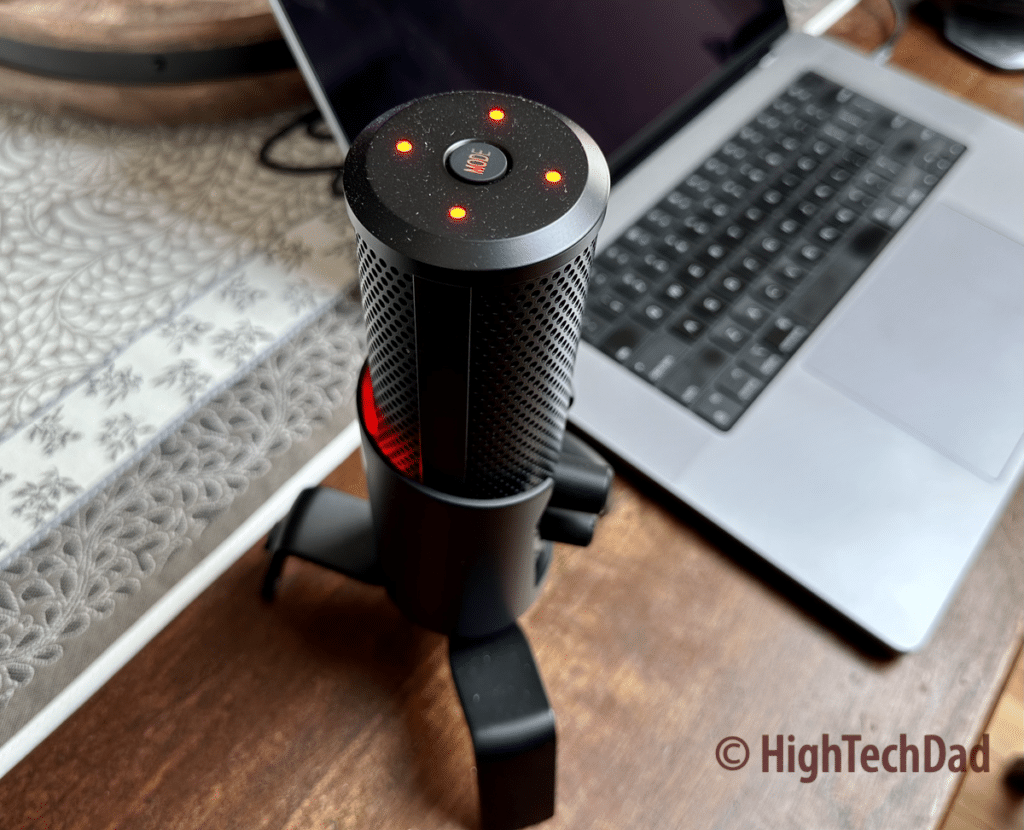 As I'm discussing some of the physical buttons and nobs on the Sentry Streaming Mic, the front of the mic also has physical knobs to control the gain (essentially, how sensitive the mic's input is) and the volume of the live-monitoring headphone output. Directly below the volume button is a 3.5mm headphone jack to allow you to do real-time monitoring of what is being picked up by the mic.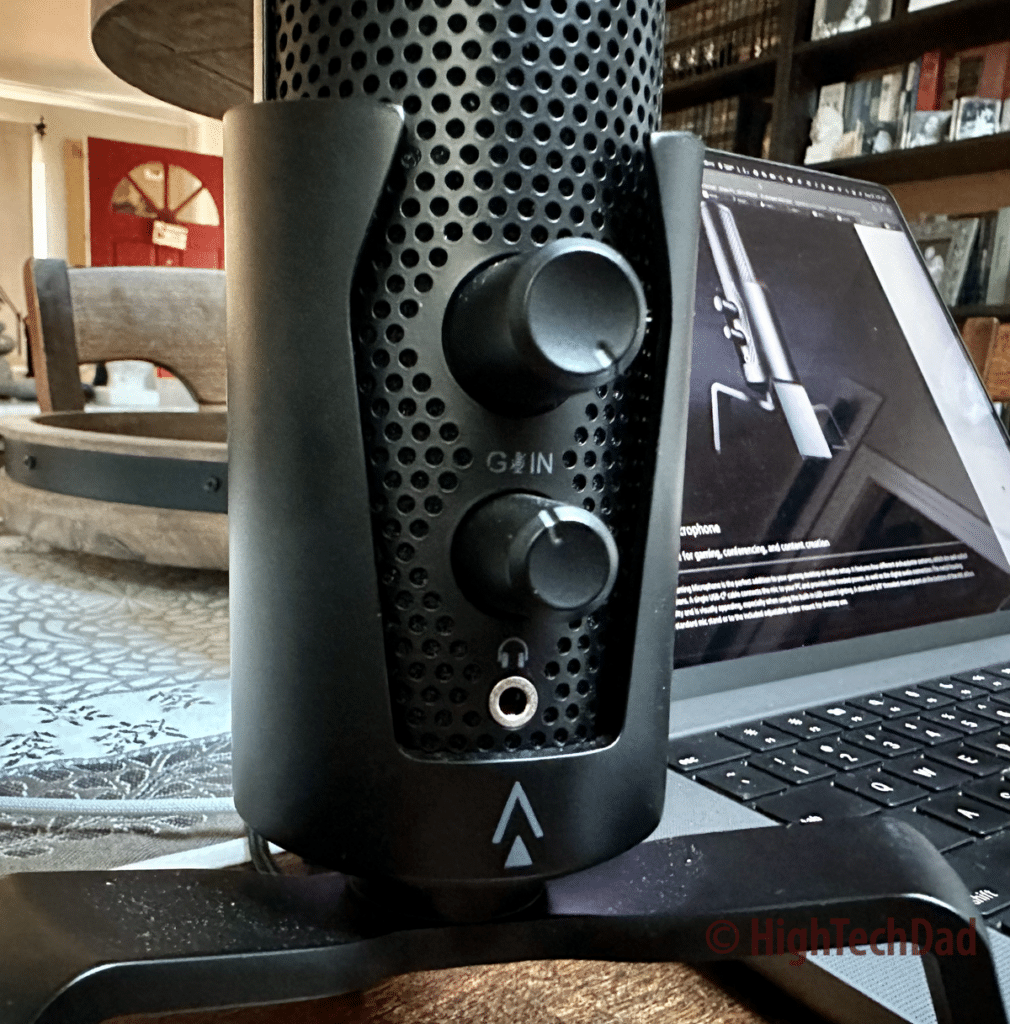 On the bottom of the mic is a USB Type-C port for connecting to your computer, as well as a button that allows you to cycle through various LED color accent lights that appear on the mic. You can choose from pink, yellow, white, blue, or green. I chose the green color because when you mute the mic by pressing the gain knob, the LED accent colors turn red (thus, you can't select red as an accent color). So, for me, green is "live" mic, and red is "muted."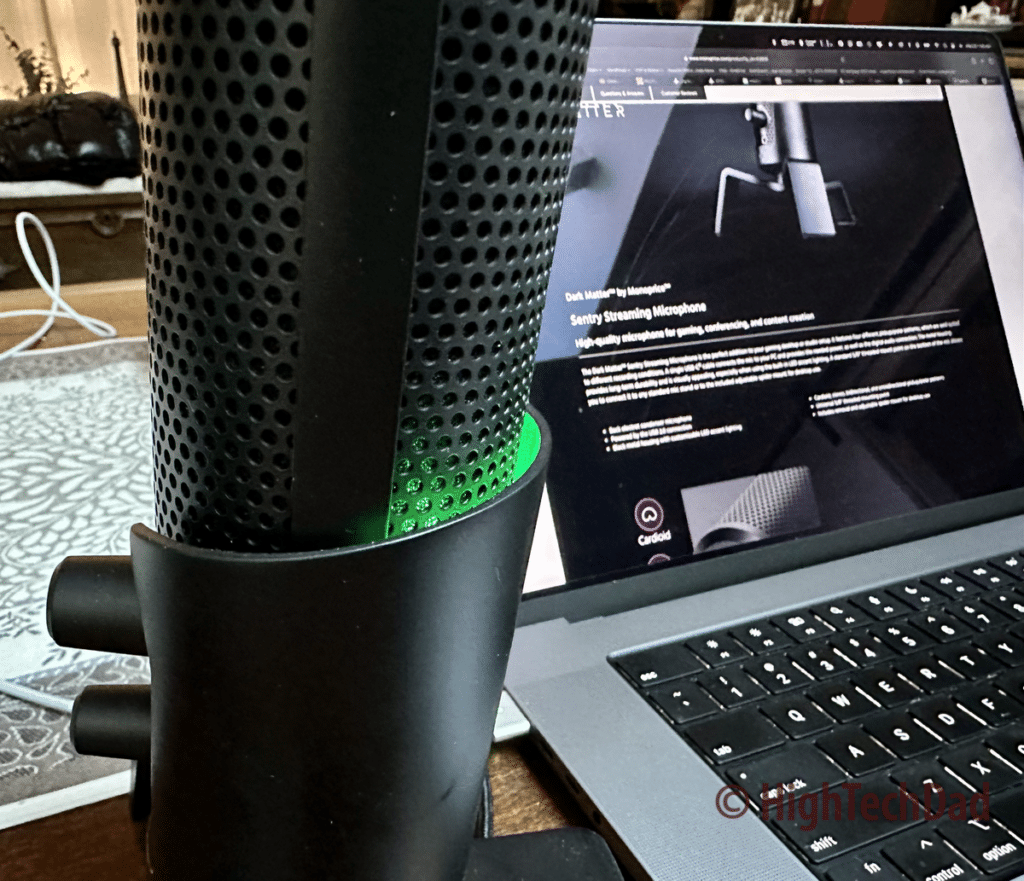 Also, on the bottom is a 5/8″ universal threaded mount point. This allows you to connect other microphone mounts or stands. The included mic tripod stand also uses it. The mic stand that comes with the Sentry Streaming Mic is a reasonably heavy-duty metal tripod stand. What is unique is that the rear leg can be adjusted to be shorter, which tips the microphone back a bit.
The entire microphone is metal, including the grill on the front. While this grill isn't a pop filter, it can reduce some of the spikes in sound, similar to what a pop filter would do. Also, there is no shock mount included, so you do have to be careful when using it on a surface where you may be typing, as some of those sounds may travel through the base. The best thing to do is to get a microphone mount arm and use a shock mount. You could also include a pop filter with that type of setup. I may try that in the future.
Specs and some thoughts on the Sentry Streaming Microphone
No dimensions are included on the product website, so I did a few measurements of my own. I was particularly interested in the weight without the stand, as this could impact how well a mice stand or mount would work. Would it be too heavy? Probably not.
Weight (with stand) – 2 lbs 2.5 oz
Weight (without stand) – 1 lb 6.4 oz
Height (with stand) – 9 ¼"
Height (without stand) – 7 ¼"
Stand footprint – 6″ wide x 5″ deep
Width of microphone – 2 ? inch at the base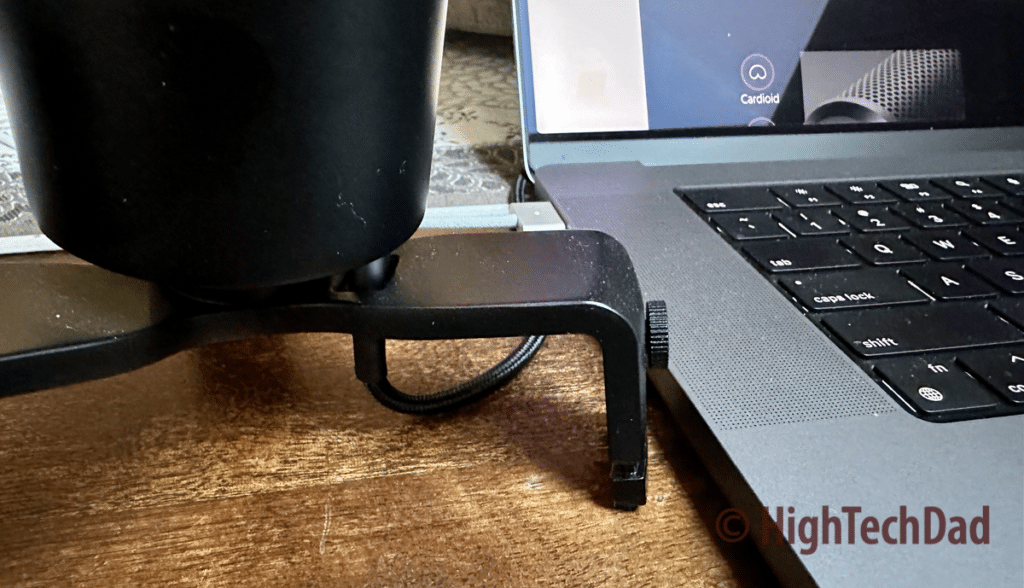 And now for some of the audio specs for the mic (which are available on the website):
Pickup/Polar Patterns – Cardioid, Bidirectional, Stereo, Omnidirectional
Connection – USB 1.0 or 2.0
Frequency Response – 20Hz ~ 20kHz
Sensitivity – ?36dB ±2dB (0dB=1V/Pa at 1kHz)
Maximum SPL – 130dB
Microphone Gain – ?12dB, 12dB maximum
Output Impedance – 32 ohms
Sampling Rate – Up to 96kHz
Bit Depth – 24?bit
From my relatively untrained eye (or ear), these specs seem pretty reasonable. I like that this is slightly above an entry-level mic in terms of the bit depth – many entry-level mics come in at 16-bit.
But the true test is in how it all sounds. I have only been using the Sentry Streaming Mic in a work-from-home environment. It is currently my default microphone for all of my video conferencing. I listened to some recordings of my calls and did some testing using the QuickTime recording option. The quality sounded quite good for the most part. The highs and the bass seemed solid, and the clarity and details captured in the voice were great.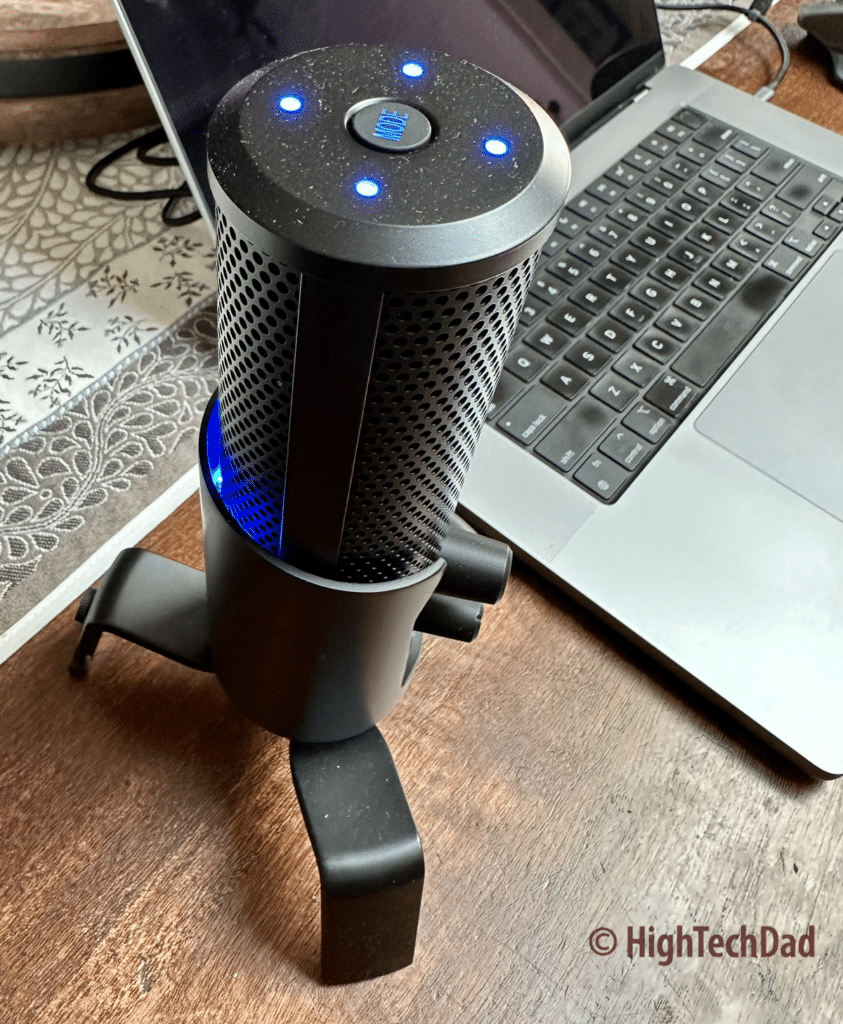 I tested using the four various patterns and found that the cardioid setting was the best for video conferencing and simple voice-over work. I also found that if I was further away from the mic, perhaps 1.5-2 feet, I had to turn the gain knob all the way up. But, when I lowered the physical gain to about halfway, the sound quality remained great and did not cut out. So, I'm leaving the gain knob at the halfway mark. And I did have to adjust the input gain setting within my Mac's System Preferences. I will continue to fine-tune and test this setting. The optimal setting is still out there for me – perhaps with a higher physical gain setting and attaching the mic a bit closer or on a mic arm stand.
This is a pretty good streaming and gaming mic for the price. It currently retails on the Monoprice site for $74.98, but I also found it on Amazon for $50.56, which makes it almost an entry-level price for a practically pro-level microphone.
Shop on HighTechDad
The product shown below (and related products that have been reviewed on HighTechDad) is available within the HighTechDad Shop. This review has all of the details about this particular product and you can order it directly by clicking on the Buy button or clicking on the image/title to view more. Be sure to review other products available in the HighTechDad Shop.
Whether you are a gamer or working from home doing video-conferencing, moonlighting with voice-over work, or a podcaster, the Dark Matter Sentry Streaming Mic goes beyond being an entry-level mic. From the multi-colored LED accent lights to the choice of four possible pickup or polar patterns to the fact that there is an on-board/real-time live mic monitoring port with volume control…AND a mute button built into the adjustable physical gain knob, the Sentry Streaming Mic does quite a nice job. It has a tripod stand but also the ability to mount to a mic stand or arm as well. And the sound quality is quite good from my novice testing. Lastly, you can't go wrong with the price.
Disclosure: I have a material connection because I received a sample of a product for consideration in preparing to review the product and write this content. I was/am not expected to return this item after my review period. All opinions within this article are my own and are typically not subject to editorial review from any 3rd party. Also, some of the links in the post above may be "affiliate" or "advertising" links. These may be automatically created or placed by me manually. This means if you click on the link and purchase the item (sometimes but not necessarily the product or service being reviewed), I will receive a small affiliate or advertising commission. More information can be found on my About page.
HTD says: If you are looking for a near pro-level mic that is reasonably priced and has all of the flexibility for multiple recording scenarios (podcasting, interviews, gaming, video conferencing, voice-overs, and more), the Dark Matter Sentry Streaming Mic is a multi-purpose and quite capable microphone. Experience exceptional audio quality and elevate your communication and audio content creation with this reliable and stylish microphone.
HighTechDad Ratings
Ease-of-Use

Family-Friendly

Price Point

Features
Summary
If you are looking for a near pro-level mic that is reasonably priced and has all of the flexibility for multiple recording scenarios (podcasting, interviews, gaming, video conferencing, voice-overs, and more), the Dark Matter Sentry Streaming Mic is a multi-purpose and quite capable microphone. Experience exceptional audio quality and elevate your communication and audio content creation with this reliable and stylish microphone. This is one of those multi-purpose external microphones that you just plug in, and it just works. On a Mac, no need for any drivers. The look is very modern as well, and the LED accent lighting is a nice touch. Easy to mute by pressing the adjustable gain knob, and there is a volume for the real-time headphone output. It has a standard 5/8″ threaded mount point to attach to other stands. The sound quality is quite good.
Pros
4 pickup/polar patters
Inexpensive compared to features and specs
Plug and play
LED accent lighting for additional styles
Live-feedback audio out
Cons
A bit heavy
May have to adjust the gain up
No USB-C to USB-C cable, just USB-C to USB-A
No pop-guard
No shock mount