My wife is suffering from hot flashes. Pretty major ones. She literally drips with sweat on her face when these hot flashes roll through. She has bought a ton of portable fans, ones that sit on the table, other floor fans, and even cheap ones that go around her neck. These all sort of worked, but they were honestly NOTHING like the TORRAS COOLiFY 2S neck air conditioner. This device was literally "next level" in terms of being "cool" (oh, and "hot," too)! This gadget goes around your neck, and with a couple of presses of buttons (or using the app), you instantly are pumping coolness to your neck, which we know will magically make the rest of you feel cooler. (*Disclosure below.)
The COOLIFY 2S Neck Air Conditioner takes personal cooling to the next level with its impressive features and functionality. Engineered to fit comfortably around your neck, this device becomes your personal climate control system, combating heat and providing instant relief. Whether you're dealing with hot flashes, spending time outdoors, or working in an environment with inadequate air conditioning, the COOLIFY 2S is designed to keep you cool and comfortable, no matter the circumstances. And what about those days when you are actually cold? With another button press, you can transform the Coolify 2S into a personal, portable heater that, yes, you still wear around your neck.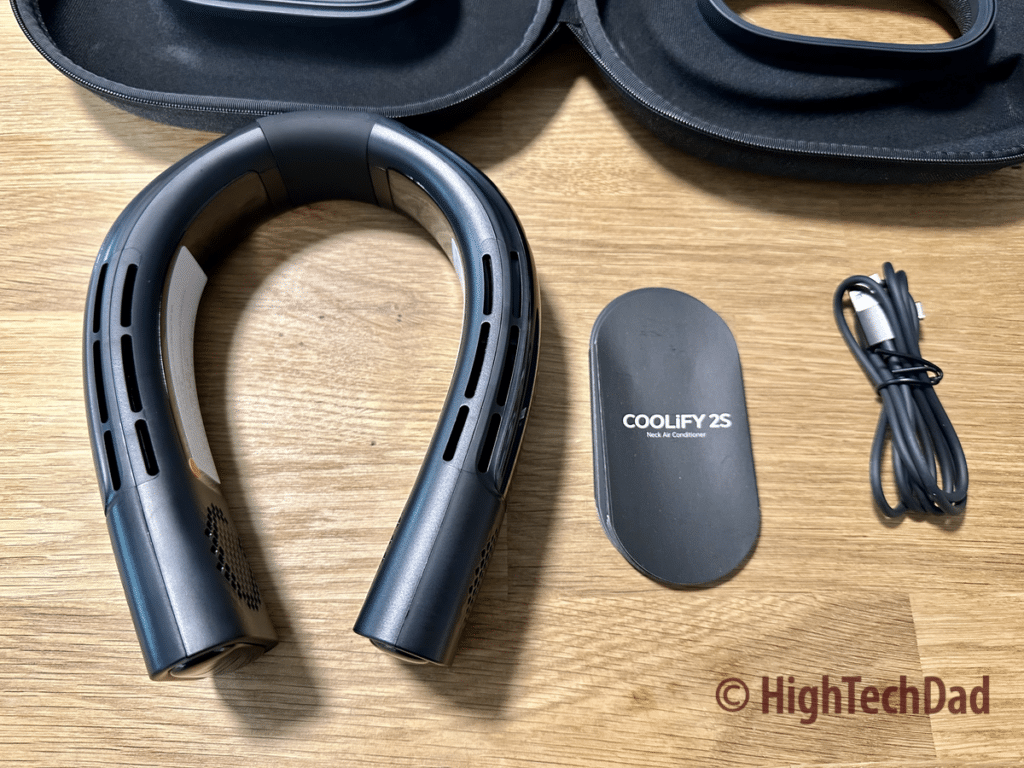 Now there is some pretty cool (and hot) tech built into the Torras Coolify 2S. It goes well beyond those cheap neck fans that simply blow air in your face. And let's face it, if the air is hot around you, blowing hot air in your face may lower your face temperature just a tiny bit but definitely not to the level of having cool, air-conditioned metal physically touching your neck to provide that next level of cooling. But the true testimonial is that from my wife. She was having a hot flash, we put the Torras Coolify 2S on, fired it up, and instantly, she was cooling off. Let's get into some of the details!
Table of Contents
Just added! Video Review!
I thought it would be important to add a video review and walkthrough of the features and technology of the Torras Coolify 2S. You can view it below or hop over to my YouTube channel to see the video there!
I hope this video gives you a better picture of how the Coolify 2S works. Please let me know in YouTube comments or in the comments section of this article if you have any questions.
Cool(ing) features of the Torras Coolify 2S
Before I dive into using the Coolify 2S, let me mention some of the tech and specs that make this personal air conditioning solution so nice. For starters, the construction is solid. It has two hard plastic "arms" (for lack of a better word) that wrap around your neck. In the middle, a flexible, rubber "hinge" allows you to open the arms to essentially wrap around your neck. So this is ideal for large or small necks alike.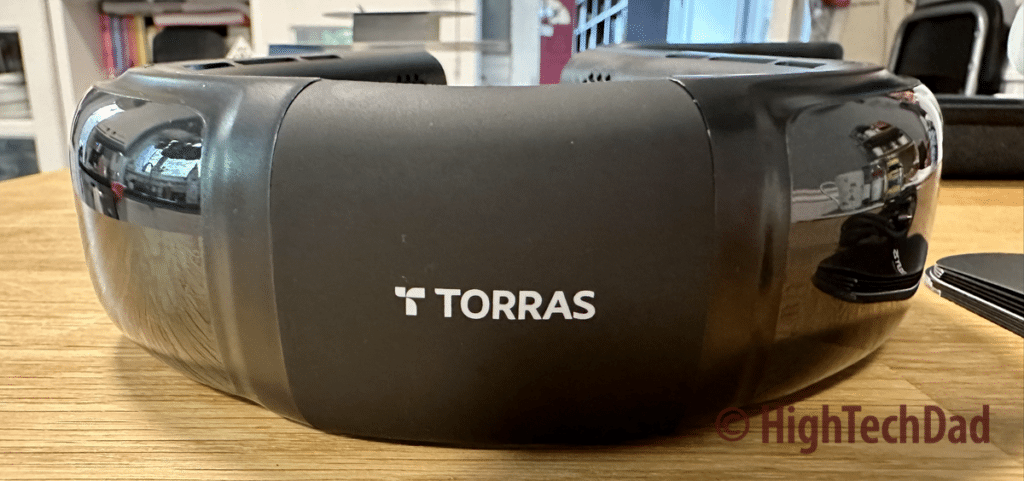 On the inside of the arms are curved metal panels. These panels transmit the battery-powered cooling (or heating) to your neck as they are in direct contact with the skin of your neck. Except for the rubberized hinge, the metal panels take up the majority of the inside of the arms.
On the top of both of the arms are vents. These vents are for the built-in fan that can blow cool (or warm) air up toward your face. By the way, there is an option to run just the fans and not the cooling metal strips if you just want a breeze.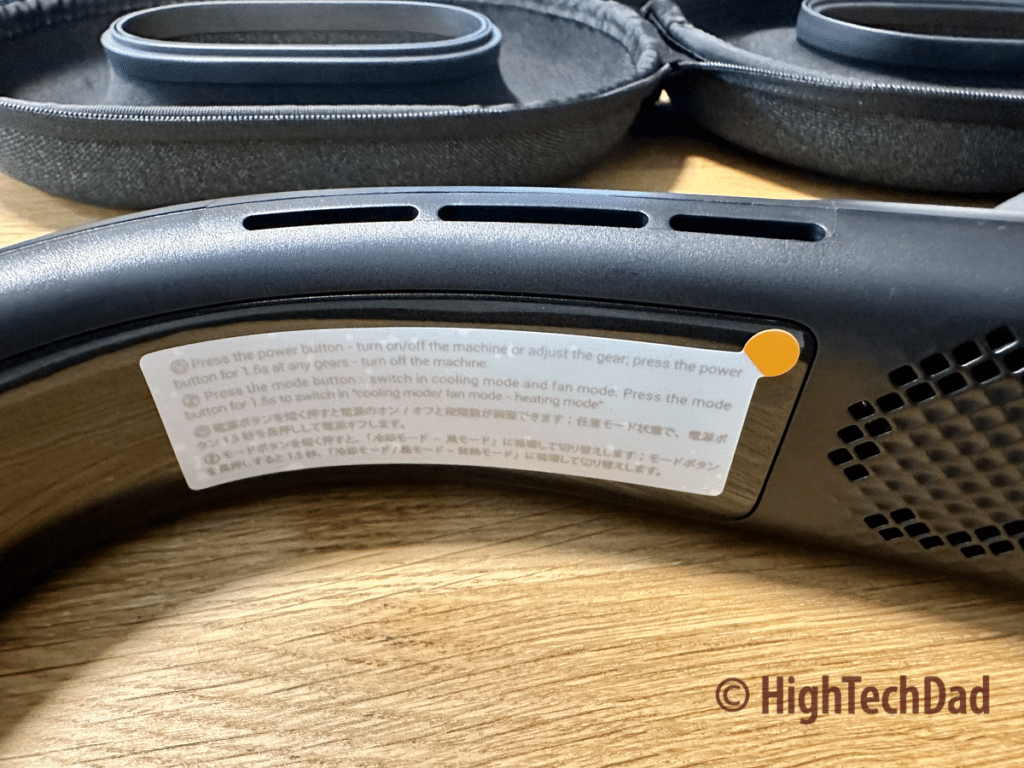 Here are the core features:
360-Degree Cooling: Equipped with advanced cooling technology, the COOLIFY 2S delivers a 360-degree cooling effect around your neck, targeting the most sensitive areas. The continuous stream of cool air helps regulate body temperature, providing quick relief from heat and discomfort.
Adjustable Fan Speeds: With three adjustable fan speeds, you have the flexibility to customize the airflow according to your preferences. Whether you prefer a gentle breeze or a more powerful cooling effect, the COOLIFY 2S caters to your individual needs.
Whisper-Quiet Operation: TORRAS understands the importance of a peaceful environment, even while enjoying the cooling benefits of their device. The COOLIFY 2S operates relatively silently, allowing you to work, relax, or sleep without any intrusive noise. This, of course, all depends on what level you have the fan at.
But these cool features don't stop there. Despite all of the technology and batteries inside the Torras Coolify 2S, the device is quite lightweight, weighing only about one pound. And because it wraps around your neck, it pretty much stays in place whether you are exercising or just sitting around.
In order to provide cooling and heating power, there is an internal, rechargeable battery. Rated at 5000mAh, the battery is designed to provide long periods of cooling (and heating). On a single charge, you can run the Torras Coolify 2S for up to 28 hours (but that is on the lowest fan-only speed). The Torras site provides other estimates on run-time length based on the different levels you have it set at. For example, in full cooling mode, you can run it for 5 hours on low, 4 hours on medium, and 3 hours on maximum – this includes the fan running. In heating mode, it's 6 hours on low, 5 hours on medium, and 4 hours on maximum.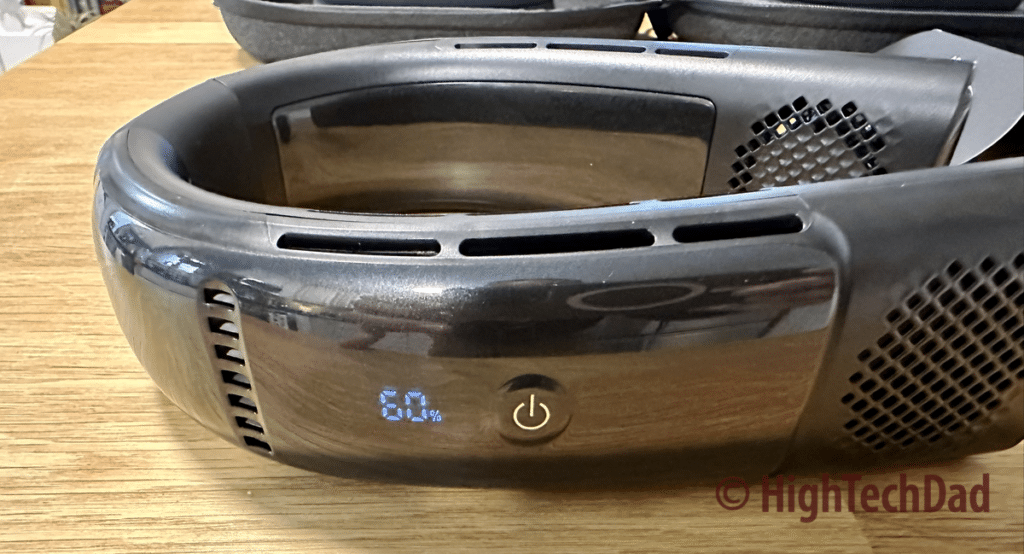 You recharge the battery using the included USB Type C cable. To fully charge the battery, it takes about 2.5 hours, and there is a screen to show what level of charge the Coolify 2S is at. The readout is in a percentage, so there is no guesswork on how full or empty the battery is.
Another great feature is the fact that you have two ways to control the Torras Coolify 2S – using the buttons on the sides or using a smartphone app connected via Bluetooth. You are not required to pair the Torras Coolify 2S to your smartphone, but it does provide a slightly easier-to-use interface instead of pressing the buttons on the side. I will go into the operation in the section below.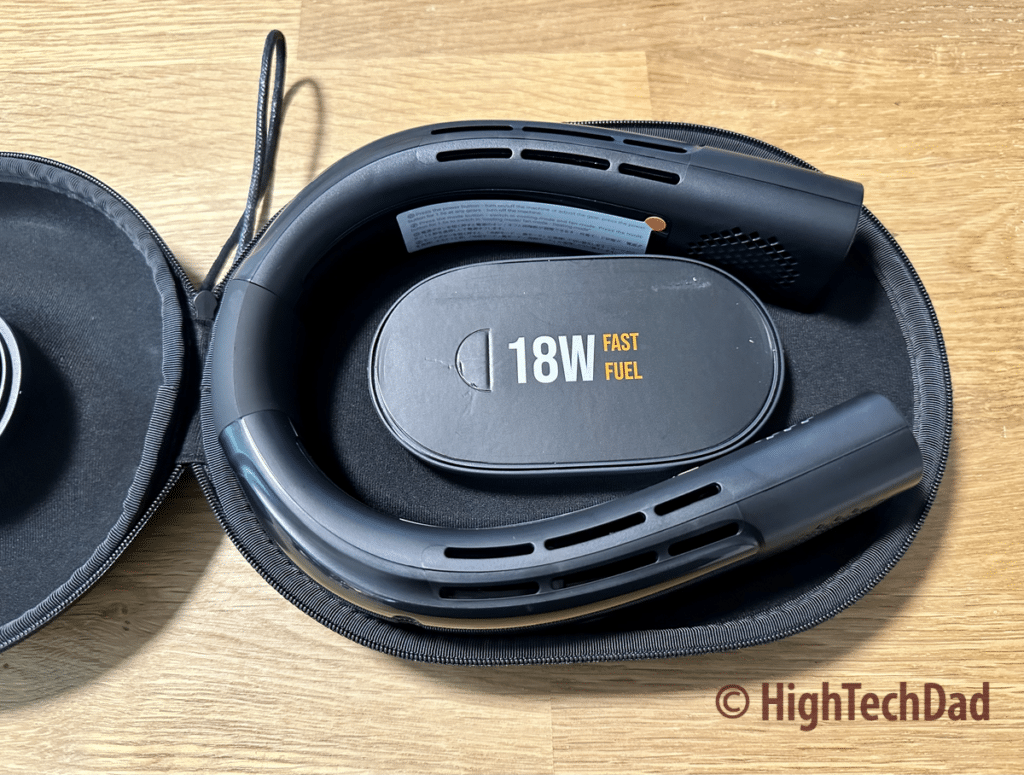 Lastly, in terms of great "features," is the fact that the Coolify 2S comes with a handy carrying case. This oval, donut-shaped, hard case zips up and contains both the Torras unit itself as well as the USB-C charging cable. So if you are packing luggage for a trip, just put the Torras into the protective case and head on your way.
Using the Torras Coolify 2S Portable Air Conditioner
My wife wanted to start using the Torras Coolify 2S immediately, but I held her back to make sure that we fully charged it up before the first use. And we decided not to pair it to the smartphone initially because I wanted to see how easy it is to use on its own. Let me say it simply, it's super easy to use.
On the right arm (when you are wearing it), there is the power and level button. It is a single, slightly-raised button. Simply press it to turn the Coolify on. The thing to remember is that there are three main modes: Fan-only, Cool, and Heat. Depending on your last usage, the Coolify will turn on to that last mode. Next to the power button is a digital readout that shows the battery level remaining. When the Coolify is on, pressing the power button will cycle through the various levels – low, medium, and maximum. The digital readout will also indicate the mode and level – C1, C2, C3, F1, F2, F3, and H1, H2, H3 – the letter indicating the setting and the number showing the level.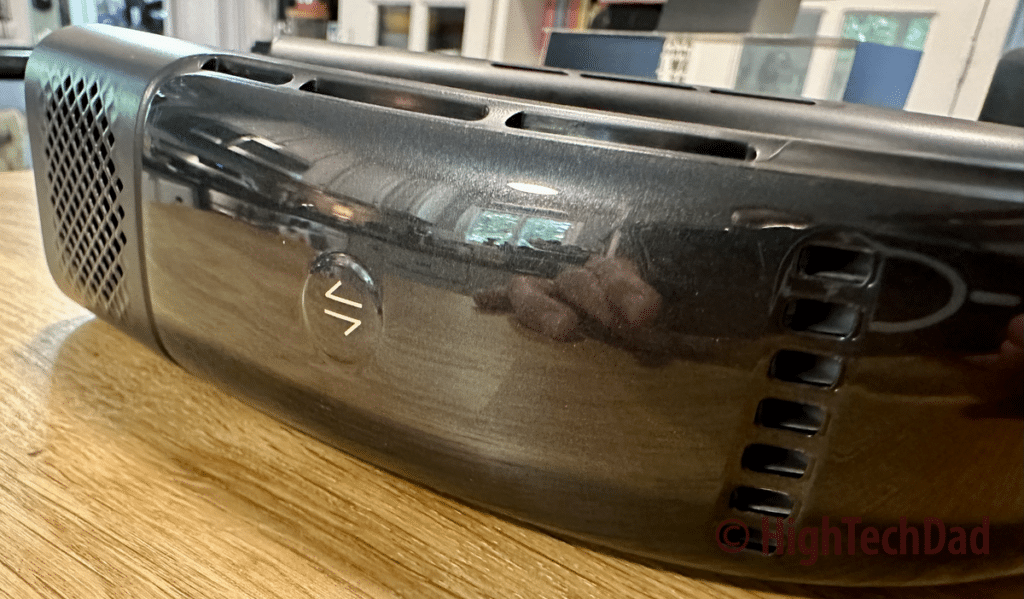 On the left arm, there is another button. This button allows you to select the mode. When you in the "cool" side of the equation, pressing the button will cycle between cooling and using only the fan. You can confirm which mode you are on via the digital readout mentioned above. If you are in cooling mode, long-pressing the mode selection button will switch from cool to heat mode (or vice versa).
When you are wearing the Coolify 2S, you probably don't want to be taking it off each time you want to change a setting, so there are built-in audible alerts to let you know what mode you are in. A "click" sound means you are in fan-only mode. A "beep" indicates you are in cooling mode, which activates the cooling panels. And long pressing the mode selection button from cool to heat gives you a "ting" sound (like a text noise) so that you know you are in heating mode. This is very convenient.
To know what level you are at, you simply have to listen to the fan's speed. It's pretty clear to distinguish between each level. By the way, the fan noise when you are wearing it is perceptible, especially at the higher settings. The fan can act as white noise and will drown out some of the surrounding sounds. So, if you are wearing the Torras Coolify 2S and you need to hear things in the environment, you should probably use a lower setting or be extra conscious of things around you for safety reasons.
Using the Smartphone App to Control
As I mentioned, you don't need to use the smartphone app to control the Coolify 2S. But, if you want to, that is an option. The Coolify does connect to your smartphone via Bluetooth. And you can pair it to numerous devices if you want to (but it may be a bit tricky sometimes as it will automatically connect to the last smartphone you used).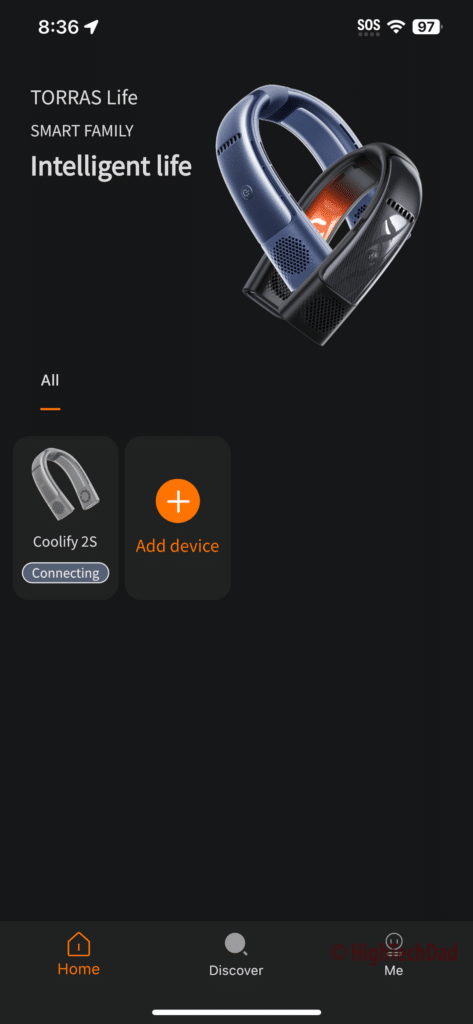 Connecting it to a smartphone does allow you to upgrade the firmware of the Coolify. You can optionally create a Torras account, but since we were going to connect to a couple of smartphones, we elected to just use it in guest mode without needing to create an account. You can still upgrade the firmware and fully control the Coolify 2S.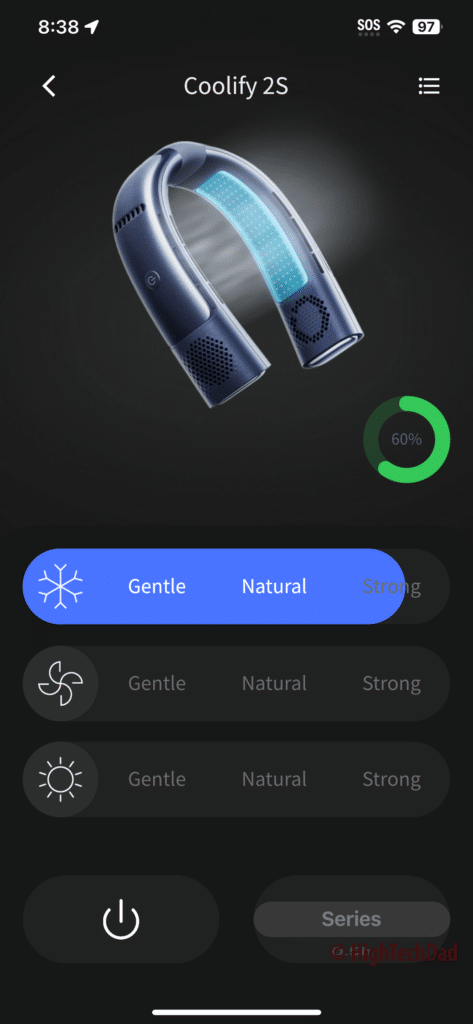 Once you pair the Coolify to your smartphone, you have full control and can see the battery level all at a glance. There are controls for the modes and the level in the form of sliders. Just press on the mode and level, and you will hear the tones from the Coolify confirming your selection. And there is a picture of the Coolify at the top of the screen that shows which mode it is on.
There is also a setting that allows you to set up a pre-defined turn-off time in half-hour increments up to four hours. And you get a tone indicating that you made a change. While the Torras is connected via Bluetooth and you are charging it, you will see an indicator that it is Fast Charging and the percentage level of the battery.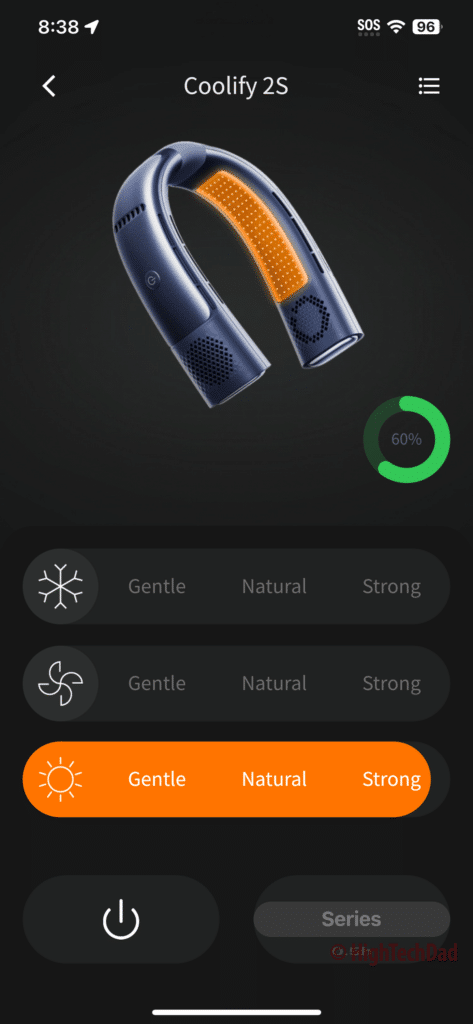 Lastly, a power button allows you to turn off the Coolify 2S without using the physical button. Note that after being off for a while, the Bluetooth connection is released, and you have to use the physical power button to turn it back on, not the software button.
Final Thoughts and Pricing
I do have to say, this portable air conditioner (and heater) does work. From the second you turn it on, you can feel the cooling or heating in action. Torras states that it can lower the temperature by 30 degrees within one second. I did an informal test using a body and surface thermometer. My initial reading without the Coolify 2S being on had the metal plate at about 74 degrees. I ran the Coolify for several minutes at the highest cooling level, not on my neck, and the surface temperature came back at 53 degrees – a 21-degree drop! With the fan running and the plates on your neck, it definitely is COOL!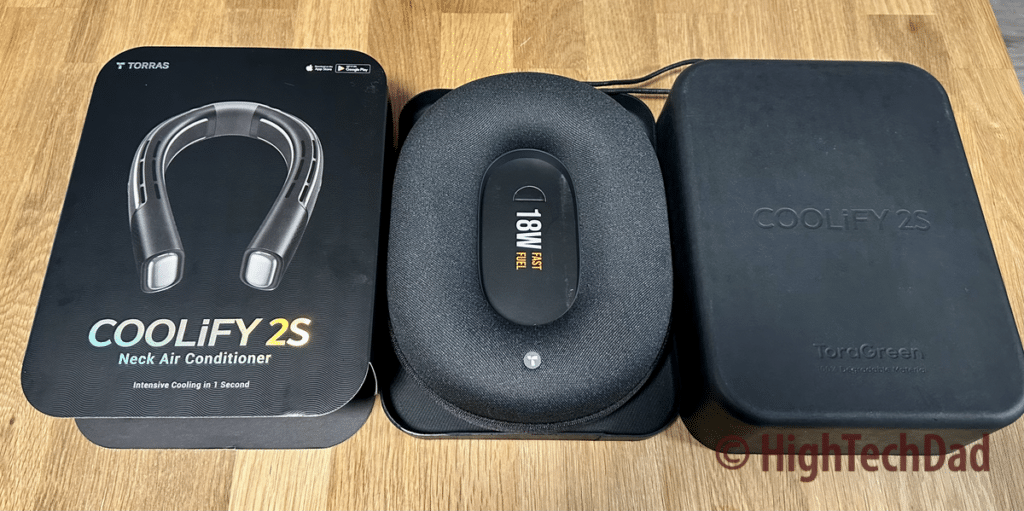 The only "gotcha" about this device is the price. But you are paying for the fact that there is some pretty cool technology built in. It can heat, cool, or simply blow air. It is rechargeable and can be controlled by a smartphone. And it has quite a long battery life. So this is not one of those cheap (or inexpensive) portable fans. This is a device clearly designed to cool (or heat).
The retail price on the Torras site is $229.00, and it is also available on Amazon for $229.00.
Shop on HighTechDad.com
The product shown below (and related products that have been reviewed on HighTechDad) is available within the HighTechDad Shop. This review has all of the details about this particular product and you can order it directly by clicking on the Buy button or clicking on the image/title to view more. Be sure to review other products available in the HighTechDad Shop.
While I can't speak directly for my wife, I do think that the TORRAS COOLIFY 2S Neck Air Conditioner would be particularly beneficial for women experiencing hot flashes during menopause. My wife does agree with me after testing it out a bit. Its compact and portable design ensures discreet usage, allowing for easy carrying and use in various situations. The cooling effect targets the neck area, which is prone to sweating and discomfort during hot flashes. Women can adjust the fan speed to their preference, tailoring the cooling intensity to their specific needs. Furthermore, the whisper-quiet operation ensures no attention is drawn to their use of the device, offering a discreet solution for managing hot flashes.

The Torras Coolify 2S definitely beats out simply putting a cool, wet rag on the back of your neck to cool down. It operates on the same basic principle of using the neck area to rapidly cool your entire body. But, with the embedded tech, you can control the cooling (or heating) level with a button click or a smartphone tap. It is an excellent solution for personal cooling needs. Its compact and lightweight design, 360-degree cooling technology, and adjustable fan speeds make it an ideal choice for anyone (male or female) who wants to stay cool on the go.
Disclosure: I have a material connection because I received a sample of a product for consideration in preparing to review the product and write this content. I was/am not expected to return this item after my review period. All opinions within this article are my own and are typically not subject to editorial review from any 3rd party. Also, some of the links in the post above may be "affiliate" or "advertising" links. These may be automatically created or placed by me manually. This means if you click on the link and purchase the item (sometimes but not necessarily the product or service being reviewed), I will receive a small affiliate or advertising commission. More information can be found on my About page.
HTD says: The Torras Coolify 2S portable, personal air conditioner is truly a game-changer for those wanting to cool down quickly. And, for women experiencing hot flashes, it is truly one of those gadgets worth the investment. For those of us needing to cool down (or heat up) quickly, the Coolify 2S does the job excellently!
HighTechDad Ratings
Ease-of-Use

Family-Friendly

Price Point

Features
Summary
The Torras Coolify 2S portable personal air conditioner is truly a game-changer for those wanting to cool down quickly. And, for women experiencing hot flashes, it is truly one of those gadgets worth the investment. For those of us needing to cool down (or heat up) quickly, the Coolify 2S does the job excellently! Setting up the Torras Coolify 2S takes literally just a few minutes if you are configuring it to work with a smartphone. If you don't want to use a smartphone, simply use the buttons on either side to control the mode and level of the fans and the heating or cooling. The cooling is pretty much active within seconds and really does work. This is a lightweight gadget that is great to use on the go or even around the home if you want a cooling solution to move with you. And this is an ideal product for women who may be experiencing hot flashes. It has a long battery life and a fairly quick charge time.
Pros
Easy to set up
Easy to use
Truly does cool (or heat)
Lightweight & portable