A beast. That is the word that I would use to describe the UGREEN 300W charger. This five-port USB-C GaN charger will allow you to replace a bunch of other wall chargers you have. Want to charge your laptop? Done. How about another laptop at the same time? Yup! Do you have a tablet or a smaller laptop? The UGREEN 300W Charger can charge that at the same time as well. And, even with those three devices plugged in, you have one more USB-C port and a USB-A port at your disposal for lower-powered devices. (*Disclosure below.)
I have been testing and using UGREEN products for quite a while now. And it seems like with each new charger that I try, they seem to get better. Are they perfect? Not yet. But the core features are definitely improving to meet the needs of many. In this case, the UGREEN 300W Charger is designed for environments where you have the need to plug in a variety of devices that have various power requirements. With other wall chargers, even some of the ones that come with the devices themselves, they are a bit underpowered, meaning you aren't utilizing the total charging capacity. This UGREEN charger allows you to capitalize on many higher wattage and fast-charge capabilities of those devices and, in many cases, charge those devices simultaneously.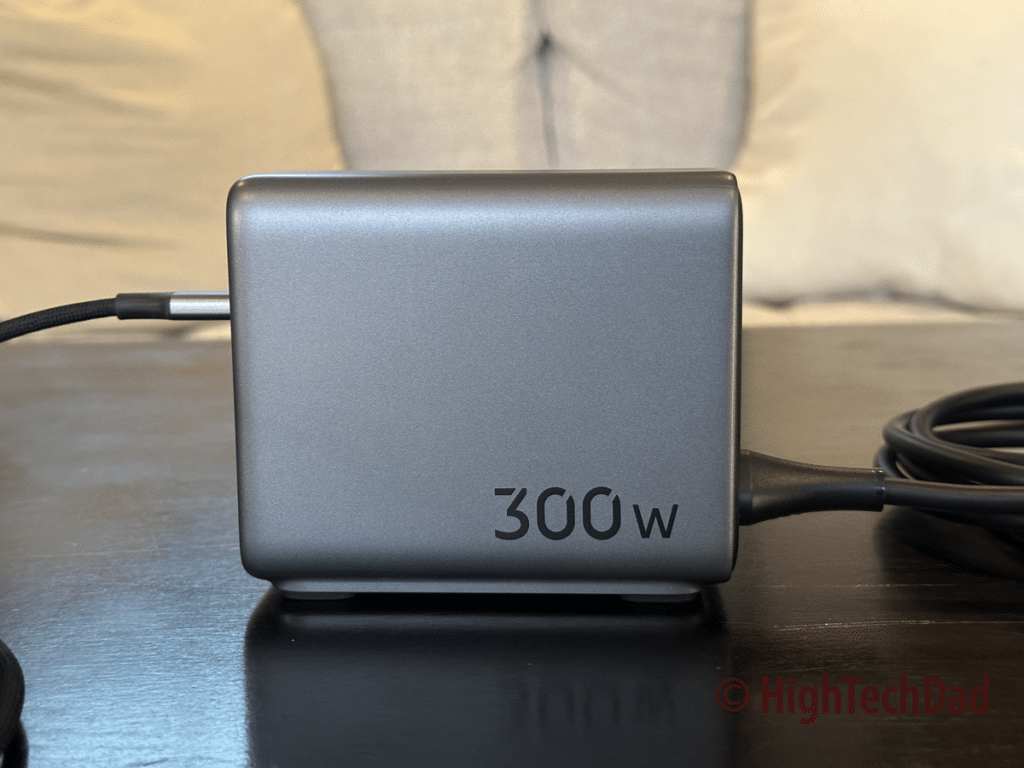 In this review, I will touch on some of the UGREEN 300W charger's core features and offer some ideas on how to improve it. Don't get me wrong, however. As is, this beast of a charger is pretty darn good, and any suggested added-on features would push the price up even higher. But you must consider the cost of all the chargers you may be replacing. It's always better to buy in "bulk" (meaning – one charger that can handle the equivalent of five separate chargers).
Table of Contents
Core features of the UGREEN 300W Charger
There are several key specifications and features of this UGREEN 300W 5-port PD GaN fast charger. And honestly, I don't know which one to talk about first. But everyone likes to talk about power, which is arbitrary if you don't know what it truly means. And I'm not an electrical engineer, nor do I pretend to be one, so I may make an incorrect statement and will obviously be called out by one of my readers out there (grin – thanks for keeping me honest!).
This wall charger supports up to 300W of power delivery. What does that mean? Well, depending on what you have plugged in and the power requirements of those devices, up to 300 watts of power can be sent to charge or power those devices. It is almost like solving a puzzle to get to that maximum output. There are limits on each of the USB charging ports. I did solve that puzzle for you, though – if you have the top three ports active and pulling the maximum power, you can hit that 300W maximum (USB-C1 – 140w, USB-C2 – 100w, and USB-C3 – 60w).
A quick reminder: while using this UGREEN charger and other similar chargers, you will want to plug in the highest power-consuming device first and use the primary ports (usually, they are labeled) in order of wattage from highest to lowest. This UGREEN 300W charger has the power ratings for each USB port clearly labeled to make the plug-in order a bit easier.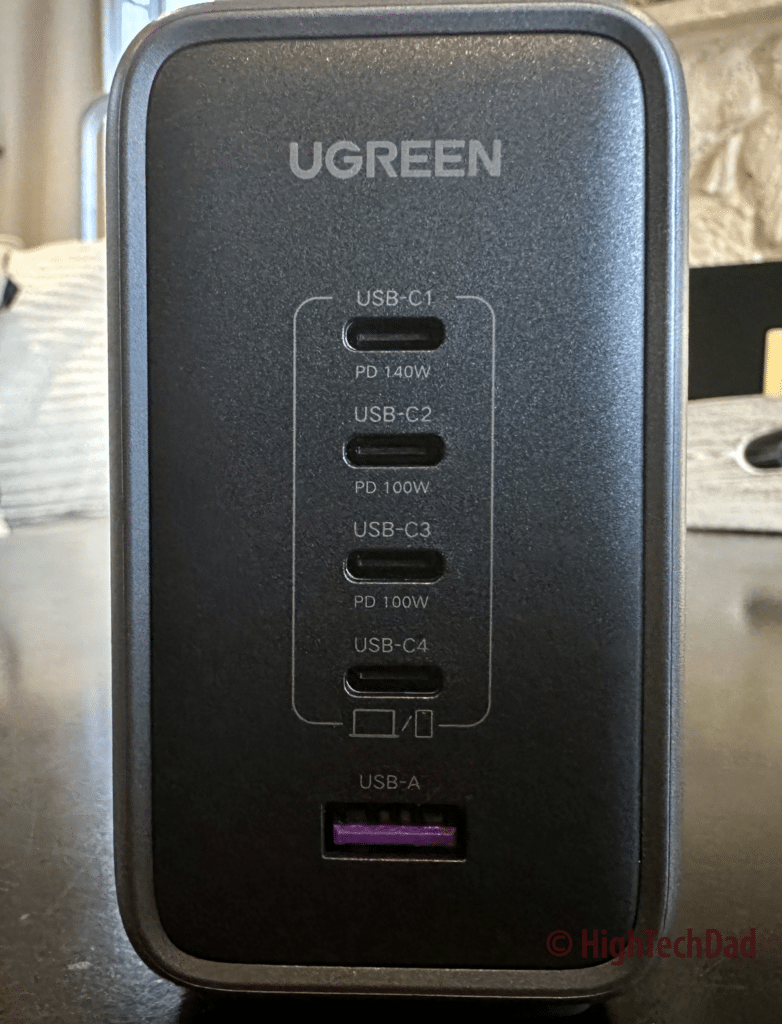 Also, it is important to remember that you may not hit that maximum port power output number. Many modern devices (laptops, smartphones, tablets, power banks, etc.) are now designed to optimize the charging of their internal batteries to extend their life. For example, my MacBook Pro will hold the charge at 80% unless I manually instruct it to charge to full capacity. But to maintain that level while I work on my MBP, my Mac will trickle charge, meaning it will charge but not at "fast-charge" speeds or even "regular-charge" speeds.
If you want to fast-charge your MacBook Pro, use the first USB-C port (the one rated for 140 watts) and use the included 240W Power Delivery (PD) USB-C cable. You can charge your Mac to over 50% in about 30 minutes!
Another important feature is that this UGREEN charger uses TWO GaNFast III chips. GaN technology is something that you should look for in any wall charger. If the charger uses a GaN chip, it means that it is smaller than an equivalent non-GaN chip charger, and the temperature will be relatively lower. With the GaN chips come a variety of safety features to control over-charging, temperature detection, power dispensing, and more (although it isn't outlined on the product specification page). If, for example, the charger detects that the internal temperature is too high due to high-output charging, it will automatically reduce the wattage output to cool itself down.
While I did mention some of the output ratings for the USB-C ports, it's important to note that there are four USB-C and one USB-A ports that can be used. Below are the maximum outputs for each of those ports:
USB-C1 – 140W
USB-C2 – 100W
USB-C3 – 100W
USB-C4 – 45W
USB-A – 22.5W
From the mixing and matching of ports, I'm going to guess that you will be able to charge up various devices, many of which support fast charging, much more quickly than before. And the beauty of it all is that you only have one power cord going into a wall or surge protector, freeing up other plugs and eliminating cables a bit more (at least consolidating them).
What I wish the UGREEN 300W Charger had
So, I already mentioned how almost perfect this heavy-duty GaN charger is. What I feel would make it even more "powerful" (without adding any wattage to the output) would be some sort of visual indicators. There are no LED lights or indication that a port is active or that the charger is even powered on. And while putting a light by an active port would be nice, it wouldn't really do that much other than indicate that the device is on.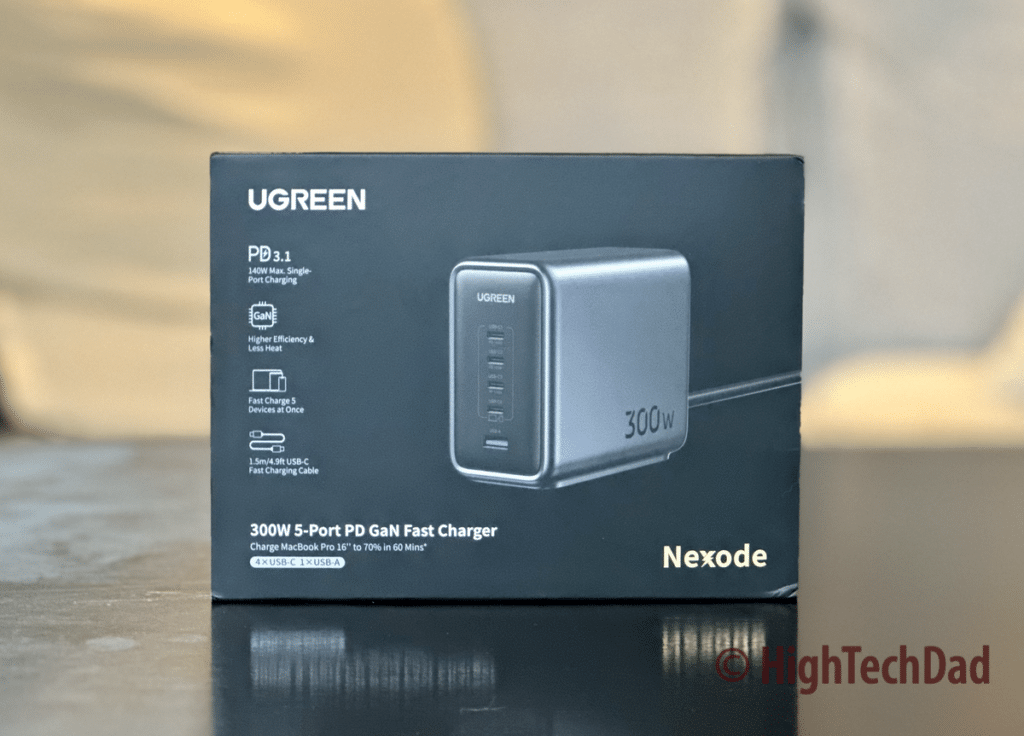 You could have different color LEDs that indicate if the port is in full-power/fast-charging mode (green), and then when it is in a lower-powered/trickle-charge mode, it could show yellow. The device being on but not charging, the LED could show a green light next to the port.
But even better would be to have a colored LED display that gives the status of the output of power by port as well as the total output. It would be almost like a built-in multimeter of sorts. You could show all five USB ports, the wattage being drawn, and then the total wattage being actively consumed. The meter wouldn't always be on, but could have a button to activate it.
Yes, I realize this would add an expense to the GaN charger, but it would add some great value to the end user. As it exists currently, it is just a USB charging hub with ports to charge your devices.
Specs, what's in the box, and pricing
Just a quick note as well about the specifications and what comes in the box. In the box, you get the 300W GaN 5-port USB charger, a 240W USB-C PD charging cable, and a 6.5-foot power cord to plug the charger into the wall.
The dimensions of the charger are 4.37″ x 3.75″ x 2.08″, which is a bit large, but considering what the charger contains, it is reasonably sized. The weight is 1.85 pounds. So, it is not the lightest of chargers. It probably isn't suitable for carrying around on a commute, but it could be pretty good for traveling to a single location for a while. I would probably take it along with me on road trips or pack it into luggage for an extended trip.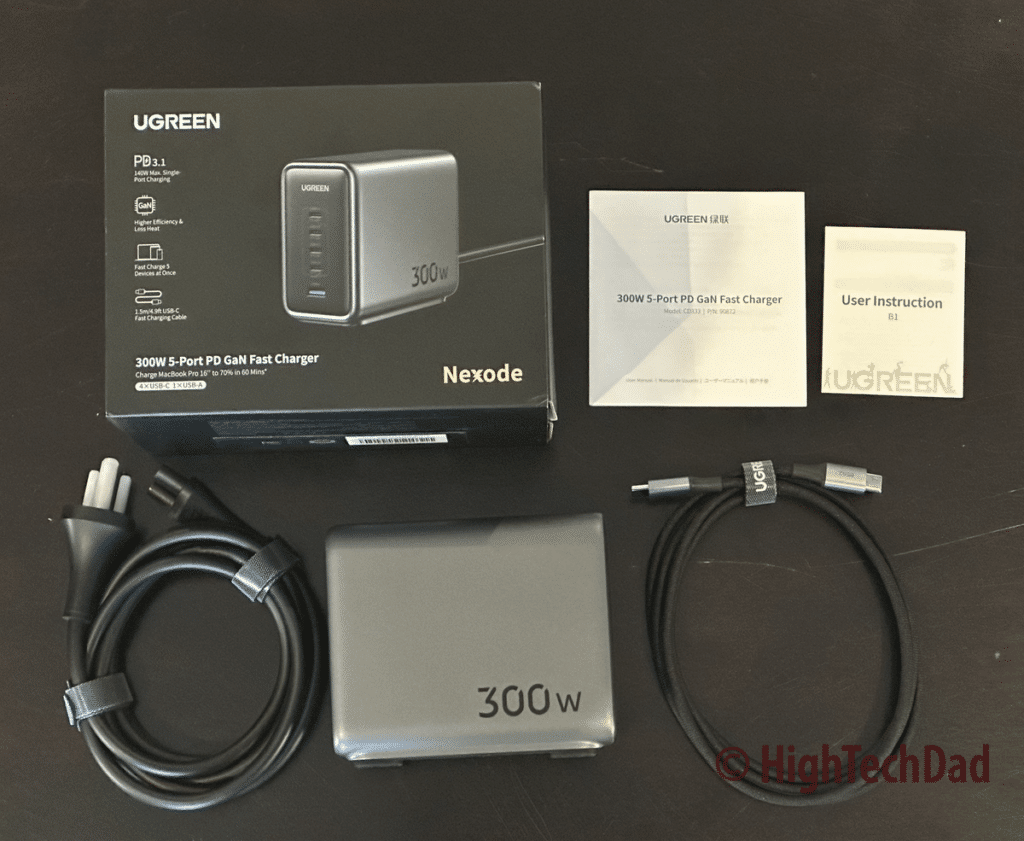 In terms of the price, the UGREEN 300W charger is not cheap, but you are getting what you paid for. If you were to add up the costs of purchasing individual chargers, the cost would be pretty similar to the retail price of $269.99. It also retails on Amazon for $269.99.
For fun, I searched for individual USB-C and USB-A chargers with the maximum wattage shown earlier for each port. 140W for a single port was anywhere from $35 to $85 (for an Apple charger), 100W was $20-$40, 45W was $10-40, and the 22.5W USB-A was about $10-20. And these were for various brands, some of which I had never heard of. So, choosing the cheapest, non-brand name solutions would get a total of around $95, which is definitely more affordable. If you select some of the top-of-the-line brands, the total comes to well over $200.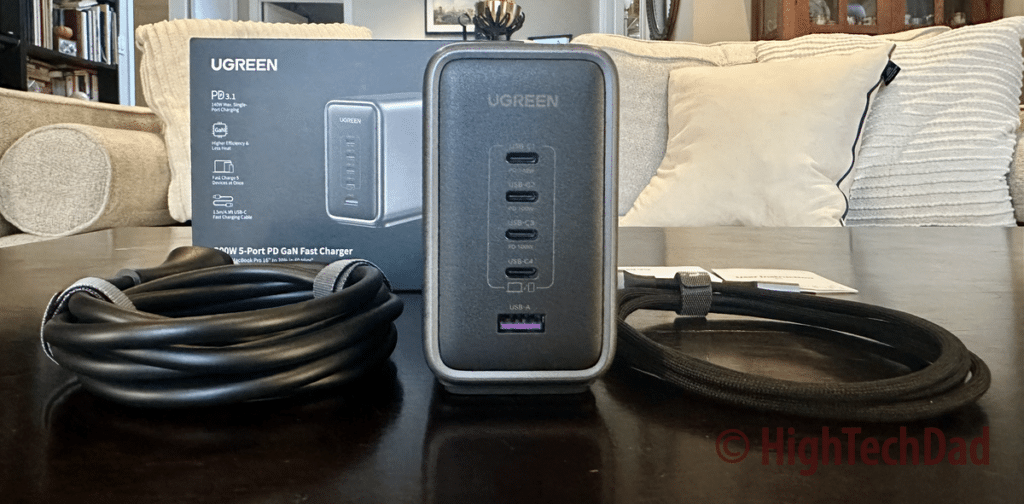 BUT you will then have five different chargers you have to keep track of and find wall plugs for. In my mind, that is not an ideal situation. With the UGREEN solutions, you use one plug and one device that handles everything. And you are using a reputable brand.
Buy on HighTechDad
The product shown below (and related products that have been reviewed on HighTechDad) is available within the HighTechDad Shop. This review has all of the details about this particular product and you can order it directly by clicking on the Buy button or clicking on the image/title to view more. Be sure to review other products available in the HighTechDad Shop.
The 300W UGREEN GaN 5-port USB charger is a powerful accessory to add to any home or work environment where you need to charge various devices with a variety of power requirements. The fact that it can power and charge three higher-wattage devices like laptops makes it truly a winner in my mind. And, since the power dispersion is automatically regulated, you are assured that devices get the proper power at the appropriate time.
Disclosure: I have a material connection because I received a sample of a product for consideration in preparing to review the product and write this content. I was/am not expected to return this item after my review period. All opinions within this article are my own and are typically not subject to editorial review from any 3rd party. Also, some of the links in the post above may be "affiliate" or "advertising" links. These may be automatically created or placed by me manually. This means if you click on the link and purchase the item (sometimes but not necessarily the product or service being reviewed), I will receive a small affiliate or advertising commission. More information can be found on my About page.
HTD says: The UGREEN 300W Charger is a beast of a charging hub that will allow you to charge many devices simultaneously. You no longer have to worry about whether you have the proper power adapter or whether it has enough wattage to charge your device. This charging solution handles all of this for you in a single device.
HighTechDad Ratings
Ease-of-Use

Family-Friendly

Price Point

Features
Summary
The UGREEN 300W Charger is a beast of a charging hub that will allow you to charge many devices simultaneously. You no longer have to worry about whether you have the proper power adapter or whether it has enough wattage to charge your device. This charging solution handles all of this for you in a single device. The setup couldn't be easier. Just plug the included power cord into a wall plug or surge protector, and then simply plug in your devices. Start at the top and plug your higher-wattage devices in first. The UGREEN charger is a bit heavy for day-to-day commute travel but is ideal for home or work environments or for travel when weight isn't an issue. It is a bit pricey, but you eliminate the need for carrying multiple plug chargers. But this charger is perfect for environments where there are multiple power needs!
Pros
Very high wattage output (300W total)
Charge 3 higher-wattage devices simultaneously (like laptops)
Cons
A bit pricey
A bit heavy
No visual indicator of wattage output or active port