Back at the end of 2018, I attended a media-only tech event in San Francisco. As I perused many companies and their products, there was one "new" company that really caught my eye, Brilliant. It was a company professing to have an integrated yet elegantly designed smart home switch that didn't require a hub. After spending quite some time at their booth, I ended up awarding them "Best of Show" at the event. Recently, I was building out my office and realized that it was pretty "dumb." It needed some smart home technology to bring it to the modern age. So, I decided to install another Brilliant Smart Home Control switch to add to my ecosystem. And I realized I still believe it is the best smart switch and control that I have reviewed (and seen, for that matter). (*Disclosure below.)
After the tech media event, the Brilliant folks were kind enough to supply me with two 1-Switch Panels to test their integrations and ecosystem fully. I installed one in our kitchen and one in our master bathroom. My full review of the Brilliant Smart Home Control switch still reflects my opinions of this smart home product. And over the past couple of years, we have been using it daily to control lights, locks, our Sonos speakers, and other connected smart home devices.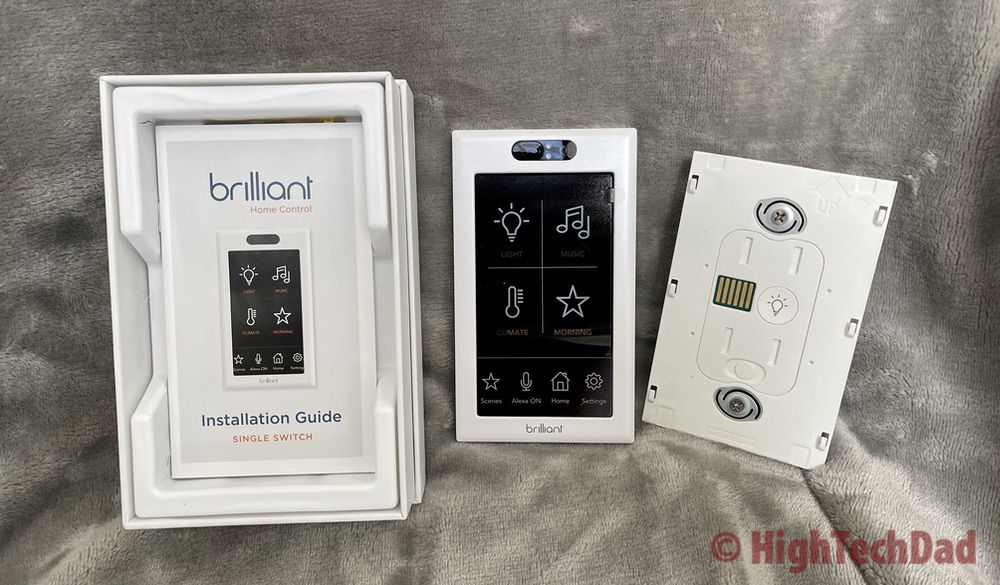 As I was building out my office, I realized I wanted a smart switch. So, I decided to test out a "highly-rated" and inexpensive one on Amazon. I simply wanted to be able to use either Amazon Alexa or Google Assistant or Samsung SmartThings to lazily be able to turn on my lights from sitting at my desk. I got this $20 "smart" switch and tried to install it. It didn't work. I did have the required Neutral wire (note: many if not most smart switches require a neutral wire). Despite being wired up correctly, the switch didn't work. It was back in the box, and headed back for a return within an hour.
I realized, I really wanted to have a Brilliant Smart Home Control switch in my office. I ended up getting one!
Installation was a Snap!
The designers at Brilliant really thought through the physical design of their smart switch. And the physical design truly hasn't changed much over the past couple of years. I can't really see the difference between the smart switch back then and the one I installed. And, assuming you have the proper wiring (again, you MUST have a neutral wire), you can get the Brilliant switch installed in just a few minutes.
The first step to installing the Brilliant Smart Home Control switch is to turn the power off to where you will be wiring the switch in. You would do that at the circuit box. The best thing to do is to turn on the lights on your old switch and then turn off the circuit breaker for that switch. If the light is off, you can pretty much assume the power to the old switch is off. And, if you aren't comfortable doing this yourself, get a good electrician to do it!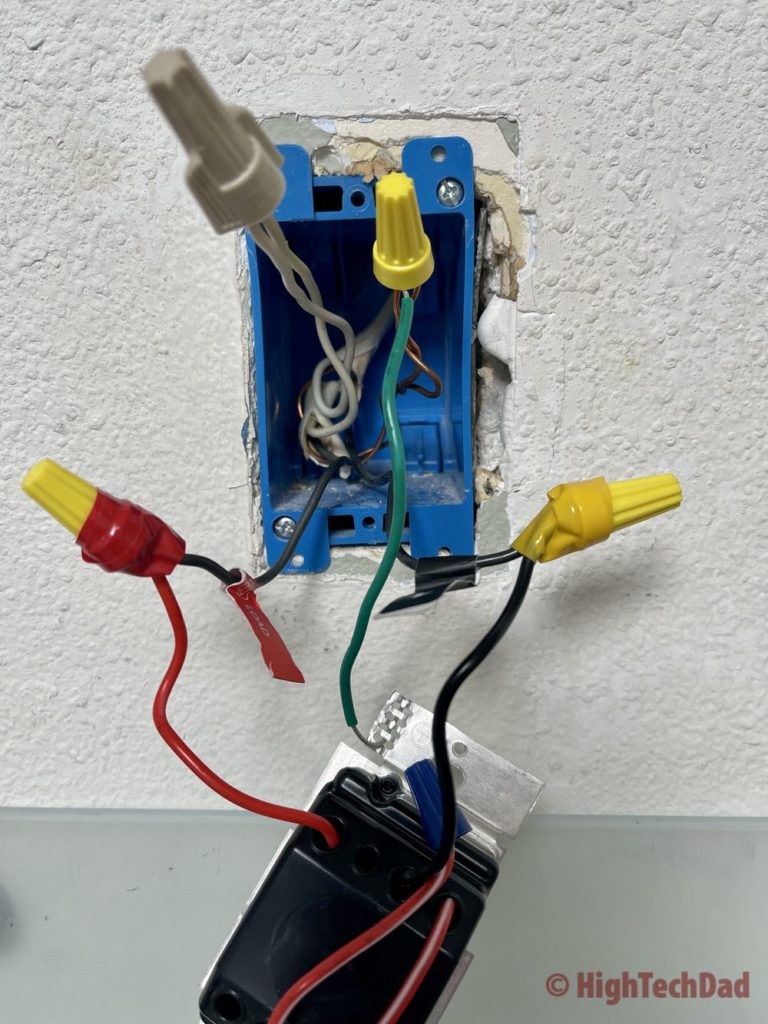 Next, once the power is off, remove your old switch. Don't completely remove it, as you will want to take a photo of the existing wiring in case you need to refer to it later (or, gasp, put the old switch back). It's important to look at the wiring as well. In my case: Green/bare copper = ground, Black = Line or Load, and Grey = Neutral. You should have two wires for Line and Load. The Brilliant smart switch is actually smart enough to know which is the load and which is the line (one comes from the circuit breaker, and one goes to your light switch).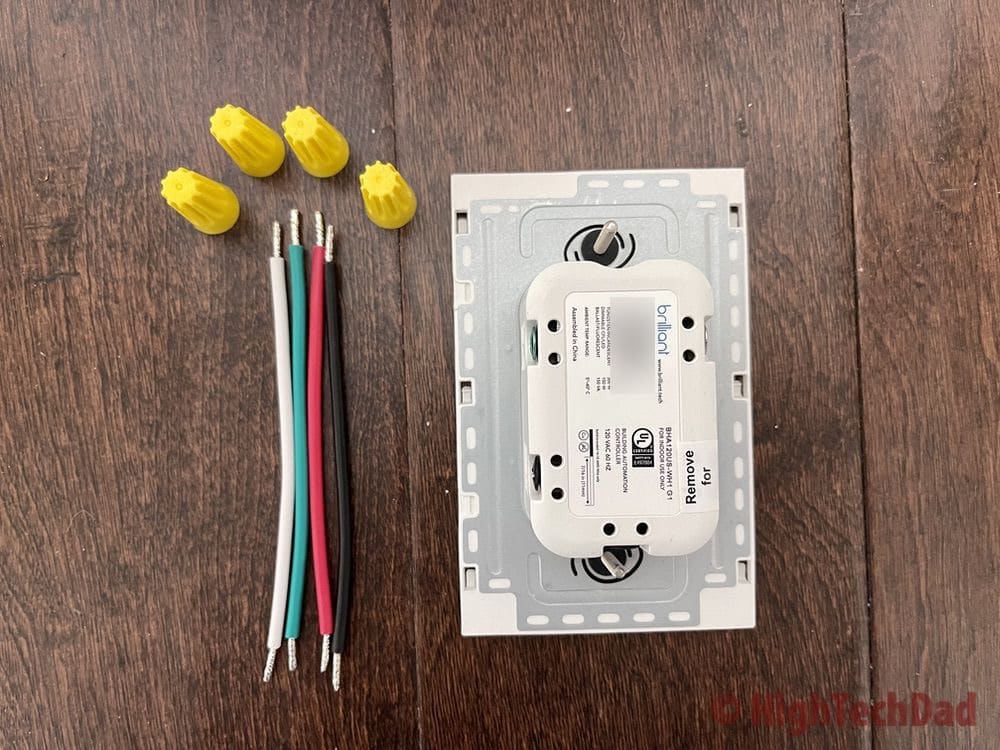 What I am showing here in these photos (and describing) is the most simple of wiring configurations. It is a single switch controller that is attached to one set of light bulbs. You can get other configurations based on your wiring and needs (e.g., 2-switch, 3-switch, and even 4-switch panels). These are sometimes referred to as 1, 2, 3, or 4-gang switches as well.
The Brilliant switch comes with several short wires which you screw into the base. First, however, I connected those colored wires to the bare wires coming from the wall. After that, I connected it to the Brilliant base. At this point, I went back to my circuit breaker to ensure that the lights could be controlled. After turning on the power, I pressed the light button (not on the touch screen – attaching that comes later). The light turned on and off!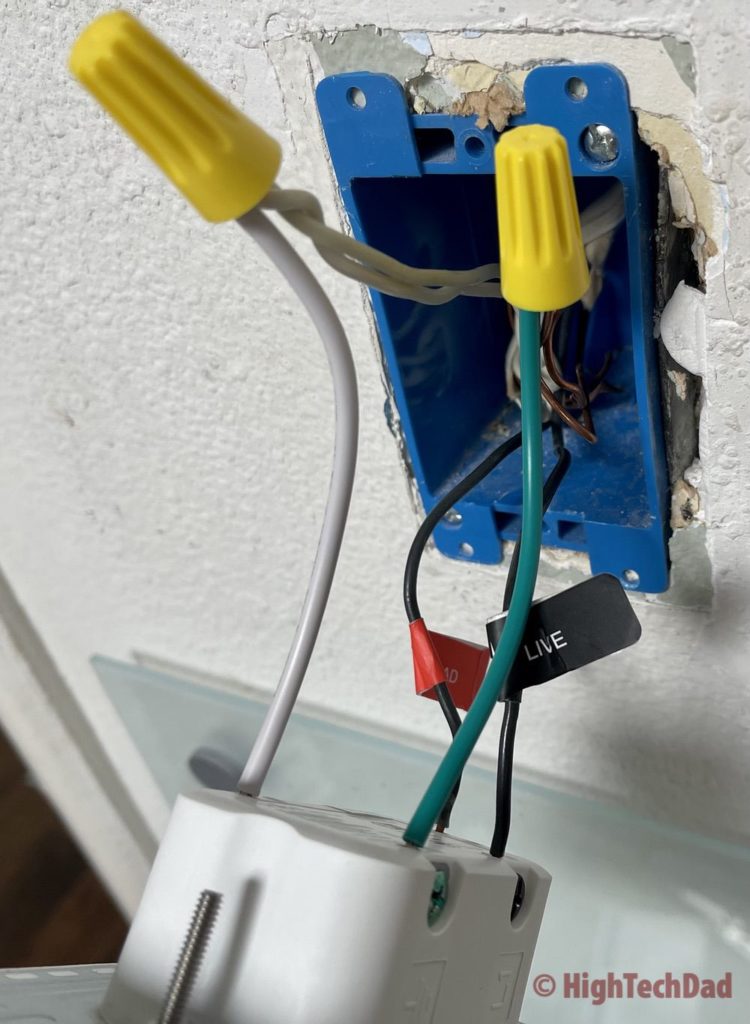 After successfully testing the switch, I went back to the circuit breaker and killed the power once again. After I confirmed the power was off, I screwed the base into the wall gang box. Then, another trip back to the circuit breaker to turn the power back on. Once that was completed, I tested the light button again (which worked). Now it was time to attach the brains to make the Brilliant switch smart.
Configuring the Brilliant Smart Home Control switch
The next part of the installation and setup of the Brilliant Smart Home Control switch is connecting the faceplate and configuring the smart features. The faceplate simply slides down into place, and it will power up. If you are new to the entire Brilliant Smart Home ecosystem, you will need to be sure you have the Brilliant App (available on iOS and Android), but since the Brilliant smart switch had a touchscreen, you can and will do all of the configurations on the screen itself.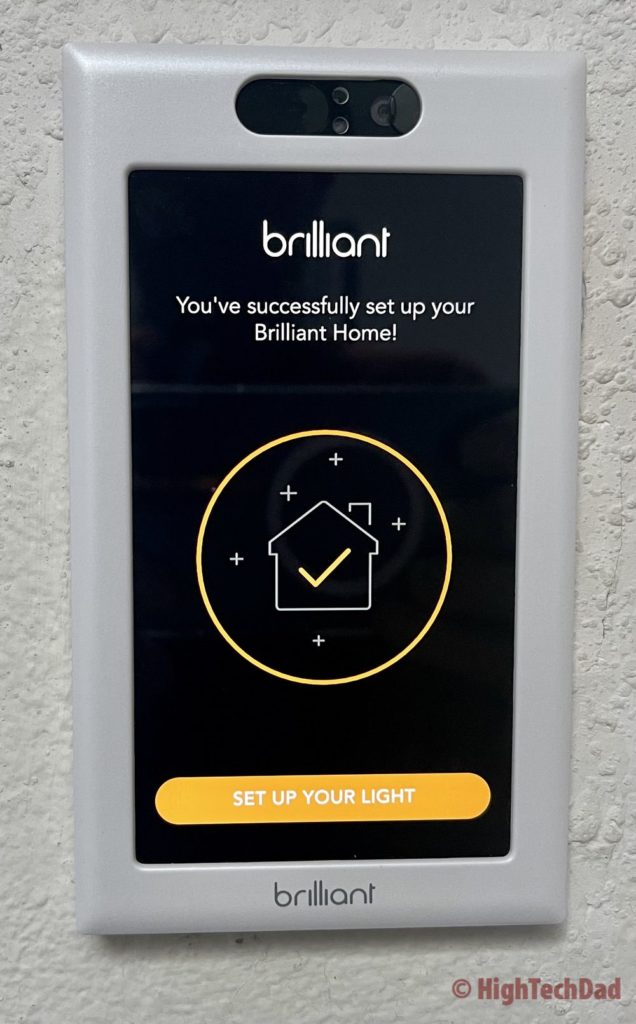 If you want to see the initial setup steps, please take a look at my original review. While some of the processes may have been refined over time, the steps are quite similar (if not easier). Since my home was already configured into the Brilliant ecosystem, my configuration was quite a bit easier and faster.
The high-level steps are:
Connect to WiFi – be sure you have a 2.4 GHz WiFi connection as 5 GHz does not work
Attach to existing Brilliant home – you will get a security code from another Brilliant switch to type into the new switch
Name the switch – create a short name to identify the switch within your smart hubs or other connections
Configure the switch – explain the type of switch it is, does it control lights or a plug, for example
Test the light – in my case, it was a light switch, so Brilliant needed to test it out to ensure the light could dim and not flicker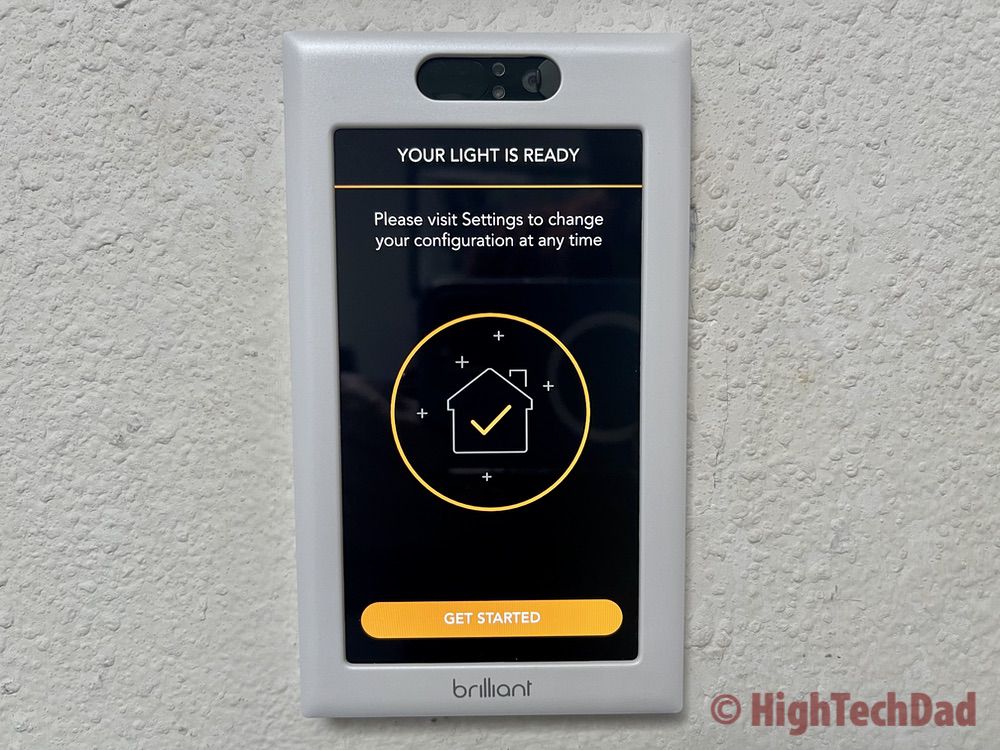 I found that the configuration process, while faster than an initial setup, still took a bit of time. It was even more time than the physical wiring process itself. But all in all, I had the new Brilliant Smart Home Control installed, configured, and integrated into my smart home in about 30 minutes total!
What can you do with the Brilliant Smart Home Control switch?
The great thing (that I have mentioned previously) about Brilliant is the fact that it integrates with a variety of other smart home devices, and it is a stand-alone hub as well. You can easily add any Brilliant switch into Google Home, Amazon Alexa, Samsung SmartThings, and Apple HomeKit. I have all four showing my three Brilliant switches.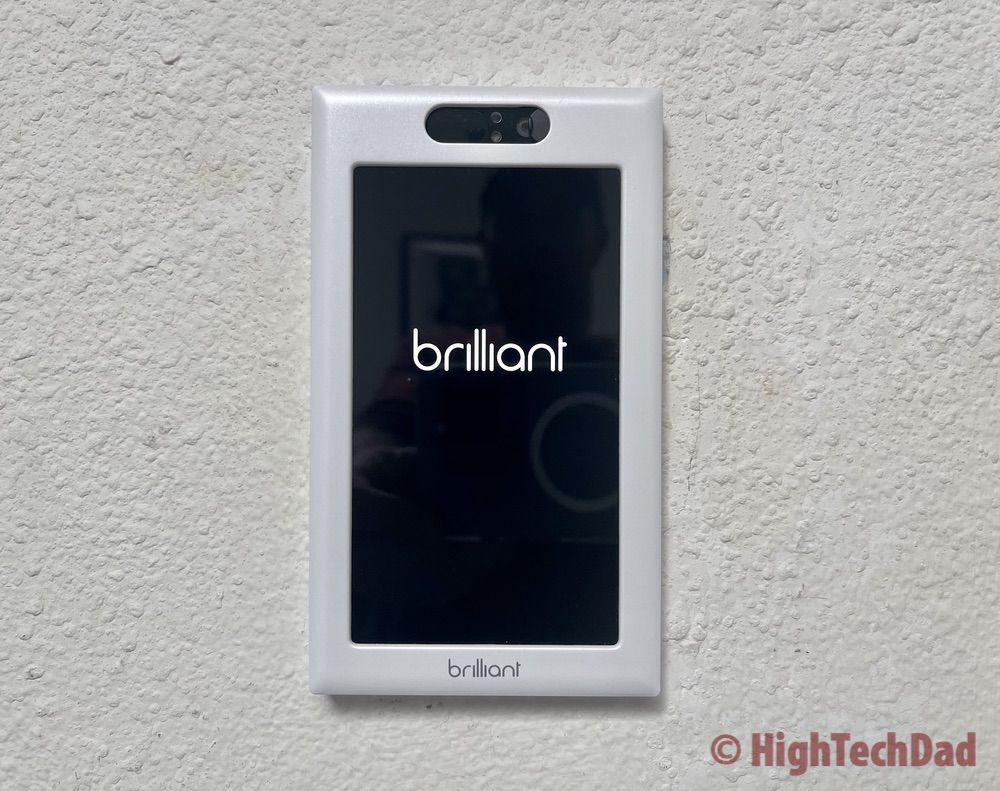 If you have these smart home hubs and voice assistants (Google, Amazon, Samsung, Apple, or others), you can add the Brilliant switches to groups or rooms or whatever. And they are fully controllable via those smart home services.
But more importantly, if you don't have one of the hubs I have mentioned above, you don't need one! The Brilliant Smart Home Control switch also lets you integrate several key smart devices directly. And once you do that, they will show up on the touch screen.
Brilliant seems to regularly add some of the most popular services and devices, spanning a range of types: voice assistants, lighting, climate, cameras, locks, music, hubs, and more. Here are a few that I have integrated into my smart home and the Brilliant system (but I would HIGHLY RECOMMEND you take a look that the "Works With" page on the Brilliant website):
Voice Assistants – Amazon Alexa, Google Assistant, Apple HomeKit
Lighting/Switches – connected some via Samsung SmartThings
Thermostats – previously, I had my ecobee thermostat connected, now I have my Google Nest connected
Cameras – currently, only Ring is compatible, but I can view my doorbell and floodlight cam with just a click on the screen
Locks – Brilliant has many integrations, but the one I currently have configured is with August
Music – there is tight integration with Sonos, and you can play, pause, skip, and view album art on the screen
Hubs – remember, Brilliant is its own mini-hub, but I have connected devices available on my Samsung SmartThings hub as well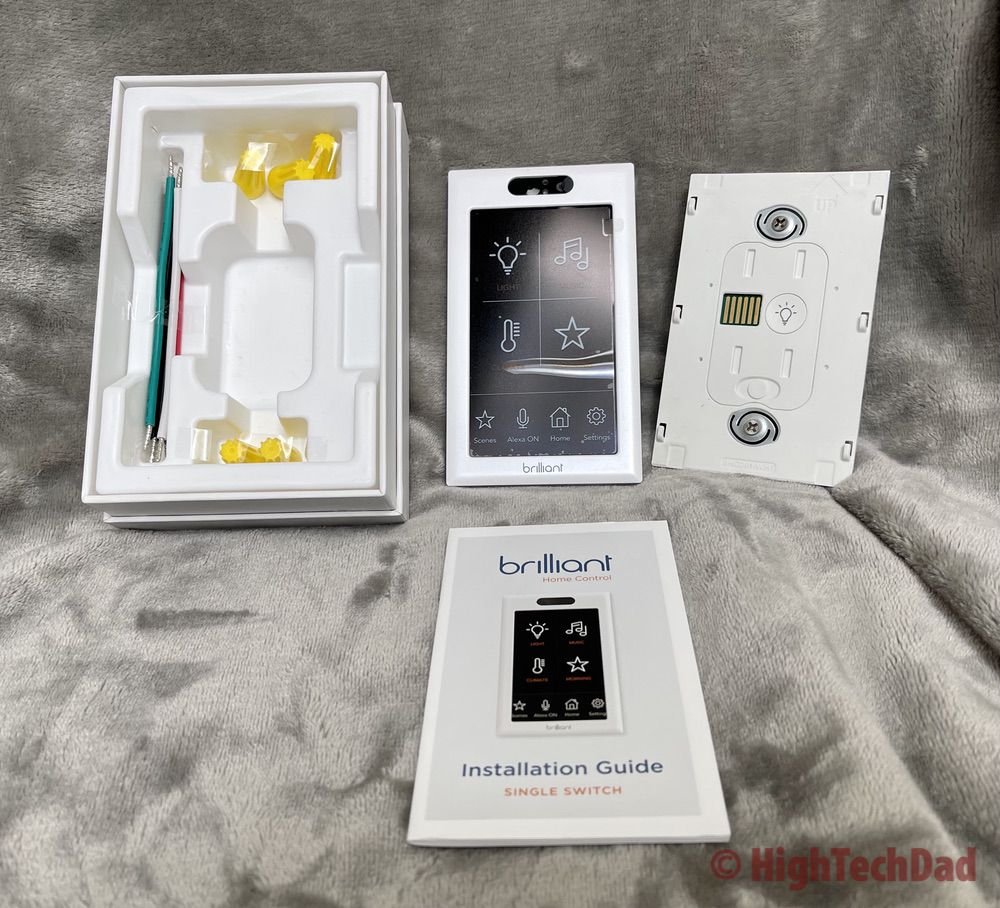 I want to highlight a few other nifty features of the Brilliant smart switch. I go into some of these in my previous review as well, so I will only briefly touch on these.
Mini picture frame – instead of showing the weather or stock photos that are configured by default on the Brilliant switch, you can upload your own photos to Brilliant. Then, your light switches become mini digital picture frames that cycle through your uploaded photos.
Alexa built in – you can connect each of your Brilliant wall switches as Alexa-enabled devices. Once connected and if the built-in mic is enabled, you can speak commands that the Brilliant switch will respond to. (Note: the speaker built into the Brilliant switch is a bit tinny sounding.) Since I already have an Amazon Dot in my office, I disable the built-in Alexa.
Motion detection – if you are installing the Brilliant switch into a bedroom, you may want to enable the motion detection and tie that to the screen display. I have my office switch configured to turn off after a set amount of time of minimal to no motion and then turn back on if the detected motion is above a certain threshold.
Video & Voice Intercom – we are a loud family, so normally, we simply scream at the top of our lungs to tell someone something. However, my office and our master bedroom are on either side of the house, where screaming might not be a good thing. I can do an audio or video intercom between switches as well as do a general broadcast. You can do this with video as well; however, we have disabled video across our home using the physical slide switches that cover the video camera.
The Brilliant Smart Home Control switch continues to be…brilliant!
Over the past years, it does feel like Brilliant has fine-tuned the experience as well as added new integrations into their compatibility matrix. Also, these switches are now available in places like Home Depot, Amazon, Crutchfield, B&H, and other locations…or directly from Brilliant themselves.
Brilliant has two new devices, a Smart Dimmer and a Smart Plug, that I'm hoping to review in the coming months as well. Both of these do require you to have a Brilliant Control for connectivity and control.
Shop on HighTechDad
The product shown below (and related products that have been reviewed on HighTechDad) is available within the HighTechDad Shop. This review has all of the details about this particular product and you can order it directly by clicking on the Buy button or clicking on the image/title to view more. Be sure to review other products available in the HighTechDad Shop.
After multiple years of using two Brilliant smart switches daily and then having installed a third one in literally just a few minutes, I continue to have a very high opinion of this smart home device. If compatible with your home wiring, it is a great way to get started with a smart home environment or to build out your smart home if you already have existing ecosystems.
Disclosure: I have a material connection because I received a sample of a product for consideration in preparing to review the product and write this content. I was/am not expected to return this item after my review period. All opinions within this article are my own and are typically not subject to editorial review from any 3rd party. Also, some of the links in the post above may be "affiliate" or "advertising" links. These may be automatically created or placed by me manually. This means if you click on the link and purchase the item (sometimes but not necessarily the product or service being reviewed), I will receive a small affiliate or advertising commission. More information can be found on my About page.
HTD says: Making your home smart has never been easier than by outfitting your home with Brilliant Smart Home Controller switches. These smart switches are easy to install, bring lots of smart home integrations, and simply look great.
HighTechDad Rating
Ease-of-Use

Family-Friendly

Price Point

Features
Summary
Making your home smart has never been easier than by outfitting your home with Brilliant Smart Home Controller switches. These smart switches are easy to install, bring lots of smart home integrations, and simply look great. If you are looking to set up a new smart home or add to your existing one, the Brilliant switch is one that should be at the top of your list. It is super easy to install provided you have the proper wiring and the configuration can be done via the touch-screen display. It's almost like having a smartphone attached to your wall. You can not only control lights directly attached to the switch, you can also integrate other services and devices to be controlled on the Brilliant screen (e.g., locks, lights, music, cameras, and more). After almost 3 years, I still highly recommend the Brilliant switch.
Pros
Easy to install, set up, and use
No need for a hub as it integrates with several devices and services
Digital frame is a great add-on to the touchscreen light switch
Cons
More expensive than less capable smart switches
Voice of Alexa is a bit tinny