First, I have to state that I typically do not write about alcohol on my site. (If you are of legal drinking age and drink, please drink responsibly!) But, on the other side, I AM a big fan of single-malt scotch, so when BroBasket reached out to me to ask if I wanted to "review" one of their gift baskets…er…BroBasket, it was next to impossible to say no! And if you are looking for that perfect gift for your bro (or bestie for you gals out there). You don't want to send something a bit impersonal like flowers or something that is just looked at once and discarded; you are definitely going to want to look at some of the "gift baskets" that BroBasket has to offer! (*Disclosure below.)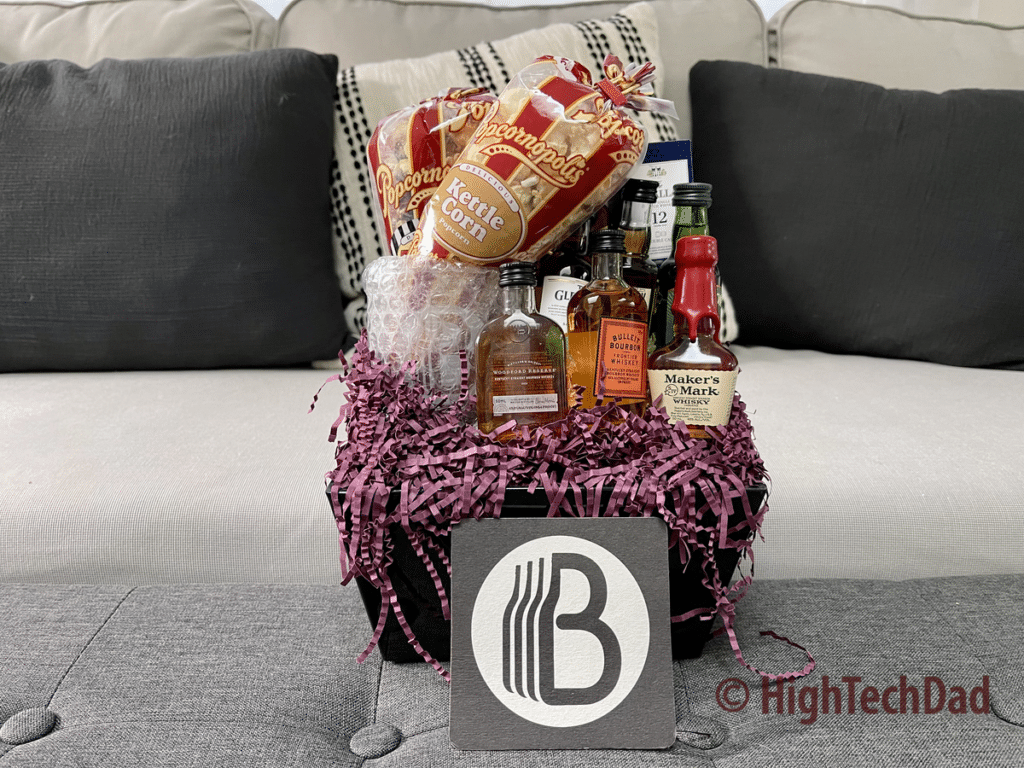 The kind folks at BroBasket sent me what turns out to be their most popular basket – the Ultimate Whiskey Sampler. For a little over $100, you will make any whiskey drinker happy. It comes with a wide variety of scotch and bourbon in what I call those little "emergency" bottles (like the ones you get on airplanes). By the way, there is a discount code at the end of the article!
What is the BroBasket?
The BroBasket I received, The Ultimate Whiskey Sampler, came with the following "emergency" bottles:
1 – Johnnie Walker Black Label 50ml
1 – Glenlivet 12 year 50ml
1 – Glenfiddich 12 year 50ml
1 – Jameson Irish Whiskey 50ml
1 – Makers Mark Bourbon 50ml
1 – Woodford Reserve 50ml
1 – Bulleit Bourbon 50ml
1 – Larceny Bourbon 50ml
1 – Macallan Double Cask 12 year 50ml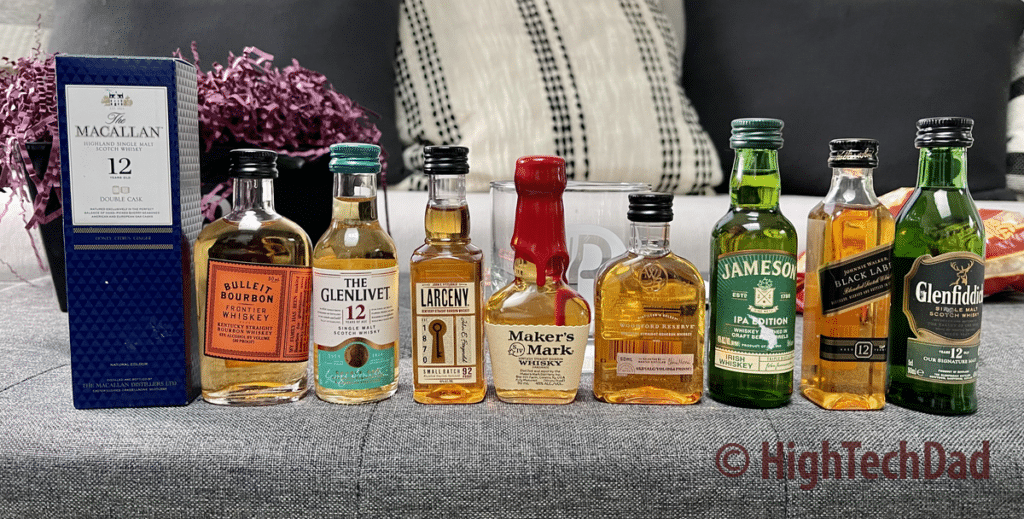 It is nicely packaged in a BroBasket reusable container (which we actually now use to hold all of our TV remotes – that was my idea, but my wife actually thought it was a good idea, for once – haha).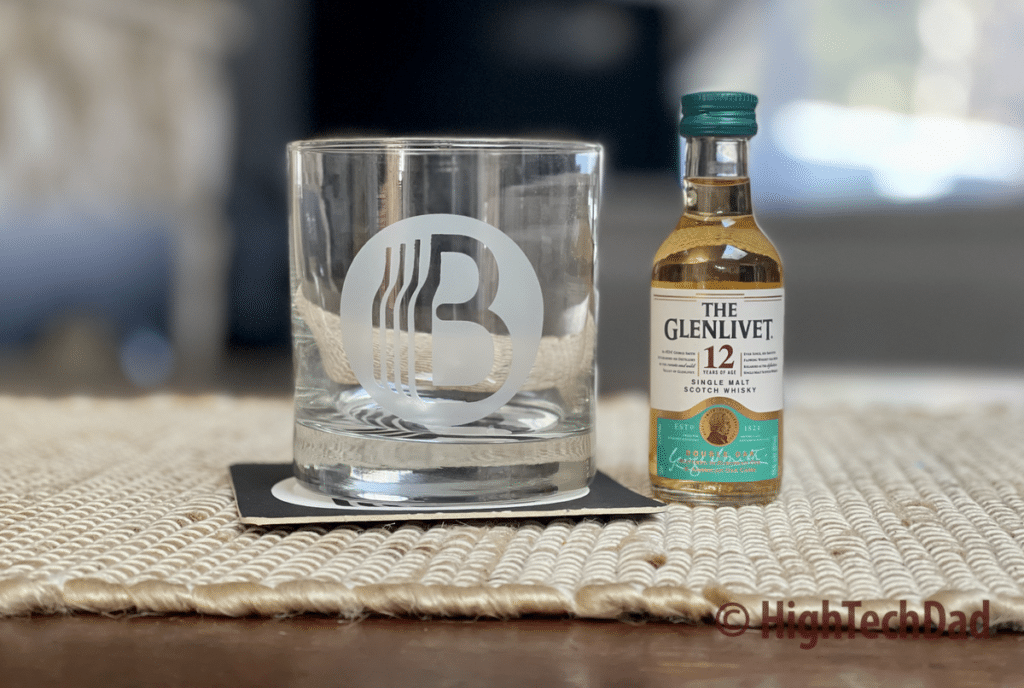 It also has a laser-engraved BroBasket rocks glass (I prefer my scotch neat, so I will just call it my "neat glass").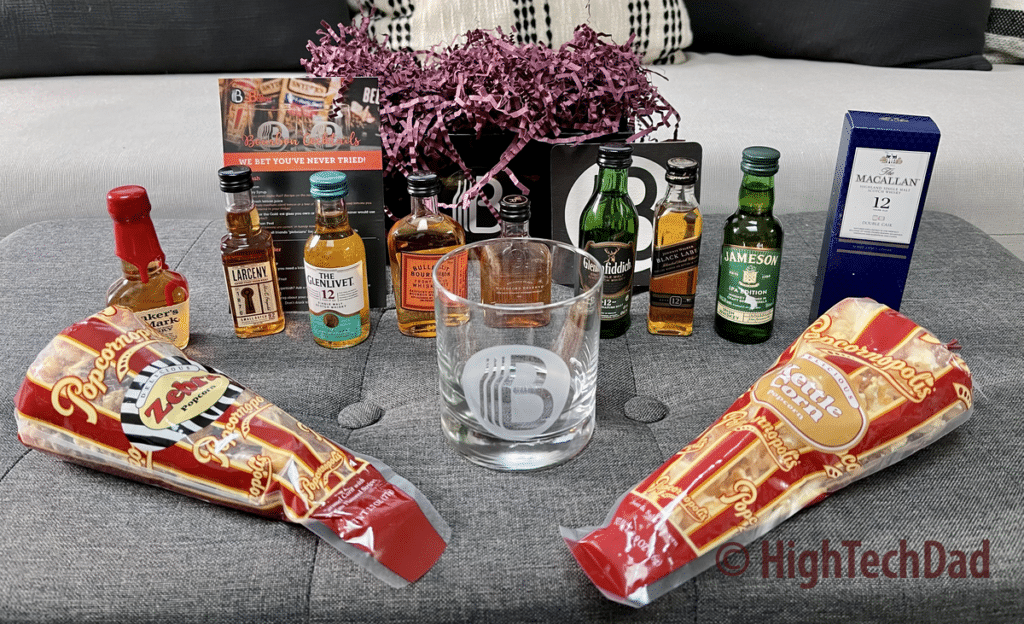 And, it comes with some "food" – specifically, two bags of Popcornopolis Gourmet Flavored Popcorn. Remember, it really isn't a good idea to drink on an empty stomach (and be sure to drink water while you consume alcohol).
Lastly, if you are stuck for drink ideas, the BroBasket also comes with a couple of mixology/recipe drink cards. But as I said, I like my whiskey neat to experience the true flavors and smells as they were crafted.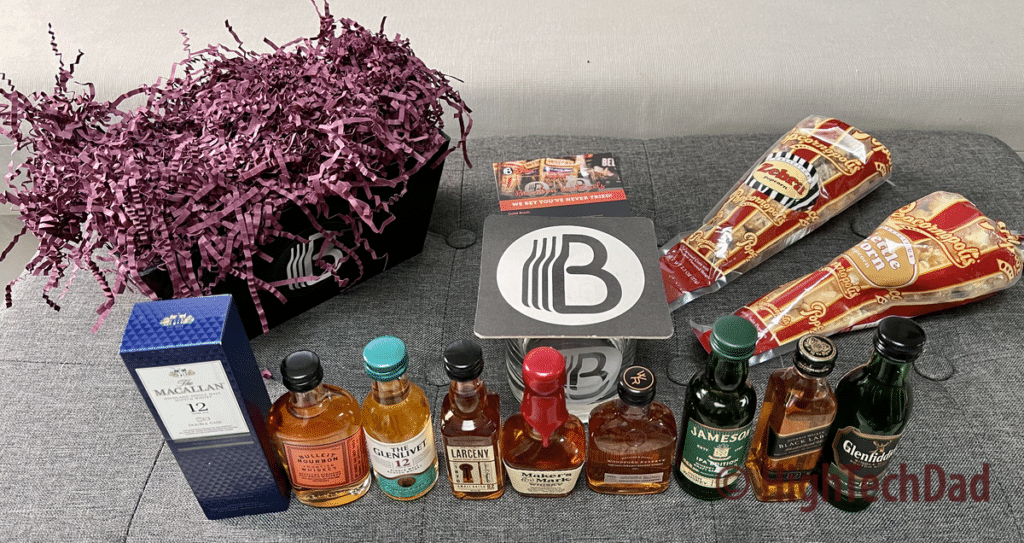 According to the folks at BroBasket, their Top 5 most popular baskets are:
There are definitely some good choices available. Their site does offer other ideas based on who you are shopping for. You can search by Occasion, by Relation, by Age, by Brand, or by Type of Alcohol. And they even have a section devoted to Groomsmen gifts. They do offer engraved bottles as well.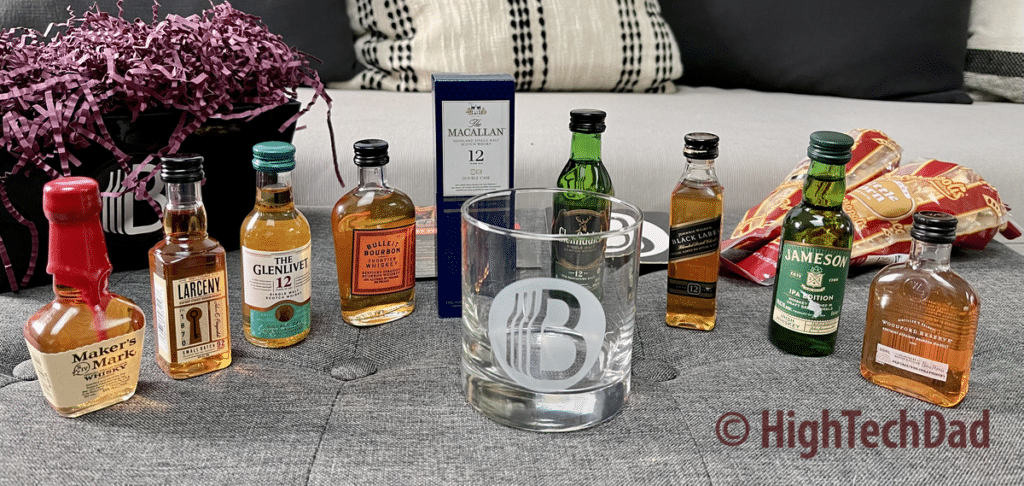 And beer and wine are also available, as well as non-alcoholic drinks. So honestly, there are a lot of choices for any type of bro or bestie. Just make sure they are of drinking age!
Or, perhaps you are looking for a great corporate gift for your boss or your employees. Again, there are a variety of options available for that. And with their engraving service, you may be able to get your corporate logo engraved on a glass or bottle – hmmm, a rocks glass with the HighTechDad logo would be a really great thing to have!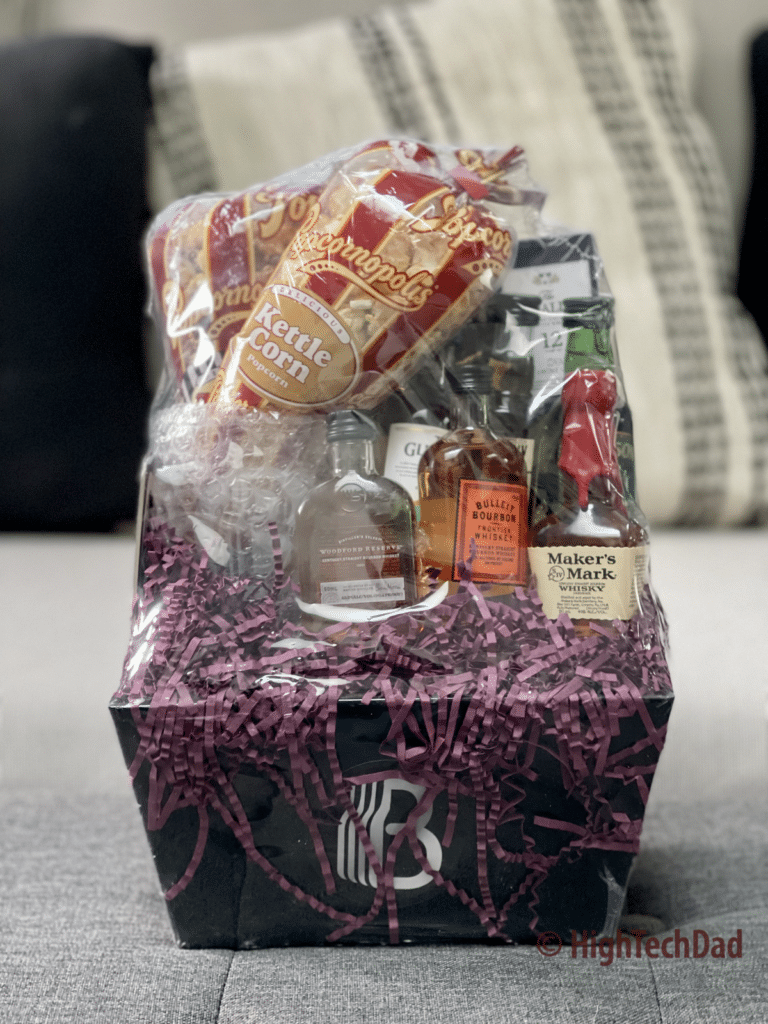 Each BroBasket is carefully packed and shrink-wrapped to ensure that it arrives at the recipient safely.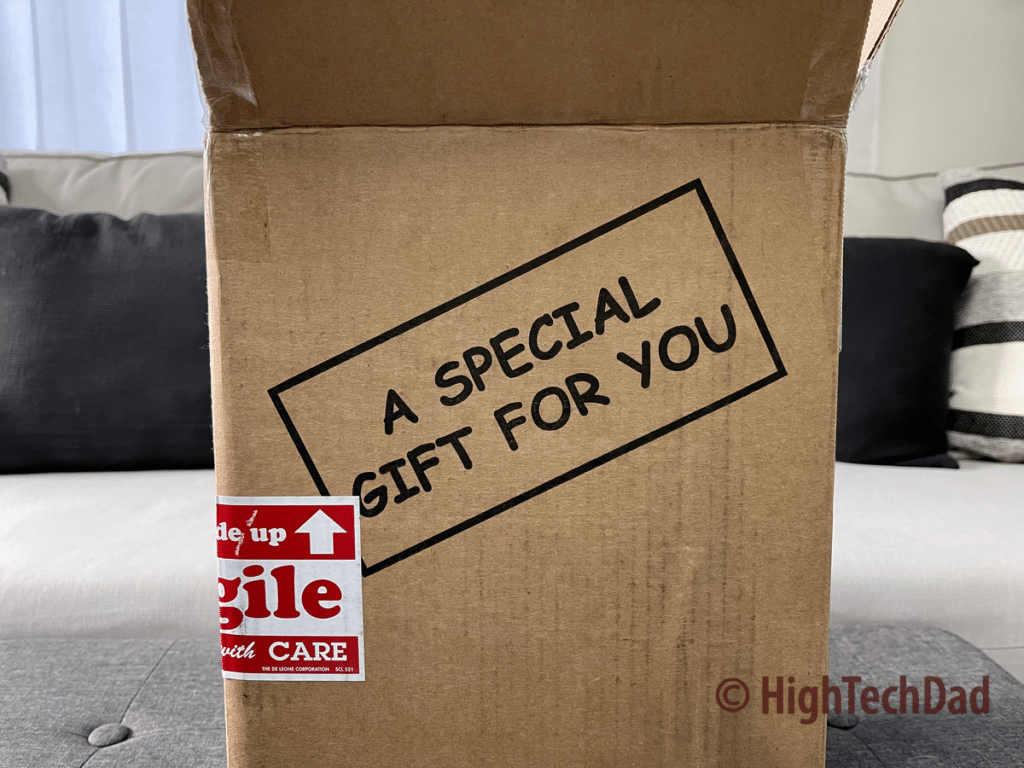 I have a "special gift for you!" You can use the code "CLUBS" for a 12% discount on your next order from BroBasket.
I encourage you to read through their backstory as I found the evolution of their business plan and implementation to be quite interesting. Also, it is important to note that a third of their buyers are women, so the BroBasket is not just for guys.
The bottom line here, if you need to send your buddy a gift basket, forget about flowers or something that just looks or smells "pretty" and is then just thrown out. Instead, with the same budget, you can get the BroBasket that will definitely warm their innards and heart. And if you time things well, maybe you can partake in the consumption of the gift with them!
Disclosure: I have a material connection because I received a sample of a product for consideration in preparing to review the product and write this content. I was/am not expected to return this item after my review period. All opinions within this article are my own and are typically not subject to editorial review from any 3rd party. Also, some of the links in the post above may be "affiliate" or "advertising" links. These may be automatically created or placed by me manually. This means if you click on the link and purchase the item (sometimes but not necessarily the product or service being reviewed), I will receive a small affiliate or advertising commission. More information can be found on my About page.
HTD says: Sending a bouquet of flowers to your buddy is foolish. With the BroBasket, they get a nicely packaged gift basket of fine drinks that will definitely be a conversation topic for time to come!