In my book of home essentials, having a good emergency lighting solution is near the top of the list. I used to have a stash of flashlights throughout the house, but unfortunately, these were older, and often the batteries were worn out, making them not very good when you instantly need them. So when HOKOLITE asked me if I wanted to review some of their rechargeable spotlights and lanterns, I quickly replied, "yes!" This review covers the 6000 Lumens LED Rechargeable Spotlight and the 3000 Lumens 360 Degree Rechargeable Camping Lantern, two lighting devices that I feel cover most of my needs. (*Disclosure below.)
Nowadays, you are silly not to have some sort of LED flashlight. LEDs burn longer and seem to be much brighter. How many times have you picked up a flashlight in a moment of need, only to turn it on and have a dim, yellow light come on, only illuminating a few feet in front of you? You hit the side of the flashlight in hopes of jarring the old batteries into a bit more brightness and find that your efforts pretty much produce zero results. Then it is off to find new batteries that are the right size.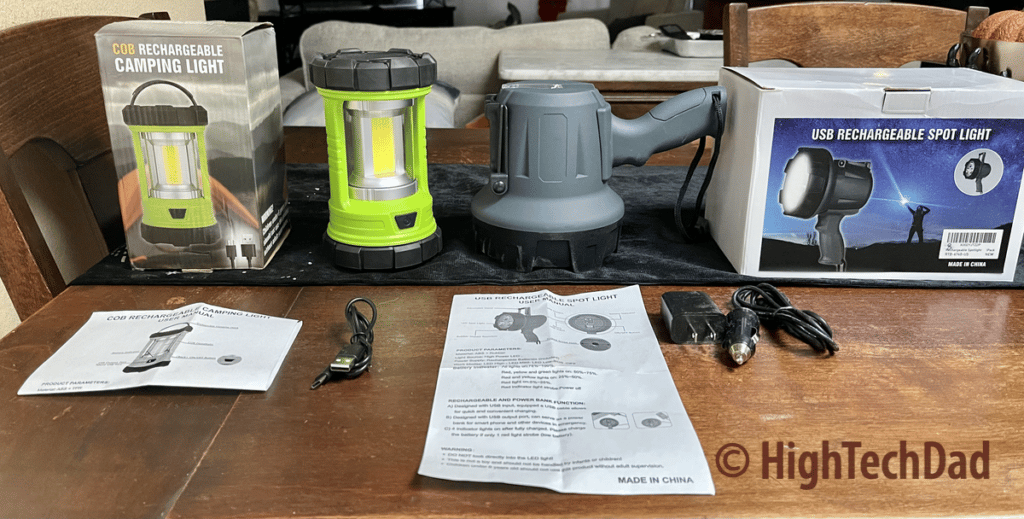 As I started looking for new types of flashlights and other lights before I got the HOKOLITE lights, I had a few core requirements:
LED – the lightbulbs had to be LEDs for brightness, the fact that they seem last longer, and they don't seem to dim out when the battery is low
Rechargeable – while batteries are convenient, you do have to have them on hand. I wanted a device that I could simply recharge and not worry about replacing batteries
Bright – as mentioned, LEDs seem to be quite bright, but you need to look at the total lumens they throw and get lights that have high lumens
Multi-level – you want to get a light that has adjustable levels of brightness. Using fewer lumens means that you can extend the battery life
Both of these HOKOLITE lights checked off the four requirements listed above. But they went beyond these four items and included some additional features making them quite handy.
Additional Lighting Features of the HOKOLITE Spotlight and Camping Lantern
In addition to being rechargeable, bright, multi-level LED lights, both of these HOKOLITE lights also had multiple modes of lighting, making them even more functional in different environments.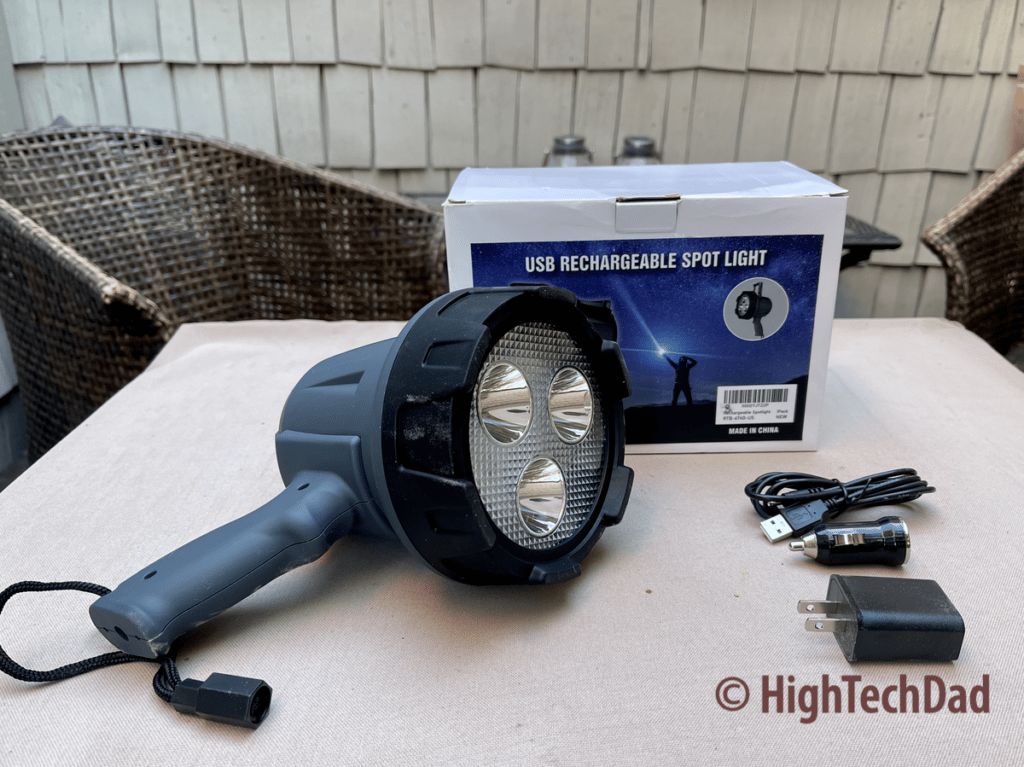 For example, the HOKOLITE Spotlight has four different light modes:
High – at 6000 lumens, on a fully charged battery, the Spotlight can last 2-3 hours
Medium – 3000 lumens lasts 3-5 hours
Low – 1500 lumens gets you 5-7 hours of light
Strobe – this mode lasts over 7.5 hours
The strobe mode is quite great to have for emergencies as well. Not only can it be left on in this mode for many hours, but the strobe is also an SOS pattern, making the Spotlight an essential emergency beacon or camping light!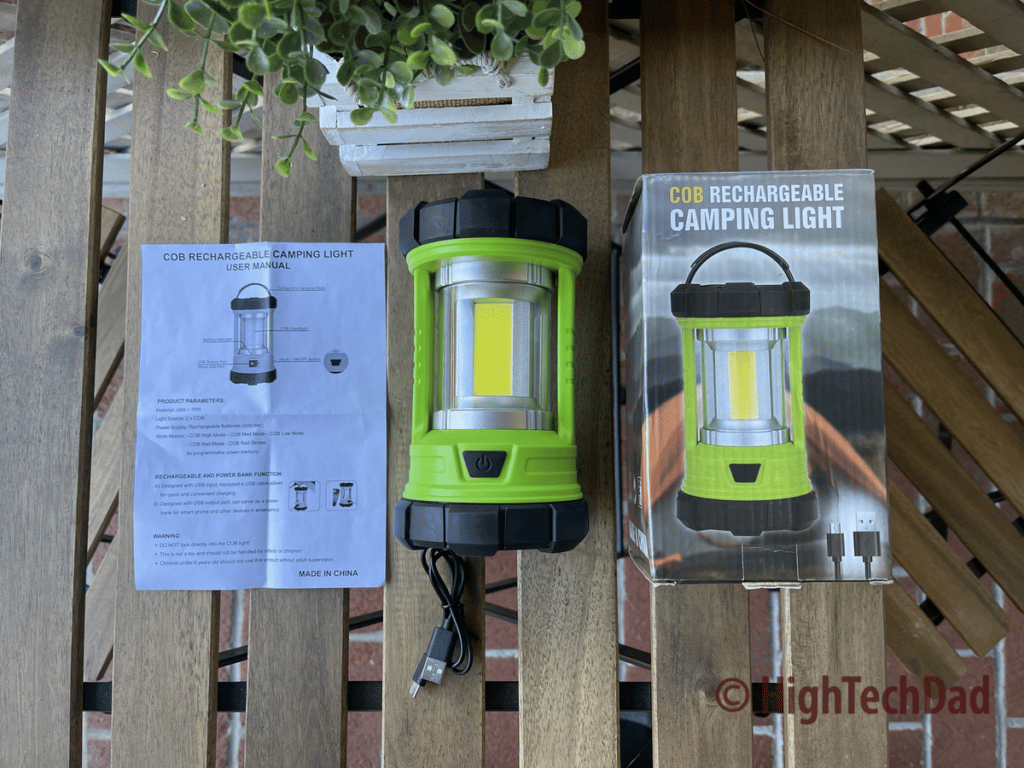 The HOKOLITE Camping Lantern also has multiple modes, a bit more oriented towards camping but still a great lantern to have around the home. It has five different modes:
High – at 3000 lumens, on a full charge, the lantern can last 3-4 hours
Medium – 1500 lumens will last between 5-7 hours
Low – 900 lumens will extend more than 10 hours
Red – lasts about 7-8 hours
Red Strobe – more than 10 hours
The High mode of the HOKOLITE Camping Lantern is perfect for nighttime dinners at a campsite or lighting up a backyard environment with friends and family. It is pretty bright (I recommend not looking at the light directly as you will become night-blind). The Low mode is excellent for getting ready for bed in the tent or having a more subdued lighting environment in the backyard.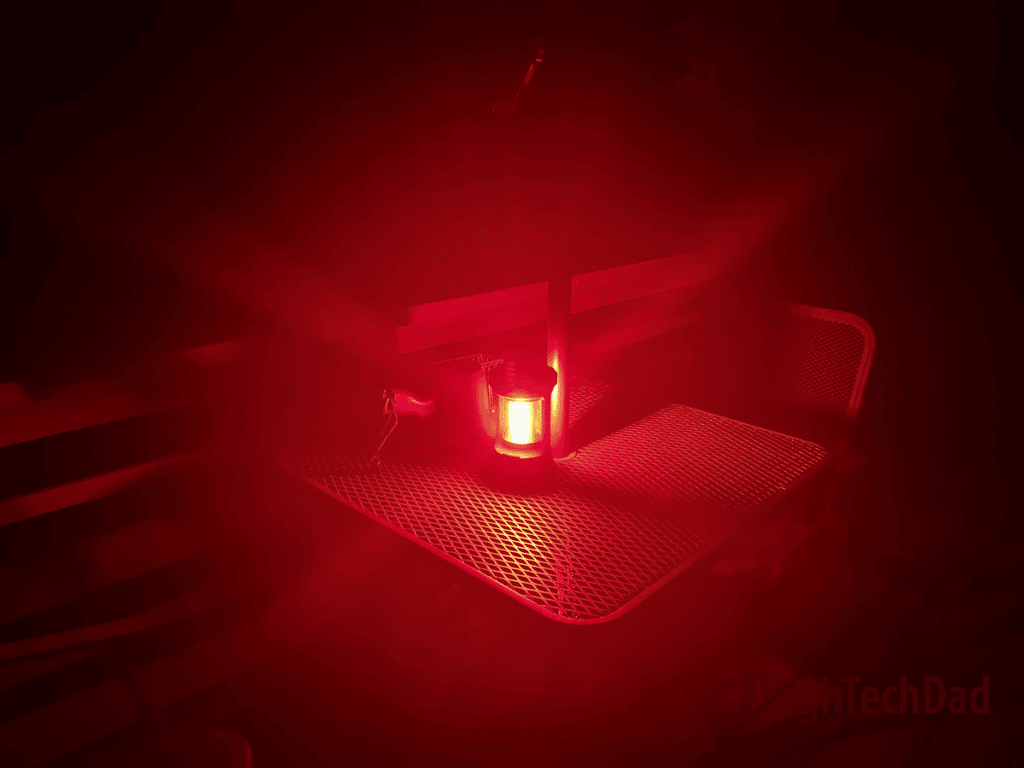 The Red mode provides you with better night vision yet still allows you to see details, read books or maps, or provide some sort of beacon. And the Red Strobe mode is essential for emergencies, especially since it lasts for a very long period of time.
Core Details of the HOKOLITE Spotlight
I wanted to dive into a few more unique specifics of these HOKOLITE lights. First, let me start with the Spotlight. Apart from the various lighting modes I described above, the Spotlight offers quite a few additional great features.
For starters, it has a 6600mAh lithium-ion battery built-in. The package comes with a USB charger (note: while one end is USB Type-A, the other is cylindrical and a bit harder to come by, so be sure you don't lose it – it's a DC charger port). The package also comes with a USB Type-A wall plug and a USB Type-A car charger (which allows you to charge this Spotlight in your vehicle).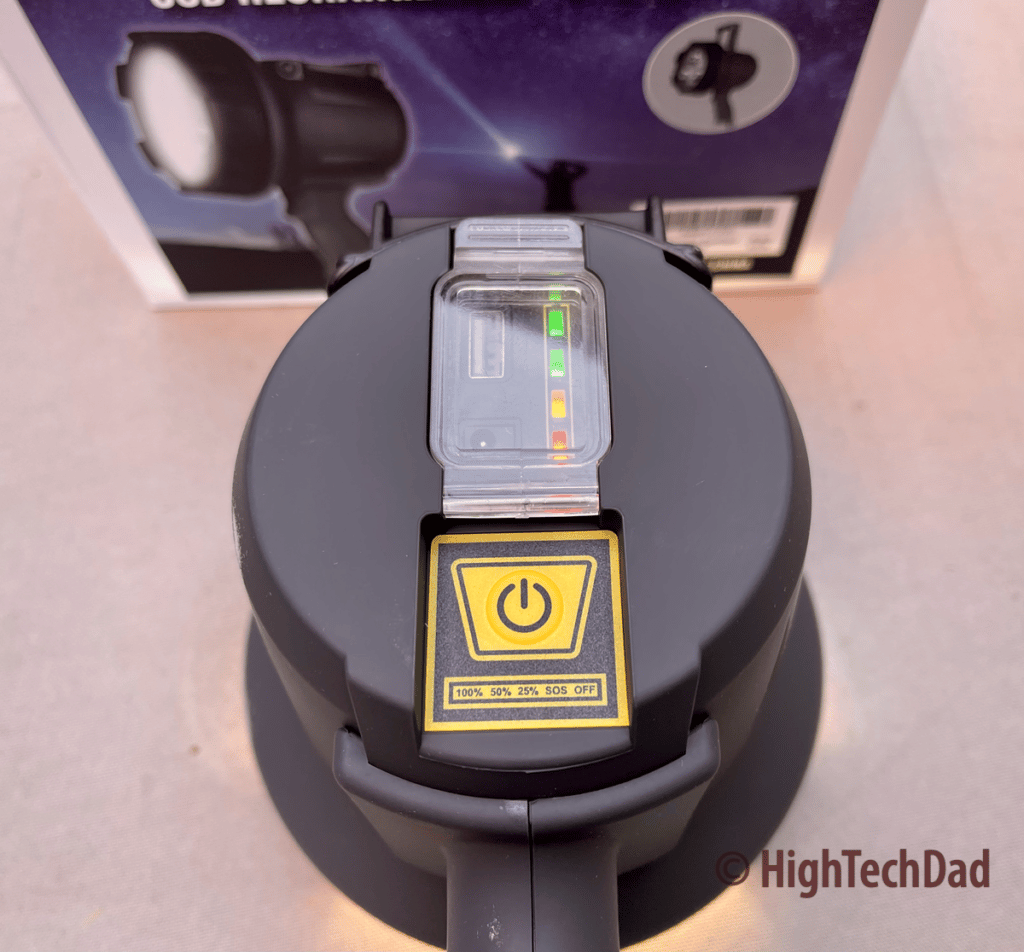 There is also a USB Type-A port on the Spotlight itself. This is for the output of power, allowing you to charge a smartphone or other small USB-powered device, another emergency essential.
There is also a colored LED battery indicator to quickly tell you the battery level of the Spotlight. You can activate the battery level by pressing the power button directly below it. Charging time is not specified (and I have not tested it fully yet), but I'm assuming you need a few hours to get a full charge.
While I expected the on/off switch to be built into the comfortable handle, the switch is actually located on the back. So you can easily turn it on with your thumb.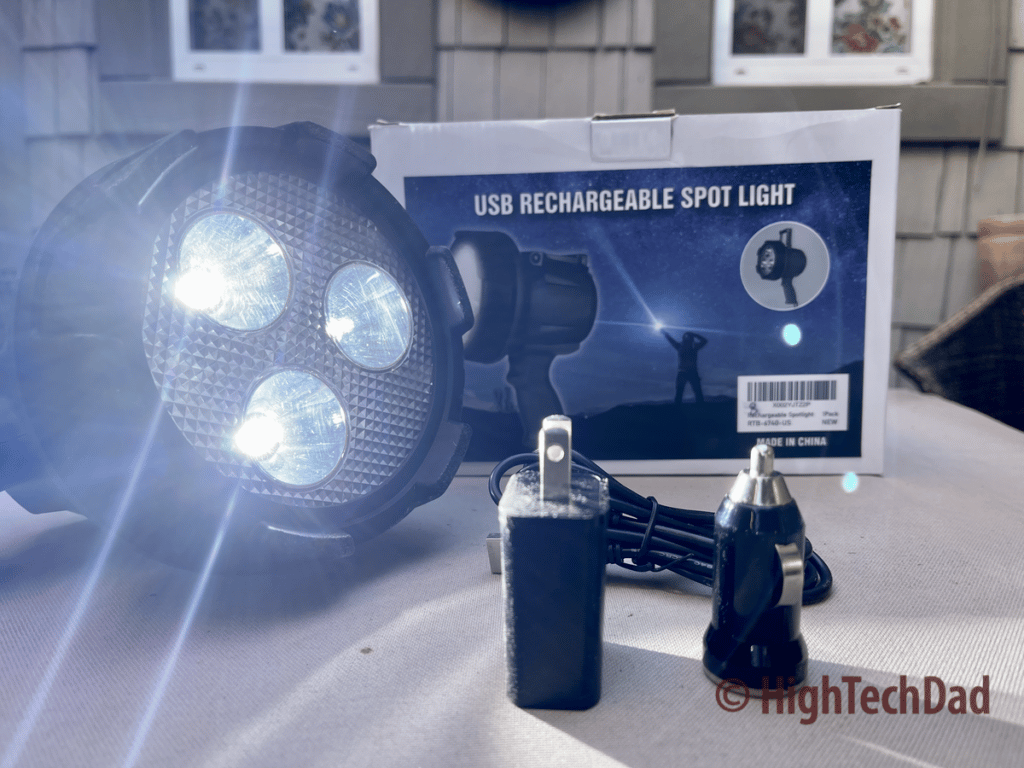 The Spotlight is also impact resistant. It does feel quite rugged to the touch. And it is IP66-rated, meaning it is "totally protected against dust," and it is "protected against strong jets of water," making it ideal for camping or emergencies.
The HOKOLITE spotlight is also relatively lightweight, weighing about 2 pounds.
The HOKOLITE 6000 Lumens LED Rechargeable Spotlight retails for $65.99 and is available on the HOKOLITE site.
More Information about the HOKOLITE Camping Lantern
Like the Spotlight, the HOKOLITE Camping Lantern has some additional features that need to be shared. The five lighting modes are, of course, the key feature, especially the red light mode for night vision and emergencies.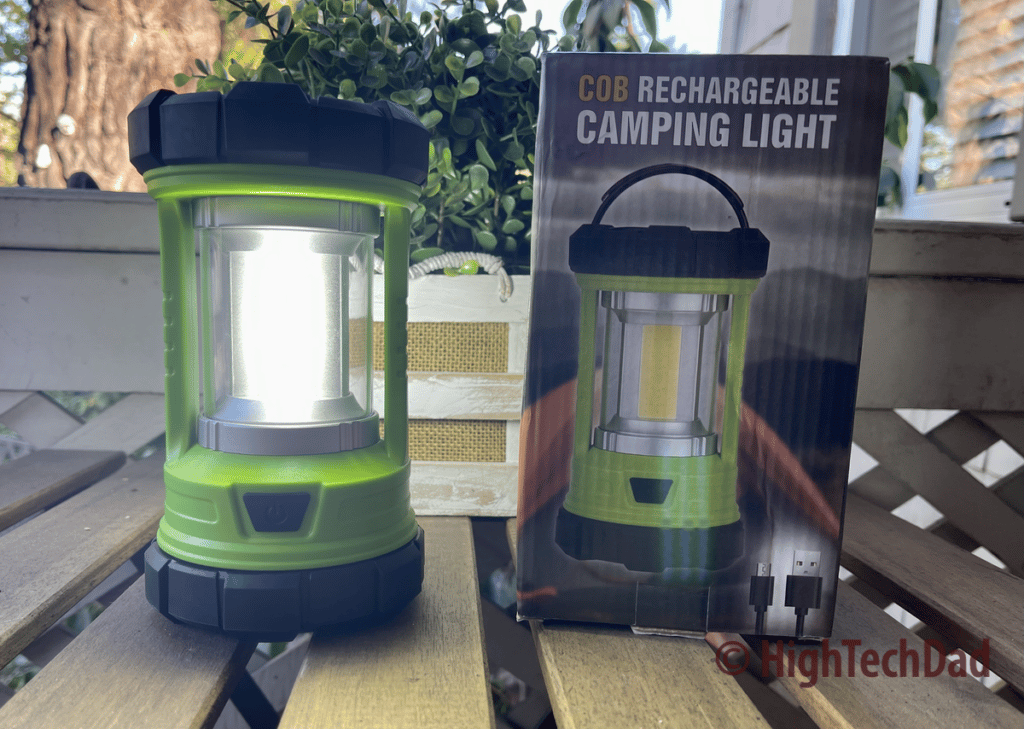 But this is also quite a good light for work around the house, garage, or yard, as it throws light almost 360 degrees. There are a couple of structure bars that block a little bit of light, but honestly, this camping lantern does throw out a bunch of lumination.
Inside, it has a 4400 mAh lithium-ion battery. It is recharged via a USB-A to USB-C cable included in the package. The USB-C port on the pack is for power input. The USB-A port is for power output, allowing you to recharge a smartphone or tablet. The ports are covered with a rubber flap to keep out moisture and dust.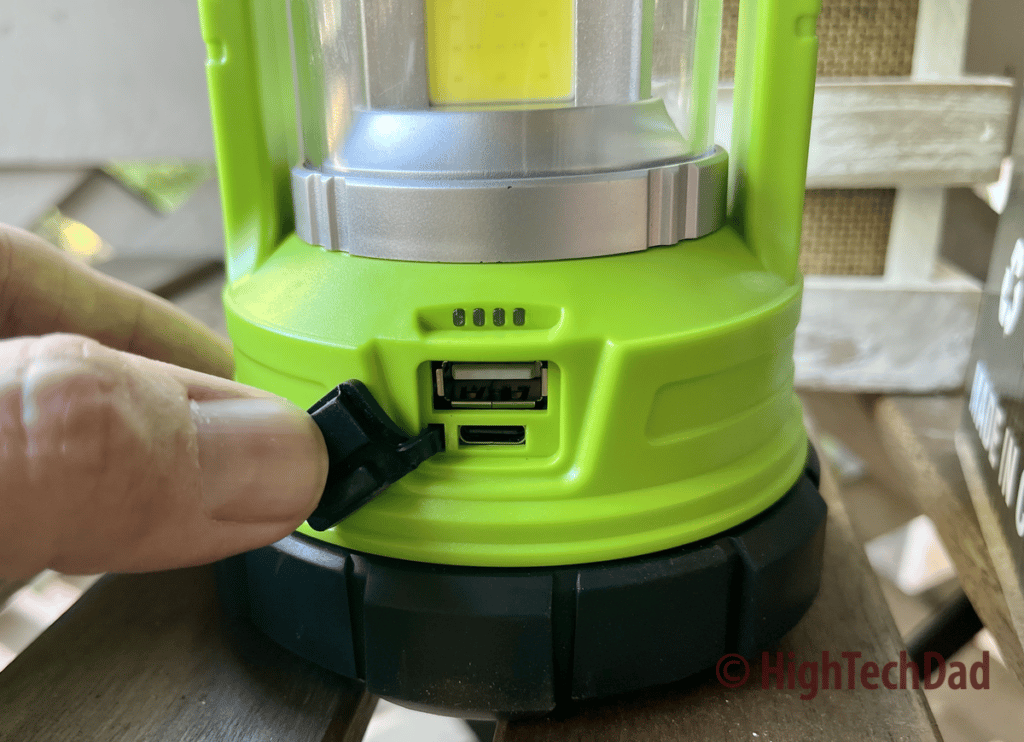 Directly above the USB ports is a series of 4 small LED lights that indicate how much charge remains in the battery. Charging time is between 3-5 hours.
On the other side is a rubberized power button. Pressing the button in sequence will cycle you through the various lighting modes.
The Camping Lantern has an IP44 rating which means it is "protected against solid objects over 1mm (wires & nails)" and is "protected against water splashed from all directions (limited ingress permitted)." So, this lantern is probably fine for around-the-house use, indoor use, and camping, as long as you are not in a dust or rain storm.
The Camping Lantern is very lightweight and weighs about 1.39 pounds. It also has a collapsable hook to allow it to be easily hung in a tent or from a post, for example.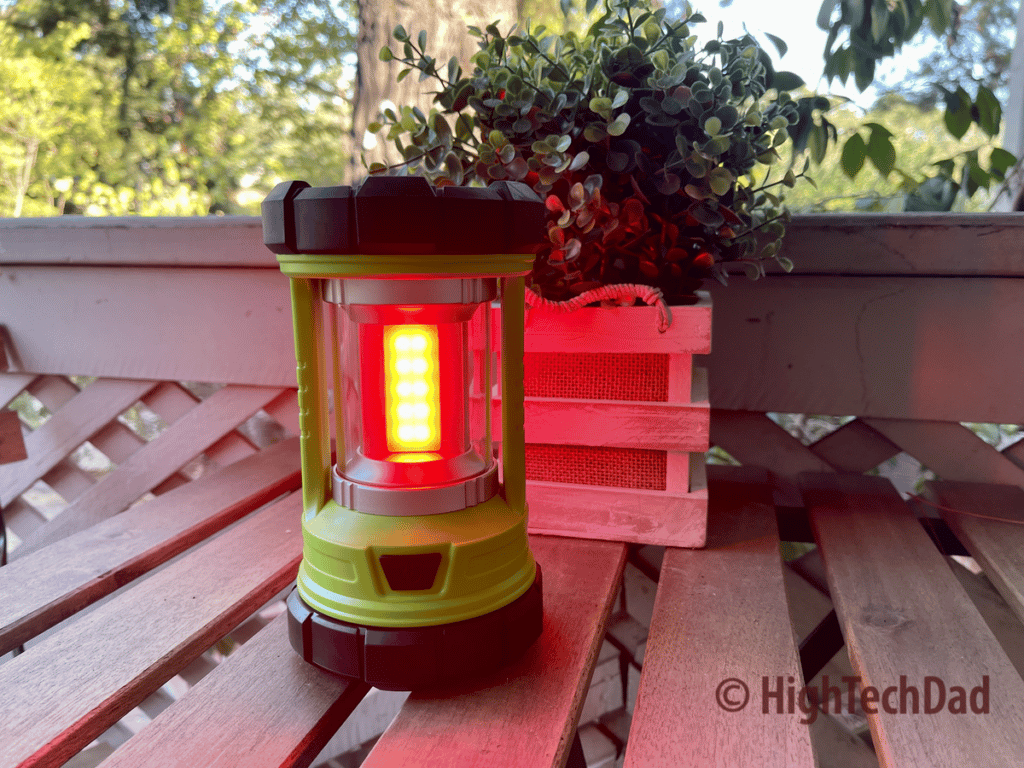 You can pick up the HOKOLITE 3000 Lumens 360? Rechargeable Camping Lantern for $38.99 directly on the HOKOLITE site.
Overall Thoughts on these two HOKOLITE Lights
Usually, I would provide a rating below my review article, but since there are two products within this review, I thought I would simply offer some additional thoughts on how these products are after using them.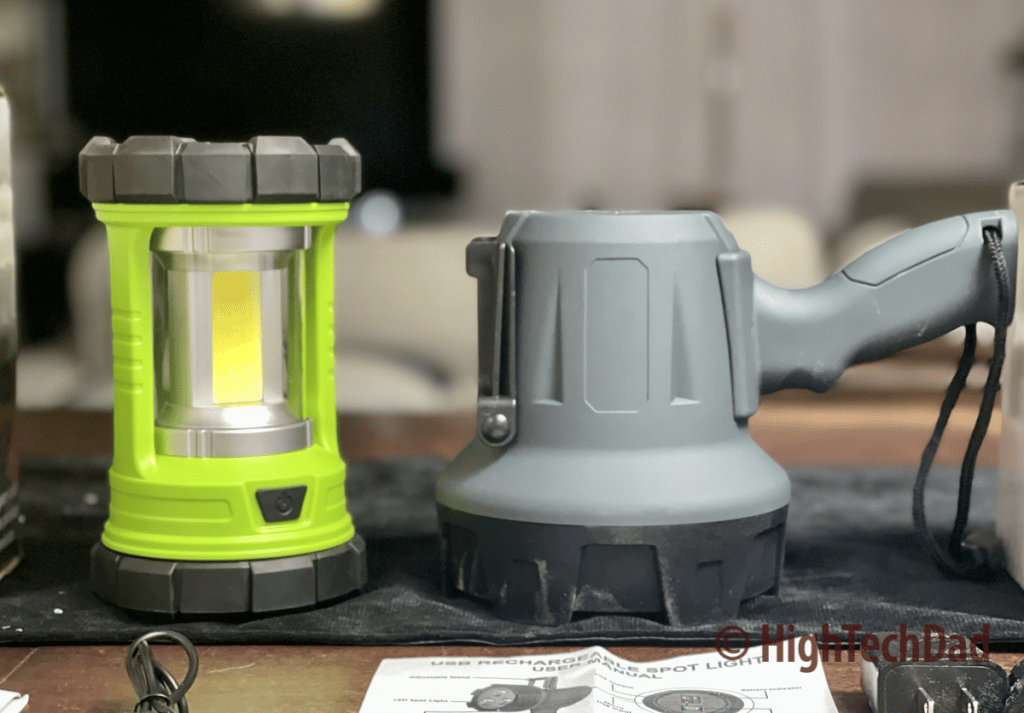 The HOKOLITE Spotlight is extremely comfortable to hold and very lightweight. The fact that it is extremely bright makes it an essential flashlight for home or on the go. Since the package includes a car charger, it's easy to move with you from home to nature and back. The 6000 lumens (full brightness) is great because it allows me to easily light up my backyard to see the various critters making noises late at night. And the flashing SOS pattern is vital for when you use it out camping. While I do feel that the price is slightly high, the fact that this is a rechargeable LED spotlight that also charges smartphones is a pretty good deal. Watch for sales at the HOKOLITE store!
Below is a side-by-side view of the spotlight – no spotlight on the left and fully lit up on the right.

The HOKOLIGHT Camping Lantern is also quite a useful light that can be used at home, in the backyard, or out and about. It, too, can charge smartphones and is a bit more reasonably priced. At full brightness, it is too bright to look at directly but can light up a room (in emergencies) or the outdoors quite well. The red light and red strobe are two nice additions. However, I do wish it had a slightly higher IP rating to be able to have it out in a storm as an emergency light.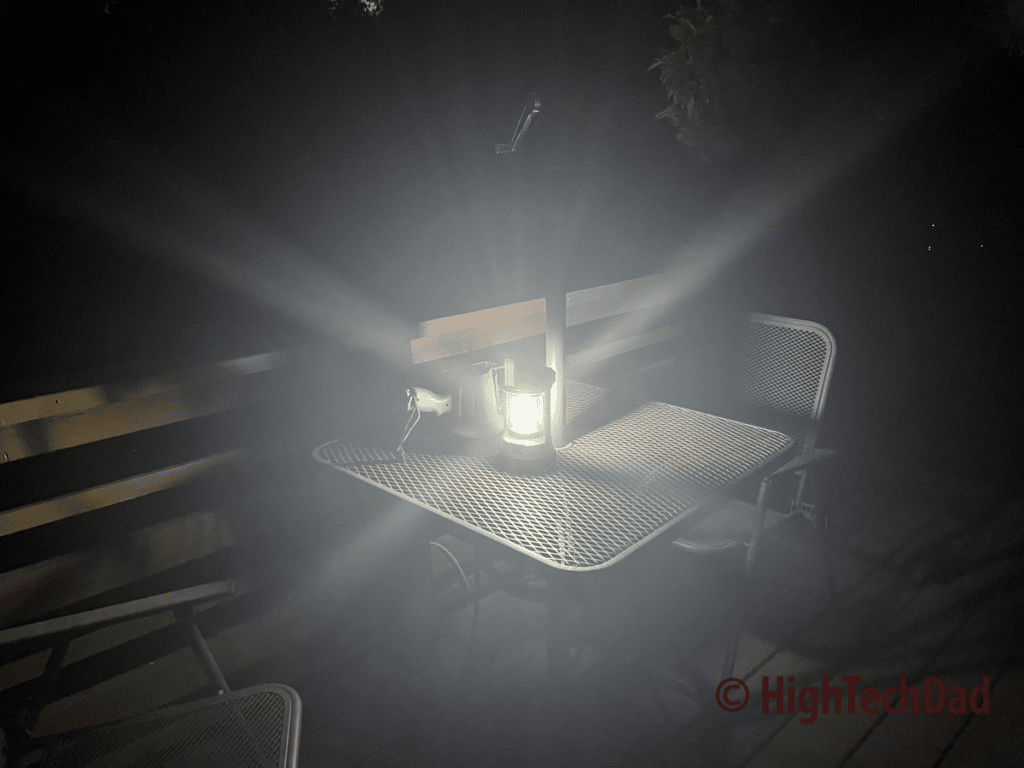 Bottom line, both of these HOKOLITE lights are great and extremely useful around the home and well worth the investment for both leisure and emergencies.
Disclosure: I have a material connection because I received a sample of a product for consideration in preparing to review the product and write this content. I was/am not expected to return this item after my review period. All opinions within this article are my own and are typically not subject to editorial review from any 3rd party. Also, some of the links in the post above may be "affiliate" or "advertising" links. These may be automatically created or placed by me manually. This means if you click on the link and purchase the item (sometimes but not necessarily the product or service being reviewed), I will receive a small affiliate or advertising commission. More information can be found on my About page.
HTD says: Having rechargeable LED flashlights, spotlights, and/or lanterns are essentials for home emergencies or out-in-Nature fun. These HOKOLITE lighting solutions make the darkness melt away with high luminosity and useful features.