I love backpacks. I wouldn't say I collect them, but if the right backpack catches my eye, I do my best to get it. This is especially true if the bag is designed to handle commuting and modern tech. But I am pretty picky when it comes to the backpacks that I review. There are many features that I feel need to be present; otherwise, I don't truly view them as a tech backpack. So when HyperDrive announced the features of their new HyperPack Pro backpack, I realized that I needed to review it. If you are a commuter, mobile worker, student, traveler, or someone who simply wants a well-designed, "techy," stylish backpack, you will want to read this review. (*Disclosure below.)
When you get a backpack, you often check out the main compartment, maybe the smaller compartment where your lunch might go, and perhaps look at a few other areas that hold other stuff. If you are lucky, there is a padded sleeve to hold your laptop. But in the case of the HyperDrive HyperPack Pro backpack, I have literally done a few sessions of just sitting and exploring all of the compartments, storage, tech or tech-ready features, design decisions, and innovations that make this backpack rate high on my geek and tech meter. And the nice thing is the construction is solid. It is made to handle commutes or travel or harsh day-to-day rigors.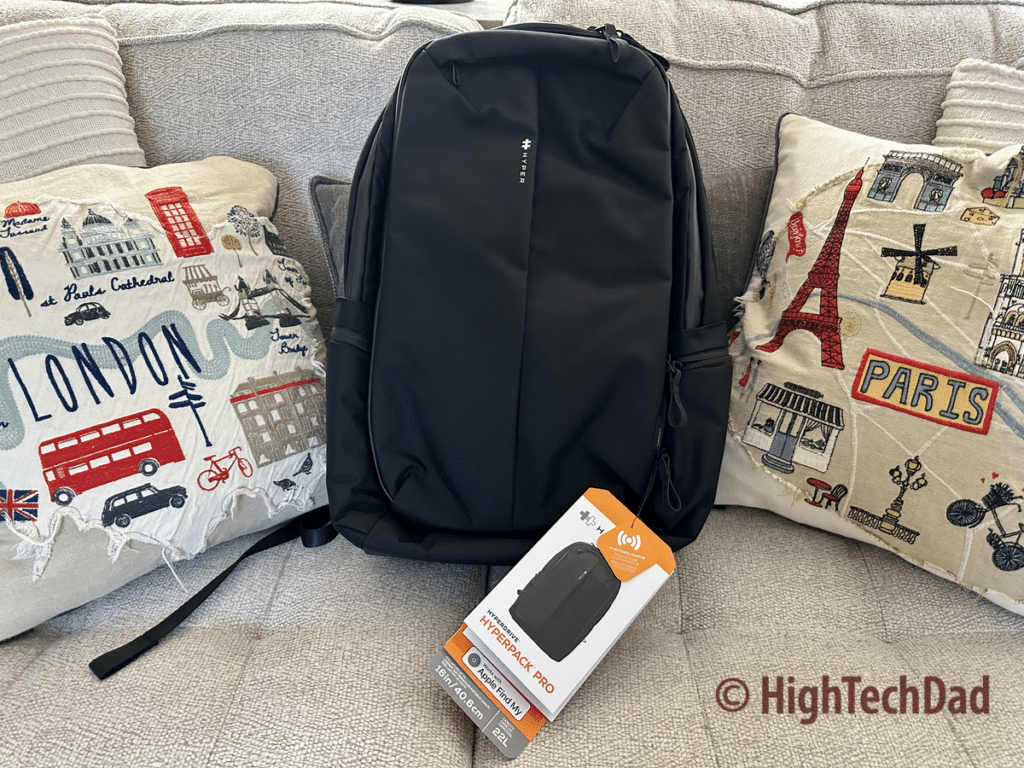 There are so many excellent features and design choices in the HyperPack Pro backpack that I will do my best to outline them all. I'm literally going to unpack this backpack so that you understand why I believe it is an excellent travel and commute backpack.
Table of Contents
The core features of the HyperPack Pro
I'm not entirely sure where to begin, honestly. But why don't I start with features specifically related to tech. Then I will move on to the storage compartments. And then close out with construction and design.
Built-in Apple Find My functionality
We all know about the success of Tile and, more recently, Apple Air Tags. As a student, worker, or traveler, I would almost say it is irresponsible not to have an Apple Air Tag as part of your essential tools. Attaching an Air Tag to your keys or throwing one in your bag or suitcase are great ways to easily keep track of your belongings.
A fantastic tech feature of the HyperPack Pro is its built-in Apple Find My compatible location module. This module is built into the top of the backpack, so you don't have to worry about remembering if you had put the Air Tag into your bag or not.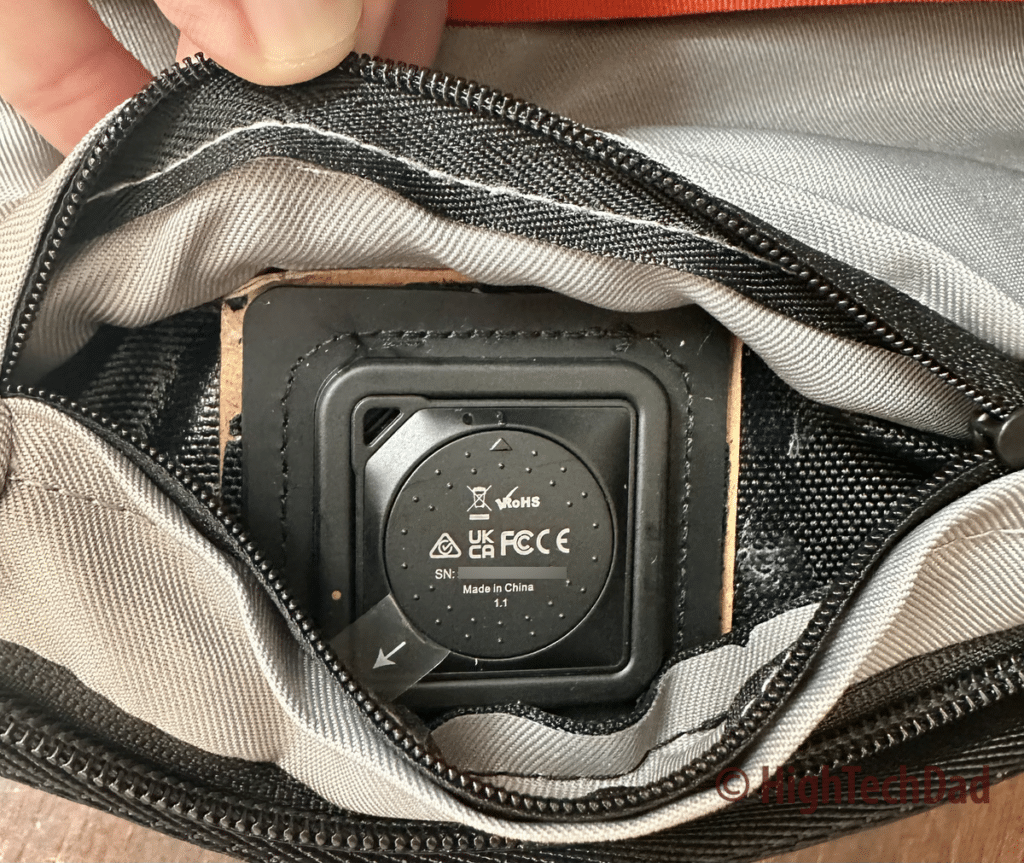 You do have to activate it with your Find My app on your Apple device (remember to pull the plastic battery ribbon to activate the battery) and add it to your tracked items. It's hard to lose the backpack once you have it as a tracked item. You can always look up its location within the Find My app.
If you need to locate your backpack, you can press the "Play Sound" button on your iPhone, for example, and a loud (90db) beeping noise comes from the top of the HyperPack Pro, making it extremely easy to find. And the battery is replaceable.
Pass-though and charging pockets throughout the backpack
When you are on the go, there really isn't too much you can do with your backpack and your tech. Traditionally, a backpack is just there to carry your stuff from point A to point B and get it there safely and securely. However, the HyperDrive HyperPack Pro, along with the proper cables and portable batteries, can get you to your destination with all of your tech charged up.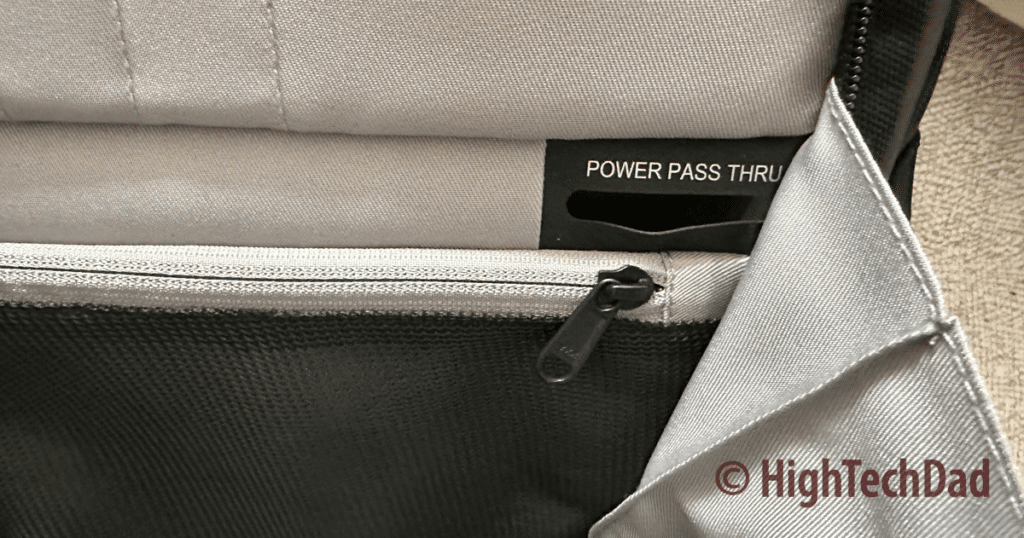 How does the backpack do that? Well, by itself, it doesn't. However, it is designed to enable you to do so. For example, if you use the Hyperjuice 245W USB-C battery pack (read my review here) and have the necessary USB-C cables, you have a system in place to charge up multiple devices while they are being carried in the backpack.
What HyperDrive has done in the design is craft several (clearly labeled) "pass-through" holes, which allow you to connect various separated compartments with USB cables. You can store your portable battery pack in one compartment, connect the cables, and then guide those cables to other compartments within the backpack. That way, you can charge up your laptop, tablet, and/or smartphone while you are just carrying your pack.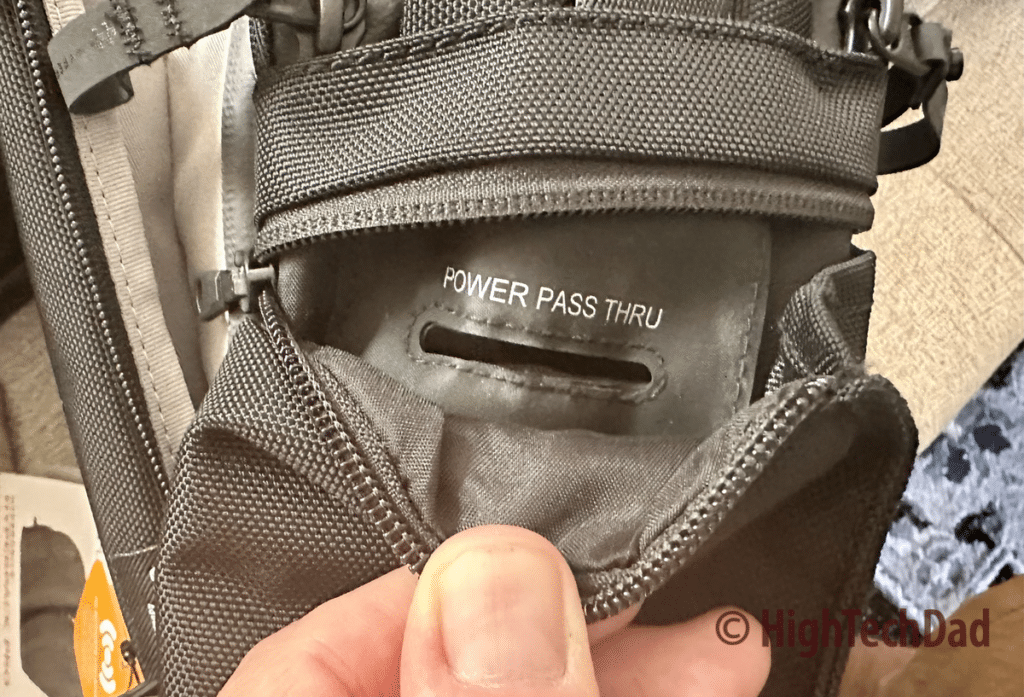 Yes, you have to provide the battery pack and the cabling, but the "infrastructure" (e.g., holes and conduits) are already built into the backpack.
Storage abounds in the HyperPack Pro
Gone are the days where you have just a few compartments for all of your stuff. With the HyperPack Pro backpack, you literally have storage within storage. In my quick counting, I found nine zippered compartments – and those include storage within storage. And there are mixtures of mesh inner pockets and heavy-duty outer compartments. And actually, I went back and just found a soft-lined zipper compartment for sunglasses too!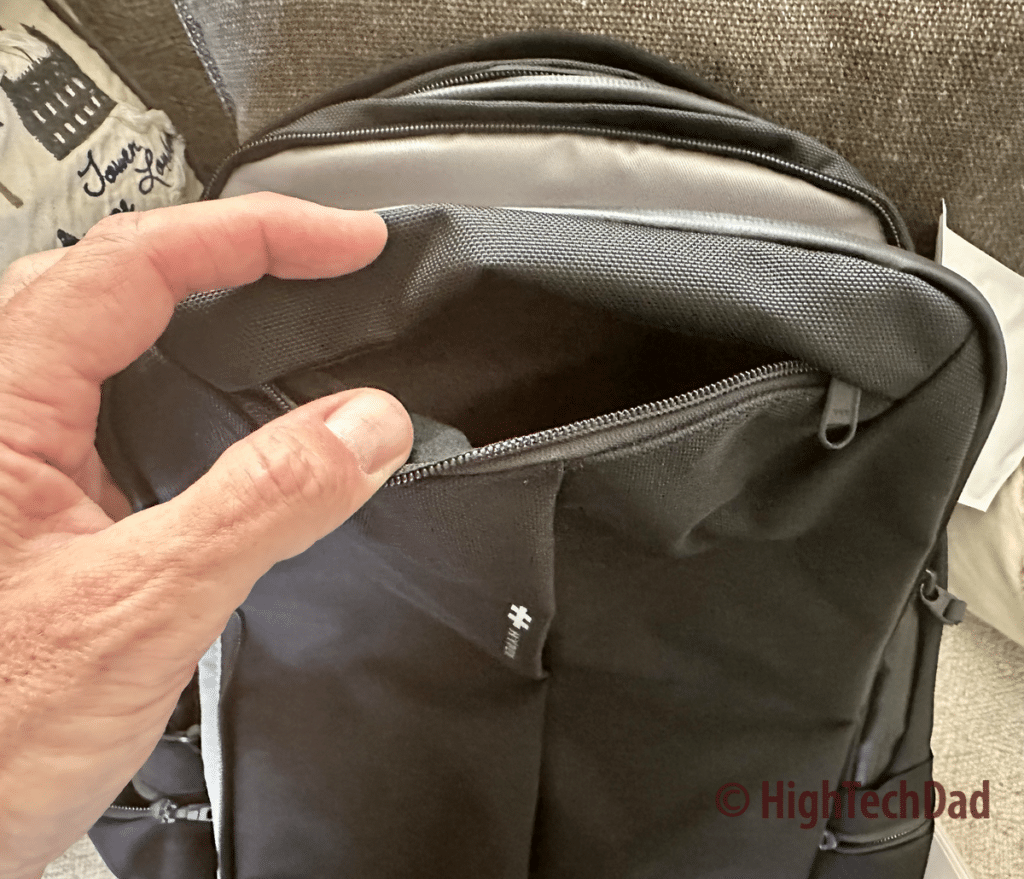 According to the specs, the total storage capacity is 22 liters. This is more than enough for a laptop, tablet, smartphone, cables, chargers, notepads, and a ton of other stuff. The only thing you will run into is overloading the backpack, and it becomes a bit too heavy. The backpack empty weighs about 3 pounds, and the dimensions are 12.2″ x 5″12″ x 19.09″.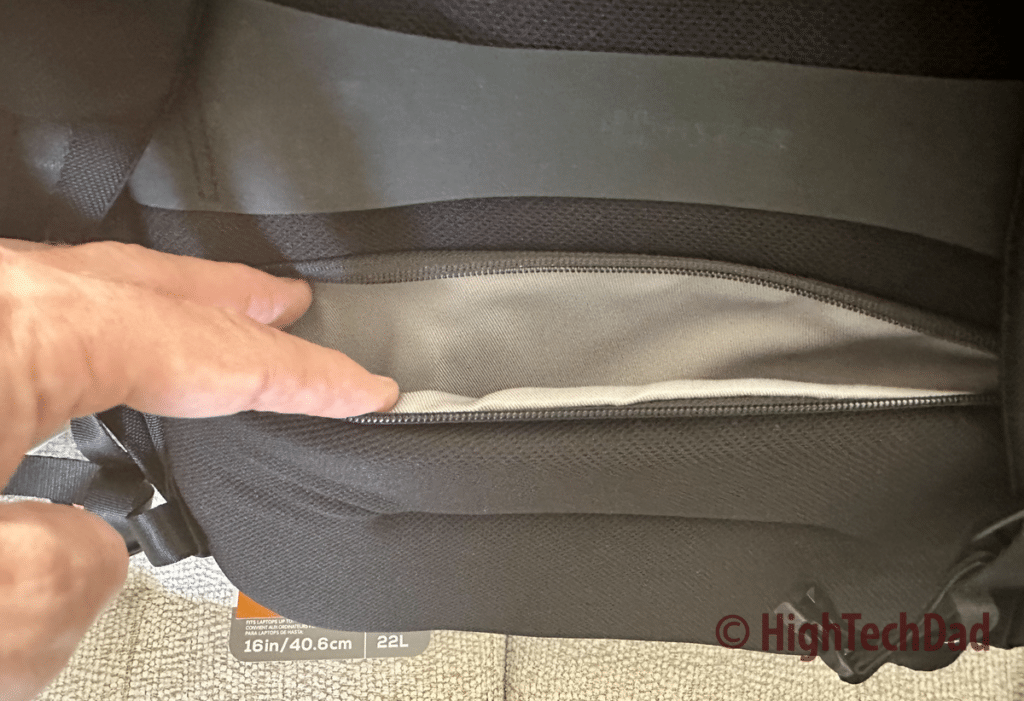 There are also some specialized compartments. I already mentioned the padded sunglasses zippered pocket. There is a great, hidden, zippered storage pocket in the lumbar area. This is ideal for storing essential documents like IDs, passports, wallets, etc. Because this pocket is flat against your back, it is practically impossible for people to access it while the HyperPack Pro is on your back.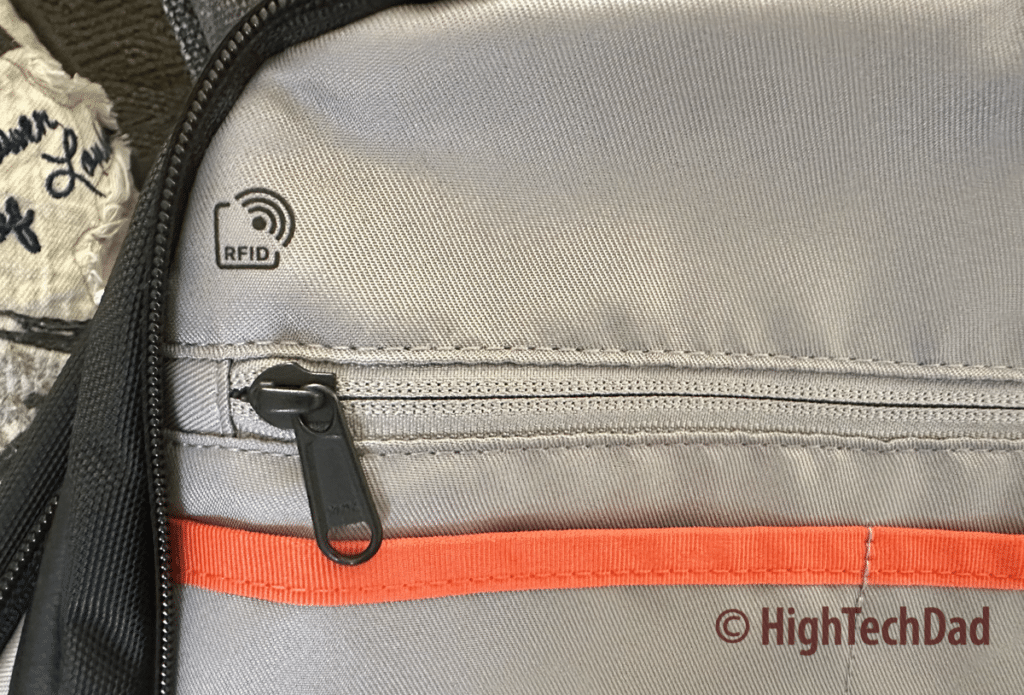 Inside the backpack is also an RFIP pocket that protects credit cards and IDs from cloning or skimming. When credit cards are in this pocket, they block out the emission of signals coming from those cards, adding an additional layer of security.
There are smaller pockets inside that can hold two AirPods cases, and they are conveniently located close to where you might want to store a portable battery.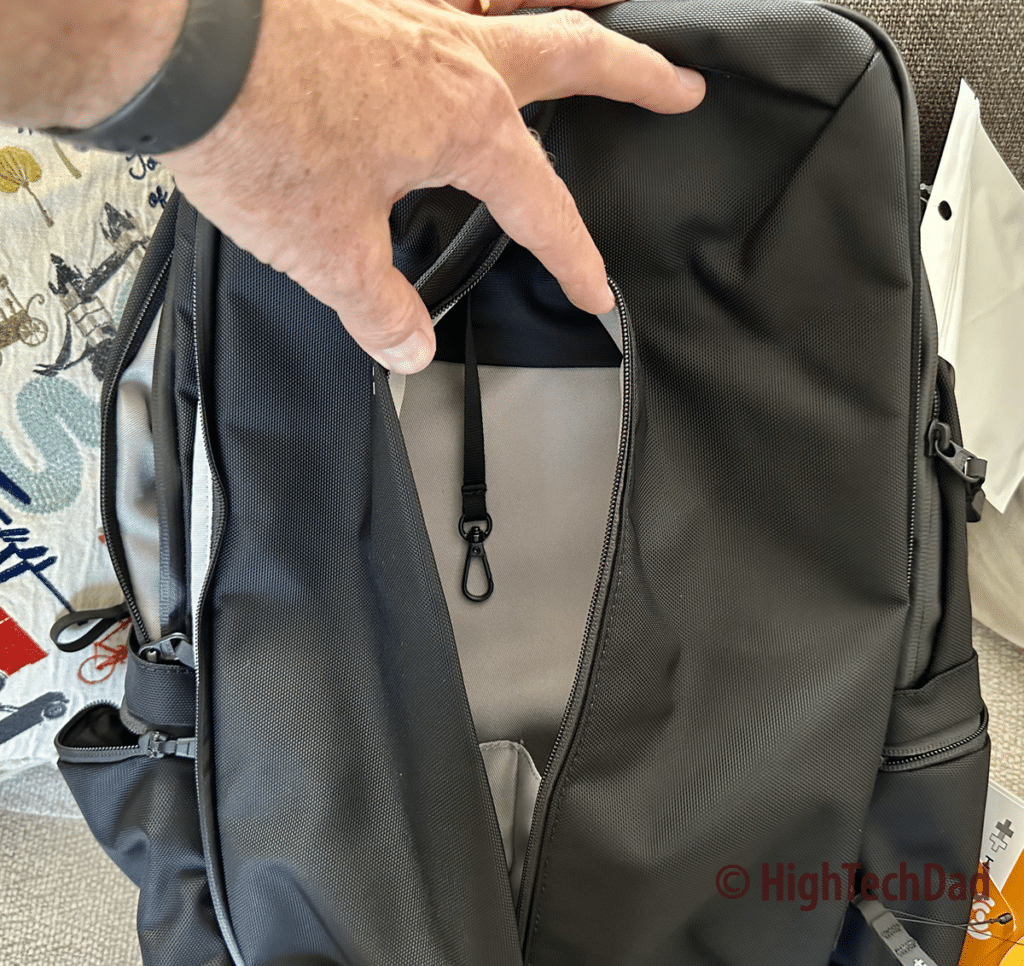 And, on the front, there is a vertical zippered pocket that kind of puffs out. There is a cord where you can attach your keys or a badge for your work, parking, or the gym. There is a clip at the end of the cord to hold things on securely.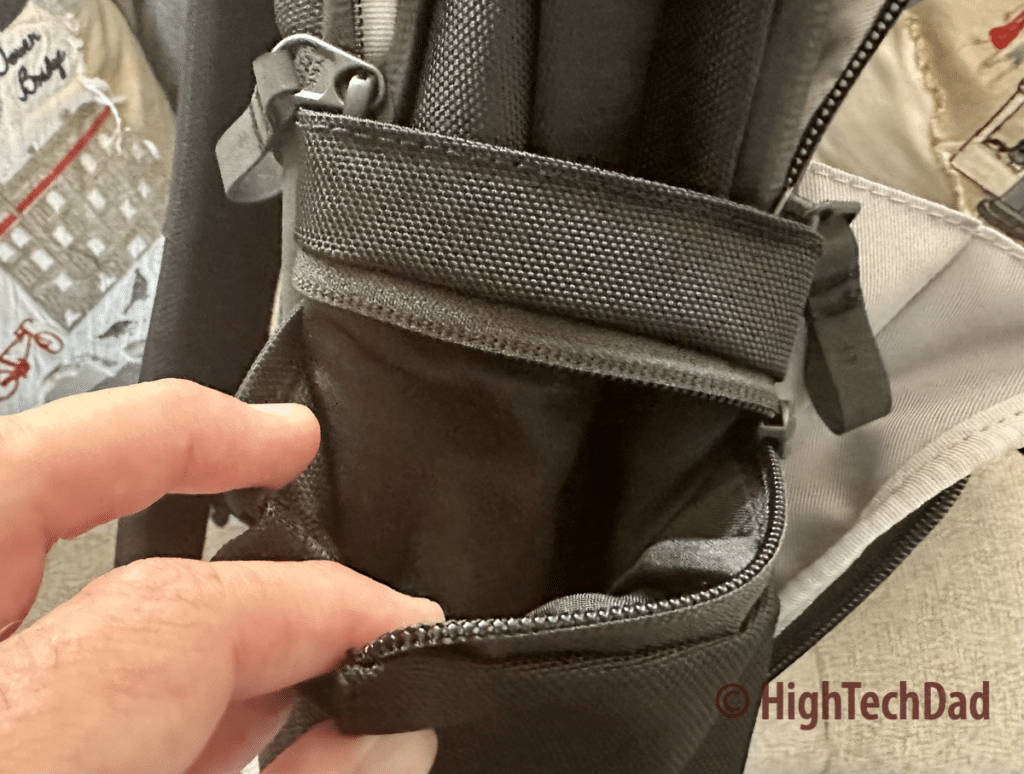 On either side of the outside are two zippered pockets that expand out. They can hold smaller water bottles, or you can store electronics in these pockets. Directly behind one of these pockets is another pocket that could hold a folded-up small umbrella or a larger water bottle.
Construction and design thoughts
An important item for me when looking at backpacks is to know how well they will hold up in weather. Will they be water-proof or water-resistant, or will they just let water come through? The HyperPack Pro has a water resistance of IPX4 and is made of ultra-durable 1260D Cordura Nylon. IPX4 means it can handle some water splashes or light rain for a short time, but water will eventually seep through the fabric. So, I wouldn't recommend hiking in a torrential downpour, but the HyperPack Pro could probably do just fine during your commute in the rain.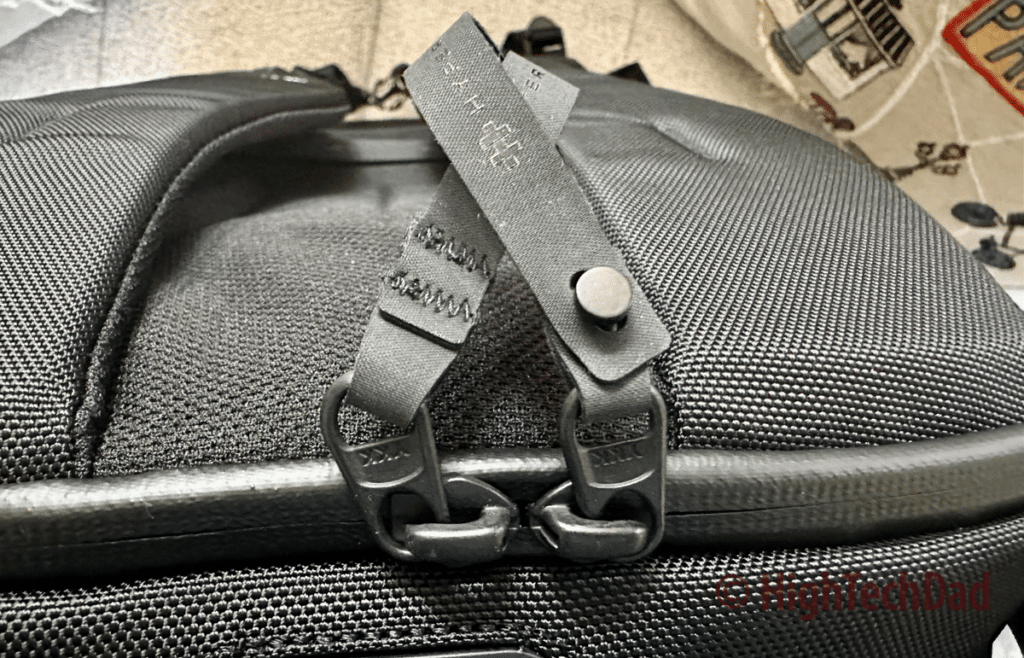 The zippers are YKK zippers and can be interlocked for a tiny bit more security. The compartment that holds your laptop or tablet has interlocking zippers. This means you can attach the zipper cords together to prevent someone (slightly) from opening the zipper and taking anything from that compartment. It is NOT a lock and NOT secure in any way. It simply prevents the zippers from being opened without unhooking the zippers. They are supposedly "AquaGuard" zippers that should also help with water resistance.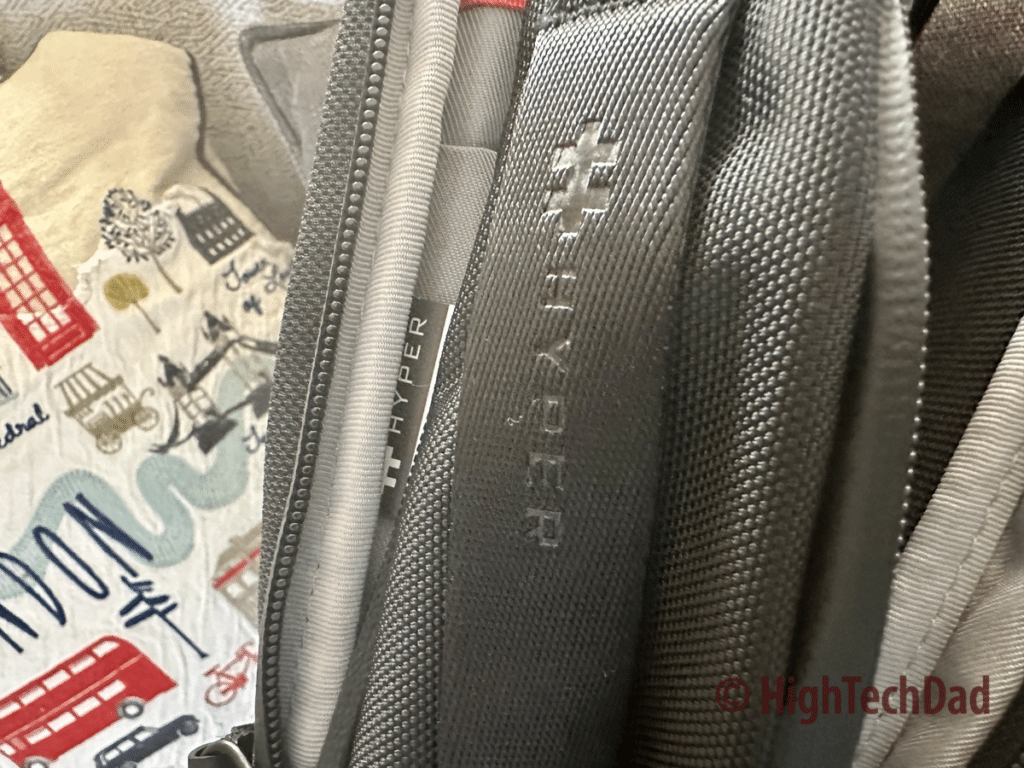 The HyperPack Pro has three handles for carrying, one on the top and one on either side, which makes it easy to carry when not using it as a backpack. However, these handles are not padded and are included for convenience only.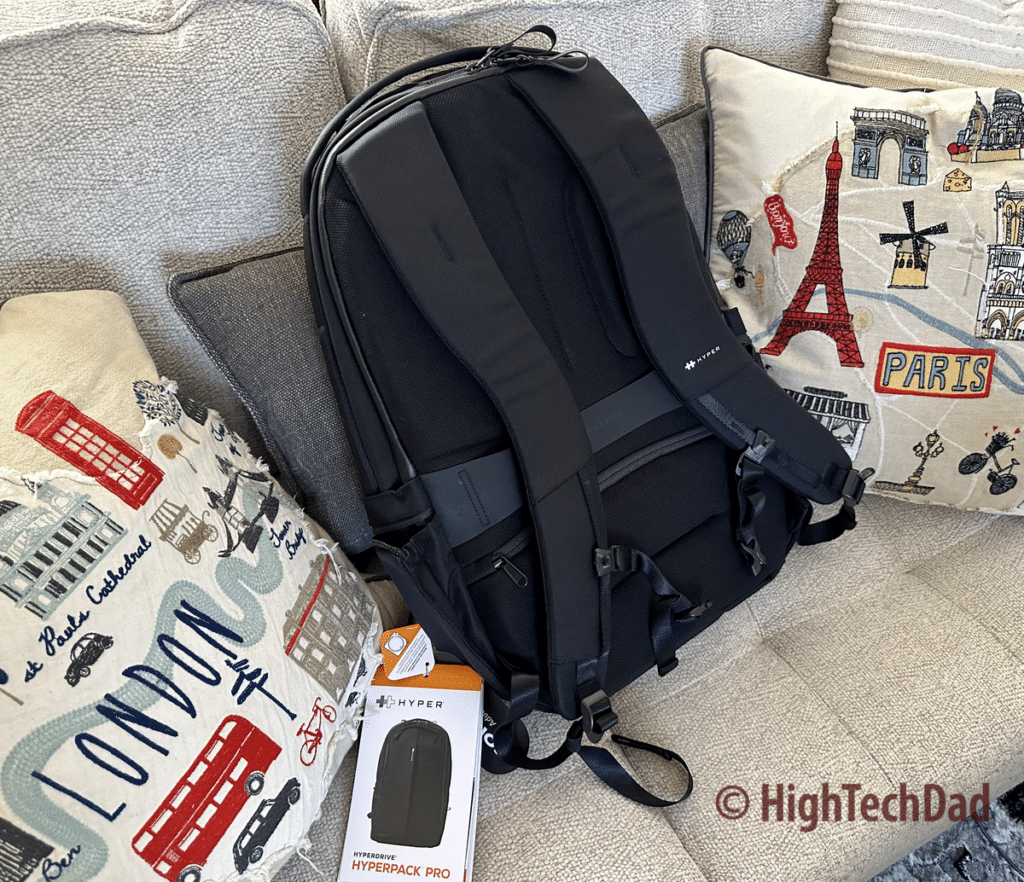 The backpack straps are adjustable and contoured to better fit around your chest, and they are lightly padded to make them more comfortable. There is also an adjustable chest strap to hold the backpack in place and prevent it from bouncing around as you move.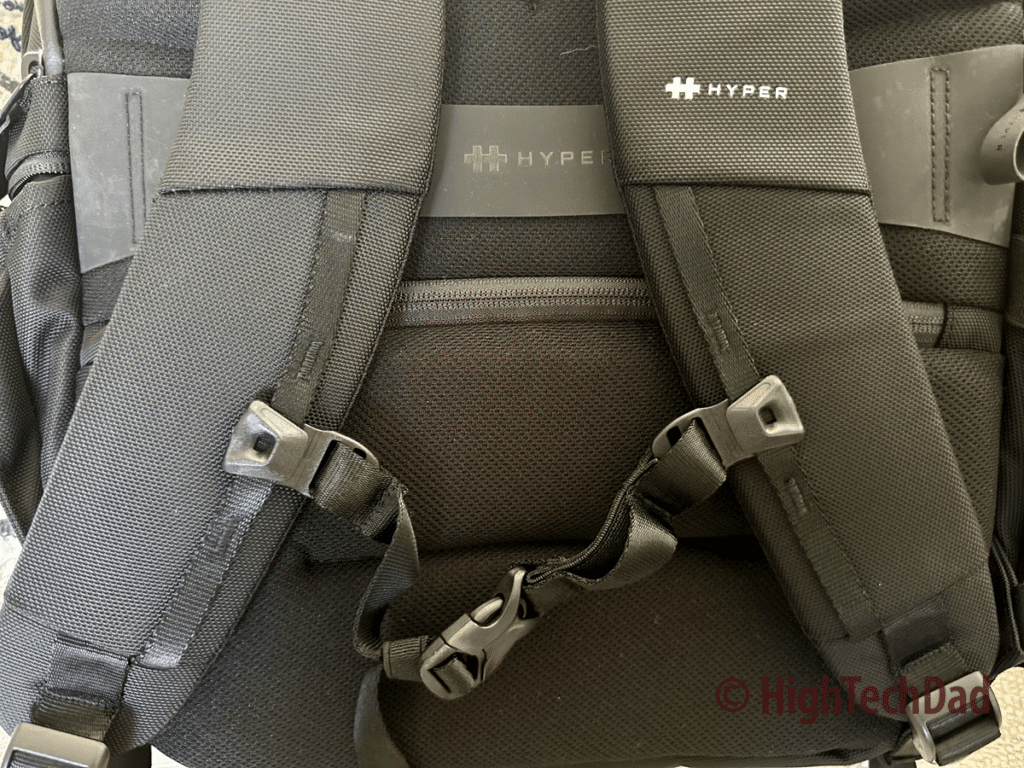 The back is nicely padded as well to make it more comfortable on your back. Since the compartments directly touching the back part of the backpack are also padded, this extra padding makes the pack more comfortable. The material on the back is breathable, so while you may get hot, you won't get too sweaty. Also, on the back portion is a flexible luggage pass-through strap so that you can slide it over your suitcase handle and carry it that way.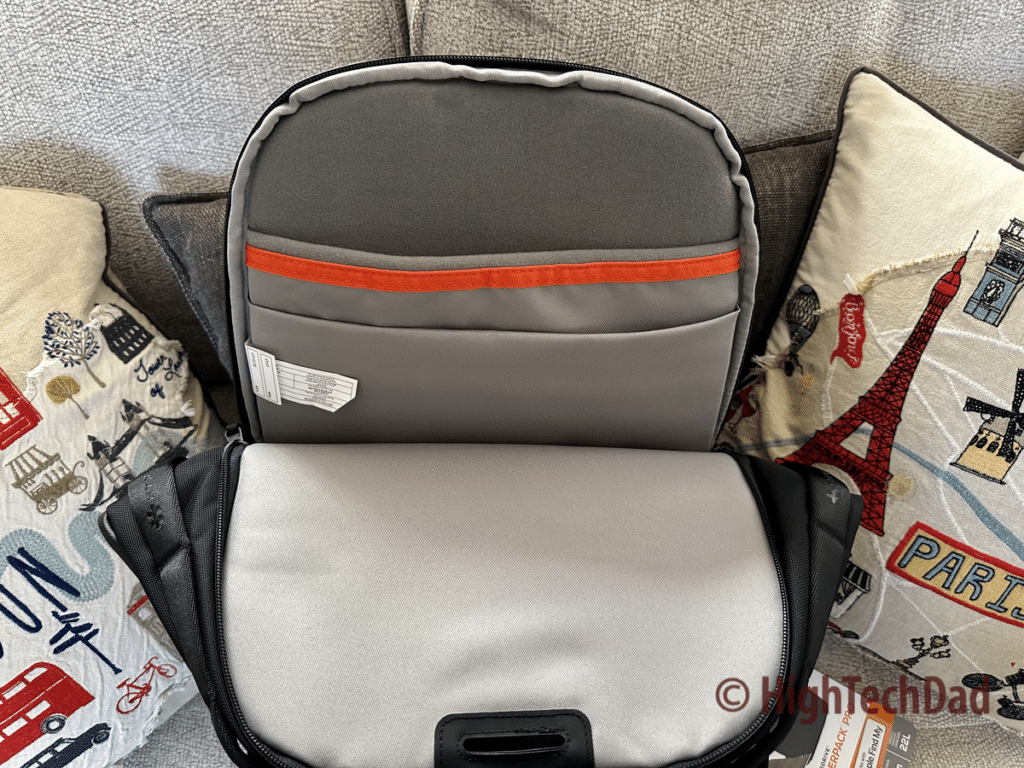 There is padding on the bottom, so if you put the HyperPack Pro down a bit too roughly, your devices inside will also be protected.
Pricing and final thoughts
As I mentioned, I'm a big proponent of quality-made and functional backpacks. For me, you simply cannot have enough pockets or storage compartments. And, if they are designed for me, a "HighTechDad," I appreciate them more. With built-in Find My AirTag features, room for lots of devices, commute-ready construction, conduits and compartments for battery and pass-through cables, and a whole lot more, it is hard for me to say anything negative about this bag.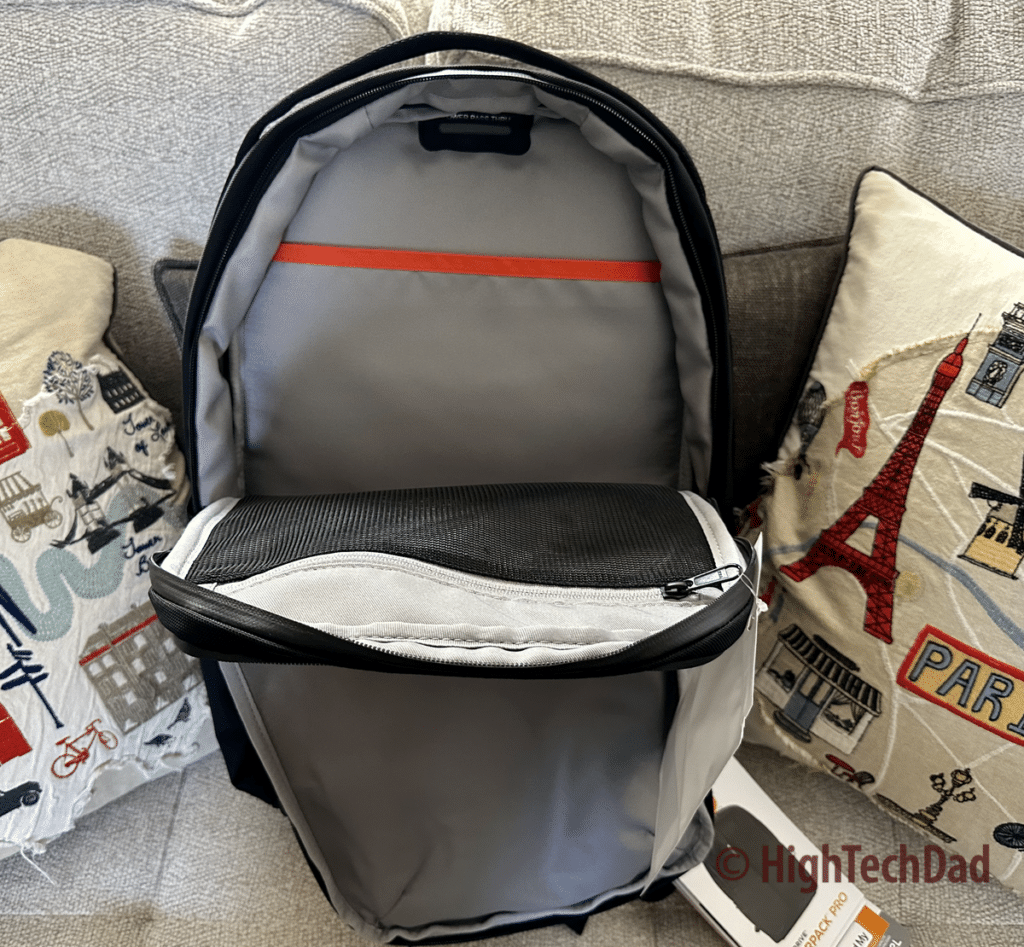 My only minor complaints are that it is a bit heavy, and I wish there was a bit more padding in the backpack straps themselves.
The HyperDrive HyperPack Pro backpack retails for $199.99 on the HyperShop site.
Shop on HighTechDad
The product shown below (and related products that have been reviewed on HighTechDad) is available within the HighTechDad Shop. This review has all of the details about this particular product and you can order it directly by clicking on the Buy button or clicking on the image/title to view more. Be sure to review other products available in the HighTechDad Shop.
The HyperDrive HyperPack Pro emerges as a game-changer for commuters and mobile workers, offering a smart, stylish, and functional solution for their daily journeys. With its integrated tech features and thoughtful design, this backpack caters to the needs of modern professionals seeking to keep their devices powered with an optional battery solution but with the infrastructure designed in the backpack itself. While the price may be a bit steep for some, the HyperPack Pro's durability and convenience make it a worthy investment for those prioritizing style and efficiency. And it satisfies my need for a tech-ready travel backpack.
Disclosure: I have a material connection because I received a sample of a product for consideration in preparing to review the product and write this content. I was/am not expected to return this item after my review period. All opinions within this article are my own and are typically not subject to editorial review from any 3rd party. Also, some of the links in the post above may be "affiliate" or "advertising" links. These may be automatically created or placed by me manually. This means if you click on the link and purchase the item (sometimes but not necessarily the product or service being reviewed), I will receive a small affiliate or advertising commission. More information can be found on my About page.
HTD says: the HyperDrive HyperPack Pro exemplifies the perfect balance between style, practicality, and technology, making it the ultimate backpack for today's commuters and mobile workers. It is designed with the tech worker in mind but is also a great overall travel backpack.
HighTechDad Review
Ease-of-Use

Family-Friendly

Price Point

Features
Summary
The HyperDrive HyperPack Pro exemplifies the perfect balance between style, practicality, and technology, making it the ultimate backpack for today's commuters and mobile workers. It is designed with the tech worker in mind but is also a great overall travel backpack. I am a bit of a snob when it comes to backpacks for my tech. There must be thought put into the design. There must be lots of compartments to securely store a variety of tech. HyperDrive also included the Apple Find My functionality directly into the backpack, making it perfect for commuting, travel, and on-the-go activities. It's well-built and has many areas to hoard all of the tech. While it might be a bit pricey, it's worth it.
Pros
Built-in Apple Find My functionality
Conduits, storage, and holes for battery charging and cables
Well-designed