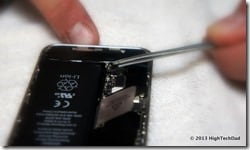 I'm such a heavy user of my Apple iPhones that it really seems like about a year after I get one, I'm doing a how-to article on replacing the iPhone's battery. I now have an iPhone 4S and this past weekend, I replaced the battery. Other smartphone users may scoff at the fact that Apple has made their hardware quite proprietary (e.g., a closed design). Actually, it seems to me that Apple has actually now made it much easier to replace the iPhone 4S battery, especially in comparison to the iPhone 4 and iPhone 3GS process. This article (and video) shows you how to replace an Apple iPhone 4S Battery.
WARNING: Before I go into this How-to, I do need to emphasize that this processes is risky. For starters, it WILL void your warranty, especially if you mess something up in the process. Also, there are lots and lots of tiny screws and pieces that are incredibly easy to lose, break or knock loose. If you don't take time reviewing the installation process, you could seriously damage to your iPhone 4S. You should only undertake this process if you feel like you know what you are doing and promise to not hold me responsible for anything bad that may happen to your device. Anything good that does happen, I'm happy to be responsible for that! And don't drink any coffee before trying any repairs!
With all the disclaimers aside now, let's take a look at the process. It is, actually, quite easy but be sure to watch the video below as I did actually almost screw something up. But as of this writing, my iPhone 4S is quite happy with its replacement battery.
The Tools
{ 0 comments }