Breathing clean air should be a given. Unfortunately, this isn't always a possibility due to permanent or temporary environmental conditions. While we do have some control over pollutants outside (e.g., using alternative energy sources, driving clean emissions vehicles, etc.), sometimes it is tricky to clean up pollutants inside (in our homes). Luckily, we have a bit more control over this, especially if you use in-home air purification devices. The Okaysou AirMax8L Air Purifier is a perfect example of a unit that helps eliminate various harmful pollutants in your home. (*Disclosure below.)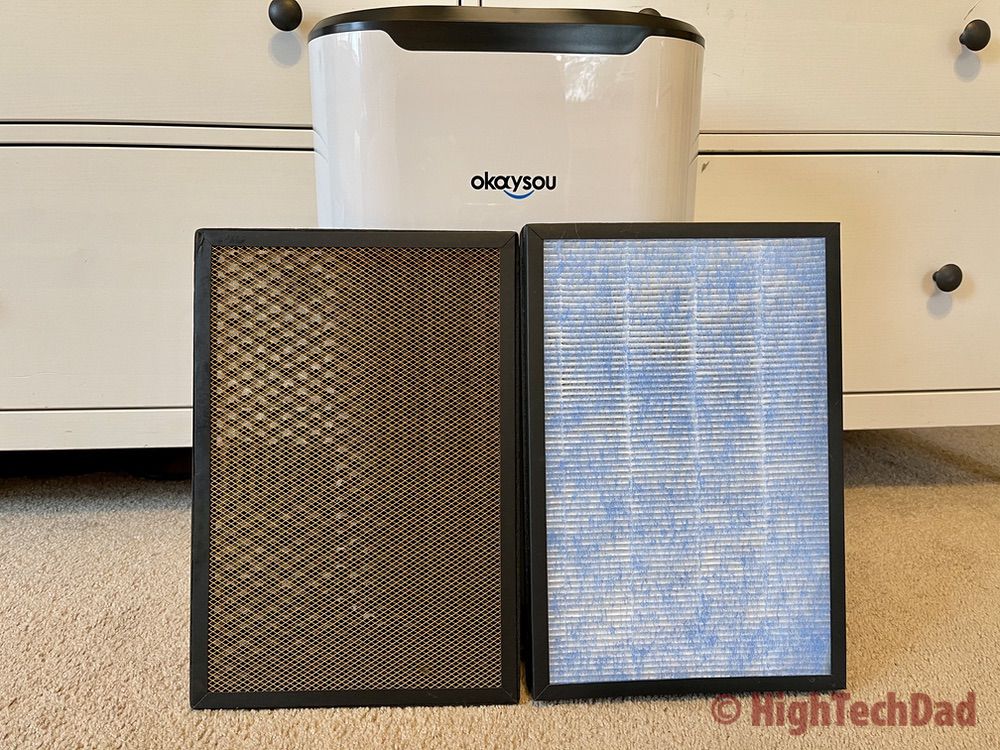 When choosing a good air purifier for the home, you have to consider a variety of things. Often, you have to forgo some of your requirements based on budget or size, or other conditions. Some items you may want to consider:
HEPA filtration
Noise output
Volume of air circulation over time (air changes)
Size of particles filtered
Ease of use (by adults and children)
Price (unit and replacement filters)
Physical Size
Those are a few things to think about. But let me give you a quick secret, the Okaysou AirMax8L Air Purifier lets you put checkmarks next to all of the important items above. And I'm going to go into some of the details about why the Okaysou might be a good choice for you.
5 Stages of Purification
Probably the number one thing to carefully research when getting an air purifier for your home is how it purifies the air and what it can and cannot remove from the air. There are plenty of products on the market that do simple air filtration, but the filters might not be "good" enough to remove very small particulate matter.
On the other hand, there are air purifiers that do a lot to remove odors and VOCs (volatile organic compounds). Ideally, you want to find something that can filter and purify small and large particles.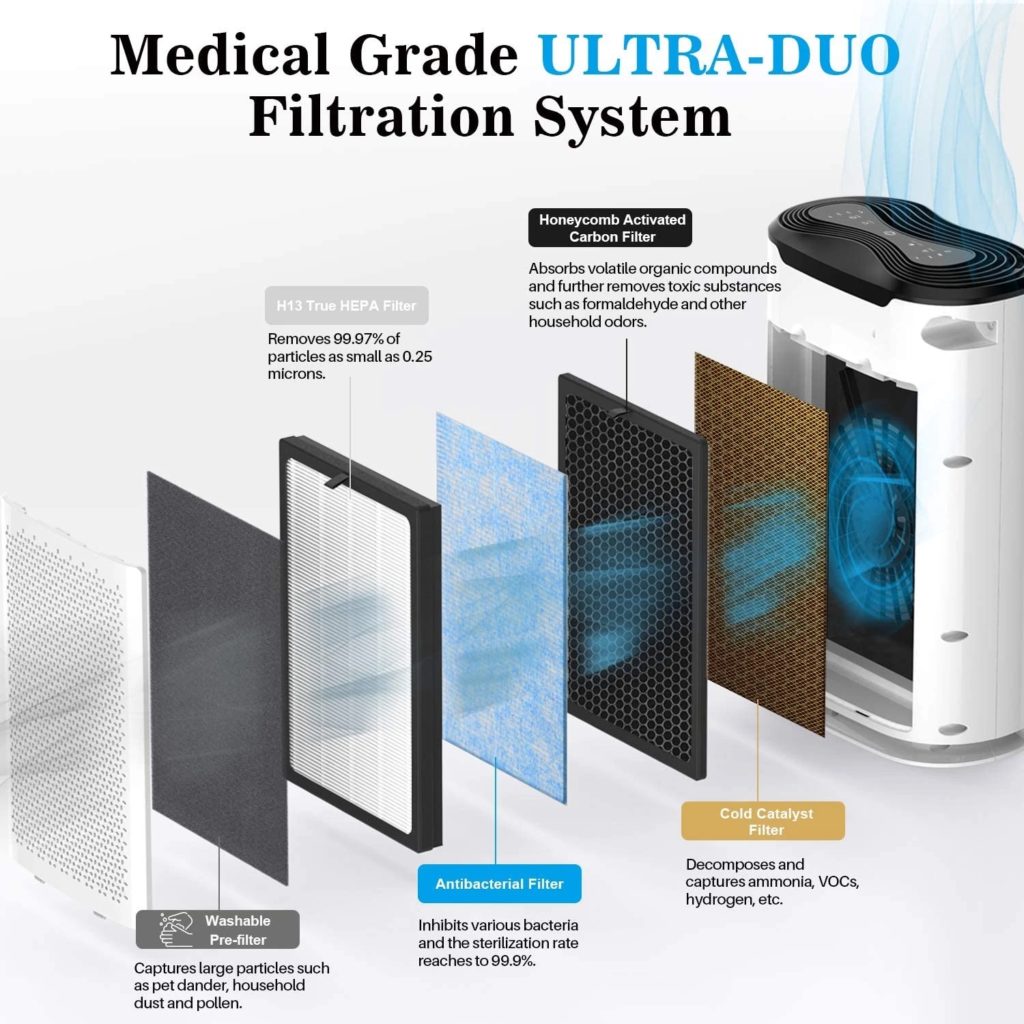 The Okaysou AirMax8L does all of the above, using multiple stages of filtration and purification. Let's follow some pollutants through their journey of being trapped (or not) for each of the five stages of the Okaysou.
It all starts with the Pre-Filter which can grab the larger particulate matter from the air. This is stuff like dust, pollen, and pet dander. If you suffer from seasonal or pet allergies, this filter may help you get breathing a bit better. On the Okaysou, this pre-filter is washable (one less thing to purchase, right?).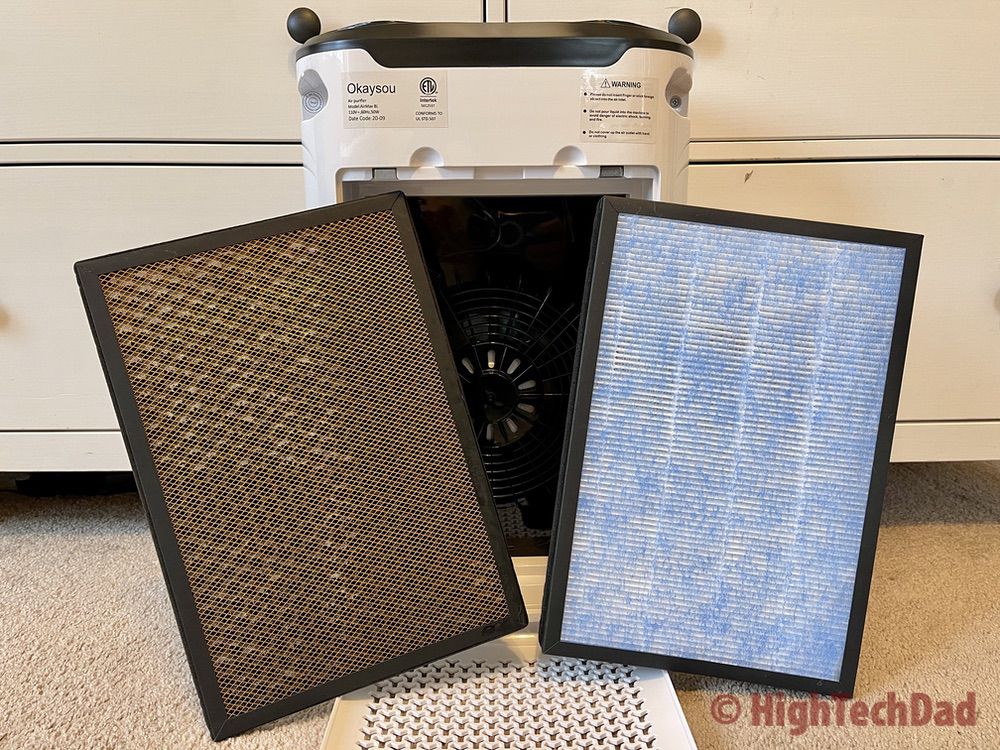 So with the large particles gone, we move to the H13 True HEPA Filter which can grab 99.97% of particles as small as 0.25 microns (as stated by Okaysou). HEPA is a measurement standard developed and defined by the Department of Energy and other organizations. There are different standards for the US and Europe. And there are many different "types" of HEPA. To cut through all of the scientific mumbo jumbo, the H13 and True HEPA designations essentially mean that this filter is extremely efficient at removing very small particles. The AirMax8L has this level of HEPA filtration.
The next layer of filtration is an Antimicrobial. For those airborne viruses and bacteria, this is the filter to stop those items. Again, I don't have scientific equipment to measure this, so I have to go with what Okaysou documents – the sterilization rate reaches 99.9%.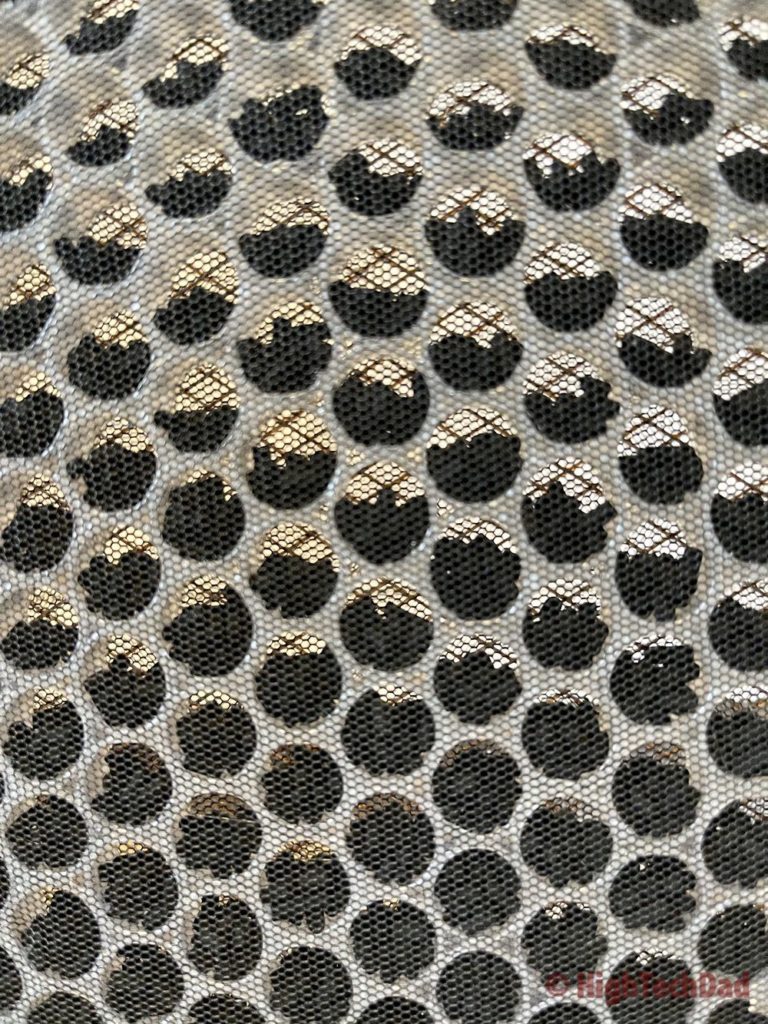 Next up, the Honeycomb Activated Carbon Filter. As I was putting in the various filters to test out the AirMax8L, I noticed that one of the filters had circular chambers that rattled slightly. Upon closer inspection, I saw that inside of each of these chambers were grains of carbon. This filter acts to remove VOCs like formaldehyde and other odors commonplace to the home.
Lastly, the Cold Catalyst Filter has the ability to decompose and capture ammonia, VOCs, hydrogen, and more. This is the final level of defense against pollutants before the purified air is blown out of the Okaysou AirMax8L.
One important thing to note, while there are five types of filters within the AirMax8L, there are only two physical filters that you replace. Multiple filters are smartly combined into two replaceable items.
Whew, a lot of science to digest there. So, let me move on to things a bit easier!
Using the Okaysou AirMax8L
Setting up the AirMax8L filter system is extremely easy. BUT, you can't just plug it in and turn it on. The two filters which are packed inside the AirMax8L must be removed from their plastic bags they are shipped in. I realize I'm probably stating the obvious here, but I almost did just that.
So, remove the filters from their bags, then put them into the purifier itself. They do go in order – first, you put in the ULTRA filter and then the DUO filter. They fit extremely snuggly into the unit. Note: there are black pull tabs that you have to have facing out so that the filters are easy to remove later.
By the way, the filters last up to 8 months with normal usage. There is an indicator on the top to tell you when it is time to replace them. Replacements are available on Amazon for about $20 (which is pretty reasonable).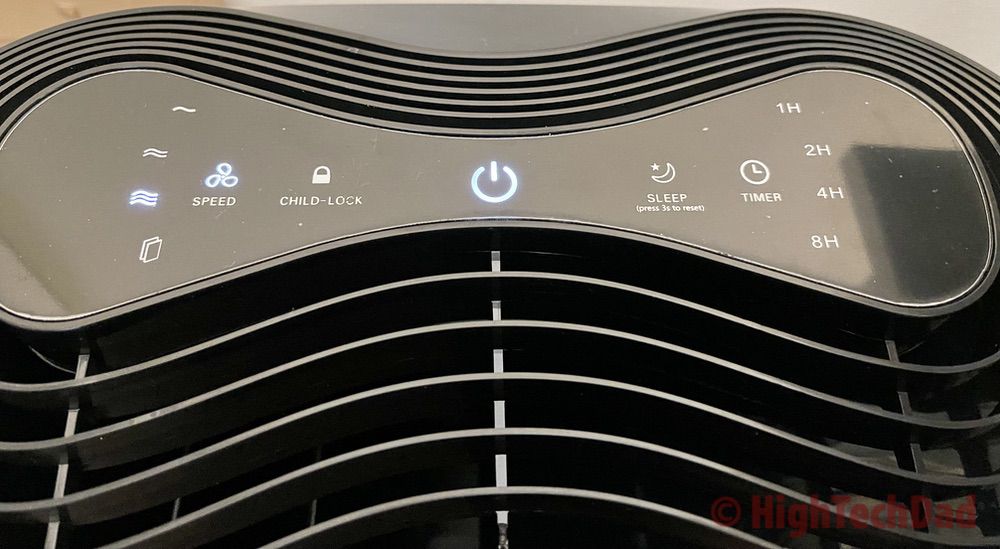 Once you have the two filters properly installed, all of the controls are on the unit's top. These are all soft-touch buttons with very simple operations.
The Power button is in the middle. Your last used setting will be remembered. On the left is a Speed button that lets you cycle through three fan levels.
Speaking of fans, it's important to mention noise output as well here. This unit now resides in my kids' room. They had an air filter before that they mainly used as a white-noise generator for sleeping. There is a problem with the AirMax8L, though. Even at the highest fan setting, it's pretty darn quiet. Yes, it generates fan noise, but not to the level as the previous filter. Honestly, this is probably a good thing as it is pretty quiet, ranging from a low 22dBA to a maximum of 51dBA.
Below the fan indicator is the Replace Filter light. This will light up when it is time to get a new filter. Still staying on the left side of the control panel, there is a Child Lock button. Pressing and holding that button for several seconds will prevent little hands from changing the settings.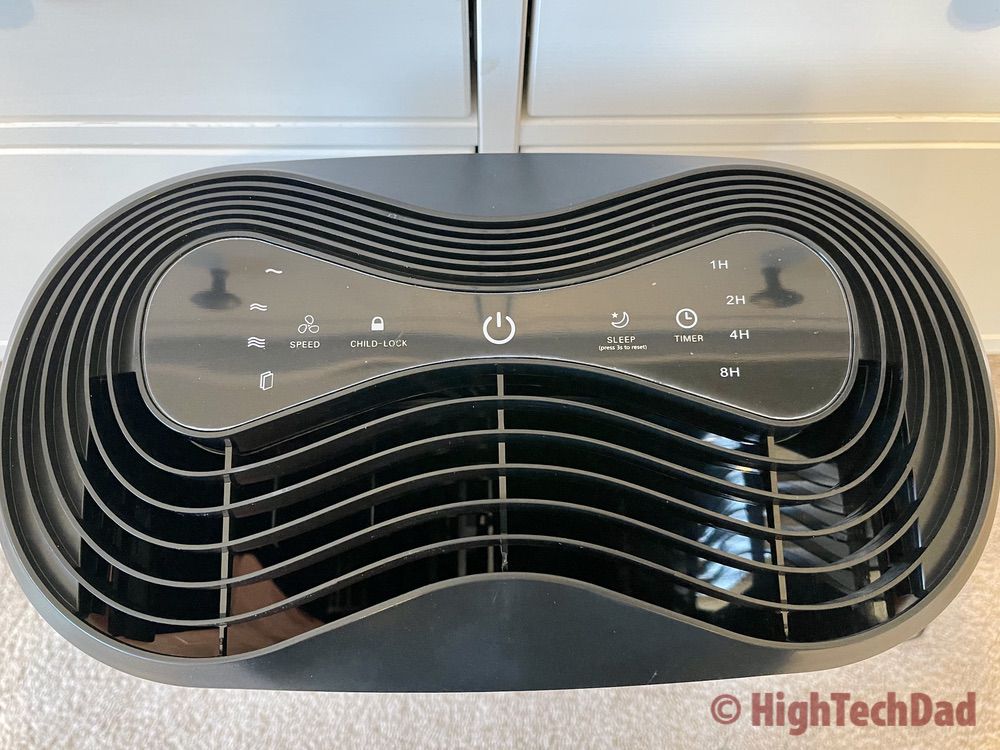 On the right is the Sleep mode button. When you click that, the AirMax8L will go to the lowest fan setting, and all of the lights on the top will eventually turn off. This is perfect if you don't want distracting lights in a dark bedroom.
And finally, the Timer mode is an optional setting you can use to configure how long you want the purifier to run (1 hour, 2, 4, 8, or no timer at all).
Final Thoughts
We only have been running the Okaysou AirMax8L for about a week. In an ideal situation, we would want to go through a heavy pollen season, potentially filter out other smells or VOCs (like hair spray or nail polish), and so some more extending testing.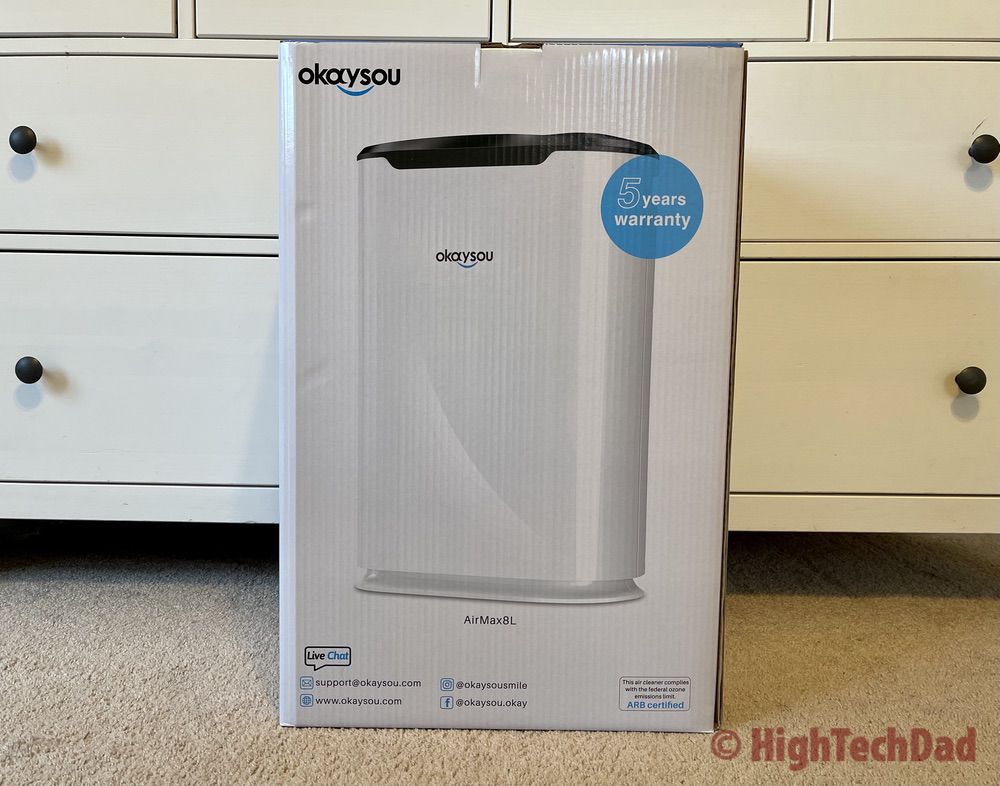 But from the first week in, my daughters have only positive things to say about the AirMax8L (apart from it not being able to be used as a noise-blocking sound machine – again, not a negative, though). It does integrate nicely into their room, which has a white color theme (with black accents).
The AirMax8L doesn't have a huge footprint. It measures 12.9″ x 7.1″ x 19.4″. But, its placement within your room is an important item to consider. You shouldn't just cram it into a corner. It needs to have good access to air on all sides, especially the back of the unit. Okaysou recommends an 18″ buffer around the AirMax8L. Purified air blows out of the top.
Finally, let's talk about price. Personally, I would have thought that the Okaysou AirMax8L would be more expensive than it actually is (and remember, you do have to factor in the cost of replacement filters of $20 every 6-8 months). But the unit itself is $118.99 on the Okaysou site or $118.99 on Amazon.
Shop on HighTechDad
The product shown below (and related products that have been reviewed on HighTechDad) is available within the HighTechDad Shop. This review has all of the details about this particular product and you can order it directly by clicking on the Buy button or clicking on the image/title to view more. Be sure to review other products available in the HighTechDad Shop.
Bottom line, having good, clean air is important to health. If you suffer from allergies, having an air purifier can be a great first level of defense (before you take medicine or get shots). If your home is dusty or if you have pets or if there are wildfires affecting the air quality outside, you are going to want to get an Okaysou AirMax8L purifier.
Disclosure: I have a material connection because I received a sample of a product for consideration in preparing to review the product and write this content. I was/am not expected to return this item after my review period. All opinions within this article are my own and are typically not subject to editorial review from any 3rd party. Also, some of the links in the post above may be "affiliate" or "advertising" links. These may be automatically created or placed by me manually. This means if you click on the link and purchase the item (sometimes but not necessarily the product or service being reviewed), I will receive a small affiliate or advertising commission. More information can be found on my About page.
HTD says: Being able to breathe pollution-free, pollen-free, smoke-free, and contaminant-free air should be essential to a home environment. Unfortunately, clean air is not always guaranteed. With the Okaysou AirMax8L air purifier, you can achieve new and better levels of air purity easily.
HighTechDad Ratings
Ease-of-Use

Family-Friendly

Price Point

Features
Summary
Being able to breathe pollution-free, pollen-free, smoke-free, and contaminant-free air should be essential to a home environment. Unfortunately, clean air is not always guaranteed. With the Okaysou AirMax8L air purifier, you can achieve new and better levels of air purity easily.
This five-stage air purifier is not only reasonably priced but also quite easy to operate. It is an ideal air purifier for bedrooms, especially with smaller children as there are child-locks for the buttons and a night-mode so there are no lights on at night. Setup is easy (just remember to remove the filters from their packaging first). Operation is quiet which is great (unless you want to use it as a sound machine – it's a bit too quiet for that according to my kids). There are many levels of filtration to remove large and small particulate matter alike
Pros
Multiple levels of filtration
Quiet operation
Reasonable price point
Cons
Limited availability of replacement filters