Halloween is my favorite holiday of the year. When else can you dress up in scary or funny costume, decorate your house with ghouls, ghosts, and goblins in an effort to scare people from coming to your home, but then try to bribe parents and children with sugary rewards if they dare to come up your steps, braving all that is scary! Each year I try to do something a bit different in terms of my decorations, but I always have a few things that I always include. And this year, I have a new addition that I think will truly add to the fun – the Jabberin' Jack talking, singing, and joking animated pumpkin. (*Disclosure below)
I understand that there is some tradition in picking out the truly perfect pumpkin for carving. And while it is a lot of fun scooping out the guts and carving that perfect scary, odd, or funny face, it is quite a project, one that I still do highly recommend doing with your kids.
But after a certain point, as kids get older, it becomes a chore to find the pumpkin and the time to carve that perfect jack-o-lantern. As most of my kids have flown the coop, so to speak, or are deep in the college application process coupled with the last year of high school, unfortunately, that time of carving has moved on like a ghost. I now have to rely on easier methods of pumpkin-carving, or just not do it at all.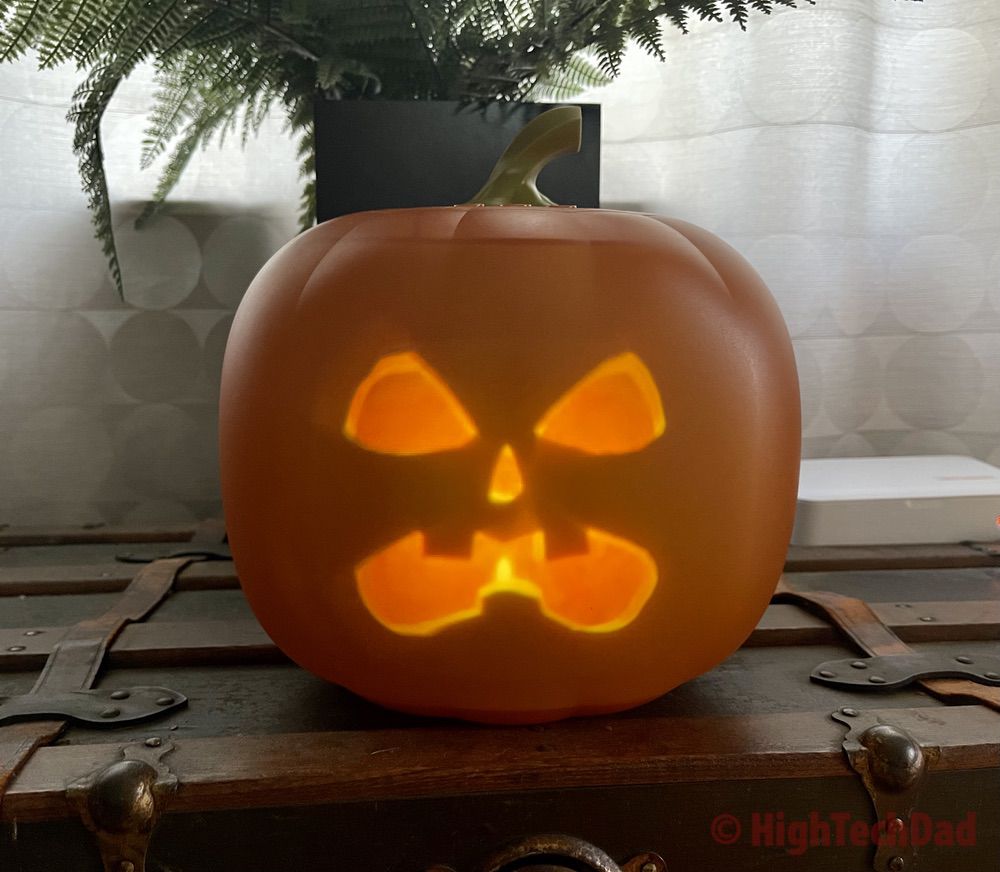 When the folks at Mindscope Products asked me if I wanted to review their animated, singing, joking, and talking pumpkin – Jabberin' Jack – (that didn't require a huge carving process and had no clean-up), I jumped at the opportunity. And I did even ask my daughters if they thought having this talking pumpkin would be "cool" or not, I was met with a resounding "YES!"
So, my pumpkin carving and display have evolved. It now has Jabberin' Jack as the centerpiece. And, from my understanding, this animated pumpkin SOLD OUT extremely quickly last year. A quick warning – because of Jabberin' Jack's popularity, there have been many copycats and knockoffs produced, and those have been quite disappointing, to say the least, so only get yours from the proper places!
What is Jabberin' Jack?
Jabberin' Jack is a full-sized, talking, singing, joking animated pumpkin. How is that even possible? The guts of this pumpkin are not seeds and stringy matter. Instead, there is a small, short-throw projector and built-in speakers that provide the entertainment – sound and animation.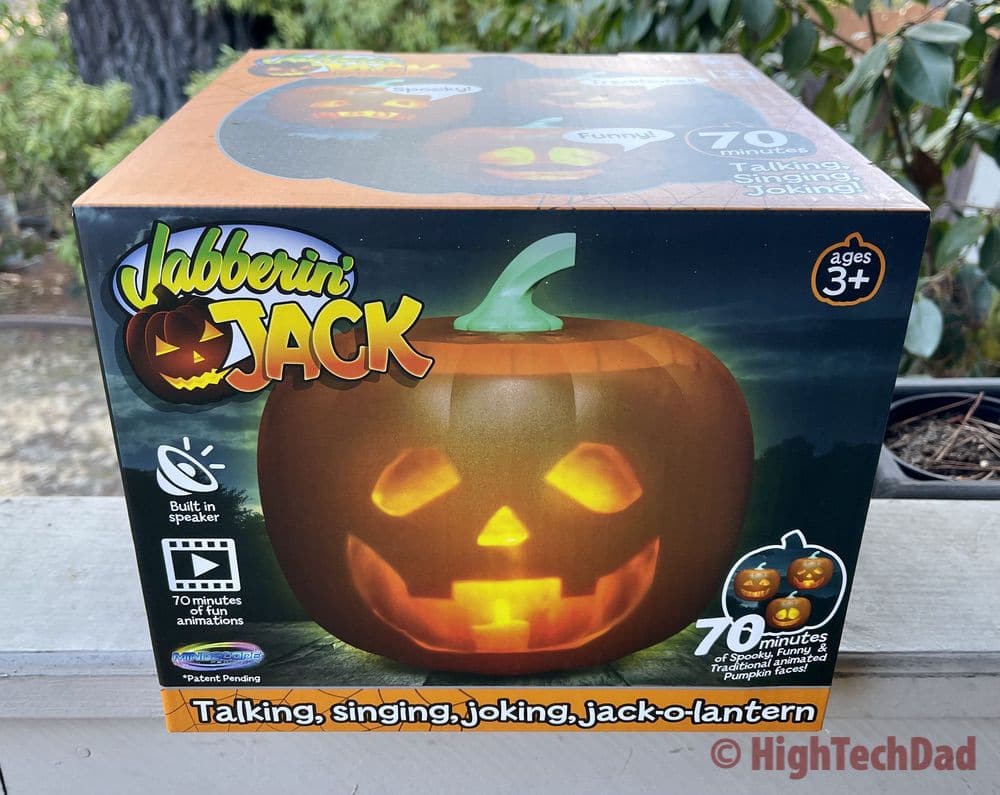 From a size perspective, Jabberin' Jack is about the size of a normal-sized jack-o-lantern. It is 11 inches high by 9 inches in diameter. It even has a green stem at the top, which, it turns out, is the ONLY assembly that is required for the entire pumpkin.
Jack's shell is a hard plastic that I feel will be able to withstand the trials of time. However, I do recommend saving the box for storage during the off-season (although with the stem attached, it doesn't fit back into the box perfectly). And, while the shell is protective, you should only use it inside or under a covered porch – it isn't weather resistant. Remember, water and electricity are not friends.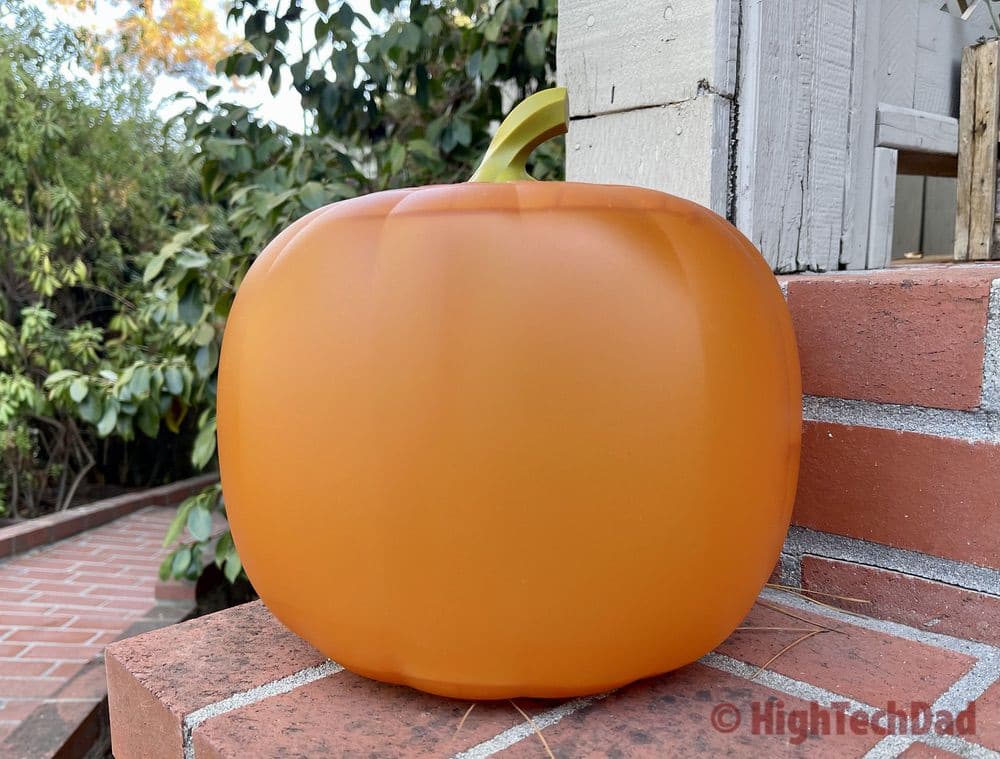 Jabberin' Jack does require a power source (more about that in a second). When Jabberin' Jack is off, he actually does have a blank look on his face. That is to say, there is nothing displayed. From a distance, he looks basically like an uncarved pumpkin. But once you turn him on, he comes to life!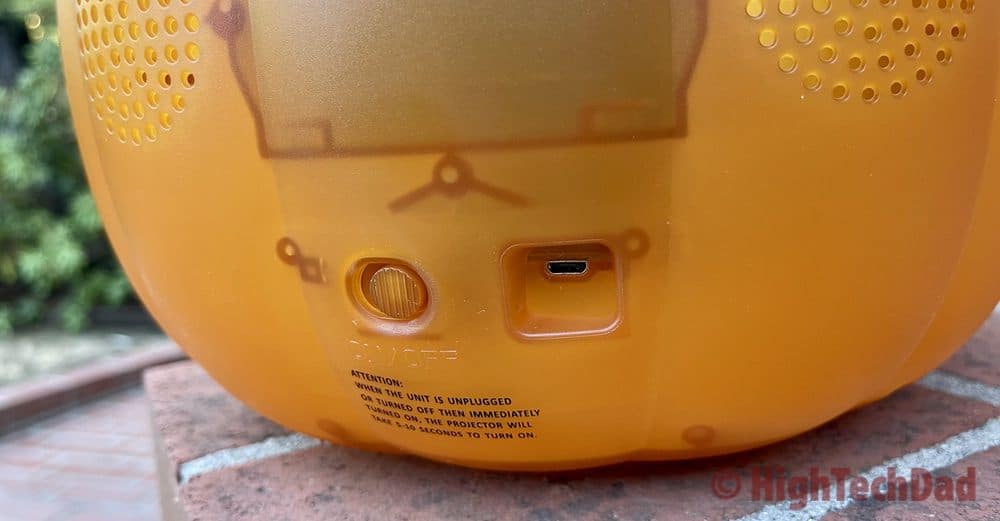 On the back are an on-off switch and a micro-USB port. Jabberin' Jack does come with a cable (I wish it was a bit longer) as well as a 5V-2.1A power adapter. For some reason, I thought that there were rechargeable batteries built-in, so I plugged it in for several hours to charge it up, only to later realize there were NO batteries. You just plug it in and turn it on.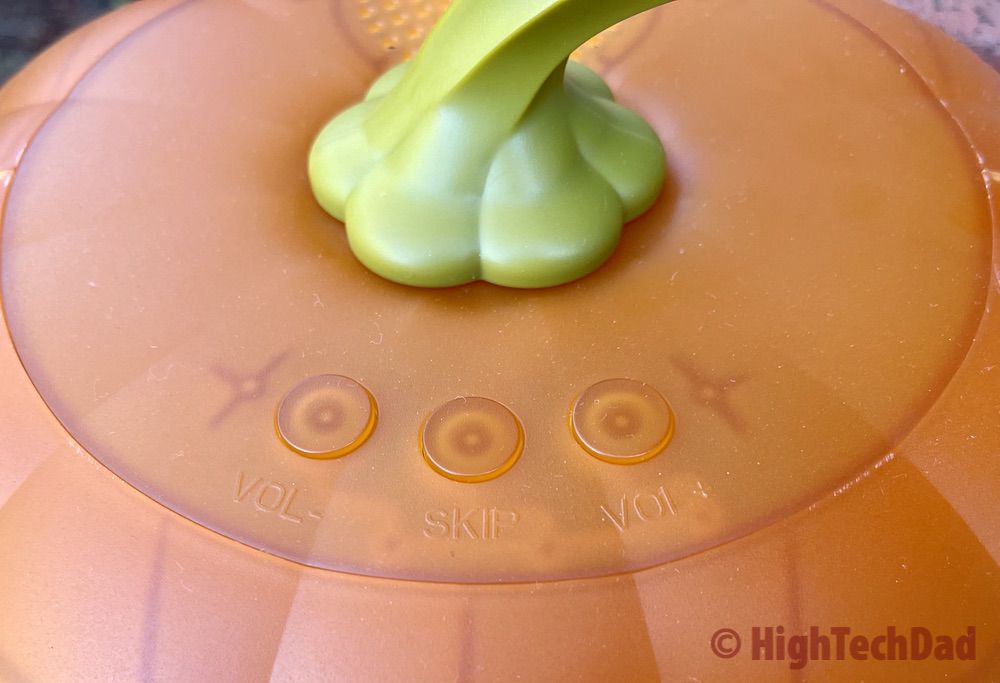 On Jack's top are three buttons – volume up, volume down, and skip.
But what exactly are you controlling with these buttons?
Bringing Jabberin' Jack to life!
The real power and fun about Jabberin' Jack happens when you plug him in and turn him on. The built-in mini projector displays an animated face on the front. This animated face is in the form of a pumpkin cut-out and not just one style of cut-out either. It can display scary, funny, and silly faces, depending on which character theme you choose.
The carved-out faces do look like a traditional jack-o-lantern. There is a "candle" in the back, which cast a jumpy and jittery light on the "carved out" faces. But, these carvings animate as a joke is told, or a song is sung, making it look like Jabberin' Jack is truly alive!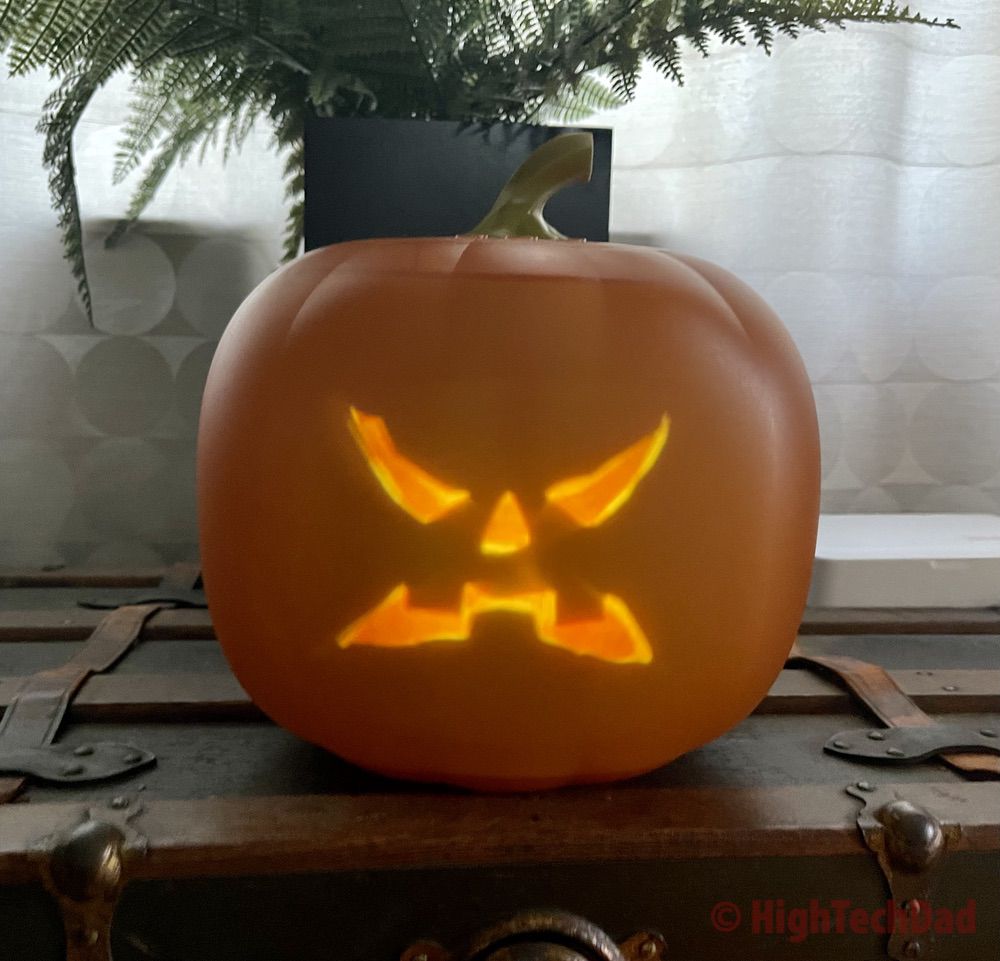 There are three character themes – Spooky, Traditional, and Funny. And with each character theme, there are three built-in songs as well as over forty lines of Halloween-themed jokes and phrases. I have to admit, much of this recorded content is geared towards a young audience which means that you are safe to have Jabberin' Jack displayed in homes with younger kids. Some things may be a bit scary for toddlers, but hey, this is Halloween, right?
You can use the Skip button for cycling through all of the themes, songs, and animations to quickly find what you want. But I felt it was more fun to just let it play through all of the cycles as you get a little bit of everything without repeating anything for at least 70 minutes.
Also, as my daughter and I were testing out some power supply options (see below), we did turn the volume all of the way down so that there was no talking, joking, or singing, just the animated jack-o-lantern faces being displayed and cycling through. So without sound, Jack is a great Halloween decoration piece. And it runs for 2 hours (or more) before it automatically shuts off for safety purposes.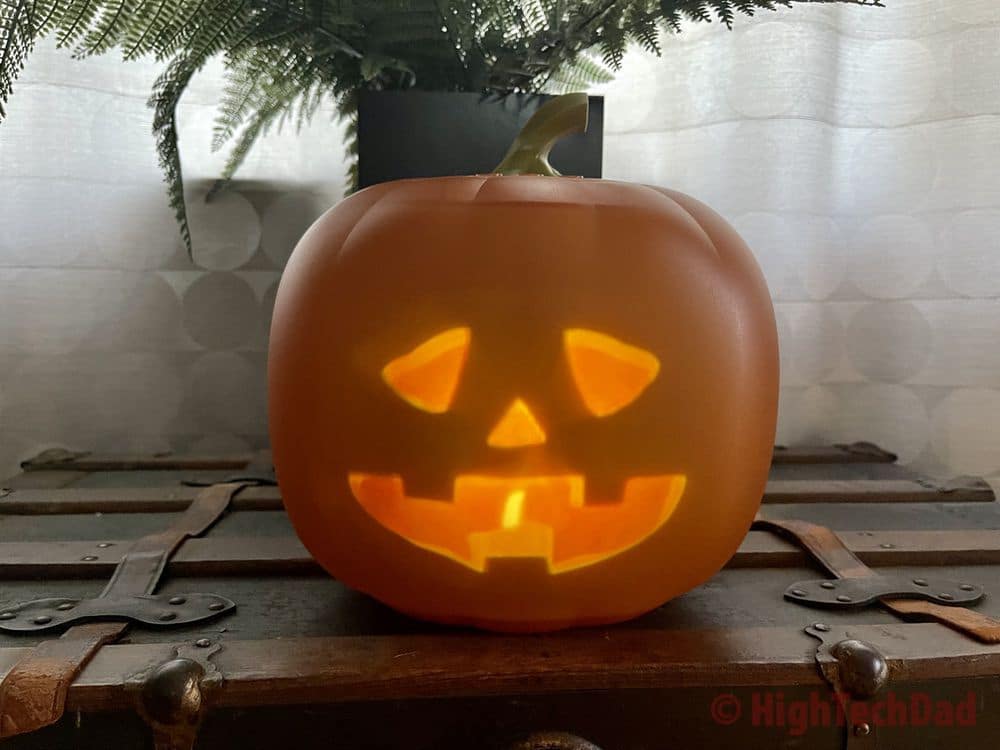 After running it for a couple of hours, Jack was still quite cool to the touch. You could barely detect any type of heat coming from the projector, even after an extended run-time. And when the projector is running, you really can't hear it (especially when you have the volume all the way down).
While the projector is bright enough to see the animated face during the day, I highly recommend using Jack at night, as he definitely does appear like a real pumpkin from a distance.
Power ideas for Jabberin' Jack
As I mentioned, Jabberin' Jack does come with a power supply (a 5V-2.1A adapter) as well as a fairly short, micro-USB cable. And remember, I thought that it had rechargeable batteries, thinking that I could charge it up and put it just about anywhere. Unfortunately, it doesn't have batteries, and you do need to have a plug nearby. Sometimes this isn't ideal for Halloween decorations as many displays require plugs and extension cords.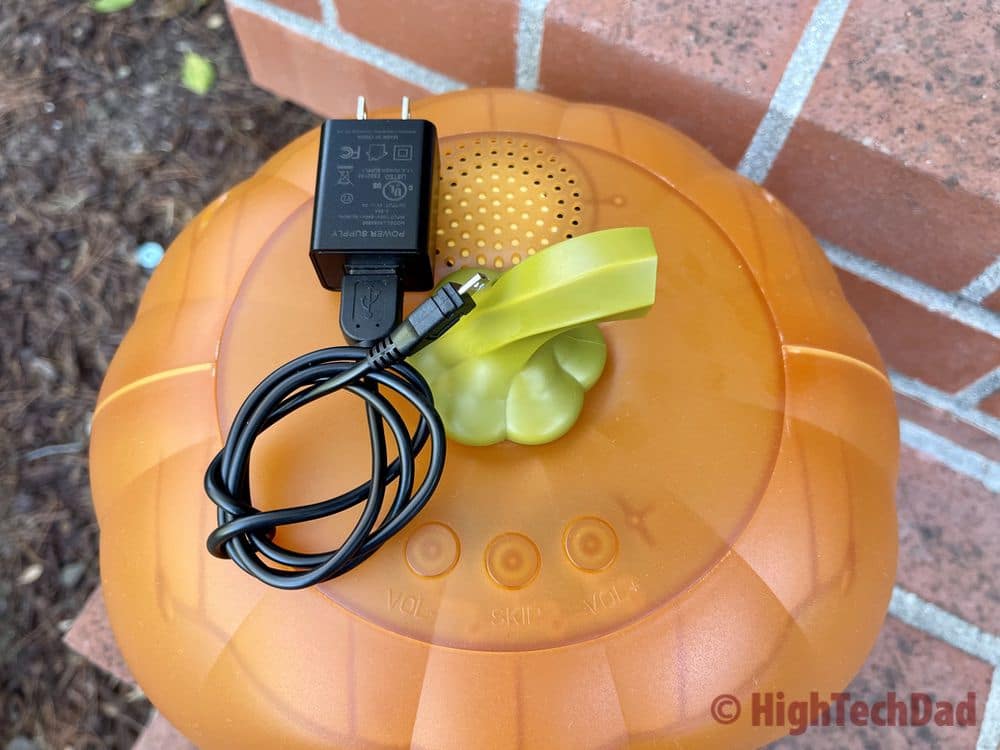 So I got to thinking. You can either purchase a very long micro-USB cable which would allow you to place Jabberin' Jack in more locations. Or, you could do what I tested out. Use a portable battery!
I happened to have a high-capacity portable battery with a 20,000 mAh rating, good for many smartphone and tablet charges. One of the USB-A ports is rated for 5W. So, not being an electrical engineer, I figured I would test to see if 1) the portable battery could power Jabberin' Jack and 2) how long could Jabberin' Jack run off of this type of power supply.
The short, non-scientific results were: yes, I could power Jabberin' Jack just fine – complete with sound and projector, and the 20,000 mAh capacity battery could power Jabberin' Jack for several hours (more than a Halloween night). In fact, we kept Jack running for more than 2 hours, and the battery barely dropped one bar in capacity.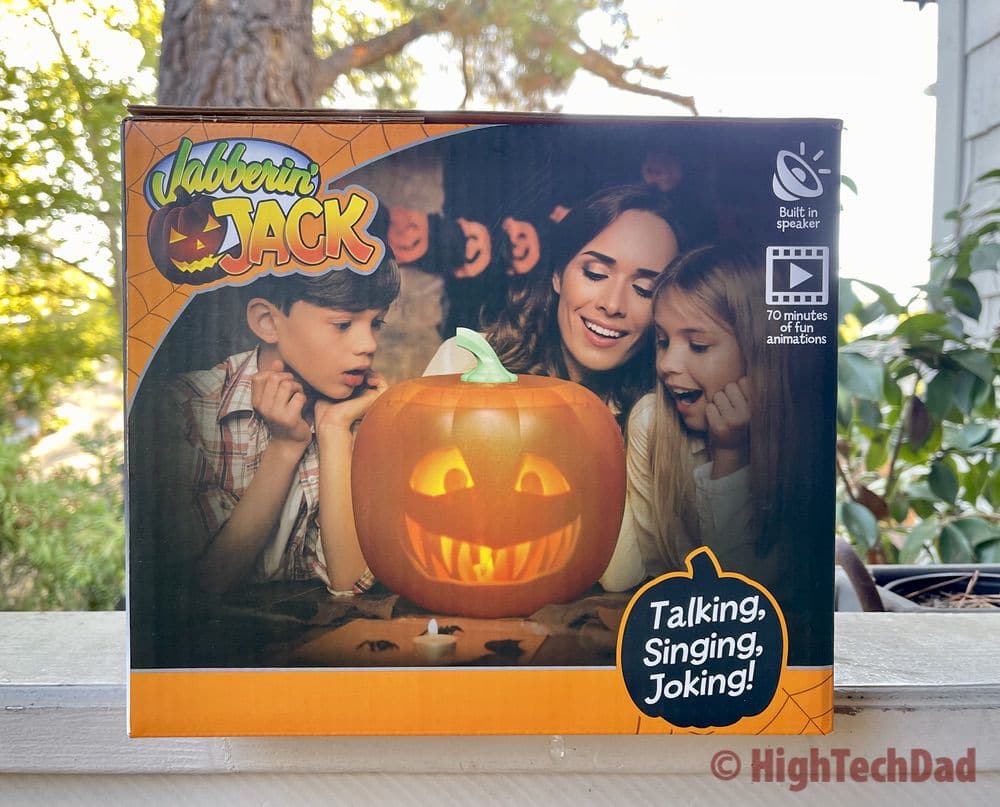 Using a portable battery essentially untethers Jack from the cord and plug. Again, however, be sure you use this solution in an indoor or covered location. Use a reputable rechargeable battery. And test it out with adult supervision. Batteries are NOT toys!
Where can you get Jabberin' Jack?
As I mentioned, Jabberin' Jack was a HOT item last year and sold out very quickly. So be sure you purchase from a reliable and reputable source. The retail price is $59.99. Here are some buying options:
Jabberin' Jack is one of those Halloween decorations that I feel should be used and reused each and every Halloween. There is no carving mess, no need to go pumpkin shopping, no pumpkins rotting on your porch or being eaten by animals, and no hassle whatsoever. Yes, it does take away from those fun, traditional pumpkin-carving projects, so if you do that with your friends and family, keep doing that! This just adds a different level of pumpkin to your spooky display!
Disclosure: I have a material connection because I received a sample of a product for consideration in preparing to review the product and write this content. I was/am not expected to return this item after my review period. All opinions within this article are my own and are typically not subject to editorial review from any 3rd party. Also, some of the links in the post above may be "affiliate" or "advertising" links. These may be automatically created or placed by me manually. This means if you click on the link and purchase the item (sometimes but not necessarily the product or service being reviewed), I will receive a small affiliate or advertising commission. More information can be found on my About page.
HTD says: Jabberin' Jack is a fun and exciting way to add "life" to your ghouly, creepy, and "dead" Halloween decorations using sound and animation to project funny or scary carved pumpkin faces within a jack-o-lantern display.
HighTechDad Ratings
Ease-of-Use

Family-Friendly

Price Point

Features
Summary
Jabberin' Jack is a fun and exciting way to add "life" to your ghouly, creepy, and "dead" Halloween decorations using sound and animation to project funny or scary carved pumpkin faces within a jack-o-lantern display. I guarantee that if you have smaller kids, this will be a highlight of your Halloween decorations. Just plug into the power supply and turn it on and instantly you have over 70 minutes of animated, carved pumpkin faces displaying. The entire unit is self-contained with the short-throw projector and speakers inside of the hard pumpkin shell. You can put the volume loud or completely off or anywhere in between. While you do have to find a plug to power Jabberin' Jack, there are ways to make him portable as well (read my review).
Pros
Definitely plug-and-play
No setup required
Fun for all ages
Cons
No rechargeable batteries (see solutions in review)